CONVERSATIONS Mousse 29
A Stitch in Time: David Medalla
Close
1
2
3
4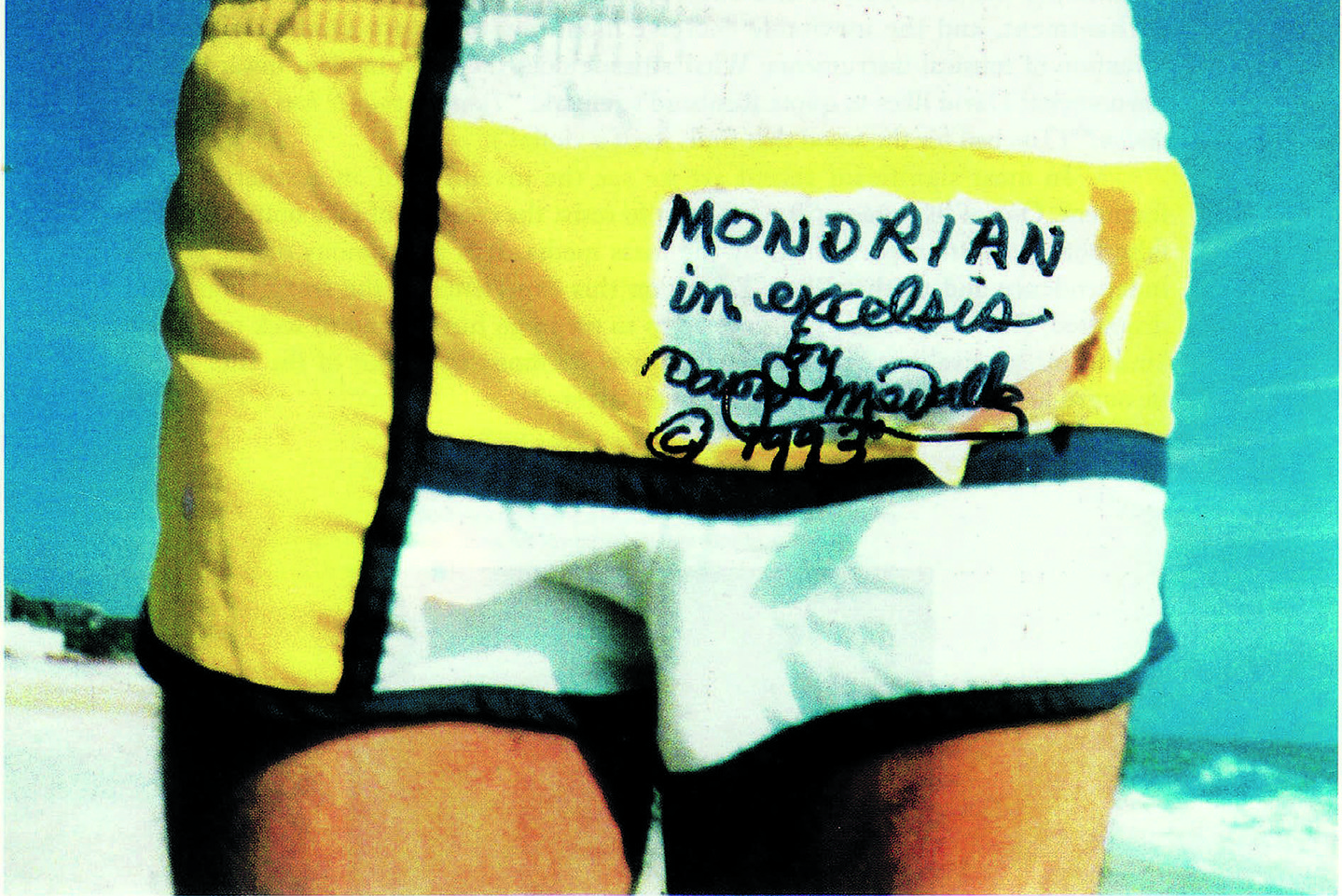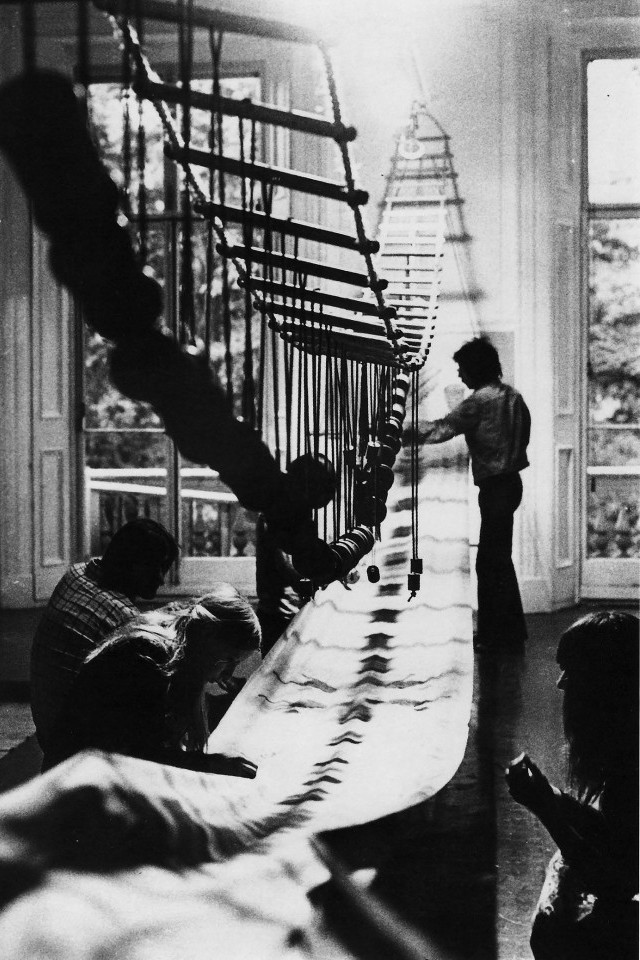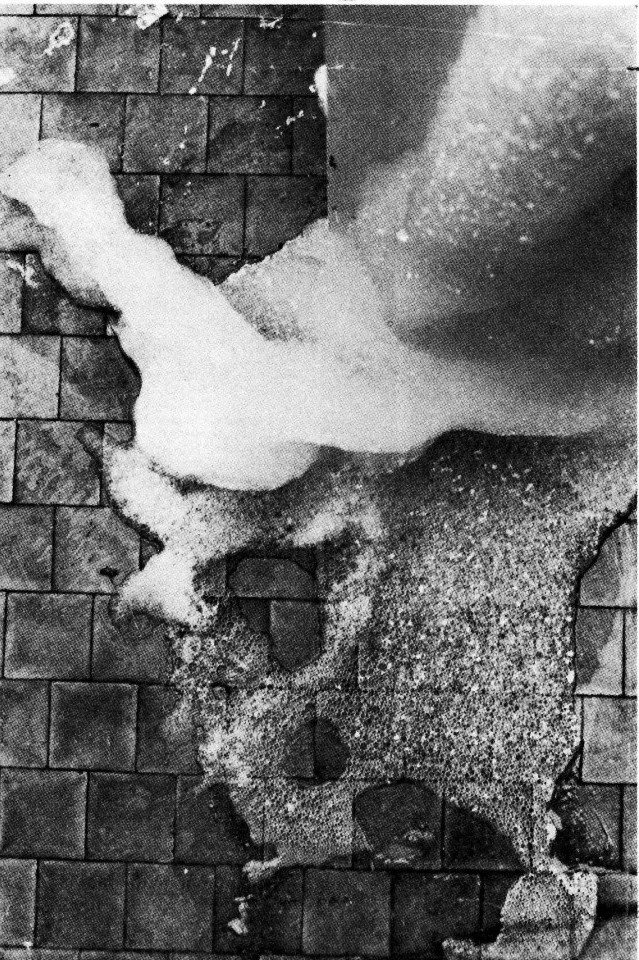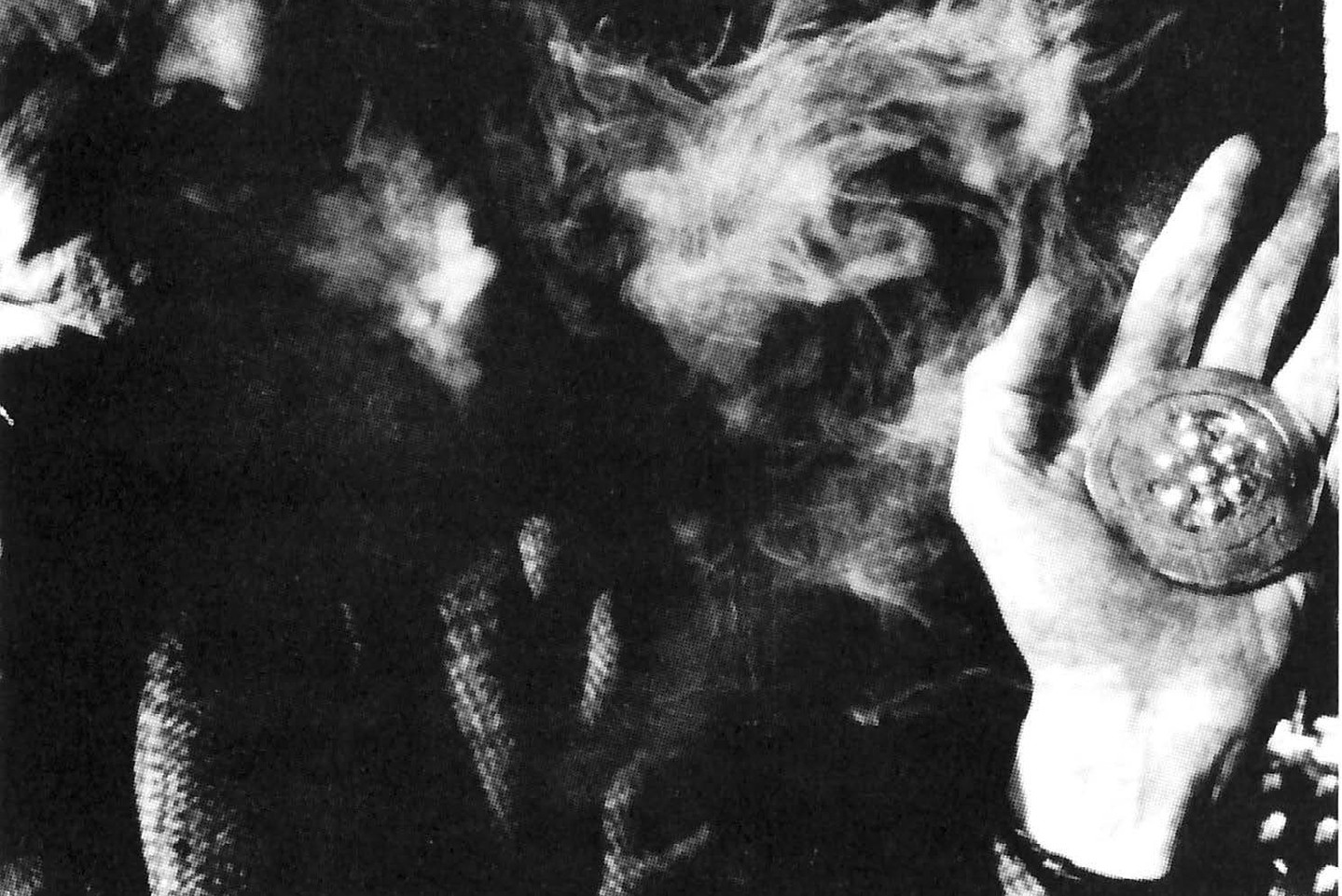 by Adam Nankervis
David Medalla, in the words of Adam Nankervis, and then in his own, a conversation that reveals the mnemonic, emotional, stratified genesis of his works. From the machines that produce foamy rivers and castles of bubbles to those that furrow sand, from a communitarian practice of sewing that crosses continents and generations—against the backdrop of the thousand encounters of a participatory art—to the poetically zany idea of everyone becoming hummingbirds to compose sonic tapestries. Always from the micro to the macro.

David Medalla is a pioneer of kinetic art, earth art, performance art, participation art and conceptual art. His seminal work in the Sixties, the "Cloud Canyons" bubble machine pieces, were the first auto-creative sculptures, and have been recognised as iconic art works of the 20th century.
David Medalla showed his first bubble-machine to the French philosopher Gaston Bachelard and the American artist Man Ray in Paris in 1963. That same year another bubble-machine by David Medalla, and his first Smoke Machine, were included in the exhibition "Structures Vivantes: Mobiles/Images" curated by Paul Keeler at the Redfern Gallery in London. Marcel Duchamp created his Medallic Sculpture in 1968, as a tribute to David Medalla and his bubble-machines.
David Medalla's bubble-machines were first shown in the USA in the exhibition entitled "Air Art" curated by Willoughby Sharp at the Art Museum of the University of California in Berkeley, directed by Peter Selz. An article by Willoughby Sharp in the book Minimalism, edited by Gregory Battcock, featured a reproduction of David Medalla's auto-kinetic sculpture. A set of "Cloud Canyons" was acquired by the City Art Gallery of Auckland, New Zealand, for the exhibition "Chance and Change", curated by Andrew Bogle. Another "Cloud Canyons piece was produced under the direction of Tom Finkelpearl for the exhibition "Travels 11 curated by Chris Dercon at the Clocktower Gallery in Manhattan in 1989. Medalla's Cloud Canyon was in the exhibition "L'Informe (Formless)" curated by Rosalind Krauss and Yve-Alain Bois at the Centre Pompidou in Paris in 1996. The New Museum in New York, under exhibitions director Massimiliano Gioni, has selected David Medalla's sculpture as an iconic modern work of art, under the curatorship of Gary Carrion Murayari.
David Medalla and Paul Keeler founded the Signals Gallery in London, at the corner of Wigmore Street and Wimpole Street, in 1964. For two years Signals became a showcase of the international avant-garde. Signals was, to quote Medalla, "a spiritual adventure in understanding contemporary culture in the fields where art and science converged in harmony and energised each other". The gallery was on four floors with a large basement, and hosted important exhibitions by many pioneering artists, including Lygia Clark, Takis, Sergio de Camargo, Li Yuan-Chia, Mathias Goeritz, Soto, Gerhard von Graevenitz, Alejandro Otero, Antonio Calderara, Mary and Kenneth Martin, Liliane Lijn, Hélio Oiticica, Dom Sylvester Houédard (dsh), Naum Gabo and others. These artists both informed and were informed in dialogues with Medalla, dialogues illustrated passionately in Medalla's magazine Signals, published to accompany the exhibitions.
David Medalla is an artist of multifarious disciplines and polymorphic practices. Since the days of Signals he has been involved in many artistic activities including The Exploding Galaxy and Artists for Democracy, both of which he founded. I met David Medalla in 1991 at the Chelsea Hotel in New York City. Two years after we met, inspired by the life, ideas and art of Piet Mondrian, we co-founded The Mondrian Fan Club. We created and continue to create exhibitions and performances, and an on-going series of ephemeral art works, in different parts of the globe, which we call "Cosmic Graffiti", such as the letter M written in smoke above the sky of Manhattan (1994), the letter A entwined with silk tulips at the Iguazo Falls in Brazil (2010), and most recently the letters H and D at the Hoover Dam in Nevada/Arizona, USA.
David Medalla and I were invited by Gerardo Mosquera to participate in the 2nd Johannesburg Biennial, curated by Okwui Enwezor, in 1997. En route to Robben Island, where Nelson Mandela had been incarcerated, David Medalla thought of founding a biennial open to all artists everywhere, regardless of age, sex, race or artistic language. Thus, the first London Biennale began in the year 2000, and continues every two years to showcase many international artists.
ADAM NANKERVIS: David, your work "Cloud Canyons", a simple device of soap liquid and water, fed through different columns by a small machine or pump, in its simplicity and power is nature's machine. Present and yet always in the implosion of vanishing. In this work, you made the first auto-creative kinetic sculpture. Bubbles are known to be one of the strongest formations in physics, like building blocks in solid structures, as is proven by their application in new developments in architecture and engineering. The "Cloud Canyons" are left in an organic flux of forming, reforming, deforming, in beautiful, sensual shapes, always in a flux of recreating themselves. Where and when did the inspiration come to you?
DAVID MEDALLA: All my work is informed by personal experience. It is the seed to which I apply a transcendent dialogue. The idea for my first bubble machine was rooted in a complex combination of many memories. During the Second World War I was in my sister's arms when I saw a young Filipino guerrilla shot by a Japanese soldier. The young guerrilla ran into our garden. The sight of him lying there dying, red blood bubbles foaming from his mouth, made a strong impression on me. Flying over the Grand Canyon on my first trip to America, visiting a soap factory at the bottom of Notre Dame de la Garde in Marseilles, a visit to a brewery in Edinburgh in Scotland: these left deep impressions as well. My mother cooking "guinataan", a Philippine dessert made of coconut milk and tropical fruit, and the movement of clouds over Manila Bay near where I was born, inspired me to create a work of art that would express and embody the motion of clouds. In the 1960s the works of Takis and Tinguely were experiments with different forces, both magnetic and kinetic. My work differed from theirs, for although my kinetic art works used machines, the works themselves moved in random organic ways and avoided the monotonous repetitive movements of most machines. My land art projects and all the rest of my cosmic propulsions were born out of the organic and my relation with the dynamics of nature. When I first exhibited with Liliane Lijn at the Indica Gallery in London in 1967 I called my artworks bio-kinetic sculptures. Some of my artworks in that show are featured in the film I'll Never Forget What's'isname by the English director Michael Winner.
AN: The Sand Machine (a concatenation of small metallic cones threaded by a string on an overhead rotary device traced and retraced forms in the sand on a circular dish underneath) was one of the first of your many machines to create pictorial mapping, calligraphy in motion, erasing, redefining and reinventing synoptic lines and moving calligrams. In kineticism there is an obvious attraction towards stable and unstable units. Harnessing a force like wind with a kite, this exploration of invisible components of a greater force, harnessed chaotically and/or serenely – kinetic sculpture somehow proves to be a medium for exploring and harnessing external forces somehow, to show and/or expose a greater external and possibly invisible force. Was this your desire in the making of your machines?
DM: Actually the initial inspiration for my first sand machine came from my memories of the rice terraces in the mountain provinces of the Philippines, where I spent one year of my boyhood as a student at St. Mary's School in Sagada. I also witnessed a sandstorm in the Sahara desert on my way to Europe in the spring of 1960. I gave the title Lament to my first sand machine because I thought of the death of metal. The other sand machines I made, for the exhibition "Force Fields" curated by Guy Brett at MACBA in Barcelona, and at the Hayward Gallery in London in 1999, were of a more festive nature and reminded of the happy times I spent on the beaches in the Philippine Islands, like the island of Cebu where my mother came from.
AN: A Stitch In Time (1967) is the first in your series of participatory art works, where you invite people to immerse themselves in the act of stitching and a sense of community arises, both because many people are invited to participate and because it is an endless creation and re-creation by design or chance. What was your inspiration in the making of this particular work?
DM: The inspiration for A Stitch in Time was simple. It also reveals the "atomic" nature of my artworks. In 1967 two lovers of mine came to London. One was on his way from California to India, the other was on his way from Africa to New York. I arranged to meet them at Heathrow Airport prior to their departures. I gave each one a handkerchief (one black, one white), some needles and small spools of cotton thread. I told them they could stitch anything they liked on the handkerchiefs, on which I had stitched my name and a brief message of love. I said that stitching could alleviate boredom, if delays might occur while waiting for their flights. I lost track of my lovers. One day many years later, while waiting for my flight back to England at Schiphol Airport in Amsterdam, I noticed a handsome young man who carried a backpack to which a column of cloth was attached, like a long pillow. He showed me the column of cloth with many little objects attached onto it, like old Chinese coins, fragments of broken bamboo whistles, torn cigarette packets, even cigarette butts, and all kinds of embroidered messages. The young man said someone in Bali gave him the column of cloth and told him he could stitch anything on it. I looked at the bottom of the column of cloth and saw the black handkerchief I gave to one of my lovers with my name and message on it. I handed back the column of cloth to the young man, but I did not tell him that the column of cloth started as my "stitch in time". I have made many versions of A Stitch in Time, shown in many different places such as Documenta 5, curated by Harald Szeemann, in Kassel, Germany, and the Gallery House in London, in the exhibition "A Survey of the Avant-Garde in Britain", curated by Sigi Krauss and Rosetta Brooks (both in 1972). The thing I like best about this work is that whenever anyone is involved in the act of stitching, he or she is inside his or her own private space, even though the act of stitching might occur in a public place.
AN: Your works often seem to be rooted in or inspired by literature. Your quotes, your tributes to great writers and poets, inform your different practices and experiments. What role has literature played in your practice as a visual artist?
DM: I've been writing poems since the age of five. One of the most beautiful exhibitions I saw as a boy in Manila was a UNESCO-sponsored touring show of reproductions of classical Chinese art. I was deeply moved both by the beauty of classical Chinese paintings and by the poems that were inscribed on some of them. I read the poems of Li Po and Tu Fu in translation. I myself made translations of poems by Shakespeare, Milton, Whitman and Blake at the age of nine. So I guess I have been deeply moved by poetry, as I am also deeply moved by many kinds of music. I created a series of impromptu texts in 1979 entitled "The Tales of the Talking Statues of Rome", one of which, entitled Piranesi and the Mother Scorpion, I performed on the Piazza della Vittoria in Pavia, Italy in 1979, in the "Vive" evenings curated by William Xerra with the collaboration of Pierre Restany. In 1980 Emilio Vedova invited Lovato Guerrino and me to give separate performances at the Academy in Venice. I performed in the Great Hall of the Academy my tale entitled Somersaults and Voyages of the Pilgrim Monkey, inspired in part by a passage from the Shanameh of the Persian poet Firdausi. You recall, Adam, we did a performance in honour of the French poet Victor Segalen in a gallery near the Bastille in Paris in 1996. I was deeply honoured when João Simões and Pedro Cabral Santos arranged for me to give a performance with Shoe Taylor Guiness in the home of the great poet Fernando Pessoa in Lisbon, Portugal in 2001.
AN: In the multitude of your Cosmic Propulsions, your ideas are liberated from an essence of now-ness. Some are propulsions for the future, like Launching the Great Wall of China Around the Moon in 1972. In the past you created sonar sculptures and sonic installations, such as your participatory art work of 1972 entitled Listen to the Sonar Trees. In your recent performance at the Space Gallery here in Las Vegas, you called your live event a BOGOF. Can you explain what BOGOF means?
DM: BOGOF stands for Buy One Get One Free. For my live event during our Overflow show I told the audience I would give them the first performance gratis – for free. Afterwards, I asked the audience to donate any amount of money for the second performance, and the sum of money donated would determine its length. After the second performance I invited the audience to sign the banknotes they donated with their names and email addresses, so the dollar bills would become part of my archives. Actually, the live event I created at the Space Gallery here in Las Vegas really should have been called GOF/BOP—Get One Free/Buy One Performance. I ended my performance with a new participatory art work. In my previous sonar sculptures and sonic installations I used different electronic devices such as tape recorders, microphones, megaphones, loudspeakers, oscilloscopes. For my live event at Overflow I simply invited the audience to hum. I got that idea when you told me, before we came to Las Vegas, that your mother feeds the hummingbirds that come to her garden there. I thought that humming together would create a wonderful end for my live event. My artworks have atomic beginnings. They begin small and simple and eventually they grow organically to monumental proportions. This is true, for example, of my bubble-machine and A Stitch in Time. I foresee a time when people spontaneously – in streets, buildings, lifts, buses, trains, ships, airports, shops, supermarkets, thrift stores, squares and parks – will hum singly and together, and weave beautiful tapestries of sound.
Originally published on Mousse 29 (Summer 2011)