EXHIBITIONS
Debora Hirsch, Attila Szücs and "Pepe Cobo" at SPAZIO 22, Milan
Debora Hirsch "donotclickthru" at Galleria PACK—SPAZIO 22, Milan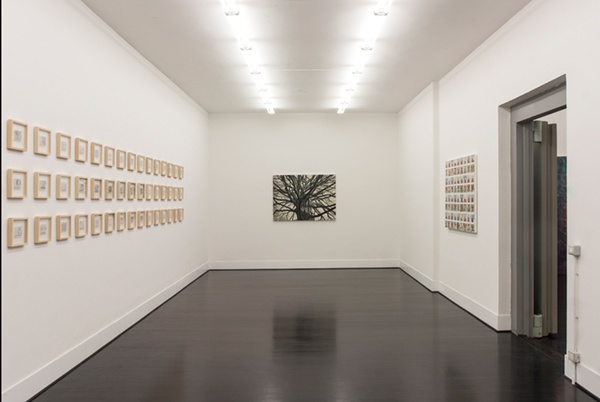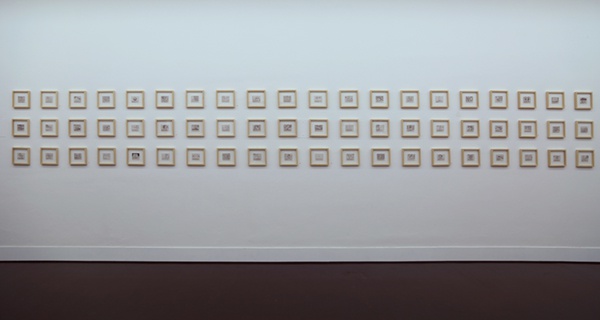 Galleria Pack, Milan, is pleased to announce their first collaboration with the Milan-based Brazilian artist Debora Hirsch. The exhibition is entitled "donotclickthru".

Hirsch's artwork is often conceptual and appropriative as she gathers visuals (images and texts) from a wide variety of media to build her own perspective through drawings, paintings, videos and other forms. Her work for this exhibition does not suggest an emotional or political agenda. Rather, Hirsch's work deals with the influence on culture and society of contemporary means of communication and technology. "If everything is out there, what is left within you?" asks one of her drawings. Hirsch explores our human condition, including vulnerabilities and contradictions, without leaving any space for a judgmental attitude, axioms and clichés.
The imperative sentence "donotclickthru" is also the url of the website related to the work: www.donotclickthru.com. "The aim of the website is to get zero clicks. It presents a succession of images, drawings and texts, which simulate the typical web format of communication. It may work like a trap for humans in which we, reduced to mice, go for an invisible, immaterial and odourless piece of cheese. We are presented to the Internet ephemera—a trap that may transform a possibility into a must, a doubt into a certainty and a minority into a majority of people, or everybody. Anything can be turned into a list, no matter whether meaningless or fictitious. Our curiosity gets triggered; we must fill that knowledge gap. Clicking is the perfect type of pleasure. Clicking is exquisite and it leaves one unsatisfied. The more you find the content disappointing, the more you will come across it again. What goes around, comes around."
In the paintings on show, Hirsch acts as the narrator of some precise historical moments. Such moments regard the Brazil's colonial period, the pre-digital era in which viral pervasiveness could be only analogical, the current digital society, and the time still to come. "We may think about the digital world as a sophisticated reflection device, a relentless mirror. Mirrors are destabilising but we are fascinated by them as our reality attracts and terrifies us. The Narcissus myth, recreated by Borges, reminds us that one cannot stand that tension for long. We have never had so many reflective surfaces and information."
In the exhibition, Hirsch reflects about the democratic, horizontal, non-hierarchical, interactive, symmetrical, empowered way to communicate that technology has given us. However, paradoxically the new technology has also given us a "life that is destined to be so predictable and controlled, condemned to overexposure and lack of privacy, a freaking orderly society."
Her work seems familiar but whether its meaning refers to digital culture, popular beliefs, religion, oppression, nature, burden, or something else altogether, one cannot say. These artworks engage us in and engender conversation. They do not censor or support their subjects leaving any such judgments to the onlookers.
.
at Galleria PACK—SPAZIO 22, Milan
until 2 June 2016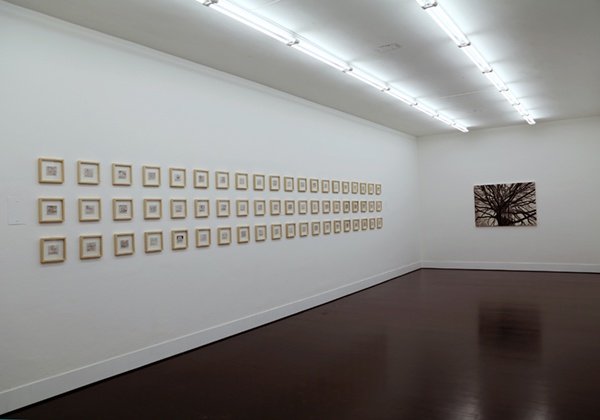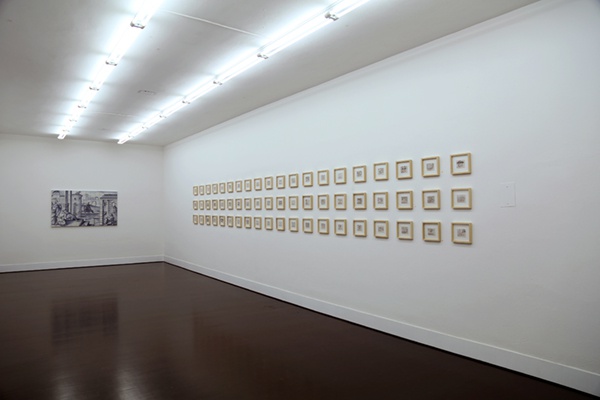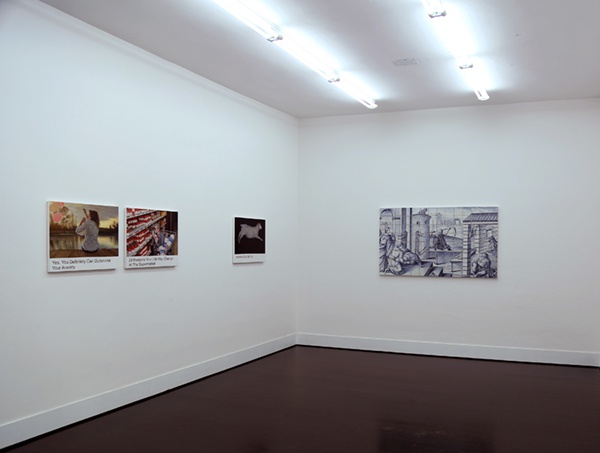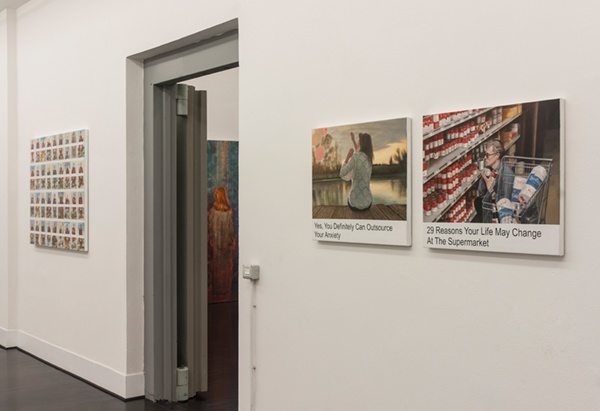 Debora Hirsch "donotclickthru" installation views at Galleria PACK—SPAZIO 22, Milan, 2016.
Courtesy: the artist and Galleria PACK—SPAZIO 22, Milan. Photo: Antonio Maniscalco
.
Attila Szücs "Waiting for the unknown 2016" at FL Gallery—SPAZIO 22, Milan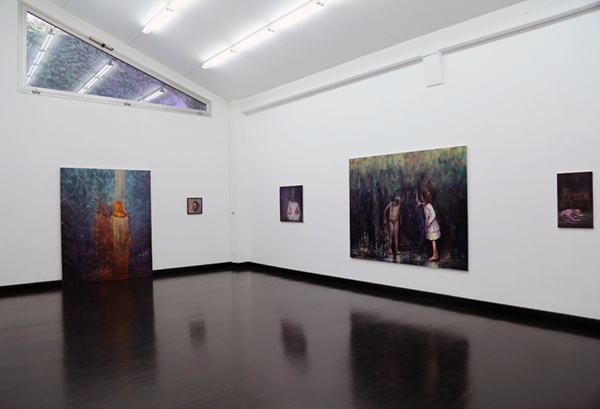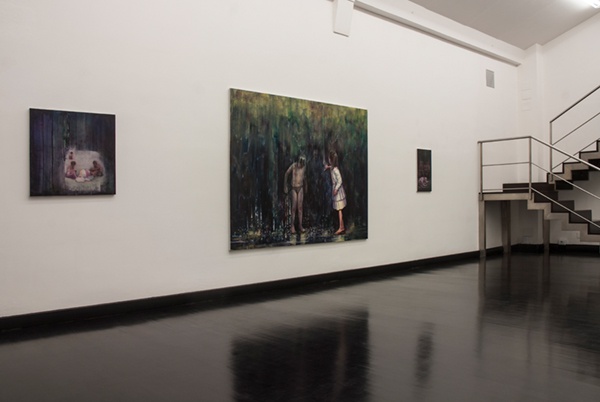 Federico Luger is pleased to present "Waiting For The Unknown 2016", the first solo show in Italy by Hungarian artist Attila Szücs. The exhibition features a selection of new paintings, oil on canvas, realized in the past two years. Women, children, family subjects are captured in key moments, images able to convey an extraordinary emotional charge.
A fascinating dialog between dreams and memories.
.
at FL Gallery—SPAZIO 22, Milan
until 2 June 2016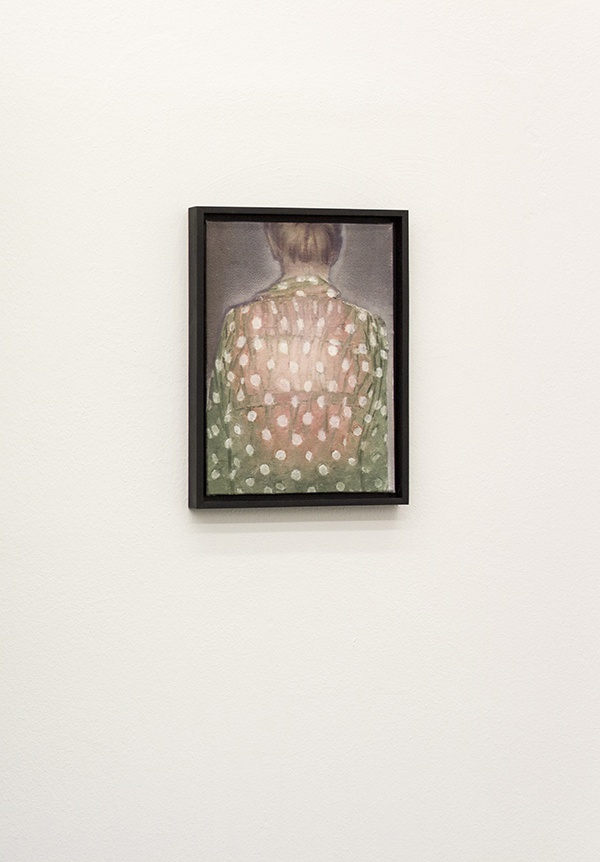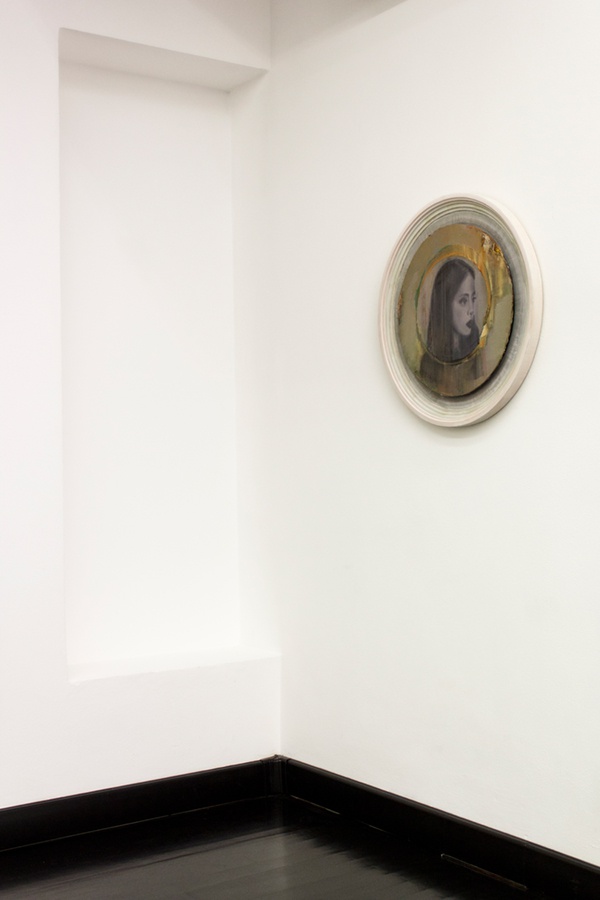 Attila Szücs "Waiting for the unknown 2016" installation views at FL Gallery—SPAZIO 22, Milan, 2016
Courtesy: the artist and FL Gallery—SPAZIO 22, Milan. Photo: Alessio Anastasi
.
"Pepe Cobo" at SPAZIO 22, Milan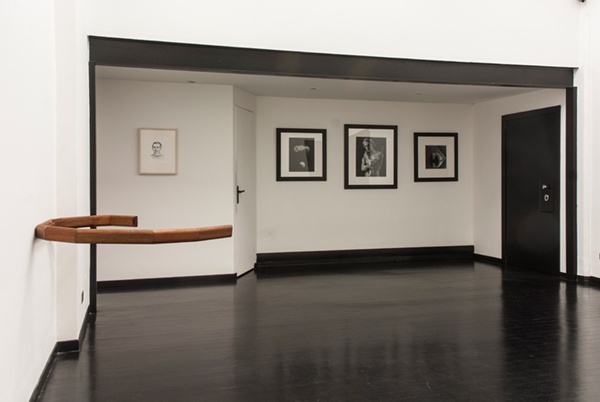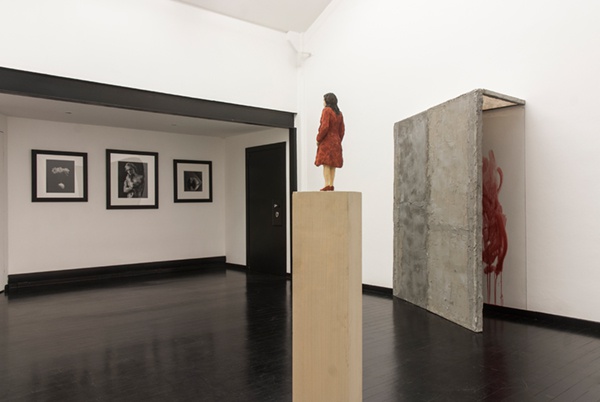 SPAZIO 22 is happy to announce its first collaboration with Pepe Cobo gallery, which has recently moved to Lima. In our exhibition room of Viale Sabotino 22, SPAZIO 22 will be presenting a group of works by Stephan Balkenhol, Cristina Iglesias, Robert Mapplethorpe and Juan Muñoz.
Stephan Balkenhol was born in Fritzlar (Hessen), Germany in 1957. After finishing his training at the Academy of Hamburg, as a student of German minimalist sculptor Ulrich Rückriem, it became clear to him he had the propensity to use wood as a means for re-interpreting the human figure.?This German artist confronts us with figurative sculptures and this has been his true vocation for over twenty years. His everyday heroes and heroines, carved from a single trunk and given life by their colour, are men and women existing far away from any myth or whatever ideal of classical beauty. His figures represent absolutely "normal reality" but do not lose sight of normal values. On their pedestals, his creatures appear over- or undersized which almost remind one of communal living and its moments of audacity. Stephan Balkenhol's works appear to be hieratic and inscrutable icons.
Cristina Iglesias, during her career, has defined a unique sculptural vocabulary creating immersive and experiential environments joining together architecture, literature and different cultural influences. Through a language of architectural and natural forms made up of various materials such as resin, bronze, stainless steel and terracotta, the artist poetically redefines an interpretation of space logic by mixing the internal and external, the organic and artificial.
Robert Mapplethorpe (New York, November 4th, 1946 – Boston, March 9th, 1989) was an American photographer.?Most of his photos were taken in his studio. His most common works were portraits of celebrities (including Andy Warhol, Deborah Harry, Patti Smith and Amanda Lear). His studies were mostly portrayed a sadomasochistic culture: he illustrated, up close and unfiltered, the homosexual subculture of New York of which Mapplethorpe himself was part. His studies also show male nudes and often homoerotic subjects but with the notable exception of the series of female nudes of the bodybuilder Lisa Lyon.
Juan Muñoz was born in Madrid in 1953. The second of seven children, he was expelled from school at the age of twelve because of his rebellious behavior. He continued his studies in other schools and with his brother Vicente took private lessons from Santiago Amón, who profoundly influenced his artistic formation of Muñoz. Amón introduced him to the study of modern literature and the artistic avant-garde.
In October 1970, Muñoz moved to London, where he stayed briefly before leaving for a trip to Europe, which also took him to in Sweden and Italy before returning to the English capital. Here he deepened his knowledge of art history, assiduously attending the National Gallery and, thanks to a scholarship, the Central School of Art and Design (1976-1977) and subsequently the etching course at Croydon College of Design and Technology (1978-1979). In London, in 1980, he met the Spanish artist Cristina Iglesias, who would become his wife. She also present in this exhibition with her sculptures.
His production is expressed in works of performative character. They are impromptu actions carried out in urban environments. They are also rendered as photographic documentation and gradually his artistic research led him to approach Richard Long, Tony Cragg and Barry Flanagan, who are artists interested in the overturning of canons of traditional sculpture.
His research into the relationship existing between architectural and personal spaces is at the basis of his early sculptures. In his early works , the artist did not devote himself to large-scale projects as he has done in recent years.
.
at SPAZIO 22, Milan
until 2 June 2016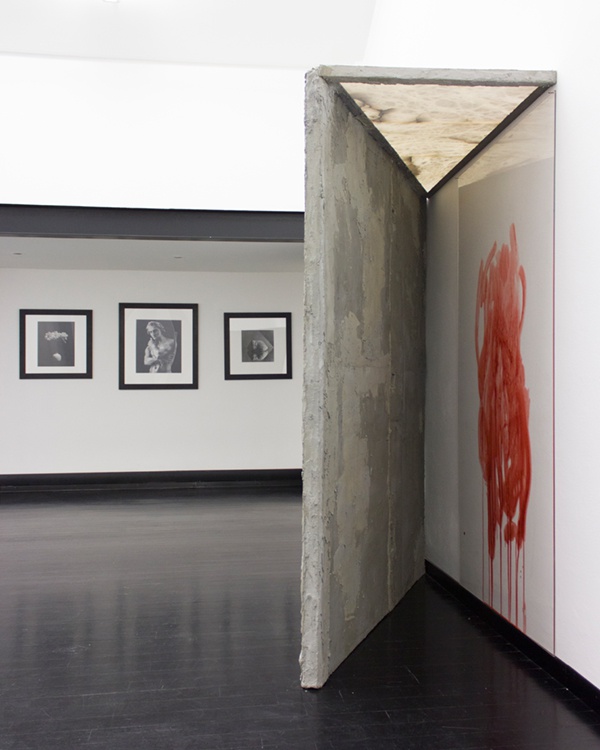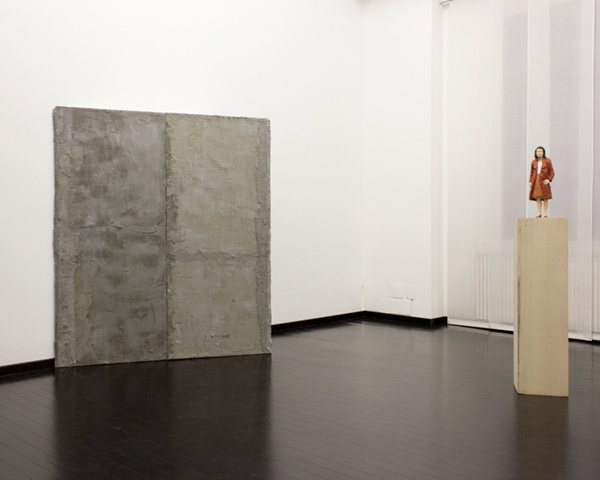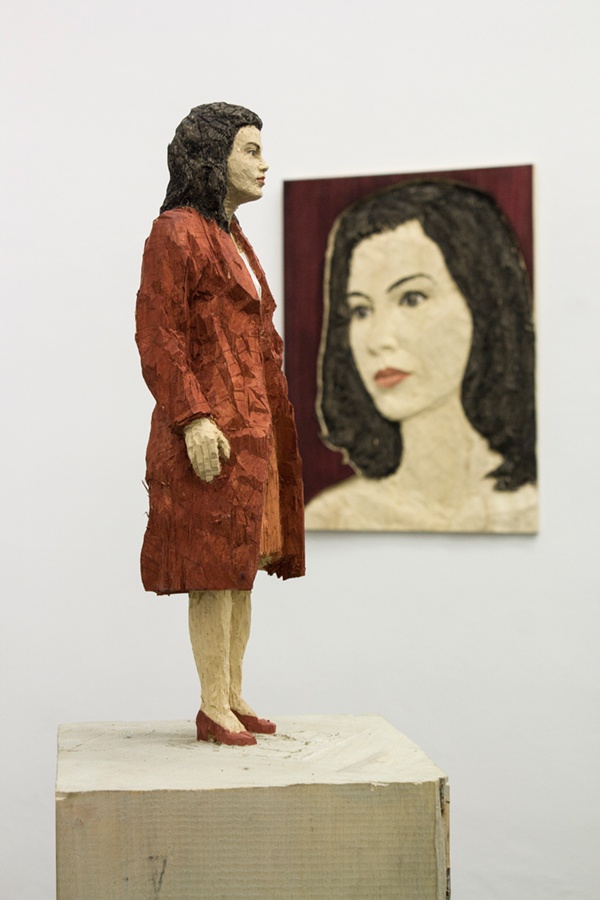 "Pepe Cobo" installation views at SPAZIO 22, Milan, 2016
Courtesy: the artists and SPAZIO 22, Milan. Photo: Alessio Anastasi