ESSAYS Mousse 54
Me
by Dieter Roelstraete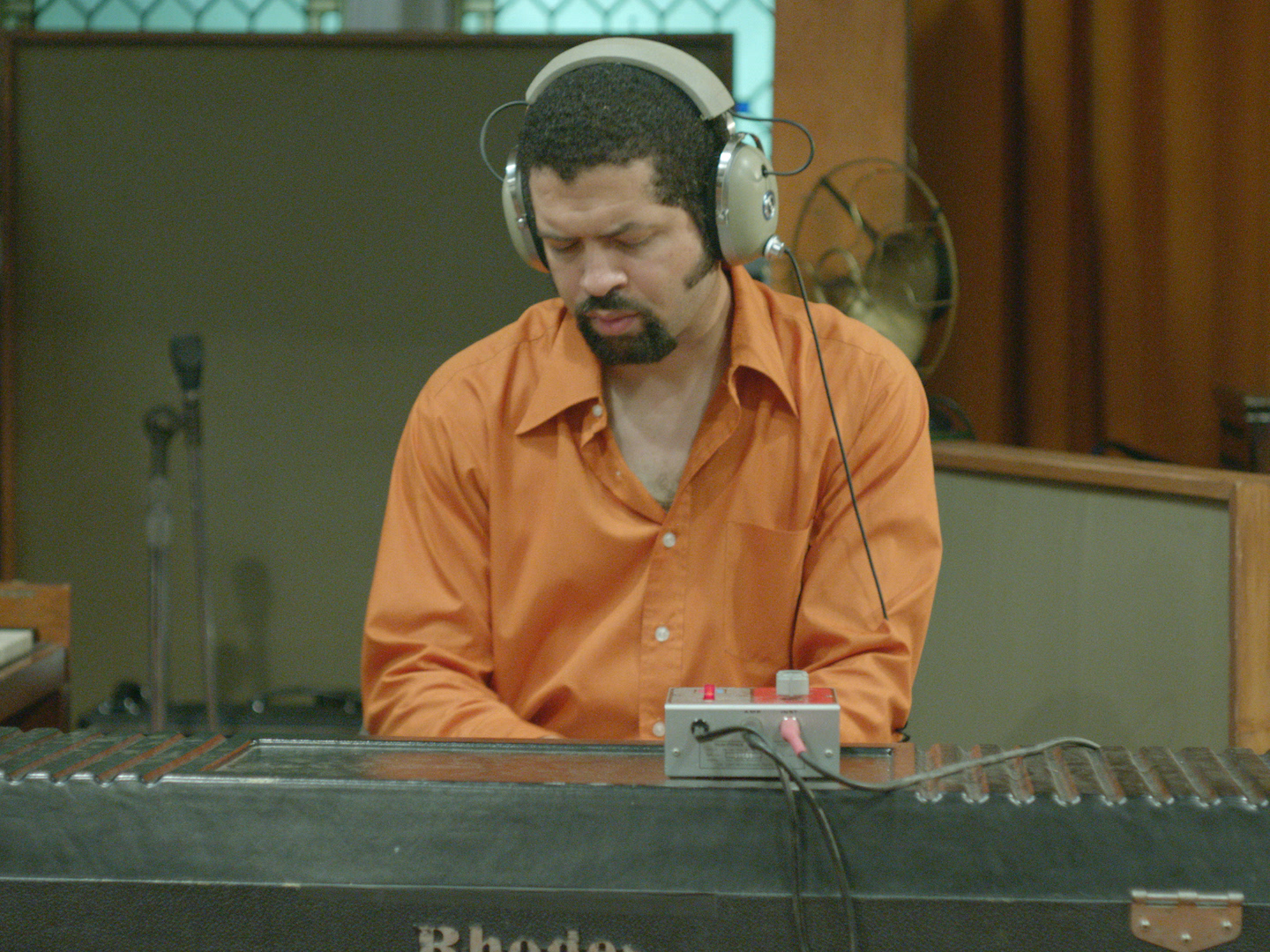 Stan Douglas, Luanda-Kinshasa (still), 2013. Courtesy: the artist and David Zwirner, New York

A 1972 words long investigation of 1972: the year in which author Dieter Roelstraete was born, under the sign of the groundbreaking exhibition documenta 5 organized by Harald Szeemann in Kassel. Those same twelve months gave birth to Miles Davis's pivotal funk-jazz masterpiece Across the Corner, the Feminist Art Journal, and the beginnings of modern finance, which arose from the ruins of the Bretton Woods system of international monetary management.
Anyone lucky enough, like I have been (so far), to be involved in the organization of a documenta—ours the upcoming, 14th edition, scheduled to take place in Athens as well as my provisional hometown of Kassel—must inevitably contend with that hallowed exhibition's storied history, starting with Arnold Bode's beginnings in 1955 all the way to its spectacular last instalment in 2012—the exhibition to end all exhibitions as overseen by Carolyn Christov-Bakargiev. The defining landmark in many respects, however, remains documenta 5, organized by Harald Szeemann in 1972—its catalogue the one documenta publication that seems impossibly to come by in a city otherwise awash, it often seems, in documenta 6, 7, 8, and 9 memorabilia. Perhaps it is the simple fact of working under the watchful eye of documenta 5's iconic, Ed Ruscha-designed poster, sporting the opening and closing dates of June 30 and October 8 respectively, that has fed a long-standing world-historical fantasy of mine according to which "the contemporary", exemplified first and foremost by its crystallization in the field of art as represented by Szeemann's epochal project (Beuys, LaMonte Young, Photorealism, Wiener Aktionismus, and one as of yet unnamed icon of Institutional Critique who shall be returning to Kassel in 2017) could be said to have begun in 1972.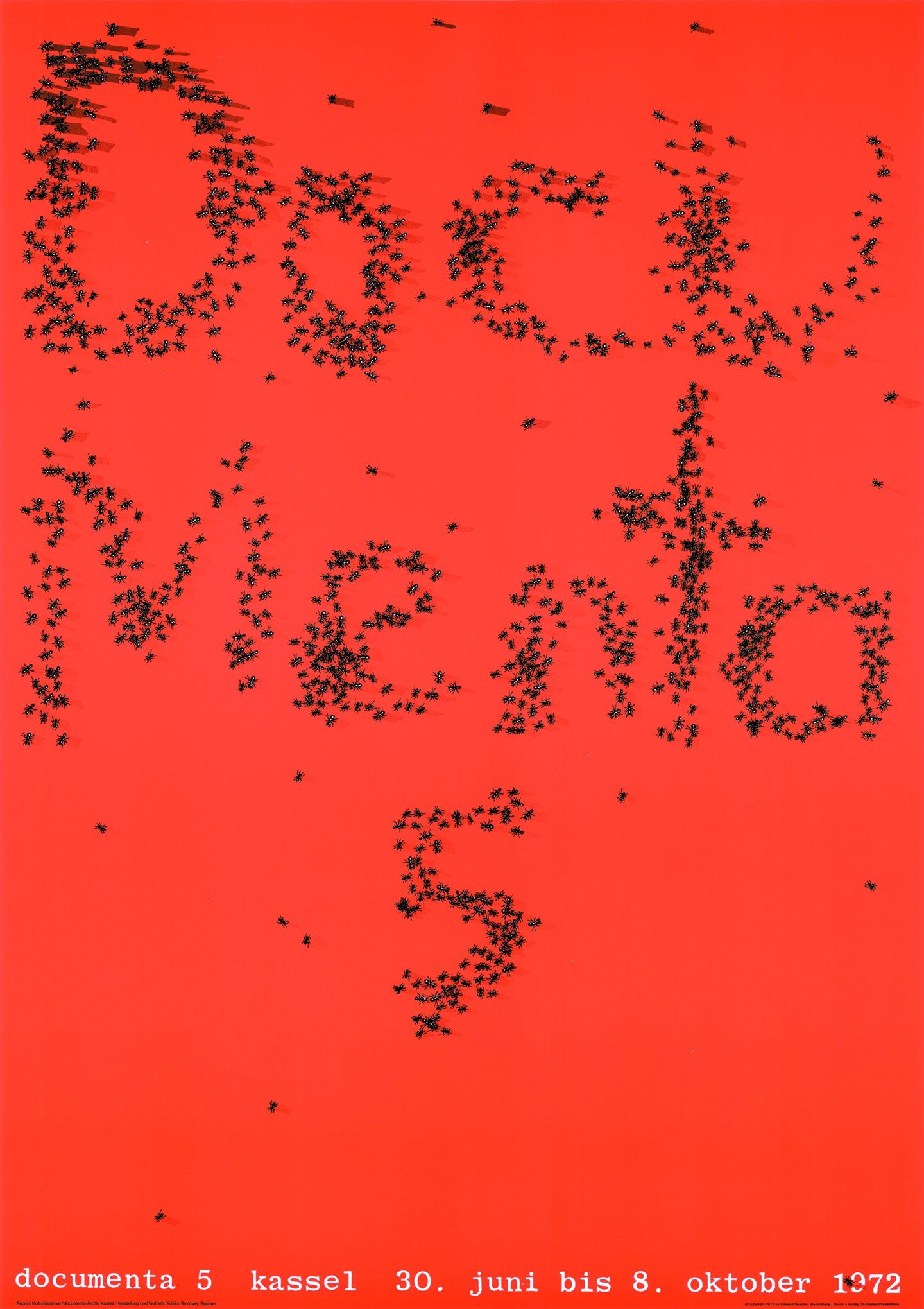 Ed Ruscha, Poster for documenta 5, Kassel, 1972. Photo: © documenta Archiv
As in the dynamiting of the Pruitt-Igoe social housing complex in St. Louis, Missouri, in April 1972, on the day that, according to Charles Jencks, "modern architecture died"—and the postmodern era was therefore well and truly inaugurated—in architecture (mere weeks after the aforementioned demolition job, Robert Venturi, Denise Scott Brown and Steven Izenour published their landmark Learning from Las Vegas), art and finance alike. [Cf. infra.]
In January 2014, Canadian photo- and film artist Stan Douglas premiered his video installation Luanda-Kinshasa at David Zwirner in New York. Shot inside a meticulous reconstruction of CBS' legendary 30th street recording studio in Midtown Manhattan, the video is structurally modeled after Jean-Luc Godard's Sympathy for the Devil from 1968, though the Rolling Stones have been replaced in Douglas' Luanda-Kinshasa by an ensemble of jazz musicians clad in 1970s gear whose gently meandering jam conjures a different musical history, one already hinted at in the hyphenated title of the piece (Luanda and Kinshasa being the capitals of Angola and what is now known as the Democratic Republic of Congo respectively): that of the African roots of the disco revolution that was about to set New York nightlife ablaze on the one hand, and on the other hand that of a definitive turn towards a more Afrobeat-inflected sound in the repertory of the one iconic jazz musician most closely associated with the aforementioned recording studio, namely Miles Davis. Indeed, it was in "the church", as the studio was affectionately known among artists as wide-ranging as Bob Dylan and Glenn Gould, that Miles recorded such talismanic albums as Kind of Blue, In a Silent Way and Bitches Brew. The inclusion of a sitar player in Luanda-Kinshasa, however, as well as the straight-faced funk rhythm throughout—not to mention afros, dashikis and comparable sartorial accents—suggests that the Davis milestone on Douglas' mind is in fact On the Corner, recorded at "the church" in 1972. Once called the most hated album in all of jazz history (repetitive, populist, cynical, clueless), On the Corner now stands out as a prophetic intimation of sounds to come, a pivotal moment in the history of modern music that has long since cast off its dubious reputation as Miles' anxious attempt at catching up with the kids as reflected, for instance, in the cover's dopey "street" aesthetic courtesy of Corky McCoy ("Free Me"). Here we are, turning corners in '72.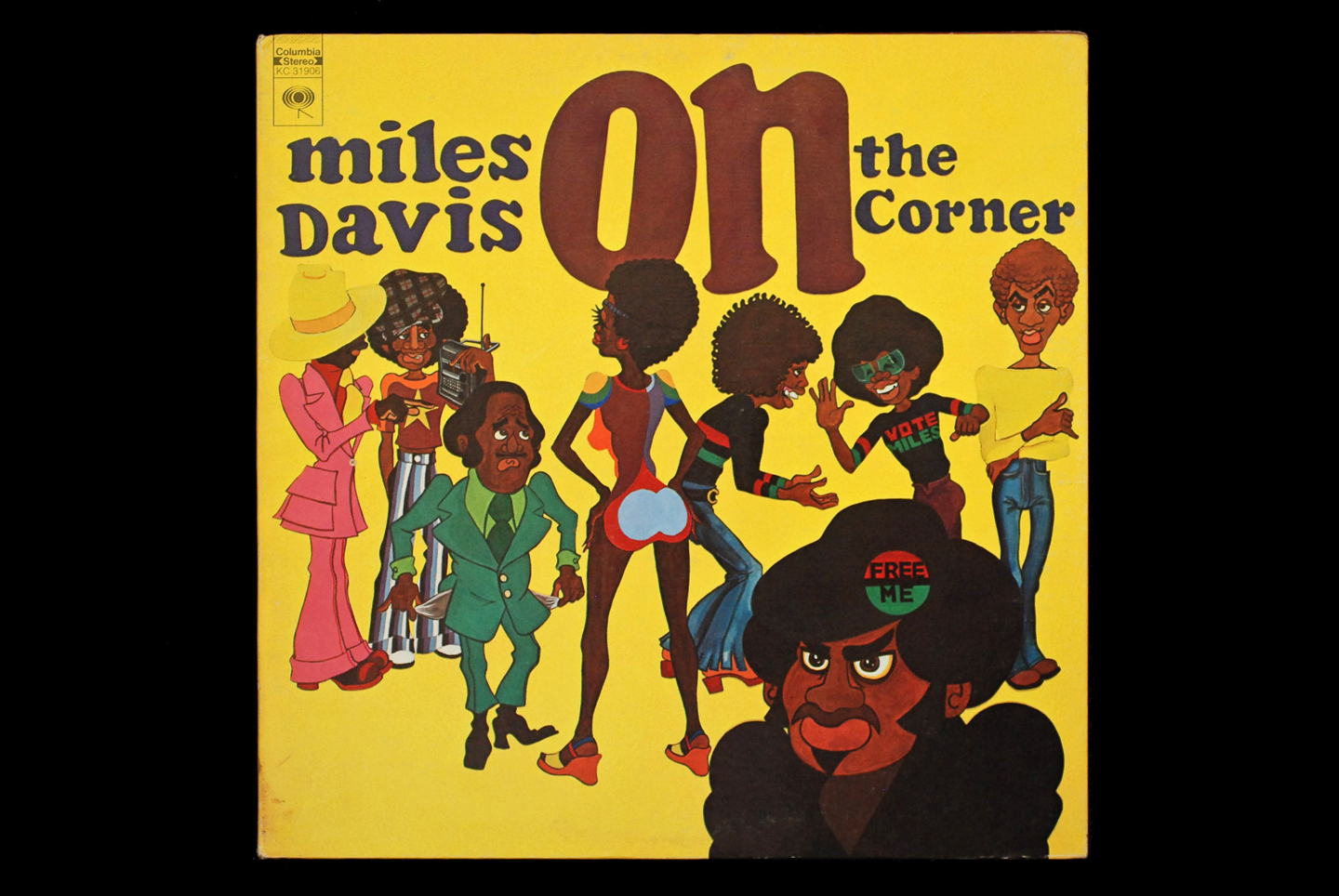 Miles Davis, On the Corner, Columbia, 1972. Cover paintings by Corky McCoy
That same year also sees the release of Steely Dan's debut album Can't Buy a Thrill; Neil Young's Harvest; Nick Drake's Pink Moon and Pink Floyd's Obscured by Clouds; Deep Purple's Machine Head; the Stones' Exile on Main St.; Caravan's Waterloo Lily; David Bowie's Ziggy Stardust; Roxy Music's eponymous debut album (also that of Neu!); Lou Reed's Transformer; Kraftwerk's sophomore effort; and Can's Ege Bamyasi. It's a good year for jazz, or at least stretching its very boundaries, as is attested by the likes of Anthony Braxton's Saxophone Improvisations; Gary Burton's Crystal Silence; Ornette Coleman's Skies of America; Alice Coltrane's World Galaxy and Lord of Lords; Chick Corea's Light as a Feather and Return to Forever; Manu Dibango's Soul Makossa; Julius Hemphill's Dogon A.D.; Dave Holland's Conference of the Birds; Mahavishnu Orchestra's Birds of Fire (lots of avian metaphors, that year, which also saw the release of Albert Mangelsdorff's Trombirds); Airto Moreira's Free; Pharoah Sanders' Black Unity; Archie Shepp's Attica Blues; and Weather Report's I Sing the Body Electric. This year, we all sing the body eclectic.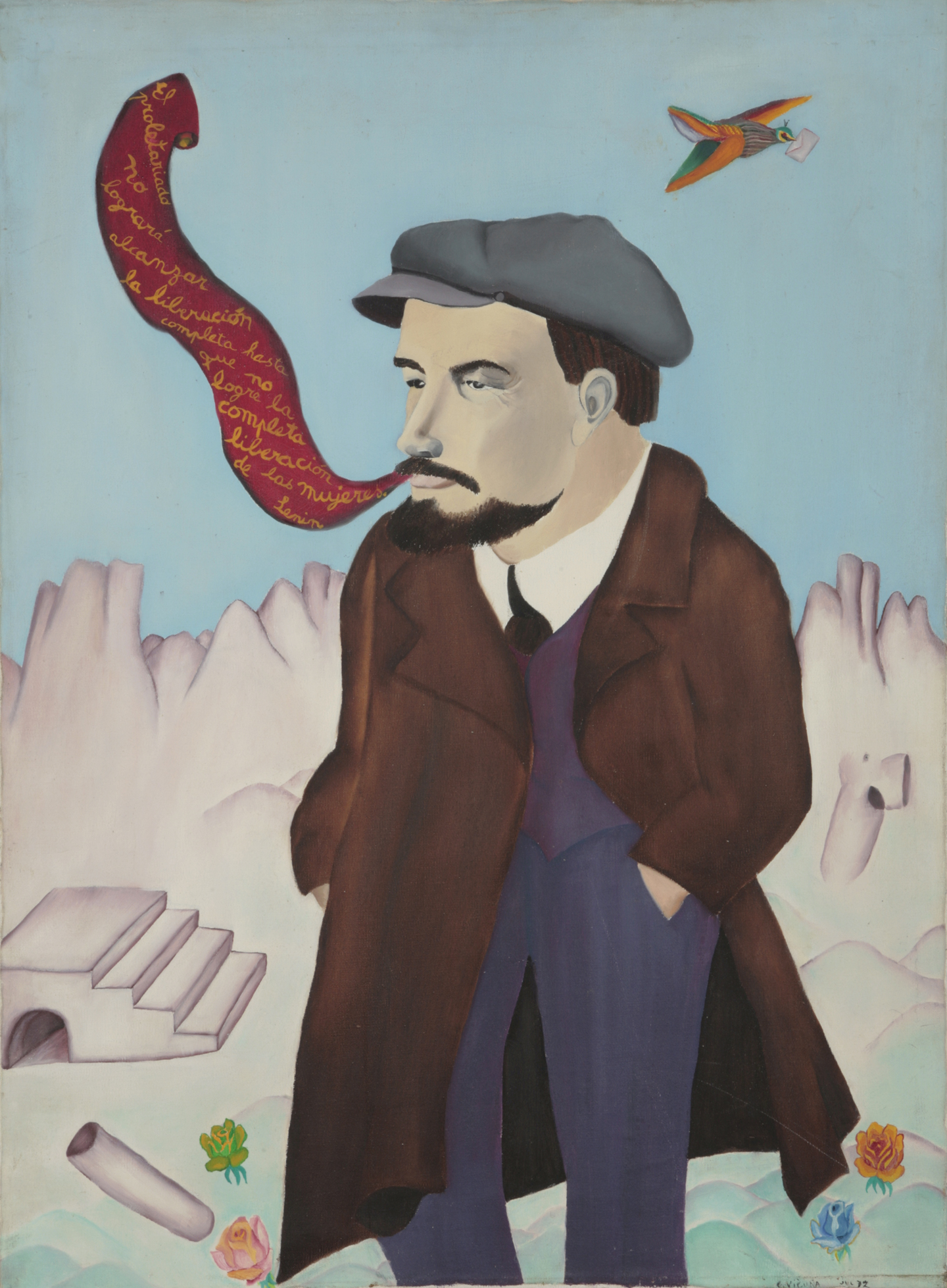 Cecilia Vicuña, Lenin, 1972. © Cecilia Vicuña. Courtesy: England & Co Gallery, London
One of the best exhibitions I had the pleasure of seeing in 2014 (what a good year that was!) took place in a variety of institutions around Rio de Janeiro and was titled, with programmatic simplicity, ArteVida. A treasure trove of 1960s and 1970s boundary-pushing art by a wealth of women artists hailing from the global south in particular, it is here that I first encountered the work of the Chilean artist and poetess Cecilia Vicuña, whose 1972 portrait of Lenin in particular has stayed stuck in my mind ever since. Vicuña's Lenin is part of a series of painted portraits of the revolutionary heroes of the day (Che, Fidel, Marx, Salvador Allende, the year before he was murdered in a C.I.A.-backed coup) in which these icons' monolithic masculinity and talent for self-sacrifice become resolutely "queered"—roses at Vladimir's feet, a pastel-toned mountainous landscape in the back, a colorful bird in mid-air, and from his mouth does not a pipe protrude but rather a deep-red speech bubble spout, reminding us that the liberation of the proletariat will never be complete without the complete liberation of its women. 1972, in fact, is also the year the Feminist Art Journal sees the light of day (discontinued in 1977), though the much more significant benchmarks here are doubtlessly the UK-based feminist journal Spare Rib, which lasted well into the 1990s, and the Gloria Steinem-founded Ms. magazine, which continues to appear in a one-hundred-thousand-plus print run to this day.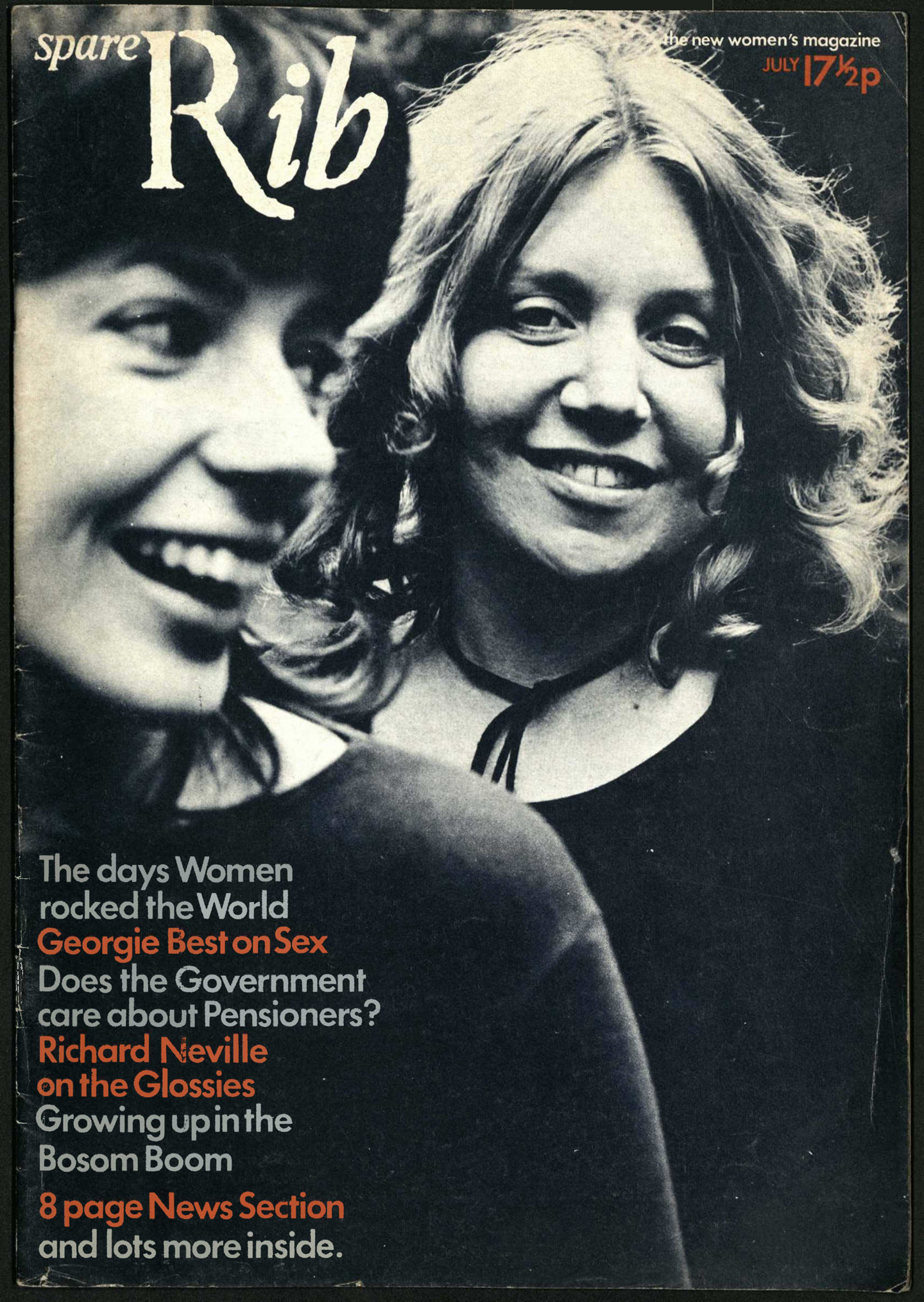 Rosie Boycott and Marsha Rowe, Spare Rib, Issue 1, July 1972
On a related note, we may perhaps surmise that the most symptomatic cinematic event of the year 1972 is not so much the release of Francis Ford Coppola's The Godfather but rather the twinned critical and popular success of both Fritz the Cat (Ralph Bakshi's adaptation of Robert Crumb's feline antihero, the tagline of which read alternately "We're not rated X for nothin', baby!" and "He's X rated and animated!") and, more amazingly still, in retrospect, Artie & Jim Mitchell's Behind the Green Door, the feature-length porn flick starring Marilyn Chambers that still stands as the high-water mark of the so-called Golden Age of Porn, the fourth-highest grossing movie of the year on the domestic (i.e. US) front—more, that is, than Cabaret, Deliverance, and Jeremiah Johnson. (Deep Throat likewise premiered in 1972.) Heady days, out on the sexual barricades: the same year also witnessed the publication of Xaviera De Hollander's The Happy Hooker (second sentence: "Hey, bigshit madambitch, bet you ain't got no black cunt turnin' tricks in your high-class fuckin' house!"—this in the midst of anti-obscenity legislation battled in court cases across the Western world) and, just as exemplarily, Alex Comfort's illustrated sex-ed milestone and perennial bestseller The Joy of Sex: A Gourmet Guide to Lovemaking. (Number 5 on the New York Times non-fiction bestseller list for 1972: Open Marriage by Nena and George O'Neill.) Comfort's The Joy of Sex is perhaps best remembered today for its illustrations by British graphic artist Chris Foss featuring an especially hirsute male protagonist—woman and werewolf, say. (The Joy of Gay Sex would follow relatively soon after, in 1977.) All in all, no wonder that the most widely read art publication of 1972 should have been John Berger's Ways of Seeing, a critical paean to the joys of seeing, with much attention lavished on seeing and looking at women in particular, its patent problematic powerless to stop its publisher Penguin from reprinting pictures of scantily clad damsels: "men act and women appear. Men look at women. Women watch themselves being looked at." Indeed, even Russ Meyer was featured in Harald Szeeemann's 1972 documenta.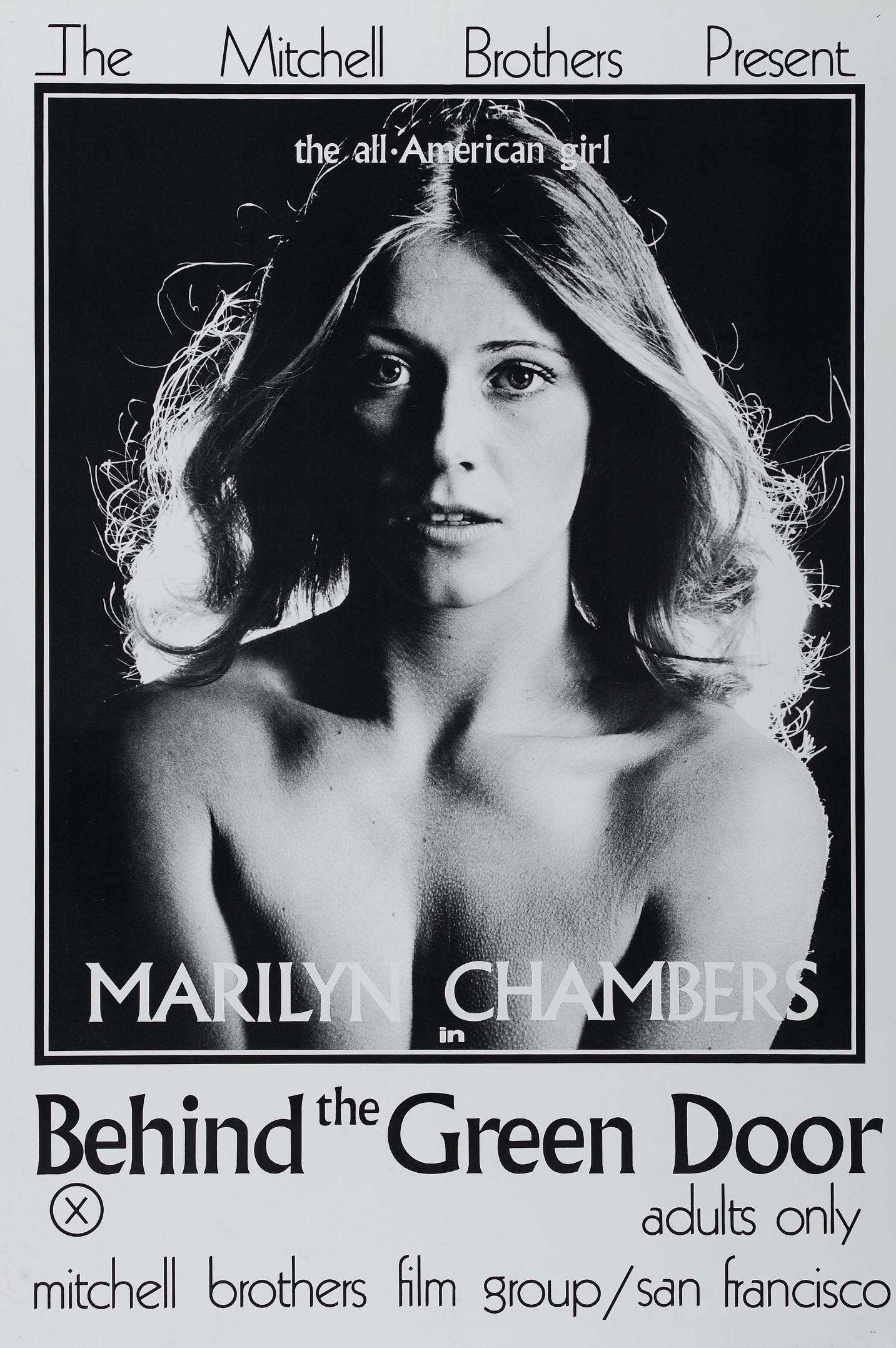 Movie poster of the Mitchell brothers' Behind the Green Door, 1972
Annus mirabilis 1967, annus mirabilior 1972—for Jacques Derrida and the emerging science of deconstruction, that is. Whereas 1967, the year of Sergeant Pepper's Lonely Hearts Club Band and the untimely passing of John Coltrane, witnessed the publication, in quick succession, of Derrida's Speech and Phenomena, Writing and Difference and Of Grammatology—the tripartite launch pad for the philosophy of différance—it is only with the three-pronged publishing assault of Dissemination, Margins of Philosophy and Positions in 1972 that Derrida manages to establish himself as the central referent for contemporary philosophical debate. And so "theory" is born—soon renamed "French Theory" by the American universities that, starting in 1972, Derrida starts to frequent with ever increasing frequency. [Dissemination, the book, begins thus: "This (therefore) will not have been a book. (…) While the form of the 'book' is now going through a period of general upheaval (…) the book form alone can no longer settle—here for example—the case of those writing processes which, in practically questioning that form, must also dismantle it." Positions, a collection of interviews, starts with the following answer to the interviewer's generalizing inaugural question: "In what you call my books, what is first of all put in question is the unity of the book and the unity 'book' considered as a perfect totality, with all the implications of such a concept."] Other signal events establishing French as the leading language of capital-t Theory include the publishing of Pierre Bourdieu's Outline of a Theory of Practice and Gilles Deleuze and Félix Guattari's L'Anti-Oedipe: Capitalisme et Schizophrénie. According to the decidedly 21st-century metric of YouTube hits, however, the single most important moment in the development of continental philosophy, in 1972, appears to have been the well-publicized and much-commented-upon confrontation between Jacques Lacan and a Maoist student at the university of Louvain in my native Belgium—I must have been four months old at the time. Echoes here of his infamous quip, made some years earlier that "what you aspire to as revolutionaries"—he was once again addressing a riotous student audience, this time—"is a master"…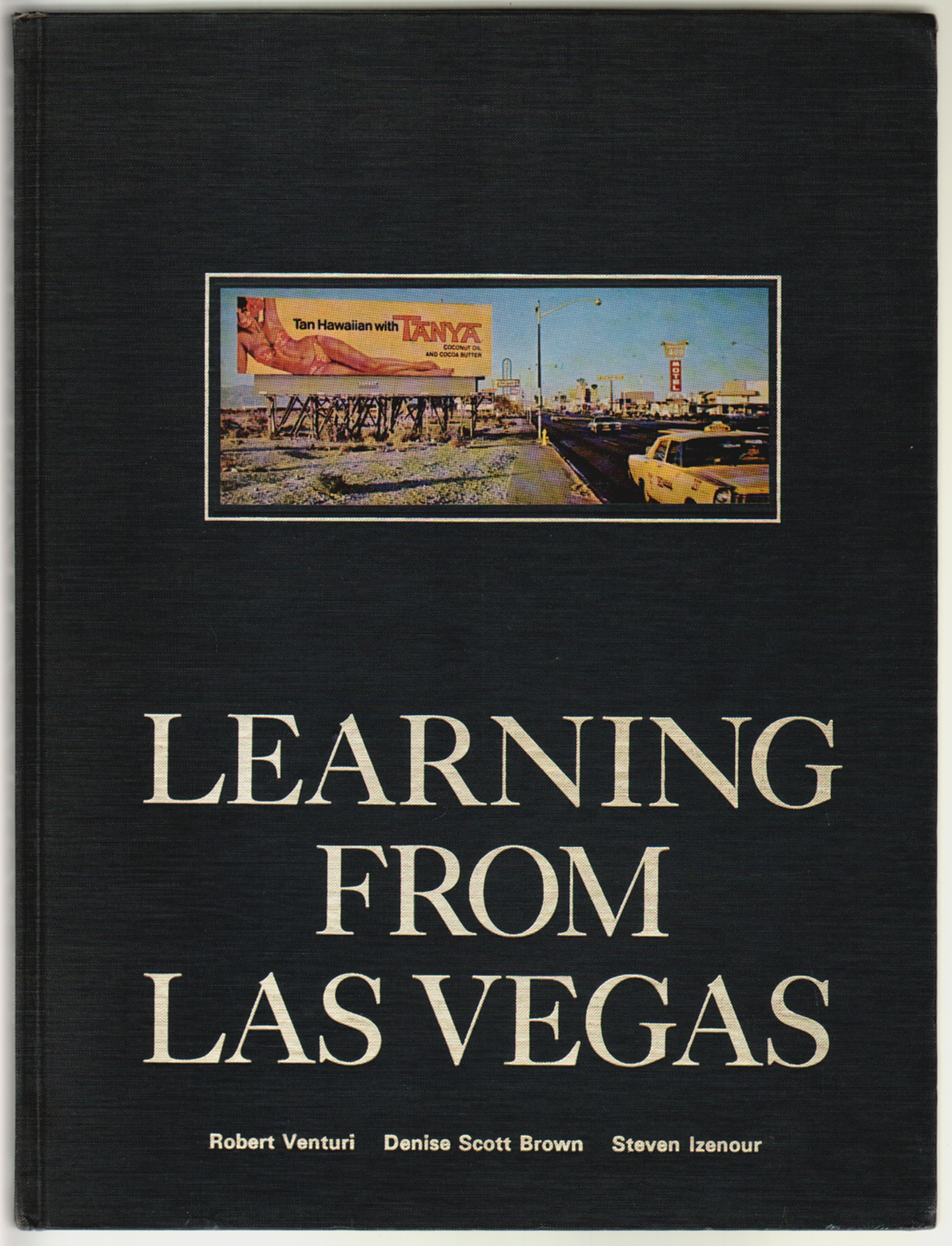 Robert Venturi, Denise Scott Brown, Steven Izenour, Learning from Las Vegas (Cambridge, MA: The MIT Press, 1972)
"Watergate", "Munich", "Monty Python's Flying Circus".
In 1972, Michael Baxandall publishes his modest masterpiece Painting and Experience in Fifteenth-Century Italy: A Primer in the Social History of Pictorial Style. It includes, on its first page, the immortal pronouncement, delivered in peerlessly understated style, that "money is very important in the history of art." Though perhaps not exactly the single most important element in the art produced that year, book-ending as it does the six-year period of conceptual art's flowering chronicled by Lucy Lippard in her classic Six Years: The Dematerialization of the Art Object 1966-1972. [Objection, interjection: Lippard's account only sees the light of day in 1973—the year, tellingly enough, that witnesses the emergence of modern finance, of "planet finance" even, from the smoking ruins of the Bretton Woods system of international monetary management: the dematerialization of art, neatly mirrored, in other words, in the dematerialization of money—unmoored from its anchorage in a gold standard that symbolized the fading era of domestic economies tied to actual products, actual materials, stuff. This is the economic dimension of postmodernism's early stirrings, in which the crystallization of contemporary art—anno 1972—plays such a pivotal role: Lippard's Six Years demarcates a time in the history of art before and after money.] This, and then, in other words, is how it begins.
Dieter Roelstraete is currently a member of the curatorial team convened by artistic director Adam Szymczyk to organize documenta 14 in Athens and Kassel in 2017. From 2012 until 2015 he was the Manilow Senior Curator at the MCA Chicago, and from 2004 until 2011 he worked as a curator at the Antwerp museum of contemporary art M HKA. Roelstraete lives in Kassel, Germany.
Originally published on Mousse 54 (Summer 2016)