ESSAYS Mousse 33
This Should Have Been: The Eighties
by Dieter Roelstraete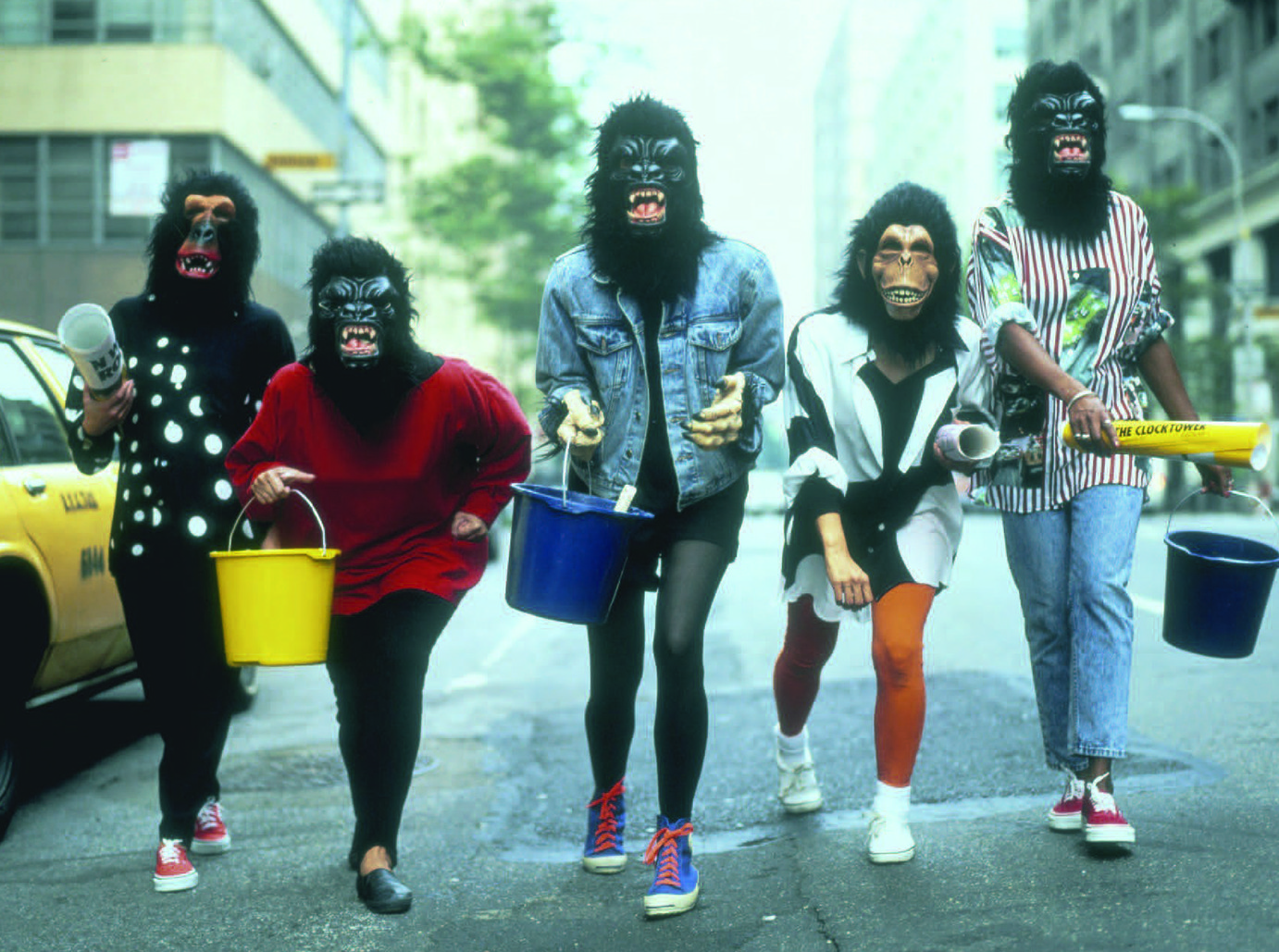 Guerrilla Girls running with brushes and glue, late 1980s. Courtesy: the artists

Taking a cue from the exhibition "This Will Have Been: Art, Love & Politics in the 1980s", curated by Helen Molesworth and presently on view at the MCA in Chicago, Dieter Roelstraete, the museum's new Manilow Senior Curator, makes an interesting re-assessment of what has gone down in history?in art and elsewhere?as the decade of hedonism and individualism, though it also had epochal breakthroughs, starting with activism based on identity (sexual, postcolonial, racial), all the way to the radical increase in the number of female artists on the global stage.
Back in the day when one actually had to live through (or in, or with) them, the 1980s appeared pretty awful. I was only eight years old when they started, but wise enough to know that any decade ushered in by the murder of a Beatle—my earliest vivid memory of world events, that is to say of the outside world forcing its way into my life, and this particular event certainly struck me as an undeniably political one—was going to be a baleful, depressing affair. Looking back upon those dark days, I am struck by the speed with which this precocious proto-political awakening acquired the definitive cast of a basic insight into the pernicious ways of the powerful—could it be that already as ten-year old, I understood that the neoliberal world order was upon us, and here to stay too? [Yes.] Europe in the early-Eighties was a continent in the frosty grip of a multitude of fears, the most paralyzing one of which was inspired by the revenant vision of nuclear Armageddon —my first real political experience was a 100,000-strong anti-nuclear protest march that took place in Brussels in the fall of 1981, which is probably where I was first notified of Ronald Reagan and Margaret Thatcher's existence (Helmut Kohl came soon after and, like them, he also seemed to be around forever).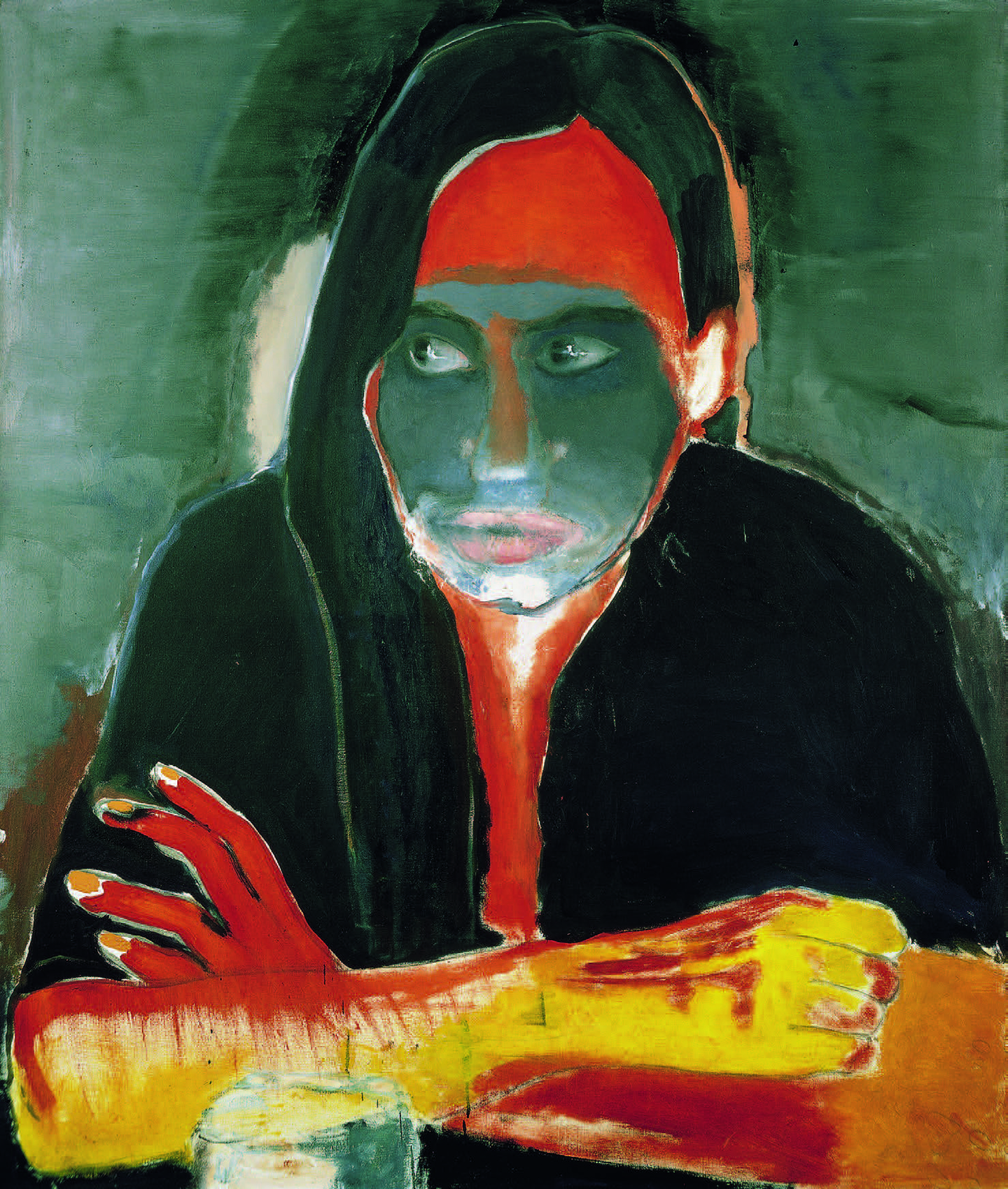 Marlene Dumas, Genetiese Heimwee, 1984. Courtesy: Galerie Paul Andriesse, Amsterdam
Other endemic fears were related to the bizarre wave of homegrown terrorism, of both the extreme left and right-wing variety, that washed over these shores in what could truthfully be called "years of lead"—with the troubling added dimension that most of the left-wing terrorists were soon caught, jailed or shot, while most of the perpetrators of the often much bloodier right-wing political violence repeatedly appeared to slip the noose of justice. There were economic fears too, culminating in the British miners' strike of the mid-Eighties, as well as environmental fears—Chernobyl, the Exxon Valdez oil spill, the discovery of the Antarctic ozone hole—and psycho-medical fears related to the advent of AIDS in the popular imagination (I still remember seeing Michel Foucault's charismatic bald head on the cover of a Belgian magazine sometime in the summer of 1984, atop an acronym unknown to me until then). No wonder, then, that a sense of ending—remember The End of History, anyone?—pervaded so much thinking throughout this most doom-laden of all post-war decades. Yet all the while, the more innocuous markers of a decade's emerging infatuation with the rhetoric of excess and largesse were starting to proliferate: big hair and bigger shoulder pads; fluorescent color schemes in all types of design (God protect us from the return of Memphis!); Wham! and Frankie Goes to Hollywood; Top Gun and Wall Street; Young Urban Professionals and Gordon Gekko-lookalikes; the return of bigness and brashness in painting and sculpture, and the return of painting and sculpture per se (Cucchi, Kiefer, Koons, Salle, Schnabel). A terrifically toxic brew, in short, amply demonstrating why it is not so misguided to regard this ghastly decade as the crucible of our present predicament, or as the cradle of the present as such—which is probably one major reason why we are so keen on looking back, and trying to understand what really happened in the period between Reagan and Thatcher's election to office (the latter the subject of a very well-received biopic which won the eponymous leading lady an Oscar) and the end of the Cold War. And if this retrospective glance now appears suffused, somewhat incongruously, with a mildly amused, enthused tinge of nostalgia— if it sometime looks as if we long back for the Eighties—this may well be because the present we live in (or through, or with) is much more awful still.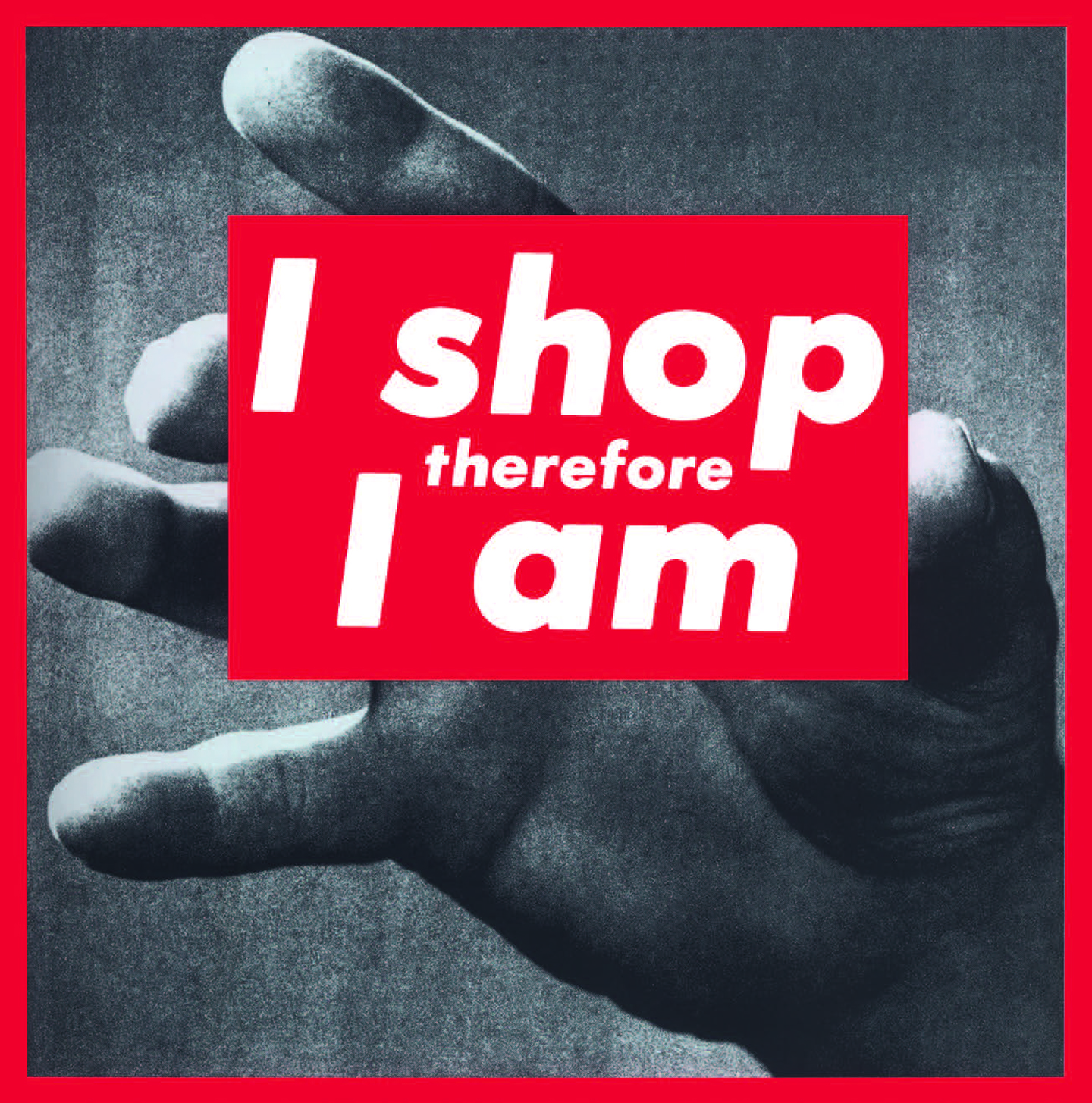 Barbara Kruger, Untitled (I shop therefore I Am), 1987. Courtesy: Sprüth Magers, Berlin/London
I already noted how the palpable reality of the Cold War—picking up speed again in the early years of the decade with the unveiling of Reagan's plans for a Star Wars-style planetary missile shield, and finally fizzling out towards decade's end with the collapse of the Soviet Union-backed regimes in Central and Eastern Europe—was one of the defining features of growing up in Europe in the 1980s, a continent caught between the hammer and anvil of two suicidal superpowers. One essential characteristic of that reality was an acknowledgement of the world's deep, indeed seemingly unbridgeable divisions: a Planet Earth split down the middle, East versus West. Phrased in slightly more upbeat terms, this division also entailed a measure of heterogeneity and multiplicity, of difference even (it is no coincidence that the 1980s saw the unequalled flourishing of "difference" as the talismanic formula of an entire academic cottage industry), that has become increasingly hard to imagine in today's monolithically homogenized, i.e. "globalized" world, where the most pertinent structuring relationship has long been that between a wholly abstract North and South. What's more, these older divisions and differences were ideological in nature, the political expressions of fundamentally differing world views and antagonistic viewpoints— or at least aspired to project an image, no matter how perfunctory, of politicization devised to gild the cruder, more mundane reality of economics (the divisive logic which is the only one to truly underlie the aforementioned North/ South scission). What growing up in Cold War-era Europe made us aware of, in other words, was that some other world and some other world view existed, and that irreducible "other" was therefore always possible—the very possibility, in short, of antagonism, of an alternative. (The very idea of there being an alternative of whatever kind was clearly targeted in the Saatchi-authored PR campaign that helped bring Margaret Thatcher to power back in 1979, famously centered around the image of a queue of jobless men and women as positive proof that "Labour isn't working," and that there is therefore "no alternative" to the only thing that, pace Thatcher, does work—a market economy freed from all state interference. Apart from asserting that "there is no alternative," Thatcher was also fond of stating that there is "no such thing as society"—and a logician would inevitably be inclined to conclude that society, therefore, is an alternative).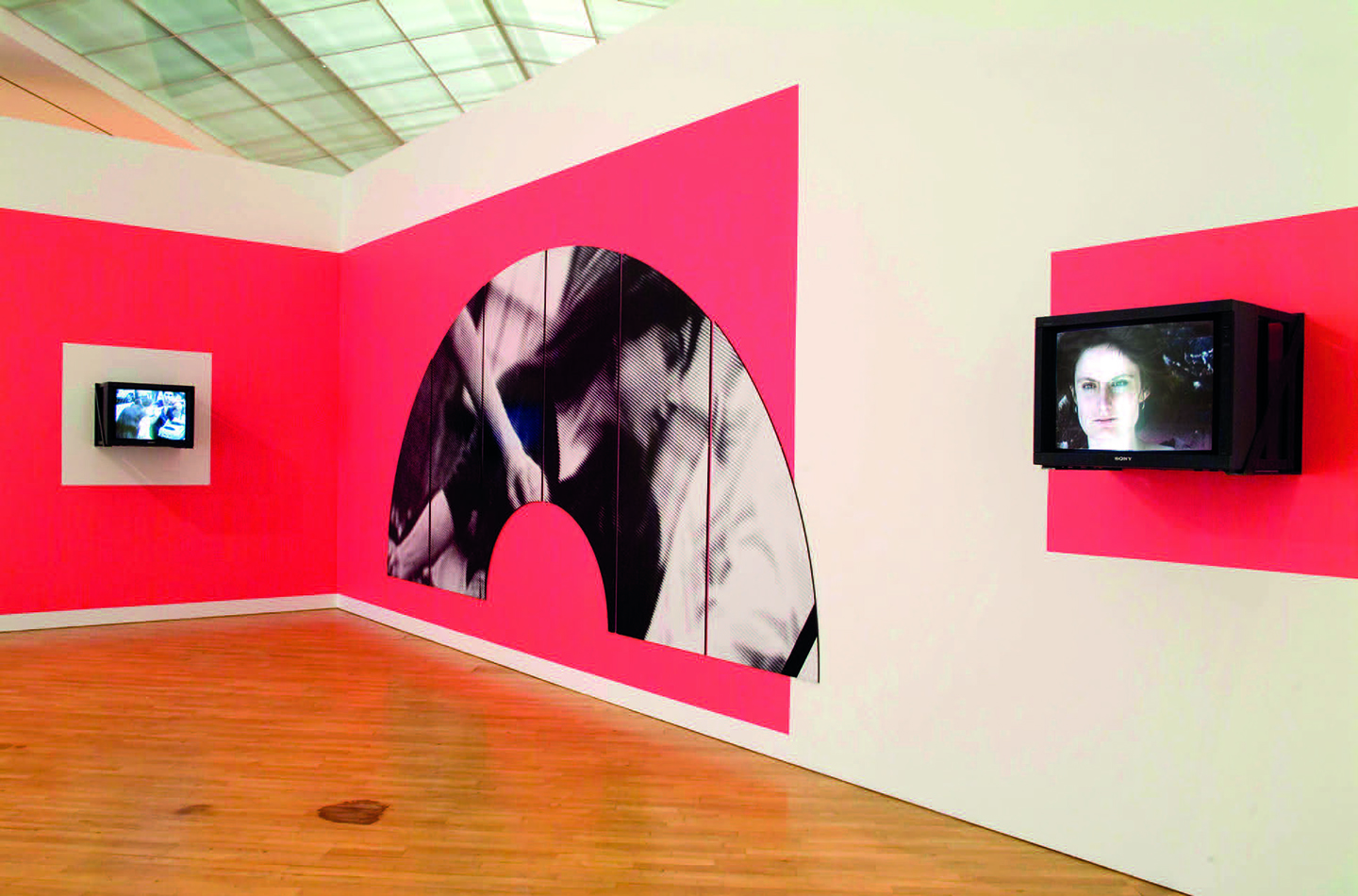 Dara Birnbaum, Damnation of Faust, 1984, installation view, S.M.A.K., Ghent, 2009. Courtesy: the artist and Marian Goodman Gallery, New York/Paris
And here, of course, in this promise of difference and its facilitation of dissent and disagreement, is where art comes into play, and where a different (art) history of the 1980s is currently being written—one which effectively sees us longing back for a decade long disparaged, all too casually and unthinkingly, as the very epitome of aimless decadence. That, certainly, seems to be one of the guiding principles and rhetorical triumphs of Helen Molesworth's "This Will Have Been: Art, Love & Politics in the 1980s," the most ambitious attempt, along with Ulrich Loock and Sandra Guimarães' "The 80s: A Topology "(organized at the Museu Serralves in Porto in 2006) and Artforum's double Eighties special published in the spring of 2003, a rewriting of recent art history to date. Contravening—or at least thoroughly challenging – the standardized, established view of the 1980s as an über-materialist "Me Decade" whose artistic culture was dominated primarily by the towering egos of assorted German Malerfürste and a cohort of SoHo socialites, Molesworth notes, in a videotaped introduction to the exhibition's iteration at Chicago's Museum of Contemporary Art, that the 1980s saw an unprecedented resurgence of artist-led interest in the age-old idea that art can, and therefore must, change the world (for the better), although this time filtered through the more pragmatically-minded prisms of identity-based activism— in this case primarily feminist, queer, nonwhite, post-colonial. The 1980s portrayed in "This Will Have Been" are a decidedly militant affair, and just flipping through the book that accompanies the exhibition, one cannot help but despair: this, and not the much betterknown other version, should have been the 1980s. Indeed, whereas we have grown accustomed to accusing the accursed decade of surrendering us to all kinds of "figures of authority" and "ciphers of regression"—to paraphrase Benjamin H.D. Buchloh's well-known diatribe against neo-expressionist painting (some practitioners of which Buchloh had been a vocal supporter earlier on in their careers)—the 1980s also mark a return of (and to) the political in a much more sophisticated form than had been the habit in earlier, "simpler" avant-gardes (whose naivety we can probably no longer afford today), as is evinced by the work of artists like Dara Birnbaum, Sophie Calle, Marlene Dumas, Isa Genzken, Robert Gober, Leon Golub, David Hammons, Jenny Holzer, Barbara Kruger, Louise Lawler,Annette Messager, Cindy Sherman, Rosemarie Trockel and many others. In fact, this very enumeration already signals one crucial aspect of the 1980s art world that will force any objective observer to review his or her long-held bias regarding the socalled retrograde politics of Eighties art—the dramatically increased visibility of women artists in the global arena (for all his righteous raging against the aforementioned ciphers of regression and figures of authority, Buchloh has written tellingly little on women artists).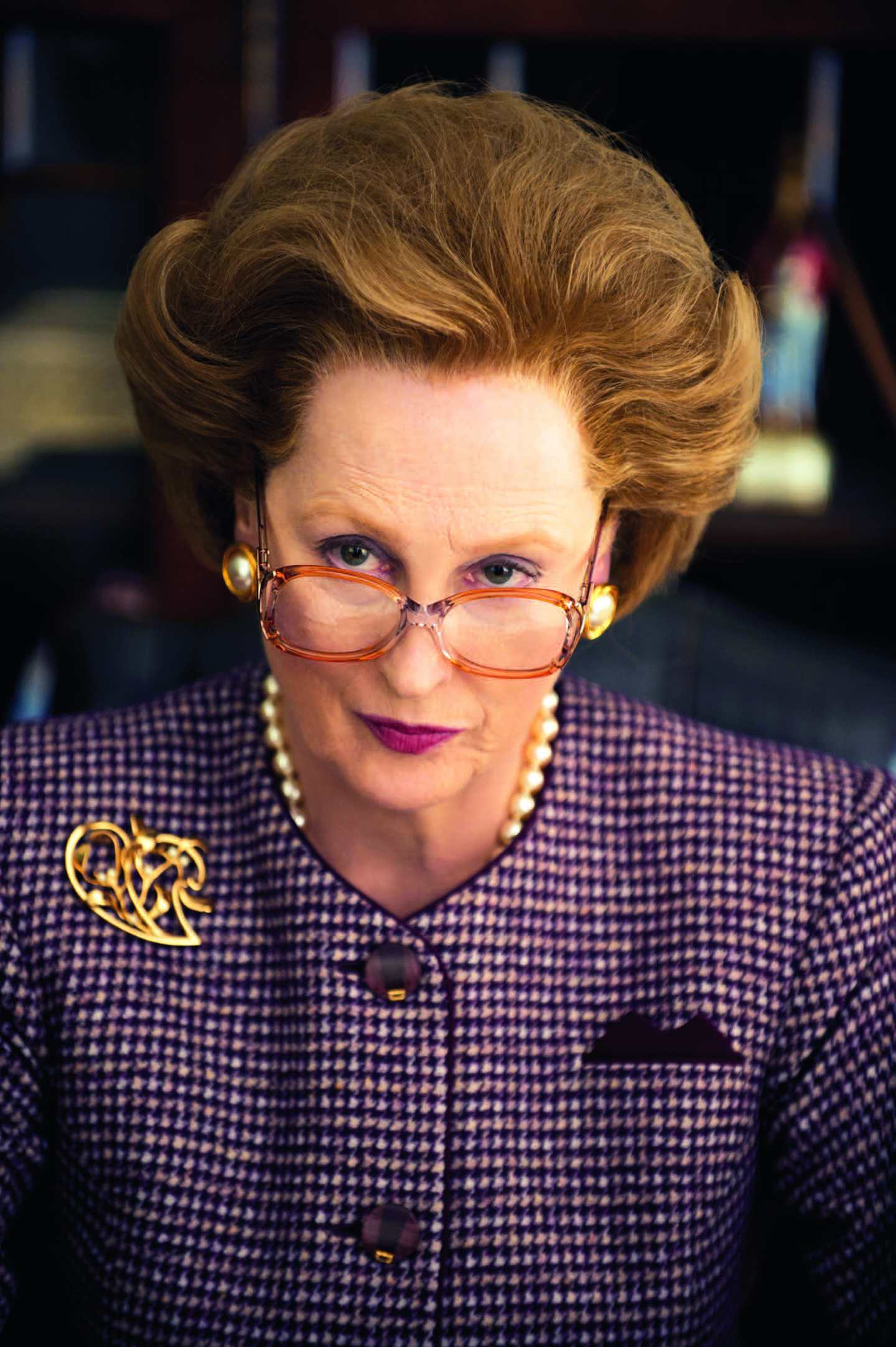 The Iron Lady, 2011
Another key feature of the Eighties arts-cape is given in the proliferation of artist collectives and activist art troupes: ACT UP, the Black Audio Film Collective, General Idea, Gran Fury, Group Material, Guerilla Girls, IRWIN, Tim Rollins & K.O.S.—once again, all resounding refutations of the chimerical Thatcherite creed that "there is no such thing as society; there are individual men and women, and there are families." Here, the 1980s offered a unique opportunity, not yet picked up on in earlier, more patriarchal decades—the utopian fantasy that continues to cloud our rosy vision of the Sixties in particular is up for substantial critical review in this regard—for making the claim that art workers are in fact anything but "individual men and women" tied up in the respective prison houses of familial relationships ("maman papa pipi caca"). Here, art managed to infiltrate society— and society willingly, gregariously allowed itself to be contaminated by art: Molesworth rightly singles out the libidinous, scandal-prone essence of much Eighties art—in ways that were wholly anathema to the emerging neoliberal gospel, so deeply woven into the fabric of Reaganomics, of art's seclusion in an economically autonomous sphere administered by individual entrepreneurs. Yet this was precisely the gospel that was to emerge victorious, towards the decade's end, from many a clash-of-the-titans. Indeed, the real cut-off point of these joyous, half-forgotten Eighties may not be the traditional benchmarks of the fall of the Berlin Wall (1989) or the collapse of the Soviet Union (1991), which ushered in the end of a bipolar world of irreconcilable state ideologies—and with it also the end of a certain tradition of imagining the other— but the stock market crash of 1987, which may in retrospect be seen as little more than a paradoxical prelude to the ascent of money in the decades to come, whose rule in the realm of art continues entirely unabated to this day. In more ways than one, that day in October 1987 sealed the fate of art's dangerous liaison with the money economy (not many people care to remember that the 1987 crash was followed by an unprecedented two-year acceleration in the art market that resulted in many a record sale at auction) in an oftentimes unholy alliance that no one has had the power to undo since, and it is correspondingly clear that this particular end of the Eighties coincided with the end of a particular, and particularly vital, idea of art. Perhaps the current vogue for looking back at what preceded this endgame will see a rebirth of, or return to, a similarly impassioned, worldly way of both making and looking at art.
Originally published on Mousse 33 (April–May 2012)