EXHIBITIONS
Dora Budor "Ephemerol" at Ramiken Crucible, New York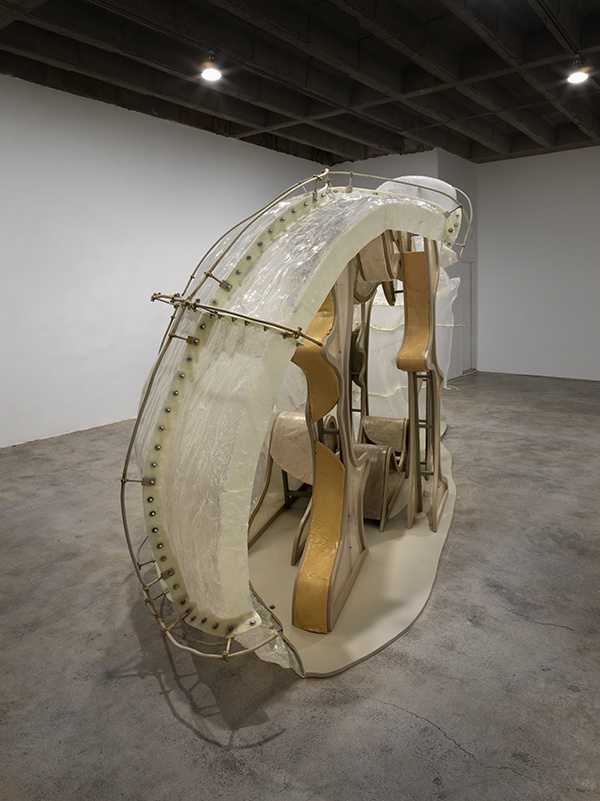 Ramiken Crucible is pleased to present "Ephemerol", an exhibition by Dora Budor.
Titled after the experimental drug central to the plot of David Cronenberg's 1981 movie Scanners, the exhibition includes a single work:
We see you so often these days. How nice is it to find a patient who regards his status seriously. What status? His status as a patient. People tend to forget they are patients. Once they leave the doctor's office or the hospital, they simply put it out of their minds. But you are all permanent patients, like it or not. I am the Doctor, you are the Patient. Doctor doesn't cease being a doctor at close of day. Neither should patient.
epoxy resin (containing Bisphenol A), fiberglass, powder coated steel and aluminum, FX rust, plywood, enamel, plexiglas, expandable soft foam, polymer paint, metal hardware
182 x 83 x 90 inches
2016
In the film, a telepathic artist named Benjamin Pierce works in isolation to construct a giant head sheltering a seating area, which is later destroyed in a shootout. Budor has created a sculpture that acts like a fiberglass mold for the reproduction of Pierce's head, modeled on Scanners art director Carol Spier's original designs for the film. However, the interior seating of Budor's cranium has exchanged Pierce's original for a corporate doppelgänger based on a work from 1970 by the Danish designer Verner Panton, an immersive fantasy lounge titled VISIONA II, itself a monstrous variation of an iconic '60s furniture piece known as the "Living Tower", which is still in production today.
VISIONA II and its predecessor VISIONA 0 (1968) were designed by Panton for an exhibition by the chemical corporation Bayer AG inside a pleasure boat during the Cologne Furniture Fair. The manufacturer hoped to "promote various synthetics products in connection with home furnishings." [1]
Panton's design ethos "Form Follows Fantasy" is articulated in his furniture environment, which set the tone for this Swiss fantasy of a pharmaco(pornographic) [2] lounge world.
Ephemerol, the fictional drug in Scanners, is administered to pregnant women as a sedative; the drug has the unintended side effect of making their children telepathic, a power which is described in the film as "the direct linking of two nervous systems separated by space" [3]. The drug's fiction parallels the history of Thalidomide, a real drug first introduced in Germany as a sedative and hypnotic in 1957, and subsequently promoted worldwide for treating nausea in pregnant women. Thalidomide caused thousands of birth defects and was eventually banned. This legacy evokes the current paranoia around xenohormones like Bisphenol A (BPA), which is suspected to have an estrogenic effect on humans, leading to accumulations of tissue that affect normal development. The largest US producer of this chemical is the Bayer Group, whose chemists, along with a team at General Electric in 1957, discovered the special property of BPA that is instrumental in the formation of polycarbonates. Now widely used in various consumer plastics, the BPA chemical is also essential to the hardening of the epoxy used in this sculpture.
Budor, in a similar manner, fuses history and fiction with both actors and actants in a chemical reaction catalyzed by modalities of social control. Real and fictional time collapse into a transitive state – a quasi-object [4], that exists in a relationship to an event. In Budor's system of reappropriation, the surface of the head changes. This replica, a translucent, milky oiled plastic shell, is not the actual sculpture, but a mold that holds the genetic code for the (re)production of what existed a priori in Cronenberg's cinematic reality. The pieces of the mold are sutured and wrapped in reinforcement exoskeleton like the architecture of a Lizarov apparatus for limb reconstruction, or the Light Therapy Cage, one of the earliest electro-medical devices used for the clinical treatment of depression.
Budor's rematerialization process considers film as an ecology, focused on the epicentres of intersecting meanings that permeate the layers of reality and fiction, the place where things affect, infect and contaminate each other. Objects introduce time, but also hold an immense power to collapse it.
[1] www.verner-panton.com/spaces/archive/121/
[2] Preciado, Beatriz. Testo Junkie: Sex, Drugs and Biopolitics in the Pharmacopornographic Era. Feminist Press: New York, 2013.
[3] Shaviro, Steven. "Bodies of Fear: David Cronenberg." The Cinematic Body. University of Minnesota Press, 1993.
[4] Serres, Michel. "The Theory of the Quasi Object." The Parasite. University of Minnesota Press, 2007.
.
at Ramiken Crucible, New York
until 5 June 2016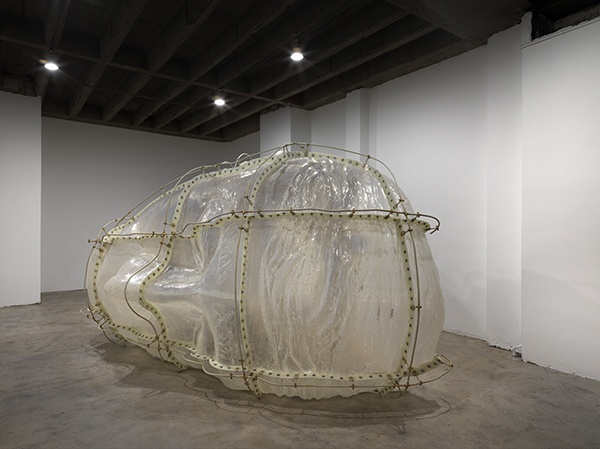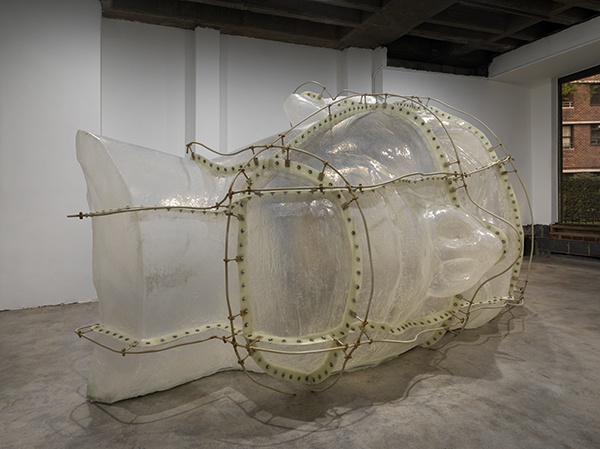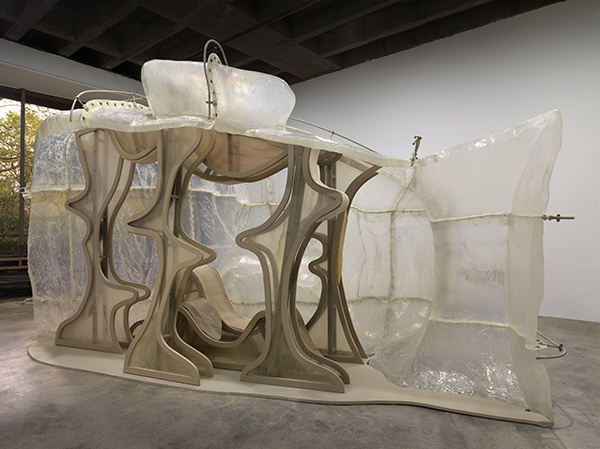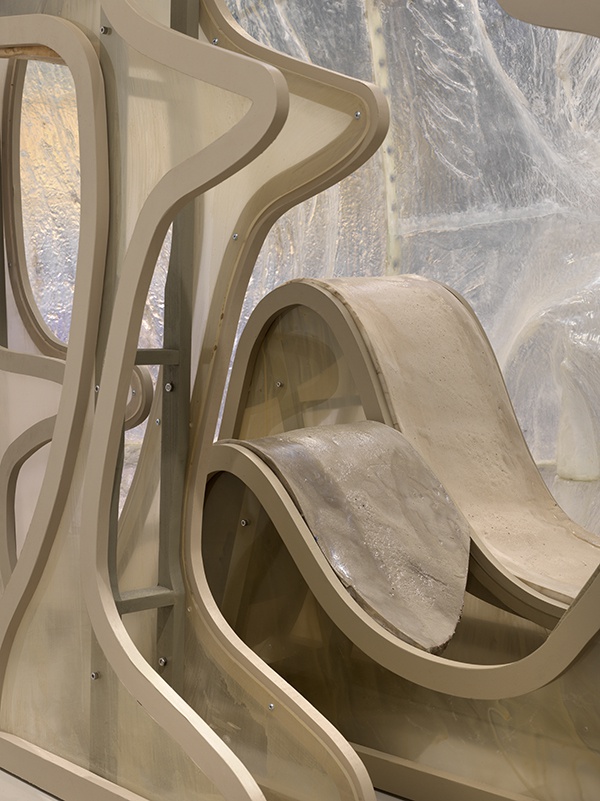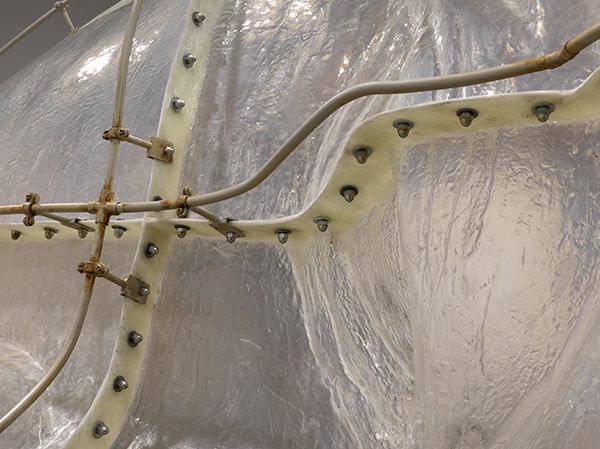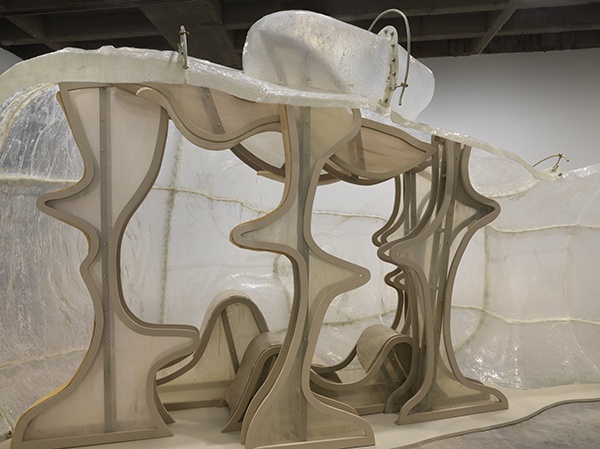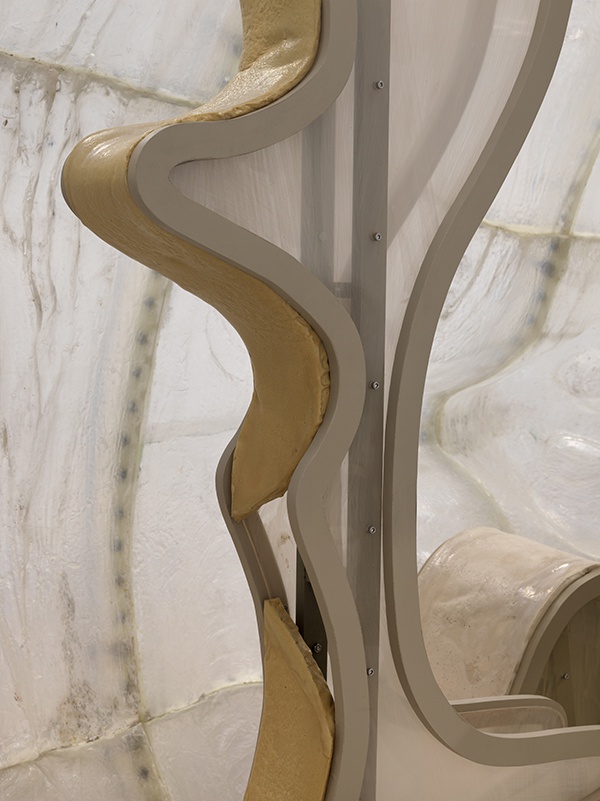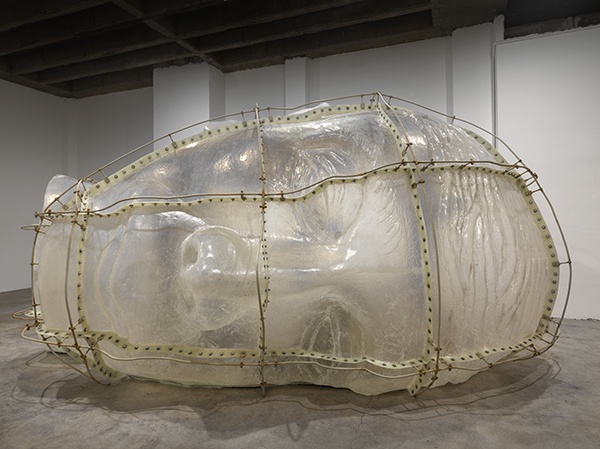 Dora Budor "Ephemerol" installation views at Ramiken Crucible, New York, 2016
Courtesy: the artist and Ramiken Crucible. Photo: Dario Lasagni