Mousse 68 TIDBITS
Dreams and Dystopia: Tetsuya Ishida
Close
1
2
3
4
5
6
7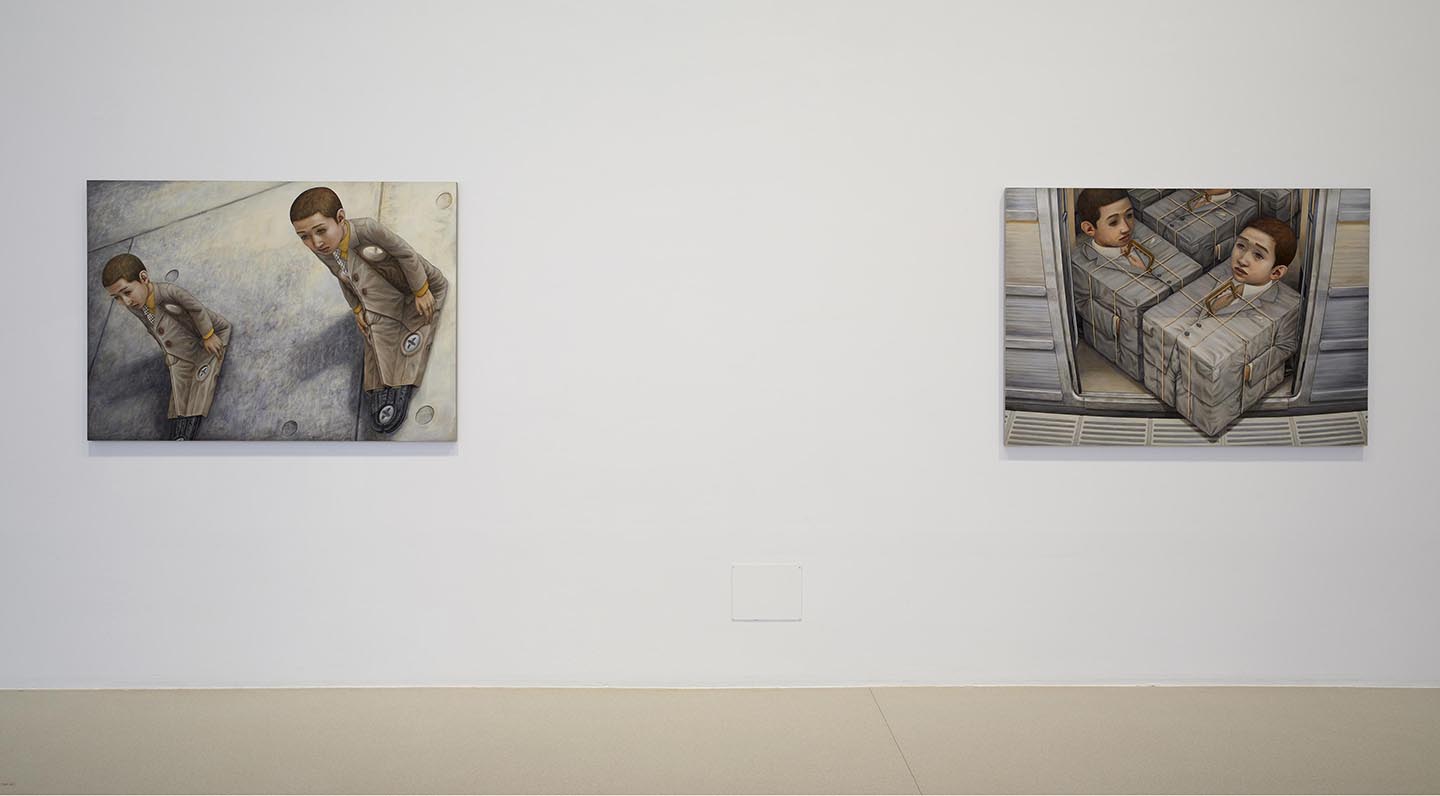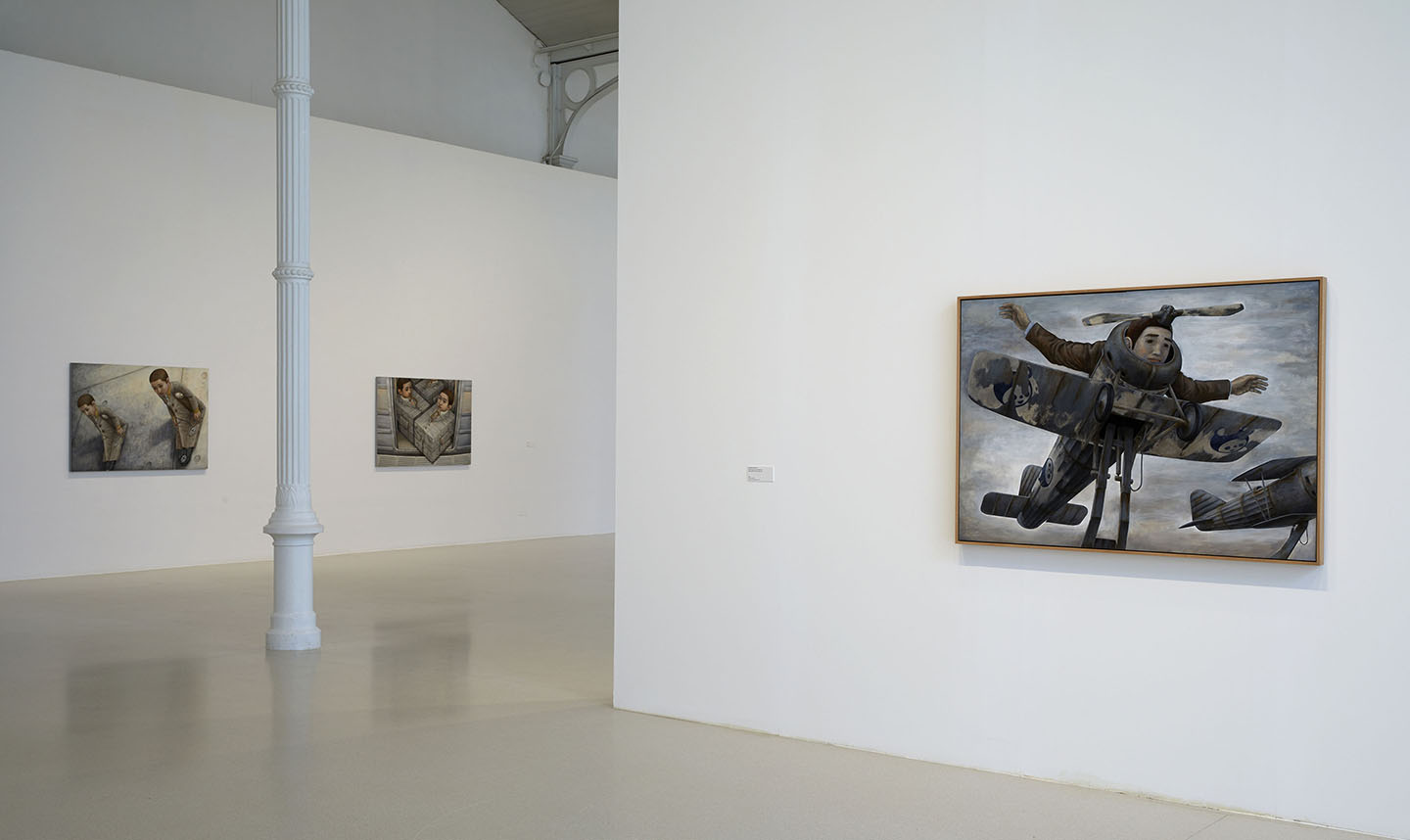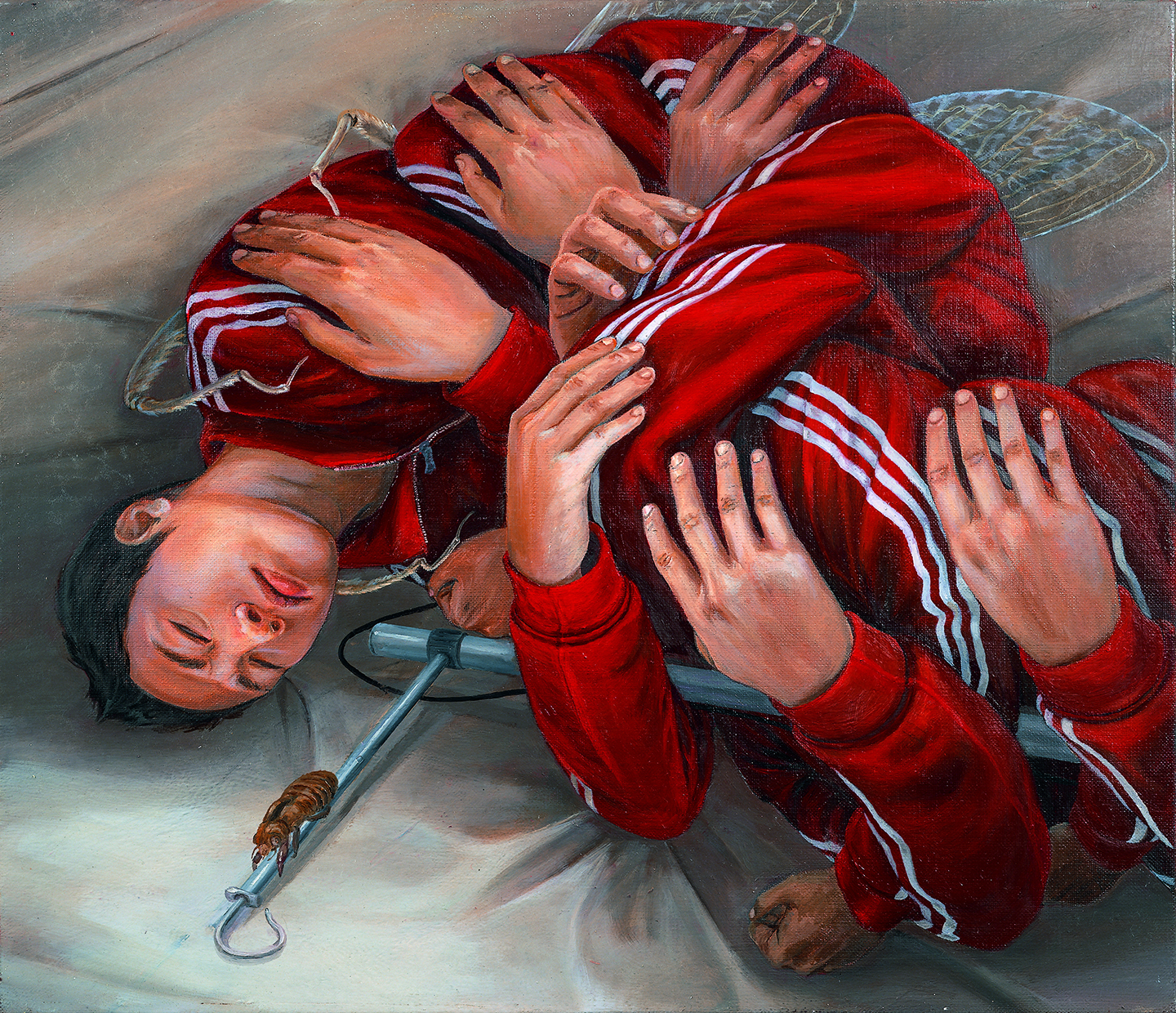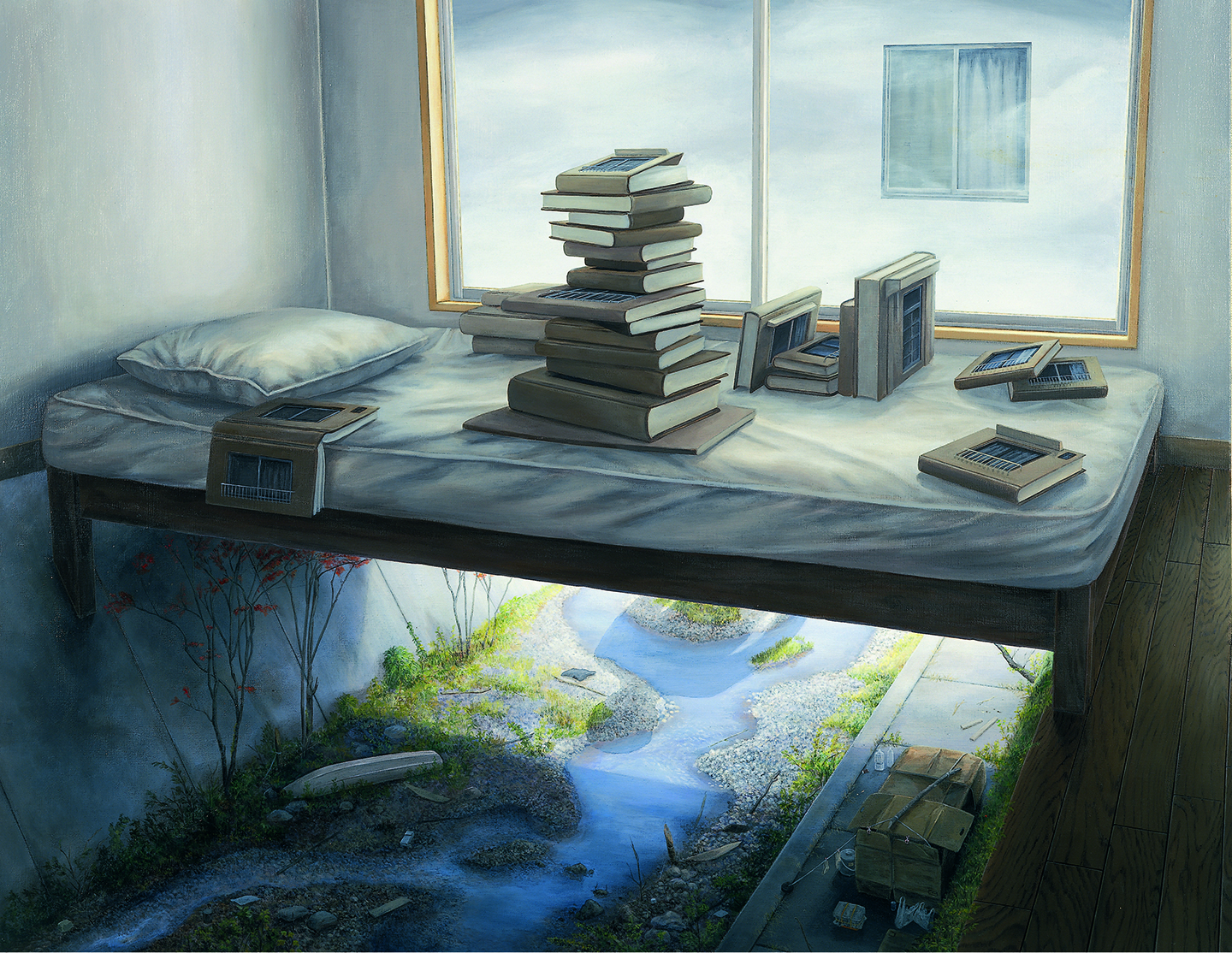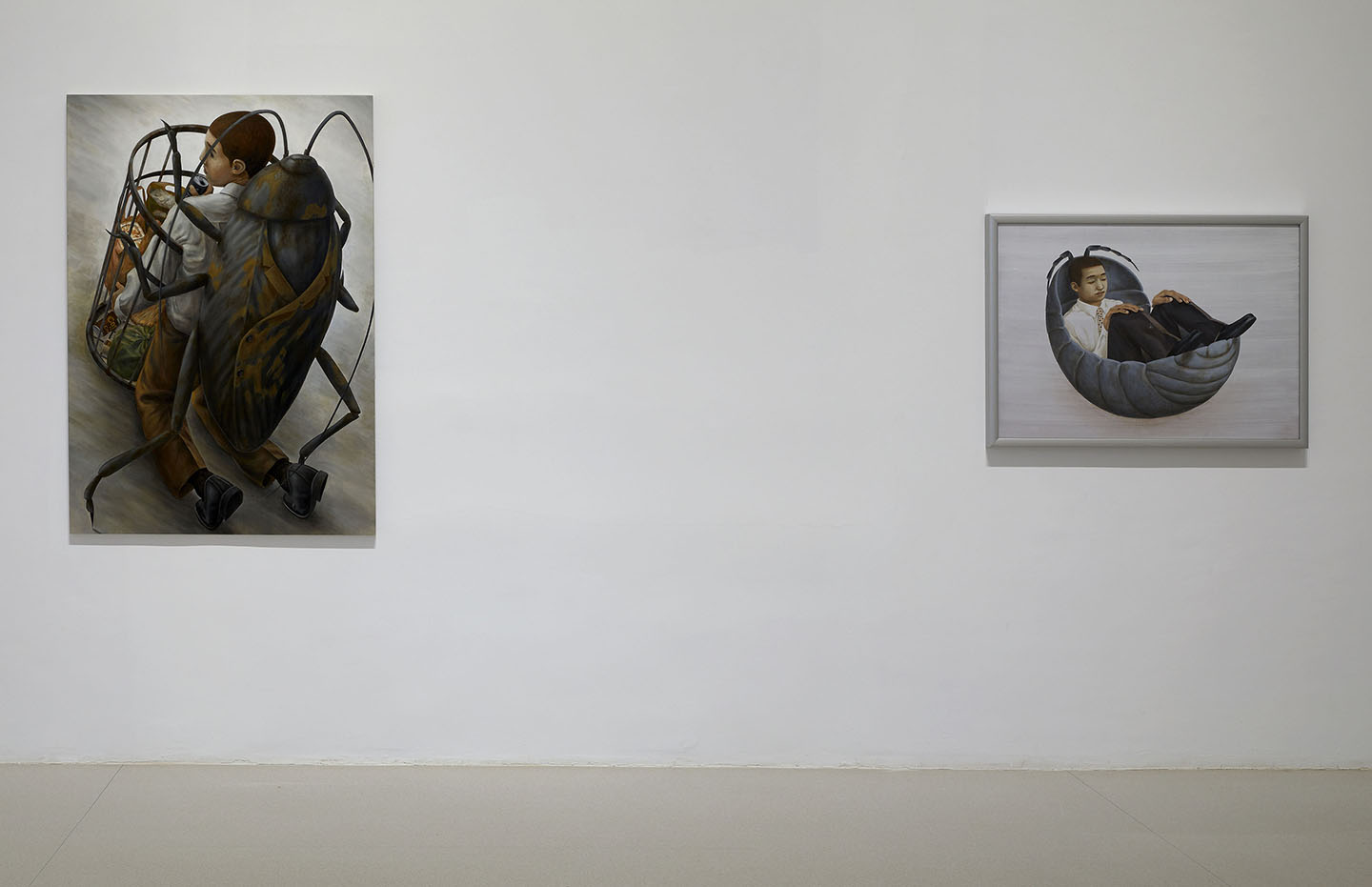 by Lauren Moya Ford
Men fused to forklifts, sewing machines, and conveyor belts. Classrooms, hospitals, and factories contaminated with insects, feces, and rust. Hybrid figures gaze at us impassively, immobilized in a world dominated by uncontrollable forces. Tetsuya Ishida records every surface, hair, and stain in excruciating detail. His exacting technique recalls the sacrifice and mastery of traditional Japanese craftspeople or the punishing labor of contemporary salarymen. The artist and his figures are stuck in a loop of production and excretion, of work done in society and work done on canvas. Despite his brief career—cut short when he was hit by a train at age thirty-one—Ishida's prescient paintings illuminate the anxiety and exhaustion of modern life.
Ishida was born in Yaizu, a port city known for its fishing industry and as the home port of the Lucky Dragon 5. In March 1954 a fishing boat by that name was caught in the fallout of a U.S. thermonuclear test at Bikini Atoll. Those on board suffered acute radiation syndrome and one crew member died. U.S. artist Ben Shahn drew attention to the disaster in a series of works that were shown decades later in Yaizu when Ishida was eight years old. After seeing Shahn's pieces, Ishida wrote in his diary that he would become a painter. Thus, the experience that brought him to figure painting was also a lesson in technology weaponizing and torturing the human body. In a school essay the young Ishida wrote that victims "were in pain and could not get up to go to work."1 Ishida finished art school during Japan's Lost Decade, a time of economic and political crisis amplified by earthquakes, gas attacks, mass murders, and a nationwide preoccupation with doomsday theories. Throughout the 1990s, between financial failure and failed apocalypse, Ishida's inscrutable figures put a face to the uneasy limbo of Japan's pre- and post-millennium years. But the face that appears across Ishida's canvases is an avatar for a more global experience. The artist once explained, "When I think about what to paint, I close my eyes and imagine my- self from birth to death. But what then appears is human beings, the pain and anguish of society, its anxiety and loneliness, things that go far beyond me."2
Toward the end of his life, Ishida confronted his own history and sense of self in a series of figures with multiple faces and nested bodies. In Return Journey (2003), the child's face is removed entirely, replaced by a black void where a small infant floats in the distance. Here Ishida condenses three phases of life—infant, child, and adult—and paints them into a single body and surface. As he looked inward, Ishida's paintings became looser, more gestural, and he started using oil instead of acrylic paint. Realistic figure painting was an anachronistic choice in Ishida's time. But painting embeds its own long history into each stroke, infusing the painted surface with other registers of time. There is even a potential for spiritual salvation. The artist wrote, "I am strongly drawn to saintly artists… who believe that each brushstroke will save the world."3
Almost fourteen years after his death, Ishida's paintings resonate more than ever. His first major exhibition outside of Japan, at Madrid's Museo Nacional Centro de Arte Reina Sofía, comes as our phones, computers, and online personas invade every aspect of our lives. The digital work-day expands until we cancel out our own time off,4 while social media keeps us always logged on. The internet promises anonymity and community, and there's no escaping its reach. Ishida was inspired by futuristic anime like Mobile Suit Gundam, postapocalyptic manga like Akira, and cyberpunk horror films like Tetsuo: The Iron Man (1989), and today the human-machine fusion is nearly complete. As Japan's new Reiwa era dawns, we are closer to Ishida's disoriented frankensteins, alienated from our own social and political potential. Ishida's paintings have been called surreal and fantastical, but they are actually harbingers of today: a time when the machinery of technology is so total as to become invisible and inescapable. Between empathy and estrangement, resignation and hope, Ishida reflects the dehumanization of the contemporary era as few others can.
[1] Quoted in Yūzō Ueda, "The Life and Times of Tetsuya Ishida: Con- fession and Spirit," in Tetsuya Ishida (Hong Kong: Gagosian Gallery, 2004), 55.
[2] Notebook entry (ca. February 1996) cited in Kiyoshi Ejiri, "Itami tosh- iteno Chizu," in Tetsuya Ishida Notebook (Tokyo: Kyuryudo, 2013), 6.
[3] Tetsuya Ishida (June 1999) cited in Yūzō Ueda, "The Life and Times of Tetsuya Ishida," 73.
[4] "Workers' After-Hours Emails Cancel Out Entire Annual Leave Allowance," The Telegraph, January 12, 2016, https://www.telegraph.co. uk/news/newstopics/howaboutthat/12094025/Workers-after-hours- emails-cancel-out-entire-annual-leave-allowance.html.
Tetsuya Ishida (b. 1973, Yaizu, Japan; d. 2005, Tokyo) graduated from Musashino Art University in Tokyo in 1996. Past solo shows include Saving the World with a Brushstroke, Asian Art Museum, San Francisco (2014); Notes, Evidence of Dreams, Tonami Art Museum, Japan (2014); Note of Tetsuya Ishida, Ashikaga Museum of Art, Japan (2013, traveled through 2015 to Hiratsuka Museum of Art, Japan; Tonami Art Museum, Japan; and Shi- Shizuoka Prefectural Museum of Art, Japan); Nerima Art Museum, Tokyo (2008); Yaizu City Culture Center, Japan (2007); Shizuoka Prefectural Museum of Art, Japan (2007); and The Person Who Was Not Able To Fly, Sunpu Museum, Shizuoka, Japan (2006). His retrospective Self Portrait of Other is currently on view at the Museo Nacional Centro de Arte Reina Sofía, Madrid.

Lauren Moya Ford is an artist and writer based in Madrid.
Originally published in Mousse 68