CONVERSATIONS Mousse 38
The Dark Side Of Pop
Close
1
2
3
4
5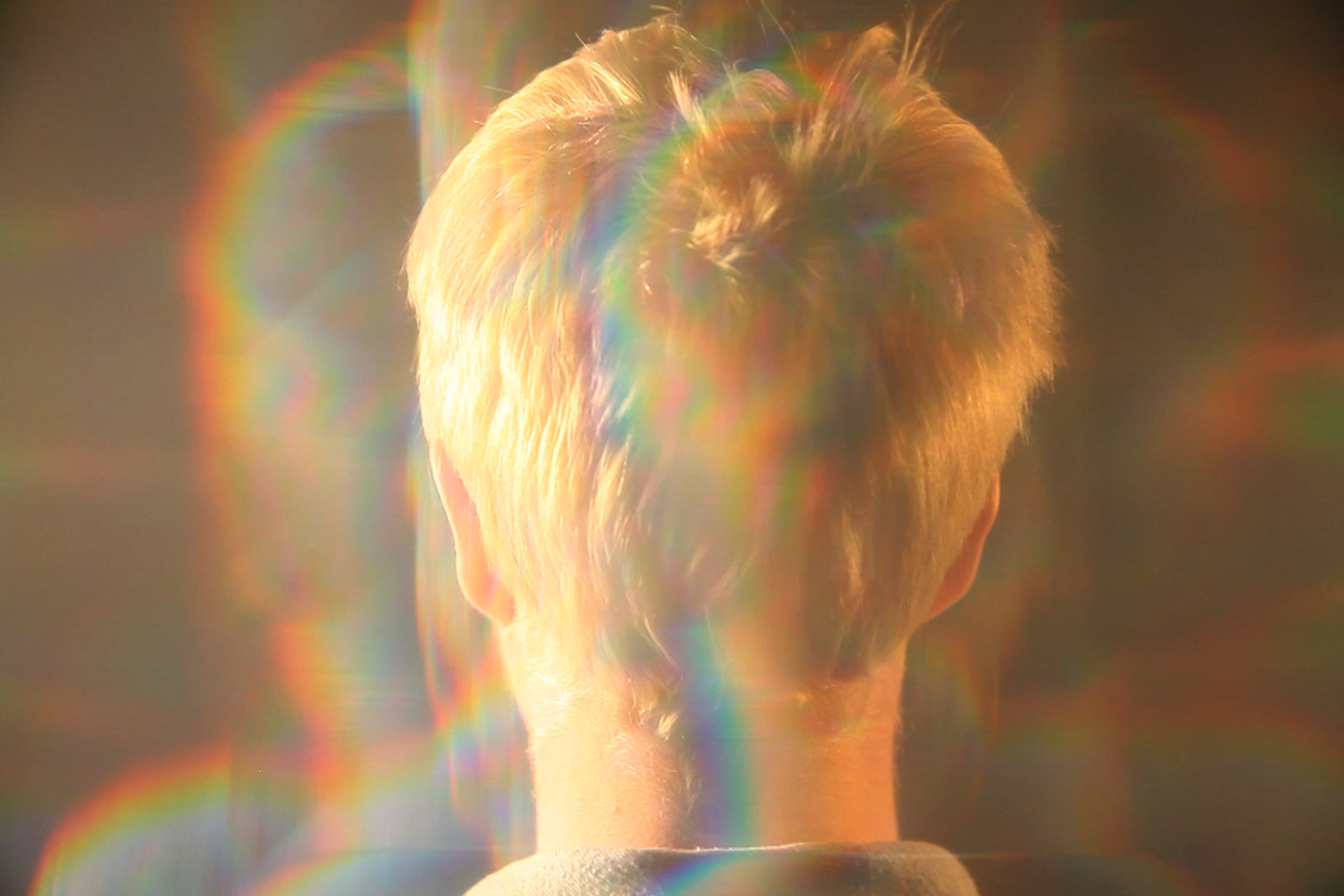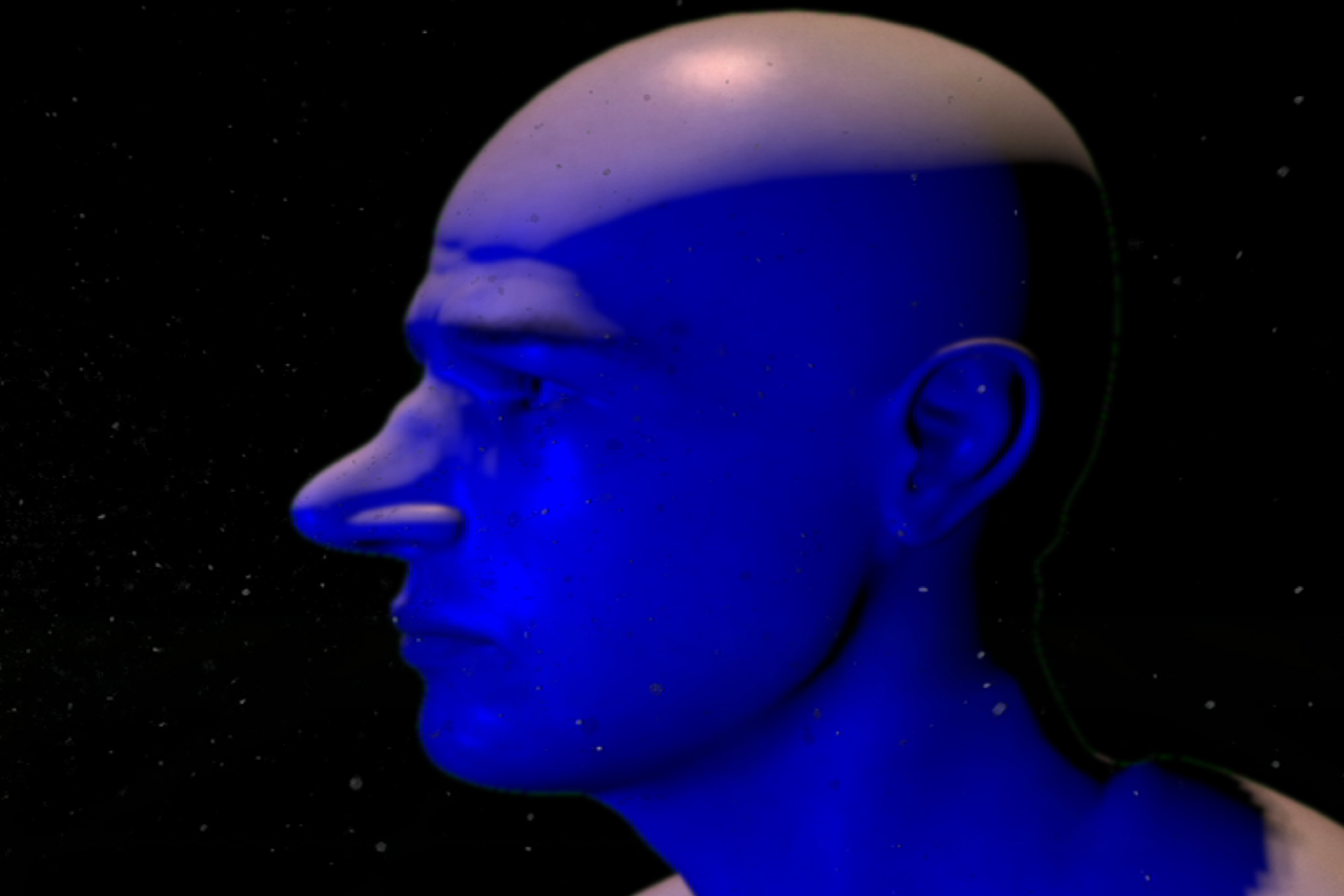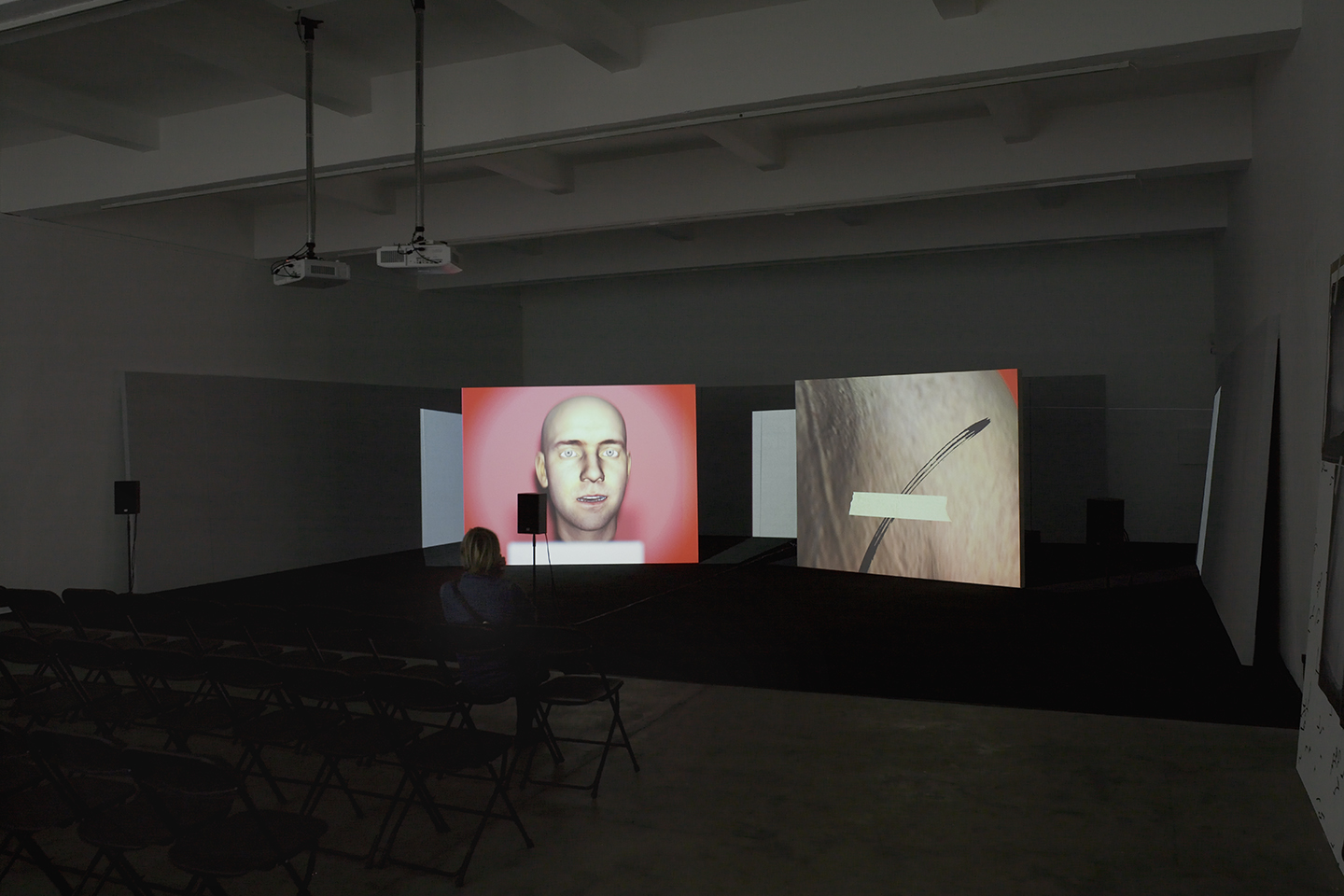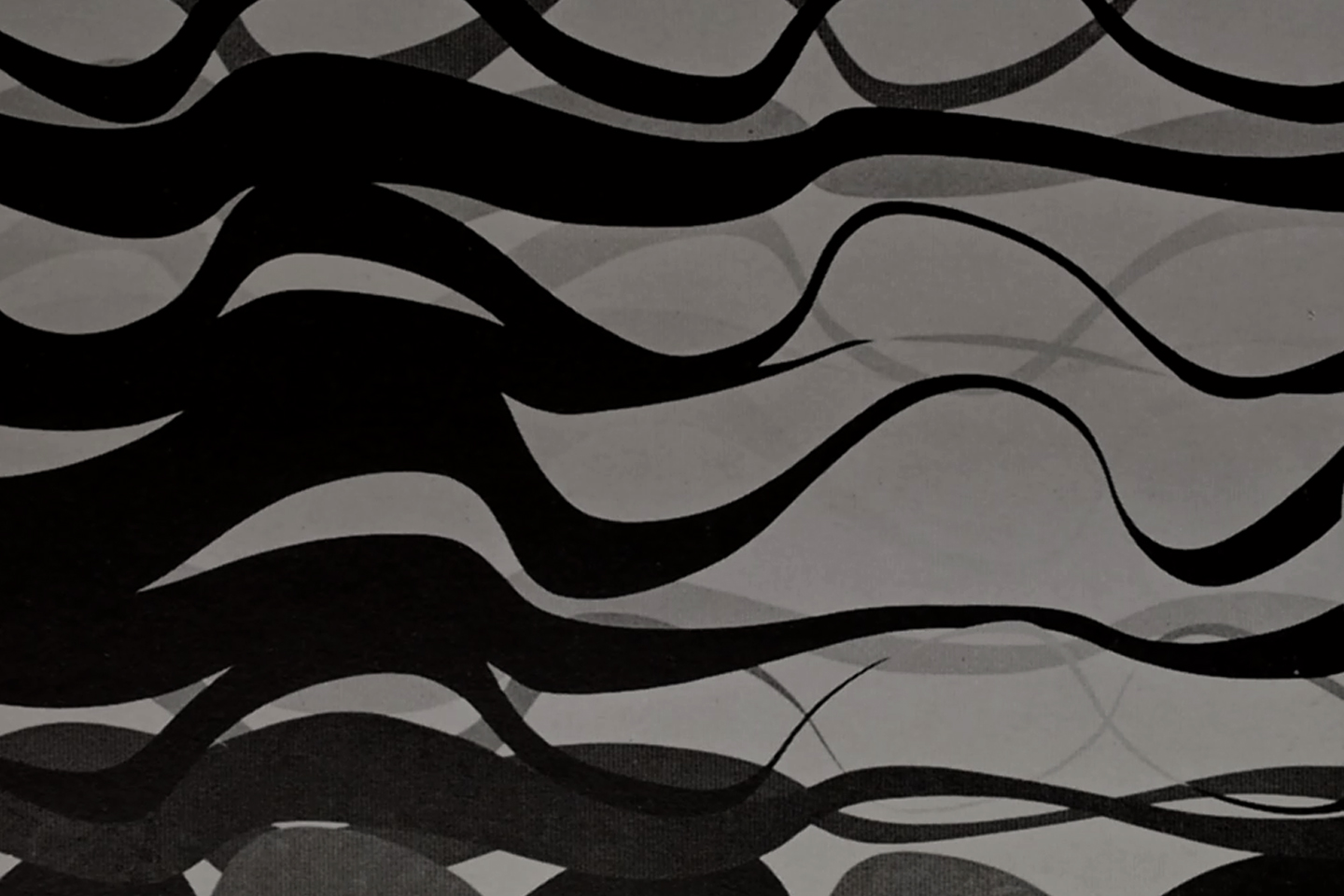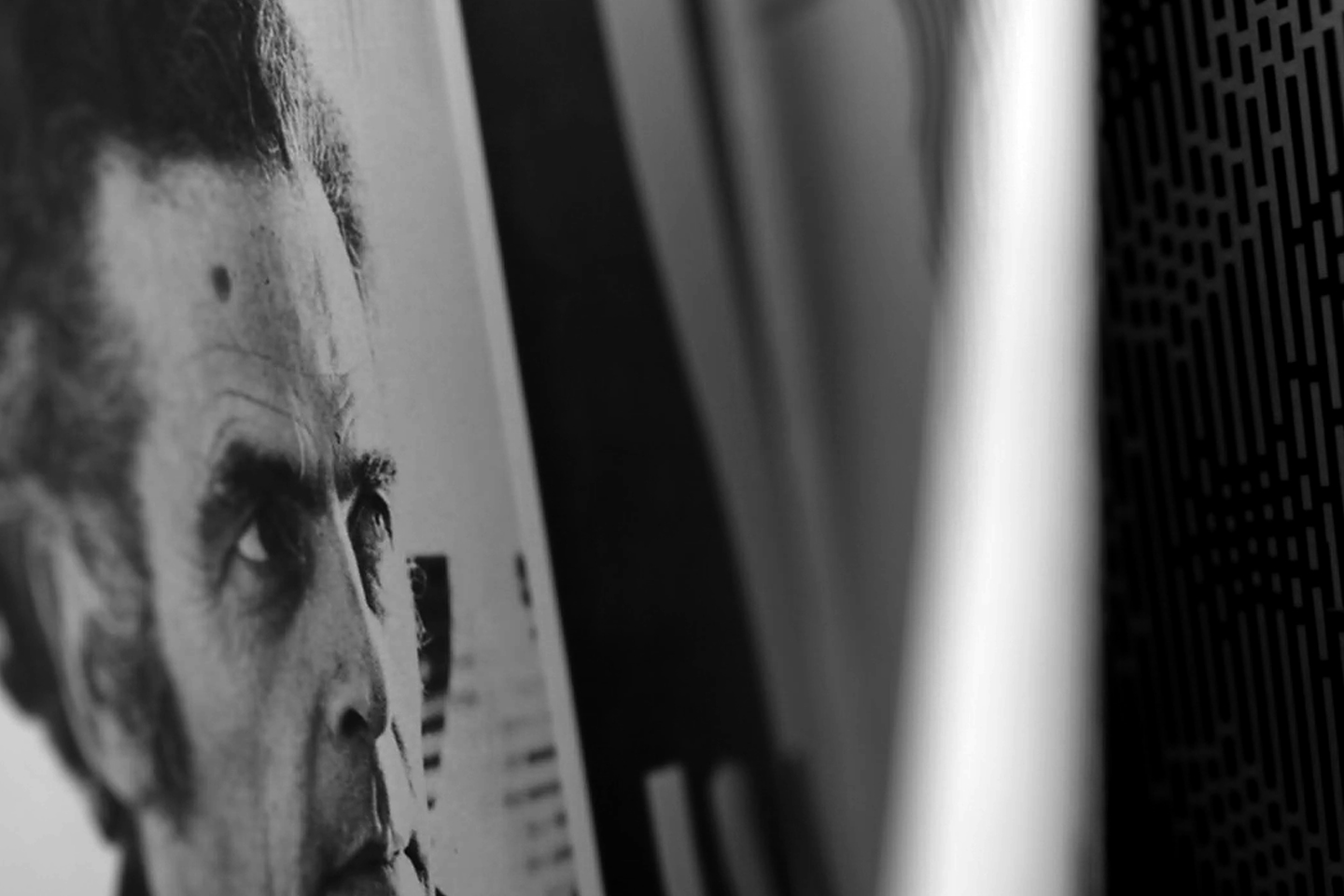 Ed Atkins and Elizabeth Price in conversation
Ed Atkins and Elizabeth Price delve into an interesting analysis of pop music, which represents for both an important part of their work. The musical citations that recur in the history of this genre trigger a sense of melancholy. Its apparently easy notes and refrains—at times irritating, at times moving—have a sinister way of instigating emotional reactions. The music's ability to promise escape by engaging bodies in dancing is connected with the attempts of the two artists to make works that attack reality, transforming video into something material, shifting the digital into something physical.
ED ATKINS: We've talked a bit about it in the past, but I'd like to go back to music, and in particular to pop, and talk about sentimentality in the context of the work—to an overtly artificial emoting that can be deeply affecting. And I wonder what that is? I've only ever really searched for the right descriptors for my own paradigms, without managing to get to the heart of it. An example I adore, and which I've used in a video called A Primer for Cadavers, is "The Sign" by Ace of Base. It manages to bring about a situation of copious weeping alongside a kind of objective distance and bafflement. I'm pretty sure it's not the cheap manipulation of some nostalgic or traumatic association, for it is in the song itself—in its bones, its structure. I wonder if you felt this? You seem to offer A-ha and the Shangri-Las in your videos as cathartic. Catharsis for the sake of something? Are these pop songs antagonistic or redemptive of something in the work?
ELIZABETH PRICE: Yes, I'm not sure I understand pop music either. I mean, I think I know what it does formally—I use pop music for its effects and for how it changes things, even though I'm not sure how it does it. I initially started using it as a kind of vulgar affront, something loud and apparently stupid, something sentimental and degraded. I never thought "Take On Me" was stupid. I thought it was extraordinary, with that high-pitched, androgynous vocal and that utterly contagious melody. I think it may well be one of the most infectious melodies in pop history, so I used it with respect. But I was not entirely prepared for what it did to everything else, and how the apparently ersatz emotion of pop could shift into a different register. You think you would recognize this manipulative force from adverts, from cinema, from pop promos, but it didn't seem the same. Maybe it's appropriation that makes all the difference? I always use pop music to make things move, to make them mutable and movable. I think we use pop in similar ways. Certainly when I heard Ace of Base in your video, I felt a mixture of distress and delight. It's exactly the kind of song I would use: the perfect combination of cheap and unique. I like almost anything with multiple vocals, especially if they duplicate and sing the same melody, like the Dixie Cups do: double tracking without harmonization. There is some double tracking in "The Sign," just at the start of phrases. Once again, it's hard to put my finger on why this arrangement compels me. Perhaps it infers some kind of assembly? Perhaps it deadens expression in the voice? I love pop music but I hold rock in contempt. "Pop" is my category for "good" popular music and "rock" is my category for "bad." So, the Sex Pistols and Ramones count as pop for me. It doesn't make much sense, really—unless you factor in androgyny. In Death Mask 2: The Scent (2010), a little electronic device in a toxic green space unfurls, to a repeated refrain. I recognized it, but can't remember now what it was. Is it "Je t'aime"? And the little electronic device unfurls to it, a mechanical reflex, but with a borrowed inflection of erotic response—from the song?
EA: In one way it's a bit of a reprieve from some more violent, less figurative, more jarring stuff in the video. The music that repeats and grows is the theme tune by Riz Ortolani from the movie Cannibal Holocaust (1980). It's catchy, totally poppy—a quality that is considerably emphasized by the apparent disparity of what it accompanies. Giallo films were incredibly brazen and confident in their understanding of pop and how to make it, albeit in its most base, exploitative form. Although there's something more than a little invidious about all pop that lies at the heart of its infectiousness, which might be understood to preclude criticality in some "proper" form. It's a cheap trick but it's a large part of the technique, I think. Goblin's Dario Argento soundtracks—and I'm thinking particularly of Profondo Rosso (1975)—tap into this via a lineage that I would say certainly includes Peter Lorre's whistling of Edvard Grieg's "In The Hall of the Mountain King" in Fritz Lang's M (1931) and—disco, really. And I totally agree that appropriation is the thing: recognizing these pieces of music and re-performing them is similar to the double tracking you mention and is certainly a huge part of pop's appeal: its appropriation by fans into their own lives, their desires and fantasies. Which is surely also the source of its particular melancholy. Or mourning, perhaps more accurately. Which could be something to do with the impossibility of a person's having or being pop. And I wonder if this doesn't in some way connect with the androgyny you spoke about. I keep thinking there's something deeply unrecognizable here. These pieces of music don't just stir me; they also make me exquisitely and incomprehensibly sad. The little unfurling calculator-cum-clock thing is, as I say, also somewhat of an advert, albeit neutered by nostalgia and technological obsolescence. Which would be another way that pop might intersect with something more sinister and manipulative: the pleasure of submission, which is so politically salient but also so essential to the escape innate to pop. And dancing, of course! Which is what all those objects are doing in User Group Disco (2009). Dervishes or something, spinning. Does the transformation wear off? I suppose I want to ask about what faith you have in your work's ability to change things, or rather, whether your work could itself be pop. It seems to me that your pieces are deeply material in pretty fundamental ways: how they assault entire bodies that sit before it, and not just the eyes and ears and the cerebral conceptualization. Bringing some of this together, I think I probably understand your work as attempting changes to material reality. Which is, of course, obviated by some fundamental physics—but you know what I mean: that the mutability engendered is not just a short-term illusionary change but a constitutive and generative act. So long as you submit.
EP: Ahah! Cannibal Holocaust. It's funny, I thought it was "Je t'aime." It must be because I loved it so much. Love and sex are obviously essential to pop music. They are the subject, and despite the banal reiteration of those sentiments, I often feel a rather profound love of pop music. But I agree it is rather sorrowful and anxious in its texture. When I was in New York lately, there was a show (which I didn't get to see) called Sinister Pop at the Museum of Modern Art. The title made me smile. It's a bit like saying "Angry German Expressionism" or "Austere Minimalism." Isn't pop inevitably sinister? Isn't all pop dark? I agree that the infection of it does preclude normative modes of criticality, which is why I started to use it. I felt that the textured elation and grief, or perhaps the elated grief of pop, was its intelligence. This seemed more powerful and meaningful than the weary old moves of criticality. As for dancing, I keep trying to make a video that isn't resolved (or dissolved) by a dance, but I keep failing. I think that the difficulty is that the dance is produced by how I feel and think through making the work: the processes of digitization; the huge file systems of material that I produce, assemble, edit, and narrate; the endless looking into a screen; thinking into the file system, forgetting and remembering files, pulling them out; how the images arrive on the "canvas" every time the cursor runs along the timeline; how the images arrive, again. The images do not rest on the timeline but remain in the file system and are called up. This is partly what the dance is about/for. It's about how to stop calling stuff up. The only way I can extricate myself from making a film is to have this ecstatic dance, to reciprocate and fulfill the edit's internal moves. And it's always a key moment of emancipation and keen anxiety in the film, of radical formal shifts or dissolution—where everything changes. Pop music's ostensible ideology of liberation through love and sex, as well as disco and driving, is its terrible pathos, and appropriation distills that pathos into something fiercer and colder. But my definition of pop also includes punk, where there is the performance of rage and boredom, and frustration, too. Think of Buzzcocks in "Boredom": insolent, androgynous, sardonic. I always use pop against something else in the work, but hopefully not always in the same way. Regarding the possibility of changing things—I try to. I don't know whether things change back. My work is material. It comes from working with plastic things, things you can change the shape of. That's why I "treat" the archival materials I use so emphatically. I don't want to discreetly intervene. I want to press into. I don't think of video as immaterial. I think instead of all its necessary and varied materializations. I think of the installation of my work as filling a space up with a dirty medium: a tidal brine that you must swim in. Your work is aggressive, too—not pulling you in exactly, but continually pushing and scratching and provoking you to think and know through sensation. Video isn't just dirty in your work, but positively poisonous. Its degradation, artifacts, and noise are enhanced with "human" hairs or exaggerated faux scratches, undignified signifiers of the dignified history of celluloid's materiality. The sounds exploit sensation continuously. The synthetic, candied, luminously lovely colors you use are always disturbed with noises that make me think of chewing wool or polystyrene. The reprise of Joanna, so ersatz yet so delightfully welcome, is precipitously cut off. Why these violent, rupturing techniques? And what do these sharp cuts mean for the narration? It seems like a whole thing-body that talks. What or who is that voice?
EA: I suppose that darkness, the sinister, in pop is more or less conspicuous. I like the idea of "elated grief." I'm pretty sure the fantasy of one's own funeral is often predominantly the fantasy of the playlist. Pop might be a means of publicly mourning personal losses, like a chorus in a pop song. And, in a club or a gig, the demand for a chorus becomes a communion. It's interesting that you end a work with a dance. And that you've tried not to! I never was much of a dancer, preferring to drink and shout and laugh at a table. I think that the toxicity you speak about, which is generated over the course of the long-term immersion in the making of a video—that particular and lunatic concentration of editing where you really can't allow your attention to drop; where any and all externality seems to get swallowed or made manifest inside the headphoned head, behind the fatigued eyes and mouse-wielding wrist, the hunched back, the smoked lungs, etc.—is something I find very hard to let go of. So the infectiousness of pop is more like that of a virus that attacks and changes me from the inside out, settling on those flattened digital surfaces but always belying some Bressonian interior—but ruined, damaged in some way. This surface would include pop: coolly observed by some inhuman, digital system that is catatonically calm despite the roiling shit perpetually going on beneath. This is accessed, in the body of the video, through the interruptions, stabs, blurts, and farts that gape things, that split and open the surface. So there's an idea here that one would need a homogeneity—or access to an understanding of that plateaued terrain's layer of existence—in order to access or even recognize that other possible place. We must acknowledge the wrapper to be able to differentiate between this and what lies beneath. This might be understood as the space of the video's diegesis and the space the audience is in themselves—where they are returned to themselves. The classic ideological battleground. So these interruptions enact an uncontrolled vertical movement. When something is dropped in the club—a beat, finally, which comes in and conducts some sort of euphoric massacre—it's fucking meaty, corporeal, but totalizing, too. The coincidence of elements in an in-between location that is simultaneously psychic, physical, sexual. Again, there's a faith in the coincidence and potential for these meetings of sound, text, image, movement, light, color, and so on. And a faith in their negative possibility, too: the possibility of collapse or the probability of regret. A kind of saturation, certainly—but negative, while digging a hole. As to why such violence is visited upon the desires of the audience, I would say that it is actually directed both at conditioned expectation and in defense against representation in and of itself—rather than against a real person, a real, charged body. It's all so insufficient, isn't it? The voice that so often comes out when I write and perform my work is often bitter, sad, lost, but also filled with a kind of grotesque verbosity that functions in compensation. So much stuff is generated—most of it scurf, dreck—in the absence of a reality. A cadaver springs into being with all the surprise of a poor jump cut when whichever poor person disappears. I've always thought of and described this as a sleight of hand. I'd like to find out how it actually works, and the only way to do that would be through modeling, rehearsing—because the reality, the true performance, is too late. I remember a pretty fundamental conversation I had with Ian White about my work. I'd been talking around and about cadavers and Maurice Blanchot and digital and corporeal stuff for a while—but he performed some terrific, devastating alchemy in my head by submitting the idea that, really, all of my videos were in actual fact dead men. If the videos and particularly their voiced protagonists are really cadavers, then one could properly understand why they speak as they do, why they envisage things as they do—in violent state change, in fantastic surges of desperate emotion, in hateful, embittered attacks, in yearnings and in sticky language that flags and clags in the gut. Perhaps I could ask you about your mode of address, which is revealed at a sort of lubricated, mechanical speech-like speed. How it all seems like fact—all those authoritarian aesthetics—but how it also seems to connect with conspicuously incoherent-making techniques like cutup, free-association, semi-surreal stuff that might baffle the deeply unruly human psyche. I wonder whether you agree that there is something necessary about these absurd, rupturing, and imaginative techniques today—a return—in the face of a pervasive and growing sense of ignorance about the ways in which contemporary political and technological apparatuses actually work? "Work" according to any anthropocentric experience. Perhaps deconstruction—both theoretically and materially—has run its course, and a kind of insistent absurd is what we're left with. I mean that finding a way in—something to get a fingernail under—is almost impossible now, so how do we understand, interrupt, and critique the flow of information? I would say that we also have love, if that didn't sound a little naive. Though perhaps precisely that kind of dumb naïveté is a kind of resistance. Like pop.
EP: Yes, it always comes from found text, so it is always text, never spoken. It is always delivered graphically, animated—and, as you say, the animation mimics the pacing of voice, and inflects the text with an expression of capricious temperament—although clearly mechanized. The majority of the texts I choose to ventriloquize in this way are authoritarian and sometimes overtly and explicitly aggressive. At other times it may be relatively reserved in exerting power, perhaps even ingratiating, but maybe horrifying in its presupposition. I take these texts and give them voice in the work, to extend their violence in and through it. I want their violence to inhabit the work. In most of the videos I have made over the past five years, the immediate object of the narrative is to establish an architecture, a place. These voices narratively construct that place, they speak it and are synonymous with it. Whatever happens, happens there. I always imagine the narrators as a chorus of voices speaking simultaneously, directing you/me, coercing us, soliciting us—and at the start of the video they work to synthesize everything: whatever the material, the specific history, or the visual subject, the narrators enforce coherence. I don't think I rupture conditioned expectation in quite the same way as you do. Perhaps I work to exceed it, to multiply rather than fracture it. So I reiterate, indulge, reprise, reprise, reprise, exhaust. For example the narrators always insist upon a "here." Yet "the here" claimed by the diegesis is not inaugurated by this emphasis, but dissolves in absurdity. This chorus is the midst and the extent of the work. Perhaps it's a kind of cultural superego. It is derived from and related to the flow of information we live in, and perhaps to the dolorous mountains of paper or banks of information generated by the Law, and by the contemporary political system. Access to Information is an absurd and cruel invitation in the light of embodied life. These are not the only voices in the work, though. At other points the voice is not synonymous with the place itself, but its vocabulary is seized and détourned to claim an embodied occupation of it. If your videos are ghosts—or, more precisely, dead bodies—then perhaps there is proximity here. Maybe mine are an underworld, a realm of the dead, and the action is a fatal attempt to inhabit it corporeally: a kind of reverse haunting or just a stupid attempt to breathe water.
Originally published on Mousse 38 (April–May 2013)