Mousse 73 TIDBITS
Psychic Time of Handicraft: ektor garcia
Close
1
2
3
4
5
6
7
8
9
10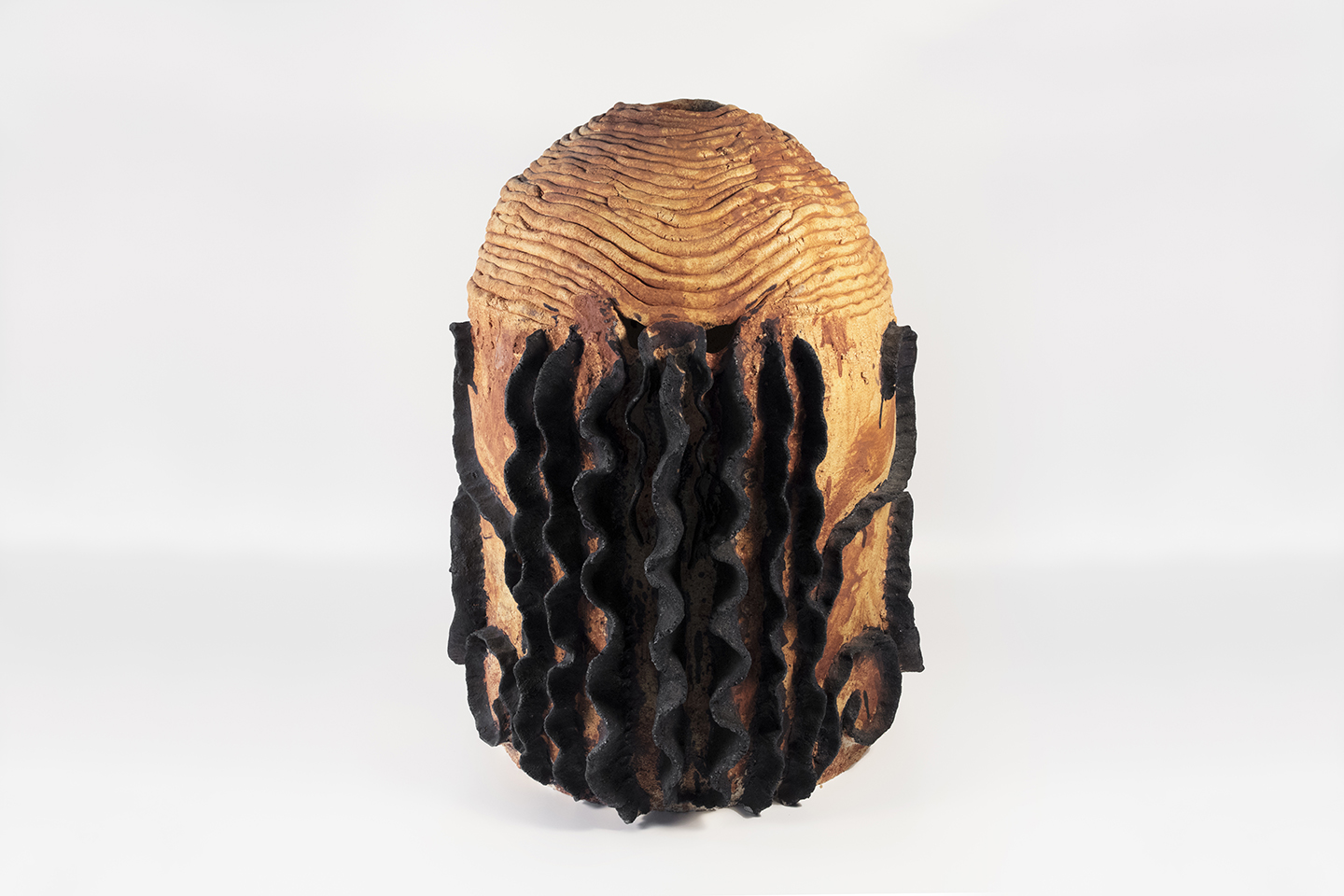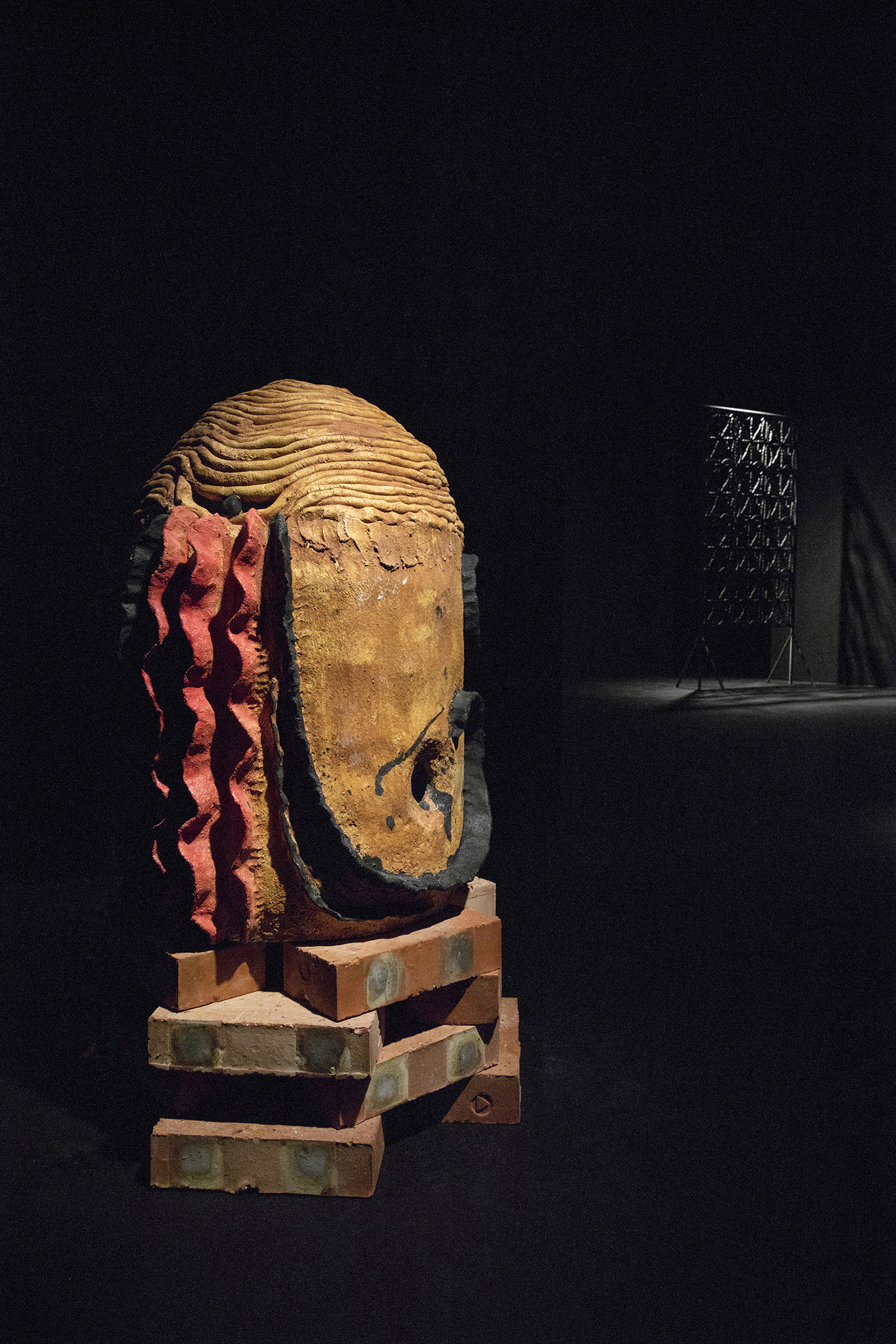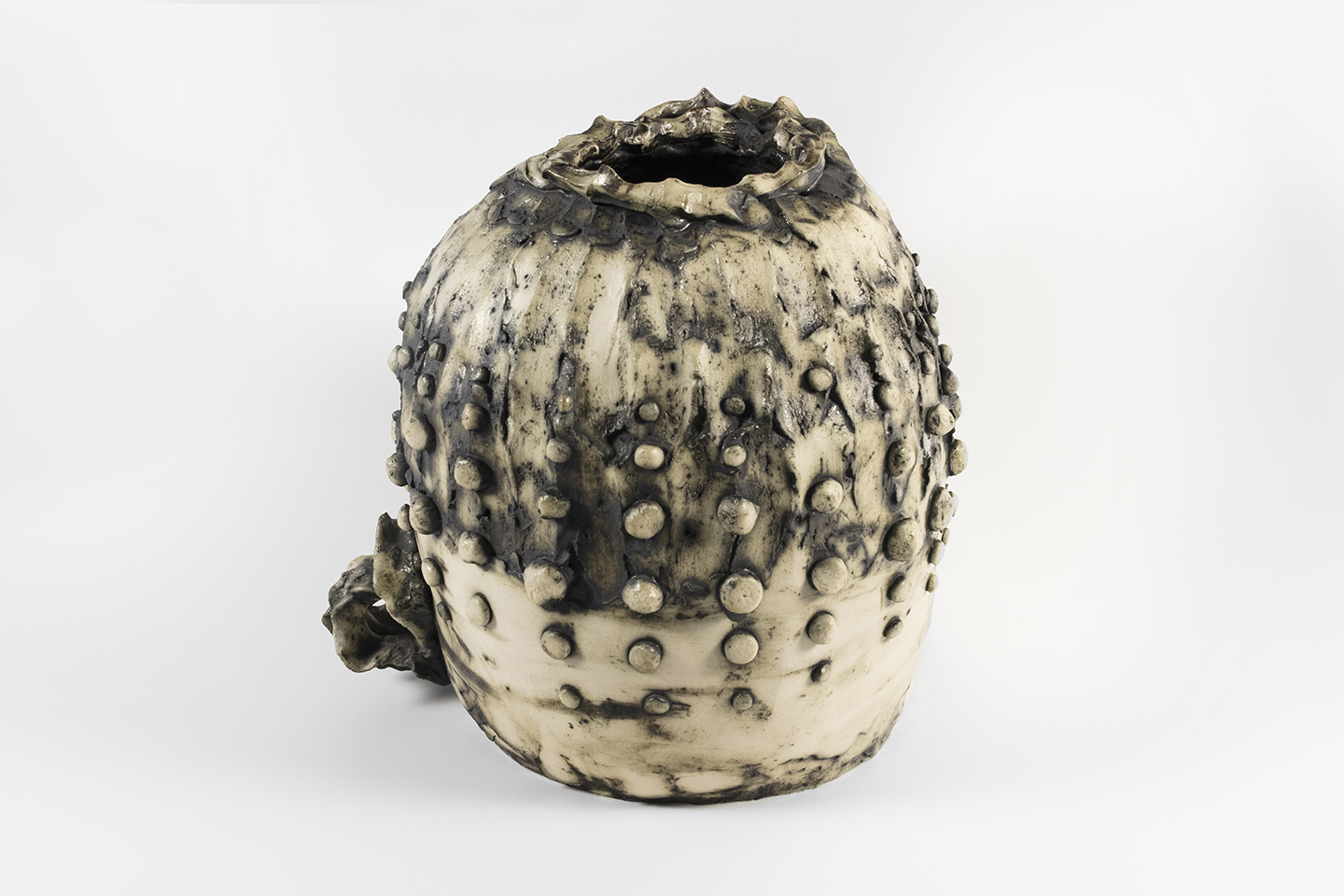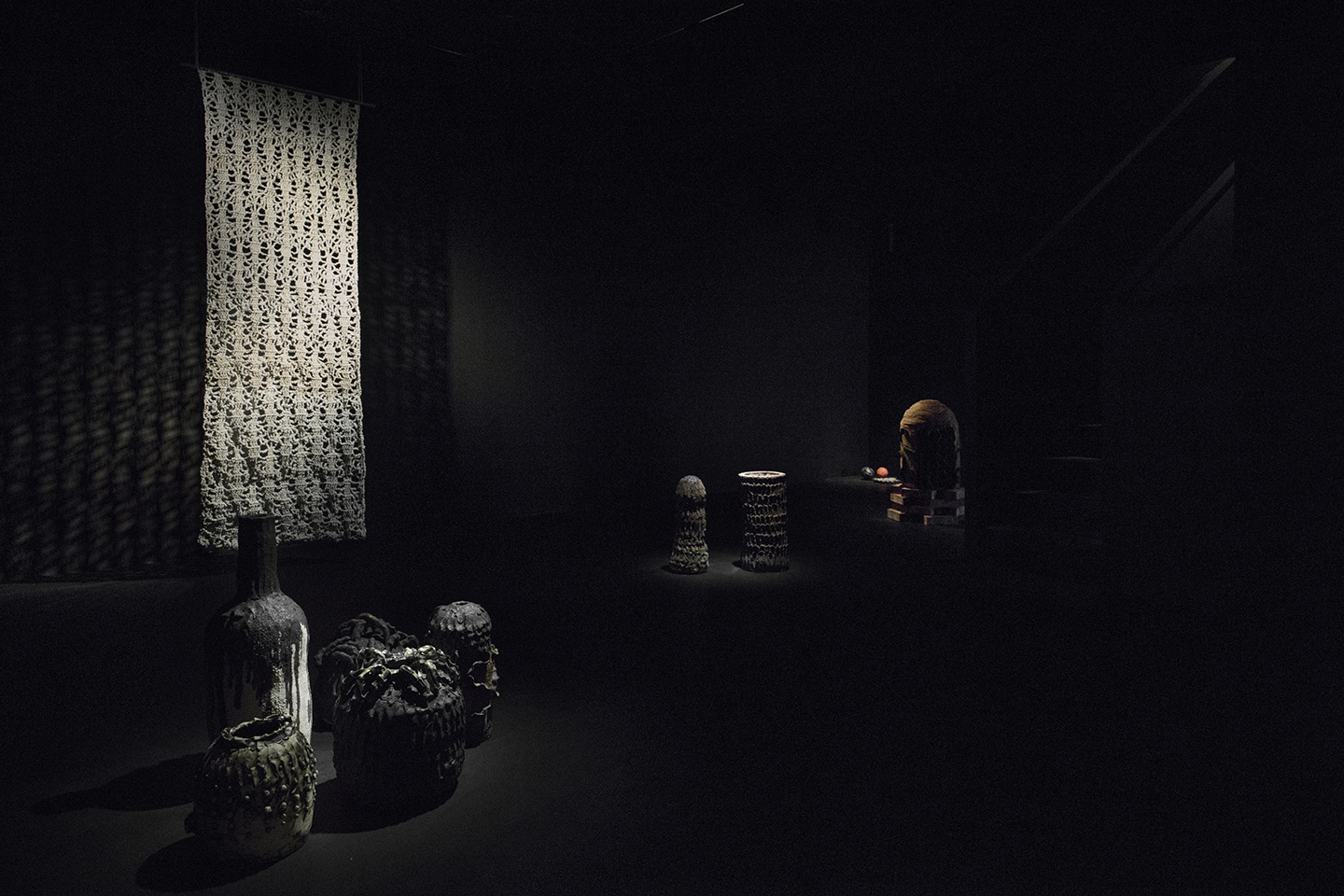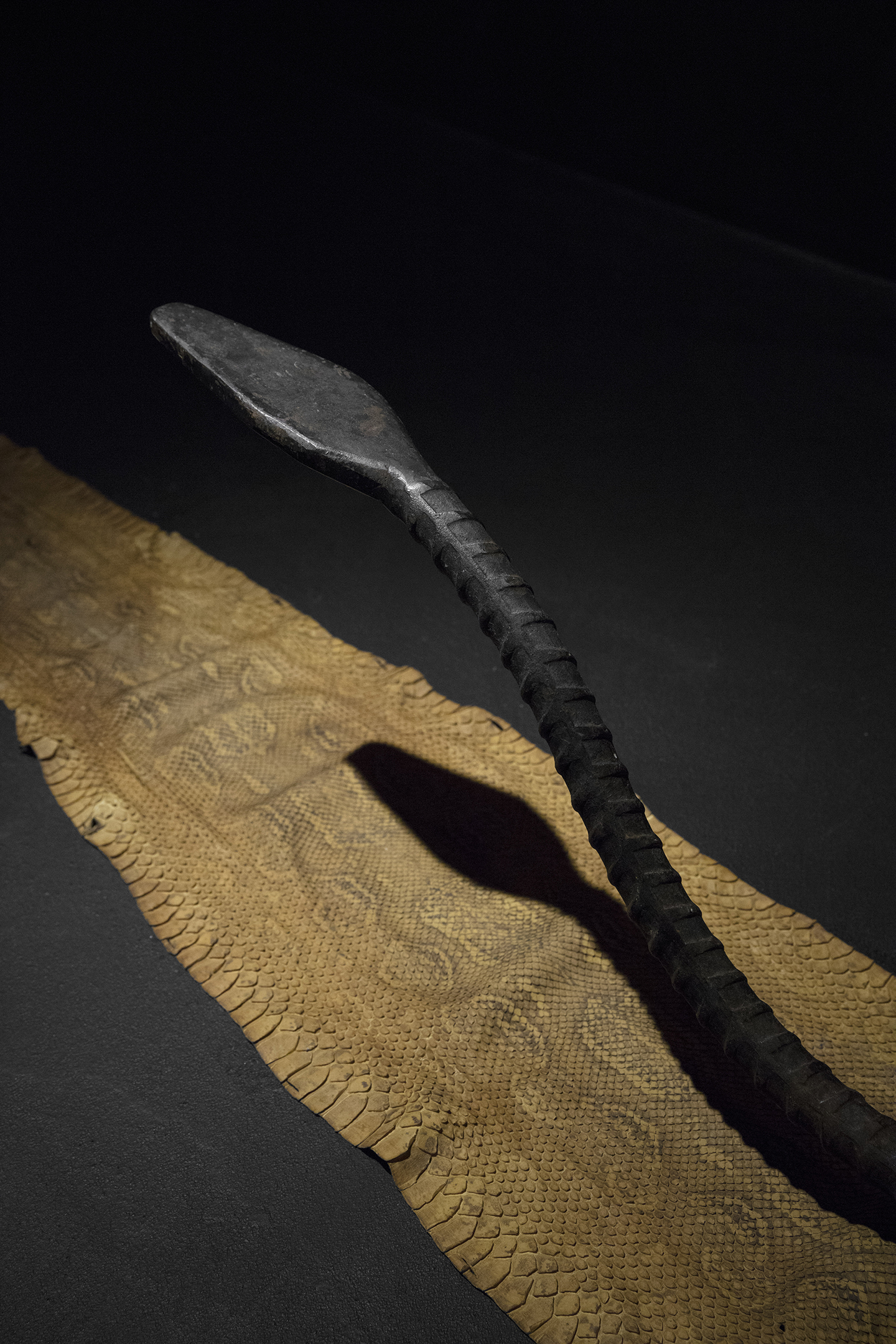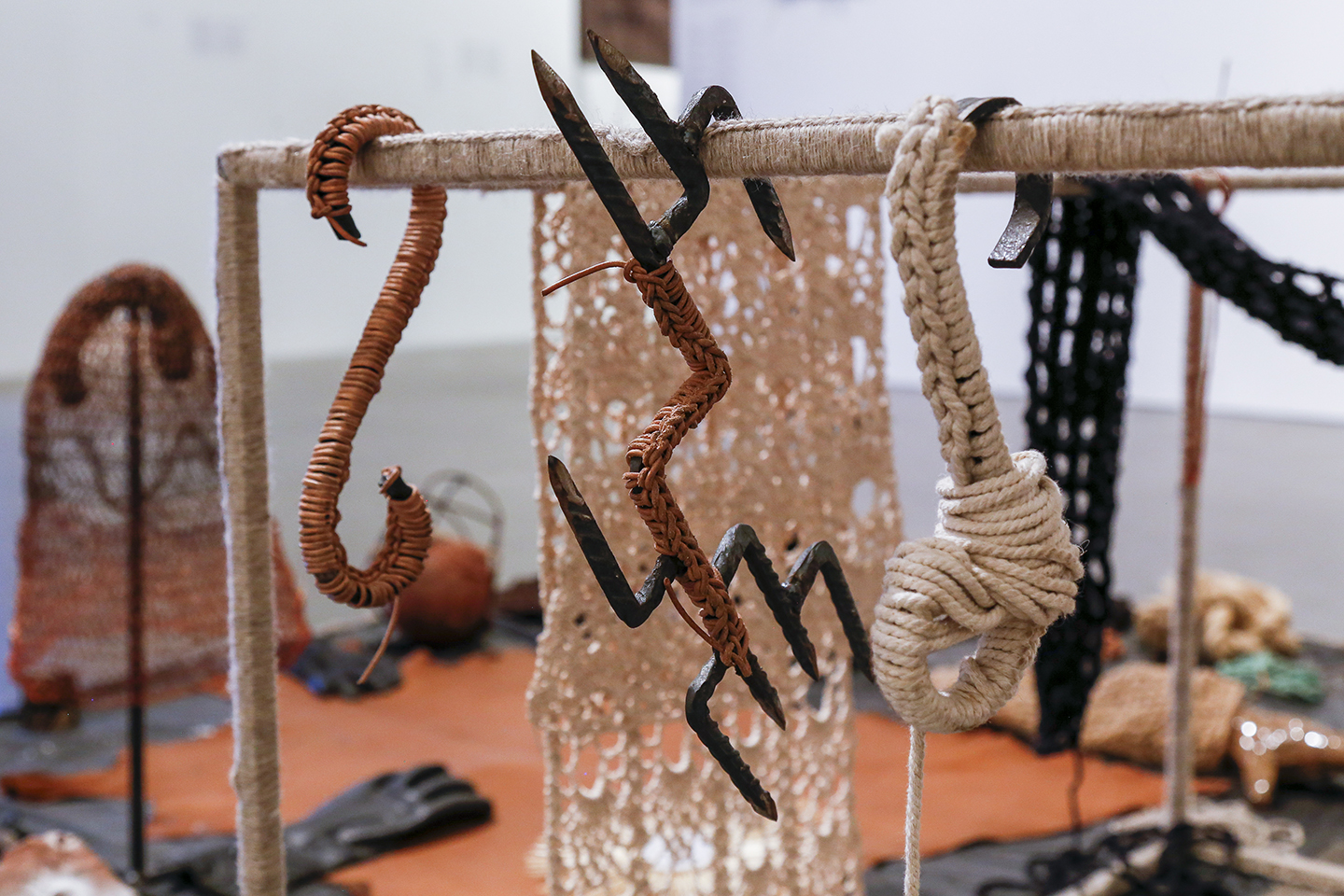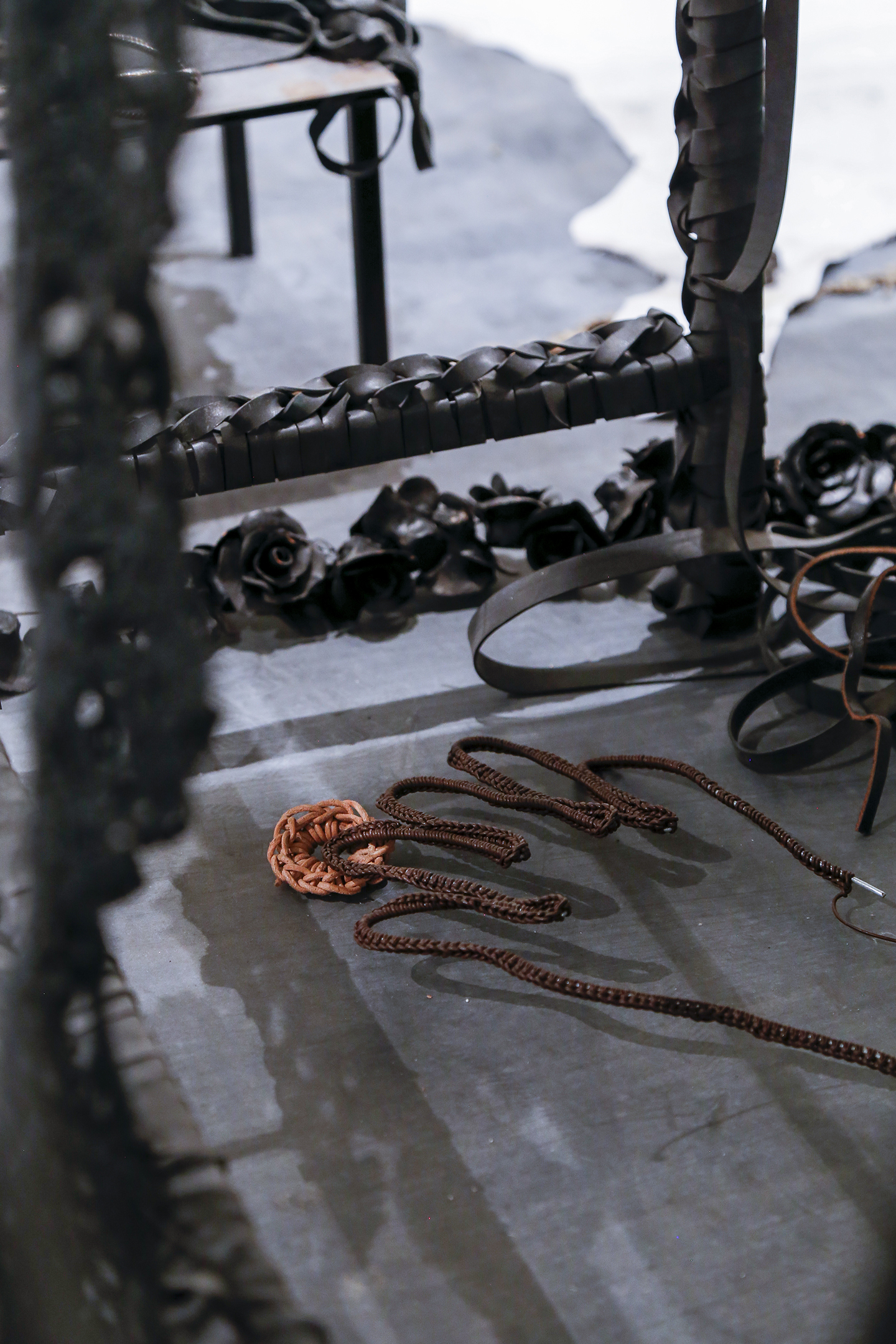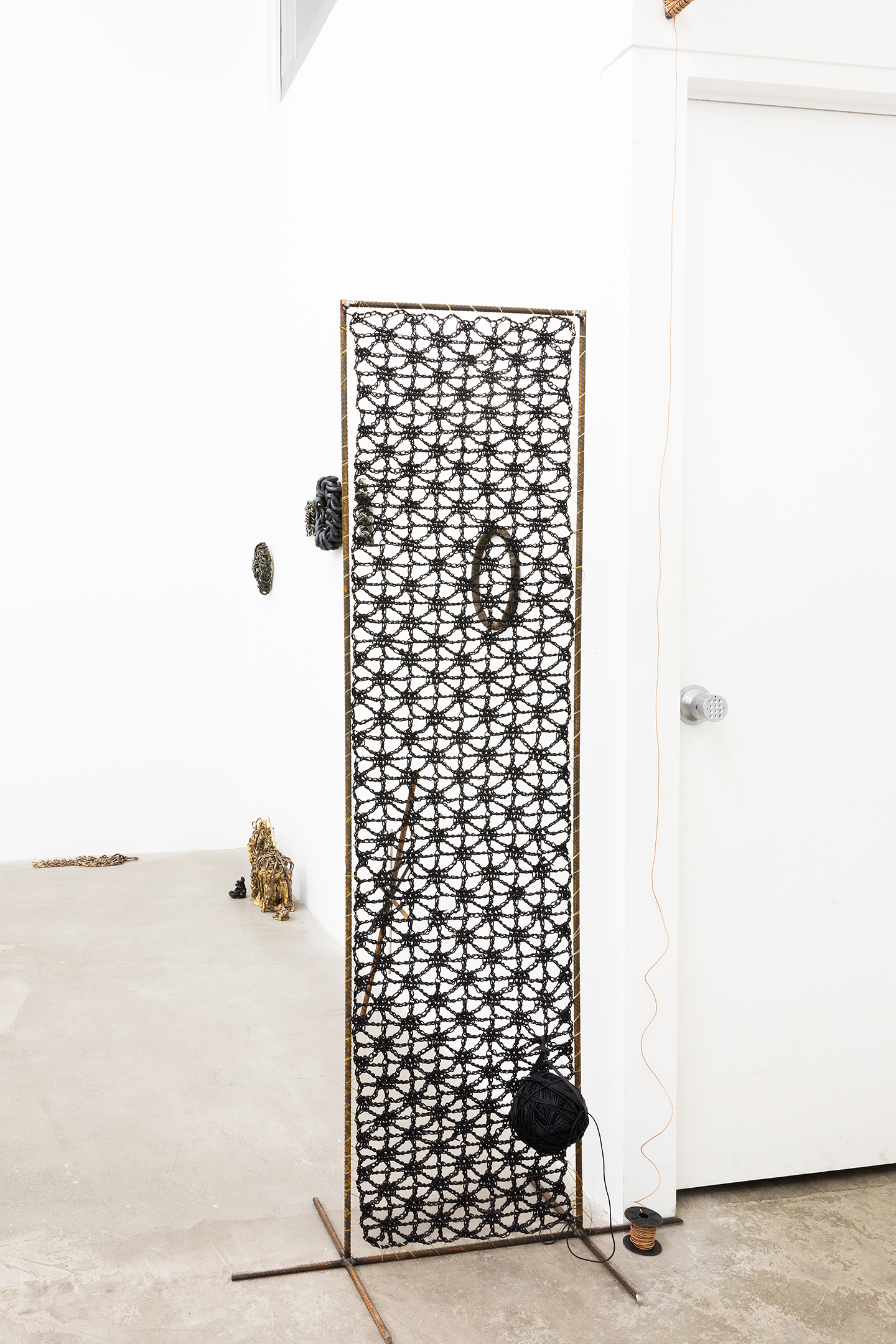 by Jeppe Ugelvig
Craft has historically found itself thrust into heated disputes relating to the materiality of gendered and racialized labor. More recently, it's found new currency in the art world, which in turn has developed a proclivity for reducing its makers to simple tropes of identity.1 In his practice, ektor garcia wrestles with these stratified positions of production with a restless poetry that defies fixed meanings, whether formal or subjective. 
garcia's formal output resembles a lot of other things: ropes, chains, fasteners, loops, and knots, rendered in bronze or ceramic, or crocheted into hanging curtains or carpets using copper wire or leather. A slight wonkiness pervades his intricate designs, suggesting the intimacy and humanity of an amateur, but the way he combines materials (soft/hard, hanging/resting) lends them a bodily intensity, like totems. garcia's work ranges from monumental structures (vertically steel-framed crocheted screens such as empezar I [2018]) to arrangements of small, detritus-like objects meticulously laid out on a table (cuiloni [2017]), echoing well-rehearsed display formats from ethnographic museums, where craft is often asked to perform cultural history (instead of, say, its own aesthetic autonomy). No doubt, craft production is laden with social meaning, also for garcia: as an intuitive researcher, he seeks out handcraft traditions from his native Mexico as well as from around the world, and relates them to critical instances of activism—from the lesbian-feminist fiber art of the 1970s to the monolithic AIDS Quilt (1985–ongoing).
garcia's most recent exhibition at Empty Gallery in Hong Kong, Oax.D.F.L.A.N.O.H.K (2020), included a series of rough, dirt-colored glazed ceramic vessels (such as recipiente de cerámica, cactus de cerámica, and monstruo [all 2020]) made in the Oaxaca workshop where the late artist Francisco Toledo realized his body of work commemorating the disappearance of forty-three students at the hands of the Mexican government in 2014. Particularly in the Americas, crocheting and ceramics production can be read via a much longer history of gendered, classed, and racialized labor struggle, where rural and migrant workers pass on creative family traditions to ensure their livelihoods, and craft has played a central role in episodes of political activism and nation building.2 However, as Julia Bryan-Wilson argues in Fray: Art and Textile Politics (2017), such narratives are no longer foreign to art history, but in fact well-rehearsed, even overly fetishized. The art world has even begun wholesale imports of indigenous and "women's" aesthetic practices from around the world to make up for the centuries of exclusions that were necessary to construct and maintain the category "fine art."3
In our current identity-political climate, there is a thirst for these maneuvers, even if it's at the risk of oversimplified associations between marginalized aesthetic forms and (supposedly) marginalized subjects. At worst, this leads to deterministic readings that echo the same hegemonic perceptions of craft that the art world is heroically trying to undo: to assume, for example, that garcia's rope-tied, corporeal, sensual motifs signify a literal sexual kinkiness, or even serve as hints to his own sexual predilections. Such a response repeats too vividly a cultural attitude that places the aesthetic expression of certain people—queer, brown, Latinx—in subordinate relation to others, reduced to sexualized Other and consumed as such. garcia's activation of historical craft techniques forms social trajectories on a much more intimate scale—and particularly, serves as a register of time spent laboring—be it on a glove, a curtain, or a blanket. I have never met an artist who travels so much, and is constantly hand-making. Eternally itinerant and autodidact, you'll always find him laboring over a new design, which he pulls out of his backpack at most occasions. His work is directly guided by movement and the learning of skilled techniques discovered or sought out—in cities, airports, villages, workshops—that he faithfully continues and symbolically transforms. Understood this way, garcia's ethereally hanging "portals" (as he calls them) serve as passageways into the general psychic time of handicraft as it happens in and alongside the routines of life itself: traveling, daydreaming, listening to music, falling in love, feeling pleasure, loneliness, heartbreak. To garcia, his works function like spatial-temporal diary entries of "hours spent somewhere" that nonetheless remain in dialogue with a social history. As the artist simply puts it, "studying crafts, how they relate to me, and society at large."4 Through the power of ambiguity, garcia thus manages to upend the current demands placed on craft as much as on queer, nonwhite art production—namely, to mean something, as representations of identity. This rejection invites the viewer into a far more quiet and sensorial sphere, where history is embodied rather than performed. garcia heralds craft as the art of the everyday, as unsensational and complete, with a critical apparatus found in the quotidian nature of its production rather than its hermeneutics of signification. Thus craft, if allowed to just "be," may hold a counter-response to current identity politics' asphyxiating demand for representation and the fixing of people as images. It insists that identity (and its battles) are found in the mechanics of labor; in the repeating of techniques, patterns, and styles passed down through history; in hours, days, and years lived.
 
[1] For a critique of this trend, see for example Laura E. Pérez, Chicana Art: The Politics of Spiritual and Aesthetic Alterities (Durham, NC: Duke University Press, 2007); Julia Bryan-Wilson, Fray: Art and Textile Politics (Chicago: University of Chicago Press, 2017); Lisa Lowe, Immigrant Acts: On Asian American Cultural Politics (Durham, NC: Duke University Press, 1996).
[2] See for example, Rick A. Lopéz, Crafting Mexico: Intellectuals, Artisans, and the State after the Revolution (Durham, NC: Duke University Press, 2010).
[3] Bryan-Wilson, Fray, 6.
[4] All the artist quotes in the text are from the author's conversation with ektor garcia, August 25, 2020.
ektor garcia (b. 1985, Red Bluff) lives and works nomadically. He received his BFA from the School of the Art Institute of Chicago in 2014 and his MFA from Columbia University, New York, in 2016. He was included in the Hangzhou Triennial of Fiber Art (2019) and will partecipate at La Trienal at El Museo del Barrio, New York (2021). garcia has exhibited at Foxy Production, New York (2020); Etage Projects, Copenhagen (2020); Luhring Augustine, New York (2019); Progetto, Lecce (2019); Marianne Boesky Gallery, Aspen (2019); Sculpture Center, New York (2018); Museum Folkwang, Essen (2018); LAXART, Los Angeles (2018); Museo de Arte de Zapopan, Guadalajara (2018); Salon ACME, Mexico City (2017); New Museum, New York (2017); and kurimanzutto, Mexico City (2016). 
Jeppe Ugelvig is a Danish curator and cultural critic based in New York. He published his first art historical book, Fashion Work, in 2020, which recounts a recent history of art/fashion hybridity. His writing has been widely published in magazines such as frieze, ArtReview, and Spike, and he has staged exhibitions at Tai Kwun, Hong Kong; the Hessel Museum, New York; and Kunsthal Charlottenborg, Copenhagen. He is currently working on an exhibition project about the Nordic witch trials of the sixteenth century, and trying to launch a fashion magazine.