ESSAYS Mousse 67
Kind of Blue: Ellen Gallagher
Close
1
2
3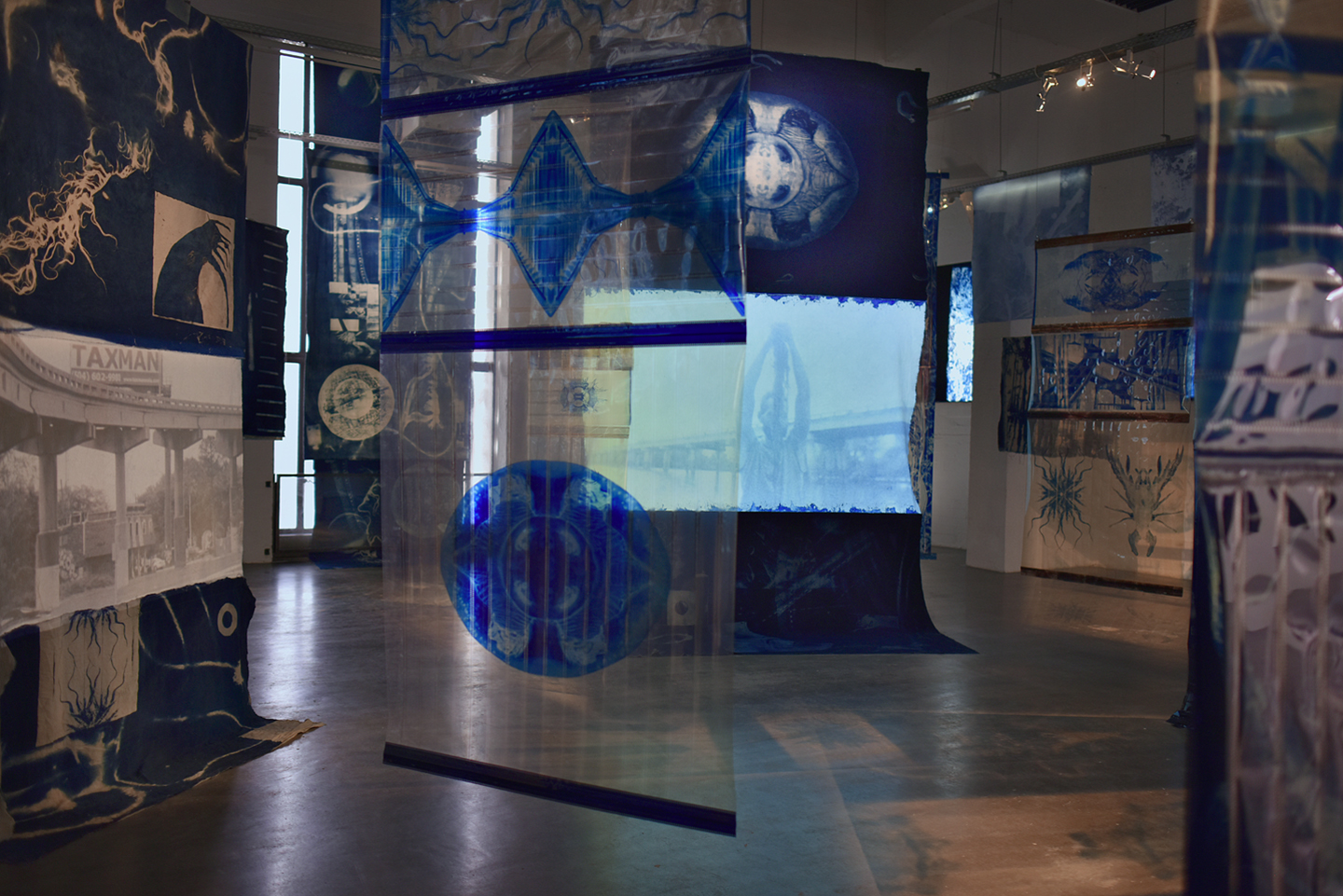 by Vincent van Velsen 
She might be the best-kept secret of the Netherlands. Having barely ever shown in the country that has been her home for about two decades, Ellen Gallagher has recently presented Liquid Intelligence, her first solo exhibition in the Low Countries, at WIELS, Brussels—about two hours south of Gallagher's home in the Dutch harbor city Rotterdam. The show includes an overview of her more recent works and insights into her broader interests and practice, as well as her collaborations with Dutch artist Edgar Cleijne. 
Rotterdam serves as a perfect shelter from the demanding scene in Ellen Gallagher's part-time home of New York. Her refuge-like position, being both present and away, somehow fits her practice perfectly. To work in a relatively sheltered place, distanced from what most would consider "the center," is to have a comfortable habitat to be in—especially combined with the indifferent Dutch attitude toward fame and the relatively low-key position of the art scene in the Netherlands. At the same time, this separated space, existing without the burden of American societal implications, is as psychological as it is physical. Not surprisingly, an important reference for Gallagher's practice is Drexciya, a Black Atlantis that stems from the idea that the descendants of the pregnant African women who jumped or were thrown overboard during the Middle Passage survived and inhabit the bottom of the Atlantic between Africa and the Americas. Every now and then, the Drexciya inhabitants surface in Gallagher's works, accompanied by other references to colonial relations, marine biology and black life, and complemented by modes of refuge and marronage (escape from slavery into the safe space of black community) that are situated beyond the necessity of a double consciousness and the extortions of imposed historicity and contemporary life. Gallagher's recent practice could be considered materialised futurist and utopian thinking that is aesthetically and conceptually informed by these and other (related) myths. 
Hence, conceptual connections to marronage, refuge, and Black mythology are very much present in Gallagher's works. Her first artistic endeavors came about during a study trip in the Caribbean. She drew and sketched marine microorganisms as a means of scientific study during her late teens. These sketches served as her application materials for the School of the Museum of Fine Arts in Boston: they were an early indication of her interest in (sub)marine life, this specific habitat that, not coincidentally, has also been described and theorized by black intellectuals like Édouard Glissant and Aimé Césaire. On the other side of the size spectrum regarding the sea, Gallagher has shown an avid interest in whales. Herman Melville's Moby-Dick (1851) was the first novel to include black people as actual characters, a fact that Gallagher ties to her personal connection with the Cape Verdean community in her city of birth, Providence, Rhode Island. The Cape Verdeans were deeply involved in whaling—to escape the colonial burden in their home country and to find a better life on the seas and overseas. She tells about her own experience with the major mammals' mythical implications and perception: "One afternoon, just offshore from Provincetown at Cape Cod, Massachusetts, a whale left a fluke print, this glassy swell in the wake of her dive, as she made her descent. Ancient mariners thought you could see into these eerie circles, like a looking glass, and divine past/ future time. Industrial Age whalers believed the glassy surface was oil: they thought the whale was excreting oil as she descended. The ocean curls up around the edges of the fluke print, creating a sculptural presence at the edge of the glassy mirror. Looking into the swell, it occurred to me that the sea was a surging web of fluke prints appearing and disappearing. So the future is constantly making and unknowing time. This state of unknowing is not about retinal detachment but a surging presence of care. To recall the exchange embedded in the etch Watery Ecstatic series (2001–ongoing) to call up this burr out of the blurring. The metallic burr that comes from the refusal to be contained in someone else's lack of sight."1 
Such acts of diversion, retraction, and withdrawal, combined with marine aesthetics and mythical insights, are present in Gallagher's Morphia series (2008-2012), works that are dispersed across the WIELS exhibition floor, in front of several works from the Black Paintings series (2000-2016) that seem to be the physical embodiment of something that Glissant called opacity. Like whale flukes, these paintings capture images that only reveal themselves when the light that touches the surface in relation to the beholder's retina is just right. Viewing them demands a certain attentiveness, as these decisive moments—in which time and space collide in one's eye—fade, swallowed by endless time, lost in an immense sea, after which the paintings return to their opaque, monochrome state. Similar interactions of give-and-take are of the essence when it comes to Caribbean cultures and their relationship to the ocean. The islands and the sea interact through tides, and the Caribbean cultures exchange matter, habits, knowledge, biology, and people infinitely in this extensive, interrelated, interdependent, and kind of blue archipelago under the scorching sun. A touch of sun that is also present in the extensive and immersively blue installation, where cyanotype textiles are accompanied by celluloid pieces referring to marine and Black life, called Highway Gothic (2017), which Gallagher initially put together for Prospect4, New Orleans, in collaboration with Edgar Cleijne. This and the other multimedia and multidirectional deliberations create the coalescent embodiment of Liquid Intelligence. 
[1] E-mail conversation with the author, 2019. 
Ellen Gallagher lives and works in New York and Rotterdam. Her work has recently been the subject of survey shows at the New Museum, New York; Tate, London; Haus der Kunst, Munich; as well as solo exhibitions at The Power Plant, Toronto; Art Institute of Chicago; and WIELS, Brussels. Gallagher participated in the Venice Biennale in 2003 and 2015, the Paris Triennial in 2012, the Istanbul Biennial in 2015, and was awarded the American Academy Award in Art in 2000. She had a recent solo show at WIELS, Brussels. Her work is currently on view at Tate Modern, London; and Musee d'Orsay, Paris. 
Vincent van Velsen is an Amsterdam-based writer, critic, and curator with a background in art and architectural history. He is a contributing editor at Metropolis M and a chair advisor at the Dutch national funding body, the Mondriaan Fund. Together with Alix de Massiac, he won the second edition of the curatorial prize of the Dutch Association of Corporate Collections, in 2014. In 2015-2016 he was a resident at the Jan van Eyck Academy in Maastricht; he was a guest resident at the Rijksakademie in 2018. Forthcoming exhibitions of his will take place in 2019 at Stroom Den Haag and TENT, Rotterdam. Van Velsen is a board member at Frontier Imaginaries and De Appel, both in Amsterdam.
Originally published on Mousse 67