REVIEWS
Ezra Gray "Joech God" at Emalin, London
Close
1
2
3
4
5
6
7
8
9
10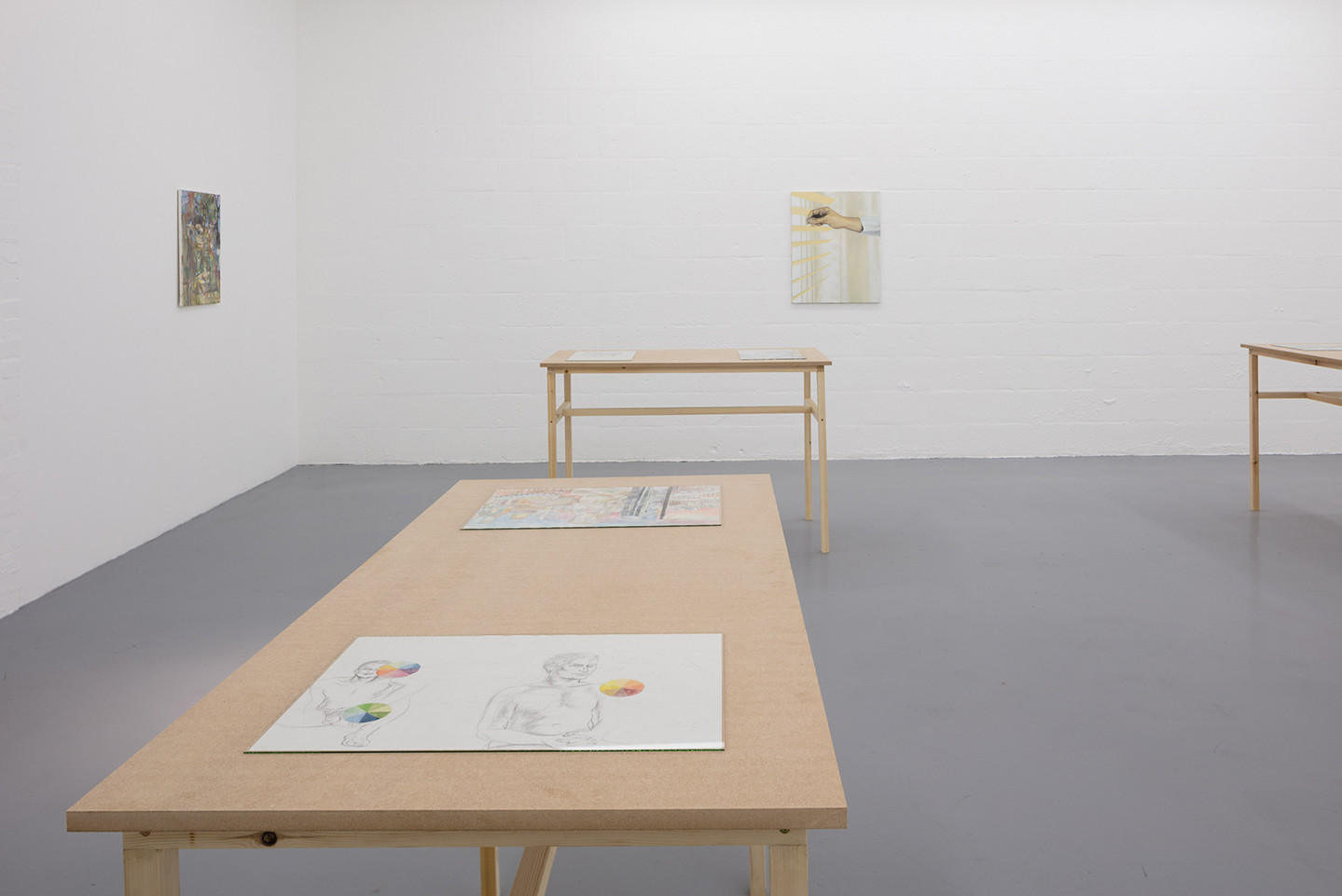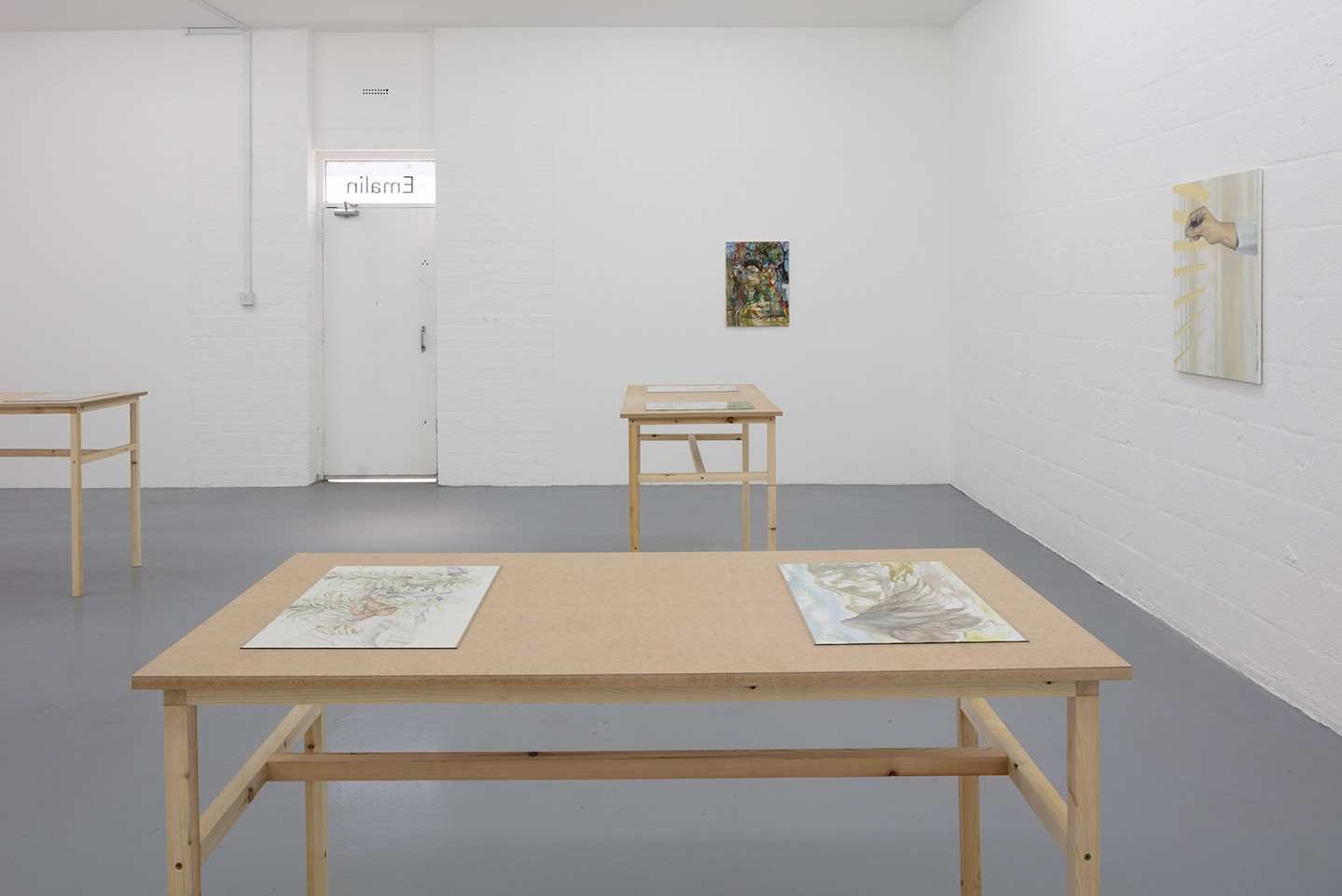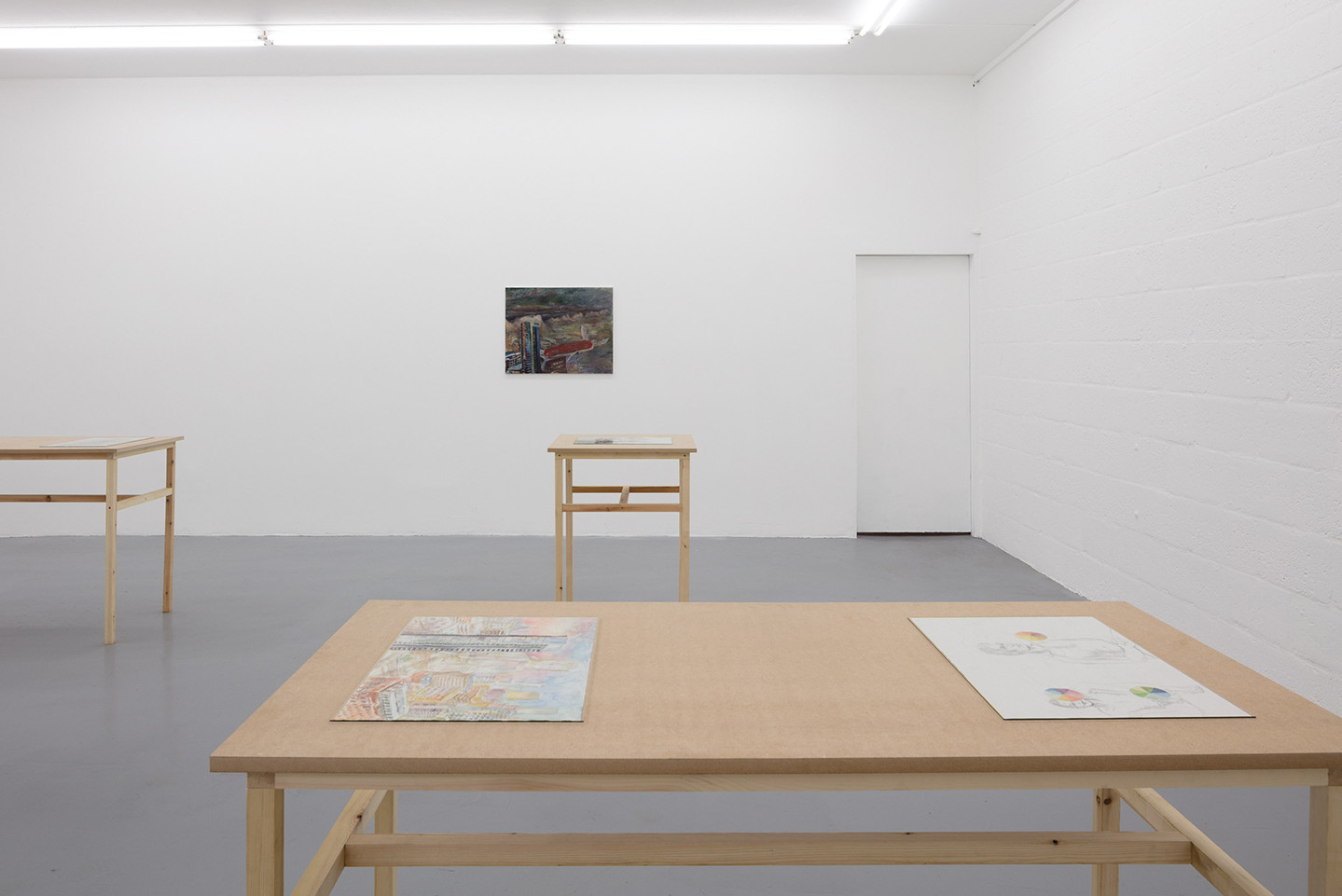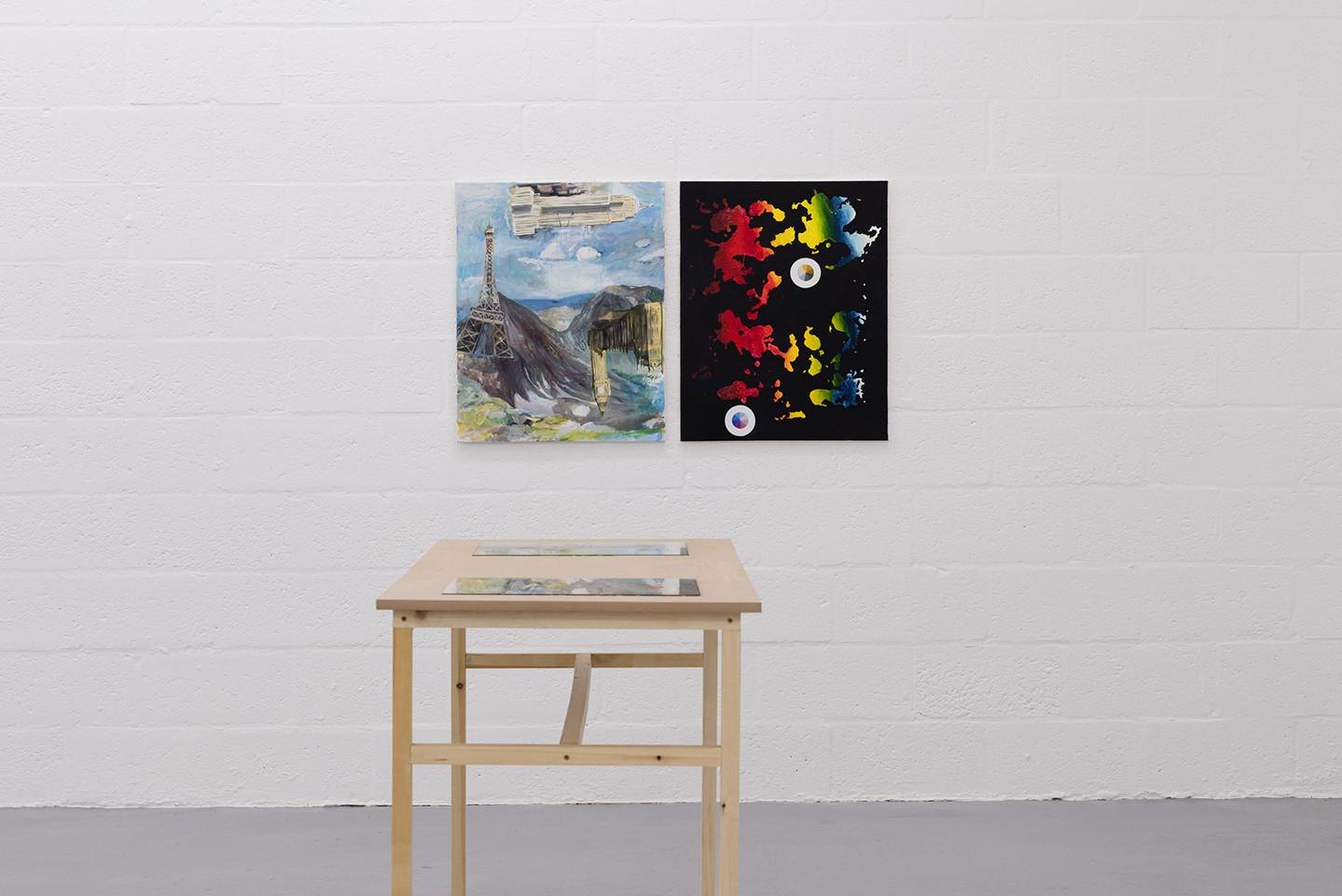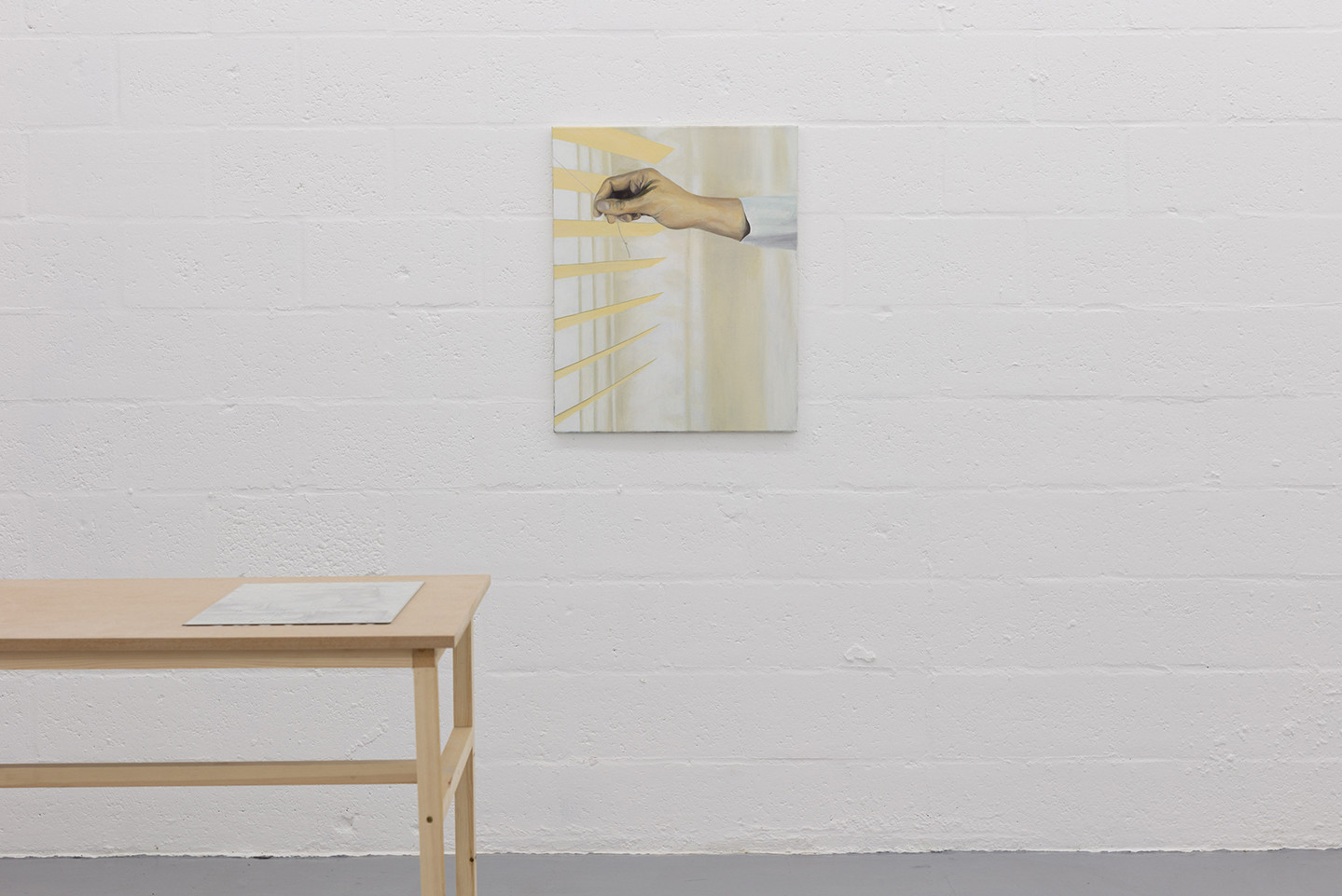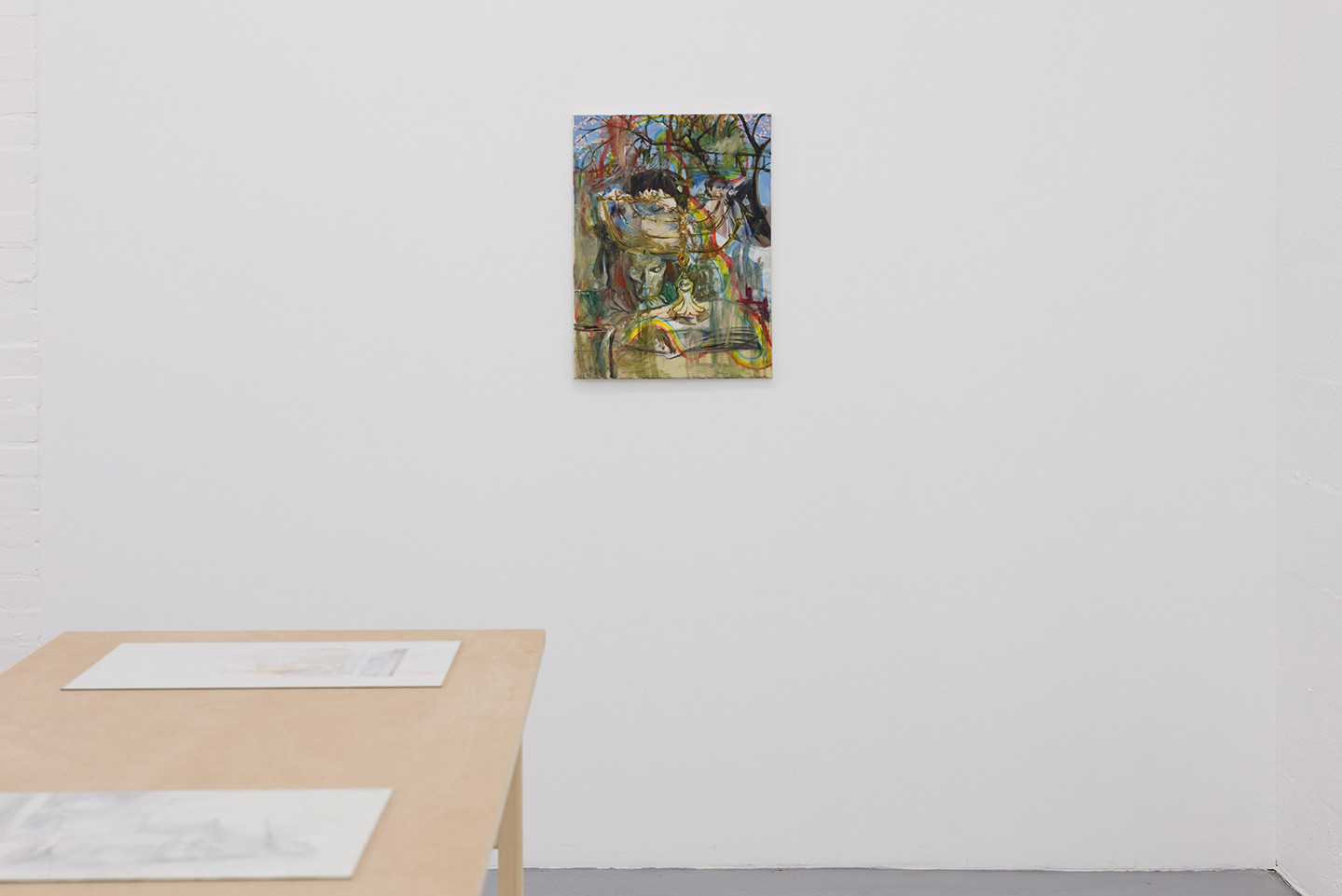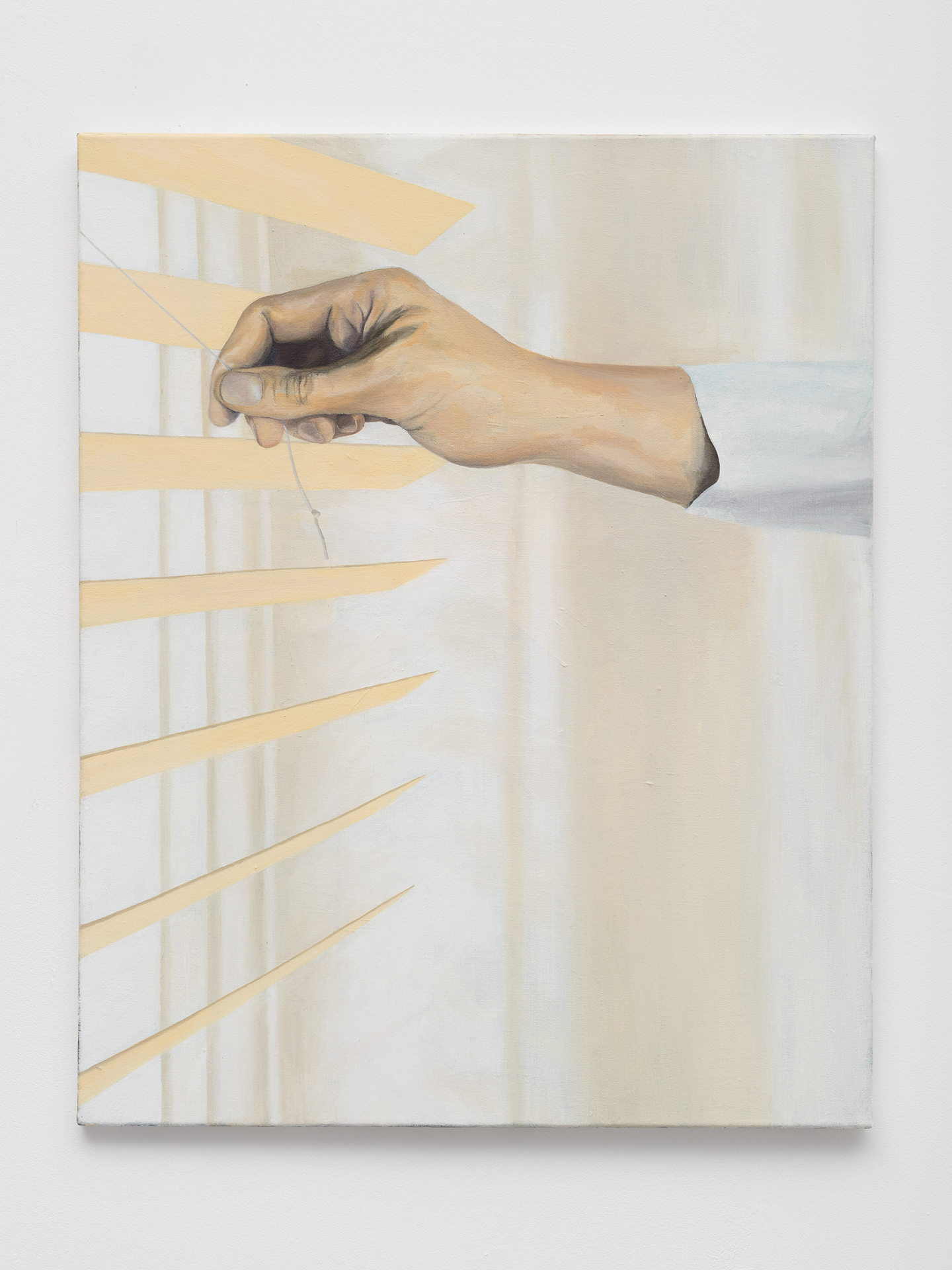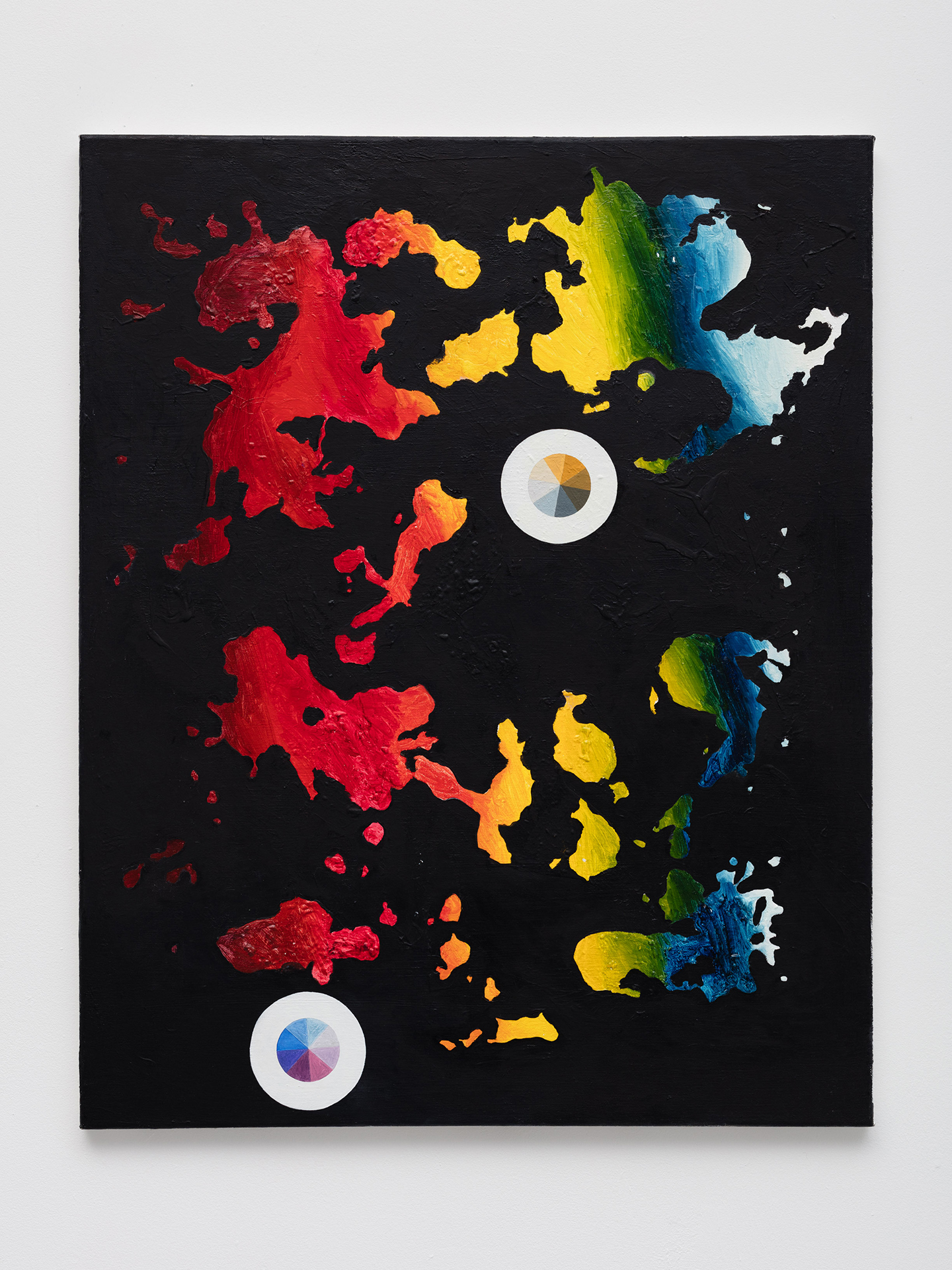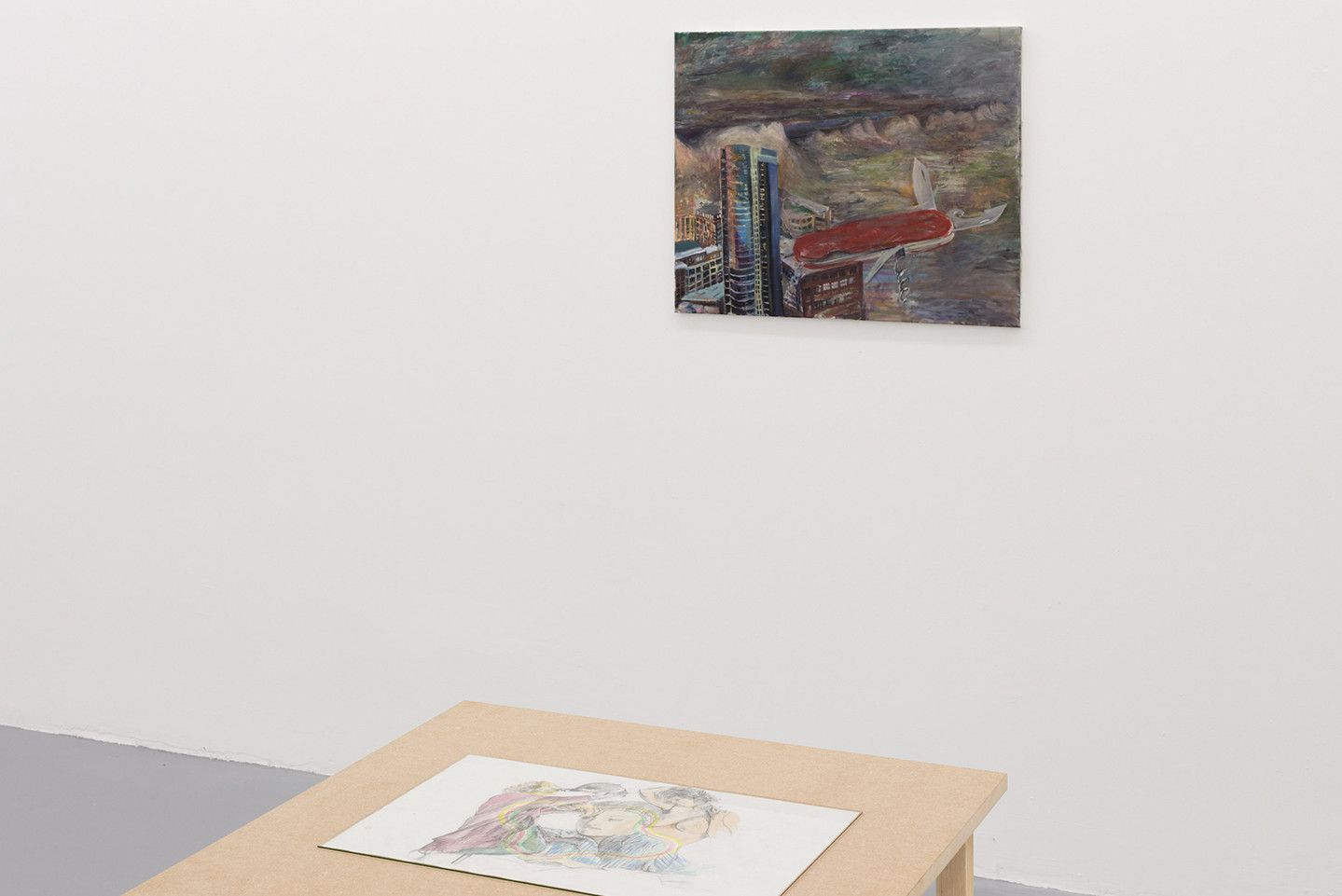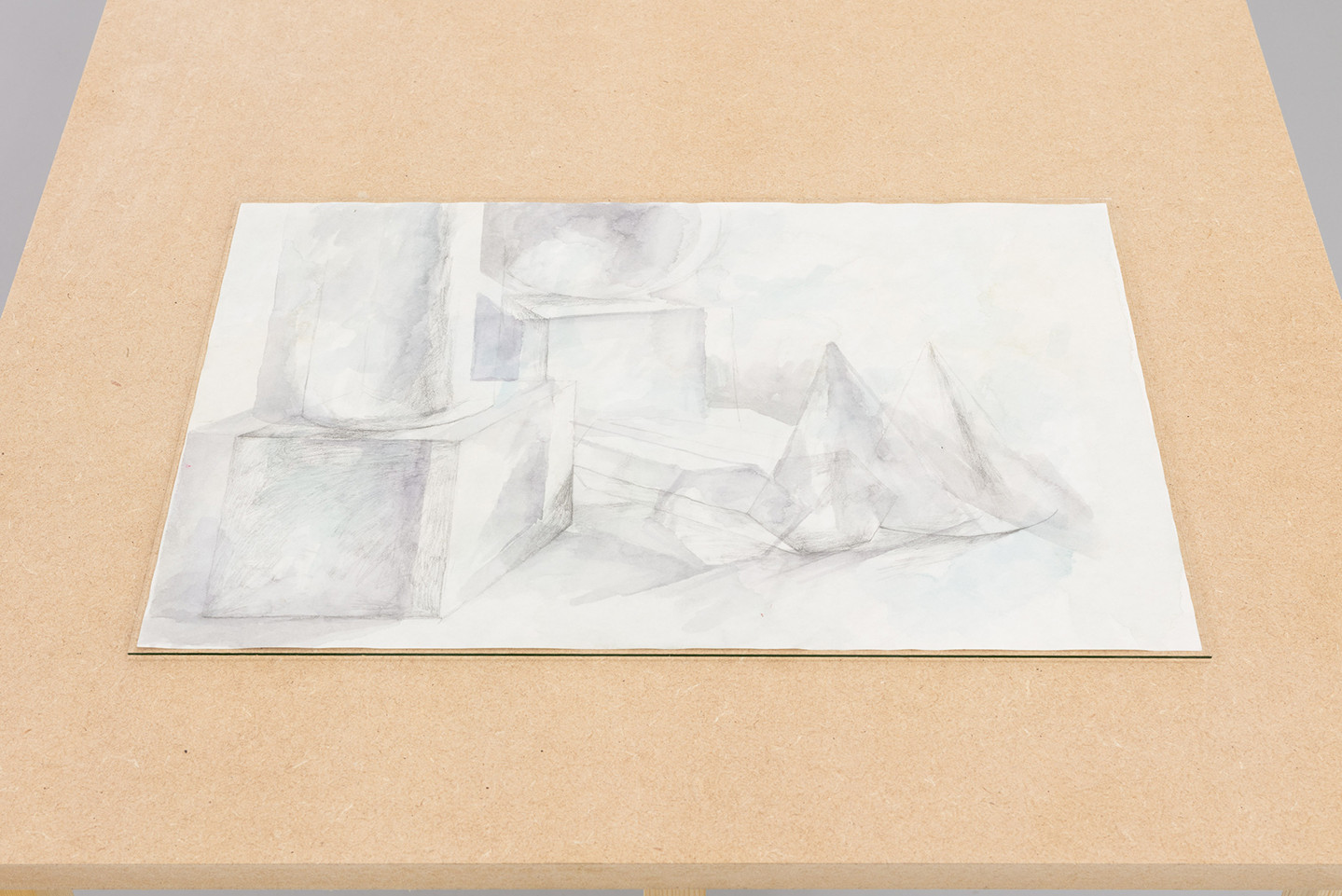 by Alex Bennett
A divine image: a goopy blue head luminous with fluoro-green eyes, his nose an eight-armed menorah above a taut mouth; a child's drawing with the scrawl, "Joech God."  The drawing features as Ezra Gray's invitation for this sparse survey of five oil paintings and five pencil and watercolor drawings. Collectively, the works often make glancing reference to one another, like a constellation of glittering motes surrounding a supposedly solid thing, revealing it less indrawn and compact than thought—instead mobile and unbound, a form with ambitions to be unformed. For Gray, the sold thing in question appears to be painting itself. 
Gray's drawings are untitled and set upon uniformly high tables, each one covered with a thin sheet of glass, its structure tight—vivarium-esque—as though set with scalpel in hand, ready to dissect. As aides, the drawings sophisticate: some have reached their zenith, lavished with rhapsodic watercolor; others are partially organized with interpenetrating forms. Geometric blocks, cubes, and cones throw shadows like a practice torn from a workbook. The most molecular: two male nudes sketched with a collegiate photorealism, tagged by obliquely relevant color wheels, a notation to tune tone. In another, a matured version of Guido Reni's glugging Bacchus and a female nude frame a boy reading; the tripartite drawing is illuminated by a tricolor rainbow, its shape reminiscent of baby Gray's blue god. A similar vainglory emanates from a work not on show here, Victoria (2015), like a frame for an ephemeral target, its focus lost. 
Since painting is silent and static, it is a triumph that Gray's compositions are prehensile; they fetter and embroil one another—one winks to another—but they fall short of genuine chameleonic persuasion. The "meta" qualities we may apply to such tactics feel brittle since Gray's style seems less concerned by drawing attention to the manner of each drawing or painting's own creation, but rather a few steps back, to the condition of the medium's ontology as an act. 
Like Victoria, much of Gray's previous work has reveled within wells and depressions or fiddled with potentials—fingers cluttering many purposes of a Swiss army knife. The iris sinks into the pupil to think: poles of presence and absence, hollow and insight, the ether between them and what occurs when they might interlock. Gray's work wrestles with interdependency; how basic, realist principles of the medium (pigmented color charts, the spectrum) crumple into descriptive, metaphoric kinks and foibles (a fine Venetian blind, a seascape blundered by the Swiss army knife). The works sit in transit, caught between neutral codes and stylistic outbreak. Gray's painting appears as the antagonism of this game: We cannot think of order without accounting for its total context of uncertainty.
To speak of order, Medley (2018) reminds me of Virginia Woolf's Thunder at Wembley, her essay on the British Empire Exhibition at Wembley. It deteriorates: "Dust swirls down the avenues, hisses and hurries like erected cobras round the corners… Ferro-concrete is fallible. Colonies are perishing and dispersing in spray of inconceivable beauty and terror, which some malignant power illuminates." In Medley (2018), iconic structures—the Palace of Westminster, the Empire State Building and the Eiffel Tower—become absurdly grafted onto a mountainous composition, the Empire State plonked into the clouds. Artifice to the point of oppression, the spectacle is always a sort of failure; here it is one devilishly licked with entropy. In Joech God (2018), motifs previously found in Gray's drawings resurface. The same placid boy reads behind a gilded menorah; an unbuttoned Romeo elbow-to-branch beneath a blossom tree. The same tricolored halo—its perimeter rippling, indistinct and watery—is rendered with thick gestural brushstrokes. 
In Perp Walk (2018), a black canvas has splotches of paint arranged from red through yellow and green to blue, two color-wheel-segmented pigments, defunct of duty. When things break down, we begin to realize how they might be reassembled differently. The painting seems to want to be particulate, a notation alone. Each notation can only be performed so far, due to the limits of its own signification. The perp walk itself—popular to American law enforcement—is a physical manifestation of breakdown, however short the exposure; it is an ornamental act (magnetizing flashes through its duration), and it performs its notation, that of public shaming. In both cases, there appears the presence of an exercise.   
To come back to transit, I think of Joech God as the process of leaving, sitting between destinations as opponents. The rolling out, the taking off, the setting sail—as we increase with speed and cut through everyday gravities, we see, through tablet-sized windows, the world become image and ourselves as an infinite regress, collapsing back into shape upon touchdown. The space of Gray's work feels like this lightness that leaving makes, of being hewn between tenses. It may be between ages (seeing as a child but with the scrutiny of an adult) or between histories. Joech God draws on a poetics of painting as, literally, a practice. As tired as the expression might be, "practice" offers the implication that any sense of arrival will be fleeting, if even present at all. 
at Emalin, London
until 4 August 2018