ESSAYS Mousse 69
From Tectonic to Intergalactic Sculpture: Ezra Orion
Close
1
2
3
4
5
6
7
8
9
10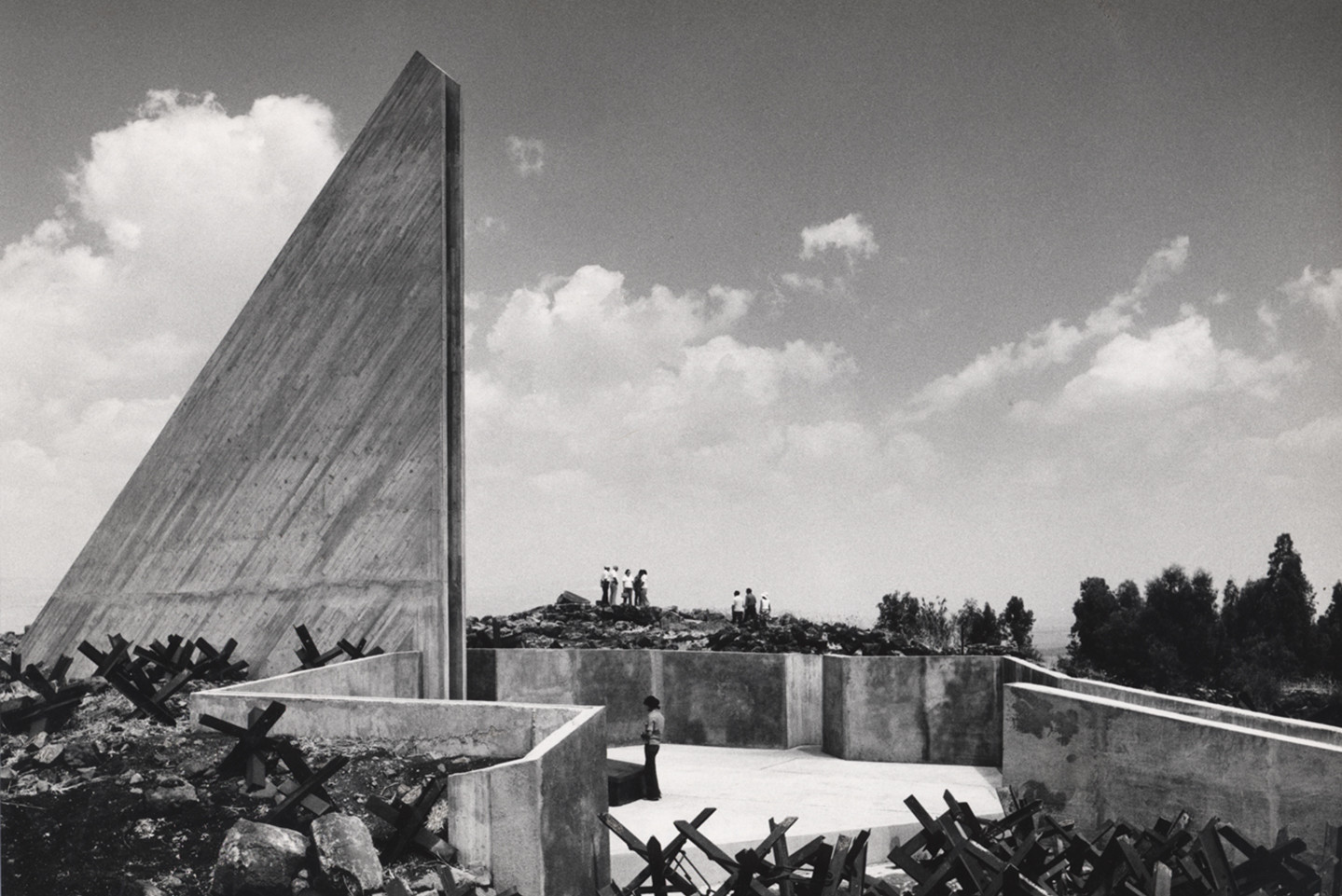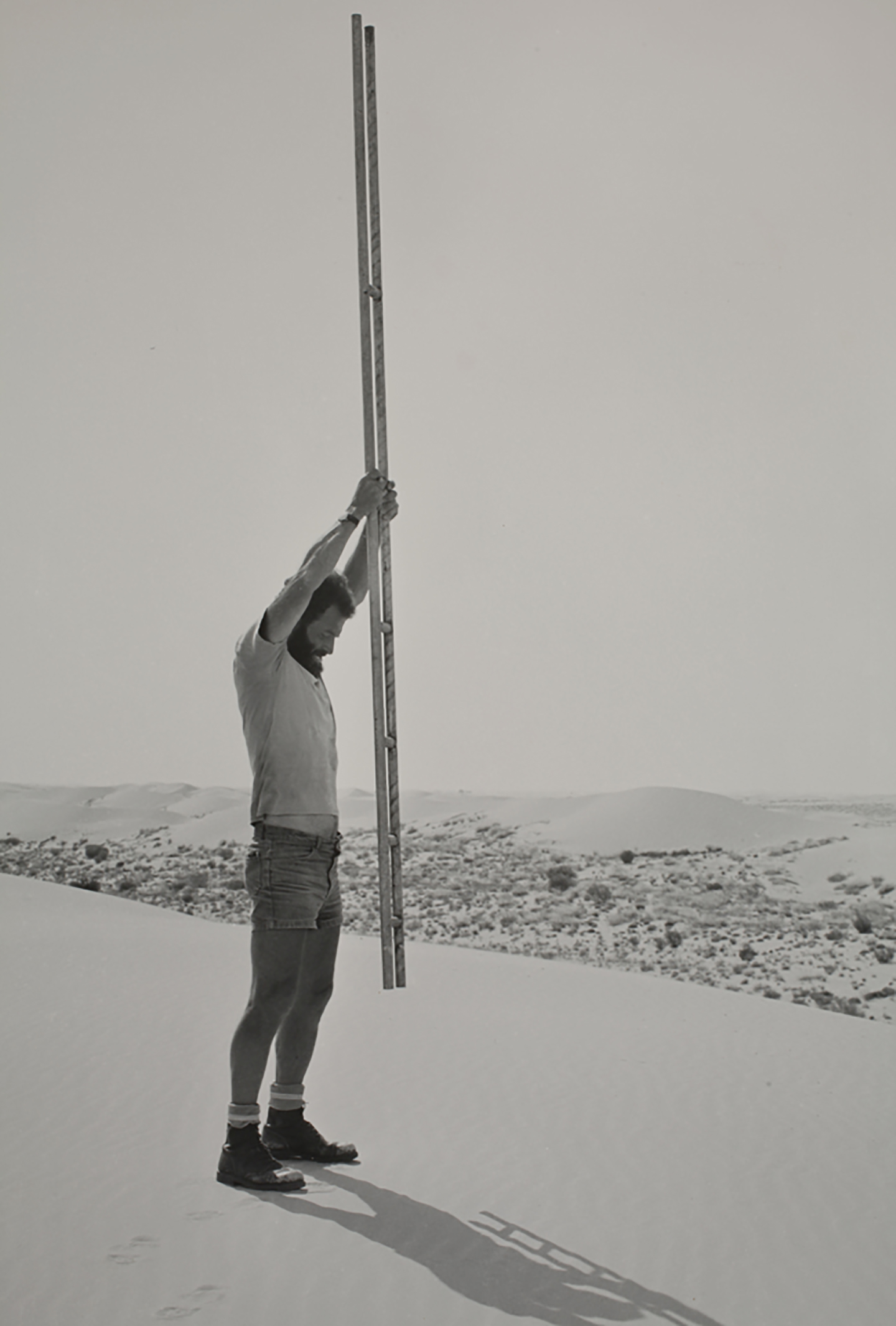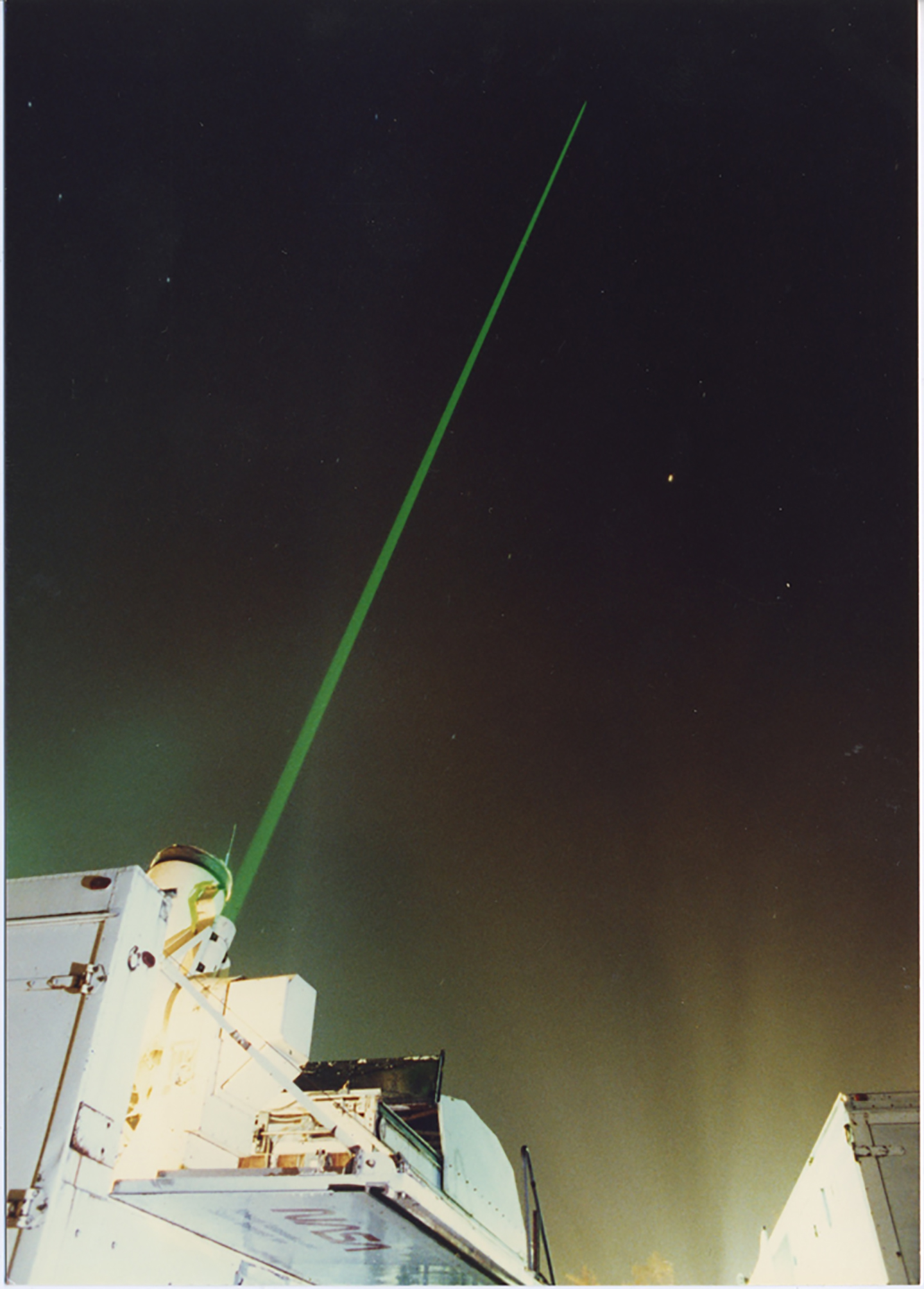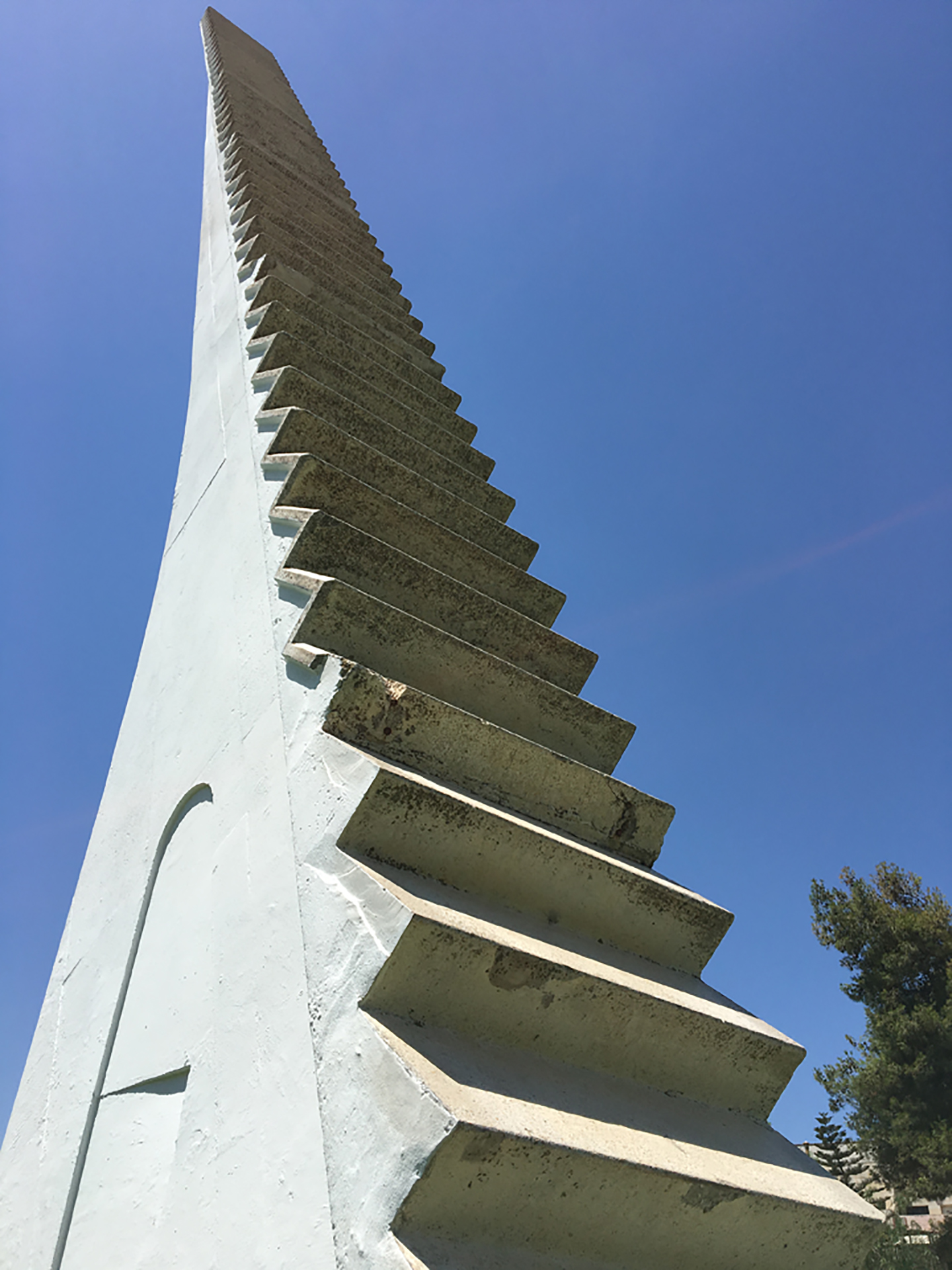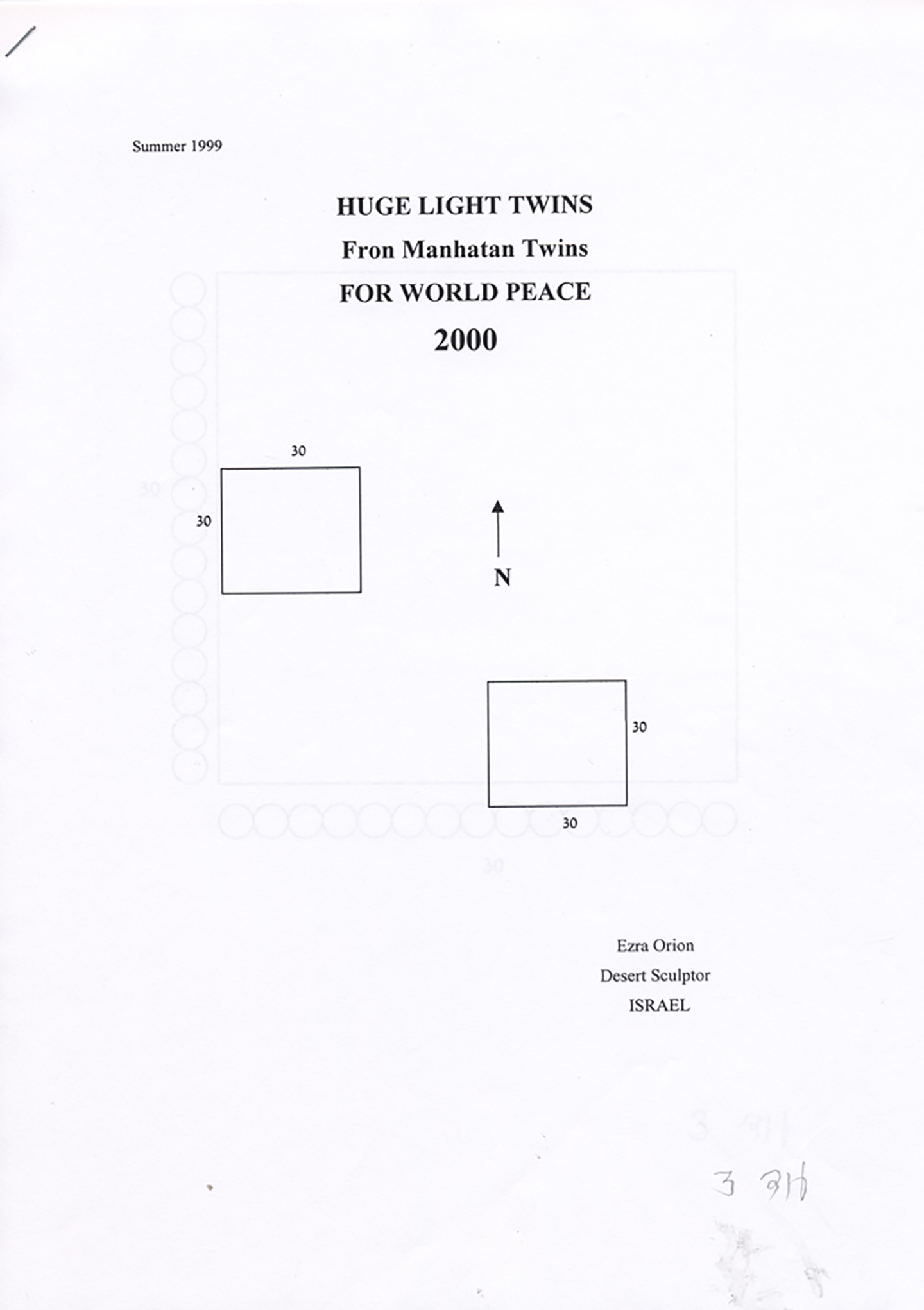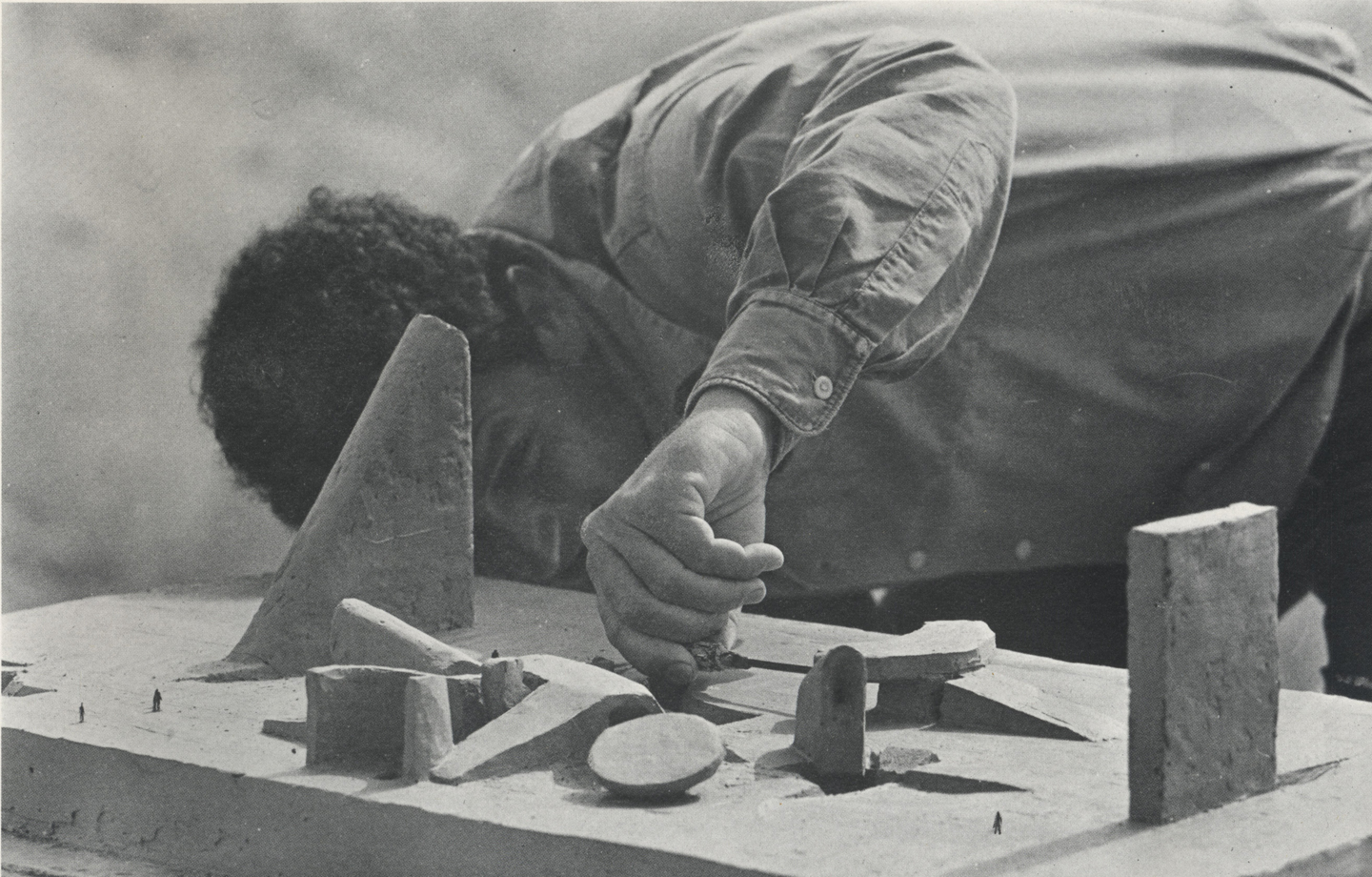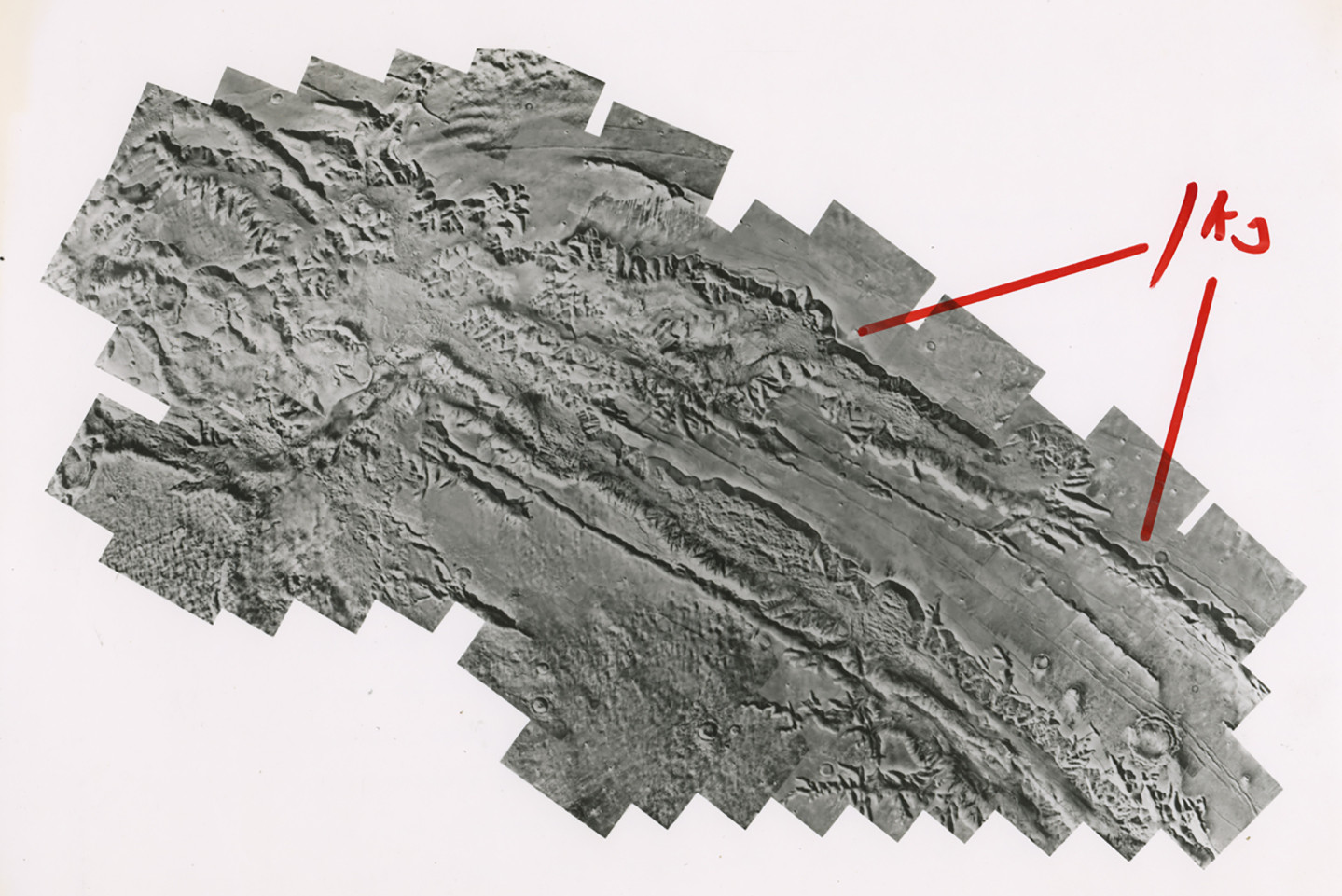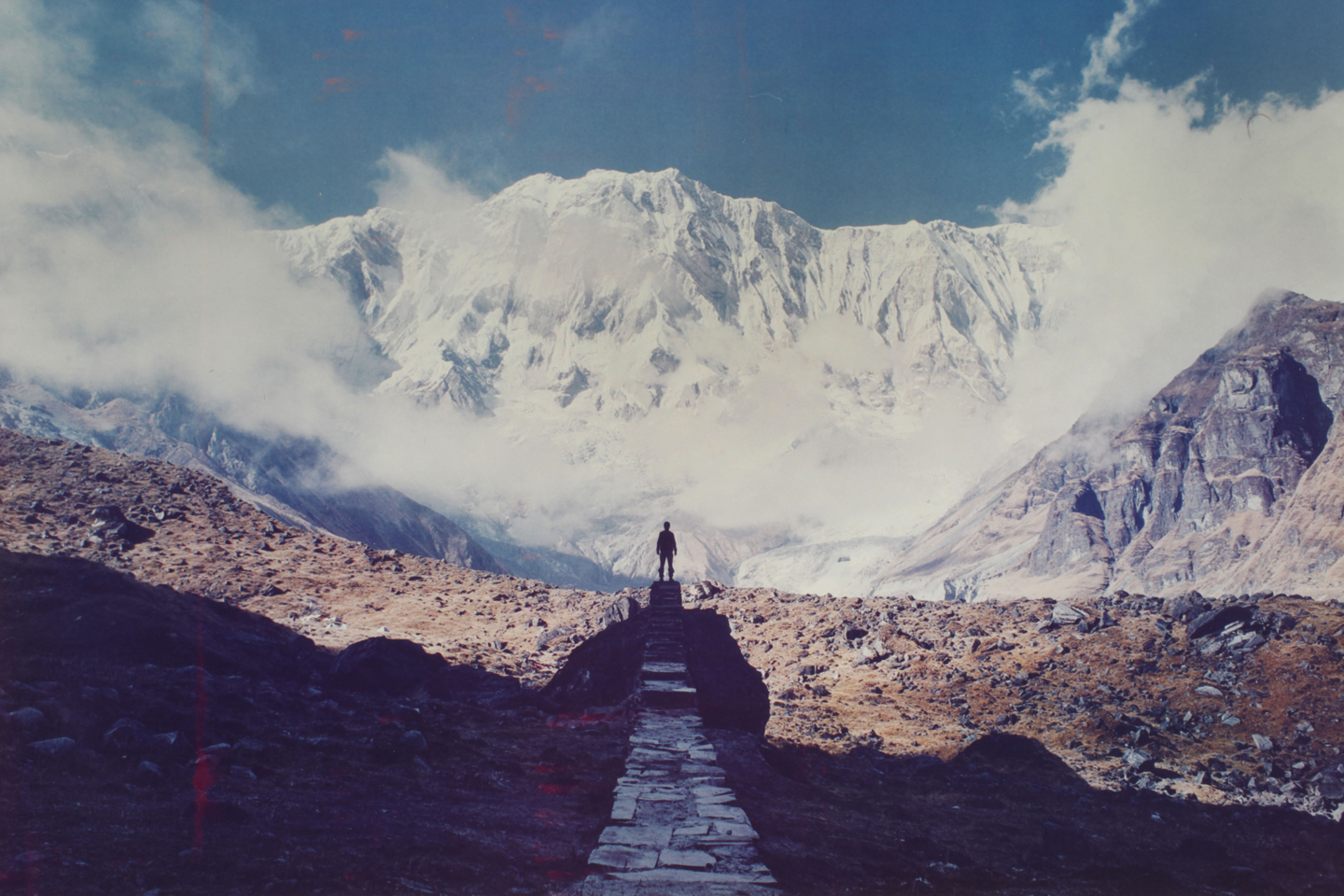 by Francesco Spampinato
Ezra Orion (1934–2015) was an Israeli artist, active mostly between the 1960s and the 1990s, who intended his futuristic monoliths, earthworks, and "intergalactic sculptures" to serve as "launching pads" for human consciousness. Orion's oeuvre could be seen as a transfiguration of the utopian spirit underlying the very idea of Israel as the promised land and of the socialist model of the kibbutz. Controversial issues—state formation, identity politics, Zionism—could emerge in his work, but what really drove him was a romantic ambition to establish a cosmic connection with nature and the universe.
Born and raised in kibbutzim, Orion studied at Bezalel Academy of Arts and Design in Jerusalem and at Central Saint Martins and Royal College in London, then moved in 1967 to Midreshet Sde Boker, an educational center and boarding school in the Negev desert of southern Israel, where he stayed for the rest of his life. In school Orion focused on iron and stone sculpture, but soon thereafter he embarked on an expanded mode in which sculpture transcended the limitations of the gallery or even an urban context, becoming instead a situation or environment that would provoke a spiritual-existential experience. He began working out in the desert, attuned to movements and changes in the Earth's surface, and then expand- ed his operations to realms even beyond that.
Like many early Israeli artists, Orion is not well known outside of the home country, and even there it has long been under-recognized. Only recently Holon's Israeli Center for Digital Art has valorized it through its Institute for Public Presence (IPP), whose main goal is to promote research, archiving, scholarship, and discussion on public art. In particular the IPP has given Orion's work visibility through the retrospective exhibition Launch Sites (2016), which took place at the Israeli Center for Digital Art and was co-curated by IPP director Udi Edelman with Yael Messer. The show traveled to the American Jewish University in Los Angeles in late 2017, this time with the co-curatorship of Edelman and Rotem Rozental.
As a student in London, Orion became fond of Gothic churches, as evidenced by his 1965 series of drawings of futuristic cathedrals: architectural speculations exploring how certain configurations of light and space convey spirituality. Abstracted elements of these sanctuaries resurfaced in Sculptural Field (1968-1972), an unrealized project for a site on the banks of the Nahal Zin wadi (dry riverbed) in the Negev. According to the maquette and some models, it was supposed to look like the ruins of a secular temple in the vein of Stonehenge, fostering a connection with the cosmos. Only a version of the main triangular structure was built, and in actuality this element was meant as a war memorial, a Monument for the Fallen Israeli Soldiers of the 33rd Battalion of the Golani Brigade (Mitzpe Gadot) (1972), honoring the memory of those who died defending Gadot kibbutz from Syrian army attacks in 1967.
Aside from this political aspect, Orion's Sculptural Field echoed coeval neo-avant-gardes such as Minimalism, with its ambition of making viewers aware of the power dynamics of one's own surrounding space, and Land art, notably Richard Long's and Robert Smithson's geological interventions in remote areas. Its naïveté and hint of environmentalism also aligned with the countercultural milieu and outsider art. Such "tectonic sculptures" (Orion's words) aimed to highlight the artistic dimension of plate tectonics and other geophysical transformations of the Earth's crust. This is evident as well in some works of the early 1980s, such as the lines of stones in Sde Zin and Har Ardon (1980-1981) and the staircase made of slabs of slate in the Annapurna valley in Nepal (1981), which enact that sublime contemplation of nature depicted by the nineteenth-century German painter Caspar David Friedrich.
As might be expected from someone who shares a name with a constellation, Orion's cosmic ambitions took him beyond planet Earth. Sculpture in the Solar System (1978- 1997) was a project for a "tectonic sculpture" on Mars: a stone line to be executed by a Mars rover along four thousand kilometers of Valles Marineris canyons. The artist had meetings with NASA scientists and Shimon Peres, then Israel's minister of foreign affairs, but unfortunately the undertaking remained unrealized. Another utopian attempt to sculpt actual space, albeit not permanently this time, was Intergalactic Sculpture (1986-2001), a "super cathedral" made by launching laser beams from various locations toward the Milky Way. With the support of the Israel Museum and the Israel Space Agency, on April 27, 1992, seven laser beams were launched from Bar Giora, near Jerusalem, as well as from locations in Egypt, Russia, Germany, and Austria, lasting fifty-five minutes and thirty-three seconds.
Inevitably Orion's Intergalactic Sculpture echoed, accelerated, and thus undermined Albert Speer's infamous Licht- dom (Cathedral of Light) made by 152 antiaircraft searchlights that reinforced the mystical aura of Nazi rallies in Nuremberg from 1934 to 1938. Then, upon a visit in New York in 1999, Orion sought to launch two sixteen-kilometer obelisks of light from the top of the World Trade Center, an unrealized project that prefigured Julian LaVerdiere and Paul Myoda's post-9/11 beacons of light as ghosts of the collapsed Twin Towers. However, whether it was monoliths, staircases, or laser beams, for Orion verticality had neither a ritualistic nor a commemorative function. Unlike the aforementioned cases of Speer or LaVerdiere and Myoda, or let's say Constantin Brancusi's Endless Column (1938), his work is in fact less about pointing at the infinite than defining areas from which to reach or contemplate the universe, expanding one's consciousness beyond ideological, religious, or cultural dogmas.
Ezra Orion (1934–2015) was born in kibbutz Beit Alfa and grew up in kibbutz Ramat Yohanan, Israel. In the early 1950s he studied at Bezalel Academy of Arts and Design in Jerusalem, and in the mid-1960s he continued his studies at Central Saint Martins College and the Royal College of Art in London. He returned to Israel in 1967 and moved to Midreshet Sde Boker in the Negev, where he founded the Desert Sculpture Gallery, taught, and created until the early 2000s. Alongside his work as a sculptor, Orion was a poet and philosopher, and founder and editor of the periodical Svivot.
Francesco Spampinato is a contemporary art and visual culture historian and writer, and a senior assistant professor at the University of Bologna. He holds degrees from the University of Bologna, Columbia University, and Sorbonne Nouvelle. From 2011 to 2015 he was an adjunct professor at Rhode Island School of Design, Providence. He has authored the books Come Together: The Rise of Cooperative Art and Design (Princeton Architectural Press, 2015), Can You Hear Me? Music Labels by Visual Artists (Onomatopee, 2015), and Art Record Covers (Taschen, 2017).
Originally published on Mousse 69