EXHIBITIONS
"Fabrik" at the German Pavilion, Venice Biennale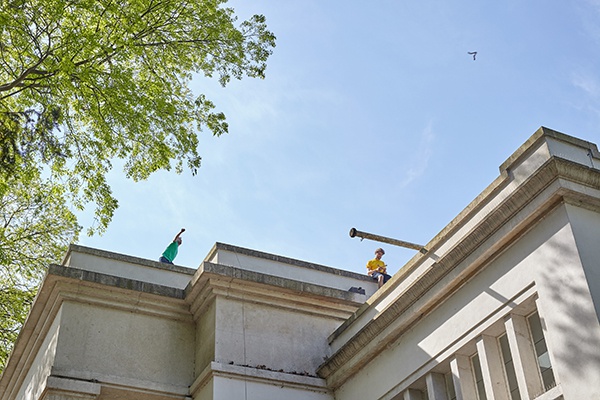 Olaf Nicolai, GIRO, 2015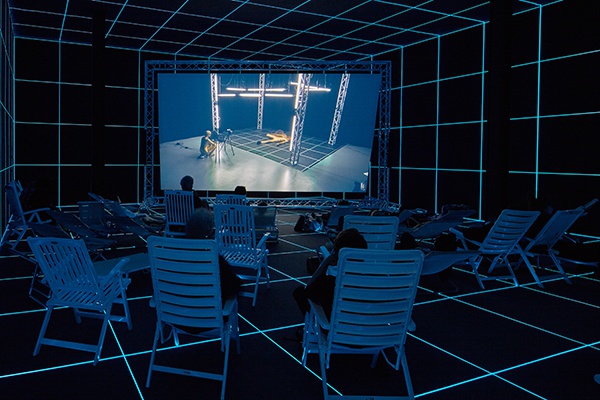 Hito Steyerl, The Factory of the Sun, 2015

Hito Steyerl, The Factory of the Sun, 2015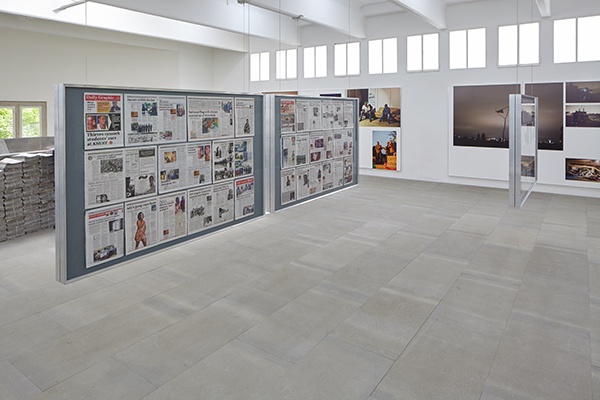 Tobias Zielony, The Citizen, 2015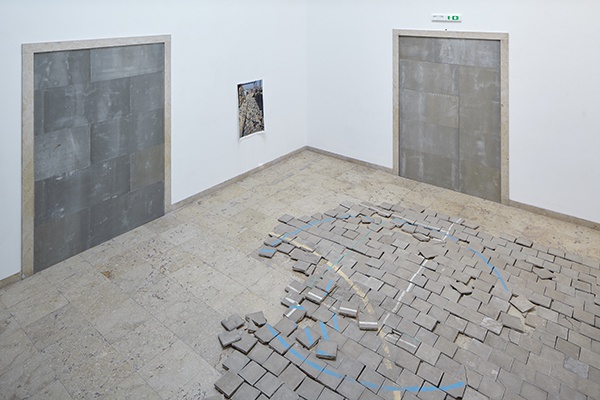 Jasmina Metwaly & Philip Rizk, Draw It Like This, 2015
.
Works of art by Olaf Nicolai, Hito Steyerl, Tobias Zielony and the artist duo Jasmina Metwaly & Philip Rizk transform the German Pavilion 2015 into a factory (german: Fabrik) of reproducing images, whose objective is not merely to represent reality, but to change it. The notion of the factory provides a link between the four artistic positions, all of which reflect on the concepts of economy and work in their own way. They reveal the flaws in our interconnected and globalised world and, with completely different approaches, turn their attention to the circulation of images, goods and human beings. At the same time, all of them hold on to the "human medium" as a real agent and protagonist of change.
The factory has various production sites at its disposal:
Workshop—Olaf Nicolai's installation and performance GIRO transforms the roof of the pavilion into a workshop for the production of boomerangs. Its protagonists operate a shadow economy under the glaring sun, performing a subtle choreography of visibility and invisibility. From time to time they step towards the edge of the roof, to test the flight capacity of the boomerangs and search for the ideal flight path.
Print Unit—Tobias Zielony's work The Citizen, an installation consisting of photographs and newspapers, is devoted to the social situation and political initiatives of African refugees in Germany. At the same time it conceptually addresses the theme of journalism and newspaper reporting, opening up a discursive space beyond the blind spots of today's media reporting.
Motion Capture Studio—Hito Steyerl's video installation The Factory of the Sun transforms the lower part of the central room into a motion capture studio—as an interface between the physical and the virtual world. The video is all about a computer game in which every human movement is transformed into light, Deutsche Bank drones launch a shooting attack against demonstrators, and the act of dancing becomes a form of resistance.
Rooftop 1&2—in the rooms along the sides of the pavilion, Jasmina Metwaly and Philip Rizk reconstruct the stage that served as a setting and experimental field for their participatory project in Cairo. On a roof terrace, they worked with local employees to stage the process of the folding up of a factory, showing the mechanisms of power and humiliation inherent in a neo-liberal economic model. Draw It Like This is the name of the sculptural intervention in the first room; the film and sound installation in the second room is entitled Out on the Street—Variationen.
Curated by Florian Ebner
.
at the German Pavilion, Venice Biennale
until 22 November 2015
.
"Fabrik" installation views at the German Pavilion, Venice Biennale, 2015
©: Olaf Nicolai; Tobias Zielony; Hito Steyerl; Jasmina Metwaly & Philip Rizk. Courtesy: Tobias Zielony; Kow, Berlin; VG Bildkunst Photo: Manuel Reinartz.