EXHIBITIONS
Matias Faldbakken & Alex Hubbard at Eva Presenhuber, Zurich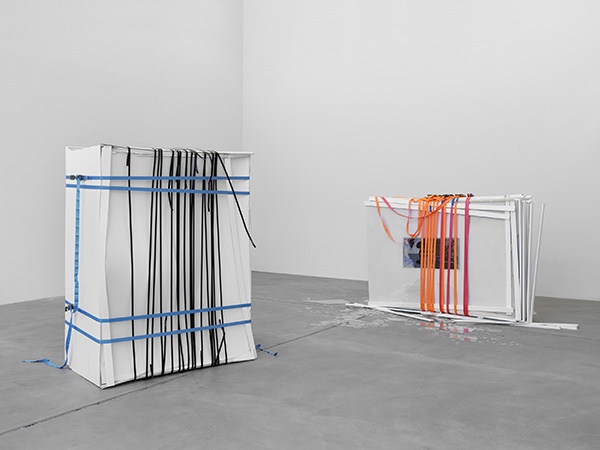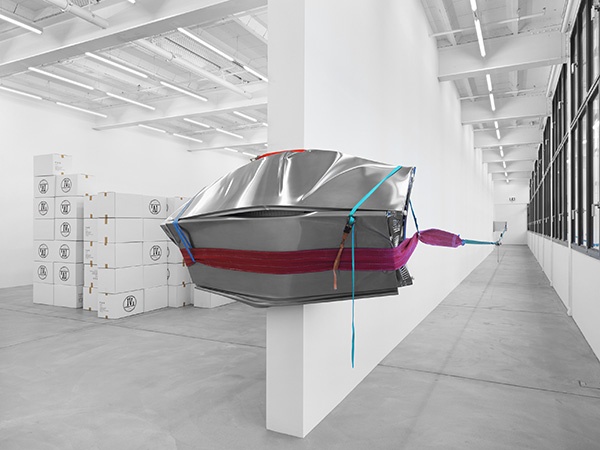 'No' is, generally speaking, a better answer than 'Yes' (Flann O'Brien)
I would prefer not to. (Bartleby, the scrivener)

As an artist, Matias Faldbakken came to international prominence with his disconcerting, direct and provocative position, and as a writer, he also made a name for himself as an enfant terrible of the literary scene with his "Scandinavian Misanthropy" trilogy. His art is based on an engagement with social norms in which he approaches popular culture with gestures that combines refusal and destruction with productive forms of chaos and vandalism – a strategy embodied in "Untitled" from 2010 (with Anders Nordby): the entire exhibition space is covered with the powder from emptied fire extinguishers.
Matias Faldbakken's heterogeneous work is characterized by his cross-media praxis. His painting, sculptures, videos, and installations cultivate an attitude that subtly addresses doubts over whether any form of refusal can still exist without being immediately popularized. His art inquires into the possibilities of such a position, dealing with the definition, transformation, and interaction of the normative and the marginal: "I guess I am trying to map out the affinity between the exceptional and the normative," he says, "or to bring out the interaction between the two." Against this backdrop, both aggression, reduction and quiet abstraction play central roles in Faldbakken's artistic praxis, where his play with negation become a productive source for his works. Ultimately, the "no" that his works seem to chant becomes a positive, thought- provoking gesture.
The refrigerators strapped together and squashed around the long wall leading off the corridor thus stand for the transformation of everyday items into sculptural objects– part of the artist's "Squeeze Sculptures" series. Deformed and destroyed, the squashed fridges are removed from their original function and, thus reformulated as sculpture. This process is an applied means of abstraction which for the artist represents less an aesthetic exercise than a technique of spectacularly waisting and discarding commodity objects.
This playing with self-sabotage is also evident in Faldbakken's "Image Sculptures" – created by conventionally hanging 30 framed photographic prints on the wall in a row before taking them down and strapping them together into a freestanding column. All that remains of their hanging on the wall are the position markings and the screws – as if the pictures had refused to be exhibited, leaving visible gaps as evidence of their absence; what is on display is the refusal of their distribution so to speak. Leaned against the wall below the spots originally occupied by the pictures in the "Image Sculptures" are large-format PVC pictures (190 x 134 cm) that are linked to Faldbakken's "Leaning Works" (2005 – 2008), but which are more abstract than their predecessors on account of cut-out and stuck-on elements. Positioned one above the other like this, the negated pictures of the "Image Sculptures" and the PVC cutouts evoke a dialogue rich in conflict.
Faldbakken often uses media and products that grow out of popular culture and have a shaping influence on systems of social order, employing them both as conceptual starting point and artistic tool. While he uses everyday materials and debris of cultural production such as newspapers, magazines, television, video and the internet, as well as spray paint, adhesive tape, and marker pens, language and literature also repeatedly play a central role in his work. This is evident both in the inquiring title of the exhibition SHALL I WRITE IT, and in works like the "Dickens Diptych", a printed and framed scan from a book, or the work in which 60 copies of Neill Strauss's book "The Game" are safeguarded in a linen bag tied shut with a string.
.
at Galerie Eva Presenhuber, Zurich
until 22 December 2012
.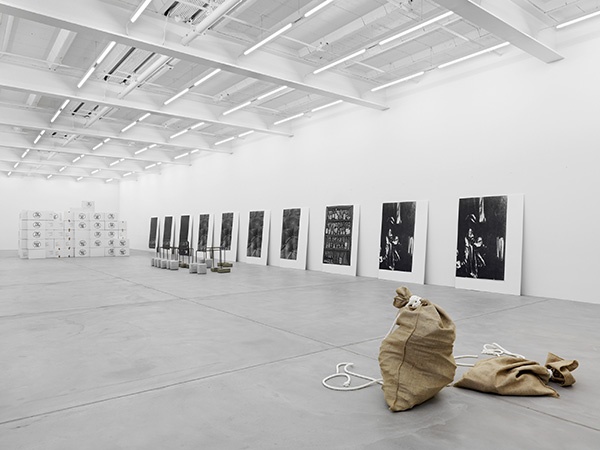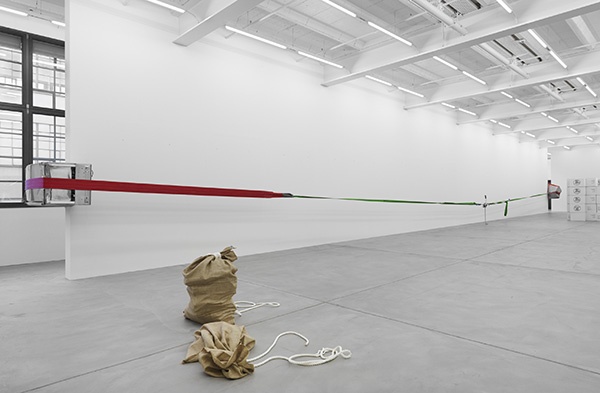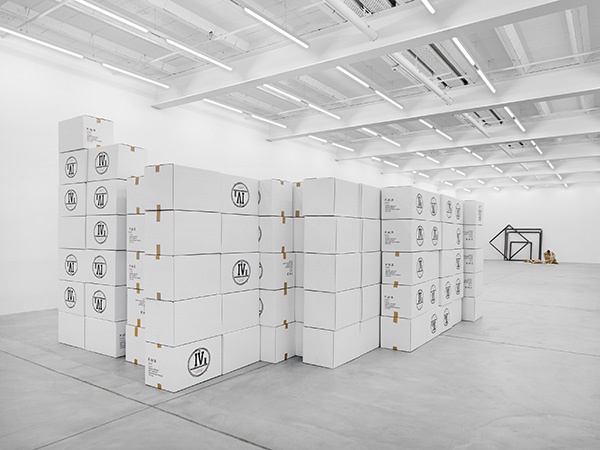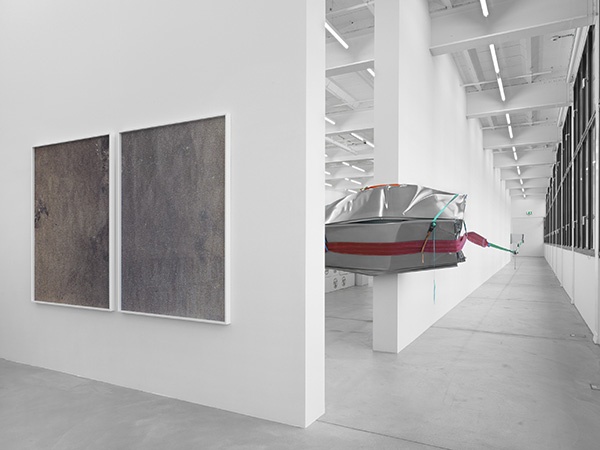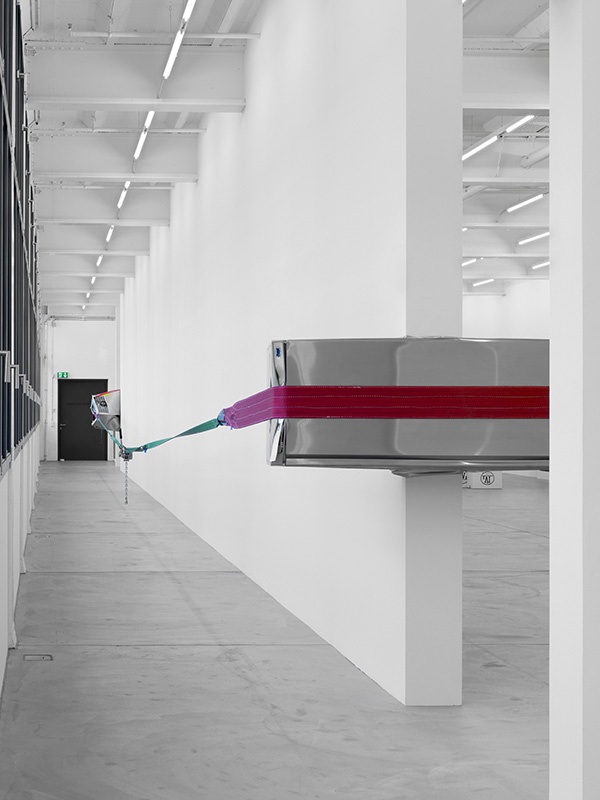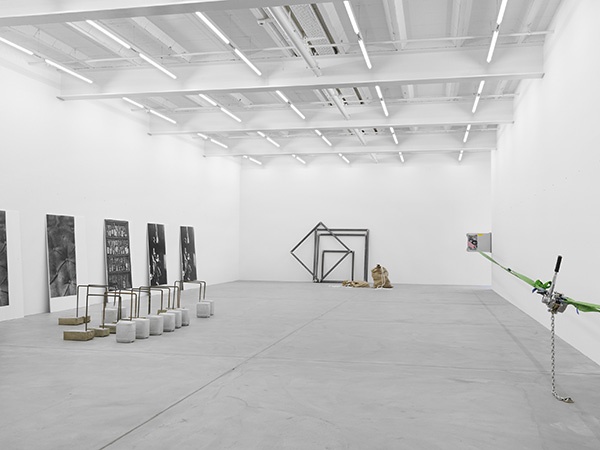 Above — Matias Faldbakken, "SHALL I WRITE IT", 2012. Photo: Stefan Altenburger Photography, Zurich / Courtesy: Galerie Eva Presenhuber, Zurich
–
In his first solo show at the gallery, the New York based artist presents his "Bent Paintings" and a video work. The sculptural character of the nine "Bent Paintings" breaks with conventions of classical painting, the geometrical two- dimensionality of traditional picture formats giving way to bent structures, some of them free-standing sculptures totally emancipated from the wall. As a continuation of his "Trash Paintings," to which plastic objects are attached in the style of a material assemblage, both the support and the applied plastic objects are subsequently cast in urethane. While this collage of different trashy objects resembles a staged presentation of the flotsam and jetsam of civilization, they also seem to be dancing, arranged in a secret choreography, the movement of its individual items frozen. All "Bent Paintings" are based on the same painting, which is nine times molded and cast.
The process of making the "Bent Paintings", on the other hand, is characterized by a dynamism that recalls the table-top performances in Hubbard's videos, where everyday objects are playfully staged and then gleefully demolished in unexpected ways in the spirit of an aesthetic of the performative – videos whose specific quality might be described as "moving painting".
With reference to a quotation from Michael Snow, Hubbard adopts a cross-media strategy in his praxis, making films as a painter and paintings as a sculptor. Using similar strategies in his videos and his painting, he always explores the construction and reception of pictures in unexpected ways. Comparable with his videos in conceptual terms, Hubbard's painting also calls for an improvisational approach. Working with such quick-drying, volatile materials as resin, latex, and fiberglass means working fast as well as being able to deal with the unforeseen. Besides the move into the third dimension, a top priority in Hubbard's engagement with the painting format (in the classical sense of a two-dimensional pictorial space) is the principle of "anything goes, as long as it works" His pictures bring together all manner of things: objects attached to the surface, or large blobs of paint that cling on and hold things together. The construction of the pictorial space and the history of its making are always visible and understandable, reflecting Hubbard's concept of constant motion and change.
Asked about his artistic practice in a recent interview with John Pestoni in Mousse (issue 35, October/November 2012, p. 172), Hubbard gave the following answer, which also explains the second half of the exhibition's title (WHY HORSES PAINT):
Man: How would you like to introduce your practice?
Horse: I think in the infinitive, that is without introductions, or more specifically with its introduction self-evident to its production, its induction. Much like the word painting itself, an infinitive verb and a sedimented product, a being inhered by a potent excrescence of infinity, its beings. Blah blah blah, like I totally become a painter in surplus of my horse-being when my trainer puts a brush in my mouth. It's great being able to layer one's skin like that, to double it up, yield and harness its derivatives, and that painting is a medium that is sensitive, like a photographic plate, to skin's becoming – onion only sweetens the deal – or at least keep my owners from putting ping-pong balls up my nose. While my marks are abstract, my artistry holds greater affinity with the creativity of something like a surveillance camera; a being affected by its ever- possible documentation, a sort of techno-occasionalism. By prosthetic grace of this sensitized material surface, paint becomes me for the eternity that I will be glue.
.
at Galerie Eva Presenhuber, Zurich
until 19 January 2013
.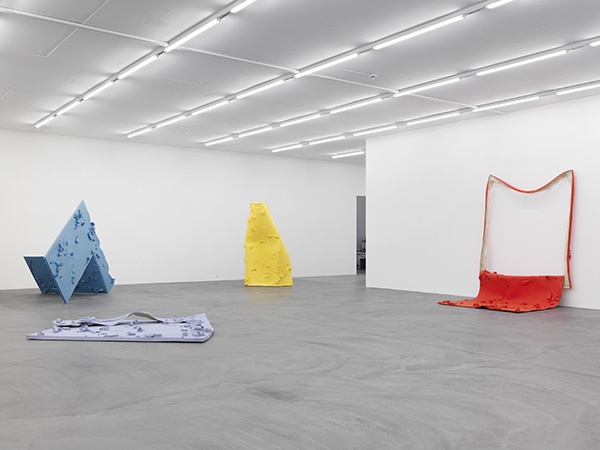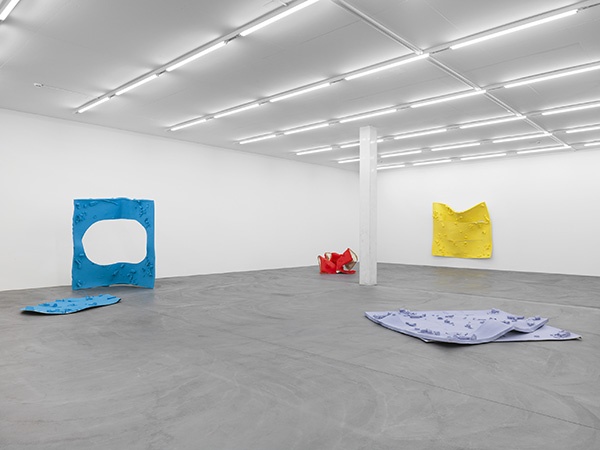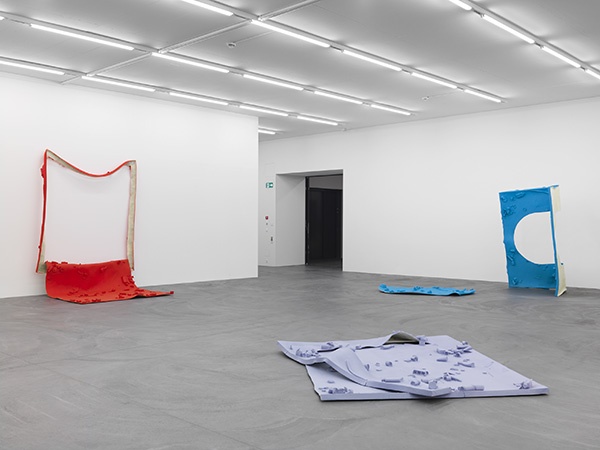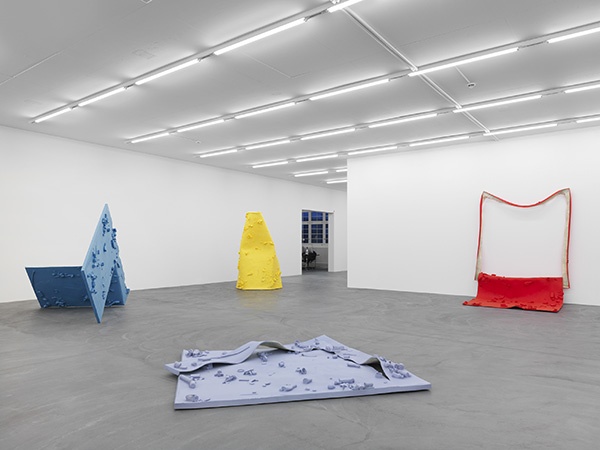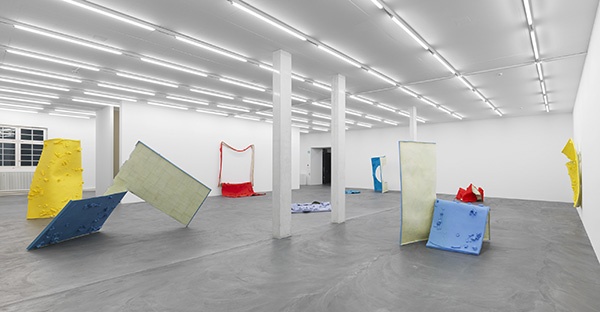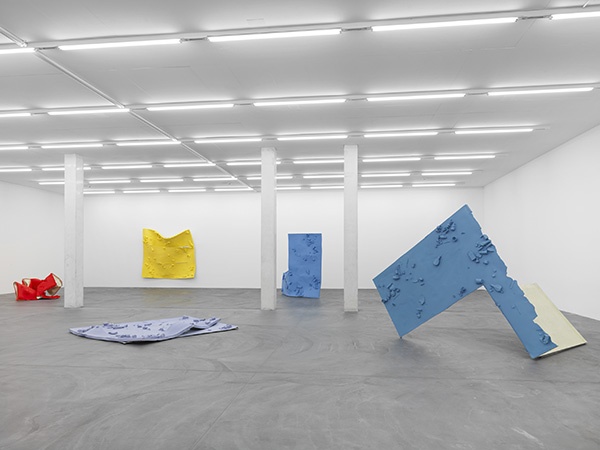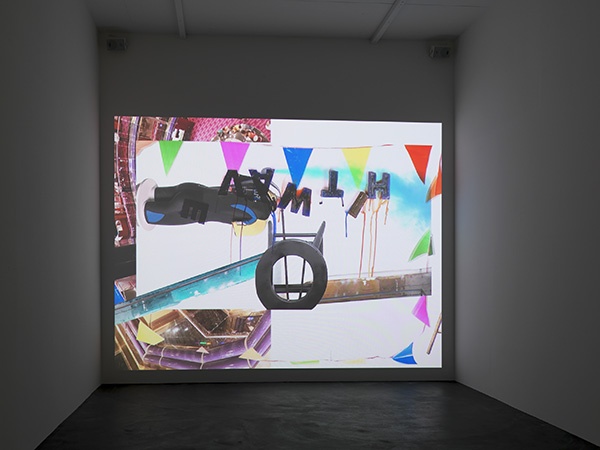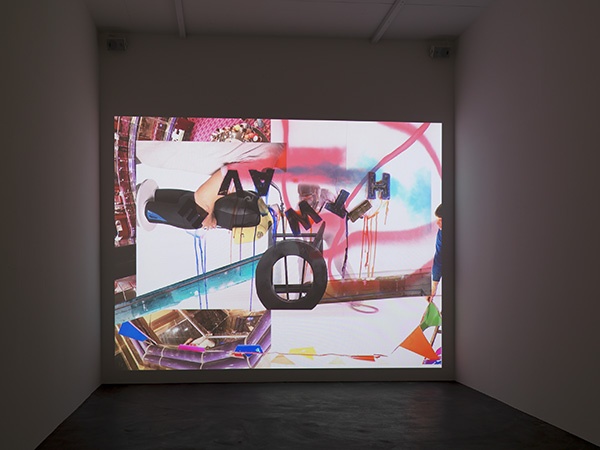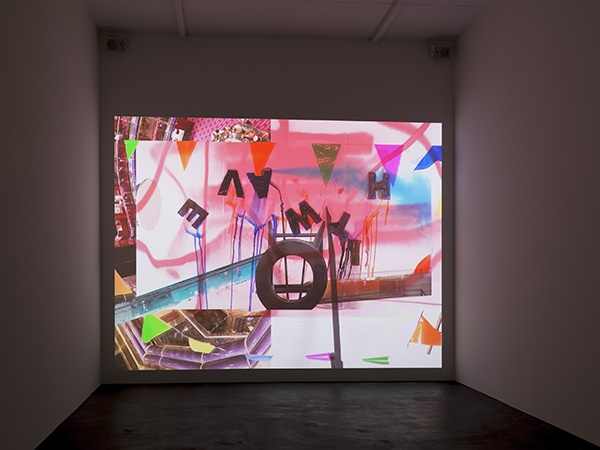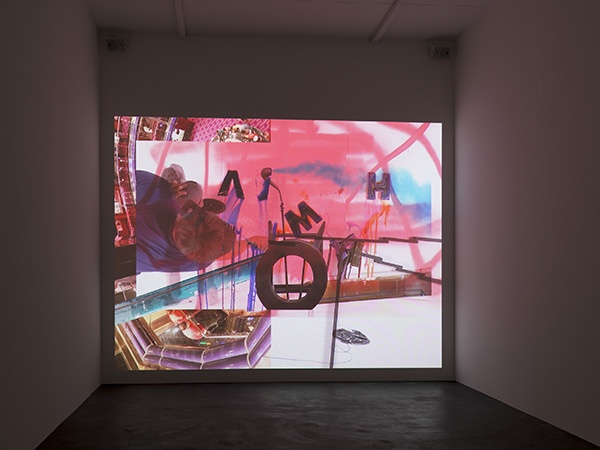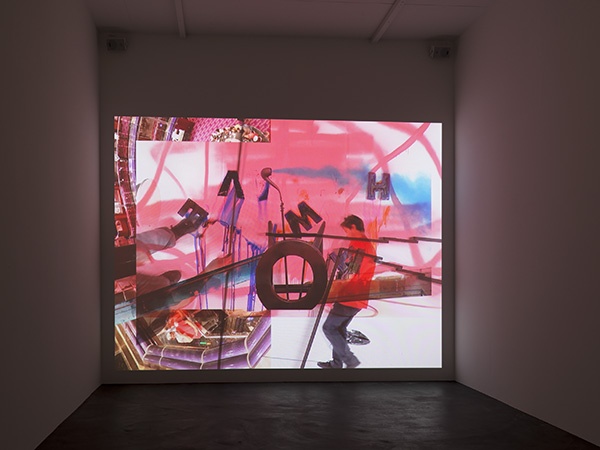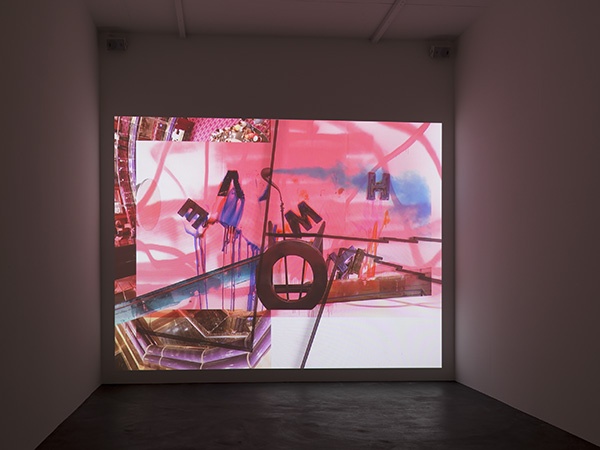 .
Above – Alex Hubbard, "Bent Paintings", Galerie Eva Presenhuber, Zurich
Photo: Stefan Altenburger Photography, Zurich. Courtesy: Galerie Eva Presenhuber, Zurich