News
"Far and High" at Fahrenheit, Los Angeles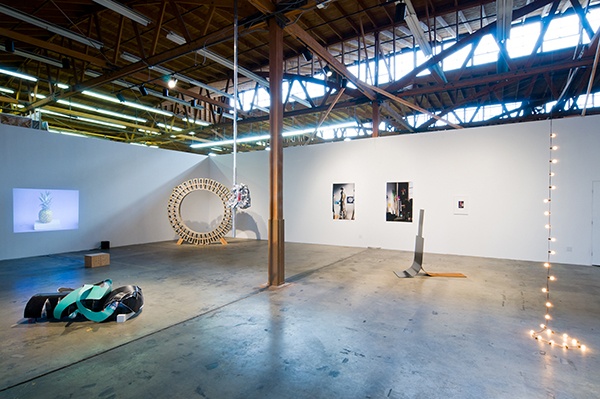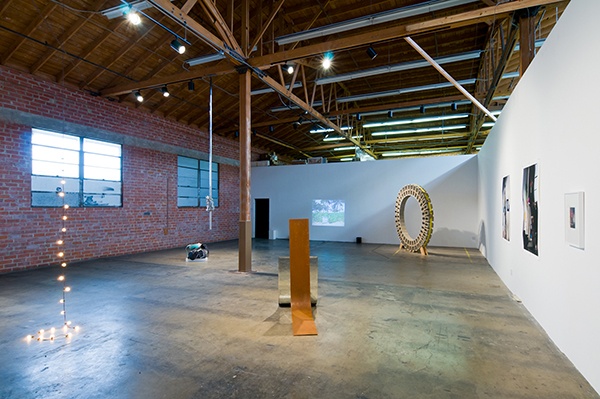 Far and High is the inaugural group exhibition at FAHRENHEIT — an interrelated residency program and space dedicated to exhibitions, performances, film programs and talks, initiated by FLAX (France Los Angeles Exchange) and developed by director and curator Martha Kirszenbaum.
The exhibition "Far and High" inscribes FAHRENHEIT into the visual culture of Los Angeles, the post-industrial environment of Downtown and its multifaceted methods of production. It further acts as a teaser for the residency program that aims to provide a platform for French-related emerging artists, curators and critics, confronting them with the local and international art scene. Seven artists from Europe and North America have been invited to contribute to the project in a variety of media including sculpture, installation, film, photography and print.
Some artists in the exhibition interpret and reshape industrial material, raw matter, and convenience objects into a contemporary language and distorted world of representation. David Douard's (born 1983, lives and works in Paris) installations composed of tweaked everyday objects, obsessive soundtracks and disturbing videos are inspired by mechanisms of organic transformation and biological mutation, evoking the propagation of corporal fluids, such as saliva or milk, as well as physical and technological contamination. His two sculptures Dreamz in hands and SH4 (green angel) (2013) evoke swollen and crackled objects, grotesque matter lying at the border of a hybrid popular culture, referencing zombie movies, urban poetry and video games. Commonly employing base materials such as steel, glass or metal in her practice, Alicja Kwade (born 1979, lives and works in Berlin) deploys an elaborate modus operandi, in which she transforms objects into sculptures that extend time and space and present themselves as solid, heavy objects created through industrial processes or with everyday items such as clocks and lamps. Yet in Kwade's hands, they invert, misalign and melt. The bent sculpture presented in the exhibition reminds us that even the ordinary things we once thought were solid may be more malleable than ever imagined. Fascinated by architectural principles and unprocessed material, Vincent Ganivet (born 1976, lives and works in Île-Saint-Denis) develops a lexical field balanced between construction and destruction. His arches and wheels challenge laws of gravity as they rely on the mathematical principle of catenary and echo industrial production in his use of concrete cinder blocks.
Others convey notions of desire, oneirism and a fantasized depiction of nature. In her immersive films, Laure Prouvost (born 1978, lives and works in London) challenges the relationship between language and understanding through complex stories and surreal moments with an unusual approach to cinematic conventions and imagery. Swallow (2013) is a sensual meditation on pleasure featuring nude women bathing, crushed raspberries, a breast pushed into a peeled fig, a pineapple emerging from the water and palm trees waving against the blue sky. Tamara Henderson's (born 1982, lives and works in New York) films and sculptures evoke desirable objects, and her practice is based on notes about objects and their representation in dreams or as imagined under hypnosis, hinting at the Surrealists' artistic motto. Henderson's films are edited on a 16mm camera and result in choreographed scenes achieved through mechanical cuts and cross fades, such as Accent Grave on Ananas (2013), a work that conveys a tropical setting marked with punctuations of jaunty yet strangely generic beach rock. Furthermore, Felix Gonzalez-Torres (Guáimaro, Cuba 1957– Miami, 1996), one of the most influential artists of his generation, produced works of uncompromising beauty and simplicity that transform the everyday into profound meditations on love and loss. Subverting the legacy of Minimalist sculpture, his elegant pieces are imbued with poetic intimacy. Untitled (Last Light) (1993), a light string piece composed of 24 bulbs spaced evenly along a brown electric cord that may change configuration each time it is installed, suggests the optimism and endless possibilities inherent in transformation.
At last, inspired by the atmosphere and creative process of his own studio, David Gilbert (born 1982, lives and works in Los Angeles) uses the studio background to construct a domestic set of paintings, tools, fabric, pieces of wood and junk for his still-life photographs that reveal a striking attention to both composition and color. His large-scale pictures provide every single element with a statuesque aura, while a fierce L.A. spirit emerges through the purple and orange hues in Drama at Sunset (Summer) and Dawn (2013).
Laure Prouvost, David Douard, Felix Gonzalez-Torres, Alicja Kwade, Tamara Henderson, David Gilbert, Vincent Ganivet
.
until 30 April 2014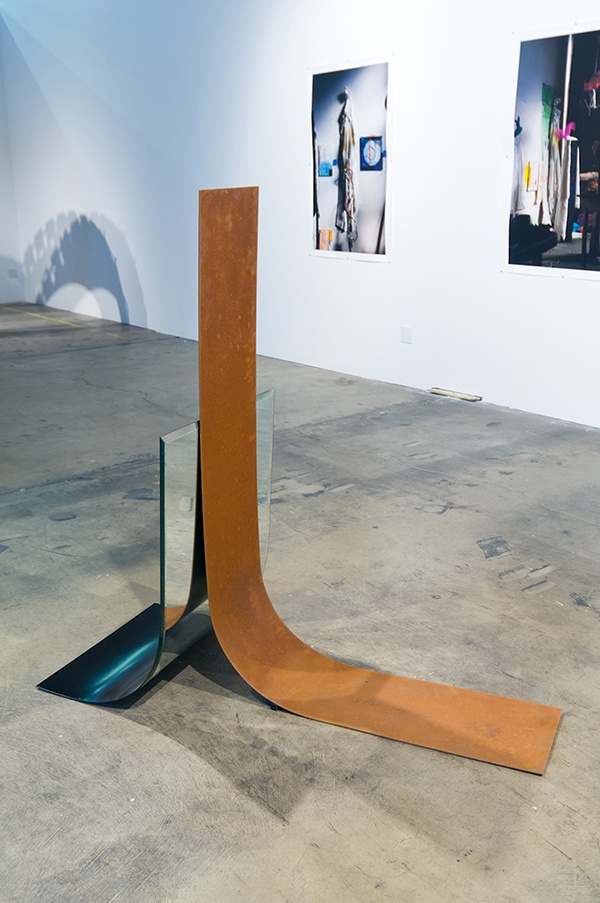 Alicja Kwade, Vom zukünftigen Hintergrund unter anderer Bedingung betrachtet, 2010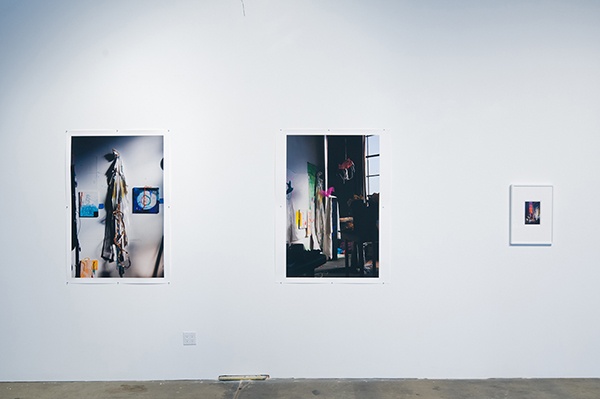 David Gilbert, Drama at Sunset (Summer), Dawn, 2013 and Untitled, 2014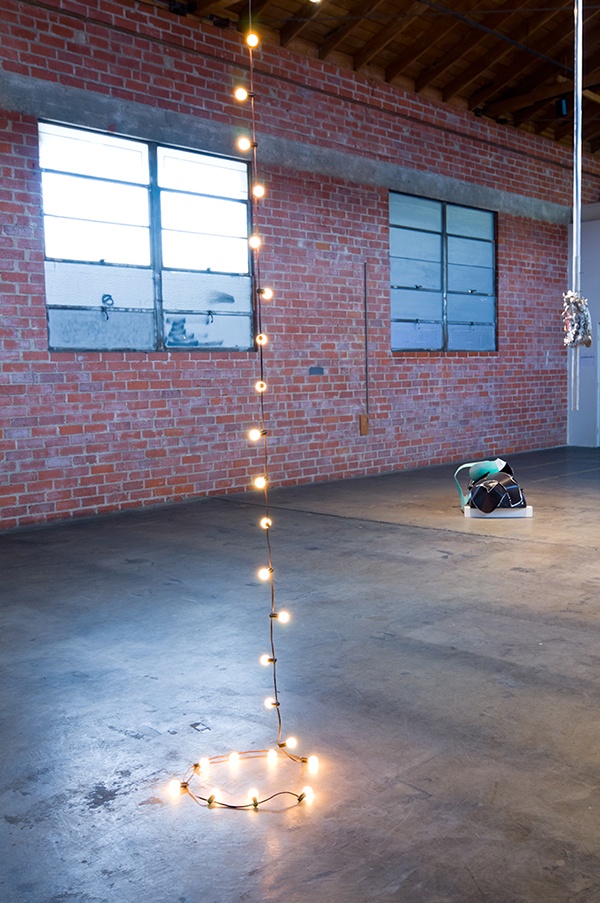 Felix Gonzalez-Torres, Untitled (Last Light), 1993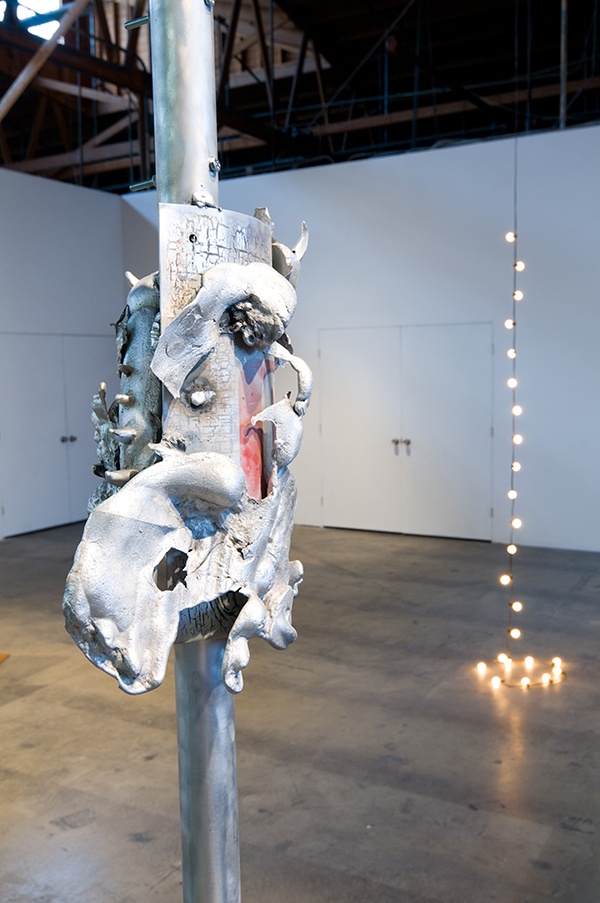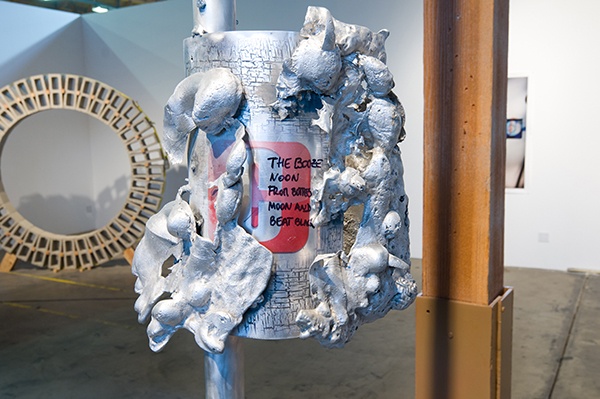 David Douard, Dreamz In Hands, 2013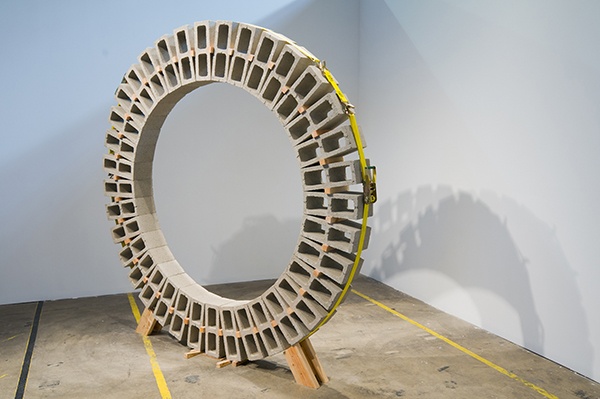 Vincent Ganivet, Wheel, 2013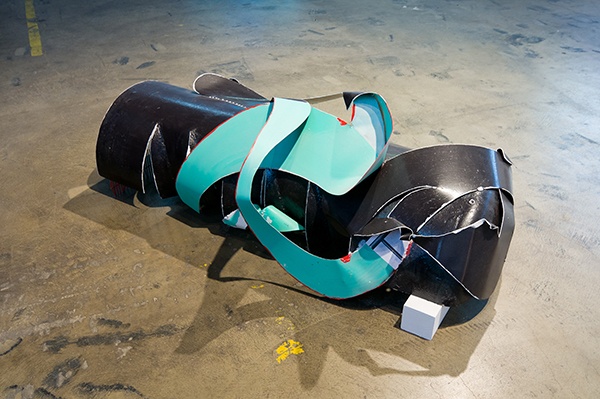 David Douard, SH4 (green angel), 2013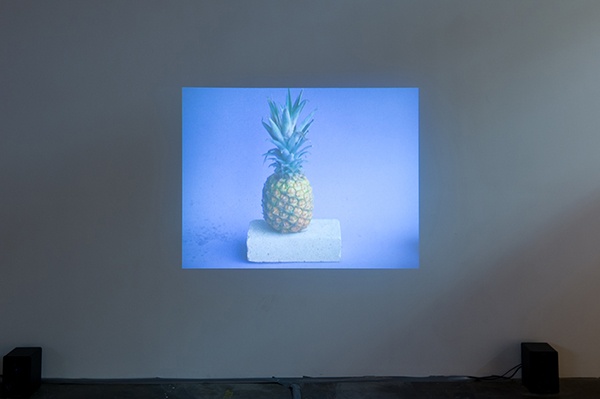 Tamara Henderson, Accent Grave on Ananas, 2013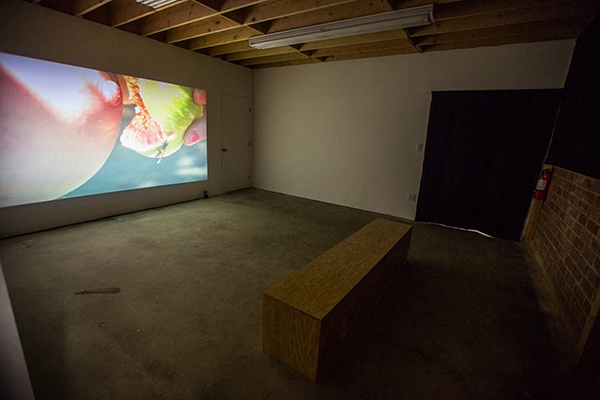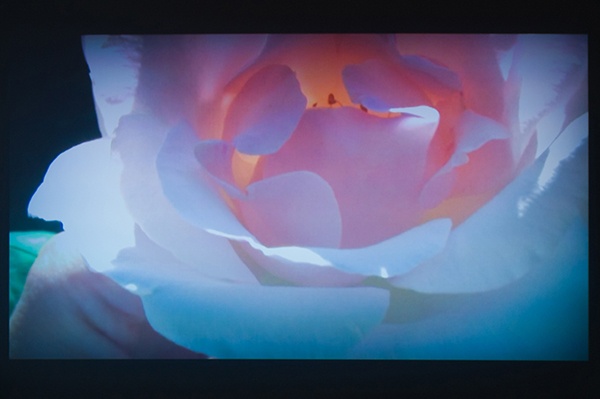 Laure Prouvost, Swallow, 2013
.
"Far and High" installation view at Fahrenheit, Los Angeles, 2014
Courtesy: the artists; High Art, Paris; Yvon Lambert, Paris; MOTINTERNATIONAL, London/Brussels; The Museum of Contemporary Art Los Angeles; Klaus von Nichtssagend Gallery, New York. Photo: Christopher Wormald.