Mousse 74 TIDBITS
The Swamp of Masculinity: Florian Krewer
Close
1
2
3
4
5
6
7
8
9
10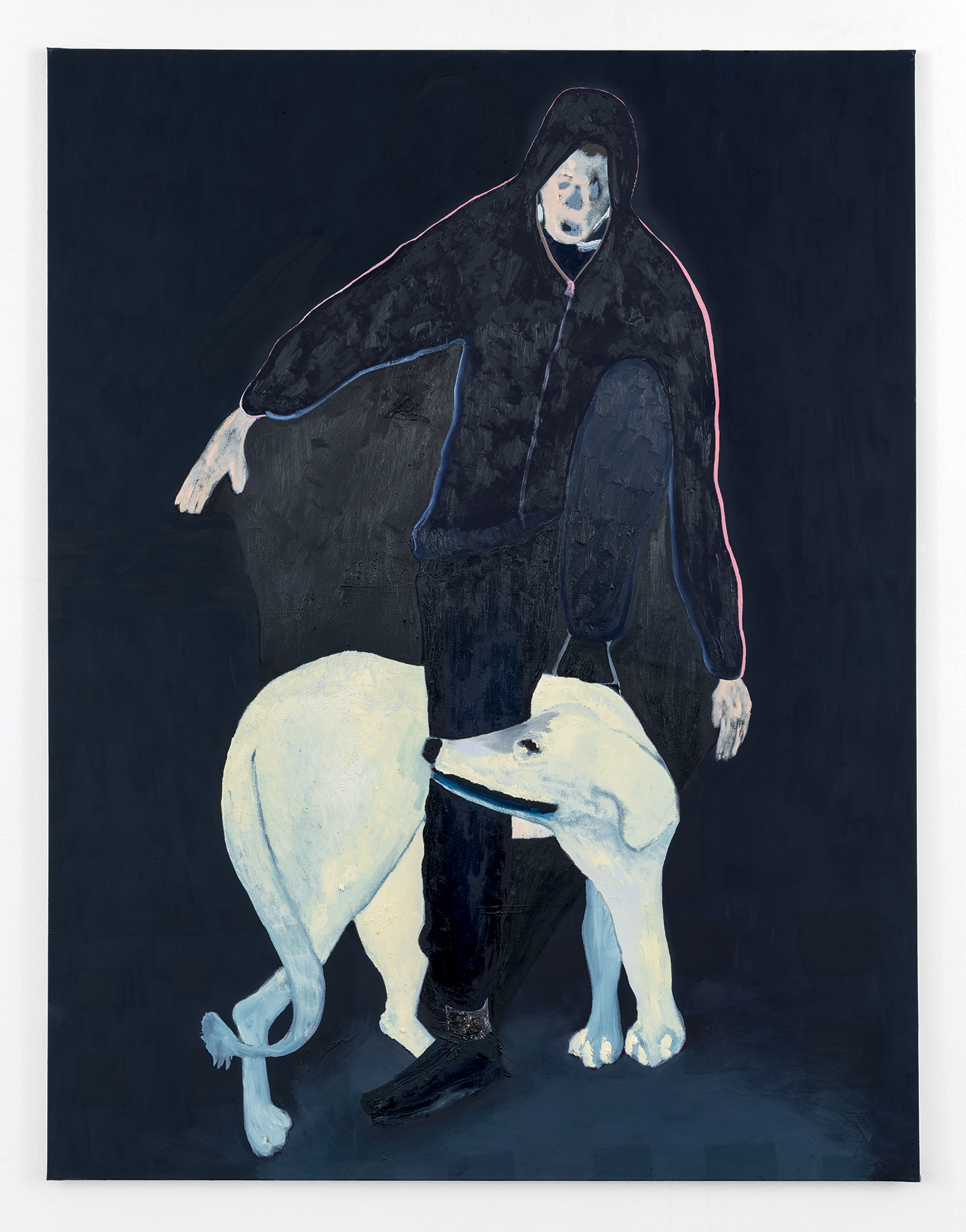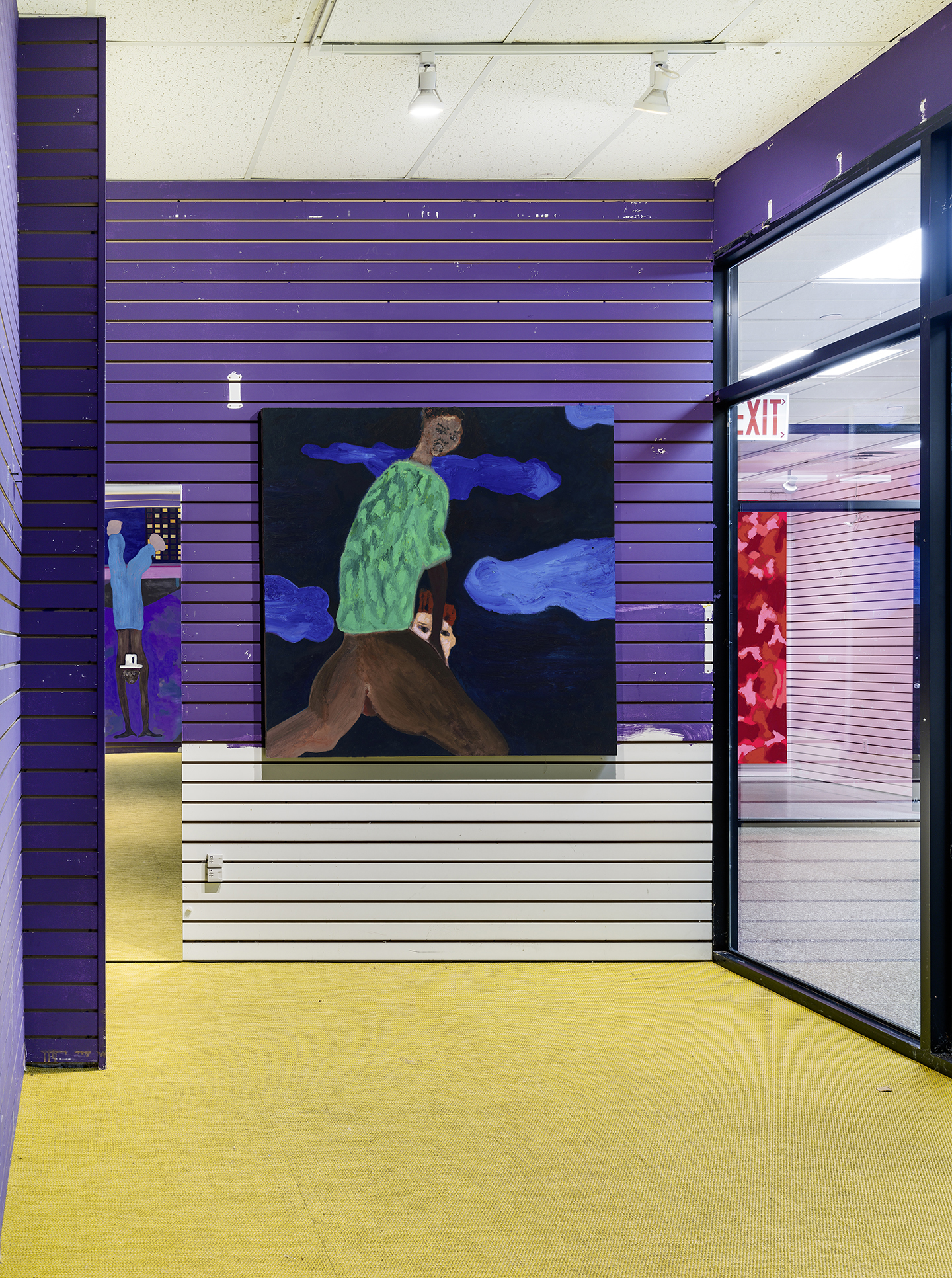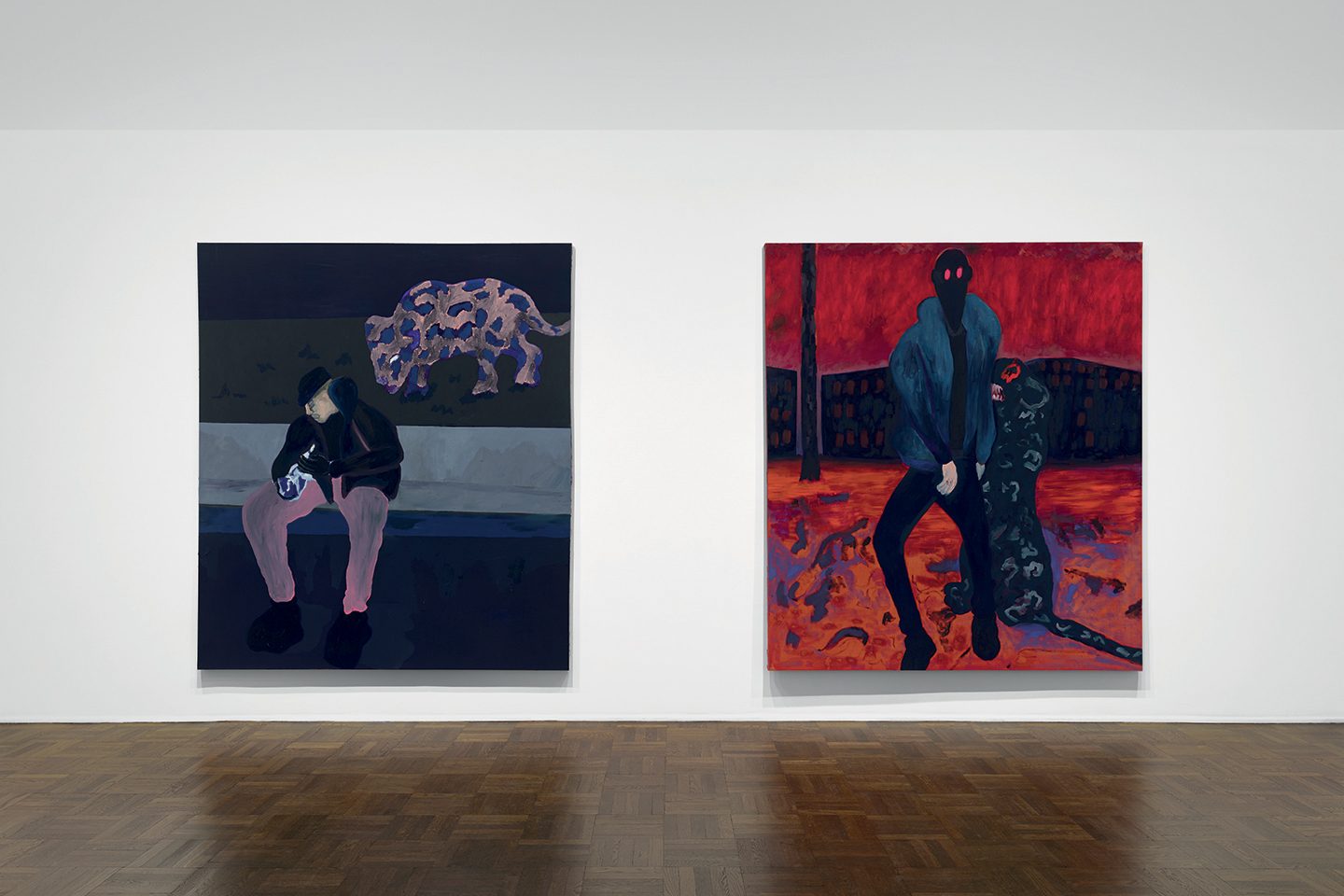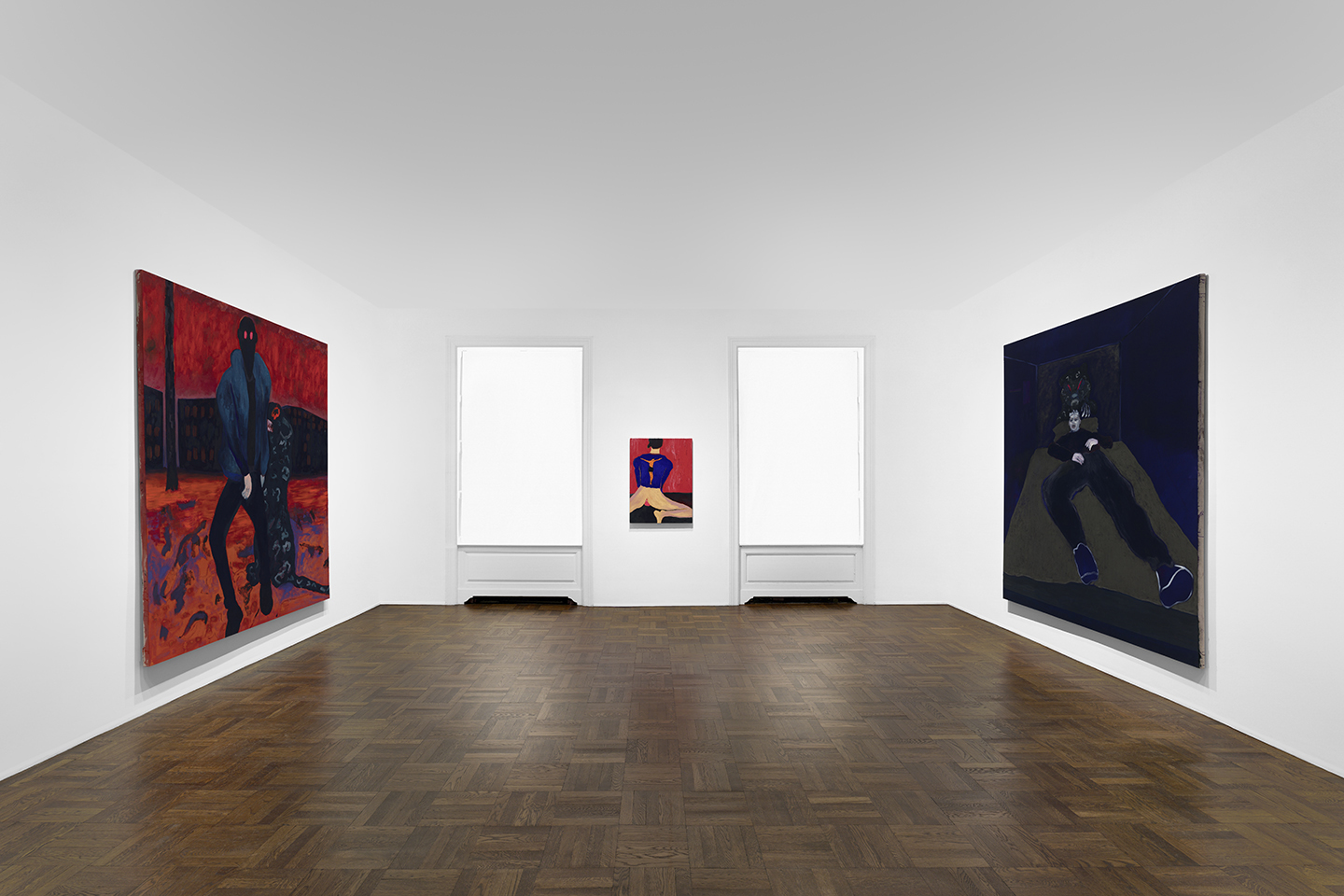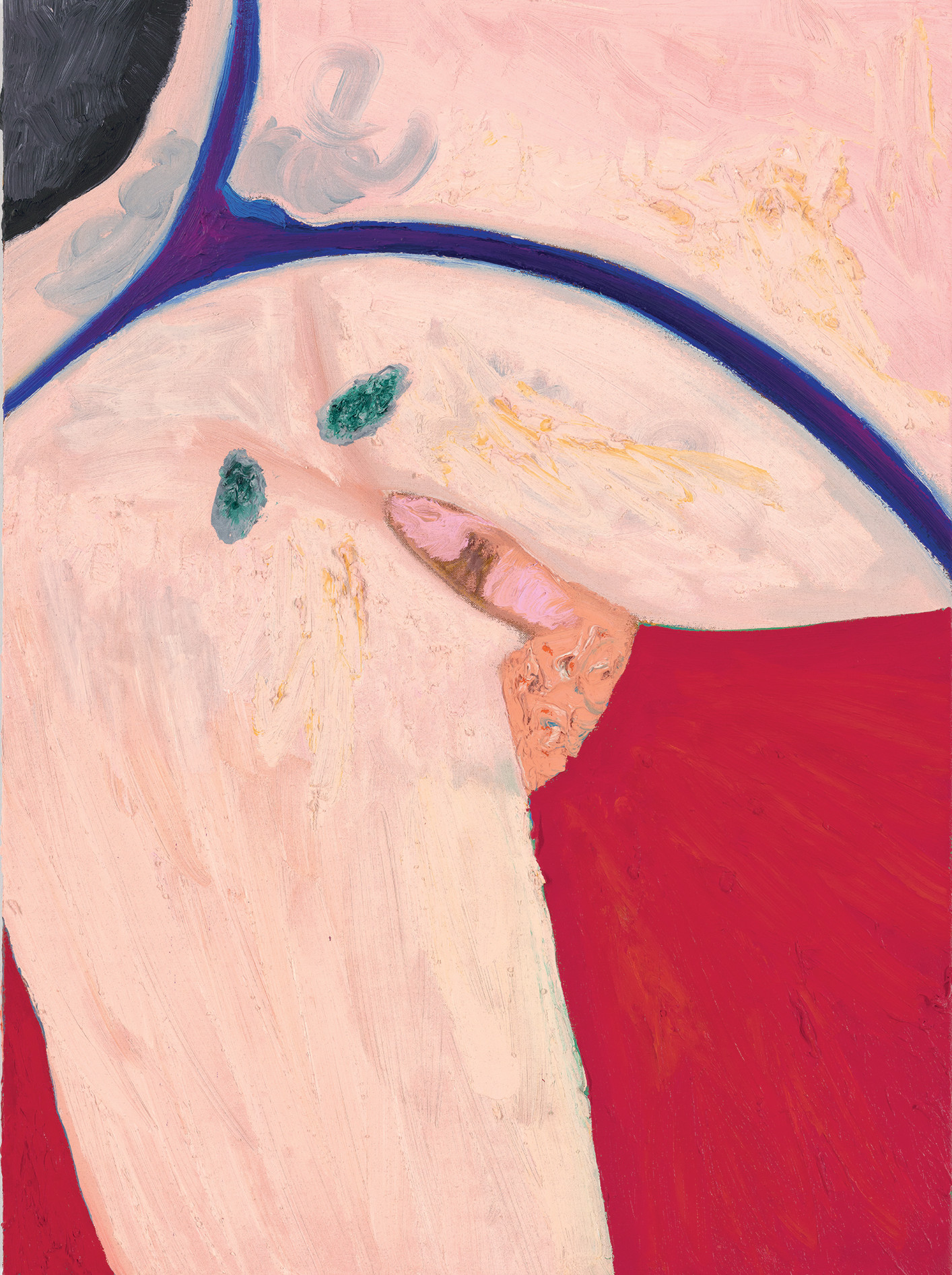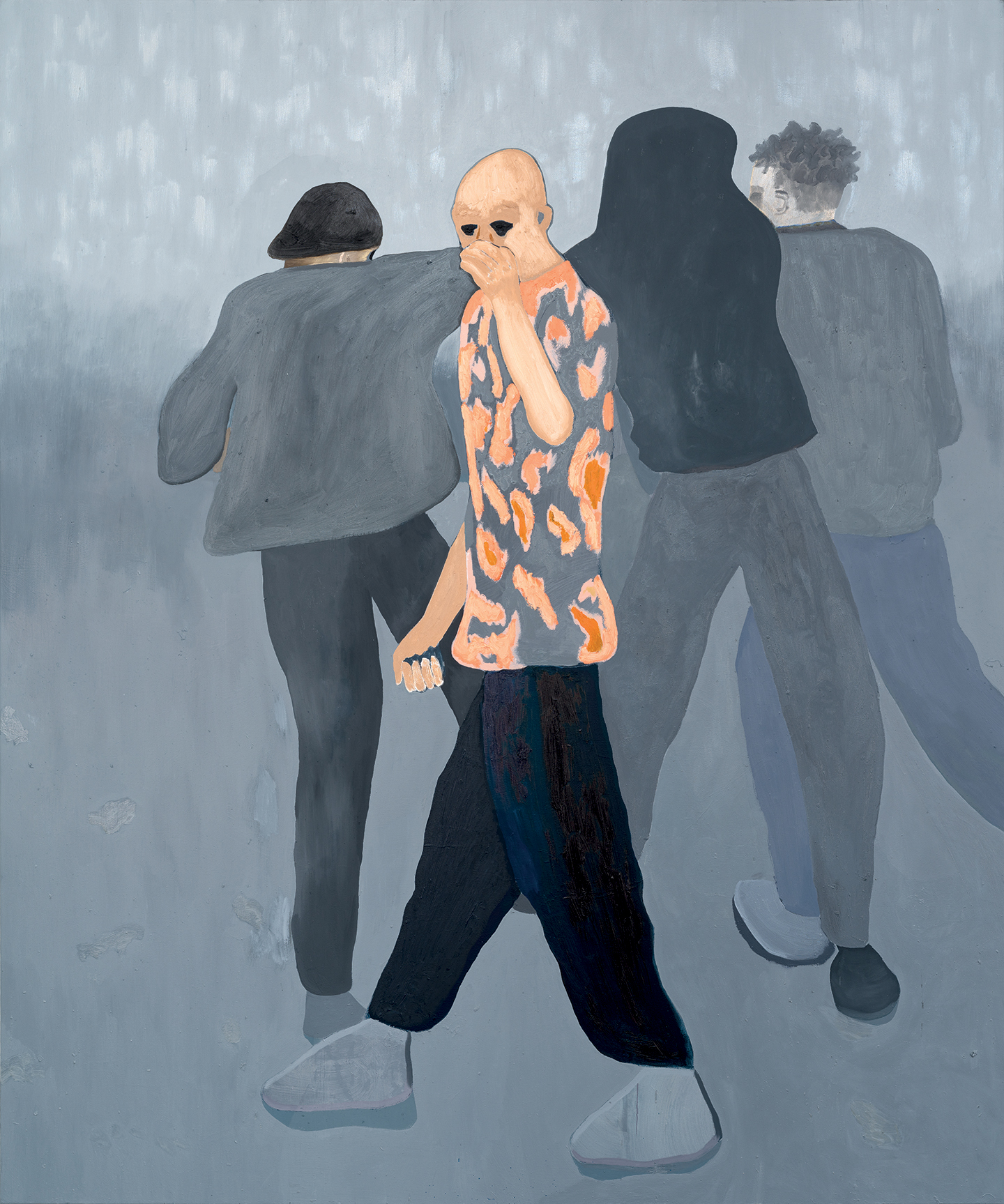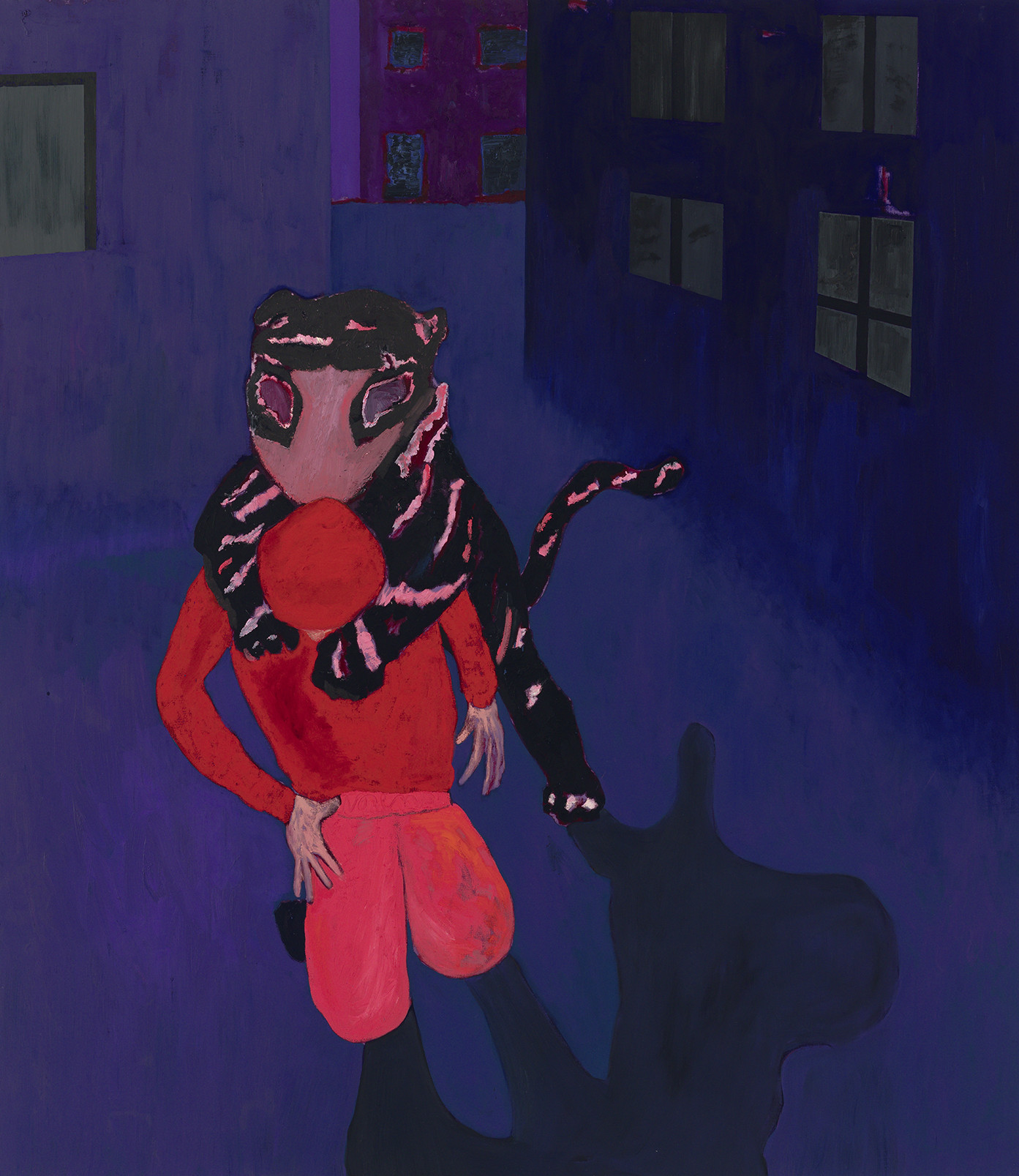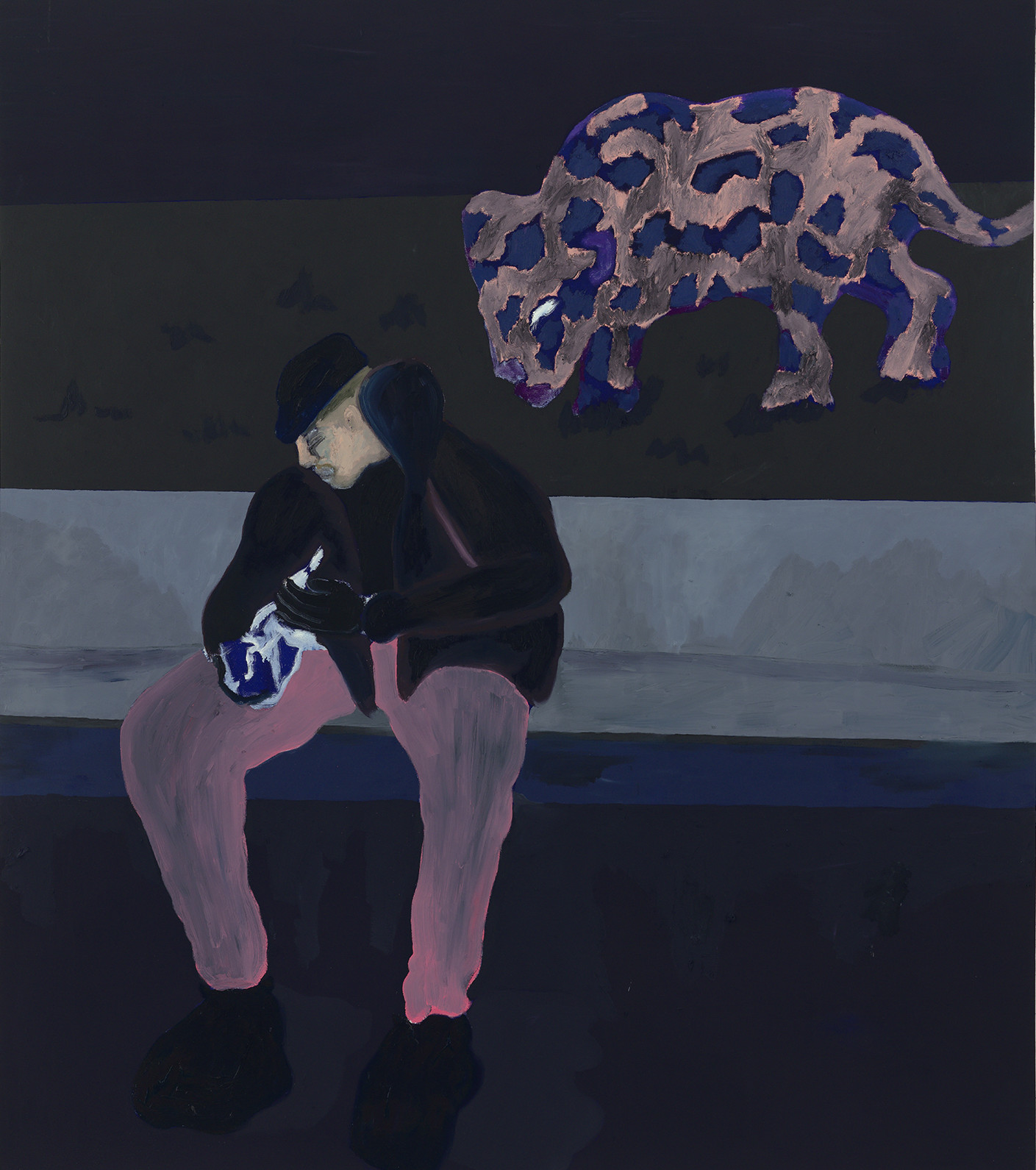 by Stanton Taylor
Florian Krewer's cute-chaotic paintings sift their way through a swamp of fraught masculinity. His cast of macho man-children and trans girls fight, fuck, and fall their way through the big city. Often outdoors, they feel like a throwback to a time not so long ago yet almost forgotten—when conflicts and desires could be consummated in public, and nights promised something like release. Yet the ominous animal avatars prowling the streets also register the latent frustration and fear inherent in the public performance of manhood.
In Eyes on Fire (2020), Krewer's show of paintings at Michael Werner and TRAMPS in New York, captive (2020) sets the tone. At 244 × 213.5 cm, it monumentalizes a scene familiar enough: a lone figure in socks and sweats lies in a darkened bedroom, his right hand resting on his crotch. His ghastly white skin is applied in rough brushwork that makes his face look like a mask lit by the glare of a distant screen. You can almost hear Drake purring in the background. A tiger-bear hybrid looms above him, perhaps as a dream symbol of frustrated desire or simply a wish to break free. Kind of a self-parody in whiteface, captive not only presents a scene that has become ubiquitous during the COVID-19 pandemic, but also playfully evokes a sense of frustration within the confines of sexuality and identity—a sense that runs through most of Krewer's recent work. 
The lone men loitering in the empty streets of blossom (2020) and companion (2019), for example, are shadowed by feline predators as avatars of unfulfilled longing. Meanwhile, the boy in give and take (2020) is about to be eaten up by his. On the other hand, the femmes in light switch and lipstick (both 2020) seem to have tamed the creaturely drives that plague their masculine peers. Yet Krewer's cosmos isn't entirely troubled by binary longings and conflicts. There are also moments of consummation, as in in the clouds (2020), where a thick-thighed sir or lady face-fucks a redheaded boy in the clouds, mad as hell though ostensibly in heaven. While in the show's titular eyes on fire (2020), a thong drawn to the side on shit-smeared cheeks reveals a pair of eyes and a puckered hole ready to kiss the viewer, among other things.
But what might sound like angstiness verging on abjection is executed with a heavy dose of cuteness. Flat planes, cloying pastels, wonky outlines, and occasionally ham-fisted brushwork all mitigate the threat. Add to this Krewer's low-key obsession with streetwear editorials. break free (2020), for example, awkwardly conflates the last decade's appetite for vitiligo models with the prospect of post-racial anonymity. Meanwhile, camouflage (2019) positions a seemingly Siamese figure evocative of the indigenous "two-spirit" against a riotous background of pink camo—a type of camouflage developed for African and Middle Eastern warfare circa World War II that was later updated and popularized by brands like BAPE in the early 2000s. As Sianne Ngai points out, cuteness is not only the dominant aesthetic of consumer society, but also a way of aestheticizing powerlessness.1
Both the cuteness and the anxiety that cling to many of Krewer's men is rooted in their helplessness. They seem lost in the city, unmoored. In a comical take on Francisco Goya's El pelele (The Puppet, 1791–92), the men in paintings like falling flying (2019) seem to float orientation-less through the urban landscape. Here, a clear comparison emerges with the early work of Krewer's former professor, Peter Doig. While Doig's visions of Manhattan like I think it's time (1982–83) espouse a pioneer spirit in line with the economic optimism of the 1980s, Krewer's vision as a newcomer to post-9/11 New York is clearly one of isolation and constraint, however privileged. Yet there's nothing tortured about his personifications. At times, his characters seem more vulnerable than anything else, and his treatment of them nothing short of affectionate. In the images, powerlessness is less the opposite of macho posturing than its precondition.
It's exactly these ambivalences that make Krewer's work strangely compelling, or at least compellingly strange. Suffused in equal parts by love and fear, it's impossible to tell whether it wants to parody toxic masculinity or valorize it. Probably both. Despite the richness of the paintings' cosmos, it's a stretch to say that any of them are "about" something in particular. Instead of offering clear answers, the work remains an unapologetically stubborn sedimentation of subjective experience—one that resents the categories imposed on it while also reveling in them. Perhaps what Mark Fisher once dubbed "the solitary urinal of male subjectivity" has rarely tasted so sweet.2
[1] Sianne Ngai, "The Cuteness of the Avant-Garde," Critical Inquiry 31, no. 4 (Summer 2005): 811–47.
[2] Mark Fisher, "Keenan, Morley, Cool, Pop," K-Punk, July 27, 2004,
http://k-punk.abstractdynamics.org/archives/2004_07.html.
Florian Krewer (b. 1986, Gerolstein) studied painting at the Kunstakademie Düsseldorf. Solo exhibitions include boogie nights, Tom Dick or Harry, Düsseldorf; pinkflavor, TRAMPS, New York; and Car Park Godiva, Michael Werner Gallery, London. Krewer currently lives and works in New York.
Stanton Taylor is an artist, writer, and translator based in Berlin.