CONVERSATIONS Mousse 11
Florian Slotawa
Close
1
2
3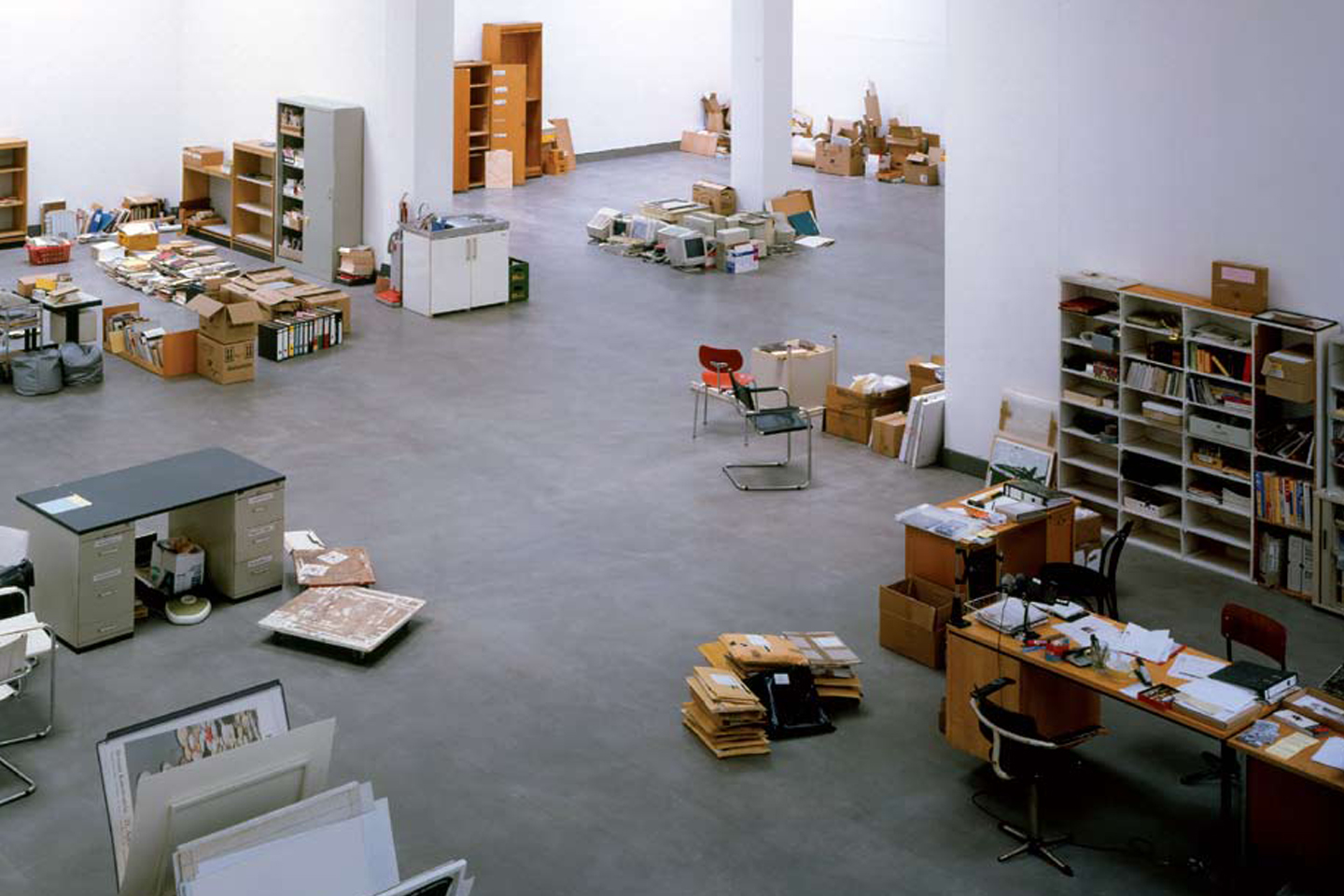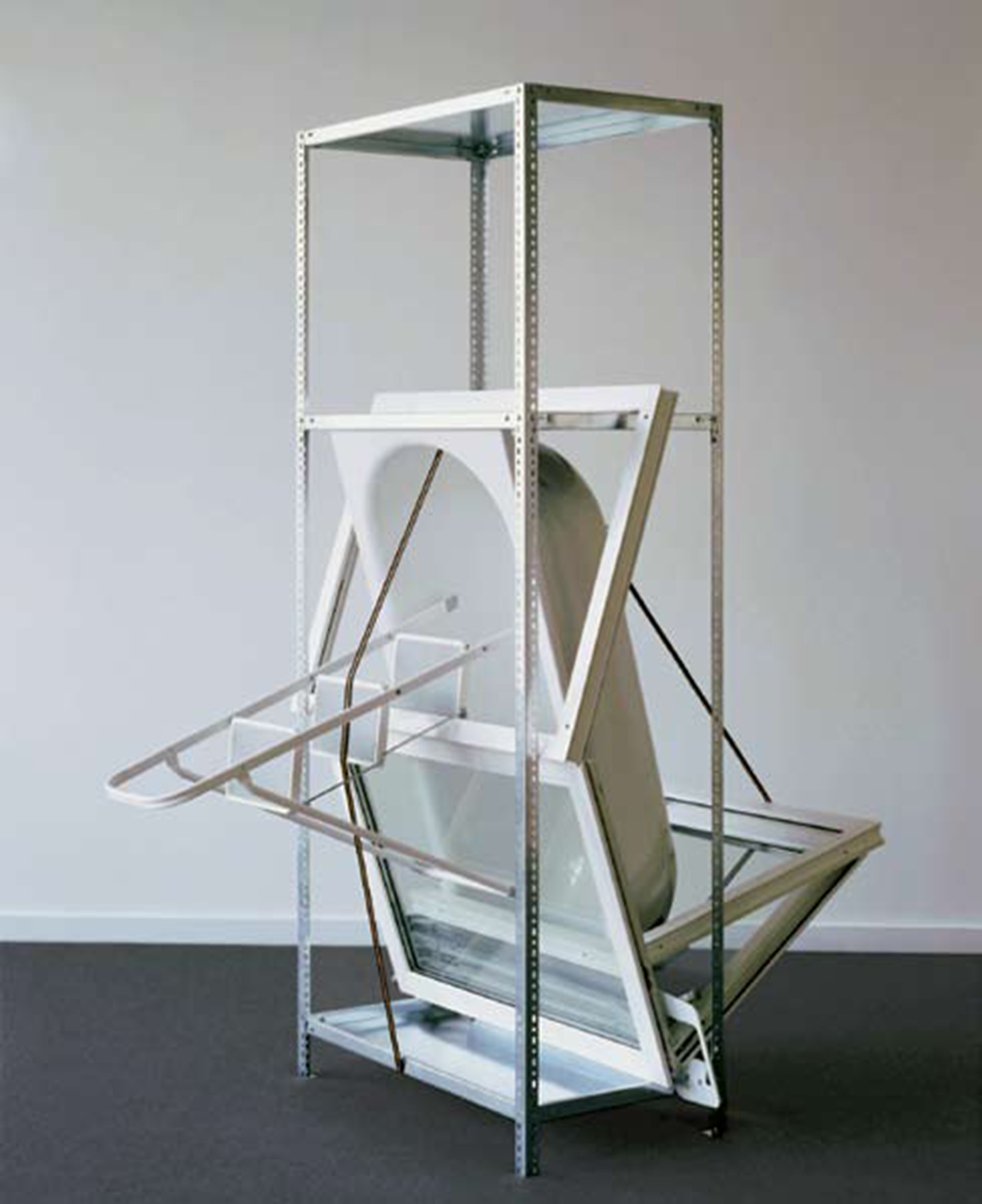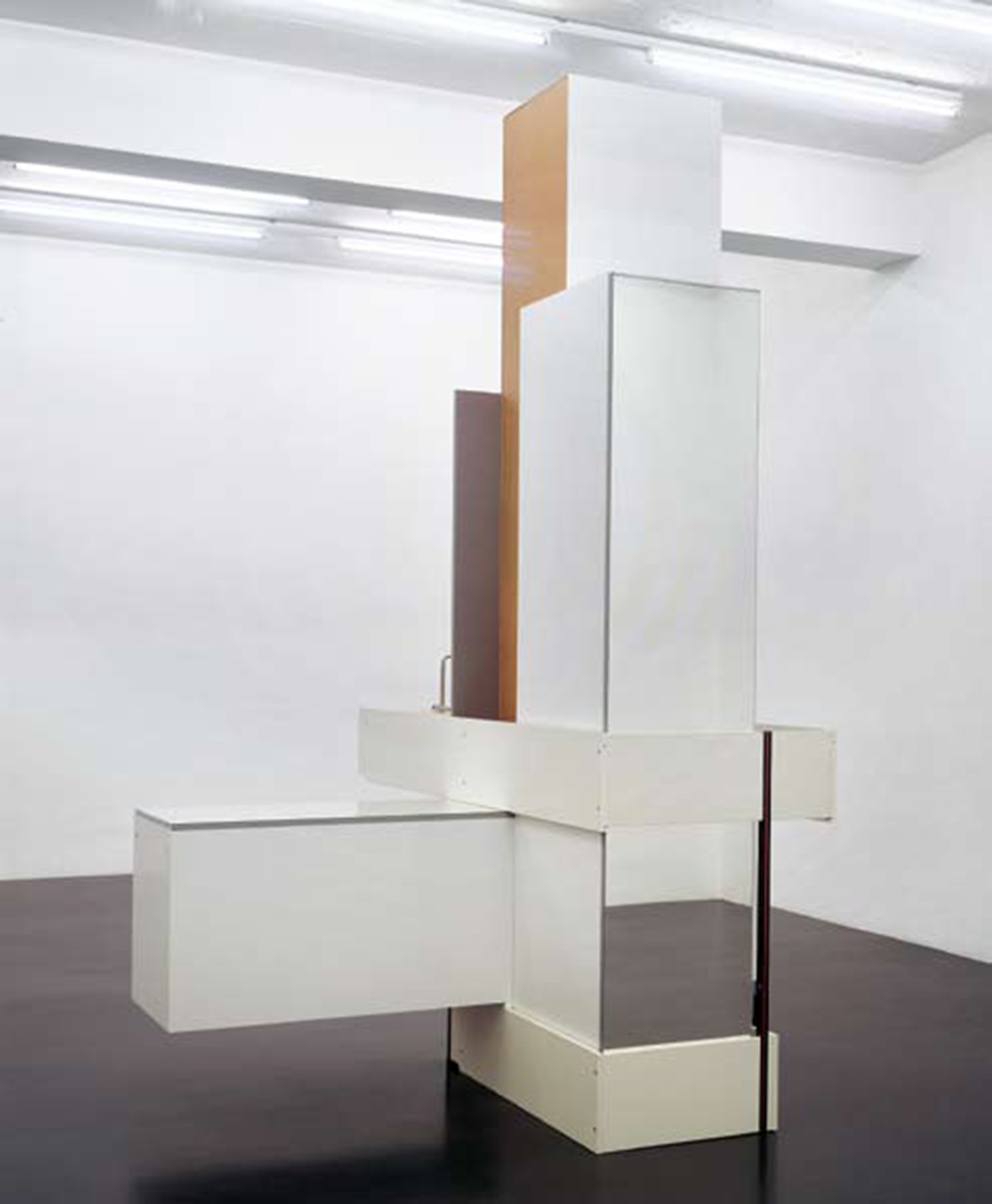 by Eva Fabbris
Whoever visited his solo show at Suzy Shammah gallery in Milan does certainly remember the first, disconcerting impact. Nothing on the walls, nothing on the floor. The gallery was empty enough to instill the doubt that the pile of press releases laid in a corner was in fact the work, or that it was a remake of Klein's Le Vide. Reading the exhibition information was of great help in solving the mystery. The spectators had to look up at the ceiling which the artist had covered with white panels from the ceiling of his studio in Berlin (from which he had been evicted recently before). A formally radical and self-biographical work that offers an extreme synthesis of Florian Slotawa's poetics. Born in 1972, he's probably the most interesting from the last generation of German "conceptual sculptors." Eva Fabbris met and interviewed him for Mousse.

EVA FABBRIS: I would like to start from the work exhibited at Suzy Shammah Gallery. Tell me about it.
FLORIAN SLOTAWA: It's the ceiling of my studio. The story behind it is this: I got the message that I had to leave the studio, and at the same time I had the proposal of the show form Suzy. So I decided to combine the two occurrences, and I brought the ceiling of my studio to Suzy. Normally, the space of the gallery is very clear, so I thought such an intervention could result into something subtle and trenchant. The ceiling is very ugly because it is a typical ceiling you can find in an office of the late Seventies; but on the other hand, it is part of the history of the building, and there are traces, dirt, holes. So the idea was just to bring it to Suzy; to bring it from Germany to Italy. I had the feeling that this piece should be a very dry, rough piece. If you look to Italy from Germany, you always have these longing feelings—the food is good, there is all this Renaissance stuff… Those kinds of feelings Goethe was drawn by when he started to come to Italy.
EF: Since you are speaking about Germany, would you like to tell me something about your concept of "heimat"?
FS: I think it's a very special word and there is no English equivalent. It means "homeland," so it is the place where you come from but also the place you belong to, your family, the history of your family, the food you love—all this is included in the "heimat." I was working on this at the time when I was a student. I am from the southern part of Germany and I was studying in the north, so I was away from my "heimat." In Hamburg I was thinking of my future and what I am going to do with my life, if I really should study art and become an artist, and if yes, what could I add to this system where everything already existed. I was in the class of a sculptor, so I was thinking of sculpture and if it would have been good to add new material to the world. At this point I felt very much without "heimat", and at the same time I was looking for a starting point for my artistic work. I decided it would have been important to deal with existing material, so I started to deal with my belongings, and I felt that I was very soon at this "heimat" thing because I dealt with my own history. I tried to get an overview of all my belongings. I wanted to take decisions—what is essential; what is important to keep; what should be thrown away. It was not so much about art. It was just about me, about being able to make decisions for the future. But it happened in an art school, in the class of a sculptor, so at the end of course it had to do with sculpture.
EF: You worked for years with your personal belongings, and then a German collector bought all of them. The artistic process you have described is also a life experience. So how did your work change after you gave your matter away?
FS: Before this collector bought all my belongings, I had been working with them for six years. In time, they became more and more material for art. I started to make installations out of them with the idea of leaving nothing in the end. So I brought my stuff from my apartment to the museum, made an installation, and after the show I took it back. Things were circulating between everyday life and art. So, for example, the fridge at home is just a fridge, and then it comes to the museum and becomes perhaps more important because it is art, and after that it's only a fridge again. Then I came to the point that this collector saw one of these installations and wanted to buy it. I said "No, it's not possible, because this material is part of my belongings and it is part of the concept that I get it back after the show." So he said, "Ok, I think I have to buy all your belongings." Looking back, I think it was the best thing that could happen, a perfect end.
EF: You always take pictures of your installations, and you consider these photographs as works in themselves. You have gone in some hotels and, in the course of one single night, you have transformed the room you rented into an architectural sculpture, you had photo- graphed it and, before breakfast, every piece of furniture was back in its place. I would like to better understand if, for example, in a project like the hotel rooms series and also more in general in your work, you are more concerned with the process of re-shaping an ambient or with the final result that has to be photographed.
FS: Especially about this hotels project, I have been asked many times the question: "What exactly is the piece? Is it a kind of performance happening in a hotel room and nobody sees it? Or is the piece the result?" And to be honest I don't know. For me it comes from the idea of making sculpture and leaving nothing at the end. When the room service enters in the morning, they don't know what had happened, and I like this. It is also important that nobody saw the sculpture. I need the photo just to prove that it happened. Maybe an important decision is that images are small. The title is always the name of the hotel, the city, the room number, and the date. I also like the idea that someone, maybe the owner of the piece, can go exactly to this hotel room, he can rent it, and he can be in the very same situation, among the very same pieces of furniture; he can even rebuild the piece, or try to make a better one. But clearly the work cannot be only about the process because I need the result.
EF: Maybe this is the most impermanent work you did. But you did something similar in your studio, when you built a kind of wall.
FS: It wasn't my studio, it was my apartment. It is an early piece from when I went back to Munich, after the Art School in Hamburg. I brought my belongings there and I put them in the apartment like everyone else usually does, with the fridge in the kitchen and the bed in the bedroom. But I was not quite satisfied; the issue was that there was so much noise from the street traffic, and secondly, I had this idea of putting things in a different order. I made a kind of shelter around one corner, like a quarter circle, and behind it there was a new space. You could enter this space from the kitchen door. I lived inside this shelter for two weeks. It was in winter and the only radiator for the apartment was in this corner. That was the feeling of being home, of having found the "heimat."
EF: After six years of works with your belongings, how did you feel without them?
FS: It was somehow a big release to give away everything. It was a great experience that I didn't miss anything, especially not at a sentimental level. Of course it was really hard to give away my childhood toys; clearly, I hadn't played with them since I was younger, but they were something really special. In any case, when they were gone I didn't miss them. I just missed practical things like the washing machine. Now I have the washing machine, the fridge, and everything again, but it was important to me to under- stand that having stuff is great, and at the same time to see that I am not dependent on things. It is like what happens to someone whose house burnt down—it is the same situation, everything is gone. But for me that was a free decision. Before I gave everything away I took a series of photographs of all my belongings. It was just like saying goodbye to them—I arranged each of them in a beautiful composition after having cleaned it up, gave it some love once again, took a nice picture of it, and then I wrapped it and gave it away. Now I have the photos.
Originally published on Mousse 11 (November 2007)