REVIEWS
"Flying Moths" at Carlos/Ishikawa, London
Close
1
2
3
4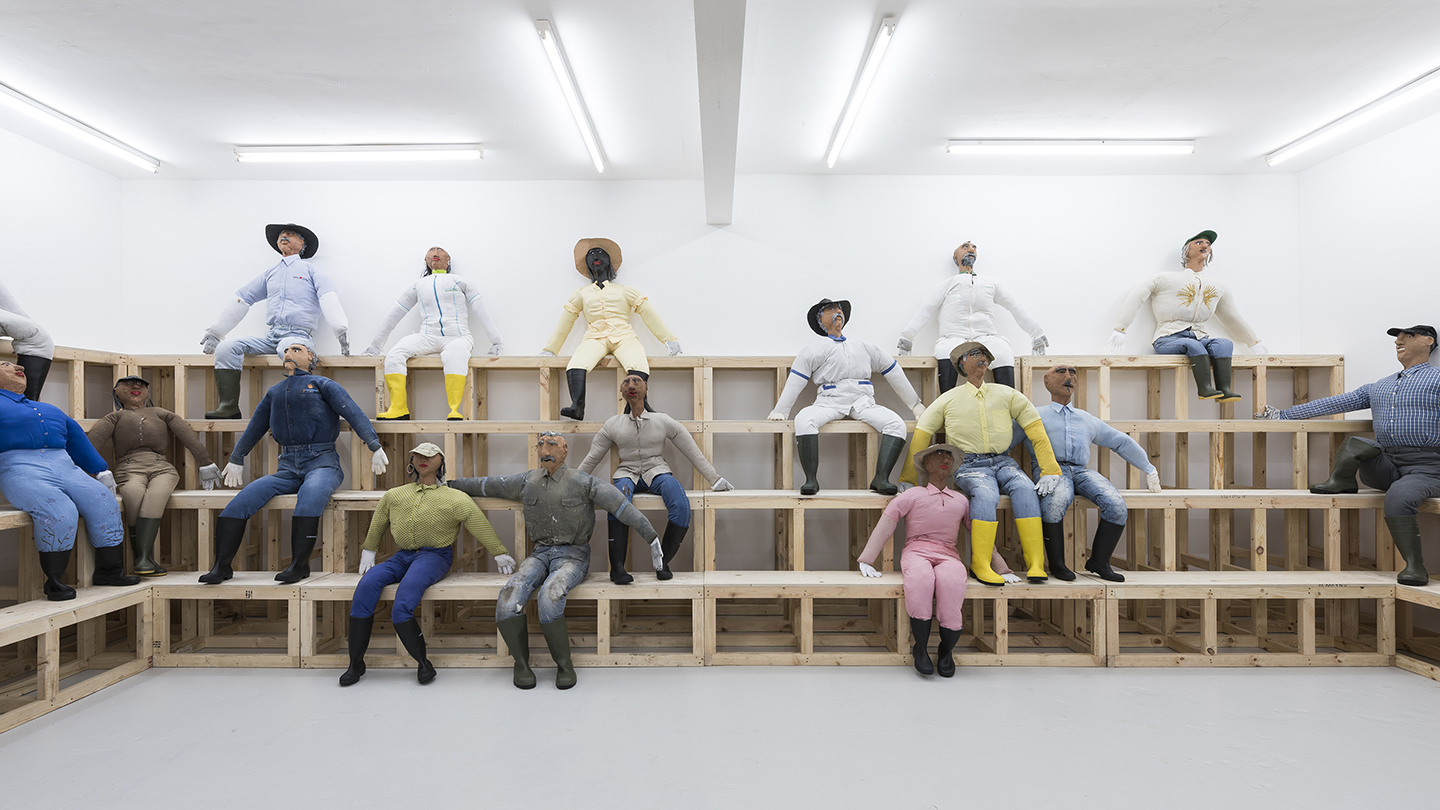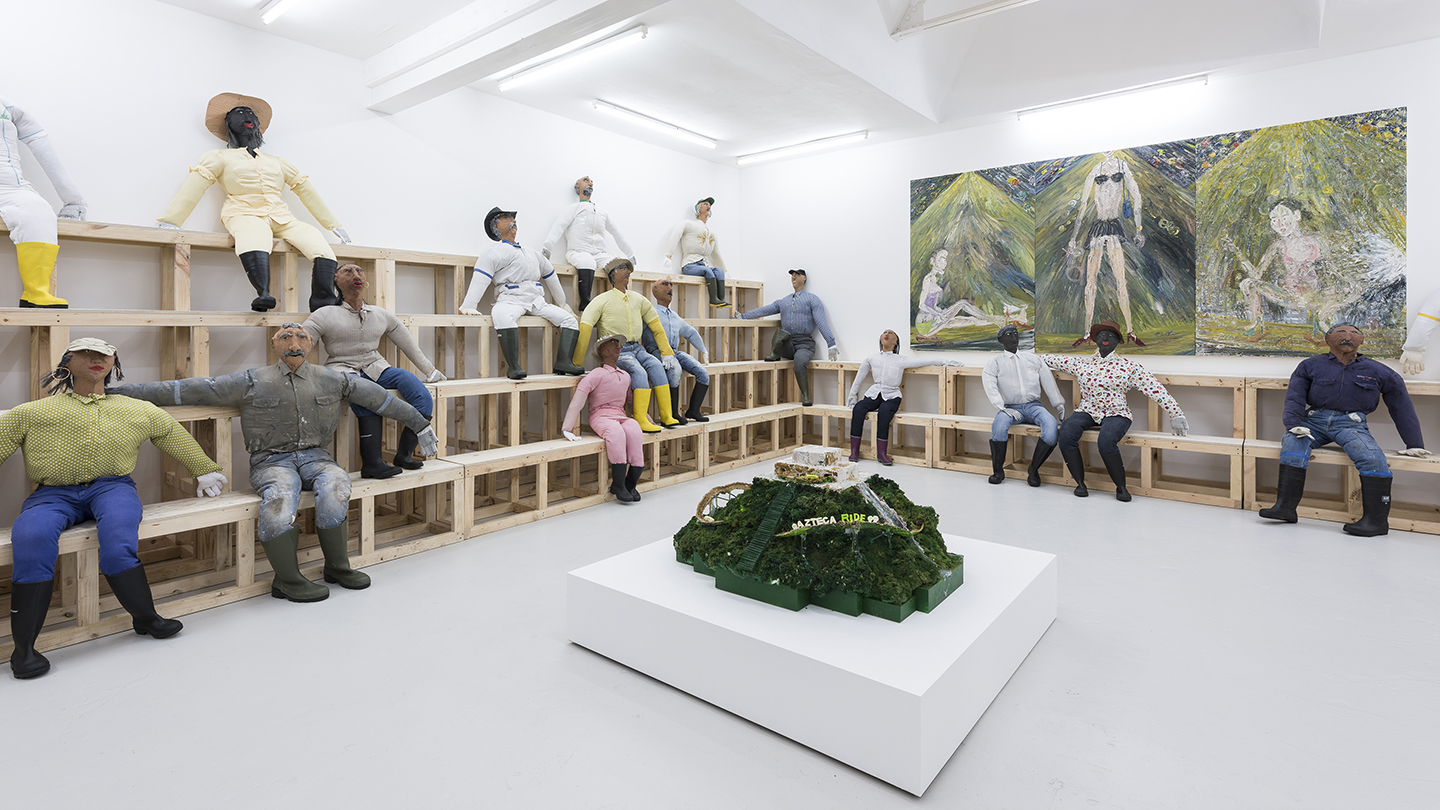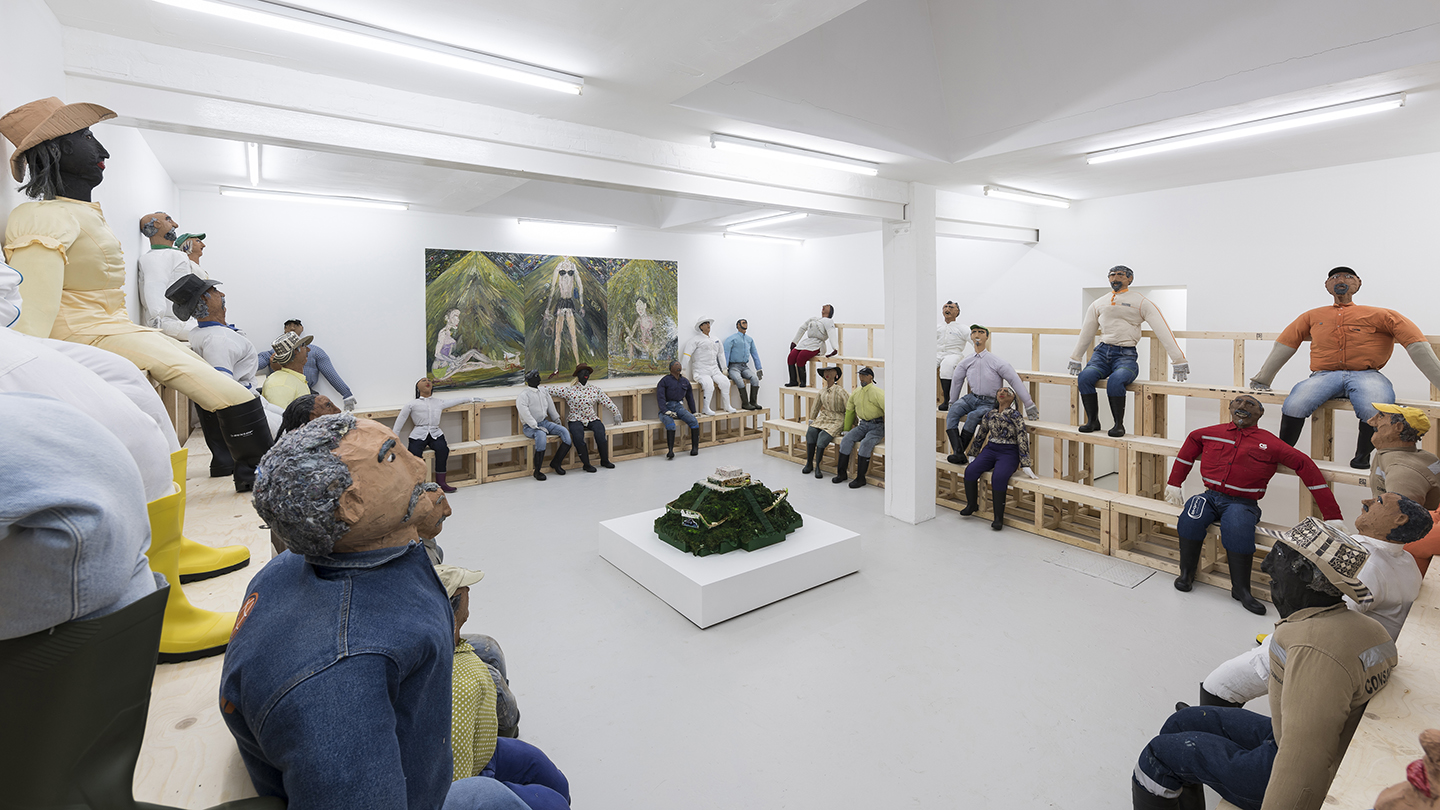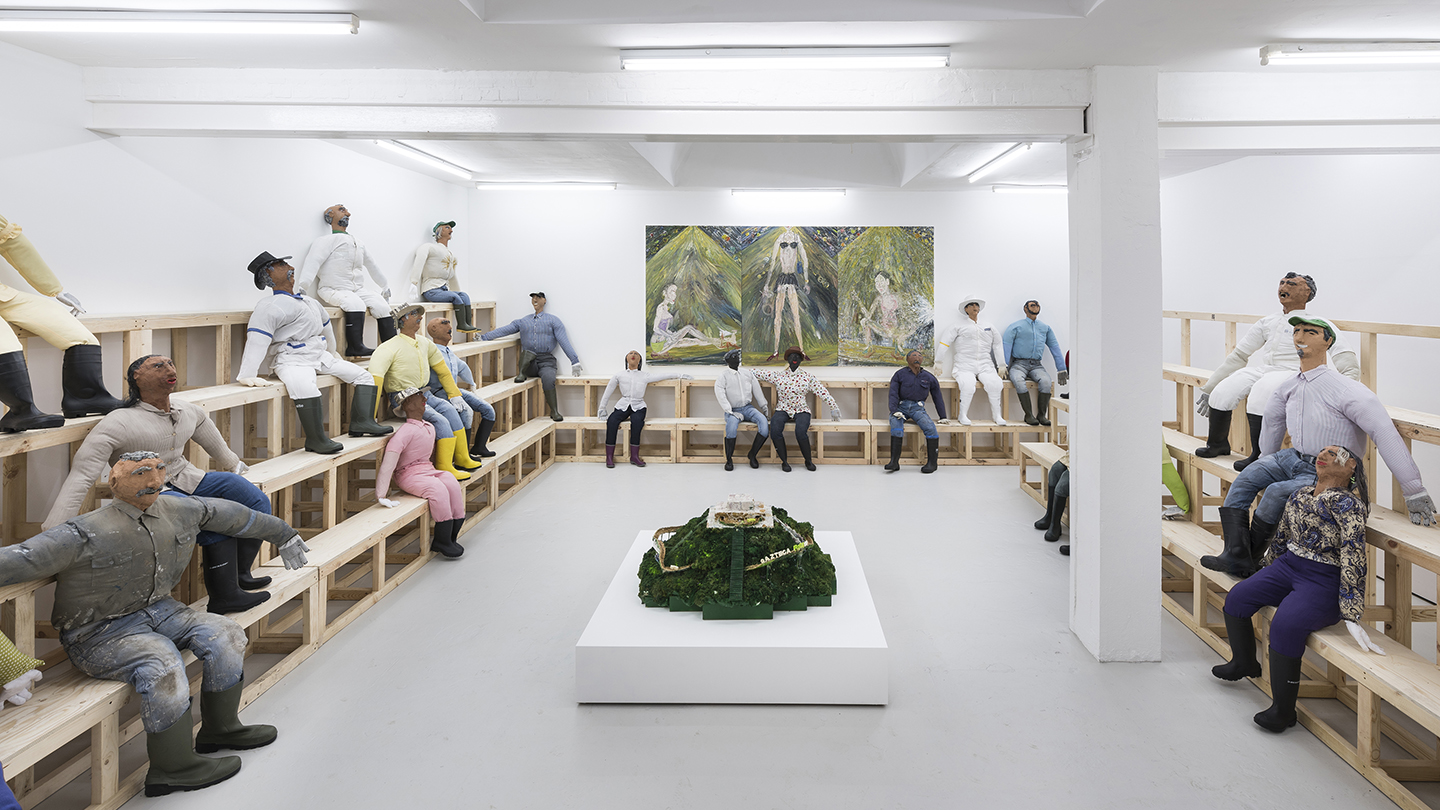 Text by Nicholas Hatfull
The Shard was nuzzling a blanket of low-lying clouds as I approached Carlos/Ishikawa, the gentle flute of Don't Look Now's (1973) bedroom scene a welcome earworm, thanks to Shana Moulton's Sand Saga (2008) and a stop at Emalin not long previous on the Condo trail. If you'll permit me the filmic thumbnail, it feels true to the experience of Condo (instigated last year by Vanessa Carlos, cofounder of my destination), where London's scenery sprouts hosted satellites of galleries from elsewhere, a course of vitamin shots. Touring them, multiplied impressions bleed into one another more kaleidoscopically than ever. Within, on briskly erected bleachers, an audience awaits; the eerie cast of Oscar Murillo's Human Resources (2016). The list of works was as succinct, pungent, and intriguing as the show—for Murillo "wooden seating, effigies, 8780 x 9830 cm." If the irony of the title is surely fog-horned, that seemed apt, and earned—the work knocks you for six. Eerie, because of the cadaverous effect of expressions conjured or seized in papier mâché. In some cases, a rictus grin and the beginnings of a skeletal smile you see in persons until recently bog-interred. These effigies (forerunners of which have been shown in Madrid and Korea), clad in jeans or overalls, and all gumbooted, were occasionally regaled by a friend of the artist with Colombian songs of the 1980s.

Temporary stadium seating has, it seems, something of a knack for looking fantastic when regurgitated in the gallery space—
I was reminded of Martin Kippenberger's The Happy End of Franz Kafka's America (1994), and the proportions here were just right, nudging the limits of the Stepney space and generating an acute setting. Kippenberger might have appreciated the rangy stretches of kinship in this exhibition, and the startling gallows humor of the mise-en-scène: however apparently casual, it was wonderfully precise. Pristine rain boots sang, better than Regent Street's. Discovering quicksilver old nuance, burrowed in unexpected nooks, is often what makes an exhibition truly memorable. Some figures were as stiffly forked as scarecrows, others had managed to slouch or rearrange their limbs naturally enough to kindle the uncanny. Furthermore, some linked arms, or tenderly rested a palm on their neighbor's thigh, leading you to start inferring, okay, that's a family group. Notably, these arrived hot on the heels of a rash of soft or stuffed figures employed in recent UK advertising—viz. Sainsbury's Christmas campaign and DFS opting for felt reincarnations of its floor team. This grating meme gave Murillo's figures added incidental leverage, not that they needed it.

The making and burning of effigies is a traditional Colombian farewell to the old year, and the majority of Murillo's hometown, La Paila, is employed by Colombina (a major confectionery producer). Since the effigies were made by La Paila residents, many of them sport workwear bearing the company emblem (others get shirts from ConSalfa, a construction firm). Famously, the artist teleported an outpost factory into David Zwirner's New York gallery for the expansive gesture A Mercantile Novel (2014). Though the means for Human Resources were comparatively restricted, the comment was no less weighty. Where Murillo's previous shows have often been multifarious, harnessing a network of material less inclined to coalesce in a singular statement, this had severity, to-the-point-ness—a bracing thrill. And the compact arena provided unremitting focus, sociopolitical consideration and aesthetic realization synergized.
Born of the artists' mutual keenness to collaborate, the show proved to be wreathed in conversation, impressively balancing particulars with mysterious overviews. Also on the billing was the large painting Flying Moths (2015) by Ouyang Chun—from which the exhibition's title was gleaned—and a model theme-park ride by Yutaka Sone, unfurling connecting tendrils. These were clocked second—at first glance somewhat dwarfed by the Murillo installation—but struck the right chord, fluttering off elsewhere while keeping hold of an associative thread. Indeed, a vignette of text available at the entrance sketched this melancholy backdrop:
Wandering the streets… years ago, what caught his eye were those flying moths around the streetlight under which those people stood. In Chinese, the idiom "moths into flames" means "irresistibly attracted to something… even if it may end with destruction and death." The street view at that moment was a depiction of the surrender to life and social inferiority. The exhibition probed its own slippery and intriguingly bespoke terrain, a little like the ride in Sone's model, whose boats look rather like whittled bars of soap, careening around a thickly overgrown Aztec temple. Moreover, the visitor feels like they've stepped into the garish, slathered-on lamplight of Ouyang Chun's Flying Moths themselves, caught prone, so each work pulled its narrative weight.
As Human Resources proved one of the more eminently grammable works in the sprawl of exhibitions, many were indeed drawn moth-like to the temptation of posing with the effigies, taking the opportunity for (ahem) mannequin challenges or related gooning. Such participation was invited by the setting, and the uneasy rubbing of shoulders got the air crackling. It says much for the oneiric power of this show that it absorbed such antics—iPhoned dissemination of this starkness all well and good—and sinister notes shone through regardless.
.
at Carlos/Ishikawa, London
until 21 February 2017