REVIEWS
Francesco Gennari: Greetings from the Moon at Esther Schipper, Berlin
Close
1
2
3
4
5
6
7
8
9
10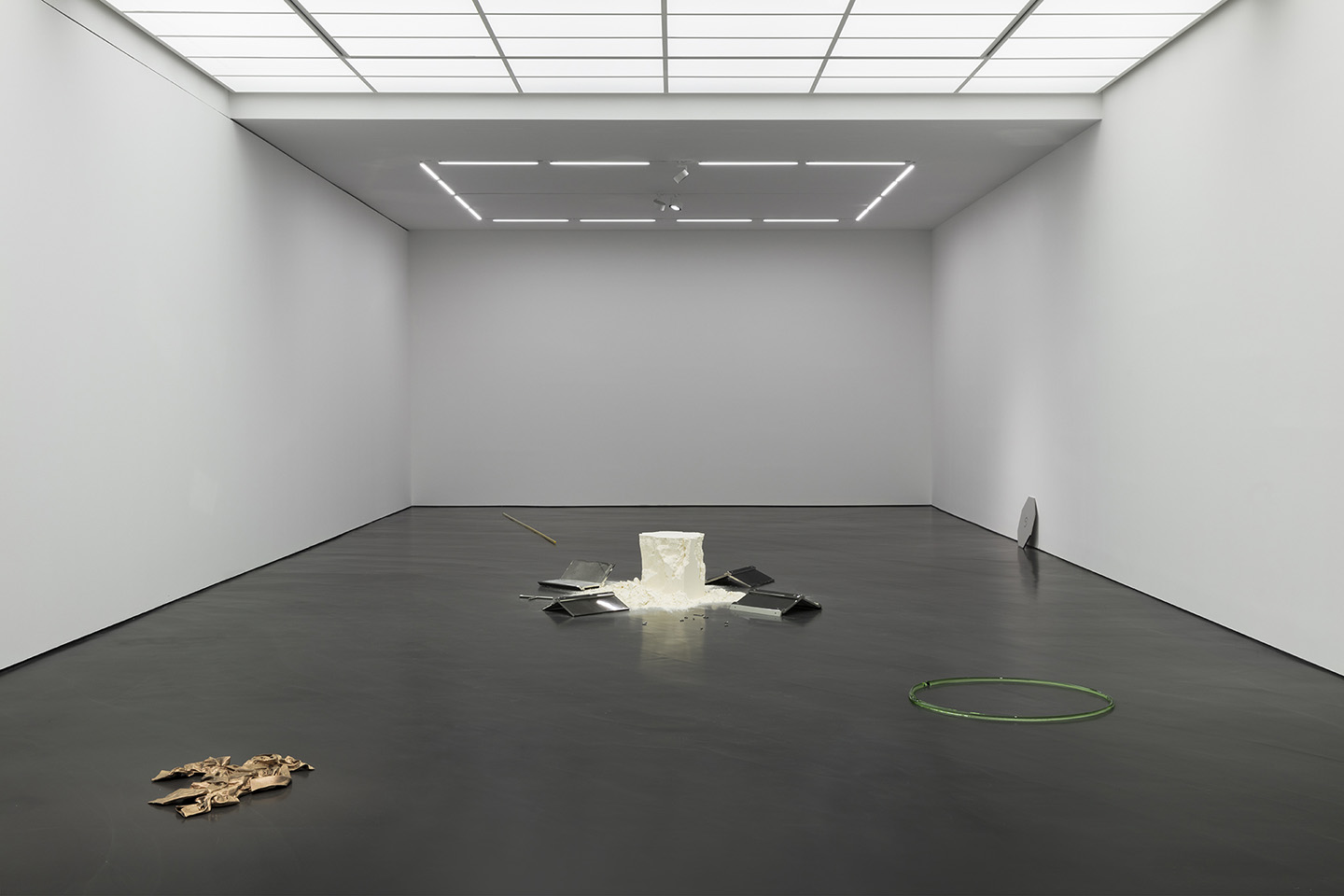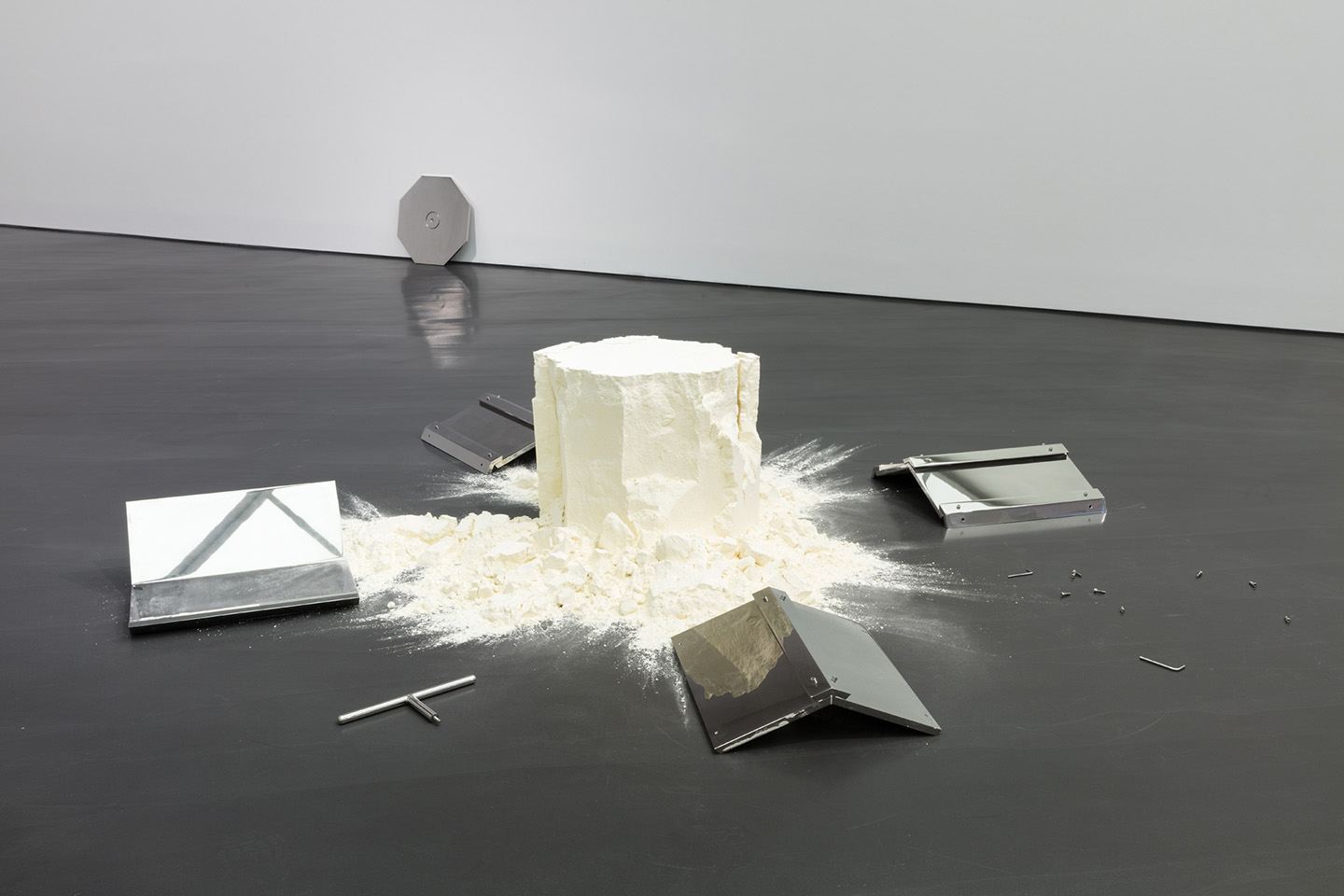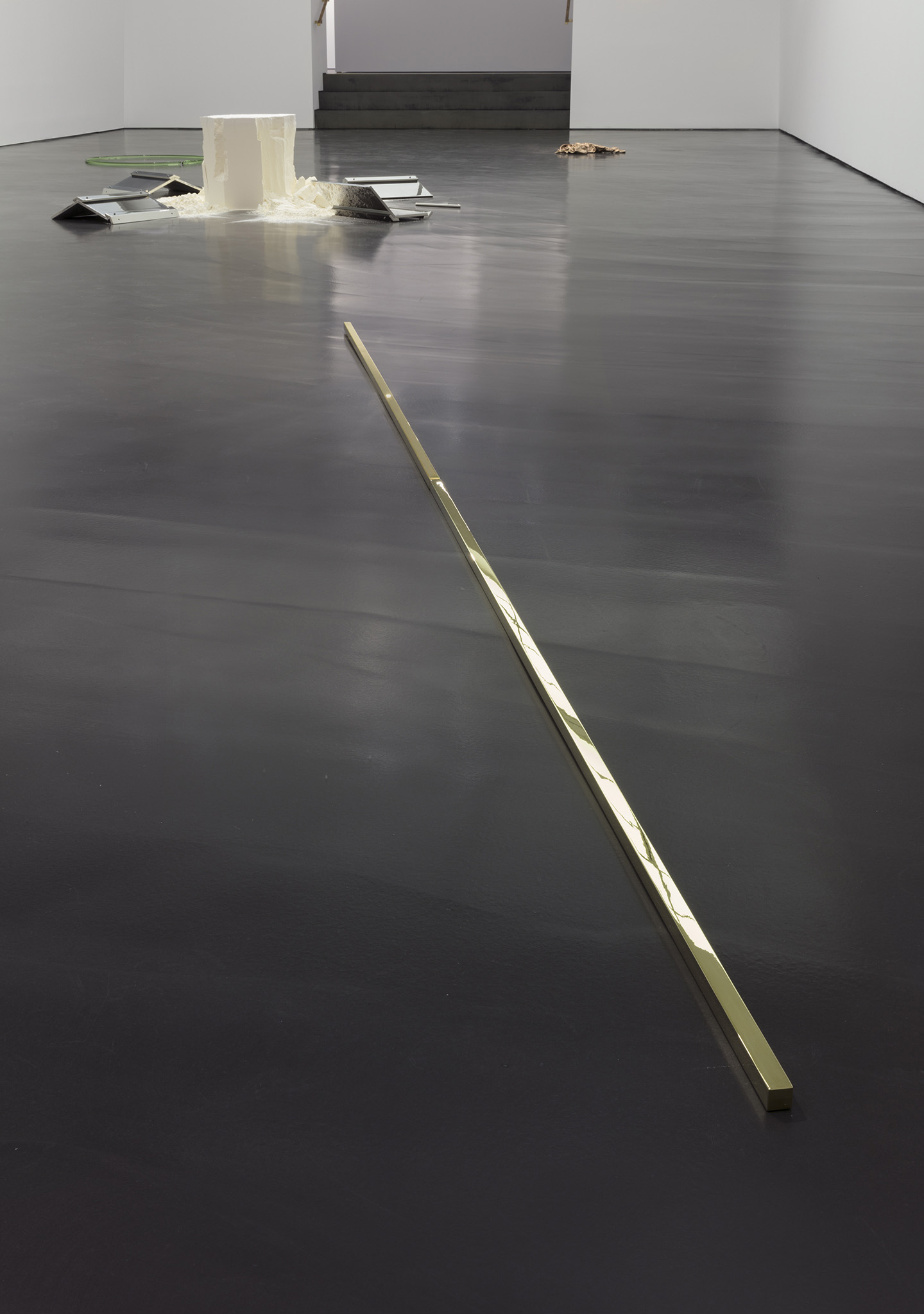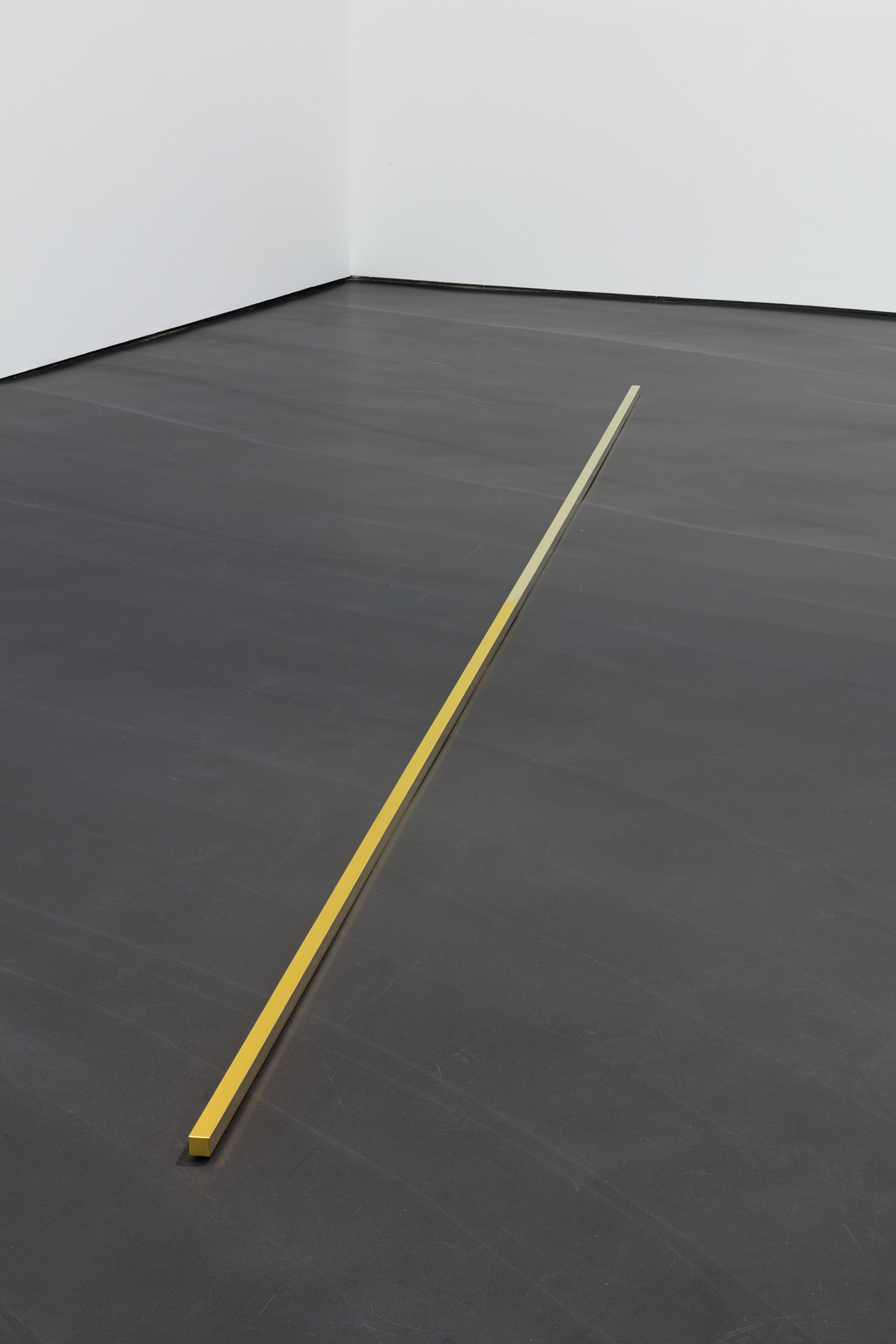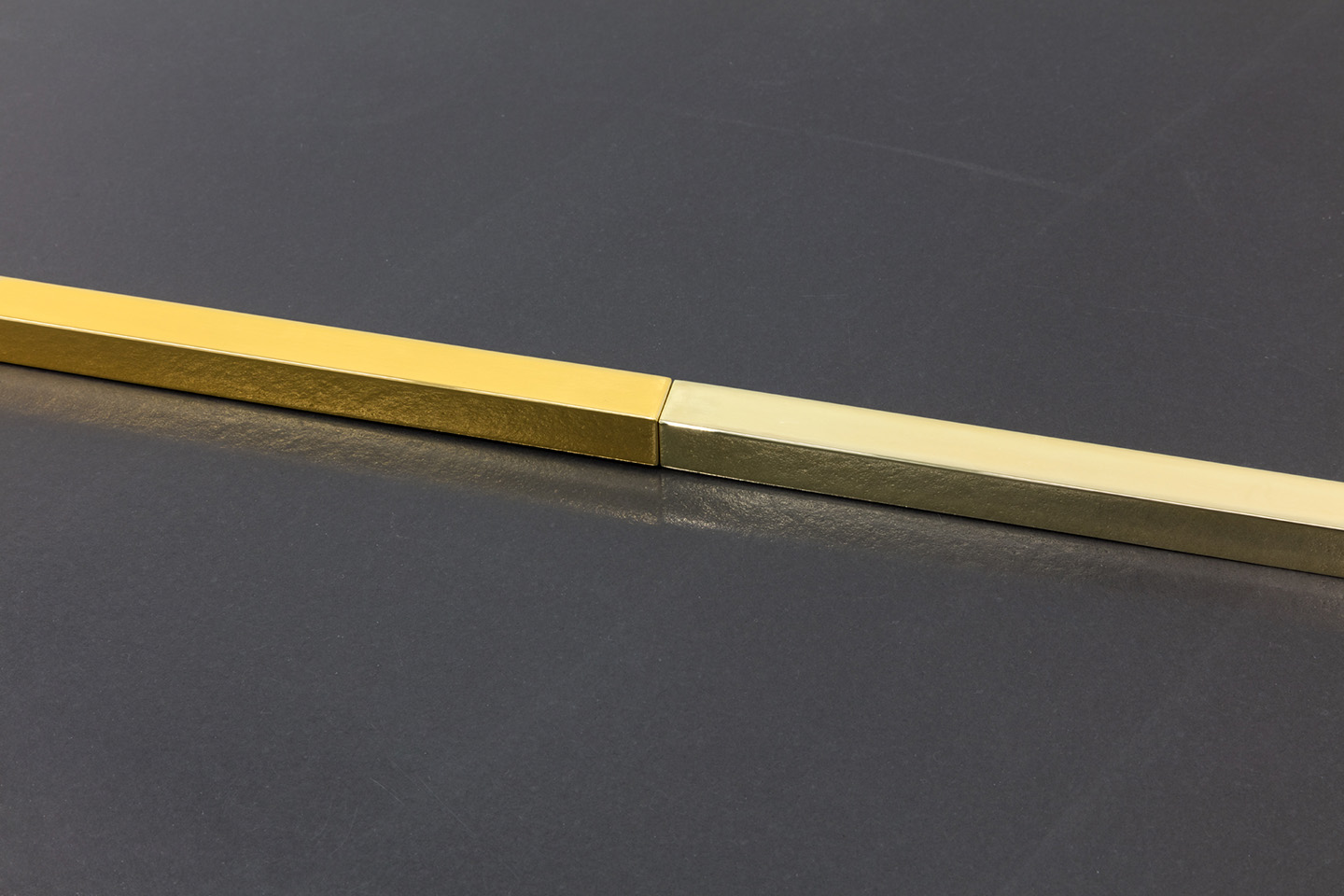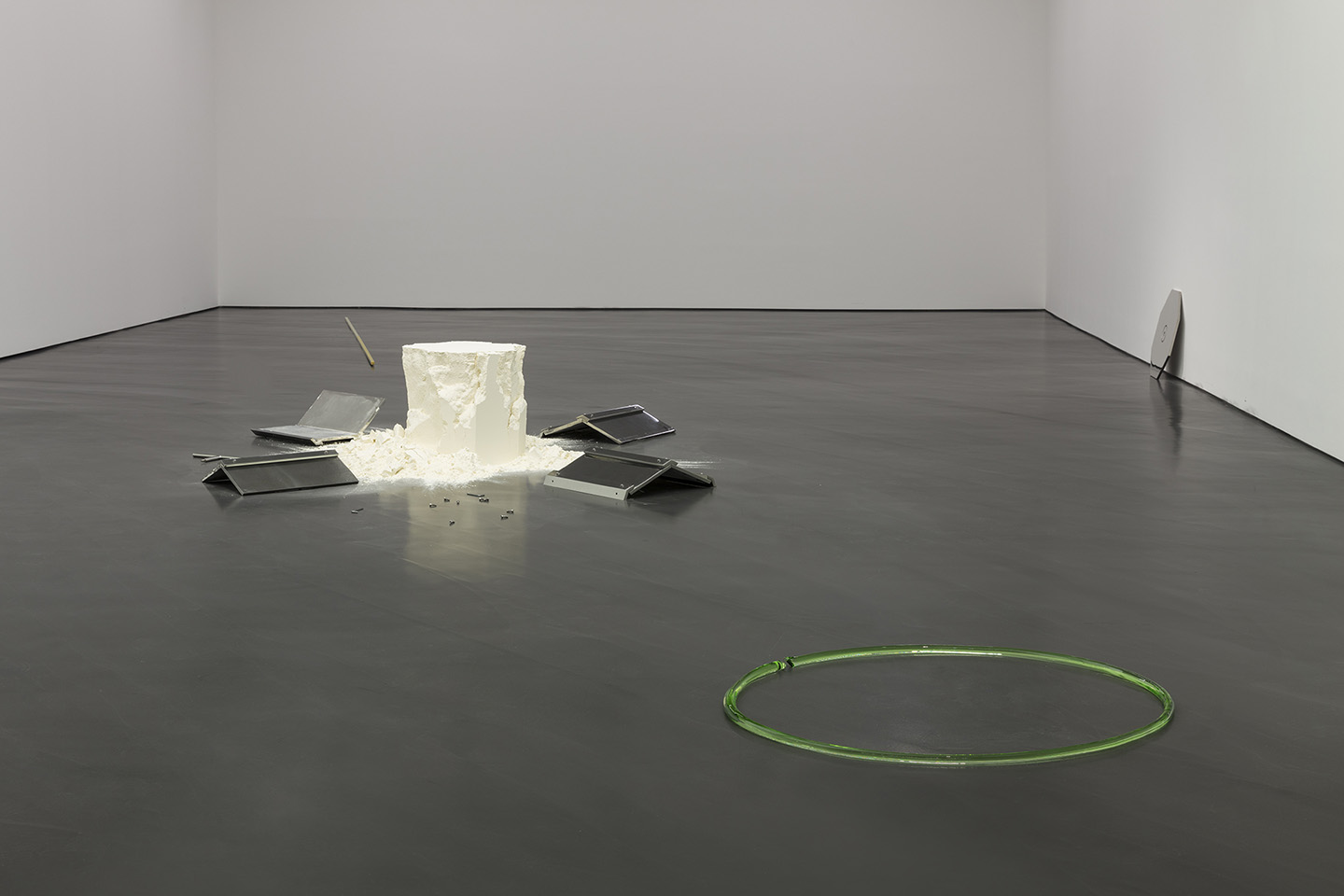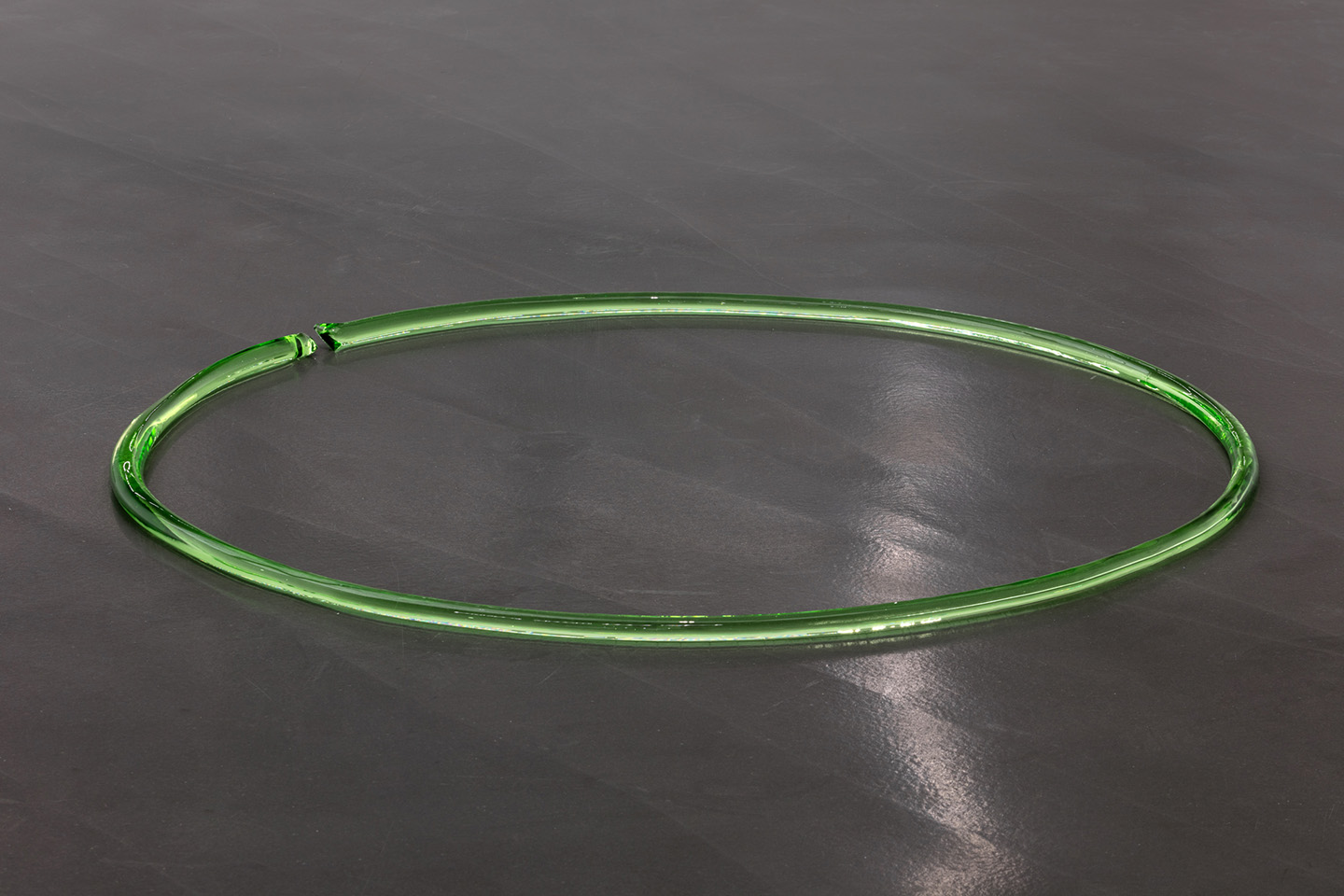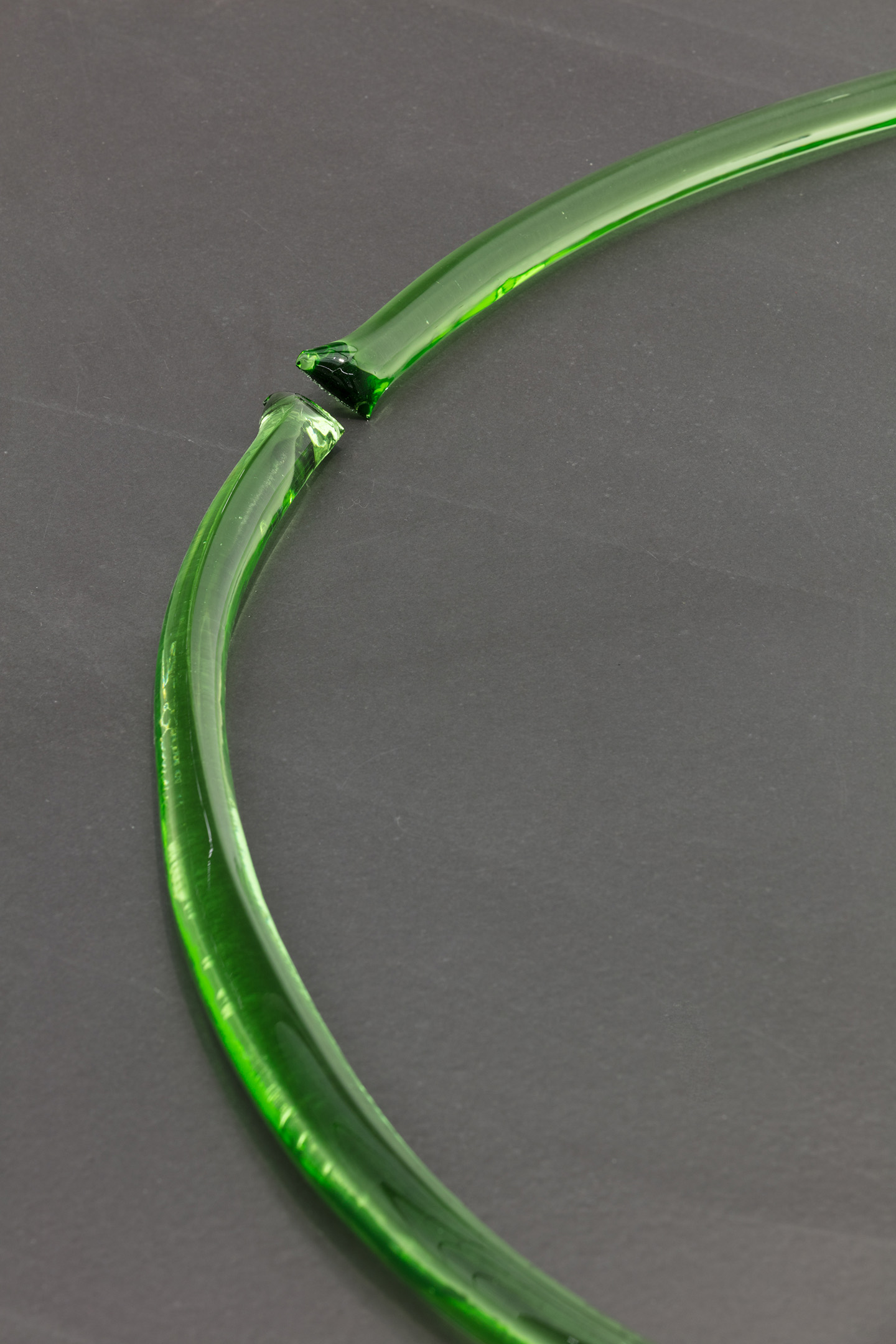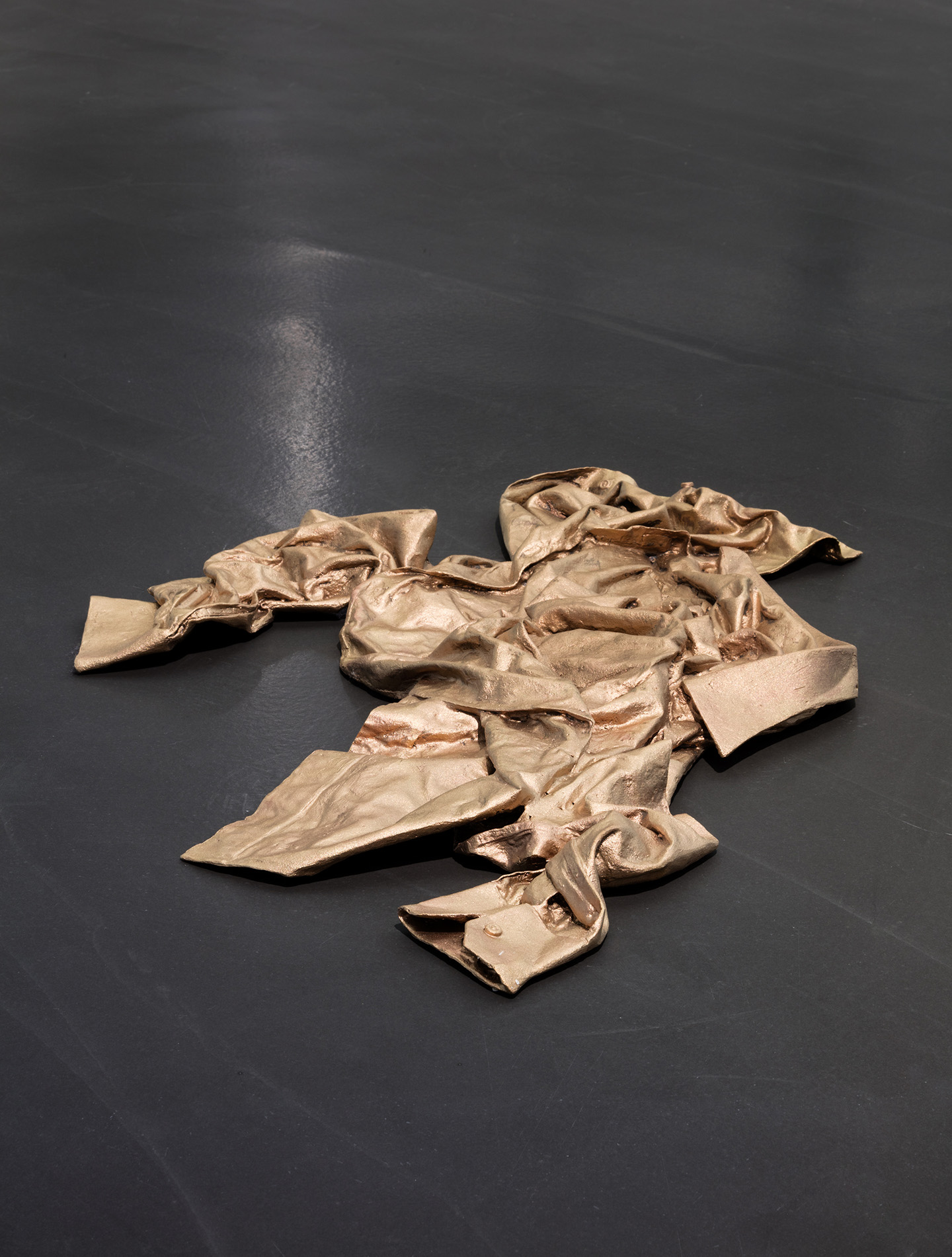 by Kimberly Bradley
At first glance, the artworks in Francesco Gennari's Greetings From the Moon (part of a tripartite show at the Esther Schipper in Berlin) appear to be a dispassionate object-poem.
Three objects are meticulously arranged around a mysterious central sculpture on a preternaturally shiny gray floor, which creates a reflective space that neutralizes distractions and highlights the unknown.
Are these objects, widely variable in form and material, meant as letters, words, symbols or syllables? Considering the title of the show, are they objects in a constellation, the gleaming floor a kind of night sky?
A certain disarming intimacy emerges, despite direct references to the slickness of American Minimalism: Mi sento quasi… / I Almost Feel… (2017) is an ever-so-slightly irregular (and not quite closed, perhaps echoes of the "almost" in the title) hoop of iridescent green Murano glass a little more than a meter in diameter; Sempre io / Always Me (2017), a pair of two two-meter long 2.2 cm square rods, set end to end and gilded in lemon and yellow gold. The placement and shapes are a nod to Judd, Lewitt or other midcentury Minimalists. In Come una farfalla / Like a Butterfly (2018), a crumpled, button-down men's shirt rendered in bronze, Gennari riffs on the piled, unfolded garments that often appear in Arte Povera work from the same era.

Diverging at least formally from these works is a more complex central piece, a new iteration of the installation La degenerazione di Parsifal (Natività) / The Degeneration of Parsifal (Nativity) (2017), which the artist first created in 2005. This version consists of eight knee-high plates of stainless steel, initially held together with clamps and forming an octagon holding a mass of white flour.
In the flour are butterfly eggs that have the potential to hatch new life during the course of the exhibition. Gennari removes the plates, placing them, their lid, clamps and various screws around the flour, and allowing entropy to run its course. The flour immediately begins to crumble and spread, representing decay – but, due to the butterfly eggs, the renewal of life as well.
As I stood in this surprisingly poetic space, I got to thinking about a few things. First, Minimal Art (which is now nearly sixty years old) and its legacy: How do we perceive objects now, in a world dominated by fast-track images? Could it be that reduced forms that once so dynamically activated space in ways few had understood in the movement's heyday are now, in a digital-driven world, about bringing us back to real space, as well as time?
Then the notion of the artist's "constellation"
(and his greetings from a nearby heavenly body): what does it mean to bring such a starry-eyed point of view down to Earth (in this case, the floor—all works are plinthless)? For millennia, one of man's ultimate missions was to touch the heavens, and to later actually set foot upon the Moon in perhaps humanity's last heave of utopian-modernist desire before earthly problems and inequalities brought our collective aspirations crashing back to Earth; our eyes cast downward, no longer upward.
And lastly, how can such formally stringent work feel so personal? Although in bronze, Like a Butterfly (apparently cast from the artist's favorite shirt) looks as if it has been doffed only seconds before, still warm from its wearer. The Murano glass circle appears to be still in a liquid state and pulsatingly alive (research into the artist's oeuvre reveals a proclivity to gin, to the point in which he says he is the spirit; he has also photographed himself holding a bottle of it, hence the color). Even the strict, straight yellow rods and flour-and-metal Parsifal installation evoke emotion, indicating the intuition that the artist has repeatedly affirmed to be his primary creative impulse. Most of Gennari's works result from deep contemplation (but not intellectualization) of his everyday realities, making them self-portraits of sorts.
Here, in only a few powerful gestures, Gennari manages to use his symbolic object-language to address and create tensions within the universe's greatest questions and dichotomies—life and death, entropy and cohesion, intimacy and universality, materiality and metaphysicality. Greetings from the Moon becomes a poignant statement that is, in essence, a macrocosm turned microcosm, a psychological self-portrait of the artist's—but also humanity's—inner and outer worlds.
at Esther Schipper, Berlin
until 14 April 2018