ESSAYS Mousse 44
The Art of (Leadership) George W. Bush
by Alison Gingeras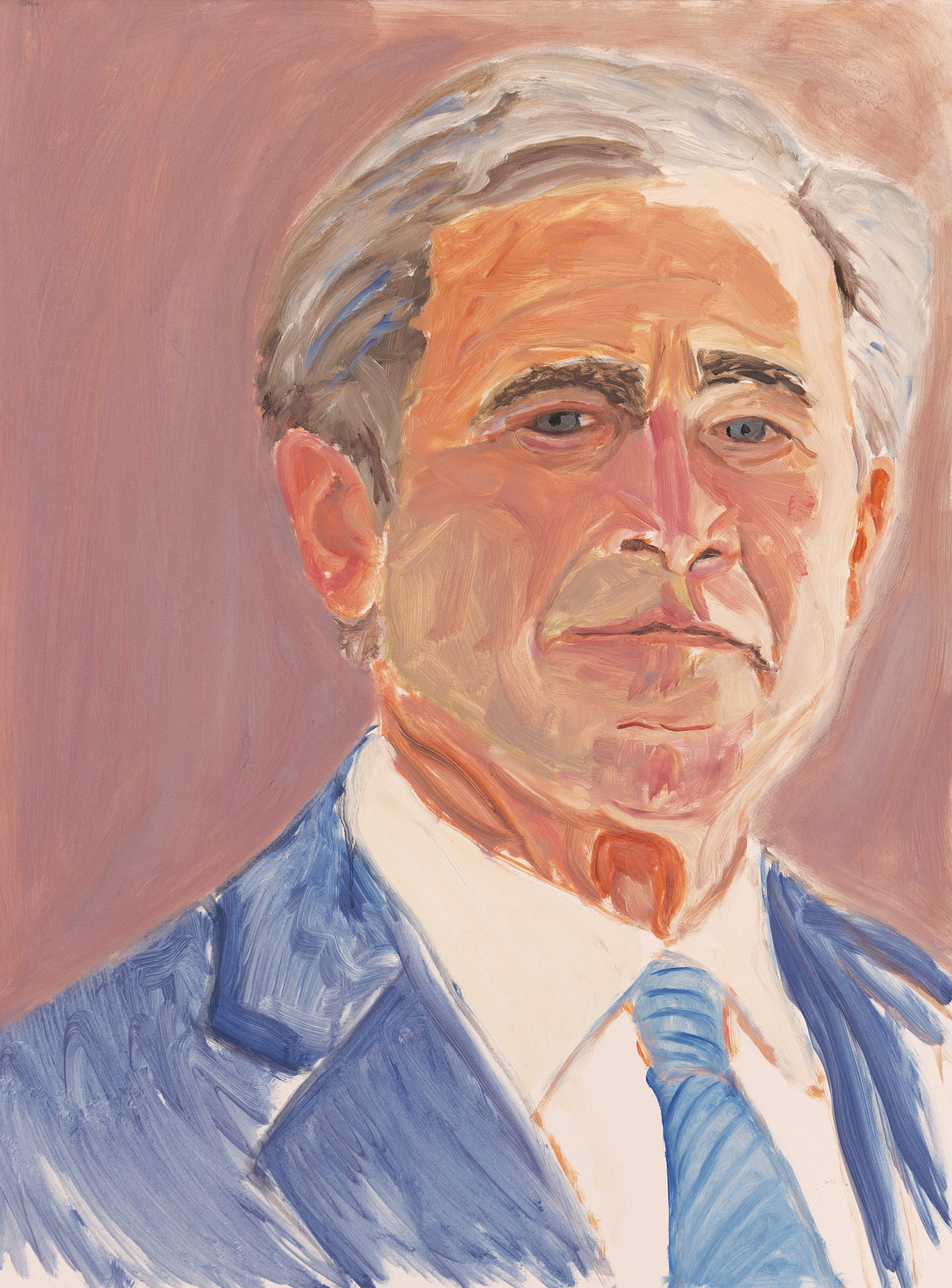 George W. Bush, George H.W. Bush, 2012. Photo: Grant Miller

The exhibition of the painterly production of George W. Bush, recently held at the presidential library/museum, offers food for thought to Alison M. Gingeras about the diplomatic management of power through art on the part of a personality who was harshly criticized during his term of office, gaining a reputation that led to the unflattering slogan "Bush Lied, People Died." In the wake of other world leaders who have dabbled in daubing, such as Winston Churchill and, in particular, Dwight D. Eisenhower, Bush's foray into art seems to have precise aims, from the desire to reveal an introspective side of his character to skillful diplomatic spin. Behind the amateur quality and opacity of his portraits lies something deeper: the unmasking of diplomacy as authentic falsification of human relations.
"YOU DESERVE IT."
On that ill-fated Tuesday afternoon, I scrambled out of my office in Paris, panicked upon hearing that a plane had slammed into the World Trade Center. Stuck in the slow-moving elevator, not yet aware of the dramatic scope of unfolding events in New York, a colleague grumpily muttered something to me about George W. Bush. She deadpanned, "vous le méritez." Back in New York, the first tower collapsed. Like many expatriated New Yorkers, I ran home to my apartment and spent the next days despondent in front of the television. What followed is history. In many ways I had grown immune to such pronouncements—after all, France has long had a bipolar relationship with America. Yet more than a decade after the Freedom Fries backlash, and traumatic wars in Afghanistan and Iraq, those three words stuck with me. "You deserve it."
9/11 continues to haunt many Americans, not the least of whom is former president George W. Bush. More than a mere exhibition of portrait paintings, The Art of Leadership: A President's Personal Diplomacy is an indirect way of addressing his 9/11 stigmata. Bush's official artistic "coming out" at his presidential library is an agile, well-curated attempt to purge the historic stains from Bush's legacy. Without listing his administration's travesties, his reputation for many can be neatly summed up in the bumper sticker: "Bush Lied, People Died." For a president known for his contempt for high culture, it is paradoxical that he would choose fine art as the vehicle for such an enormous exorcism. And while many art world protagonists were quick to dismiss his work as ham-handed, it merits close consideration beyond partisan lines. As a nation that loves redemption stories and happy endings, we are obligated to seriously contend with The Art of Leadership. It is the exhibition we deserve.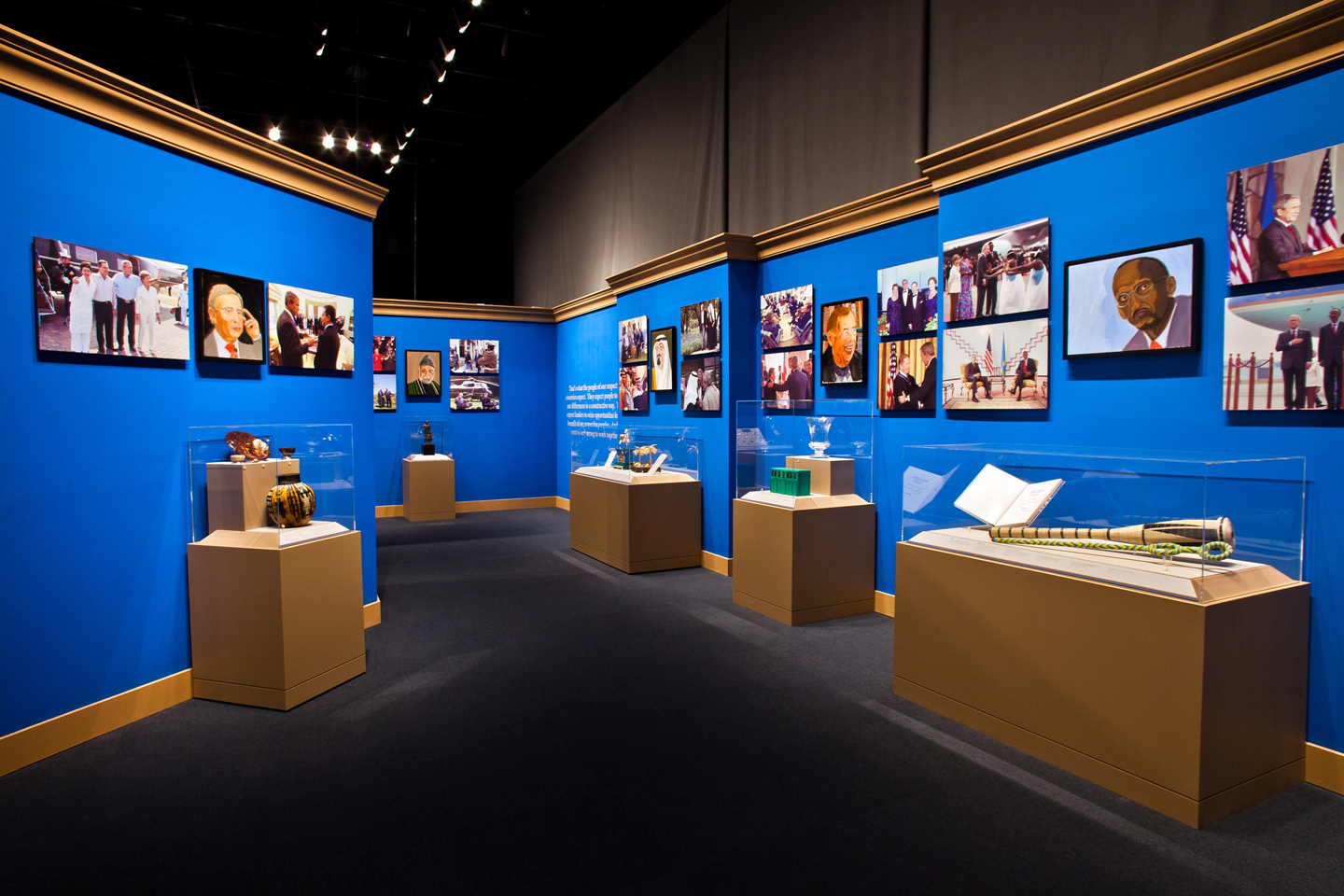 The Art of Leadership: A President's Personal Diplomacy installation view at the George W. Bush Presidential Center, Dallas. Photo: Kim Leeson for the George W. Bush Presidential Center
After leaving office, Bush retired to Dallas in a more reclusive fashion than most former American heads of state. Unlike his predecessors who whether Bill Clinton who regularly works in the lucrative speaking tour circuit or Jimmy Carter who tirelessly devotes himself to various humanitarian causes—Bush largely withdrew from public life. Only since 2012 has Bush found a vocation.?He has been ardently pursuing oil painting. In the run-up to the opening in April (timed to open during the well-visited Dallas Art Fair—the first clue that all curatorial decisions in this outing are strategic, reaching out to the art world culturati as much as to his Fox News/Red State base), Bush made the media rounds to explain his curious new occupation. In various interviews, Bush specifically cited Winston Churchill's memoir Painting as Pastime (1948) as the catalyst for his gravitation to the easel. Considering Churchill's opening analogy—"painting is like fighting a battle"—the appeal to a wartime president is obvious.[1]
Besides Churchill, Bush has drawn from other presidential precedents. Dwight D. Eisenhower's post-presidential painting exhibition The Memorable Eisenhower Years in New York in 1967 provided the Bush presidential library curators with an exact blueprint for the current show. As Dan Graham writes in his essay "Eisenhower and the Hippies," the ex-president's "pleasantly competent daubs" are interlaced with a careful selection of official memorabilia.[2] Flash forward forty-five years to the Bush library display: candid photographs and vitrines of official state gifts bookend almost every portrait on view. Graham's analysis of the motivations for the The Memorable Eisenhower Years can equally be applied to the Bush show. Both are a campaign to humanize controversial former presidents (remember that Ike [3] too left office amidst declining popularity and criticism of his reluctance to support civil rights). But The Art of Leadership has to do extra labor to give depth to the one-dimensional Bush narrative. Its burden is to transform the saga of the "war on terror" with the fairy tale of "personal diplomacy." For both Ike and Bush, these exhibitions are stealthy attempts to right history by inviting the public to access the repressed, private narrative of their otherwise publicly-judged, heavily-scripted lives.
REPRESSION
Repression is the key to the emotional effectiveness of these paintings. Bush recounted how he engaged a professional instructor "to unleash" what he called "the Rembrandt trapped in this body."[4] The show's charm offensive is delivered by publicly unveiling Bush's struggle with an unfamiliar terrain. It is hard not to be seduced by the "earnest" efforts of a serious amateur. In Bush's case, the question of talent is irrelevant. His desire to paint implies that he actually has an inner life. Bush craves a means of self-expression.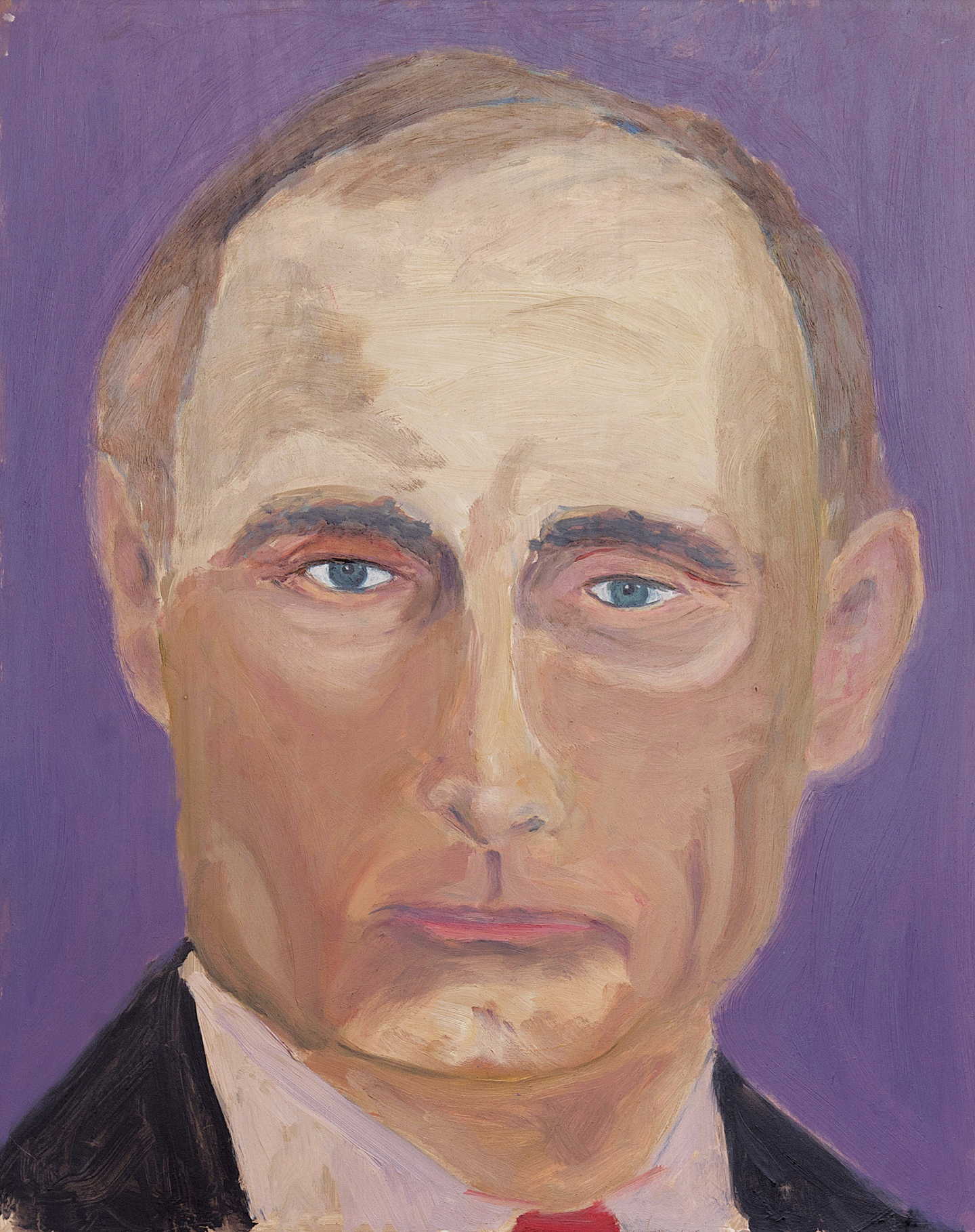 George W. Bush, Putin, 2012. Photo: Grant Miller
Formally Bush's struggle with repression is visible in the beguiling mix of out-sider and insider styles and strategies at work in the canvases on display. From the affectionate portrait of his father, former President George H.W. Bush, to renderings of other dynastic figureheads such as Saudi Arabia's King Abdullah, these paintings are inviting and unpretentious. His most successful works rely on the visible tension between nascent skill and charismatic awkwardness, kitschy craft and academic brushwork. Works such as his wonky yet warmly emotive depiction of Prime Minister Junichiro Koizumi of Japan have the affective impact of an anonymous thrift store painting. It is a painting just so uncanny and weird that you want to possess it. To further the emotional sway, the supporting material that surrounds the art reinforces this kind of aesthetic pulling of the heartstrings. Below the Japanese head of state 's portrait, there is a drawing of Bush as a Shogun warrior that was a gift from Koizumi during an official state visit (the authorship of the Japanese drawing is not credited here). With such moves, the exhibition organizers deftly harness the power of art as rebranding tool—the inclusion of this drawing, as well as other artsy gifts in vitrines adjoining certain paintings—provides a meta-commentary or a self-conscious mise-en-abyme of Bush's new artistic persona as well as a light-hearted wink at Bush's past lives as a cowboy and a warrior.
INSIDER ARTIST
While many pundits were quick to liken Bush to an outsider artist, the opposite could also be argued. There are numerous points of connection with the "insider" language and strategies of contemporary art at play in Bush's work. The methodical, serial nature of Bush's approach to his subject matter—thirty panels, all the same format, all cropped and composed similarly—evoke numerous contemporary artists' approaches to political portraiture, from Gerhard Richter's grisaille 48 Portraits (1971-72) to Otto Muehl's satirical Persönlichkeiten (1967-78). One of the closest resonances between Bush's pantheon of world leaders and the work of a contemporary artist can be found in a series of portraits by the Polish painter Jerzy Zieli?ski. Executed in 1979-80 as a commission by the Polish United Workers' Party, Zieli?ski painted his Helsinki Portraits depicting the political and military rulers who signed the Final Act of the Organization for Security and Co-operation in Europe (or the Helsinki Accords) in 1975. Painted from newspaper photographs, Zieli?ski's twenty-two portraits of figures such as President Gerald Ford and General Secretary Leonid Brezhnev were rendered in a deliberately simplified, if not purposefully de-skilled style. Zieli?ski's work not only addresses the iconography of state power, it also reflects upon the power of the mass media.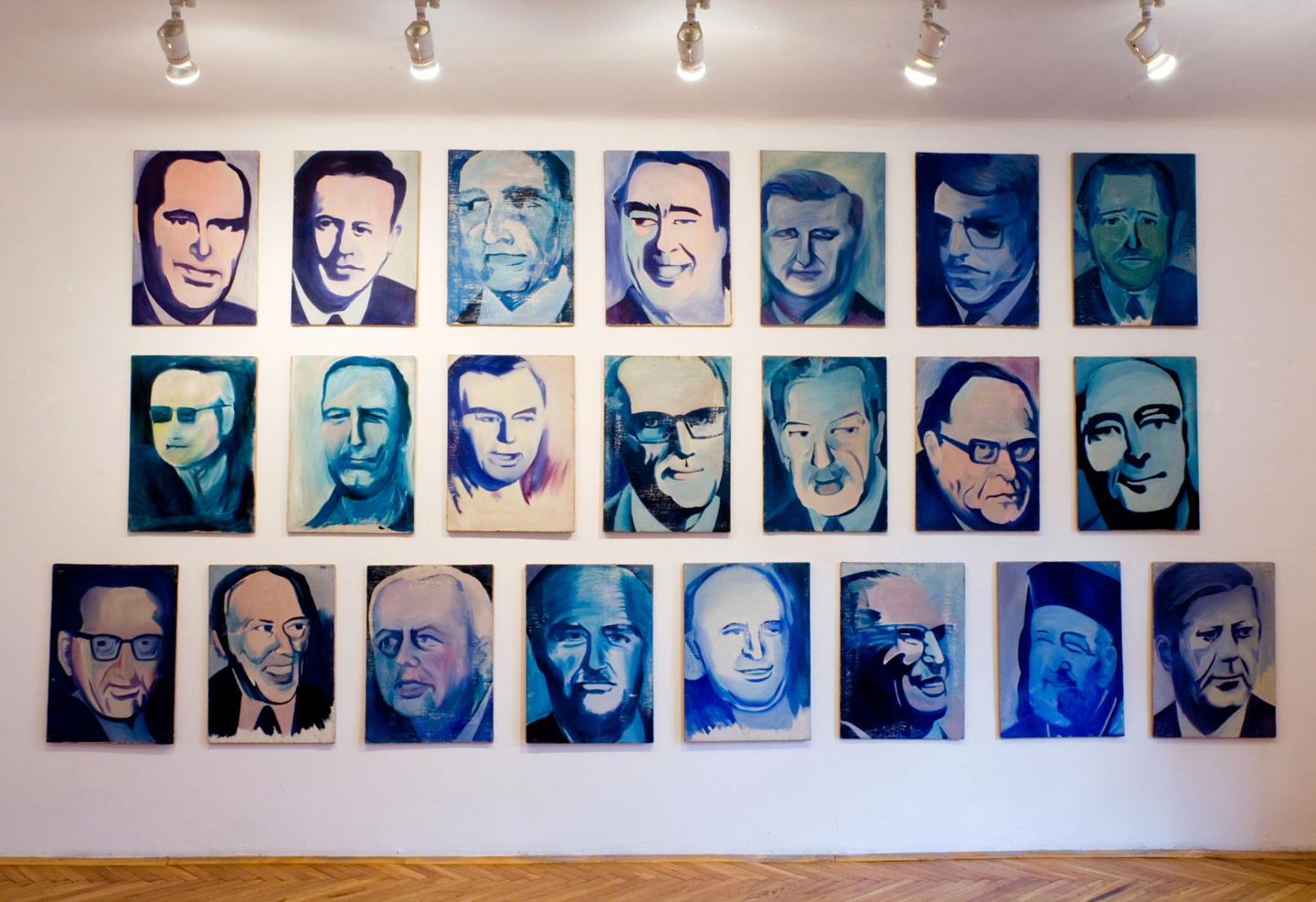 Jurry Zieli?ski, Helsinki series, 1979-1980, <em>Return of Jurry</em> installation view at Galeria Zderzak, Kraków, 2010. Courtesy: Galeria Zderzak, Kraków
As Bush's portraits also rely upon media documents, it is tempting to project similar conceptual intent onto the ex-commander in chief's own practice. Using jpgs taken from Google as his source material—countering the photographic testimonials included in the show verifying Bush's access to his sitters—Bush joins the zeitgeist of contemporary figurative painters, from Elizabeth Peyton to Wilhelm Sasnal, who paint from photographic images. The ferocious Bush-basher Luc Tuymans perhaps provides the best conceptual and formal model for the ex-president's budding art practice. When translating the photographic into the painted image, Tuymans plays upon the supposed factuality of the photograph and the suppressed histories and memories that inform documentary images, but are yet not representable. He describes his painting practice's relationship to history as an "authentic forgery"—a paradoxical coinage that denies artistic originality and suggests the disparity between an actual event and its painted representation. This term fits Bush's own approach to painting like a glove.
As much as this suggestion would nauseate Tuymans—the author of such scathingly critical paintings as W (2008) and The Secretary of State (2005)—Bush takes the concept of "authentic forgery" to new heights. His peculiarly captivating portrait Vladimir Putin—with its intensely rendered eyes and clenched lips (inadvertently echoing Tuymans' portrait made from a press clipping of Condoleezza Rice)—perfectly blends together truth and falsehood. Bush's portrait captures the opaque chasm that lies between the carefully controlled official state portrait (culled from the Internet) and the inability to convey (or active suppression of ) the complex emotions or judgments stirred by his own personal memories of the Russian President. In the wake of Putin's actions vis-à-vis Ukraine, this portrait's murkiness is what makes it so disconcerting. While Bush's Putin might be technically inferior to Tuymans, it packs more critical punch than the self-congratulatory artist's predictably left-leaning judgments. Bush's Putin makes plain that diplomacy itself—with its forced smiles and coded language—is an authentic forgery of human relations.
ART AS THERAPY
Before this official outing, Bush's foray into painting made headlines last year when a hacker broke into a family email account and leaked images of a few works in progress. Two self-portraits of Bush in his bath were an instant viral hit—and were subject to much punditry. Armchair psychologists and art critics alike could not resist projecting a narrative of introspection and purification onto these unexpected pictures. From the New Yorker's esteemed art critic Peter Schjeldahl to Politico, the media ran wild with a chain of associations (waterboarding, Hurricane Katrina, Lady Macbeth's damn spot, bathtub as baptismal font). For me, this painting best conjures a clumsy, G-rated reprisal of Richard Hamilton's iconic male nude in a bathtub He foresaw his pale body (1990)—inspired by James Joyce's Ulysses. Bush's artistic journey, too, is a Homeric Odyssey.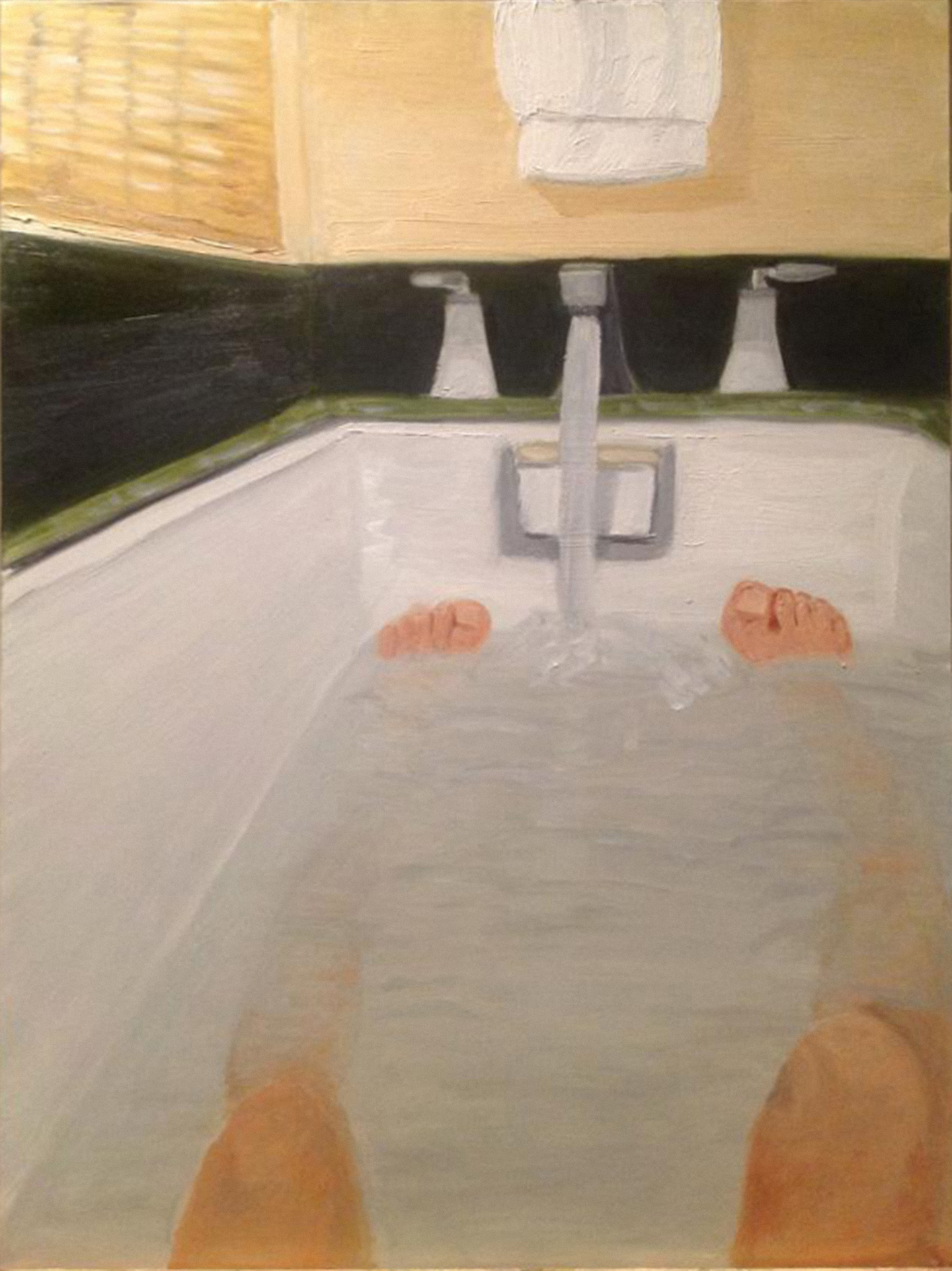 Self-portrait of George W. Bush in the bath tub
Leaving aside whether Bush's new passion for painting is an exercise in self-help or a cunning PR move to rehabilitate his legacy, his exhibition can be a group therapy session for all Americans. In the new book Art as Therapy philosophers Alain de Botton and John Armstrong argue that looking at art can help us with our own dilemmas. In their opening salvo, they write, "art is a therapeutic medium that can help guide, exhort and console its viewers, enabling them to become better versions of themselves."[5] If this sounds too cliché, De Botton further explains in a recent interview that "we are trying to stretch that word 'therapeutic' to involve not just some Americanized vision of perfect happiness […] but to encompass what Aristotle thought art was for, which is to find an echo of our deepest and most complex sorrows in the work of art."[6] Herein lies some real cathartic potential. When seen through this Aristotelian lens, even George W. Bush's art—a kind of shock therapy—will help us all.
[1] Winston S. Churchill, "Thoughts and Adventures: Churchill Reflects on Spies, Cartoons, Flying and the Future", Painting as a Pastime, ed. James W. Muller (Wilmington, Delaware: Intercollegiate Studies Institute, 2009), p. 323.
[2] Dan Graham, "Rock My Religion: Writings and Art Projects 1965-1990", Eisenhower and the Hippies, ed. Brian Wallis, Cambridge, MA: MIT Press, 1993, pp. 6-11.
[3] Ike was Eisenhower's nickname. His famous campaign button read "I like Ike."
[4] "Well, there's a Rembrandt trapped in this body," Bush recalls telling his instructor. "Your job to unleash him." http://blog.foreignpolicy.com/posts/2014/04/04/george_w_bush_has_spent_his_ retirement_painting_portraits_of_world_leaders
[5] Alain de Botton and John Armstrong, Art as Therapy, (London and New York: Phaidon, 2013) p. 5.
[6] http://www.theguardian.com/artanddesign/video/2014/apr/25/alain-de-botton-art-is-therapy-rijksmuseum-amsterdam-video-guide
Originally published on Mousse 44 (Summer 2014)