CONVERSATIONS
Ghost Heritage: Public Movement
Close
1
2
3
4
5
6
7
8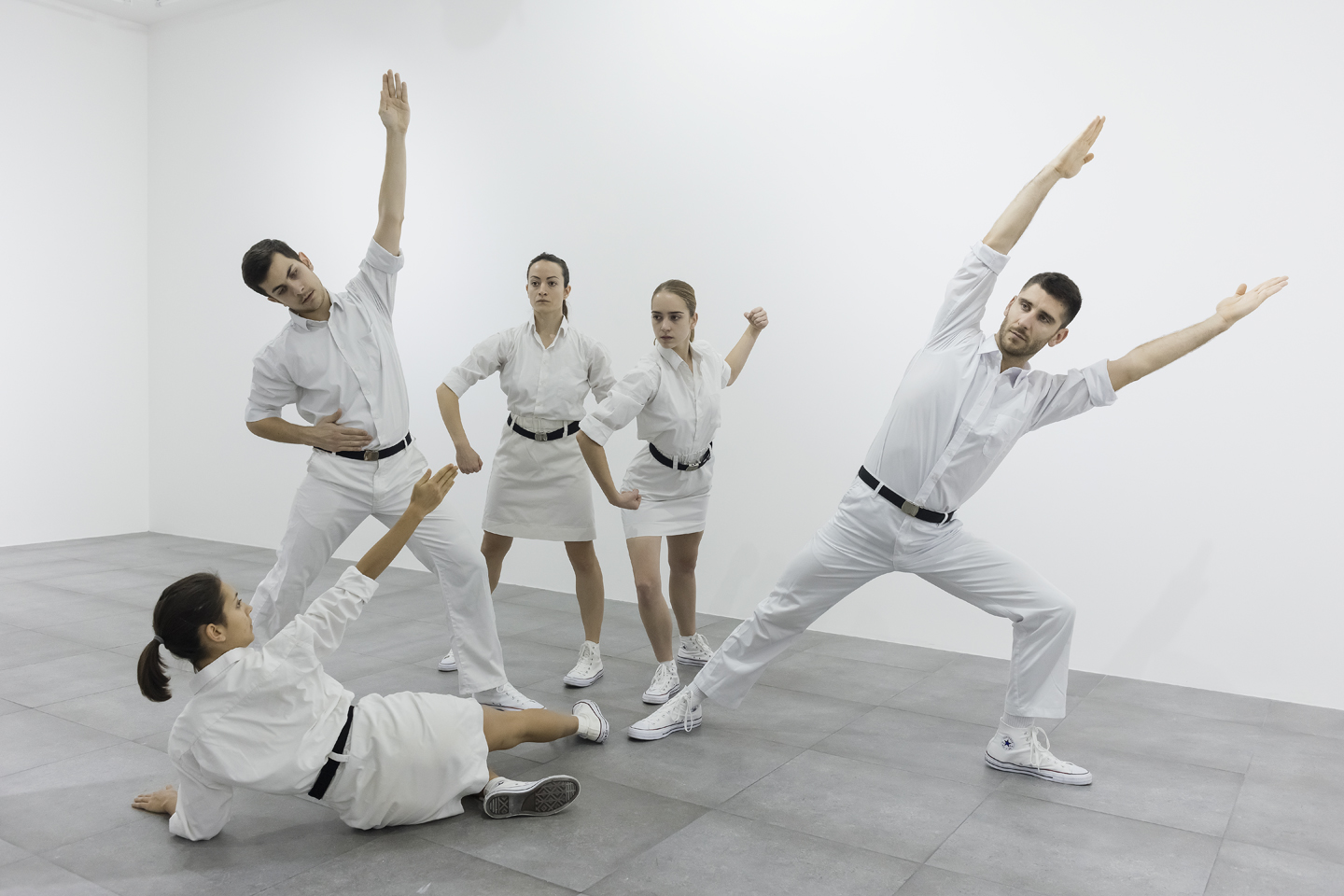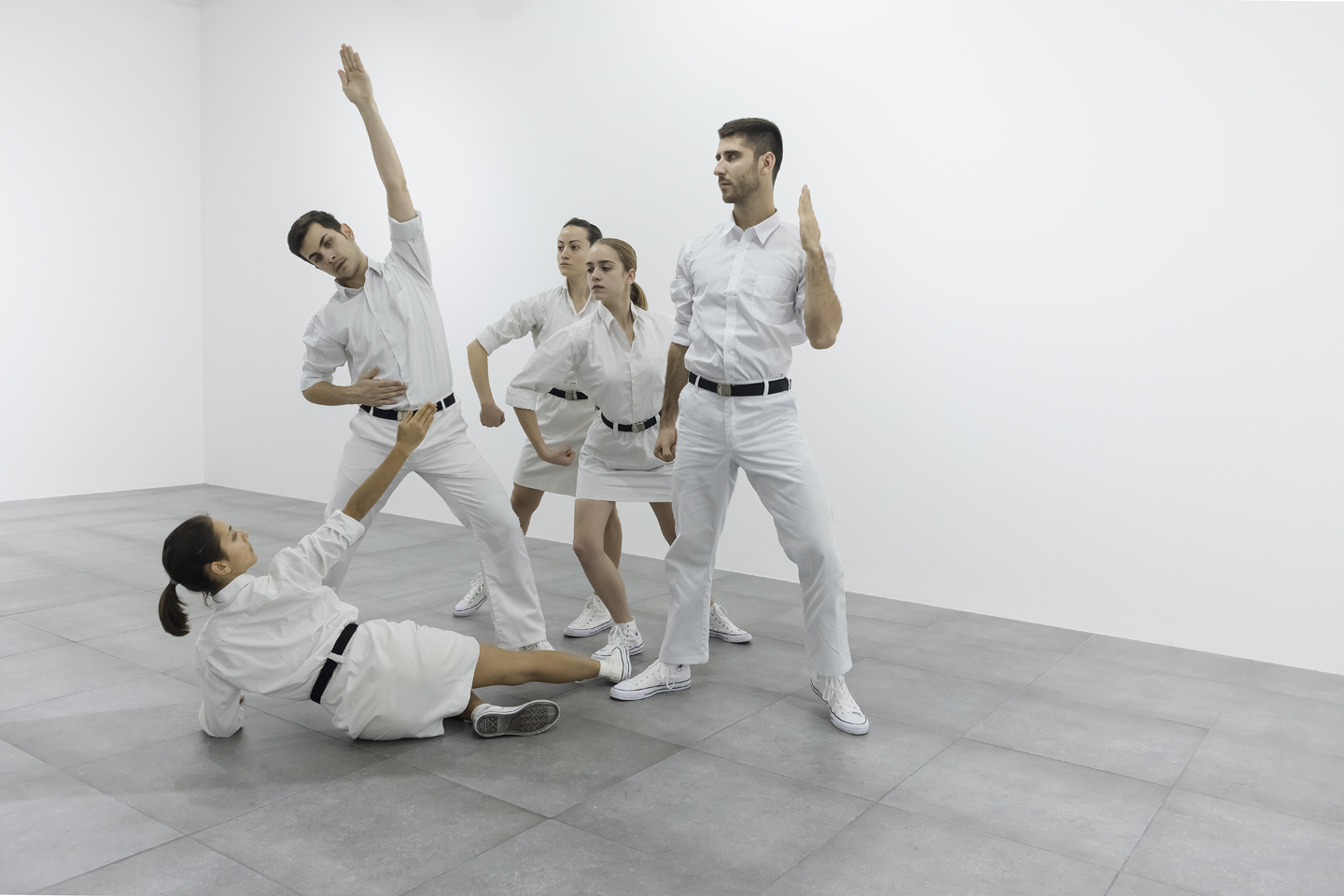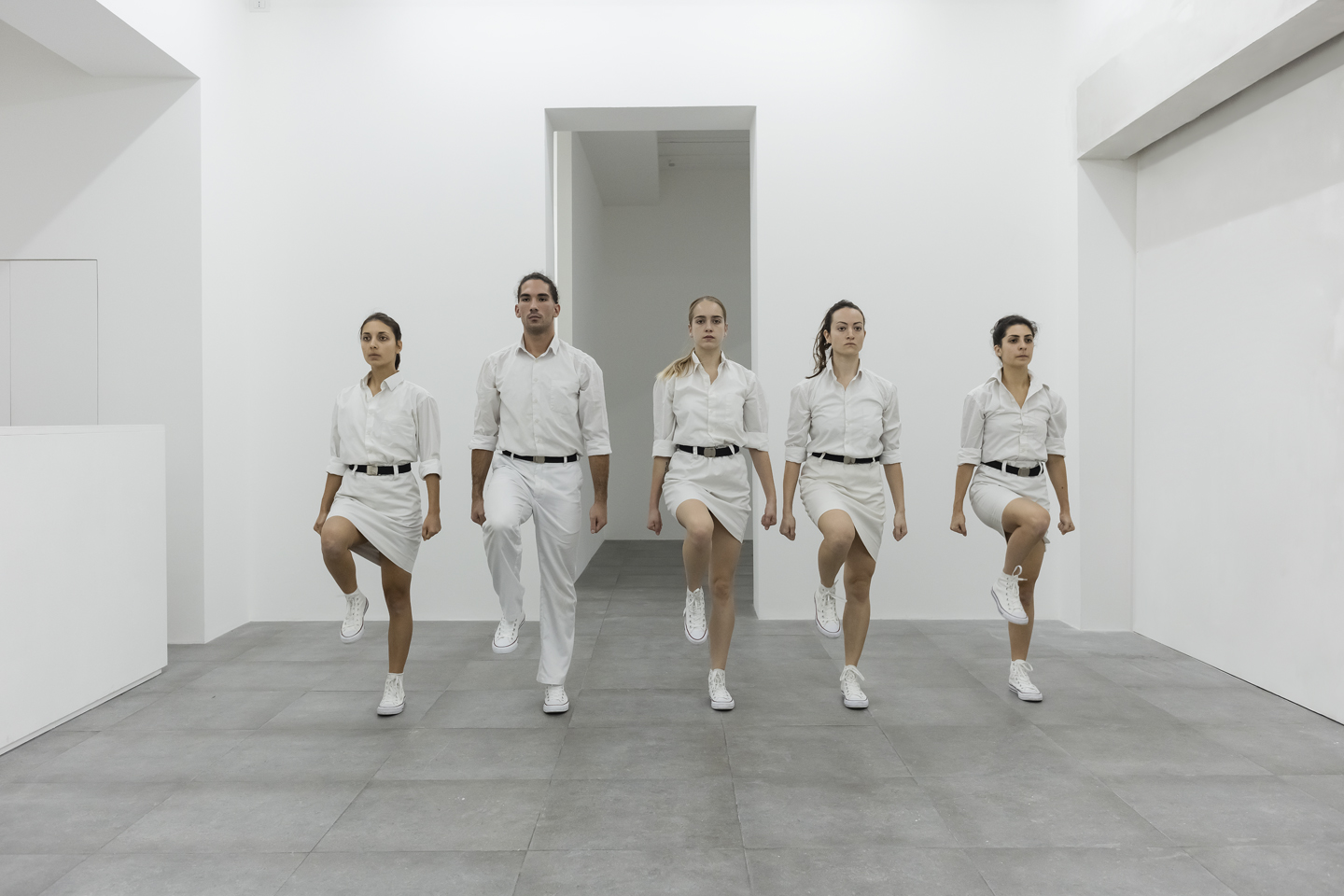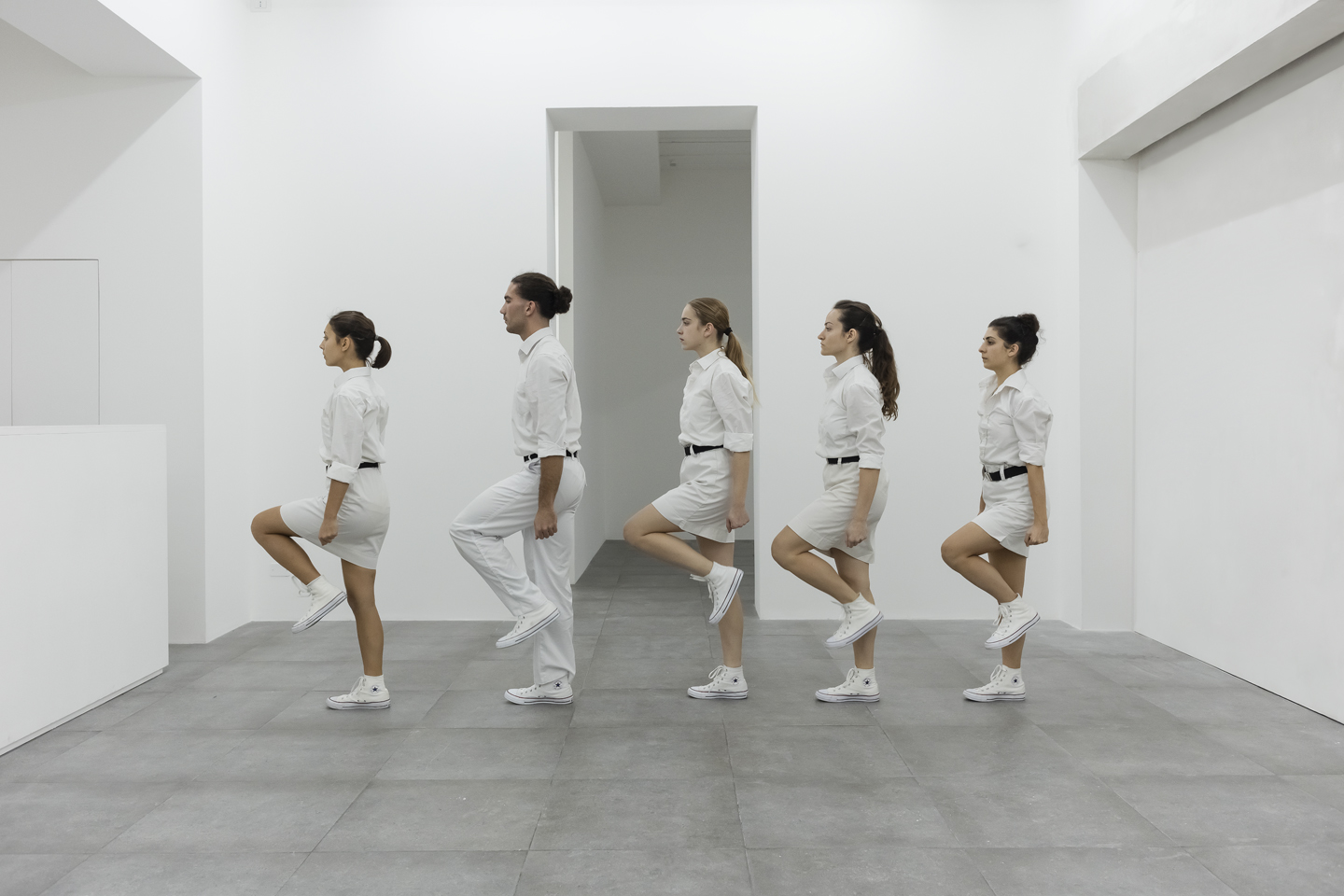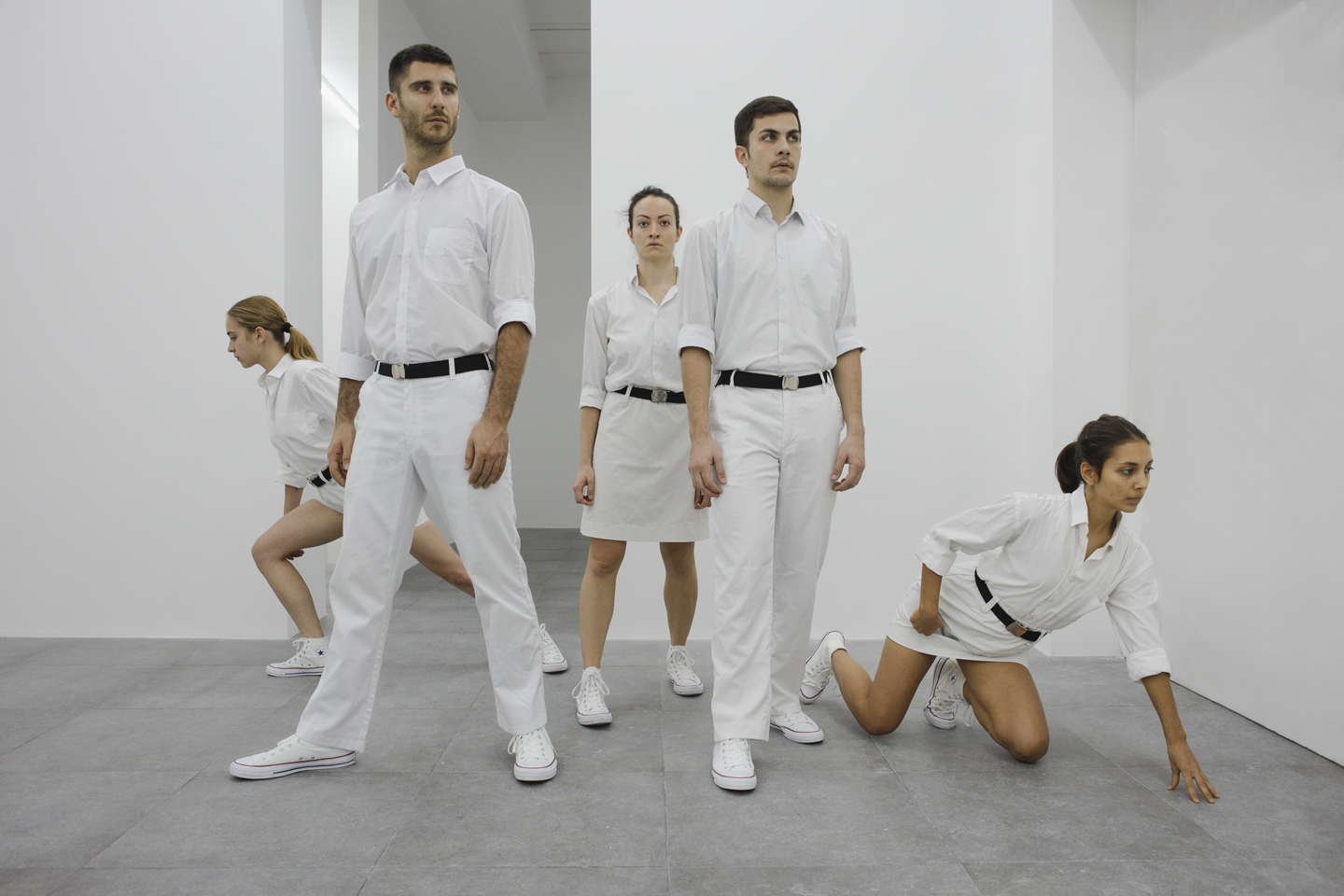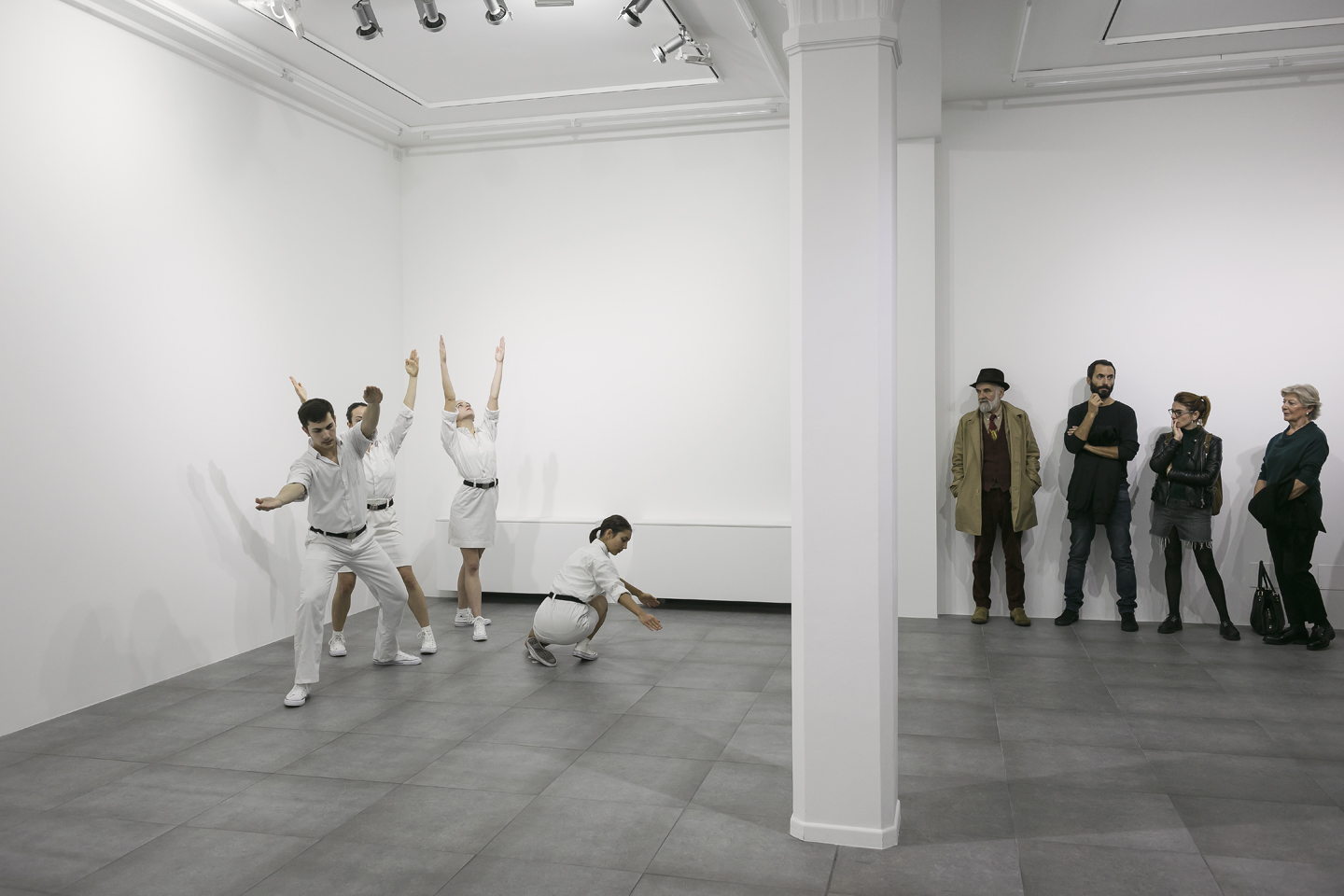 Dana Yahalomi interviewed by Giovanna Manzotti
Slow-motion gestures and still positions of the performers configure sculptures and wall paintings realized around the fascist era. A choir of stomps and claps gives rhythmic motion to the empty space. A solid choreography textualizes fragments of lost Italian artworks and embodies them through movements and voices. Suddenly, a wall collapses, and a group of six performers silently leave the room. In this conversation, Dana Yahalomi, director of the performance and research group Public Movement, discusses the ideas, politics, and cultural elements behind Temporary Orders, the first exhibition conceived by the group to be hosted at Vistamare Studio, Milan, and the influences behind a practice that, since the very beginning, has treated "art within the production of ideology, and culture as it pertains to national identity." 
GIOVANNA MANZOTTI: Temporary Orders is the first exhibition by Public Movement in Italy, hosted in a private space. The show features four new performances. Can you introduce our readers to the genesis and the research behind these pieces?
DANA YAHALOMI: In Temporary Orders, the gallery is vacant and naked. Five local performers activate the main choreography and a Public Movement agent, Hagar Ophir, performs Debriefing Session: Vistamarestudio. Together, they address questions about the role of art in narratives of cultural heritage. This work builds on a shift in Public Movement practice that began in 2012 through our conversations with Alhena Katsof, a curator and writer based in New York. Drawing on her interest in exhibitions and how they operate as a disciplinary sphere, we began a long-term collaboration that can summarily be described as a meeting of the curatorial and the choreographic.
We conducted research in Italy, looking specifically for modern paintings which haven't been seen since World War II. New works in the performance cycle include, Choreography for a Collection  includes a textual fragment about artworks made by Italian artists between 1909 and 1945 that were lost, looted, or destroyed during World War II and a choreography that embodies artworks we found during our search. Off the Horse, a slow-motion choreography based on sculptures and wall paintings created under Mussolini's guidance, including the manly figures decorating the Foro Italico.
The exhibition connects these local events with broader phenomena. The Choir is a musical composition based on honor guard steps from countries including Taiwan, Turkey, Russia, Pakistan, Serbia, Sweden, and the United States. Public Movement worked with the musician Yoni Silver, who composed a score that combines the various steps into a rhythmical melody—it is a choir of feet. Finally, Falling Wall, is a moment of a synchronized collapse. This action was first performed in National Collection (2015) at the Tel Aviv Museum of Art and also in Kadist, San Francisco.
Temporary Orders was another turning point in the life of Public Movement. For twelve years, we placed ourselves outside of the art market so when Lodovica Busiri Vici and Benedetta Spalletti contacted us, it came as a surprise. Through our discussion, I thought about what Public Movement might do in a commercial setting. I was impressed by their vision and willingness to support a research-based exhibition (a long, costly endeavor). It was hard to resist the experiment.
GM: Six performers "tell" a story about Italian art made between 1909 and 1945, a heritage that was lost, destroyed, or disappeared during World War II—Giacomo Balla, Giuseppe Graziosi, Giorgio Morandi, et cetera. To which degree—and with which means—do you believe that the function of their art has been obfuscated within a "nonpolitical" art history?
DY: The rationale of the exhibition is that there are always ties between art history and politics. The two are intertwined and affect one another.
Rodolfo Siviero was an Italian secret Agent in Berlin, working under the guise of an art historian. At the end of the 1930's while collecting information about the Nazis he began to hear about paintings stolen from Italy. According to Siviero's list, during World War II, 1,558 artworks were lost: destroyed in the bombing, looted by German troops from private villas or churches in Italy. Some were defined in Germany as degenerate art and purposely destroyed while many others haven't been seen since 1945.
We searched for artworks made between 1909, the year of the first Futurist Manifesto, and the end of World War II because they mark a time of ideological turn, national outburst, and war. We are fascinated by the way art interacts, portrays, serves, resists, or is consumed in those political moments. In the end, we found images of nineteen artworks from the period (some are on Siviero's list), and they are all in Choreography for a Collection. These paintings represent something of a lost moment, and the gap constitutes past and present social circumstance.
GM: The gestures of the performers—and their voices—activate rhythmic and visual codes that translate the original lost works of art. The double absence, both of painting on the white cube and of the original works from the "canon"—because they were looted, lost, or destroyed—feels elevated through the performing bodies to a new form of materiality. What is the most interesting part of this translation process?
DY: The absent and the void has interested Public Movement for several years now. We are interested in collections and what they might show us about power. What was destroyed or lost, and how these losses impact not only history but [also] our contemporary political condition. In Italy, following Siviero's list, the presence of absent artworks is especially strong, having been incorporated into the work of the Carabinieri cultural and heritage department. We wanted to exercise the absences by translating the list into a choreography, into an ephemeral mode, that lingers in the memory of the public that experienced it. This ghostly choreography activates questions around the period in which the artworks initially disappeared, the politics that their disappearance served or hasn't served, and the philosophical meaning of the absent paintings, which shed light on the political trajectory of a nation. The choreography was inspired by Truffaut's film Fahrenheit 451, in which the act of resistance to a repressive regime is one's own memory. We created a corporeal presence for the paintings. Without owning them or claiming their return, we are activating them in the gallery through a bodily memory. And thus, we also regard the gallery as a player in the writing of history, and this tends to shift public experience of the space, removing its supposed neutrality.
GM: How are the choreographic monuments/movements related to the specific architecture and the floor plans of the gallery?
DY: Public Movement practice is always context specific. In this case, our research was focused on galleries and the historic role they played in the preservation (or unfortunate destruction) of artworks. Take, for example, Il Milione gallery, an important commercial gallery that was totally destroyed in the bombing of 1943. Many artworks made between 1909 and 1945 moved through this gallery. History is documented in galleries' checklists, guest lists, and exhibition catalogues. They [galleries] are like a port for data. In our exhibition, the intimate transfer of information is performed while moving from the basement into the main space in a secret, discursive exchange. The physical—but ephemeral—composition of the lost paintings is performed in the main space, so that the paintings "travel" again through the gallery. We created a thirty-minute dramaturgy which completes a full circle: at the beginning, the performers are in the gallery as the public enters, and at the end, the performers exit the gallery, leaving the small audience inside and alone, surrounded only by its empty walls.
GM: Public Movement's research-based practices arise at the intersections between nation, institution, power, and aesthetic production. Could you please expand on how the group started? And what are the major changes in focus it has had in its more than ten-year history?
DY: When Public Movement was founded in 2006, we were experimenting with movement in outdoor public spaces, like monuments and squares. Using our bodies, we learned forms of protest, explored forms of civil pilgrimage, and reenacted choreographic analysis of police operations, et cetera. This became part of our movement vocabulary, infrastructure, terminology, and corporeal expertise. Between 2011 and 2015, we developed a methodology for Public Movement actions within museums, regarding them as an arena where national identities are constructed. It included Debriefing Session, a scripted one-on-one performance in which a member of the public meets a Public Movement Agent who maps out complex relations between cultural production, philanthropy, archive/collections, and statecraft. During the debriefing, the agent recounts a number of live political dilemmas. This performance methodology has become an anchor whenever we enter the gallery space and is part of our exhibition in Vistamarestudio.