Mousse 71 TIDBITS
Frosting Middle Age: Gina Fischli
Close
1
2
3
4
5
6
7
8
9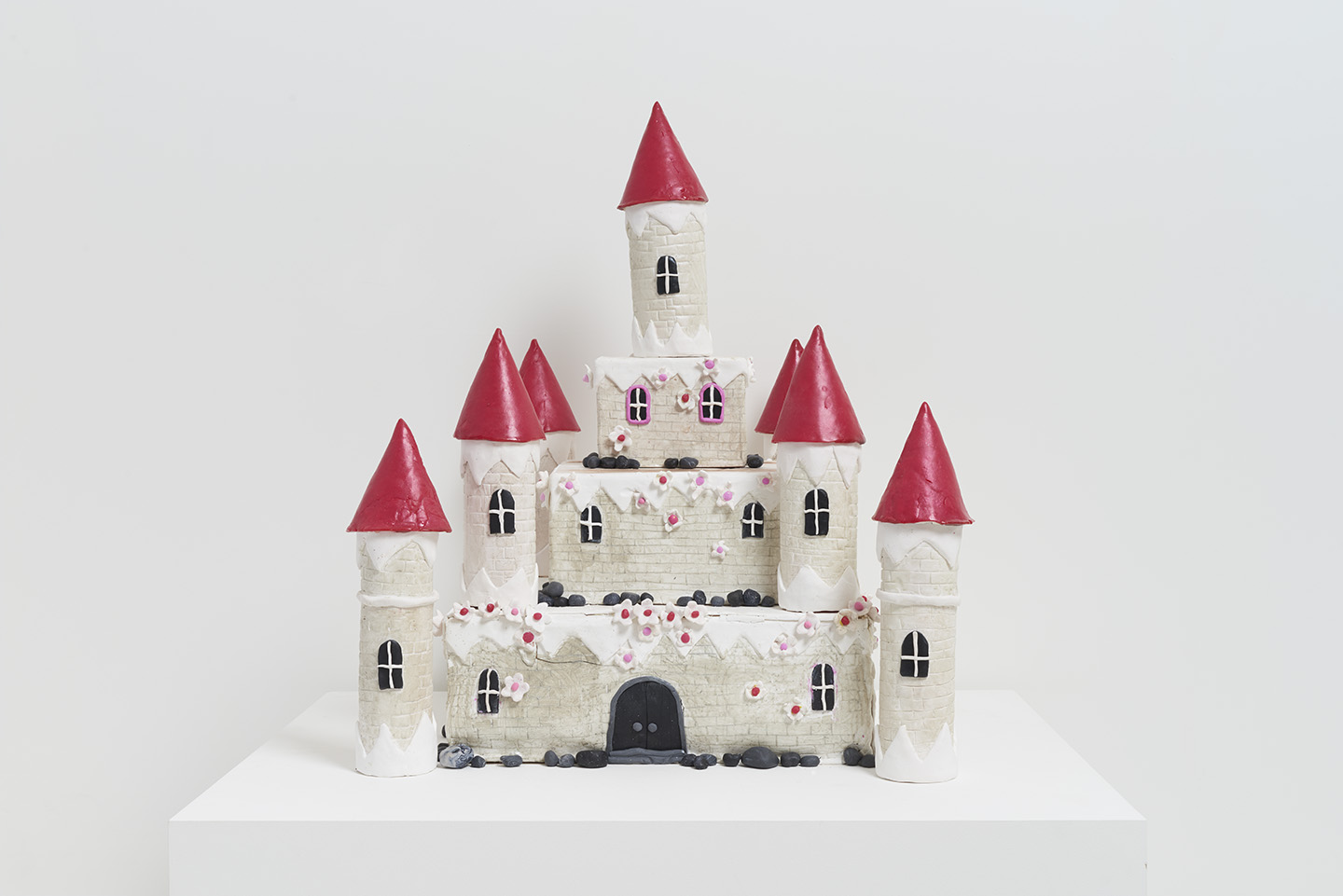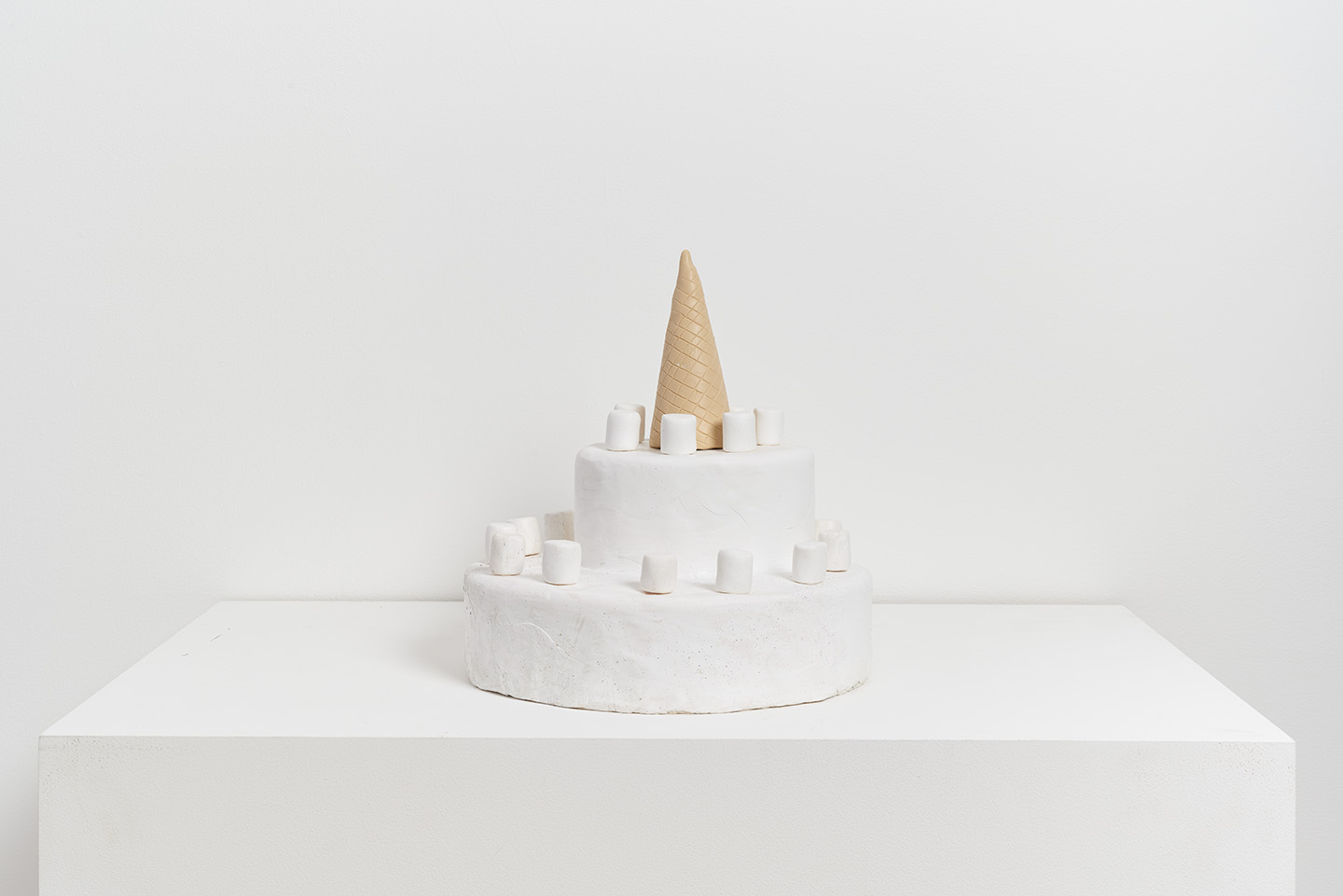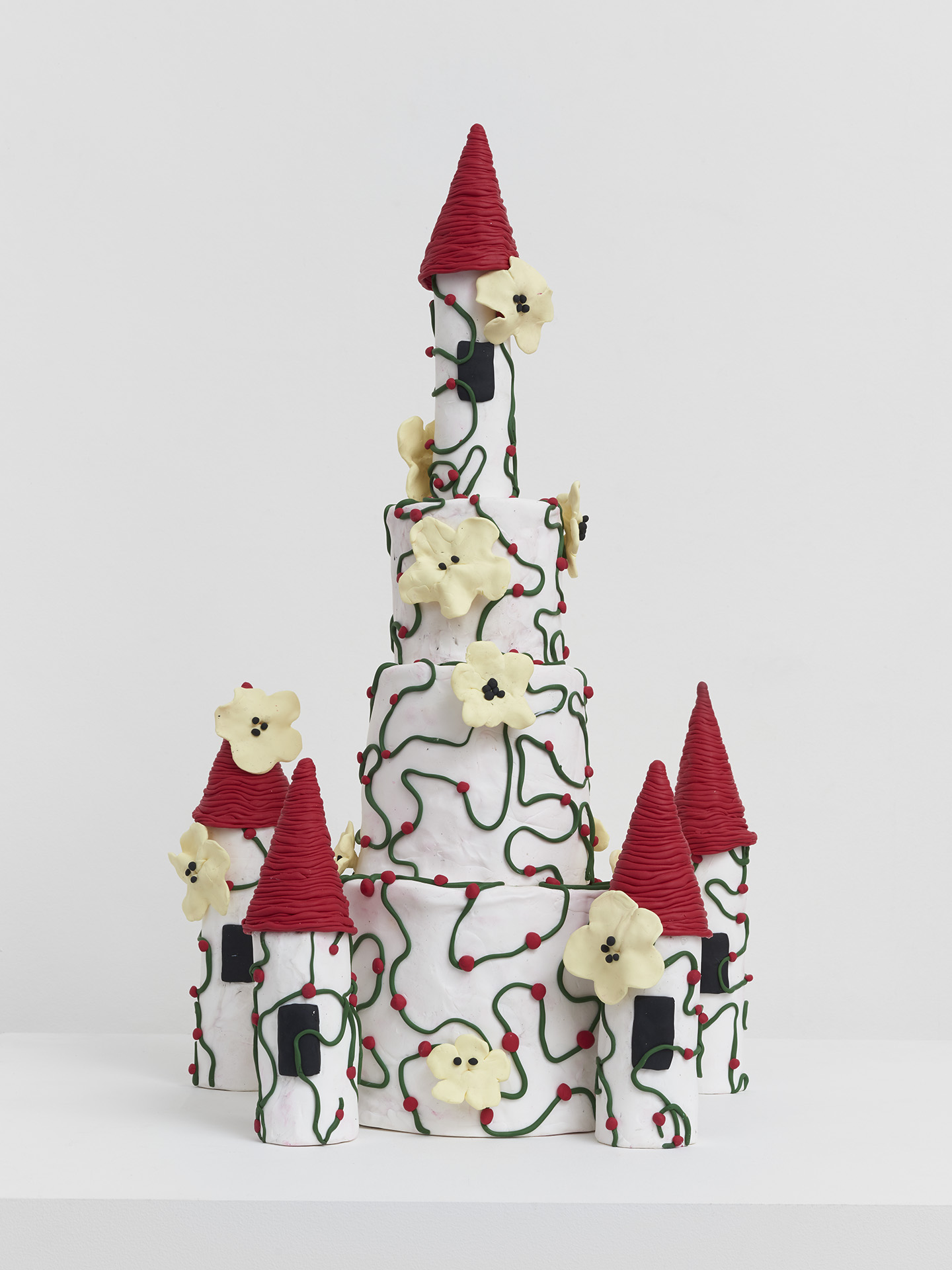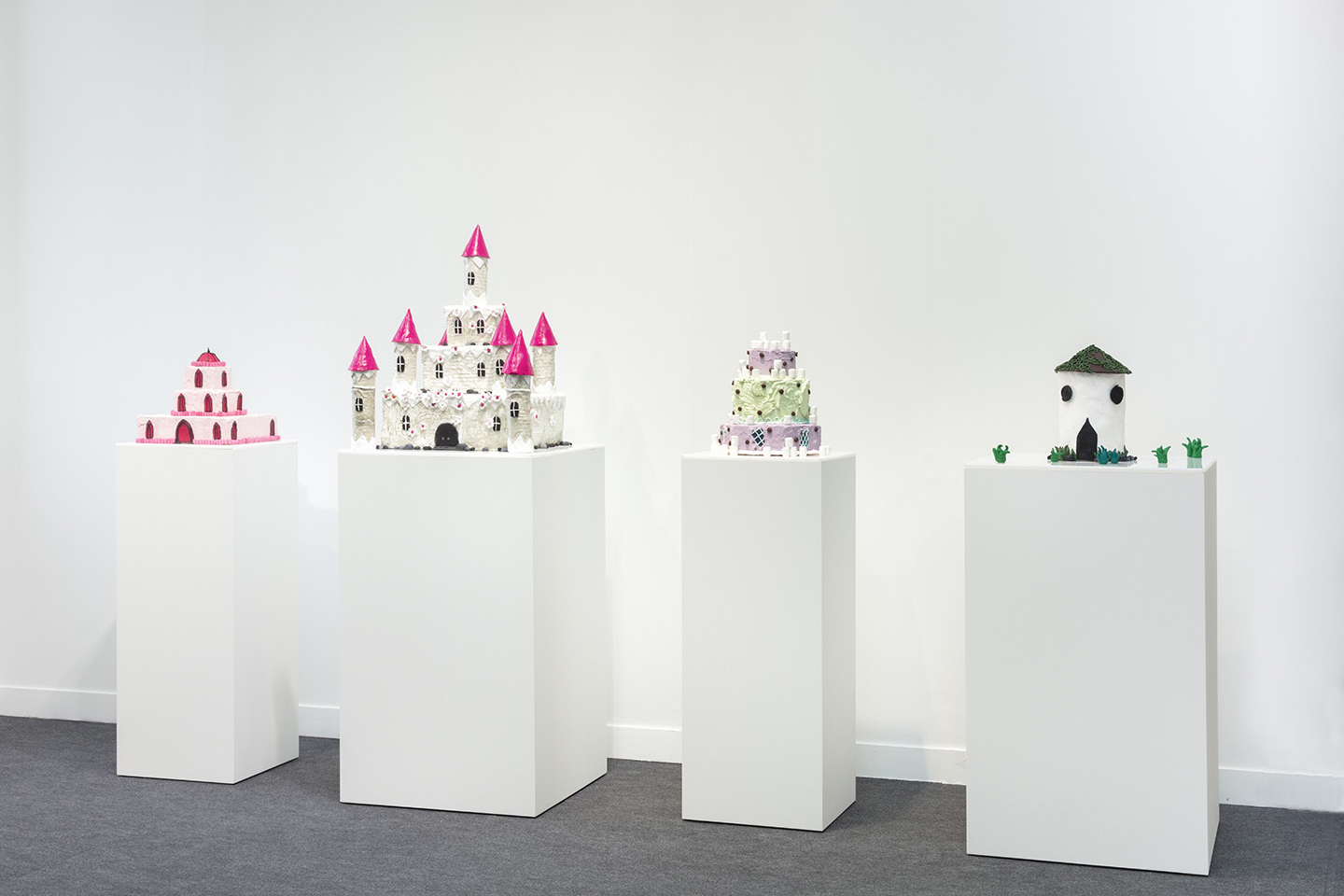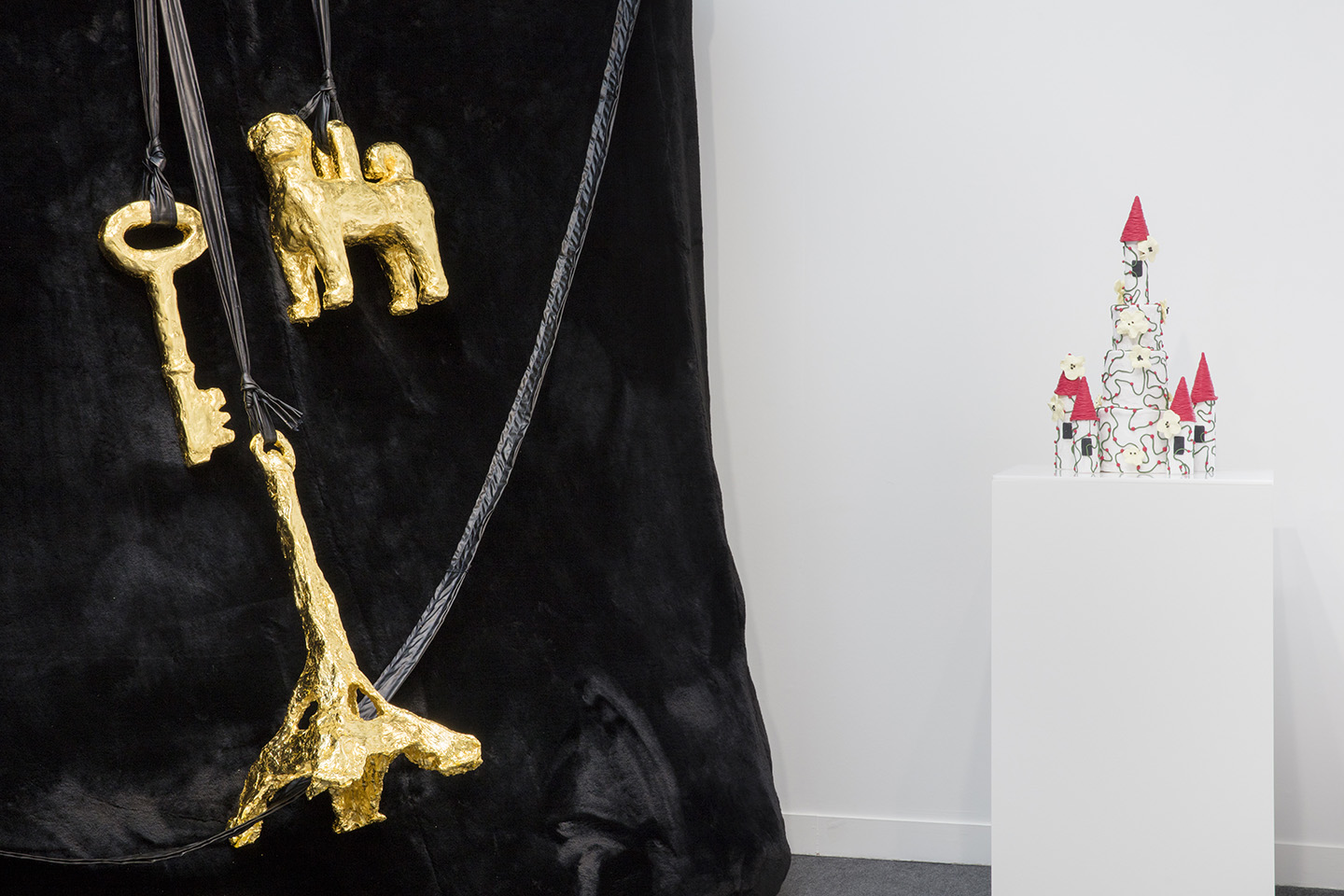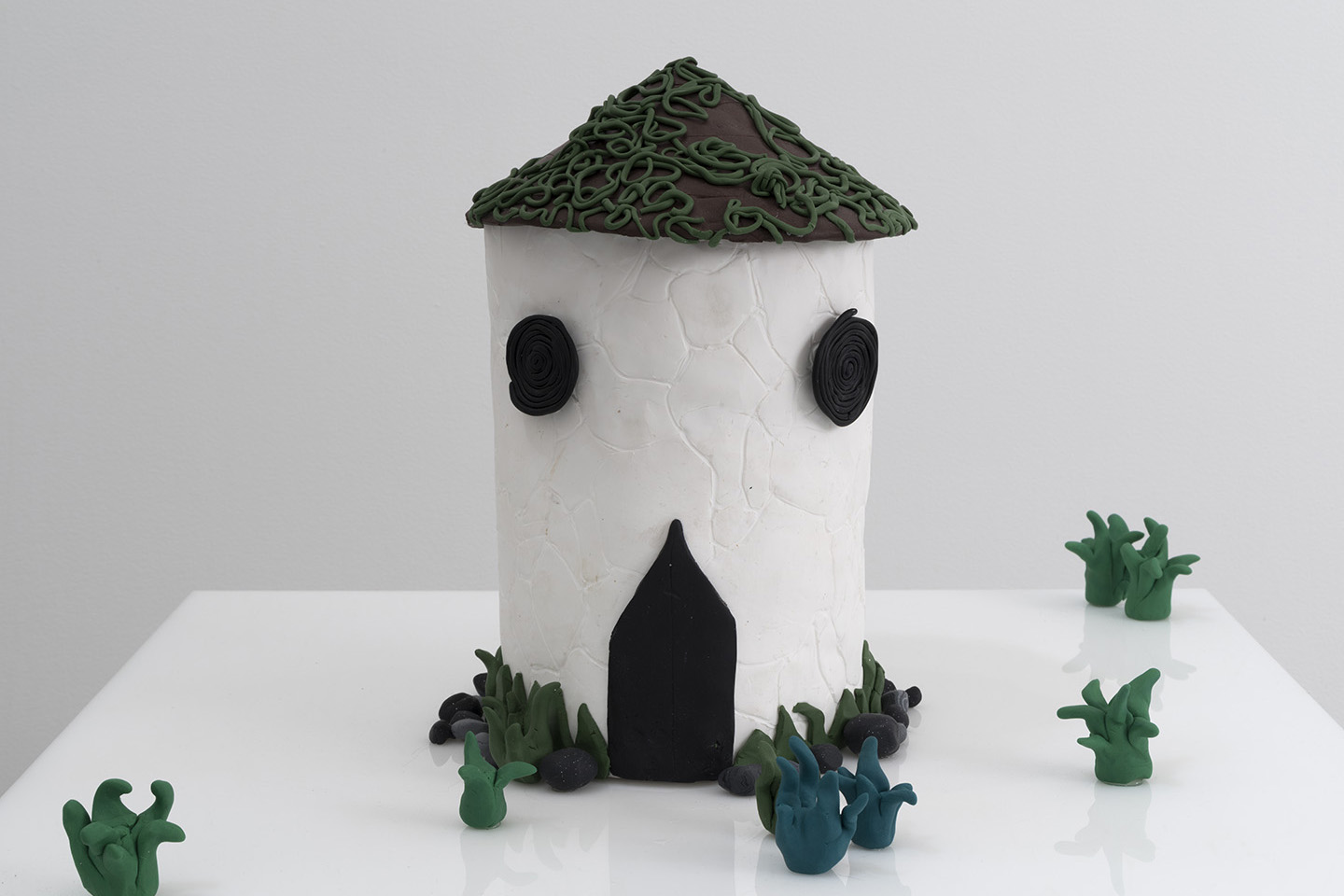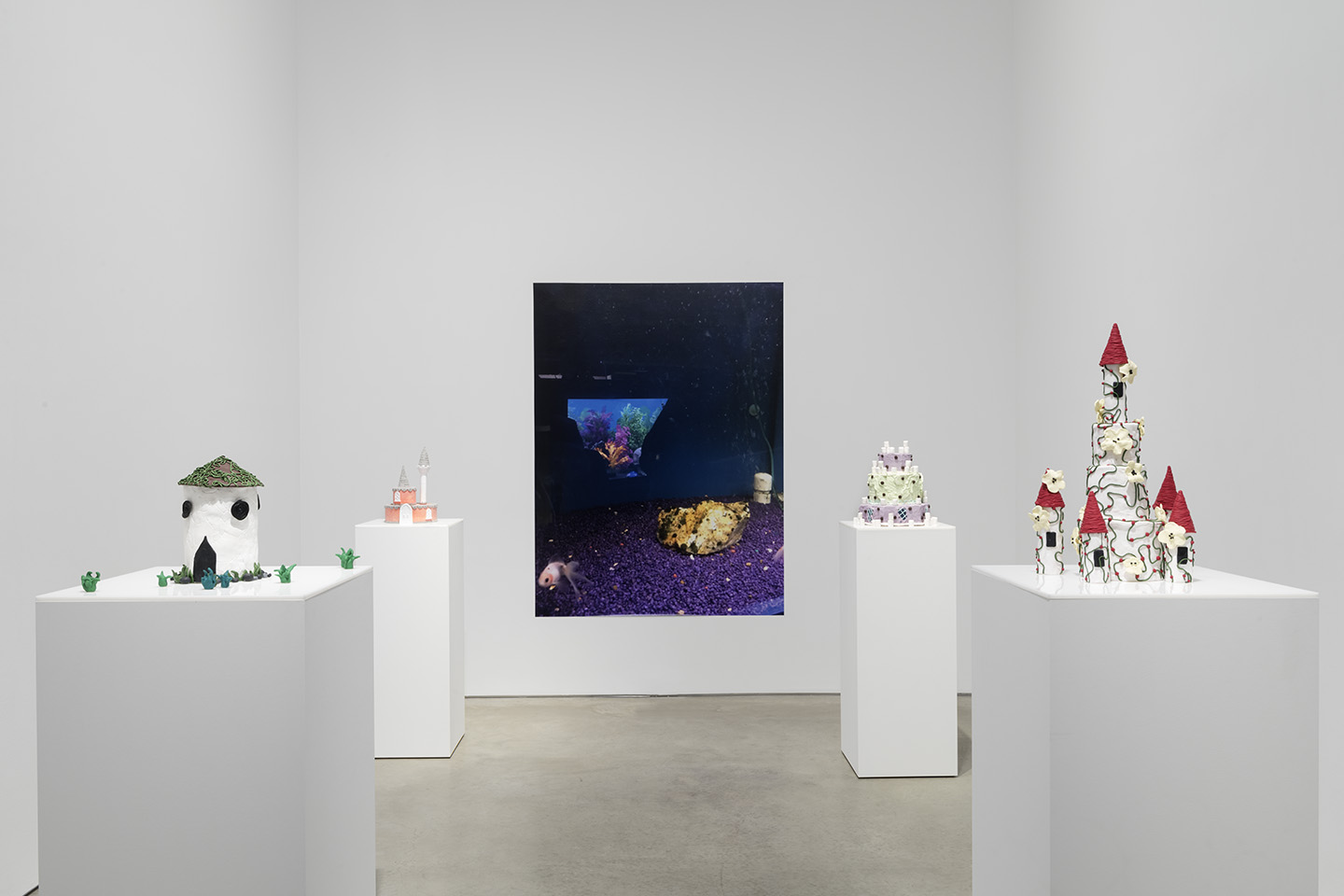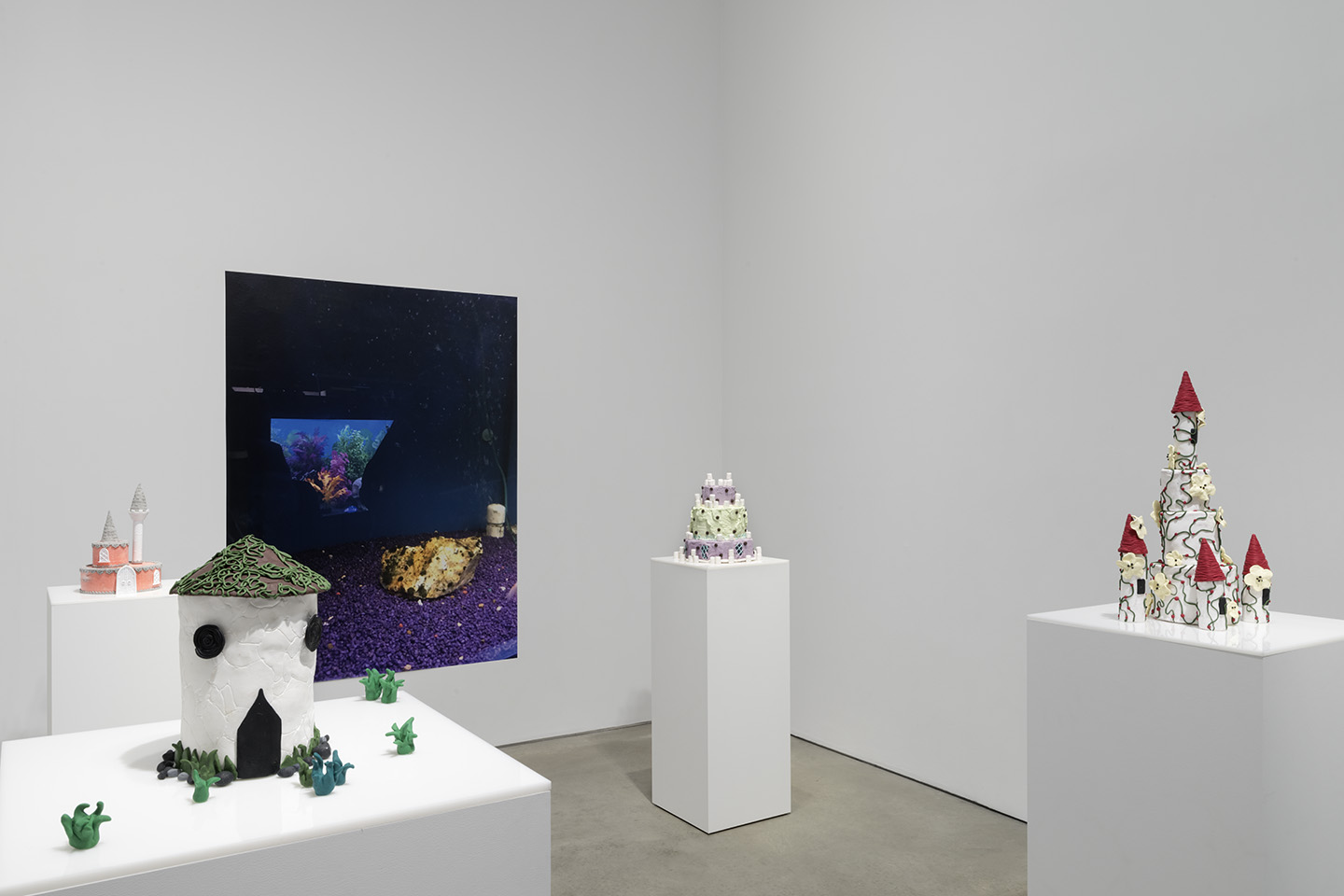 by Isabella Zamboni
While watching a beauty pageant on television, Mark Greif saw the camera addressing the young women contestants about their favorite reliefs from schoolwork and pageantry. "What were their hobbies? Many listed 'eating.' I suppose you could hear 'eating,' not 'cooking,' as a victory for feminist equality. It's not housework."1 The array of cake sculptures by young artist Gina Fischli in the last FIAC booth of the London gallery Soft Opening suggested a comparable but different competition, a fight not between beauties but between mothers, ambitiously parading their efforts at matriarchal birthday-party dominance—in either case, food as spectacle of leisure or rivalry or both, pointing to the pathetic connections between beauty tournaments, competitive parenting, TV cooking battles, and the survival of the fittest artist.
"There is a natural connection between the figure of the artist and the pressure that leads us to compete and make an exhibition," states Fischli, "but as soon as we accelerate to keep up with the rhythm of the times, something comical happens, like in a Buster Keaton film, where everything goes slightly too fast to be serious."2 Indeed, Fischli's cakes appear too innocent and unsophisticated to come across as earnest. The execution is not virtuoso—or, better, not hyperbolic. They do not seem like parodies, but really just the sugar paste and marzipan commonly seen at kiddie raves. They might be replicas of frivolous culture-industry products, but then "separating the decorative or the superficial from social reality" is a questionable operation, reminds Sabrina Tarasoff. "Particularly when you run the risk of miscalculating where power actually lies."3
The majority of the cake sculptures' titles are names of existing British and German medieval or neo-Gothic castles, many of which carry the haunted history one expects. Comlongon Castle (2019) refers to the fifteenth-century Scottish mansion apparently visited by the crying ghost of Baron Carruthers's daughter, who threw herself from the tower to escape a forced marriage. Glamis Castle (2019) takes its name from the hyper-tormented fortress, in Scotland as well, inhabited by an assortment of spirits: the burned Lady Glamis, accused of being a witch; a young servant boy; a woman without a tongue; and a whole family walled in by another family whose skeletons are apparently lost in a hidden chamber. The sculptures, though, do not mimic the real architecture, but remodel their attributes into childlike, stylized forms.
What social reality is tied to kiddie-gothic patisserie? It is not overdramatizing to state that we may have currently entered a new Middle Age, Earth having reached a degree of extreme irritation and the collective body of society having long been in a state of intolerable stress, as Franco "Bifo" Berardi reminds us.4 Myths of unlimited growth notwithstanding nature or social justice, along with the failure of digital euphoria, are now finally laid bare by the surreal and apocalyptic coronavirus stagnation. A new Gothic spirit penetrates much of today's world.
Fischli's cakes, one might say, absorb this spirit by revealing its saccharine aftermath, converting the Romantic Sehnsucht for exotic dark times into a faked, celebratory gloom below the age of puberty. And not only do they funnily echo today's home-sweet-home quarantine command—exhausting like a sugar rush. The sculptures, as little monuments to unnecessary needs, seem to point to the current collapse of the discretionary consumption on which the Western economy is built. "It's going to be catastrophic," notes Ian Shepherdson, founder of Pantheon Macroeconomics—a firm that advises Wall Street firms, hedge funds, and institutional investors—bluntly to the New Yorker. "All this nonessential stuff amounts to about forty per cent of the U.S.'s gross domestic product. In other words, it is enormous, in terms of both its dollar contribution to the economy and the number of people it employs."5
And yet "you bake a cake for someone you love," says Fischli in the press release for her recent show at New York's 303 Gallery (2020). If not competition, frivolous (cultural) gloom, or compulsive consumerism, her sculptures may ultimately suggest the sense of commonality, if not community, we are all now sinisterly experiencing while realizing how tragedy is hitting everybody systematically. It's the very same individual but common-to-all sense of struggle that Raymond Carver's solitary, overworked baker shares with two of his customers, grieving parents who just lost their child, in the moment they all three eat warm cinnamon rolls just out of the oven, the icing still runny. "'You probably need to eat something,' the baker said. 'I hope you'll eat some of my hot rolls. You have to eat and keep going. Eating is a small, good thing in a time like this,' he said."6
[1] Mark Greif, Against Everything (London/New York: Verso), 43.
[2] Lucy Kumara Moore, "Casa dolce casa," Vogue Italia, December 2019, 81.
[3] Sabrina Tarasoff, "L'esprit De L'escalier: On (Marriage) Affairs of Art and Architecture," Mousse 50 (October–November 2015): http://moussemagazine.it/sabrina-tarasoff-escalier-2015/.
[4] Franco "Bifo" Berardi, "Cronaca della psicodeflazione," Not, March 16, 2020, https://not.neroeditions.com/cronaca-della-psicodeflazione/.
[5] John Cassidy, "The Coronavirus Calls for Wartime Economic Thinking," New Yorker, March 16, 2020, https://www.newyorker.com/news/our-columnists/the-coronavirus-calls-for-wartime-economic-thinking.
[6] Raymond Carver, "A Small, Good Thing," in Where I'm Calling From: New and Selected Stories (New York: Atlantic Monthly Press, 1988), 424.
Gina Fischli (b. 1989, Zurich) studied at the Royal Academy of Art, London (2018) and the University of Fine Arts Hamburg (2015). Her solo exhibitions include Interior Living, SUNDY, London (2018); Molto Suggestivo, DELF, Vienna (2017); and London Today, Forde, Geneva (2016). Group exhibitions include A house is not a home, Fri Art, Fribourg (2019); ON SITE, Swiss Institute, New York (2019); NEW RUINS, Soft Opening, London (2019); Way Out, Jenny's, London (2018); and Christie, ZAK's, New York (2017). Fischli is the author of Bad Timing (Hacienda Books, 2018). She lives and works in London. Her first solo show in New York has opened at 303 Gallery in February 2020.
Isabella Zamboni is publishing editor at Mousse.