ESSAYS Mousse 6
I'd Like to See You for Just One Hour: A Choral Portrait of Gino De Dominicis
Close
1
2
3
4
5
6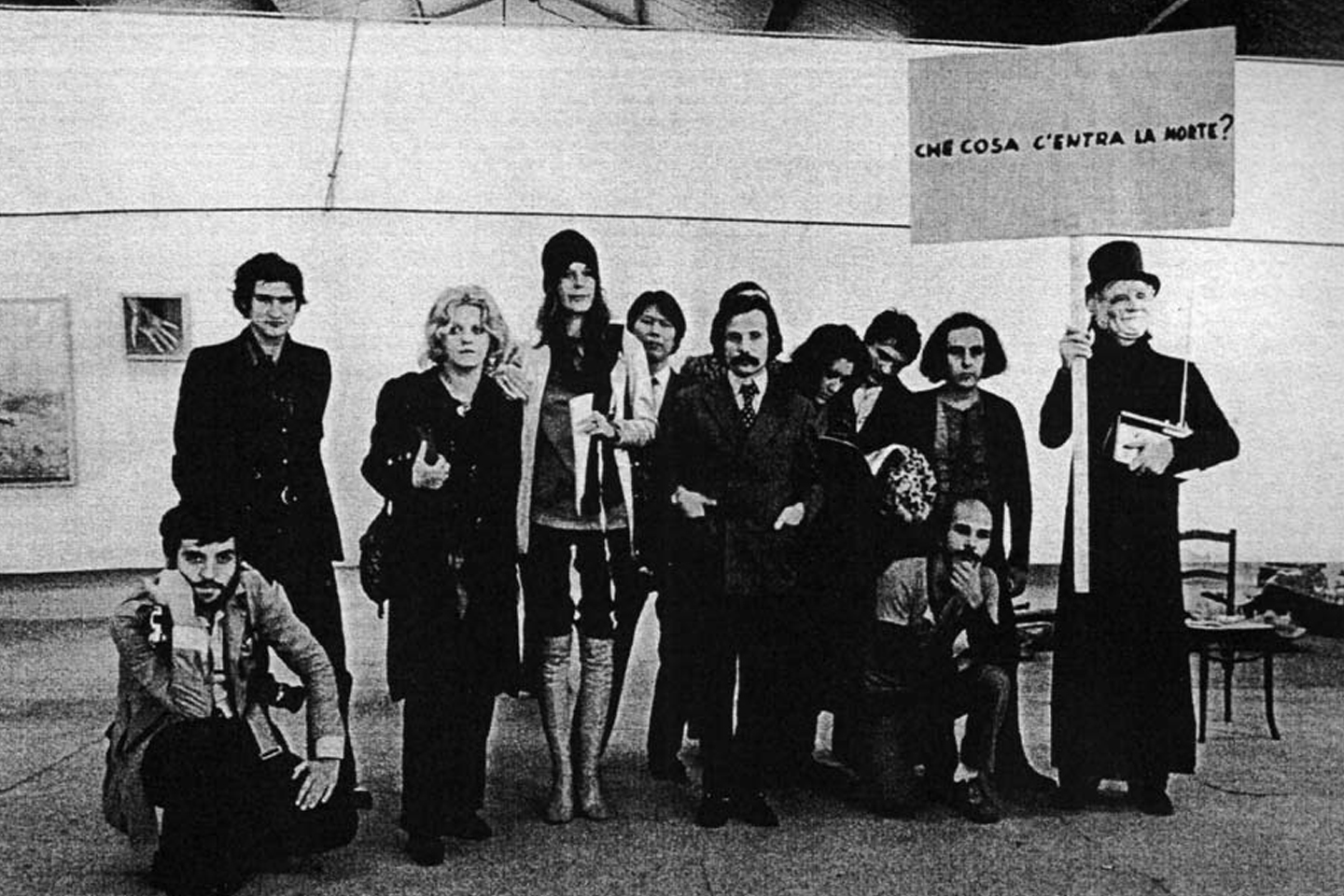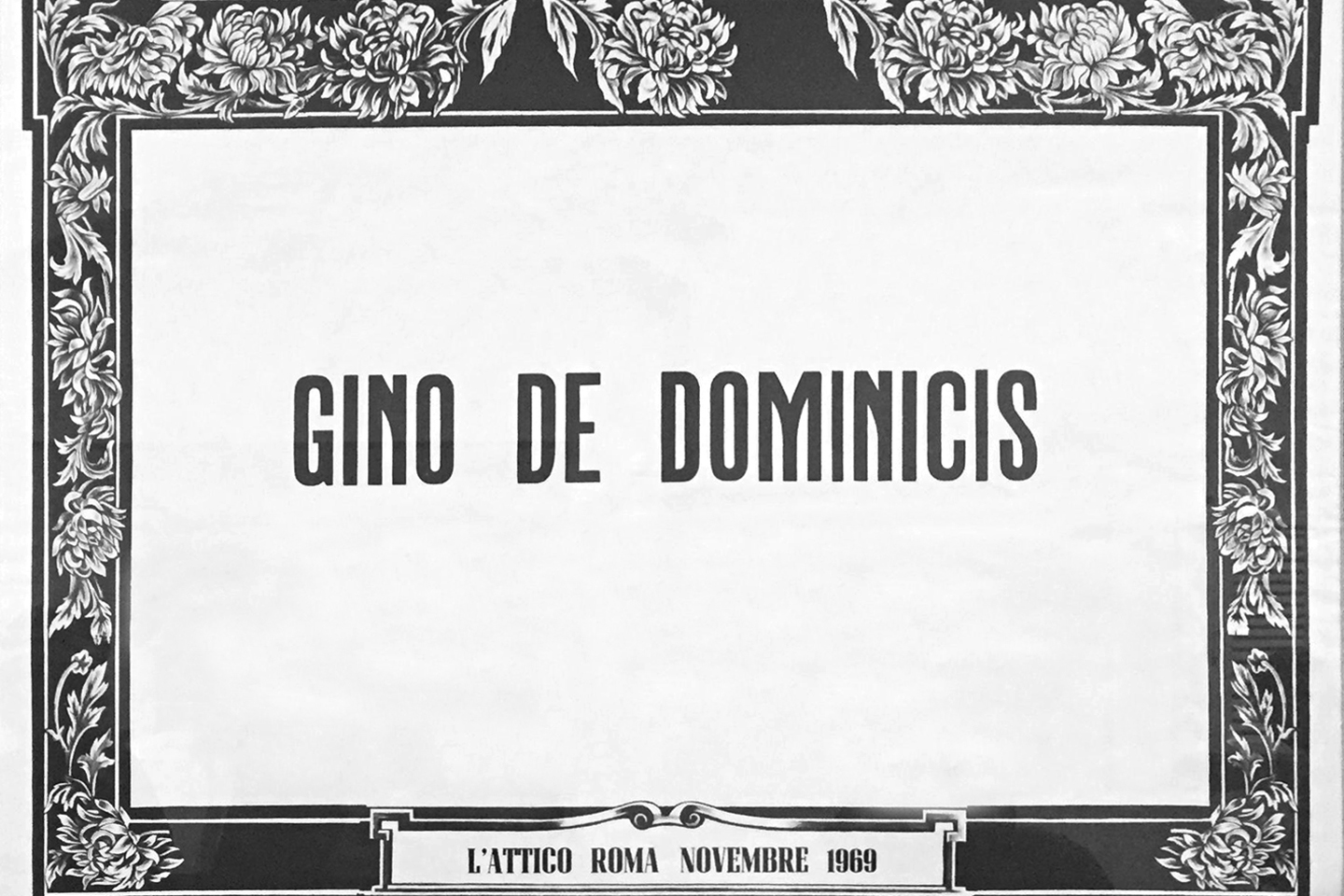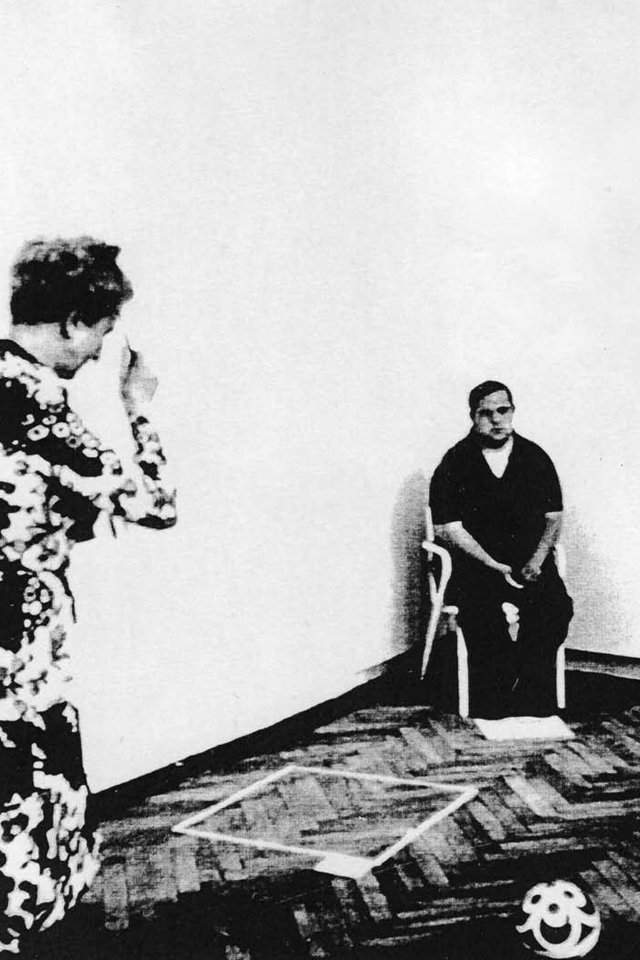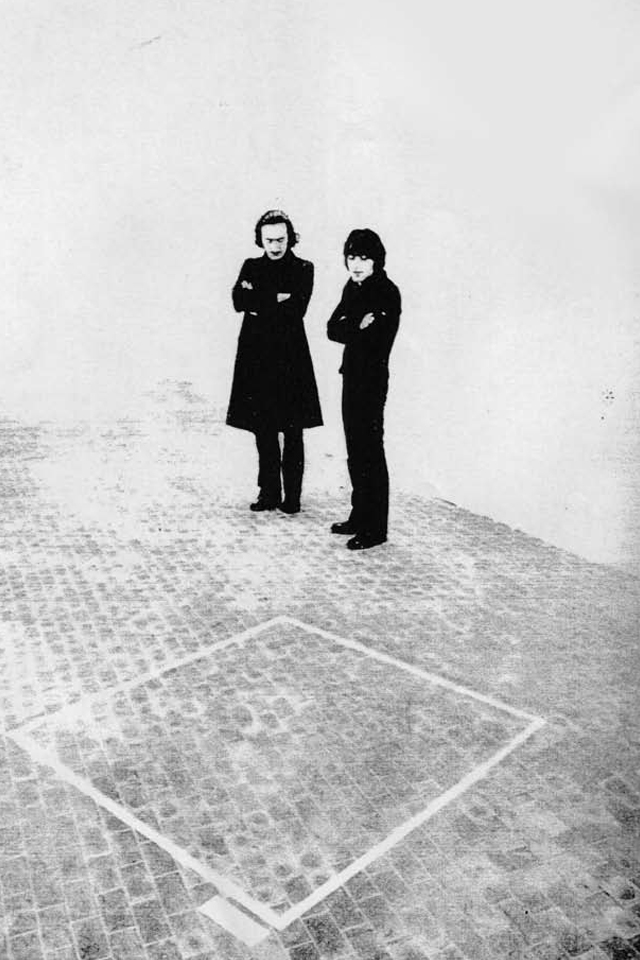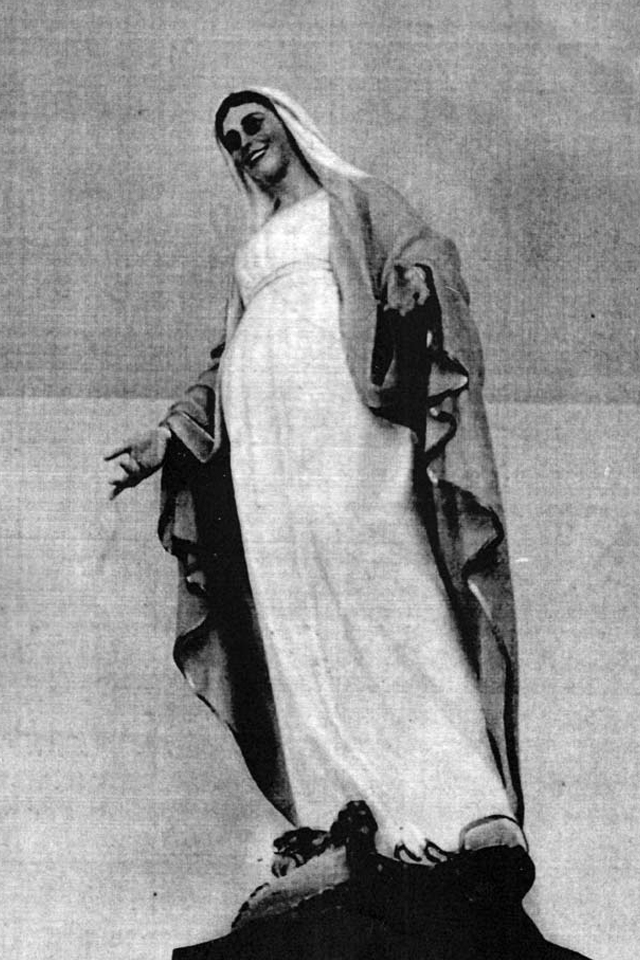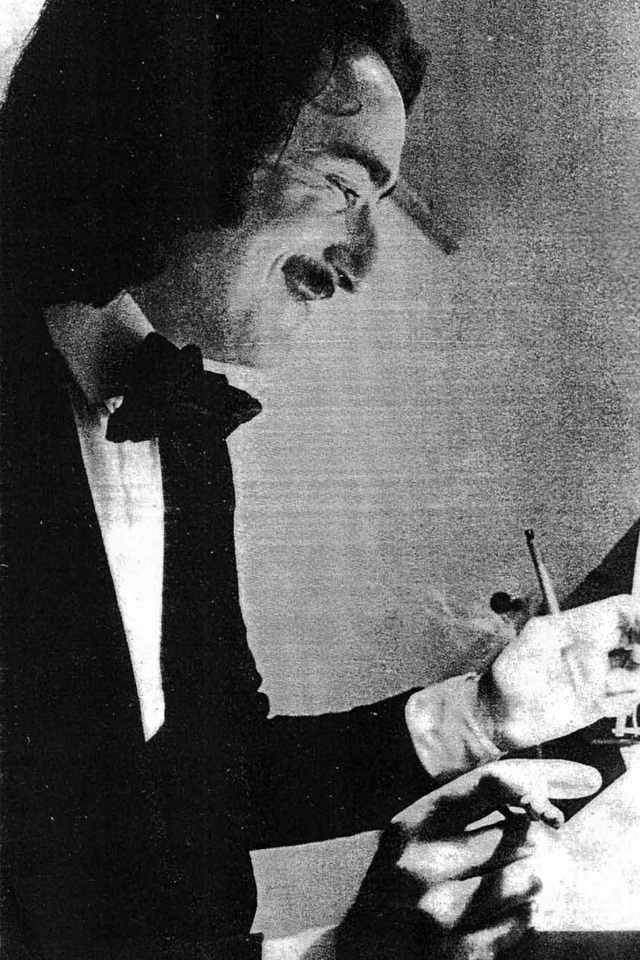 by AA.VV.
Gino De Dominicis is a legendary artist, both because he has lived through time as one of the most eclectic, fascinating, and irreverent artists of his era, and because very little is really known about him. Every so often a photo appears in which he looks elegant and proud, immediately perceptible as irreducibly distant from us common mortals, and alien. The most sensational episodes are sometimes recalled—the accusations and public indignation related, for example, to his work for the 1972 Venice Biennale, with a young man with Down Syndrome placed sitting in a corner. But it is still true that little or nothing is known of him. By his wishes, almost none of his works can be reproduced, and his entire life seems to be covered by a shadow. Perhaps it was this shadow that pushed us to invoke him in feats, obsessions, immortal poetry. The unnerving sensation is an unresolved enigma. We thought to make this homage and resolve together the chaos that surrounds it. And we thought to do this through the subjective nature of a choral portrait—a portrait that is certainly partial and incomplete, but warm with the affection of those who knew him and lively with the admiration of those who didn't make it in time.
The Americans had the Blues Brothers, we had De Dominicis. They made us understand the Blues Brothers and we never managed to give them De Dominicis (even if one of his most beautiful works is at the MoMA). When I met De Dominicis in New York, many years ago, he had bought a small automatic translator that should have helped him to speak English with girls, but he was untranslatable, an eternal drama of the Italian genius, poignant and genuine. He was so unequaled that he had to one-up himself. He told me that rather than traveling by airplane he would have liked to have been shot from a rocket into space, and wait for the Earth to turn to arrive at the exact spot where he wanted to go. He was paradoxical in an art world that had become state controlled. He died in time, before becoming an imitation of himself.
Francesco Bonami
"To die is only to be unseen."
—Fernando Pessoa
He was the artist I believed in the most. A great friendship that lasted twenty years. Rome lost its light: there will never again be anyone so generous, fun, brilliant. Maybe no one can tell as many anecdotes about him as I can, those many nights spent together and never going to bed before six in the morning. I don't want to do it, Gino wouldn't like it, or, as he would say, his works wouldn't like it. We are surrounded by an excess of images, while you have to go search for the excellent work of De Dominicis and have the good fortune to see them. It is worth it; they always give more than is expected. There has never been such a radical protest against the systems of art as his, without provocation, from within the work and from its very foundations. In these few lines the important thing to say seems to be this: I have never known anyone who had the total, absolute, unwavering faith that he had in centrality of art.
Laura Cherubini
Gino,
I don't know you, but I can confide that I've always liked you. I read in an article that one day, walking, you distractedly lost a paper containing one of your famous invisible works. Knowing that you always wandered around Florence (accomplice Maria Gloria) I began to loaf about, keeping an eye out for fallen scraps of paper and I'd end up covered in the garbage that our times produce. In the middle of a pile of shit my friend Aroldo and I recovered this:
Gino De Dominicis.
I told you. You didn't want to believe me.
Hold on, I said, you exaggerate. You deviate.
Hold on later is too late, a dead artist is no longer an artist.
He's another thing. Different. Let's say, a fantasy.
An artist, if he's a real artist, has to be alive, just a tiny bit immortal. And up to here I always agree.
You see. There are those who died two or three hundred years ago. In some cases more. Dust. I am allergic too, I get cold sores when I breathe in dust.
Don't come here to talk to me about them. I don't know anything about them.
Are certain works, ok, let's take the works. They put me one the war path, the works.
I told you: Gino, you're on the right path, good, but don't get distracted, stay concentrated on immortality, don't worry about the fanfare.
A person, someone said, is an attempt to be a person, and I agree, and an artist is a possibility to finally see an artist. If need be.
I agreed with a lot of things,
But now I'm still here like a fool and you wanted to do your own thing.
Gino, come back. At least try. Stop playing hide and seek.
Anyway, we are always here, immobile, haven't taken a step here nor there. Starched, numbed, rigid. It doesn't take much to catch up with us.
In the good season one tries again together with that concentric circle thing placed in water.
But above all Gino, attention: immortality.
The rest is extra.
Yours affectionately,
Sushil Mazumdar.
Paolo Chiasera
To recuperate the centrality of the work of art: De Dominicis with the quality of his work but also with some "precautions" that some might consider fatal to an artistic career (for example preventing the photographic reproduction of his works). I have the feeling that when one speaks of De Dominicis one digresses to an emphasis on his behavior, the extravagant persona interpreting these "precautions" as part of the artist's identity. Usually one says "a difficult artist." It seems to me, however, that such "precautions" must have protected the singularity and originality of his work and his vision. For this reason it is important not to confuse this protection with his work.
His slow course to becoming such an important artist is accompanied by remote evidence that it would be this way. And I was recently able to reconfirm my admiration in respect to his work when, visiting the collection at the Castello di Rivoli, I stopped in wonder before a golden pole that leans against an imposing rock. A sense of dignified magic (without tricks).
Gianni Caravaggio
1989, Rome
So I had always considered De Dominicis to be the most important living artist; for this reason alone, and with a lump in my throat, I called to meet up with him.
The first time I was at his house, I asked him, without any qualms, for an object to put in the show I was preparing at the time: Gilgamesh.
I think I know why he accommodated me.
His house was immense. It was a building from the 1500s in the heart of Rome, originally from a papal family, with paneled ceilings and all the rest. In the atrium, hanging on a wall, two meters from the ground, was the Madonna che ride, the laughing Madonna. It was a kind of welcome that froze blood. The rest of the house was cold, luxuriously empty. There was an echo. In the jamb of one big door there was an antique motto written in Latin and painted in gold that said something like, "Humanity loves to decorate."
When he saw from the corner of his eye that I was looking at it he mumbled through his teeth that he'd written it himself.
Old Claudio Baglioni songs invaded every space with wireless speakers. At first I thought it was the radio and that it was impossible that he listened to that stuff; but no, it was all the songs. He wanted it.
We went into his studio after passing through a massive bedroom where there was a giant white television on one leg and far, far off was a king-size bed.
We talked for a long time about the creation of the world according to the Sumerians and the Chaldeans. We talked about the idea of the birth of woman in those places and in those times.
Then he wanted to know about the show. I talked to him about two big black dogs, a floor made of lead, the absence of electricity, of red walls. He would decide for himself what to prepare, if he wanted to.
He talked to me about extraterrestrials. He talked to me for a long time about manure; he considered it a point of origin.
In his discussions there was always an allusion to the genital area, but never pronounced, never said. At least this was my impression.
I believe theater interested him a lot. Theater that was cerebral, thought through. Every so often he wrote something down on a white sheet of paper, torturing it with an enormous black marker. He said he remembered better that way. There were two secretaries around. Beautiful women.
He described, then, two theatrical projects he'd had in mind in the past.
One should have been everything upside down. The public would begin to applaud immediately, before being able to formulate an opinion about what they'd seen. And then all of the actions would happen in reverse, like a ribbon being pulled, all the way to the end—or, rather, all the way to the beginning.
The other theatrical project he would have wanted to do, he said, would be in a university (!) theater, in which the public would be completely surrounded by a line of armed soldiers, who actually would just watch the public who watched the show. He didn't tell me about the content of the show itself. I don't think that was too important to him.
He also described to me a film project that he would have liked to create: filmed by following a technique of subjective urges, to extreme consequences. In his notable idea he used a transfer technique: there was to be a total identification of spectator with the protagonist, to the paradoxical point of erasing the character himself and incarnating him in the true sense of the word, an absolute subjectivity able to eliminate the object. It was about, in practice, vision from two eyes that see and move for the duration of the film. The two oval holes of the eye sockets is all that would be seen. A bit like looking at the world from inside a skull. I doubt the public would have understood much of the plot. The black ruptures were caused by the closing of the eyelids that would have lowered at regular intervals, like when they moisten the eyeball. Stop. This was the film. He described to me how he would have technically made these eyelids with the same camera. It should have been a super-production and that he had already spoken with De Laurentiis, his friend. He didn't hint the least bit at the content, the subject of the film. He talked about a chase, but it was clear that was the first thing that came to mind. The plot was an accessory. So I proposed the idea that it was a film to watch by yourself. Yes, he said.
Finally he brought me to his workspace, still there at his house, to show me his latest work. There was a young guy with a beard working in deep silence. He showed me some portraits of Mongoloids with long noses, sketched out with graphite directly on veins of pieces of wood. Difficult to perceive. And then some erotic drawings with people with big sharp noses. I'd say they were images of sodomy. There were small drawings with incredible force. He knew how to draw. I remember it was that day when I was thinking about the power of drawing. That was the strongest impression. And then the visions from above, with the forced perspective, from the Piazza del Popolo in Rome; a sort of huge plastic, all in black. The obelisk emerged from a meter-and-a-half-large canvas. He also talked to me about an exhibition of his work that would only be for unaccompanied animals—but I don't remember if he ever did it or if it was still in its planning phase. And then a show perfectly prepared with the series of his black canvases to hang in a completely dark, black space. Evidently blind people had nothing to do with it. It was for us, the seeing, for those who believe they can see.
In the middle of a large room there was, all alone, mystical, one of his golden lances, suspended in the strangest of equilibriums. When I bent down to see the tip that really ended like a pin he laughed. He dared me to do the same. He didn't want to reveal the trick to me—the trick? What trick? It was only balance, and he was right. He dared me to "clasp" the water with a hook and lift a bucket, pulling it up from the water. He was very serious. He was able to do it.
In the end Gino De Dominicis sent me a black board with the profile of someone with a large nose and a big eye—perhaps a Chaldean dignitary?—that I was to hang high on a wall: it would have observed (spied?) on the actions of the actors. He wanted me to give a title to that portrait. After a few weeks Claudia, my sister, called it Monument to the Column. He liked it a lot, he laughed.
I am sure he would have helped my theatrical career and that he would have made me a star and that he knew loads of people. He had wanted me to do Gilgamesh at Teatro Quirino because he knew the director and because he would have been able to see it. I tried to explain to him that it wasn't a good space for the show, but he didn't care about that at all.
He was getting ready to go to America, and when I asked him what he was doing there, he responded, distractedly, "You have to bring beauty to the ugliest places."
After the debut of Gilgamesh I gave the Monument to the Column back, because in the meantime I had fought with him for fantastic reasons. But that is another story.
Romeo Castellucci
 Among the many episodes that come to mind from the many years I knew Gino De Dominicis, there is one in particular that is important and emblematic of his work and his personality. During the 1980s, busy with making the A.E.I.U.O., a magazine in which the best-known international artists and writers of those years participated, I met with De Dominicis multiple times to create some "direct report" pages, which were also part of his original vision. After a few meetings over dinner, finishing without any results, one evening, responding to my specific request to reveal in the magazine the way in which he had made someone "disappear" right before everyone's eyes, during a celebrated night organized by the Incontri Internazionali d'Arte in Rome in the early 1970s, he invited me to salvage the original invitation in which he announced that crazy performance. The next night he arrived at our appointment with the fateful poster proclaiming the action. With the document in his hands, he turned it around and on the image on the back, of the antique fountain in Palazzo Taverna, home base of the Incontri, he began to color the empty spaces between the foliage behind the fountain with a yellow marker. All of a sudden I understood that he had worked out a previously invisible figure. Evidently, he was surprised about it because it seemed like I'd gotten a response to the disappearance enigma that De Dominicis had mastered before all of those witnesses. Gino, laughing, made me understand with a gesture that what was there to be understood had been revealed and that that was his contribution to the new issue of the magazine. I put the image with the yellow ink that De Dominicis had marked up in an envelope and said goodbye. The next day, upon taking the image out to prepare it for publication, I noticed that the yellow lines that identified the figure in the foliage were gone. Like that, like that person who'd been volatized in the room at Incontri, before our very eyes, with one wave, all those years ago. The circle closed itself, illustrating the game and the secret.
Bruno Corà
I had the privilege of presenting the work of Gino De Dominicis in New York, at the Murray and Isabella Rayburn Foundation, in November 1989. It was his first show in the United States, a small retrospective of his work that turned out to be a spectacular event and a great success. But he was a mysterious person, introverted. He didn't allow photographs of his work or of himself, and so he never authorized the publication of the show's catalogue. I remember him engrossed in the reflection of Urvasi and Gilgamesh that permeates a great deal of his work. And I began to think of Gilgamesh as his alter ego. He was an extraordinary narrator, and this characteristic was best expressed by Michael Brenson in the New York Times on January 5, 1990: "What most distinguishes Mr. De Dominicis is not his concern with death and myth, and it is certainly not his resistance to artistic conventions like titles, dates and categories. It is rather the fablelike quality of his work, and his determination to keep his abstract metaphysical speculations grounded in the kind of storytelling images to which children could respond." I remember one time during the show, Gino surprised me while I was trying to explain his work to a collector. He took me aside and told me that his work didn't need explanation, that the work lived on its own and, with its mysterious force and beauty, communicated with the spectator, becoming part of their emotional life. If the collector couldn't understand this, he would never understand his work.
Isabella Del Frate
It's difficult to speak of such a close friend, one of the most important meetings of my life. The wound of losing him still hasn't healed. Gino in his incredible and absolute integrity sought to help the world see that art could be a road to fight against the laws of entropy; the work of art becomes anti-entropic in the moment the energy to produce it is less than the work gives back. This simple axiom became the principle of his art, and his life was spent demonstrating it. Therefore it is time that will be his best ally, the future of history will grant merit to this great artist, more than his contemporaries gave him, those who were incapable of fully understanding the philosophical premise of his thought. Gino was one of the few human beings I've met who was able to outdo himself; this was what he expected of himself. As everyone knows, the cover of the catalogue from his first show at Sargentini looked like a poster for a funeral home with his name at the center. Few, however, remember the next day, when he announced his own passing in a newspaper that included a list of his philosophical ideas. Obviously he paid for the whole page and planned it all out meticulously. Full and total control from beginning to end.
Giulio di Gropello
Gino de Dominicis is one of those artists able to turn history into legend. They say, in fact, that his body ceased living in 1998, but no one has seen it. They say that he is still out there somewhere alive—which in general is nothing small, but especially important for someone like Gino, who worked on the immortality of the body. Gino De Dominicis is in fact one of the few contemporary artists who are not called by last name but by first name, like Michelangelo, Leonardo, Raffaello, Titian. But of Gino I also remember paradoxically ironic declarations like, "Conceptual art, l'arte concettuale, wasn't born in America, but in southern Italy, where they use names like Concetta, Concettina, Concezione," or, "I recognized you by sight," or, still at the bar, "Give me a vodka in the mouth," or when he didn't want to participate in a show, and that was pretty often, "It's not me that doesn't want it, but it's my work that's refusing to go to that city, my work doesn't like it there." And we can add, using the oldest phrase in the world, that if Gino hadn't existed, we would have needed to invent him. But Gino wasn't invented, because it is he who invents, and above all he who invented himself along with his work.
Giacinto Di Pietrantonio
Pinocchio is dead!!!
Immobile scenery fell to the ground in exhaustion during the "morning of the magi." He disappears in order to reappear, he divides time and recovers it through the prodigious power of illusion. He is a conjurer who killed himself to overcome the formula but forgot to call witnesses. It is a show entitled The Power of the Martians, directed by a Simple Man. It was his last apparition, a day of triumph for the Martians over man. After much time, without warning, he emerged with a sarcastic, obsessively repetitive laugh that sounded like an warning call: "Laughter will bury you."
An apparition that vanished as quickly as a hallucination.
Lara Favaretto
I don't know why, but I always imagine De Dominicis like a strange lizard, an amphibian creature, the result of a genetic mutation. It's as if the creatures in his paintings and the attempts at flight and cosmological theories were layered on top of his image before transforming him into a completely alien being. Maybe the most stunning element of De Dominicis's work is this calling out, this alienation, in order to see oneself, the world, and also art from the outside. "It is the public that shows itself to the work and vice versa," said De Dominicis. It is this inversion of the gaze that makes De Dominicis a creature of the night, the prophet of a new darkness, which is a fundamental value in a moment when everything seems to be simply bright, visible, spectacular, quantifiable, and dividable. While the world fills itself with things, things that are always more useless and shiny and glowing, De Dominicis has the courage and the cruelty to tell us, simply, "Dear, I don't think things exist."
Massimiliano Gioni
12-4-22-13-28-3-22-17-31-13-5-9-14-18-23-33-11-7-36-10-12-1-28
Piero Golia
Every time I see a pond or a little lake, I can't think of anything but Quadrati cerchi. As always, even if you can't see him, he is there somewhere. And if he isn't actually there, then, he really did it. And the exercise that he recounts in "Tentativi di volo," old fox, in the end it was only for three years that he didn't repeat it.
Andrea Lissoni
[The universe is im/mobile. Everything becomes in/visible. Maps of un/forgettable memories for GDD]
Bologna. Tentativo di volo
Montepulciano. Amore mio
Roma. Hotel Locarno
Santa Teresa. Biliardo
Venezia. Biennale
Rome. Hemingway
Napoli. Capodimonte
Firenze. Zona
Grenoble. Magasin
Venezia. Canal Grande
Roma. Pantheon
Maurizio Nannucci
They certainly won't let me compare the work of De Dominicis to that of Kafka, but the immobility of a bridge is an immobile universe, a ball the moment after it bounces, a rock waiting for a molecular movement, a connection between an authentic world that doesn't need temporality because it is in real time, gets to the heart of the matter simply showing itself, and another hides behind the passing time, pretending to be poetic to deflect what is real and necessary to communication, in a moment already left bare wearing roller skates (time, mistakes, space).
I was stiff and cold; I was on a bridge hanging above an abyss. My feet were stuck on this side, on the other side my hands: I had my teeth planted brittle in my jaw. My coattails blew up at my sides. Down below the torrid cold echoed where the trout darted. No tourists came up to hide in that arduous high ground, the bridge wasn't on the maps yet. Like this I rested and waited, I had to wait. Once a bridge is built, the only way it stops being a bridge is if it falls. One day around evening—could have been the first, could have been the thousandth, I couldn't say—my thoughts were a mess, in a jumble. Around evening, summer, dark thunder roared, and I heard human footsteps! Over here, over here! Spread yourself, bridge, get yourself in order, beams without parapets, support the one you are entrusted to. Make up for the senseless uncertainty of his step, but then if he wavers, let him know and throw him to the ground like a mountain God. He came, he beat me with the iron point of his cane, then he lifted my coattails and put them in order on my back. He wove the edge of the cane into my thick hair and kept it there for a long time; he probably looked around with a ferocious air. Then in one move—I was in fact dreamily following him through the mountains and valleys—he jumped with both feet onto the middle of my body. Who was it? A little boy? A dream? A robber? A suicide? A provocateur? A destroyer? And I turned to look at him. The bridge turned! I hadn't yet turned fully and I already falling, I was falling and I was already torn apart and pierced by sharp pebbles that had always stuck to me so peacefully through the thunderous water.
Diego Perrone
Projection of a film by S. Beckett in Venice in 1965. B. Keaton, after having covered the mirror returns to the bag, picks it up, goes to the chair, sits, and is opening the bag when he is disturbed by a print nailed to a wall in front of him, depicting the face of a praying Sumerian, eyes severely fixed. He puts the bag down on the floor to his left, gets up to inspect the print. The demanding image on the wall, the carpet in rags. He tears the print down, rips it in four parts, throws the pieces on the ground, and stomps on them. They say in that very moment a ghost possessed a very young artist in Ancona.
Pietro Roccasalva
Gino De Dominicis, the artist, manifested himself in actions: in those moments of inspiration and hard work, often alone at night, that brought him to make his impenetrable and mysterious, yet extraordinarily universal, work. Gino, in those moments, felt as if he were Gilgamesh—a demigod, Sumerian hero who sought immortality of the body. De Dominicis, the man, at least as I remember him, was on the other hand surprisingly "normal": straightforward, open, and convivial, he didn't like to show off or consider himself an exception in respect to other human beings. Perhaps it was this secret balance between man and artist that allowed Gino to be both absolutely generic and absolutely singular in his work and in his life.
Lia Rumma
De Dominicis's secret role model of how to behave was Salvador Dalí. Gino was immediately fascinated by the Catalan master with his mustache and taste for scandal. But I associate our artist, in his ability to create a stupor-inducing art, similar to magic, with a cartoon character from my childhood. Do you remember him? I'm talking about Mandrake, the magician in a cloak, equipped with a top hat, wand, white gloves and—a mustache. De Dominicis's first solo show at Attico in 1969 relied on invisible objects. Invisibility was a new wind, an impalpable breeze in respect to Pascali's water or Kounellis's fire. He was only twenty-two, Gino. And still now, while I write, I have the strange feeling that he, invisible, could be at my shoulder reading this note. And what do I do? Like responding to a call, in front of the shocked eyes of my friend that helps me at the computer, I begin to say his name in a booming voice: "Gino, Gino, Gino, Gino, Gino, Gino—child prodigy."
Fabio Sargentini
Of Gino De Dominicis remains, besides the mystery of primordial thought hidden in each work, the magic of the gesture, the sarcasm of the voice, a passion for the Beatles, and the laughter that accompanied each of his killer jokes.
Italo Tomassoni
The struggle of the dark dandy dressed against entropy: the figuration of a possibility. (Not the opposite of impossible nor as relative to possible nor as inferior to reality.)
Luca Trevisani
Christopher Williams recounts that Gino De Dominicis, at the end of a dinner, told him that an artist who behaved like he did—referring to Williams, who at the moment was evidently paying the bill—wasn't an artist: artists, in fact, "don't pay the bill!" Williams, clearly, was not only used to paying the bill like the rest of us, but I believe that telling an anecdote like this one was to underline, in his way, a substantial difference: artists like Williams cannot imagine an art that excludes coexistence, that separates idea from practice from criticism, from the logical and fantastic construction of an alternative aesthetic—modern society, if it hadn't created this way of understanding art, certainly made it inevitable. An artist like De Dominicis, on the other hand, does not consider the real as understood by criticism and a shared aesthetic as "society" and culture as an expression of "that" society. He does not accept the notion of the artist as an expression of a personal reaction—therefore in this sense he is distinguishable, but also at the same time, relatable—and the artistic imagination is understood as the transmission of a story, as a narration (that requires a lexicon, a grammar, a common language, a dimension of union/confrontation). Williams is for relativity, De Dominicis is for the absolute. Williams is contemporary, De Dominicis is eternal. Gino De Dominicis's gallerist—who is also Christopher Williams's gallerist, tells another story, and this one is also rather funny. In the 1980s Paul Maenz invited De Dominicis to have a show in his gallery in Cologne. De Dominicis, after some months, agreed to go and see the space. When Maenz entered the gallery De Dominis was there. "Yes," he could have a show, he said, but under one condition: he needed to knock down all the columns in the gallery.
Andrea Viliani
Thanks to the Gino De Dominicis Association and Italo Tomassini for their kind collaboration.
Originally published on Mousse 6 (January 2007)