CONVERSATIONS
Giuseppe Penone: Matrice
Close
1
2
3
4
5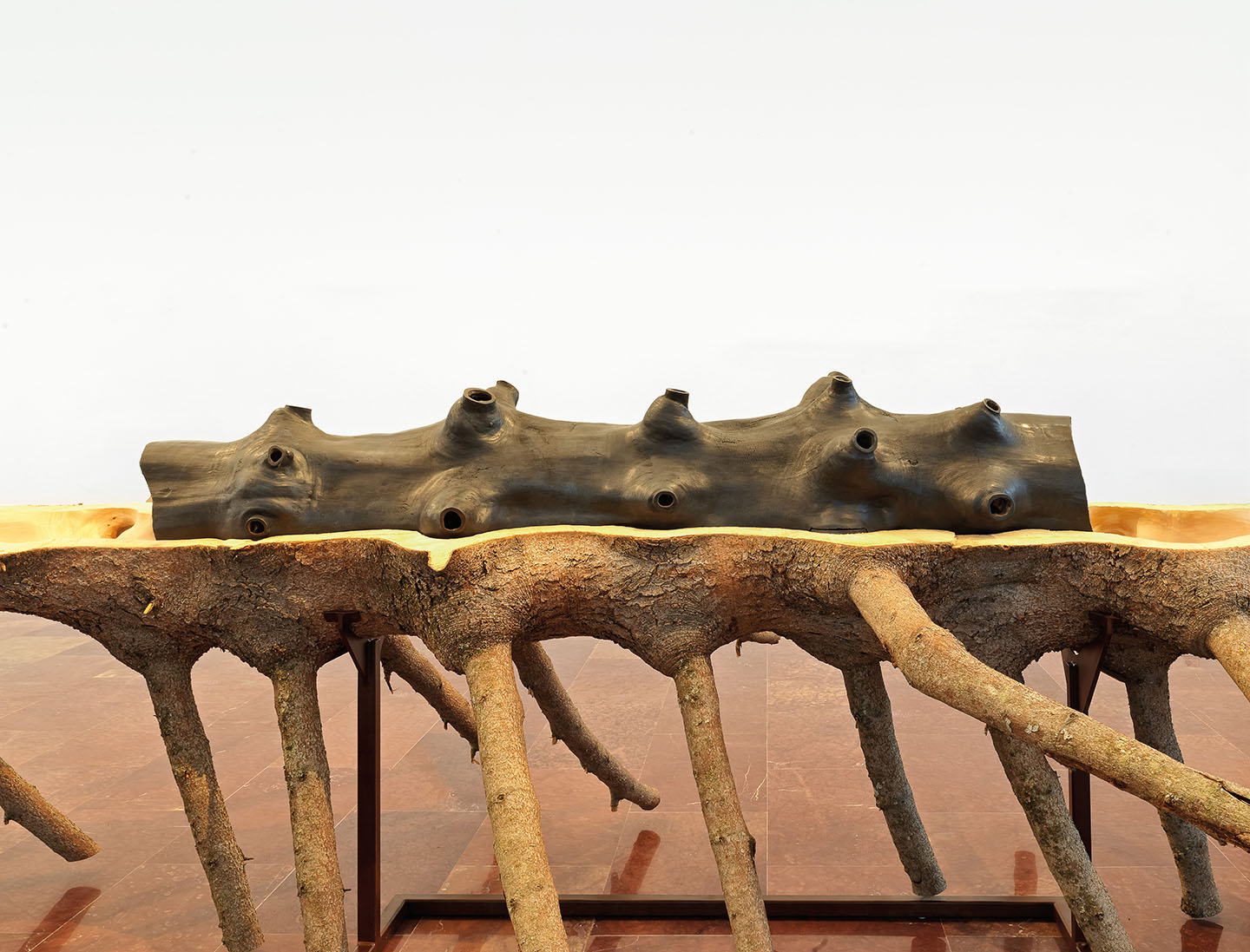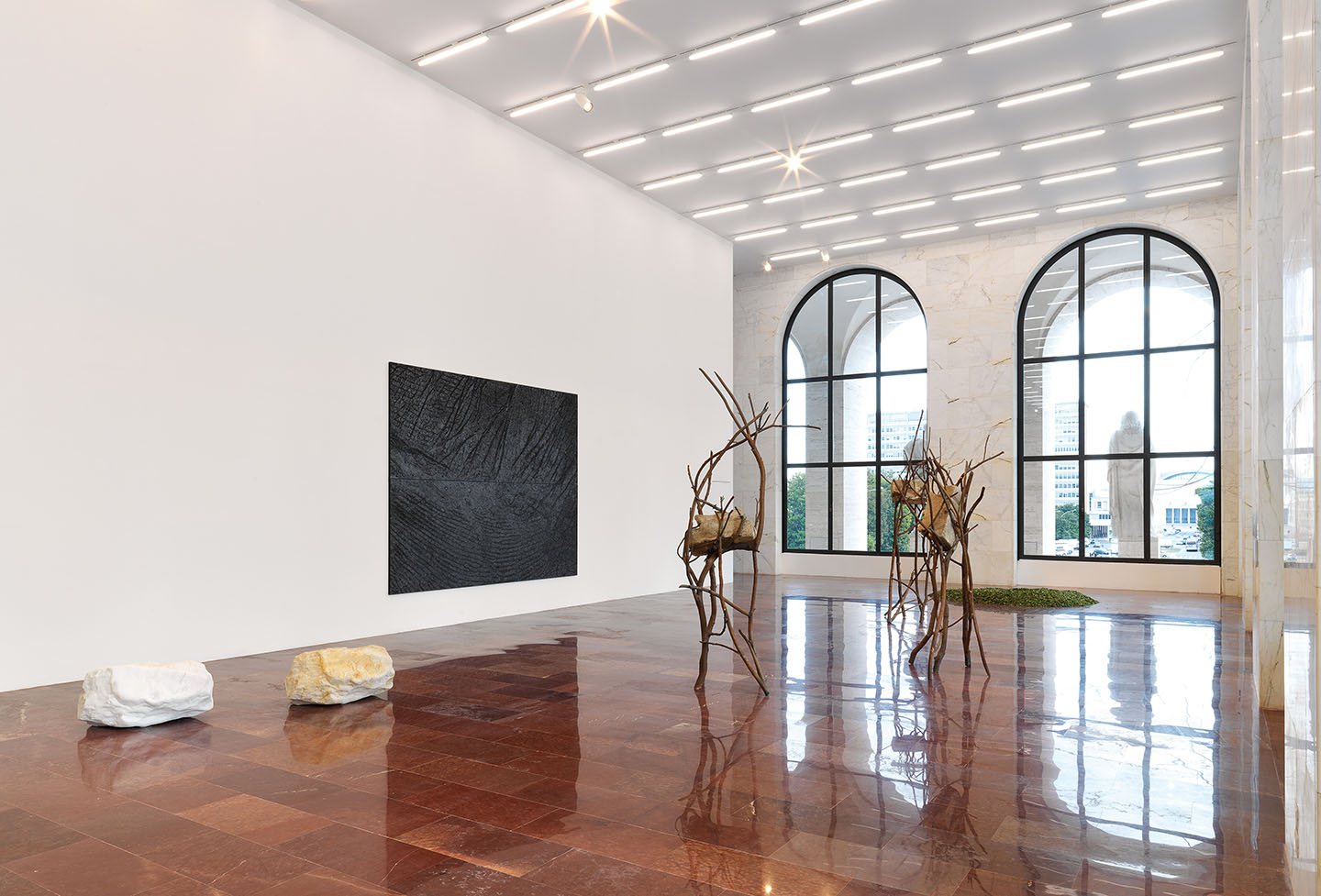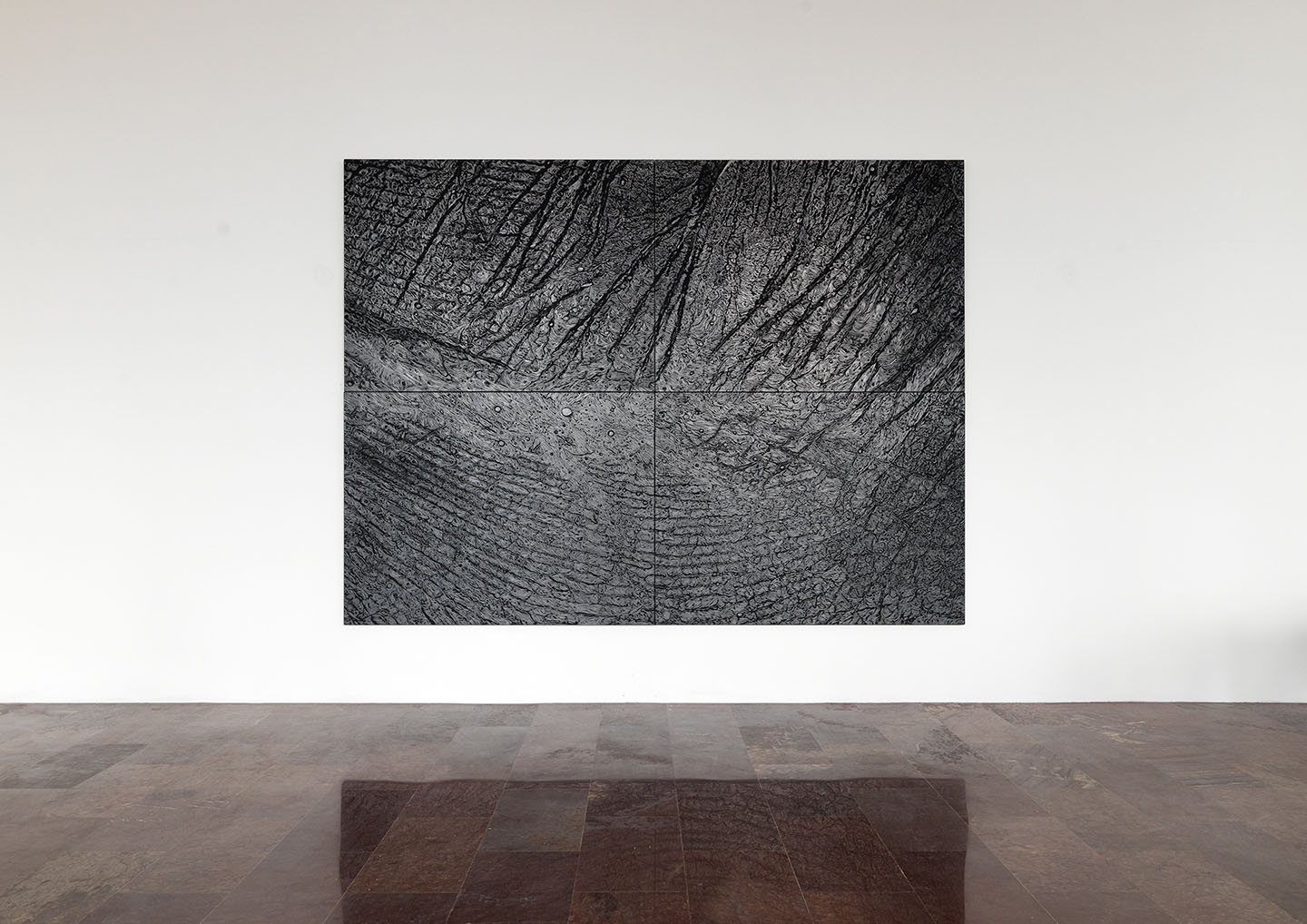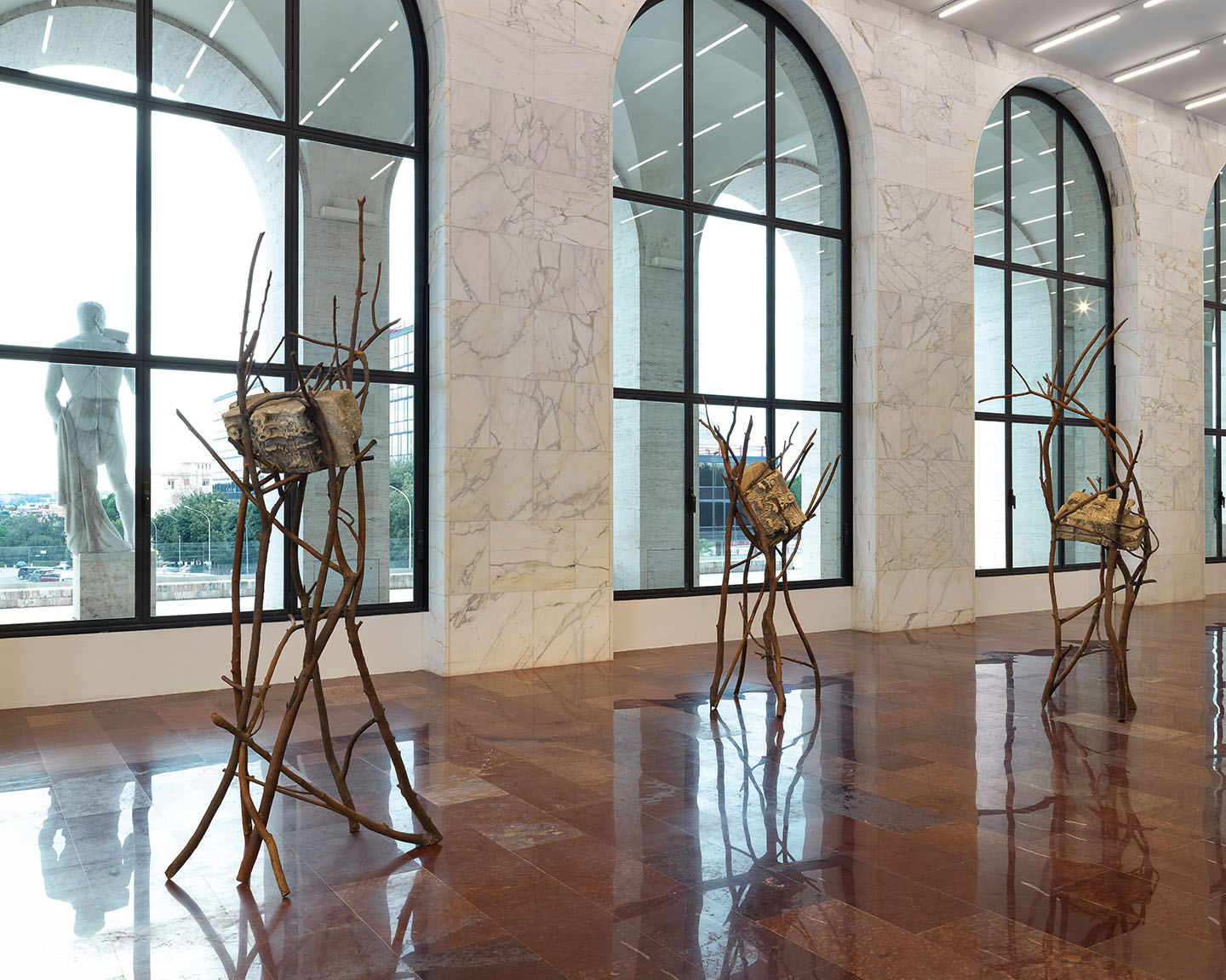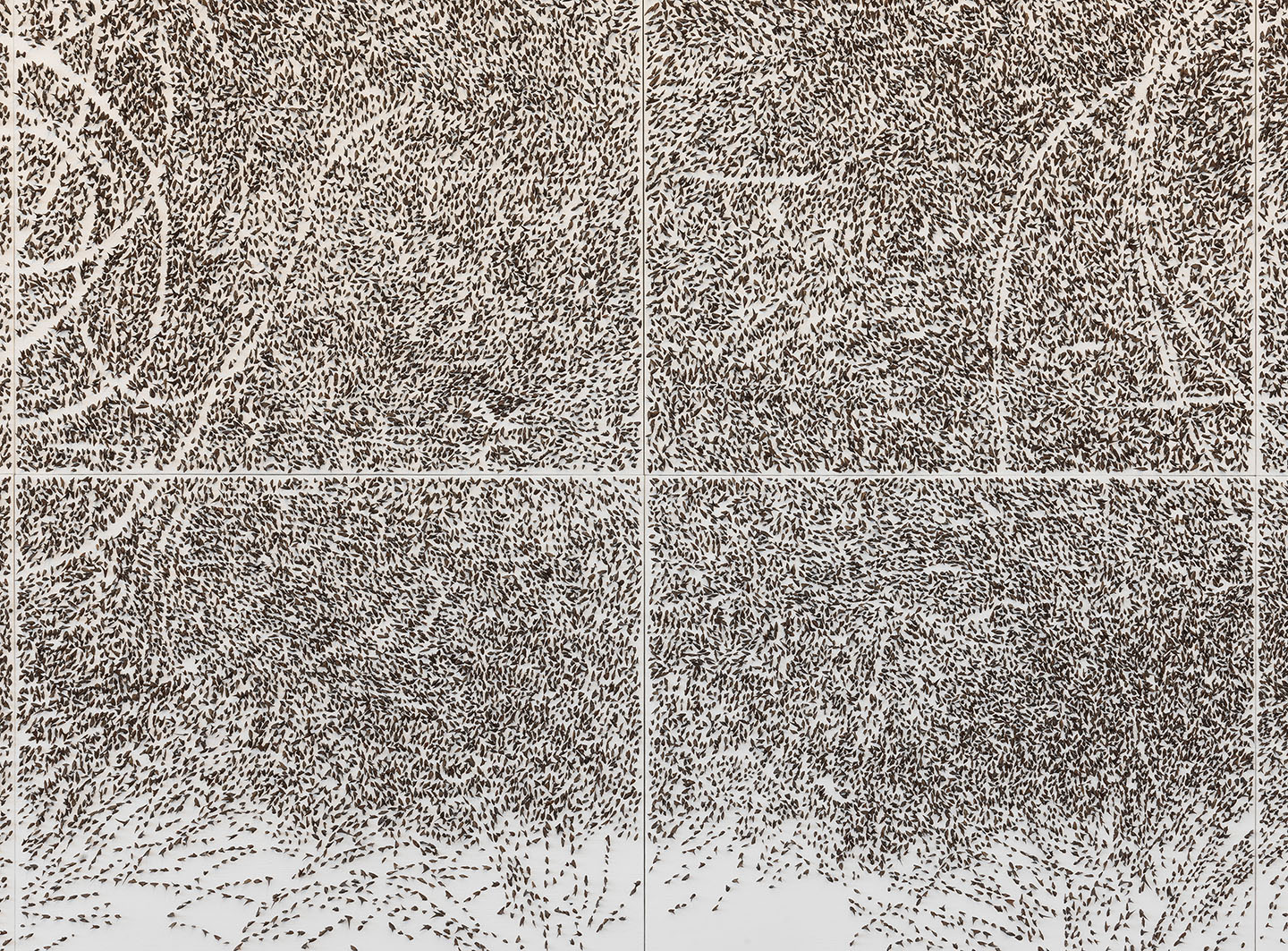 Massimiliano Gioni interviewed by Nicola Ricciardi
NICOLA RICCIARDI: Let's talk about Matrice, Giuseppe Penone's show that you've curated for Maison Fendi's new space in the Palazzo della Civiltà Italiana at EUR, in Rome. First of all, how did the relationship with Fendi originate?

MASSMILIANO GIONI: Maison Fendi wanted to commission an important work in a public space for the city of Rome. It is an absolutely unprecedented effort, and it will be inaugurated on May 22 with the installation of the sculpture Leaves of Stone by Giuseppe Penone in Largo Goldoni. This will be the first work of contemporary Italian art permanently installed in the historic center of Rome. Of course this was a delicate and careful decision that was made in collaboration with the Ministry of Arts and Culture, with national authorities, and with the city: truly a unique collaboration between public and private. Fendi invited me because they wanted an expert who could have a dialogue with these various entities and help identify the artist and the work best suited for this extraordinary, yet sensitive, situation. Therefore in a certain sense, even if the exhibition has already opened—in January—it was organized after Penone had been chosen for the public commission.
NR: What struck me the most about the show at Palazzo della Civiltà Italiana is the dialogue between an idea of lightness that is very present in Penone's work and the heavy, macho rhetoric of the EUR complex. The two languages, in my opinion, work very well together. While approaching the space, did you try to go against or rather make peace with the architecture surrounding you?
MG: The spaces in Palazzo della Civiltà Italiana are truly unique, and the possibility to visit them is also quite exceptional: we are talking about a building that remained uninhabited—basically unfinished—for decades and that today you can only visit thanks to the interventions and restorations done by Fendi, who then made it available to the city. In fact, the possibility to work on a show in such a celebrated building was a unique experience for me and I believe also for Penone. It is really one of those opportunities that doesn't turn up very often in an artist's or a curator's life.
Besides, these spaces are rich with stratifications and references, with complex historical references in the architecture. There is an idea of the classical style between dream and illusion, an idea of nationalistic rhetoric, but also signs of modern rationalism, absolutely new and carried out in a local fashion, and clear recollections of Giorgio de Chirico's painting. Therefore a weaving of references enriches the experience of the exhibition, both for the artist but I'd also say for the public.
With Penone we chose to contrast certain precious materials and the monumentality of the location with a sense of modesty that is more fitting to his vocabulary—a sense of urgency, as Penone loves to describe it. At the same time we chose works that also present an idea of classicism that is completely renewed in Penone's work. We have inserted, for example, into the works fragments of antique capitals. And more generally, the selection of works creates an ideal path that is a preparation for the presentation of Leaves of Stone in Largo Goldoni and tracks down certain ideas that emerge in Penone's career, in particular dialogues between human and nature, and history and nature, and a certain Franciscan aesthetic, almost religious, that contrasts and enhances the spaces in Palazzo della Civiltà Italiana.
NR: As for Leaves of Stone I imagine that, besides the dialogue with the urban architecture, you had to negotiate a lot with the city itself (citizens, committees, public administration). Rome has never favored, never mind facilitated, the integration of the contemporary and the historic. In your case, how did it go?
MG: As I mentioned, it was a gradual and very delicate process, in which the Ministry and the various superintendents and responsible authorities followed the entire operation step by step. I have to add that Penone's work and his approach as an artist were always sensible to the context. In the end this may be the key to distinguishing between the work of Arte Povera artists and Penone's work, in particular when you compare him with the Land art generation and Postminimalism in general. The difference between him and his American colleagues (and we should think, by now, of Penone as a master on par with Richard Serra and Walter De Maria) is that Penone never confronts nature or architecture with gestures of radical violence. Rather, he seeks out a dialogue with nature and with surrounding space. I think the difference is rather apparent beginning with his work from the 1960s: in America they made art with bulldozers, with dump trucks and tractors, interacting with the landscape with force and violence, while Penone, since his early works in 1968, has confronted nature with a sensitivity that today seems like an anticipation of an ecological conscience. It is this same sensibility that Penone also brings in with Leaves of Stone.
NR: The sculpture in Largo Goldoni also represents an interesting marriage between public and private in a city commission. You were one of the first to follow this path, with the Trussardi Foundation. From the first interventions in Milan up to today, does it seem to you that there has been an evolution in the Italian public art scene? That not only institutions but also the public are generally more open to this kind of commissioned work?
MG: I've always said that I wasn't interested in doing public art—meaning that kind of characterless urban art that's more like decoration or furniture. I rather believe that we have to make all art public—that is, to create situations in which art can be distributed to a broad and diverse public without watering down the message and finding ways to preserve critical strength and rigor. It seems to me that Fendi works in this very direction, cultivating a sense of excellence and precision without compromise. This is the reason why such important artists like Penone accept the opportunity to work with this kind of commission.
With the work in Largo Goldoni as well as the exhibition at EUR (which is free and open every day), Fendi not only proposes an idea of excellence, which is part of its DNA also as a fashion house, but above all renews a sense of civic responsibility that has distinguished many of their other initiatives dedicated to the restoration and preservation of important monuments in the city of Rome. In Milan, over the past years, we have witnessed a complete transformation in public art and even if we cannot take all the credit, without a doubt foundations tied to fashion have contributed to transforming the perception of it. I hope the same thing can happen in Rome, and projects like this one from Fendi can make it happen.
NR: Getting back to the exhibition, the recent passing of Jannis Kounellis led many observers to question Arte Povera's true legacy. What is—as a curator—your opinion on such a movement, of which Penone is one of the few witnesses still active and here with us?
MG: I think for the generation before mine, Arte Povera was like the father you had to rebel against. Whereas in my case Arte Povera is a generation I learned from, and with which I was able to have a relationship without jealousies and competitions. After all, this was the first truly international movement in Italy after the war, with contacts all over the world, capable of sitting at the same table with celebrated names like Richard Serra or Bruce Nauman or Eva Hesse. But in respect to Arte Povera perhaps I had a less obsequious relationship than many of my colleagues just a few years older than me. I was fascinated by the possibility of recuperating the energy of those times and not "museumifying" them in an aesthetic way or in a great mausoleum. For me Arte Povera is still a shock—it has been since I first encountered that extraordinary catalogue in black and white curated by Germano Celant and published in Italy by Mazzota, which is still a radical, powerful book. And even if I have never worked with any of the Arte Povera masters—even if Penone and I have known each other for some years now—I have celebrated the work of many of those artists. Marisa Merz's Golden Lion for lifetime achievement at the 2013 Venice Biennale or the so-called Boetti Day in which we celebrated Boetti's work in Turin in 2011 are two examples of my dedication to the art produced during those years.
NR: I would say that Arte Povera was an especially unwieldy presence for artists. After the first natural wave of rebellion against it in the 1990s, today it is one of the main influences for the most recent generations (although often concealed or denied): the predilection for sculpture, the attention to durable materials, the myth of manual labor, the refusal of technocracy. All these elements reappear in the work of the most represented Italian artists, for instance Perrone, Gabellone, and Andreotta Calò, as well as in the practices of their younger colleagues, like Luca Monterastelli, Andrea Romano, and Nicola Martini, who work with materials that can only be defined as poveristi: marble, cement, bitumen. Do these ideas ever come up in your conversations with young artists? And in the conversations you've had with Penone, did you ever talk about younger generations and his possible influence on them?
MG: Penone and I spoke more than anything about his relationship with the art of the 1960s and with art that he was tied to or opposed to at the beginning of his career. Working with an artist like Penone is a unique opportunity to have access to an important historical memory—he was in all of the most important shows of the 1960s and 1970s. Therefore I preferred to stress him with questions about a world that I can only know thanks to artists like him, rather than talk about artists that I too can meet today in person. That said, the influence of both Penone and Arte Povera is extremely pervasive, but it is also a chapter of such force and precision that it has closed as many doors as it has opened. Certainly the artists you mention in one way or another have to face Arte Povera. And how can we not mention names like Maurizio Cattelan, particularly in the 1990s, or Paola Pivi, Micol Assaël, and all the other artists indebted to artists such as Marisa Mertz—not only formally but also as models of existence and of life, of feminism and independence?