EXHIBITIONS
Gustav Metzger at e-flux, New York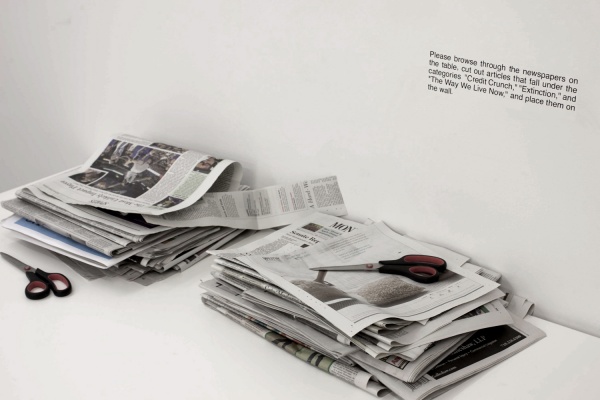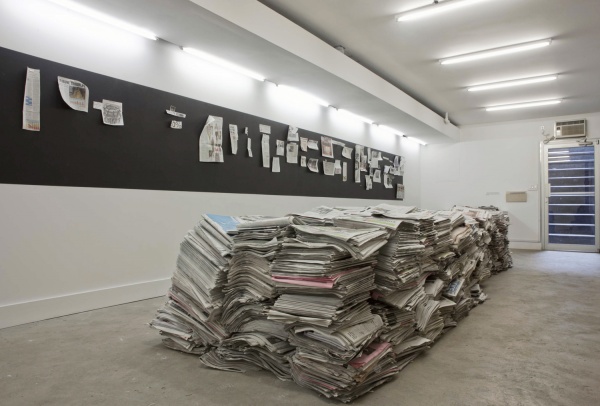 e-flux presents an exhibition of works by Gustav Metzger conceived by Hans Ulrich Obrist and Anton Vidokle, following the exhibition "Gustav Metzger: Decades 1959-2009," curated by Julia Peyton-Jones, Hans Ulrich Obrist, and Sophie O'Brien at the Serpentine Gallery in 2009.

Two key works are on view: MASS MEDIA: Today and Yesterday (2011), and Historic Photographs: To Walk Into – Massacre on the Mount, Jerusalem, 8 November 1990 (1996/2011), both part of the Historic Photographs series in which the artist responds to the media's persuasive yet inadequate documentation of traumatic events throughout history. In MASS MEDIA: Today and Yesterday, (2011), thousands of newspapers are stacked in a rectangular mass in the middle of the e-flux project space. The viewer is invited to cut out articles related to the topics "credit crunch," "extinction," and "the way we live now" from local daily newspapers and display these on a wall. Addressing the capitalist consumption of goods and information that in turn threatens the planet's ecological survival, the work suggests an endless collective expression of political disenchantment.
In Metzger's ongoing "Historic Photographs" series, enormous reproductions of newspaper photographs—of the Holocaust particularly and more recent events such as the Vietnam War—are often obscured by a physical barrier of curtains, bricks or rubble. The uncomfortable intimacy and distorted perception of the original photograph makes it impossible to see in its entirety. To Walk Into – Massacre on the Mount, Jerusalem, 8 November 1990, (1996/2011) is a black and white image from the Italian newspaper l'Unità, taken at Al-Aqsa Mosque in Jerusalem during the Temple Mount massacre in Jerusalem on November 8 1990.
The newspaper remains a central motif of Metzger's work, asking us to challenge the obtrusive media presence in society. It embodies the tension at the core of Metzger's practice: the use value of science, technology and politics as tools for societal progression, versus their criminal disintegration of the natural world and ethical tendencies.
—
Top - Gustav Metzger, MASS MEDIA: Today and Yesterday, 2011. Photo: Mila Zacharias
—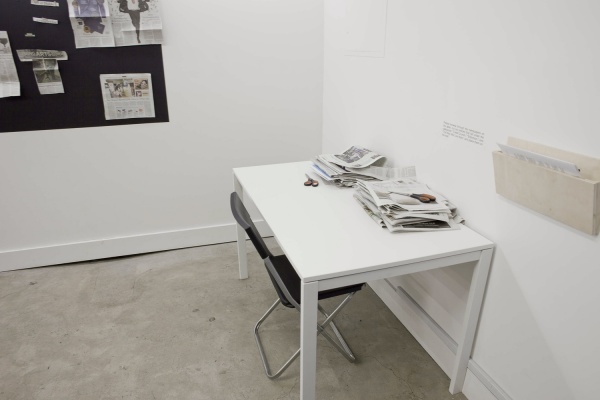 Gustav Metzger, MASS MEDIA: Today and Yesterday, 2011. Photo: Mila Zacharias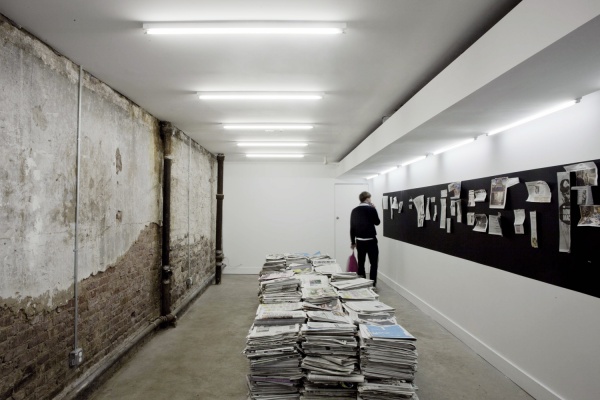 Gustav Metzger, MASS MEDIA: Today and Yesterday, 2011. Photo: Mila Zacharias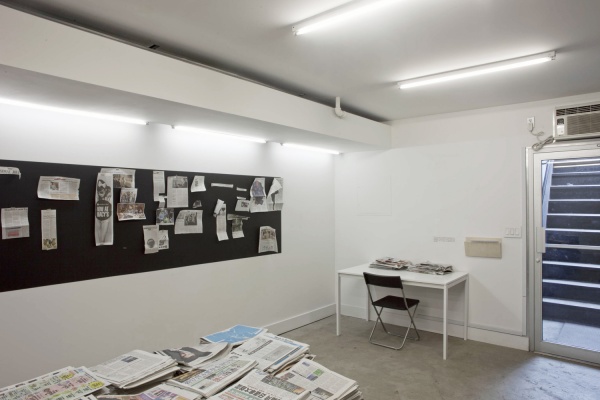 Gustav Metzger, MASS MEDIA: Today and Yesterday, 2011. Photo: Mila Zacharias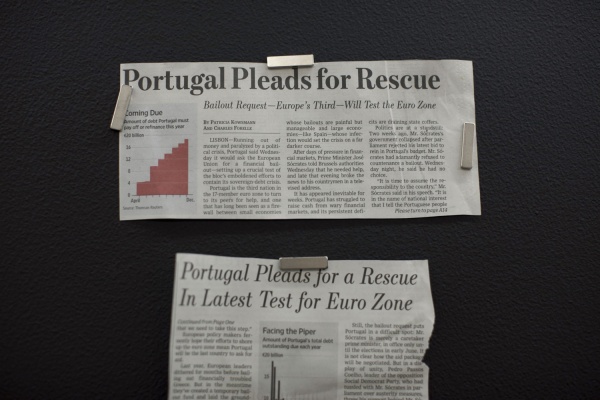 Gustav Metzger, MASS MEDIA: Today and Yesterday, 2011. Photo: Mila Zacharias

Gustav Metzger, Historic Photographs: To Walk Into – Massacre on the Mount, Jerusalem, 8 November 1990, 1996/2011. Photo: Mila Zacharias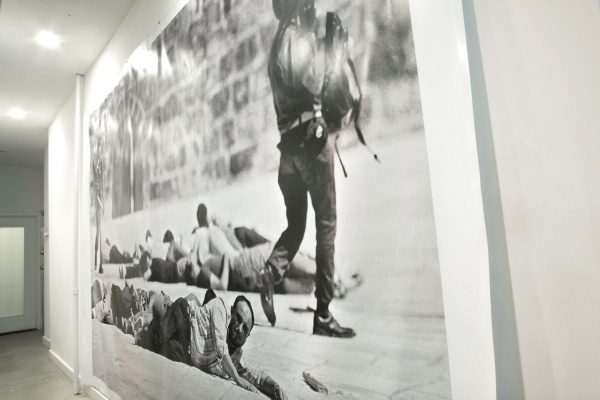 Gustav Metzger, Historic Photographs: To Walk Into – Massacre on the Mount, Jerusalem, 8 November 1990, 1996/2011. Photo: Mila Zacharias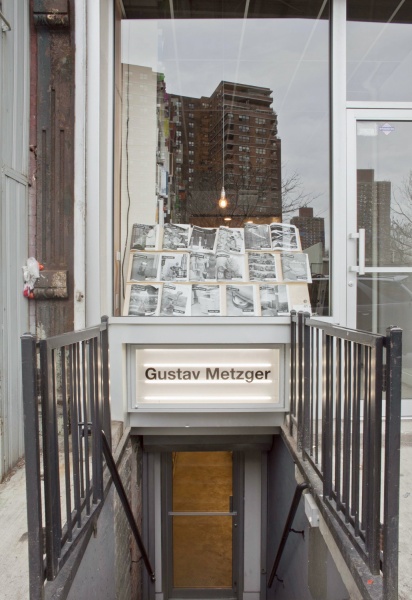 Gustav Metzger at e-flux, New York City, 2011. Photo: Mila Zacharias