Mousse 73 TIDBITS
A Wolf 's Dog Whistle: Hadi Fallahpisheh
Close
1
2
3
4
5
6
7
8
9
10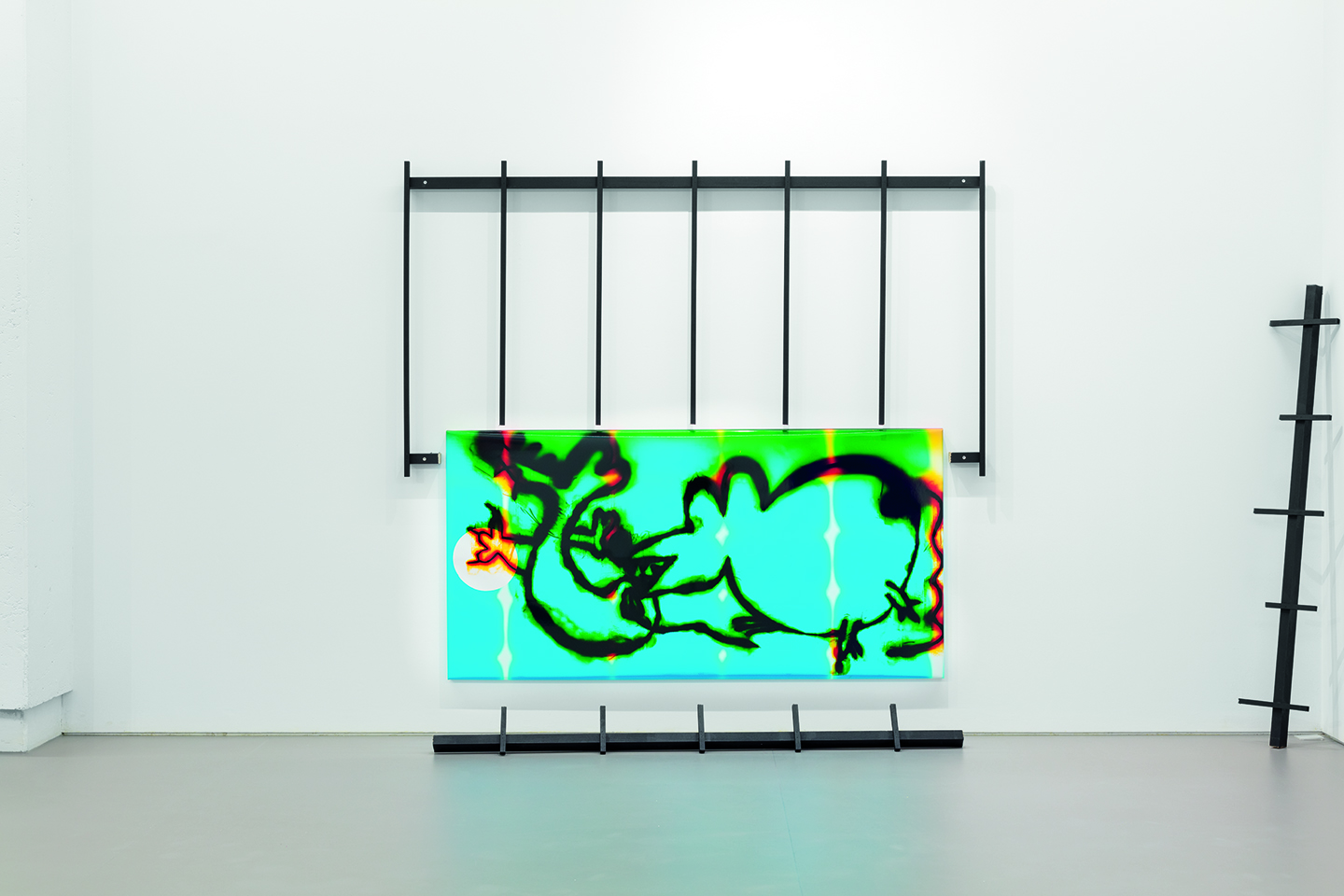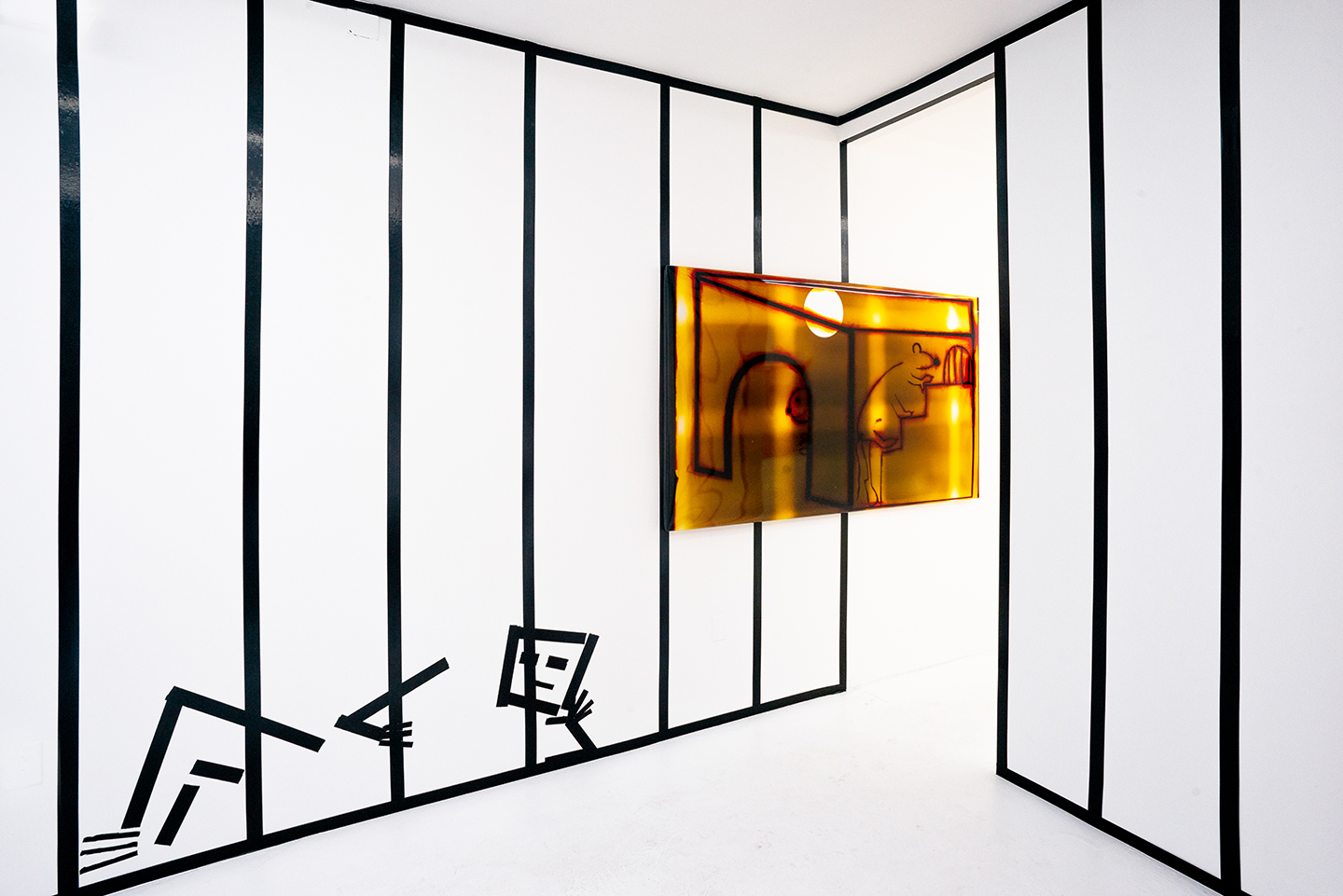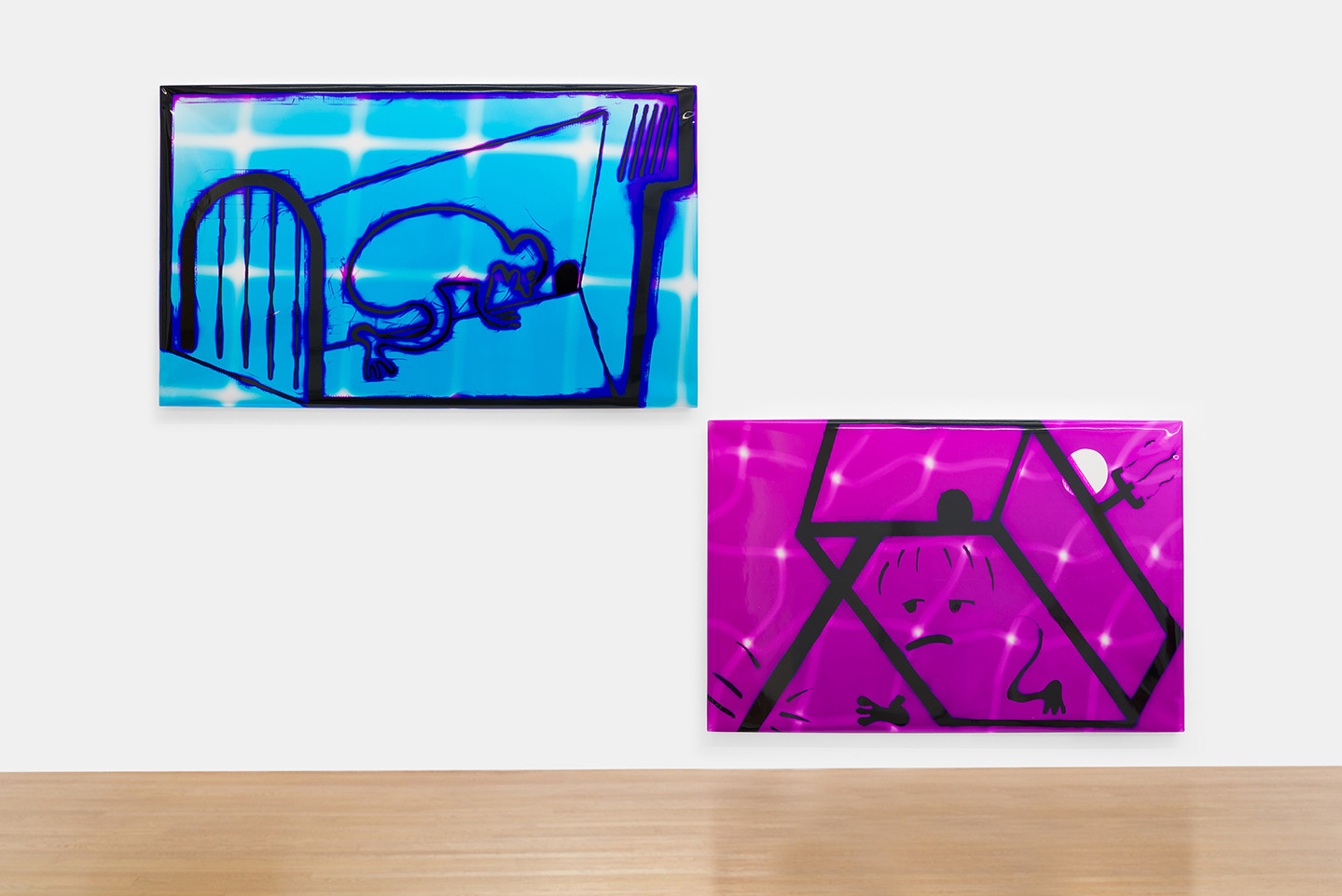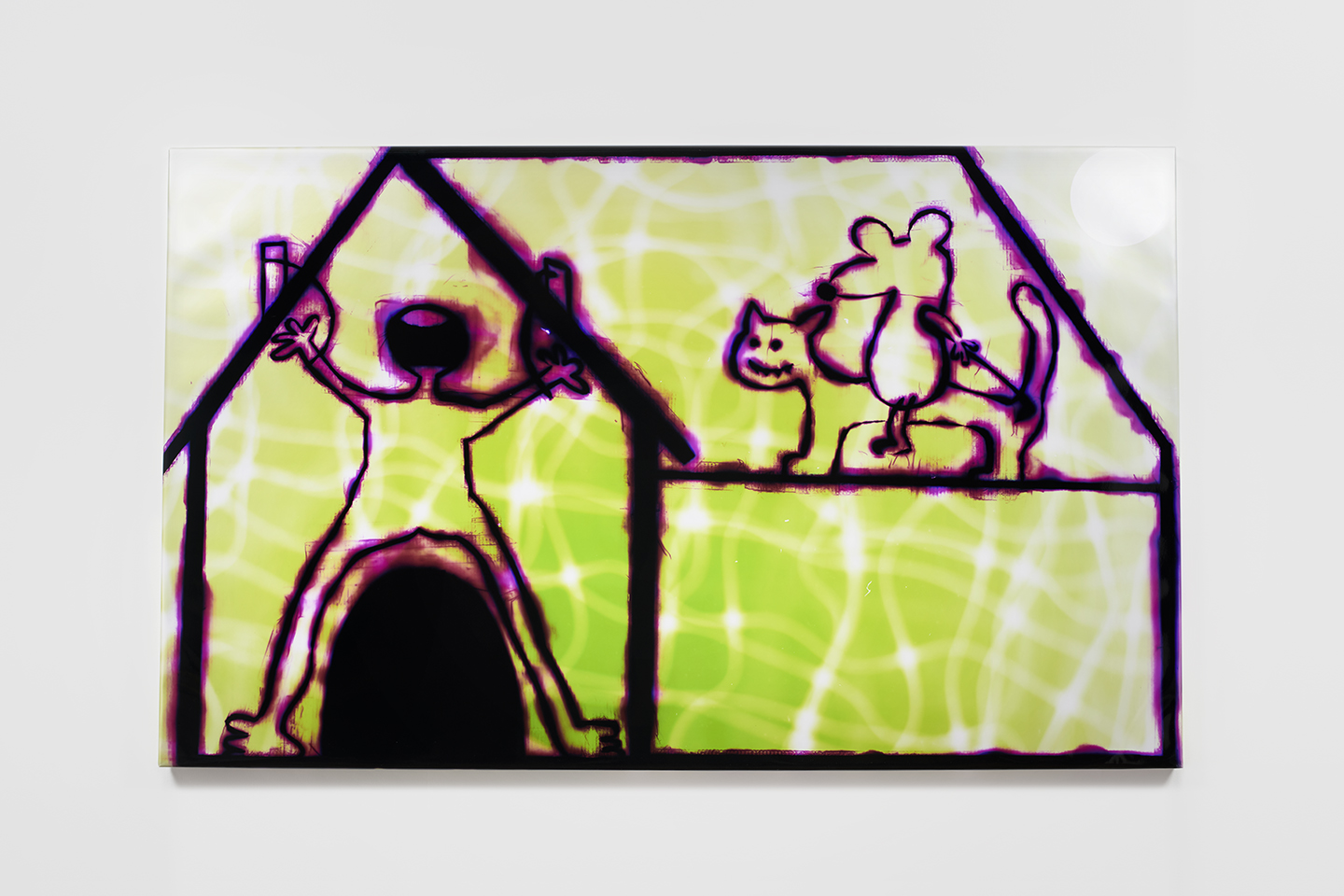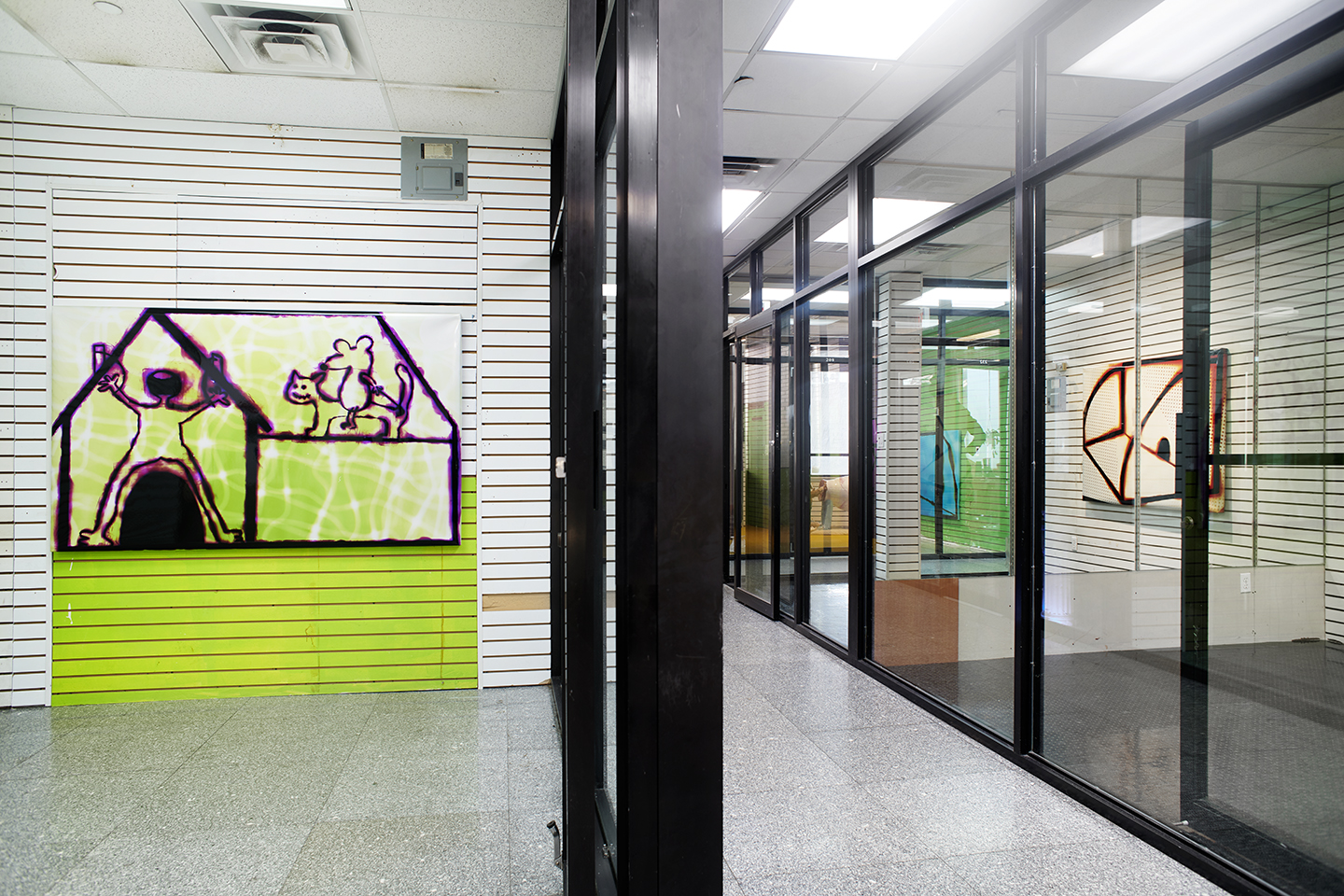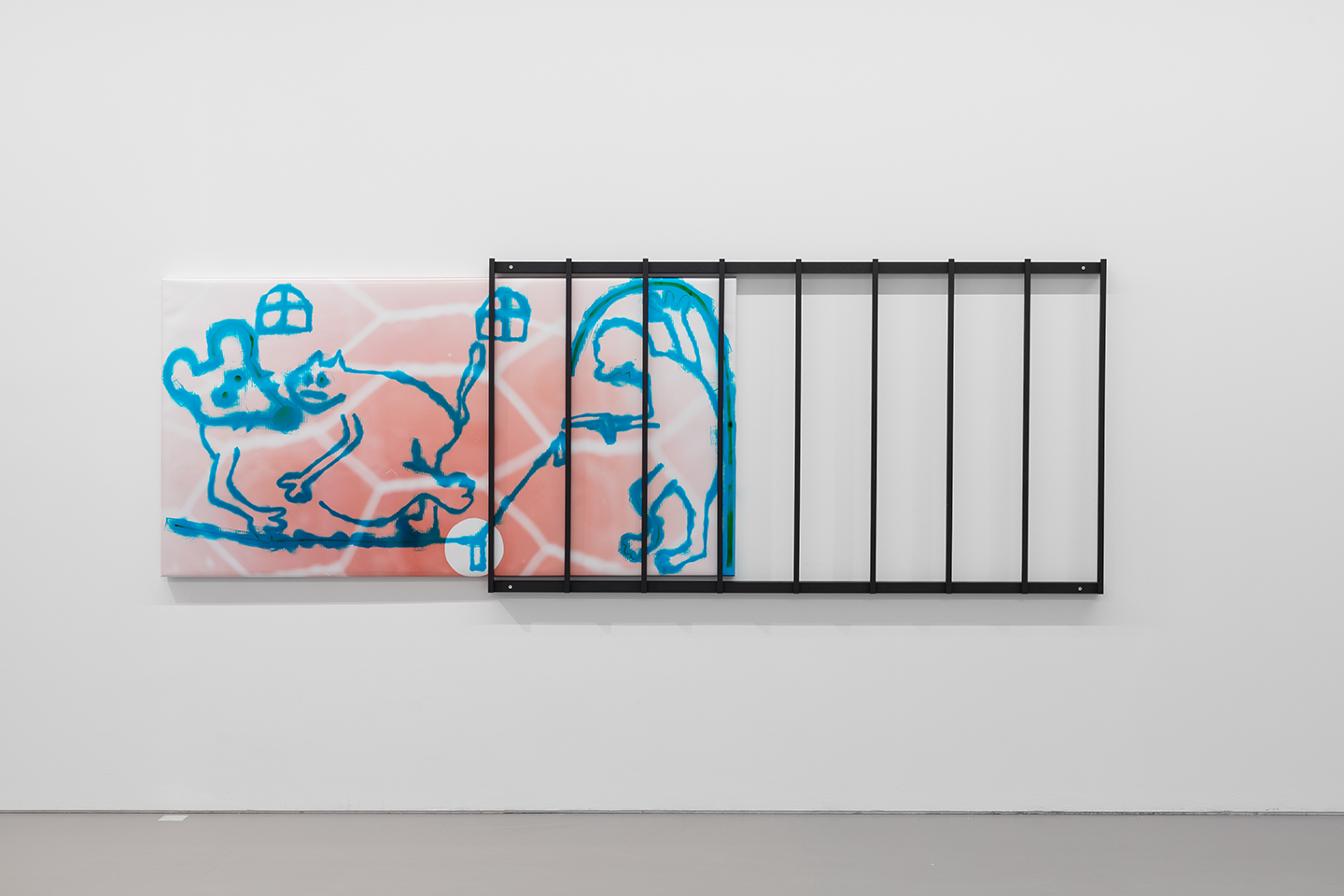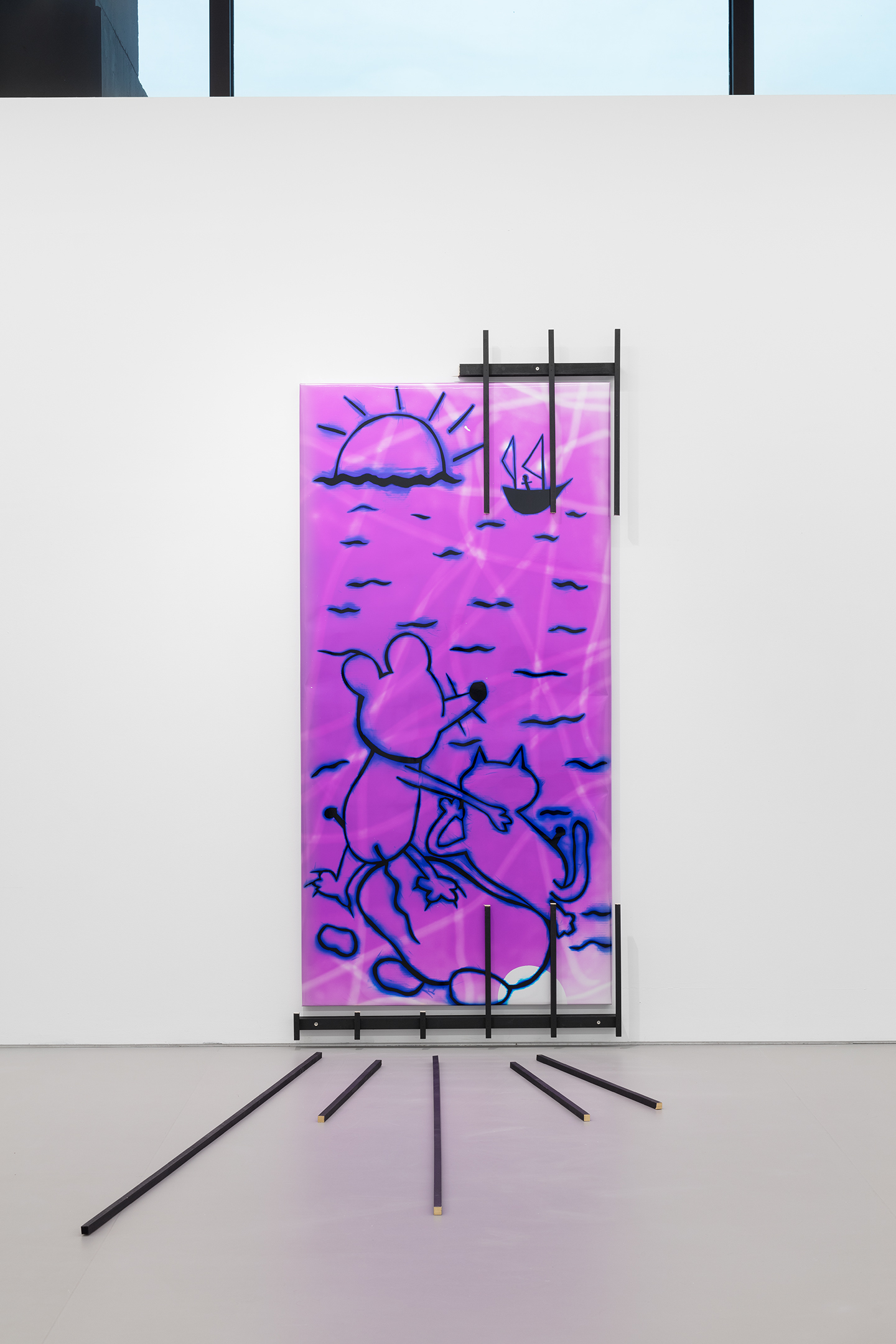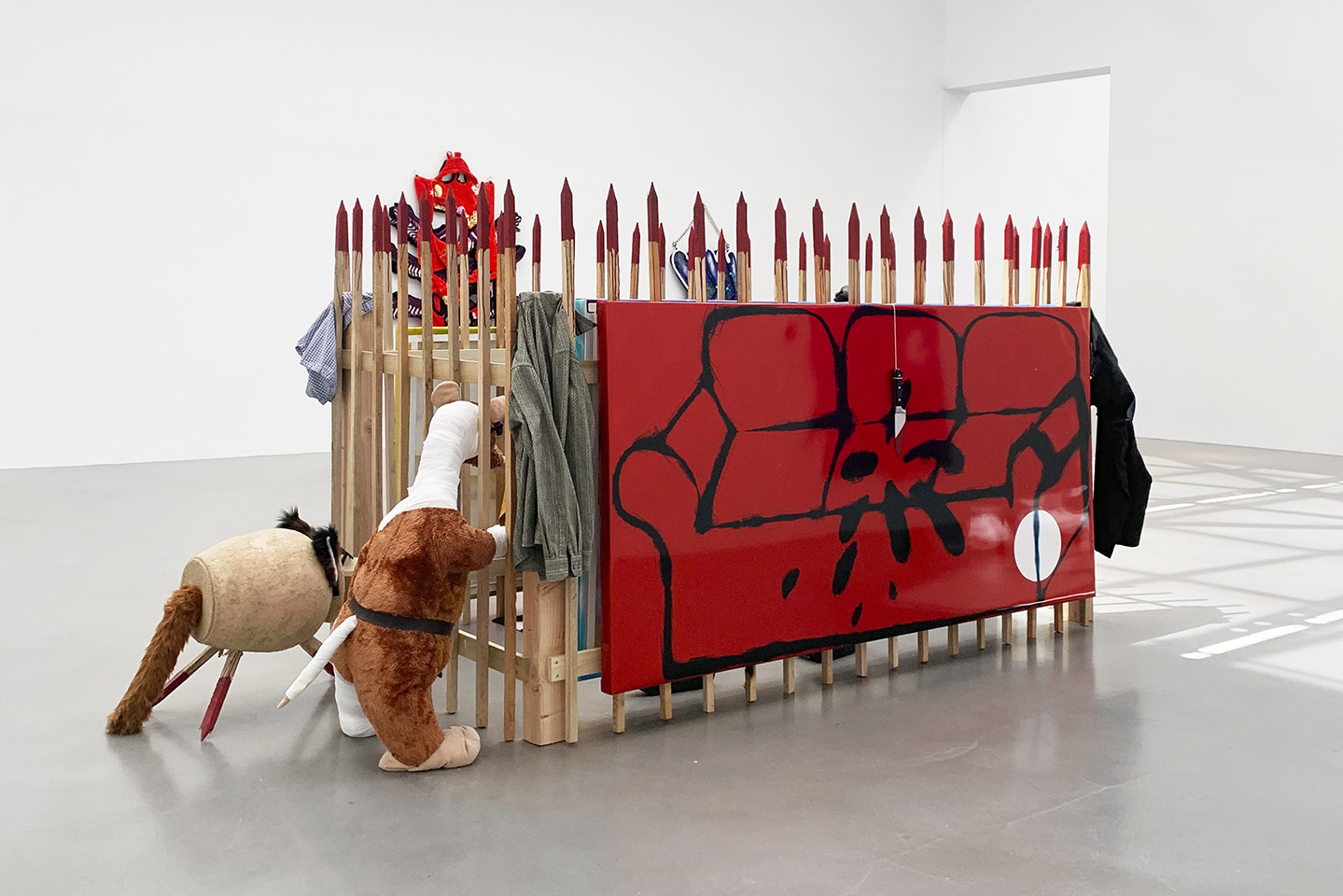 by Kristian Vistrup Madsen
In his darkroom, Hadi Fallahpisheh has developed every rotten family dynamic possible. His light drawings are saturated with a generalized yet somehow understated lewdness, as if dog whistled from a rooftop. This cast of sadistic pets and people murder and spy on one another—and they are only half-kidding.
I thought Fallahpisheh's pictures were full of penises, but they're not. This realization makes me feel slightly embarrassed, caught with my pants down, dick-crazed and sordid. But what I saw were more like hints: a bottle held at a crotch, a hole in a wall, strategically placed, something that's actually the tail or fourth leg of a mouse, or is it? In Nightmare You Came Too Early (2019) there might actually be one of the famous male members—but it could also be my imagination. The lesson to be learned here is precisely that the best penis is the one that's not actually there; the nastiest joke is the one you don't get.
Fallahpisheh makes photographs inside a darkroom without a camera. In that sense, his pictures are hundred percent backstage. There's no subject, no event. Insofar as we can still speak of photography, there is only postproduction. When he first started working with the medium, it was as a photojournalist in Iran. Outside of capturing the necessary "what, when, and where" to illustrate the story he'd been sent to cover, he'd turn his back to the scene to shoot what was coincidentally or irrelevantly adjacent: people paying no mind, details of no importance. Already, then, the question was how to take a picture of nothing that still shows something, and to what extent the nothing informs the something the viewer receives.
The photographic works are made by drawing with flashlights onto photo paper. The closer you hold the light to the paper, the more intense the line. You are not supposed to touch it, but at some point Fallahpisheh decided that he was going to touch it anyway. Like turning away from the subject at hand to photograph what's behind it, there's an element of disobedience here. But what starts as a mistake is employed rather as a narrative hook. By way of leakages or rifts in the paper, Fallahpisheh leaves the prescribed path looking for wolves and hunters to mess with the story, Little Red Riding Hood-style.
Children are obsessed with drawing houses and families. And Fallahpisheh's subjects are often sourced from such a kid-like universe of animals, mostly house pets and simplified human forms, acting as families, but fucked-up ones. In the dark with his flashlights, Fallahpisheh makes twisted versions of classic children's iconography—drawings that depict the thoughts we wish children didn't have, but we know they do because we have them, too. This motif functions much like in religious painting, or still lifes, as a generic framework that you can fill with almost anything—in this case, fantasies of revenge, voyeurism, captivity. What we might register as the childishness of Fallahpisheh's works, or the naivety of their style, then, is both the natural outcome of their having been drawn in the dark, but also their subject matter, which looms so large in the minds of children: familial hierarchies, power structures, containment.
Often the central figure is precisely a container, perhaps a house, the boundaries of which determine where the image is cropped. Think of Russian dolls, how close each one is to the next, what a claustrophobic space they share. Similarly, the house only just fits the picture (itself a container), and inside it, an oversize mouse, cat, or, as in The Judge (2019), a person, peeping through the next mouse hole to the next private space. The mouse hole appears in many of Fallahpisheh's works as a kind of punctum that darts out from the image and pricks your subconscious. It's what I've taken as a penis before, but might be anything illicit or only half-there. Such compositions stage layered portraits of privacy and desire, and of our charged curiosity regarding the private lives of others.
In the lime-green hellscape All Bald Men Must Die/Upstate Neighbor (2019), a masked human figure towers over a mouse hole with a gun in each hand, mouse riding cat in seemingly friendly unison inside. In Oh No Oh Yes (2019) a kitty lies flat on the table while a large mouse reaches with one hand for the cat's tail, with the other for the dot of its anus. In the two works Untitled (Artist Critic) (2020) the animals simply stab each other to death in turn. These pictures ooze the cluttered and aggressive excess of domestic life, promising both catharsis and some delicious backlash of shame.
Much in spite of these, the most crude subjects imaginable, the work—mysteriously and against all odds—maintains some innocence and poetic allure. One reason why is that Fallahpisheh seemingly works hard to excise any real referentiality from the pictures. They come from nowhere and remind us of nothing, save, perhaps, the blandest of bootleg Disney. Such carefully designed anonymity disarms the base cruelty of the various characters, at least long enough to lure us in. The other reason is both harder to pin down and more effective for it. It's in the seductive gloss of the paper and the way the lines wash out, from deep blue to turquoise, like flames, or a soot-tainted yellow, striped as if by sunlight on the floor of a swimming pool. I am talking about the softness and hope irredeemably lodged in beauty, which has the ability to sneak, like penises and other imaginary indecencies, into the most unlikely of places: mouse holes, broken homes, darkrooms.
Hadi Fallahpisheh (b. 1987, Tehran) lives and works in New York. He works primarily with photography, as well as performance and installation to destabilize visions of a stable and singular subject. Often commenting on conditions of displacement, his work questions the ability of representation to convey truths, revealing the gaps between public perception and personal experience. Fallahpisheh moved to New York in 2014, and received an MFA in Photography from Bard College in 2016. He is a graduate of the Creative Practices Program in Photography at the ICP, New York. He has presented work at venues including TRAMPS, New York; Central Fine, New York; Blum&Poe, Los Angeles; Kai Matsumiya, New York; Off Vendome, New York; The Mosaic Rooms, London; ICP, New York; Callicoon Fine Arts, New York; Delgosha Gallery, Tehran; Dastan Gallery, Tehran; and Maryam Harandi Gallery, Tehran, among others. His solo show Good is currently on view at Efremidis, Berlin.
Kristian Vistrup Madsen is a writer and art critic based in Berlin. He has been published widely in magazines such as Artforum, Kunstkritikk, frieze, Afterall, ArtReview, Texte zur Kunst, and Spike. His first book, a collection of essays about the US prison-industrial complex, identity politics, appropriation, and responsibility, is forthcoming from Floating Opera Press in 2020.