ESSAYS Mousse 69
Is Wow the Same as Great?: Hanne Lippard
Close
1
2
3
4
5
6
7
8
9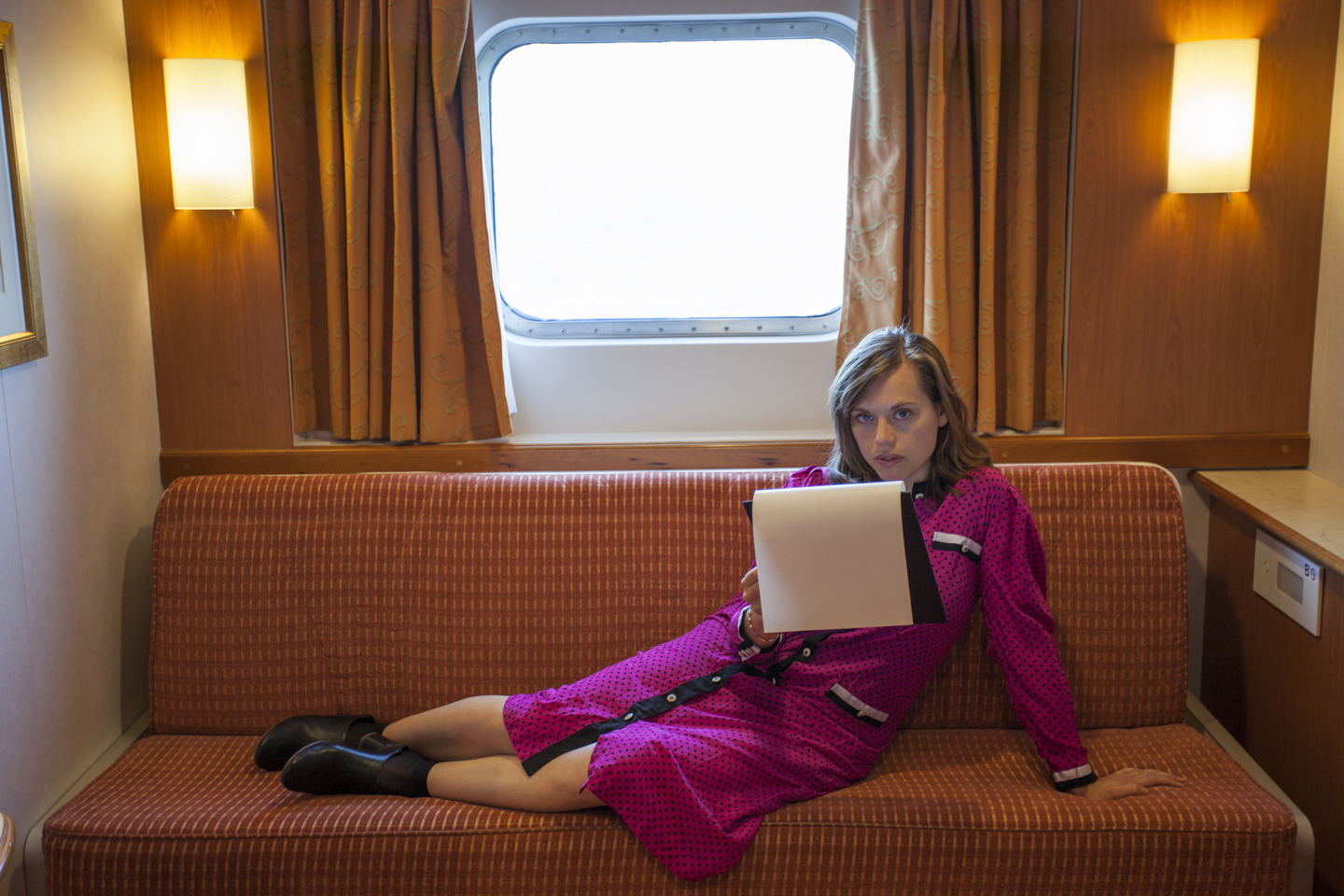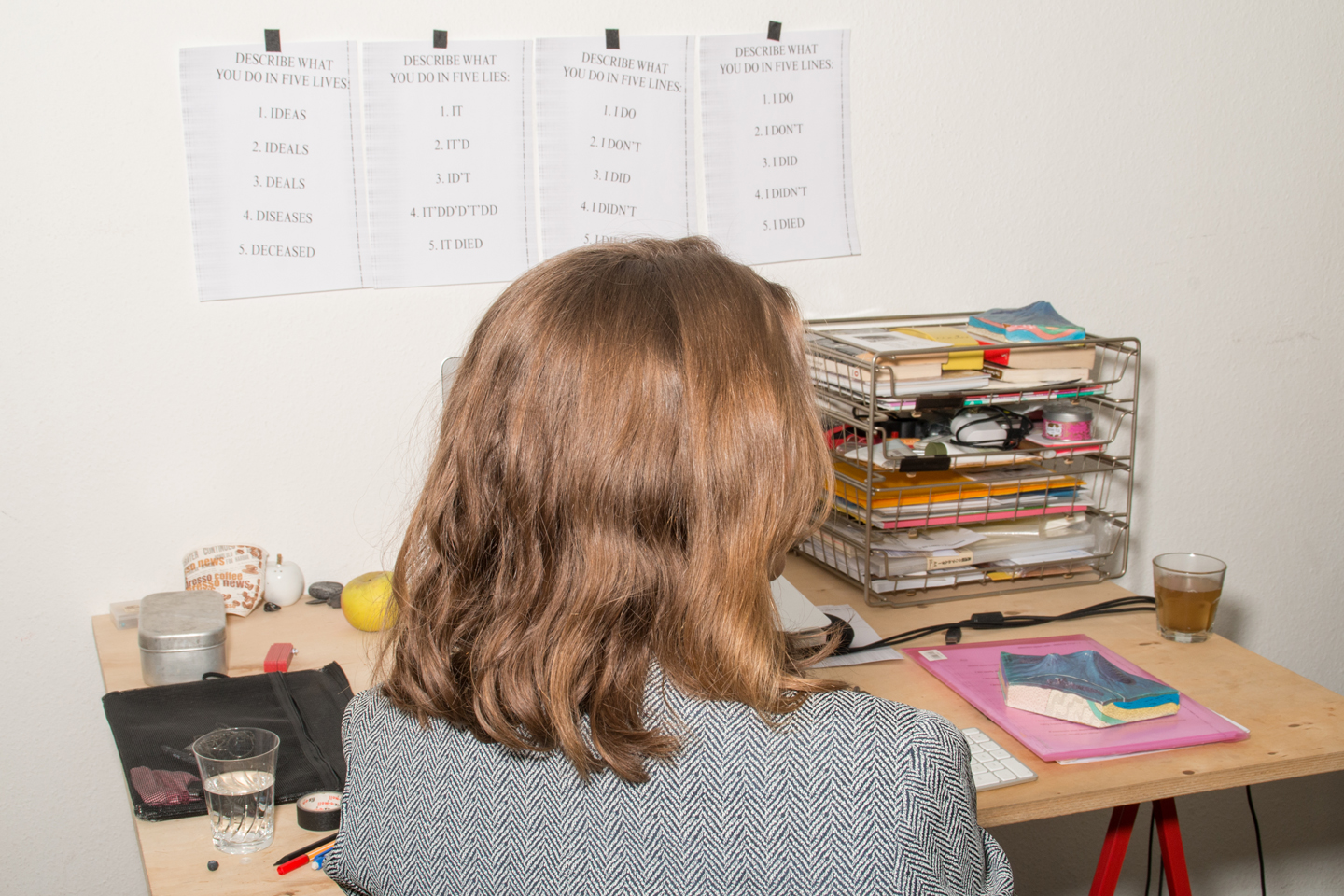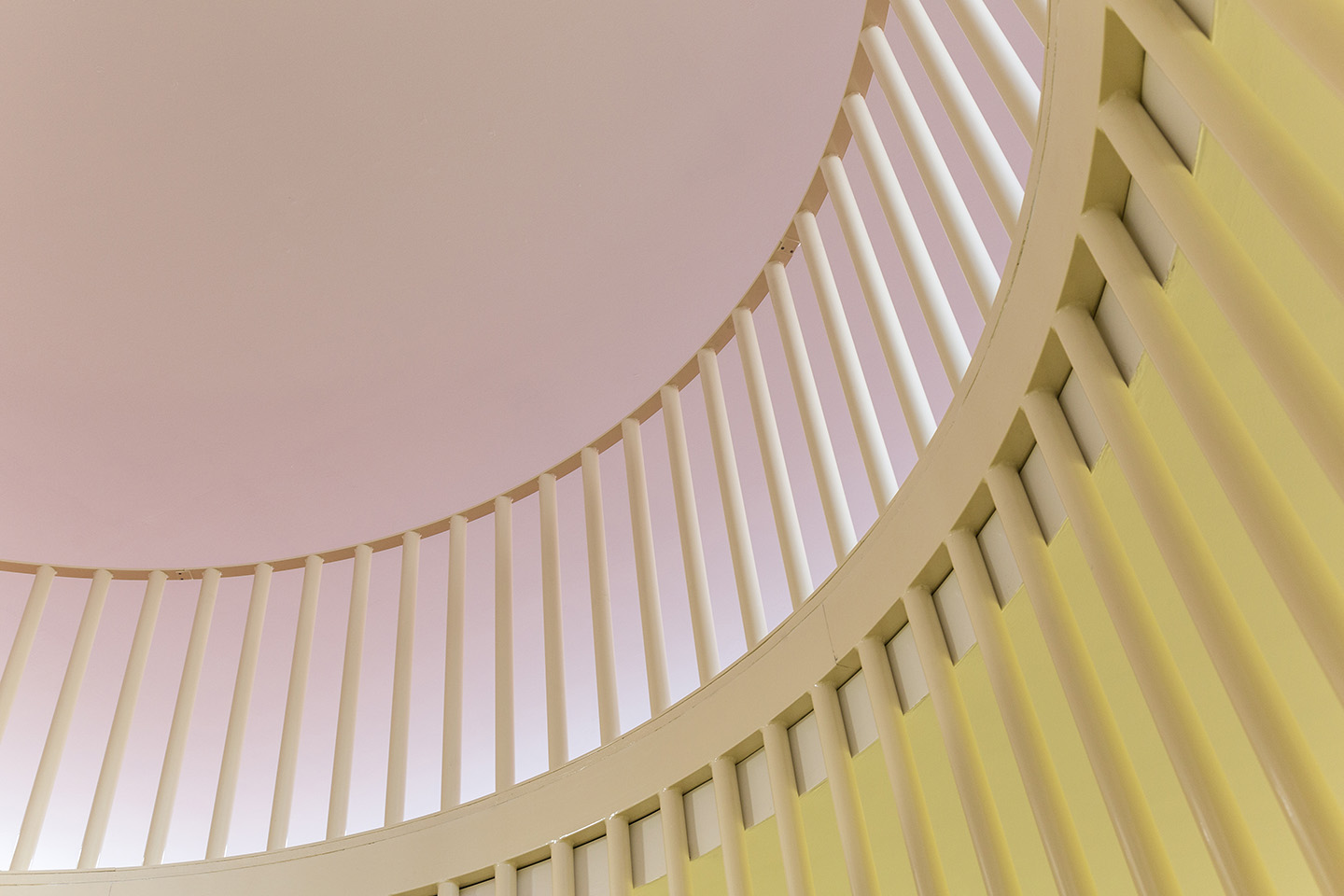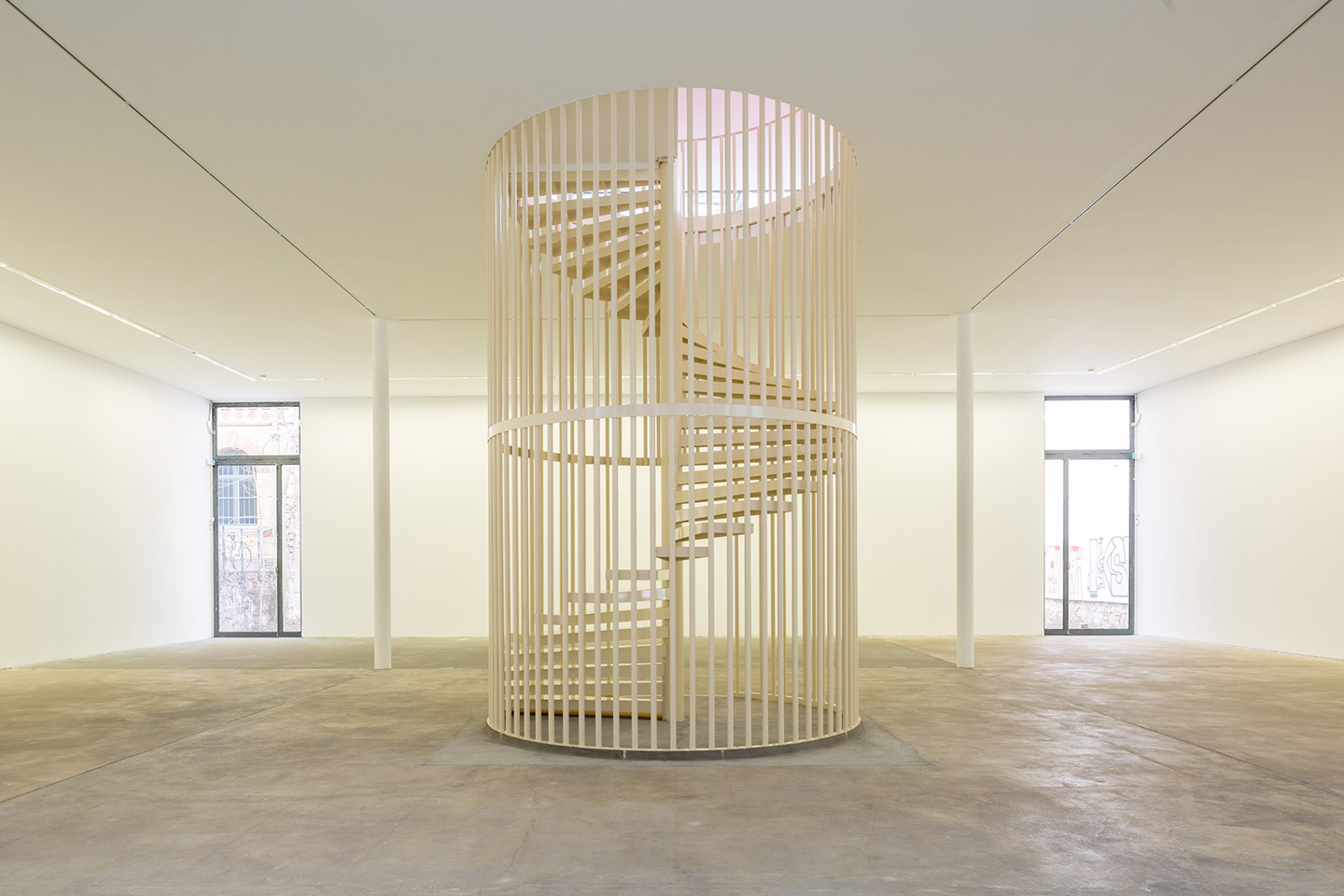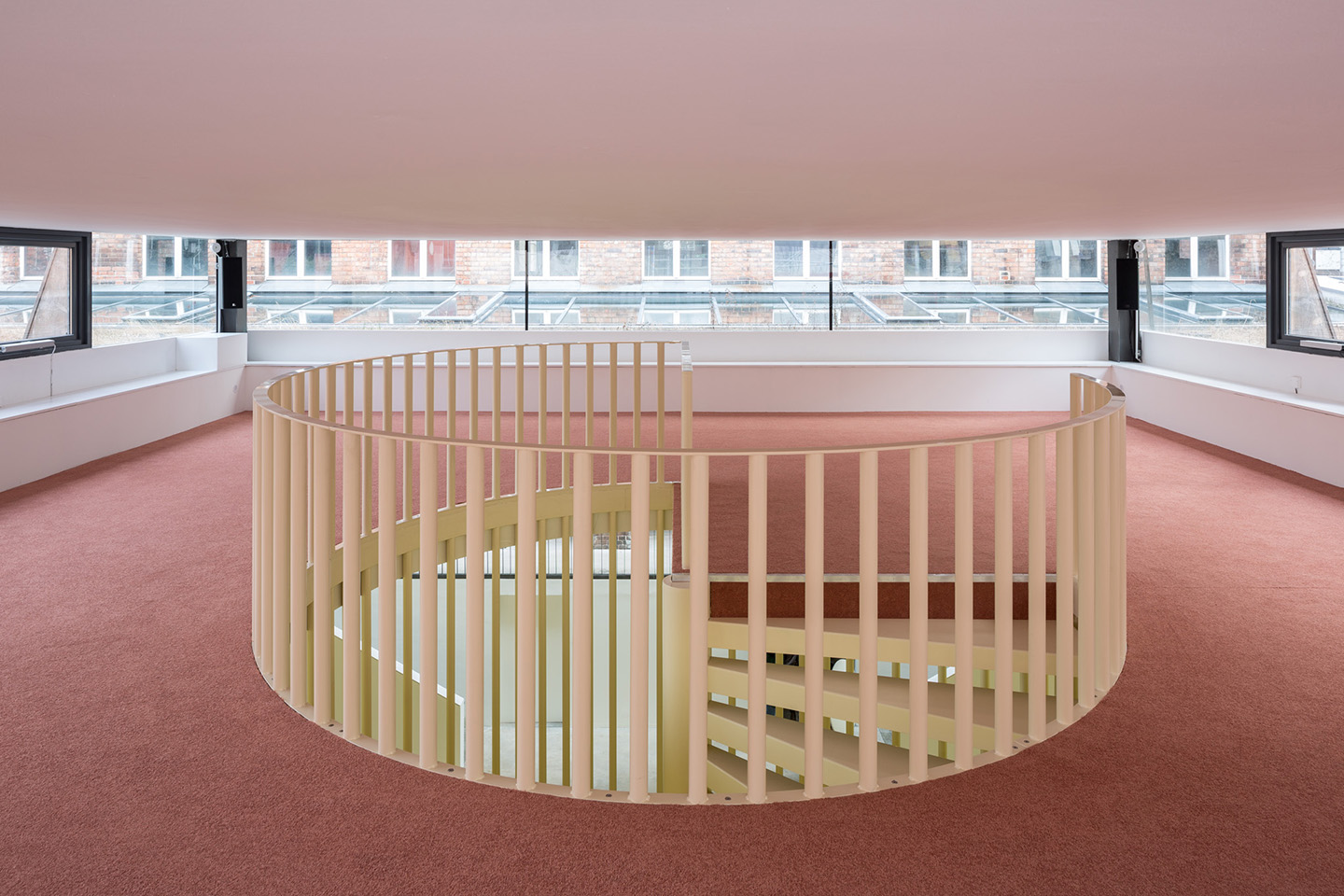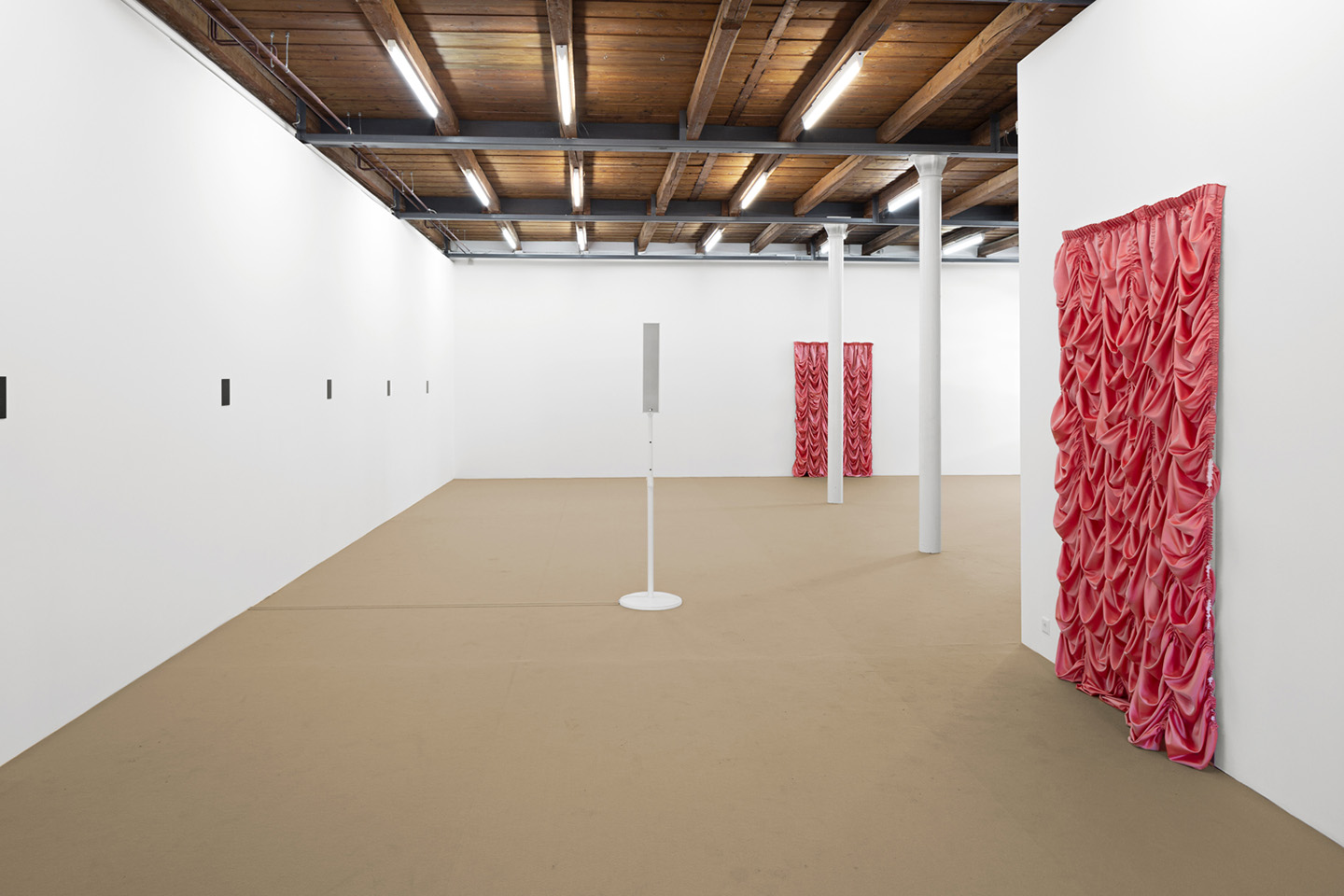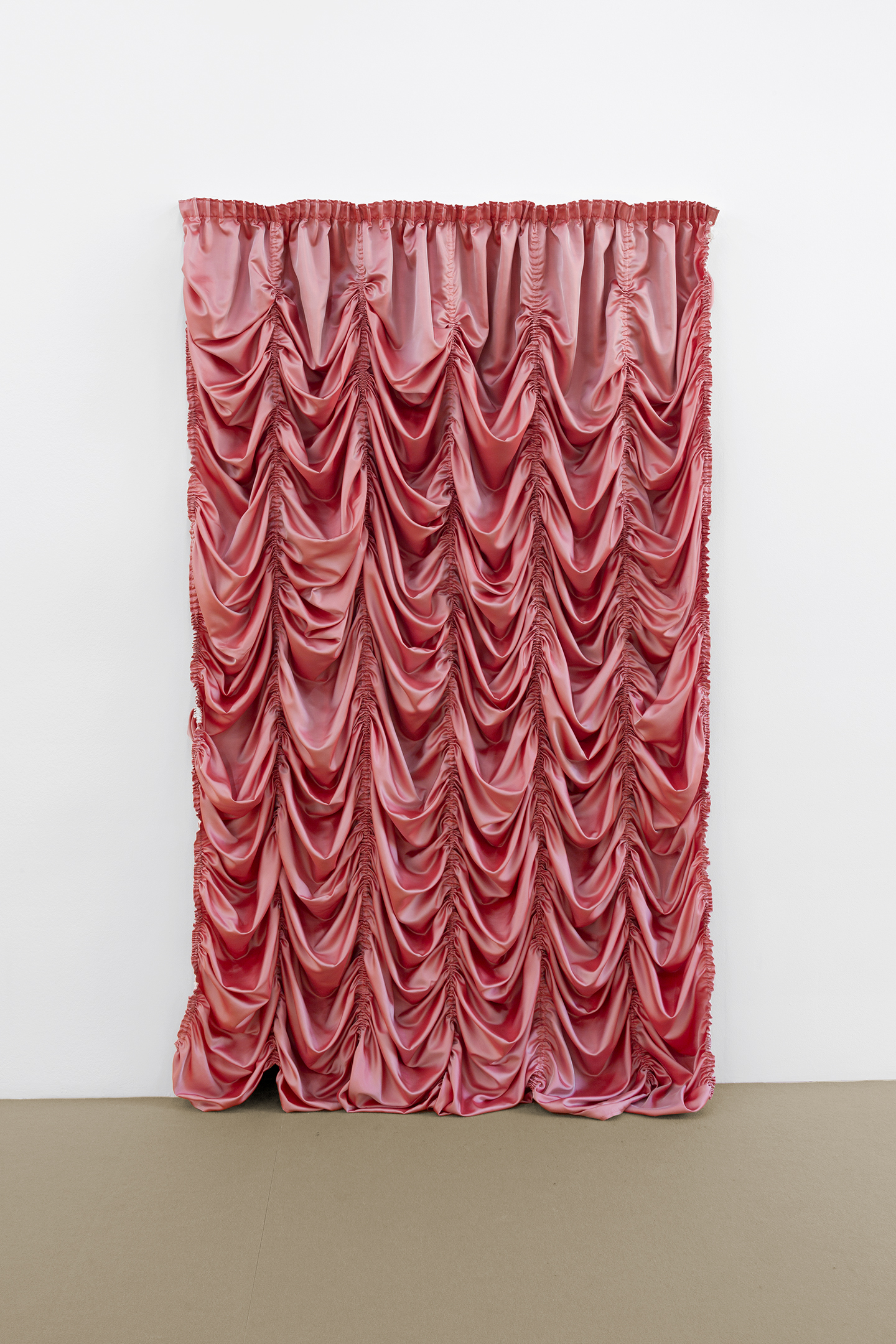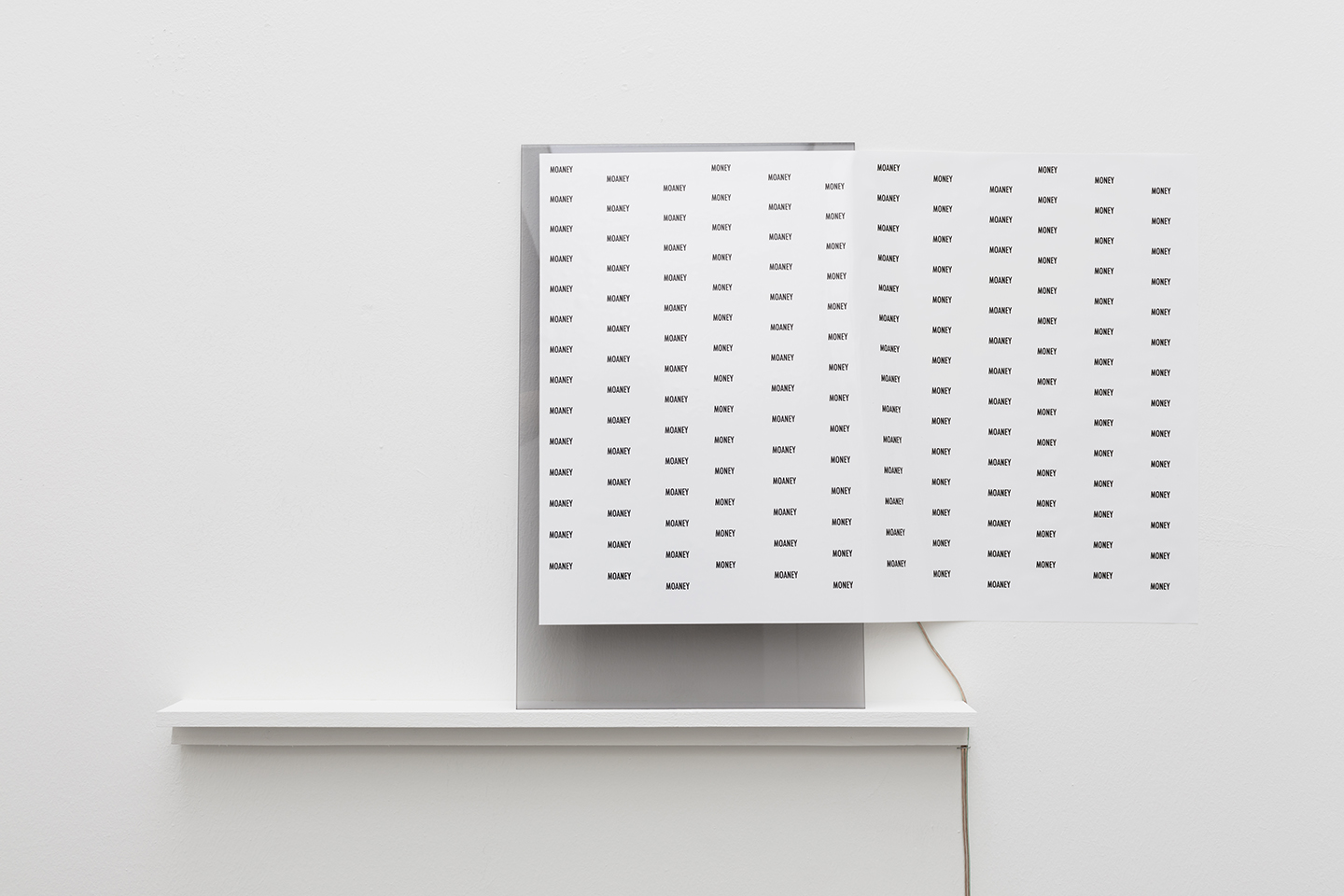 by Balthazar Lovay
Hanne Lippard has been using her voice as primary material for her sound installations and live performances since 2010. She appropriates and reenacts situations taken from the public sphere to interrogate a large range of subjects, including body politics, identity, standardization, and art ontologies. Her practice proposes a unique view on the media soundscape that surrounds us—one that prods us to listen more carefully.
In her manifesto "Negative Capability as Practice in Women's Art," published in 1976, Annemarie Sauzeau Boetti stated that woman has been absent from history because "she has never given meanings of her own through a language of her own," and that "to emerge creative, female (artistic) processes must insinuate themselves into the cracks of language, transgress and betray its rules." She called for "not a positive avant-garde subversion but a process of differentiation. Not the project of fixing meanings but of breaking them up and multiplying them."1 These ideas animated the work of many feminist artists of the 1970s, who (re)appropriated language as a tool for the construction of a new subjectivity through its semantic codes. In particular, Wendy Coleman, Ketty La Rocca, Patrizia Vicinelli, and Betty Danon produced voiced sound recordings. The advent of the portable cassette recorder and the standardization of formats around that time offered inexpensive and mobile means to record their manipulations of language. Indeed, the cassette recorder became a tool for embodying feminist ideas of self-organization and self-determination, which took powerful form in vocal expression—the physical matter of the body producing the voice—as the title of one 1978 group show curated by Mirella Bentivoglio, Materializzazione del linguaggio, expressed. For Bentivoglio this title "intended to bring together in the root matter the dual significance of femininity and material."2
Today, digital capitalism has co-opted these artistic strategies. The calculation of market ideology is now dressed up in the soft voices of flexibility, intimacy, creativity, and experimentation. This emotional capital generates multiple subjectivities in order to create an intimate relationship with the consumer. It is an affective system precisely where Hanne Lippard sets her position: "Digital communication and mediation is reprogramming our relationship to language… Displaying vulnerability has become a capital in itself, an encouragement to 'share to care.'"3 As the artists of the Pictures Generation did with images, Lippard vocally reenacts content sourced from social media, internet posts, daily speech, digital communications, and online advertising. She stages a wide range of emotions, from cold to warm, intimate to estranged, mechanical to human. In the sound piece Floating (2018) she repeats the question "What is a body?" twenty-eight times, manifesting this biological and sociological interrogation by impersonating a computer-generated voice. Lippard reappropriates the sound aesthetics of market communications through her own persona and body, thereby inscribing herself into the historical lineage of women artists working with language and producing a self-reflexive critique of the commercial mechanisms replicating and producing contemporary subjectivity. She adopts a variety of vocal styles, from whispering and humming to singing and TED Talk–like presentations. While varied, her voice never rises to a scream; its control amplifies the control of emotional capital. Instead of a direct "one-to-one" appropriation, she answers Sauzeau Boetti's call to insinuate herself into the cracks of language through a process of differentiation with repetition, homonyms and similar syllables, mantric structures, associations, and wordplay, as in this example from Frames (2013-2017):
"Is wow the same as great? Is now the same as today? Is new the same as now?
Is now the same as young?"
For Lippard, "as we repeat the words we 'sponge up' their meaning as much as we add new ones."4 Semantic play also unfolds in complex games of permutations, breaks, and combinations echoing the possibilities of computer-generated algorithms. Works such as Postisms (2011)—where "Postmodernism" evolves to "Toast-Masterism,"—recalls Tony Conrad's early video works involving rhythm structures and computer calculations. In Frames, Lippard seeks deeper philosophical interrogations: she stages a definitional game of voices and technical devices while touching at the very heart of any art practice, questioning the meaning of art:
"Can a voice be sexless?
Is speaking a failed attempt at singing? Is speaking a failed attempt at painting? Is art a problem of storage?
Is memory a problem of storage?
Is storage an art form?
Does art always have to be on display?"
Lippard's work is thus not only a critical examination of the soundscape that shapes our subjectivity, or a feminist engagement with language. It also stimulates, in a highly humorous manner, our understanding of art production itself.
1. Annemarie Sauzeau Boetti, "Negative Capability as Practice in Women's Art," Studio International 191, no. 979 (1976): 24, 25.
2. Mirella Bentivoglio, "I segni del femminile," in Poesia visiva. La donazione di Mirella Bentivoglio al Mart, ed. Daniela Ferrari (Cinisello Balsamo, Italy: Silvana Editoriale, 2011), 16, quoted in Daniela Ferrari, "Mirella Bentivoglio and The Materialization of Language, Between Matter and Femininity," in The Unexpected Subject. Art and Feminism in Italy (Milan: FM Centre for Contemporary Art and Flash Art srl, 2019), 49.
3. Hanne Lippard, discussion with the author, August 2019.
4. Ibid.
Hanne Lippard (b. 1984, Milton Keynes) lives and works in Berlin. Her most recent performances and exhibitions include Art Night London (2019); n.b.k. Neuer Berliner Kunstverein, Berlin, (2019); Nam June Paik Award 2018, Westfälischer Kunstverein, Münster (2018); Ulyd, Kunsthall Stavanger, and Fri Art, Fribourg (2018); Voici des fleurs, La Loge, Brussels (2018); Blind Faith, Haus Der Kunst, Munich (2018); Slutten, Kristiansand Kunsthall (2017); Numb Limb, David Dale Gallery, Glasgow (2017); Norsk Skulpturbiennale, Oslo (2017); Pocket, SALTS, Basel (2017); Flesh, KW, Berlin (2017); ars viva 2016; Index—The Swedish Contemporary Art Foundation, Stockholm (2016); AUTOOFFICE, *KURATOR, Rapperswil (2016); Fluidity, Kunstverein in Hamburg (2016); Galerie für Zeitgenössische Kunst, Leipzig (2016); 6th Moscow Biennale of Contemporary Art (2015); and The Future of Memory, Kunsthalle Wien, Vienna (2015).
Balthazar Lovay was director of Fri Art, Kunsthalle Fribourg, from 2013 to 2019. In that time he organized solo exhibitions featuring Gene Beery (2019), Jon Rafman (2019), and Hanne Lippard (2018), Cameron Rowland (2016), Kathe Burkhart (2016), and Ramaya Tegegne (2015). He is particularly interested in the cross-fertilization between contemporary art and other disciplines, as in the case of his exhibitions on experimental film (Film Implosion [2015]) and experimental music (Screamscape [2015]; Klanghalle [2018]) Fri Art, Kunsthalle Fribourg. His groups shows often scrutinize how an artist's work can generate the context of the exhibition; examples include October 12–November 25 (2018), which gathered artists Jay Chung & Q Takeki Maeda, Cassidy Toner, Jean-Luc Moulène, Michèle Graf and Selina Grüter, Mierle Laderman Ukeles, Constantina Zavitsanos, and others. Lovay is now an independent curator whose current research interests include language-based art practices. He is organizing a retrospective on the U.S. artist Tony Conrad as well as the second edition of Sculpture Garden, Geneva Biennale in 2020, which will feature, among others, Judy Chicago, John Knight, Ghislaine Leung, and Dora Budor.