CONVERSATIONS
Calla Henkel & Max Pitegoff at Isabella Bortolozzi Galerie, Berlin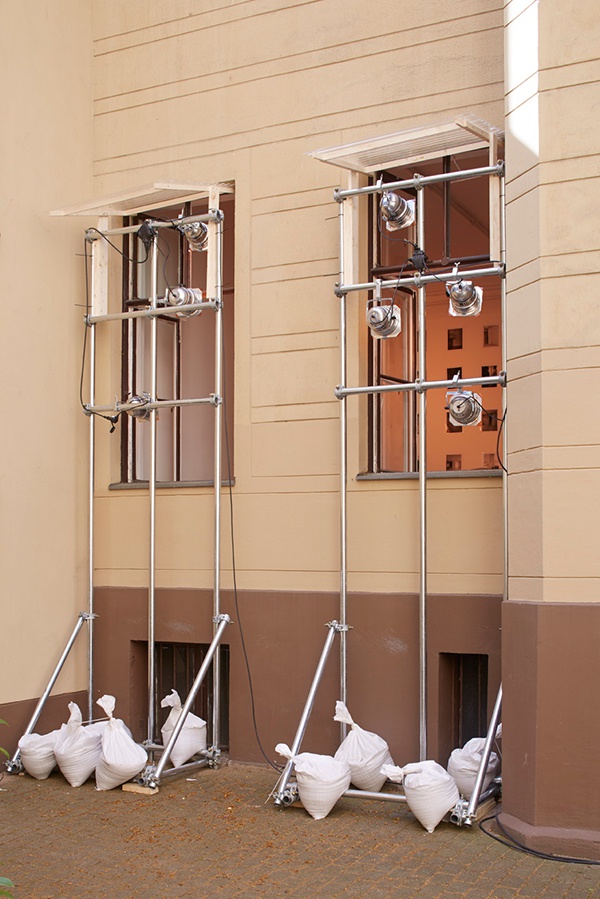 Calla Henkel and Max Pitegoff's website offers only practical informations on the current, performative, community-based project they run in Berlin, New Theater, without visual documentation, without bio, without a list of previous works. This offers a telling illustration of their concern over the importance of presence, temporariness and of their distrust in slippery representational means. Working mainly with performance, photographs and texts, the duo reflect often
on the conditions of artistic production and its constitutive emotional and interpersonal nature. In the following interview they talk about amateurism, hierarchy of audience, the performance of the self, the metonymy of digital images and their next exhibition at Isabella Bortolozzi in May.
Isabella Zamboni One of your last projects, New Theater (opened in August 2013, will close next June), is a collaboration between artists, writers and musicians – all apparently linked by personal relationships, and all of them not trained in drama – which perform plays within a storefront space in Berlin-Kreuzberg. Do you see the forms and intentions of this work (amateurish, intimate and temporary) as any particular reflection on the current artistic configuration of the city of Berlin – which many describe as losing its 1990s and 2000s experimental appeal and promises?
Calla Henkel / Max Pitegoff New Theater isn't a flag for another time, but theater, particularly community theater, seems to have its own sentimentality built into it, and the impending close of the space allows for a doubled projection of doom which contributes to some of its freedoms. And part of the humor of the theater for us is the tangle of amateurism and art world professionalism.
IZ It seems to me that the low profile, unpretentious aesthetic of New Theater plays but also of many of your works conveys a sort of immediacy, one strategy (among others) to connect the formal dimension of the project to the social one that sustains it and lives through it. Something similar to the concept of "new pragmatism" that recently was associated to New Theater [Philipp Erkardt, Texte zur Kunst # 94]. Do you agree with that?
CH/MP The dumbness of some of our forms does make them easy to sit on, and also easy to make, so there is an aesthetic rhythm, but it draws more from what's available rather than an idea of what the whole should look like.
IZ Precisely about what's available: Through all your production there is a constant emphasis on the collaborative mechanisms and values of friendship understood mainly as an affective closed circuit network. Do you see this also as a distance from a problematic of inclusivity typical of relational art – to which, for some similar practices, your production could be associated?
CH/MP We are invested in thinking through a hierarchy of audience, and in part how inclusivity is organized on different levels, whether it be intimate relationships or a more scaled idea of city. The specific hierarchies of theater are interesting within this conversation: how being in the audience means to be part of a community for the length of watching a play, but also how it changes individual meaning and experience to recognize someone on stage.
IZ Immaterial human faculties – cognitive, emotional, linguistic – which you're addressing here and which are present in many ways in your work, determine now
value in the so-called service economy. For example in Notes on American Performance (at T293, Naples, 2012) you ask your partners to hang your works on the walls of the gallery in front of the audience – you hence also employ and "exploit" those forces in this occasion. Is there a sort of critical comment, a more detached view on this condition or is it intentionally ambiguous?
CH/MP It has more to do with the webbed responsibility of love. In the performance you're referring to we asked our partners to hang our photographs with white paint on their hands as a very blunt tracing of the type of labor which goes behind the production of work. The performance was not far off from the reality of what would have happened without the paint, they were in town for the show and we would have asked their advice. But by having them do it for an audience it tugged at the borders of an emotional irresponsibility. At Times Bar we usually asked artists to install their work while the bar was open, lazy on our part, but also because it created a moment where everyone there feels implicit in the reality of the conditions of making and caring for something. I suppose this is an
attempt to try and shift focus onto parts of the process that are fragile but nonetheless embedded in how things get made, like with the receipt photos we made in 2013 in which we photographed artist friends displaying their receipts from production as an informal audit of their practice.

IZ Do you feel comfortable with the definition of your work as "network fatigue" that was recently given [Pablo Larios, Frieze d/e no.16] – a kind of rejection of the digital age modes of production, circulation and reception of art through the establishment of real, lived networks? Is the digital really a reference, although by contrast, in your work?
CH/MP Our relationship to this has more to do with how images circulate online, how one sticks, cuing the slippery metonymy of how one image can become a stand-in for a performance, or a person, or a place. As photographers, that failure of representation for us also becomes material. The liveness of theater sets up its own politics of representation: the way that a performance or an evening plays out cannot be fully understood without presence. Images always find a way to circulate, but in referring to this lived thing they become more fragment than image. In terms of a circuited network at New Theater, the audience has to bring as much generosity as the actor and in turn both roles get performed, the type of embarrassment one can feel for someone they know on stage is a very flammable material and makes everyone conscious of their own performance. Within this there is an awareness of the performance of self and a freedom to exaggerate self, which is part of a parallel but detached conversation around how one performs their digital presence.
IZ Often, beside your photographs are also long texts exhibited. Could you explain why is the word, the literary dimension important here for you?
CH/MP We use writing as a way to push and pull the narrative truths of the images we show.
IZ Talking about contexts, there is an apparent distinction between the works you presented by now in galleries or institutions and the lived, temporary projects you realized such as Times Bar (2011-2012) and New Theater. Do you actually see a difference of intentions between the independent productions and the more representative, institutionalized ones?
CH/MP There is a very different relationship to control and possibility within a project that is self-organized as opposed to one made within the frame of an institution or gallery. One of the reasons for starting New Theater was to make a controlled space for performance that didn't carry the problematics of commercial galleries or institutions, in which performance is used as kind of hype mechanism or padding. And there is naturally a difference of intentions between the spaces we run and exhibitions we organize, as those are two radically different structures of responsibility to work within.
IZ This distinction will be then still tangible in your next exhibition at Isabella Bortolozzi in May. What are you more precisely planning?
CH/MP We're showing, among other work, photographs which we have been shooting in swarmed apartment viewings in Berlin, London and Zurich. The theater will still be open when the show is up, and will be lurking outside.
(Calla Henkel and Max Pitegoff in conversation with Isabella Zamboni)
.
at Isabella Bortolozzi Galerie, Berlin
until 13 June 2016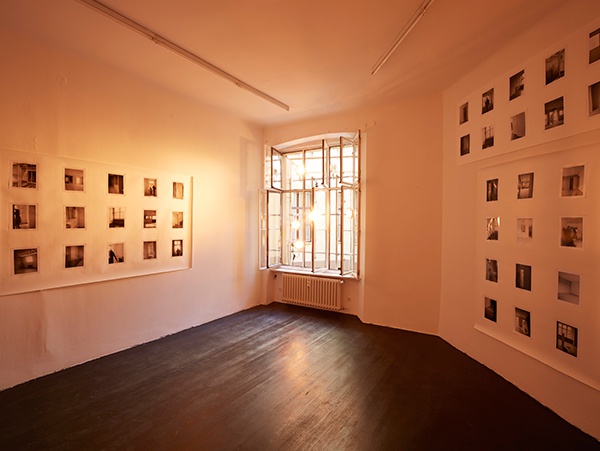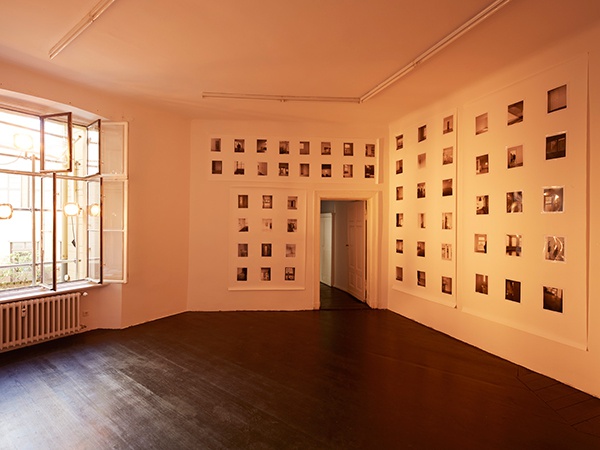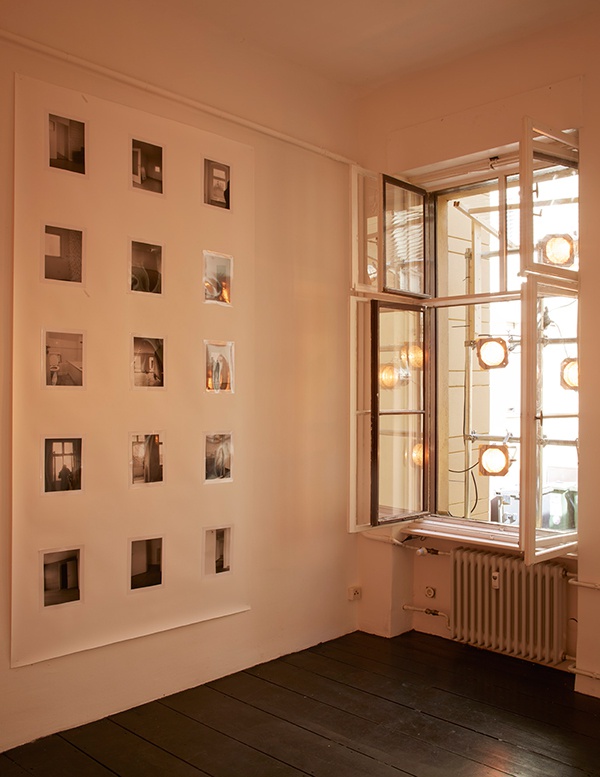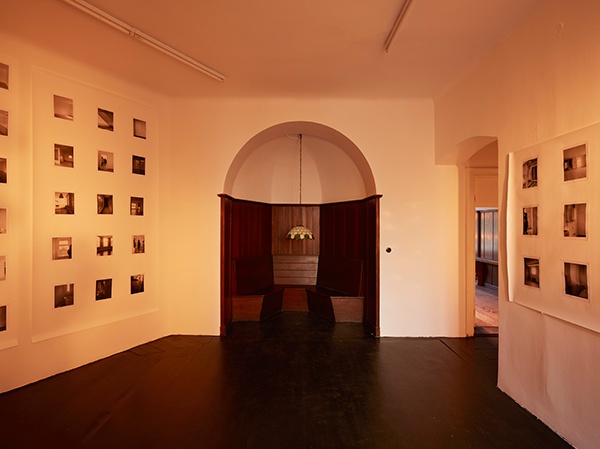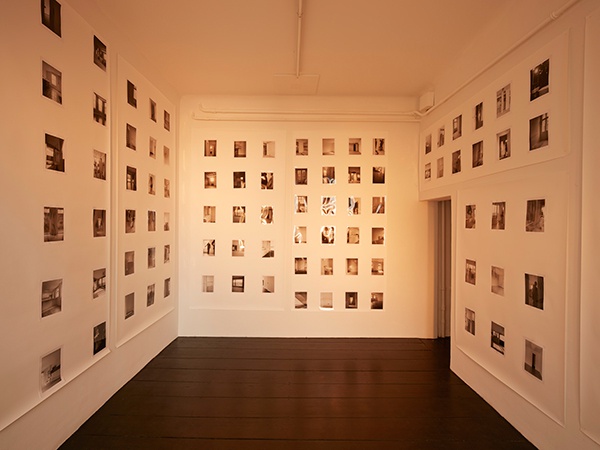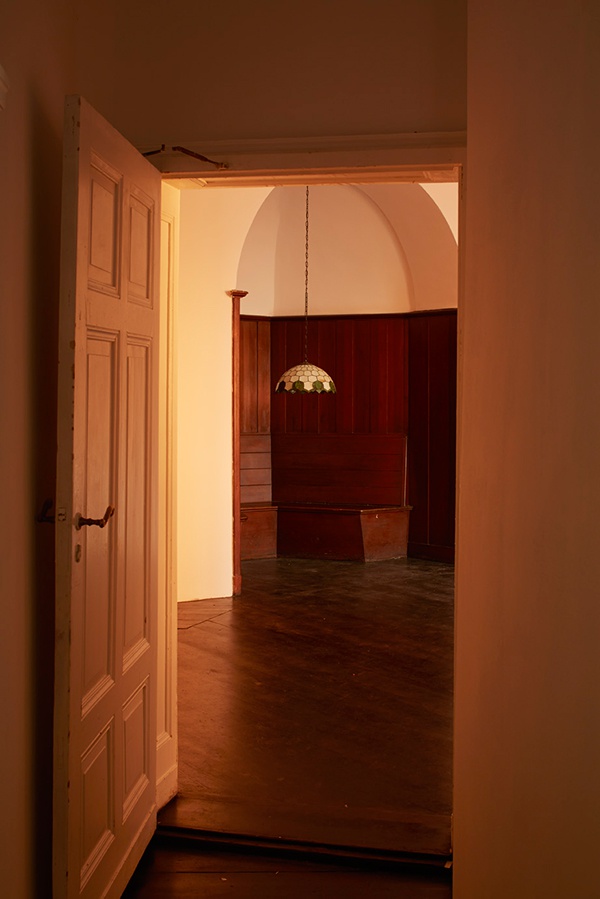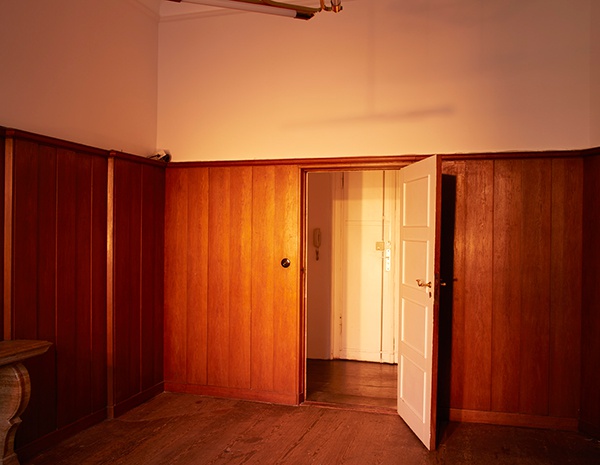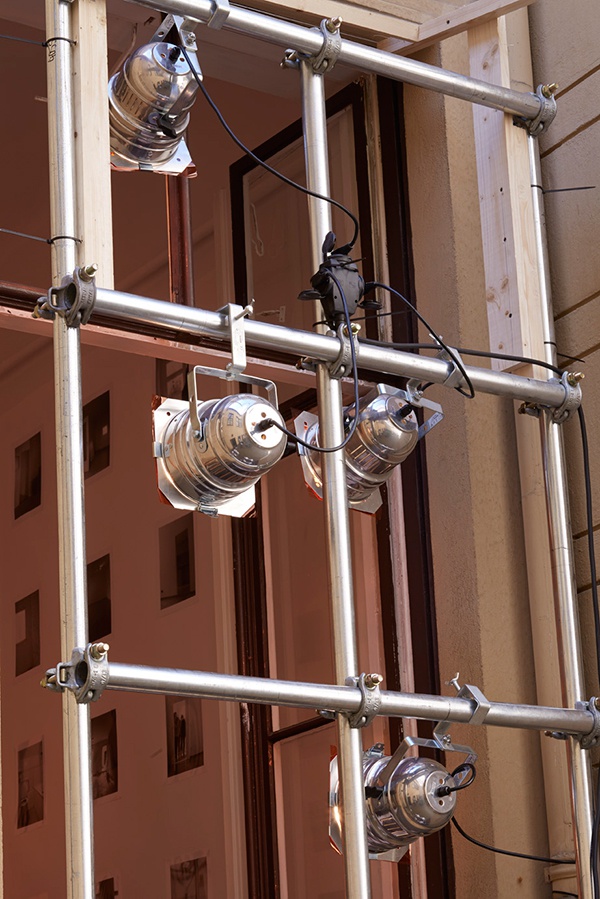 .
Calla Henkel & Max Pitegoff installation views at Isabella Bortolozzi Galerie, Berlin, 2015
Courtesy: Isabella Bortolozzi Galerie, Berlin.