Mousse 70 TIDBITS
Social Ruins of Post-Unification: Henrike Naumann
Close
1
2
3
4
5
6
7
8
9
10
11
12
13
14
15
16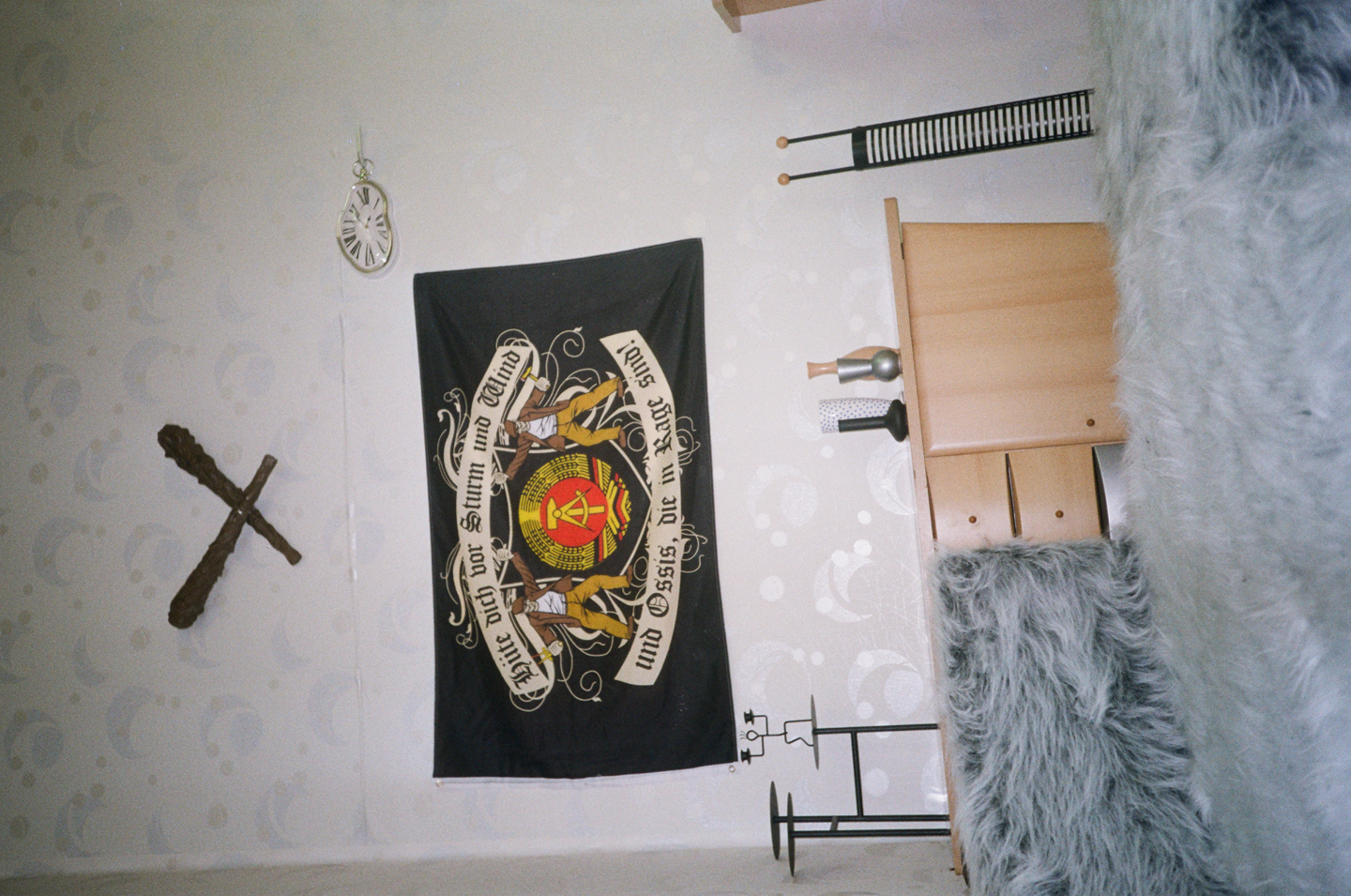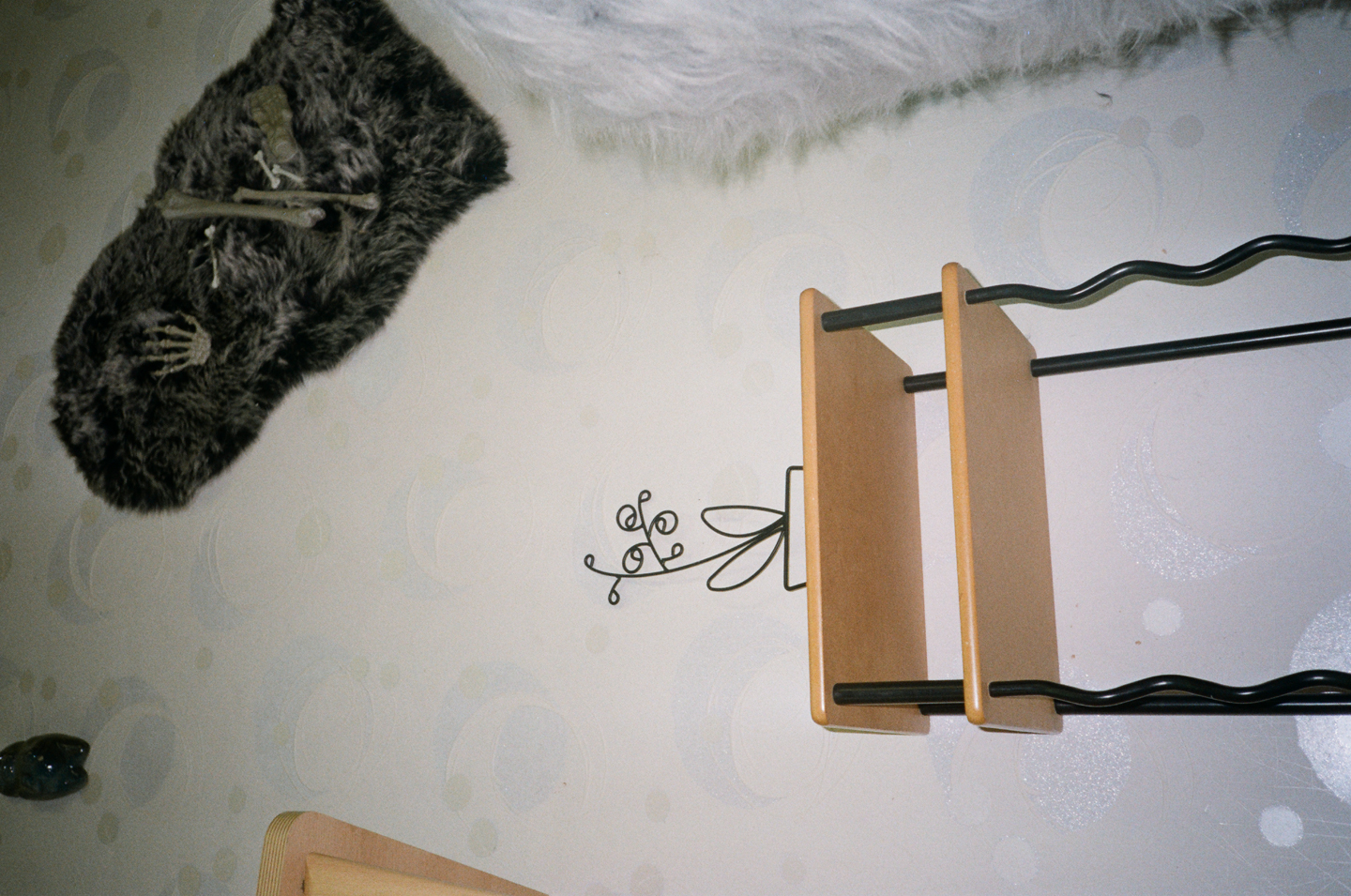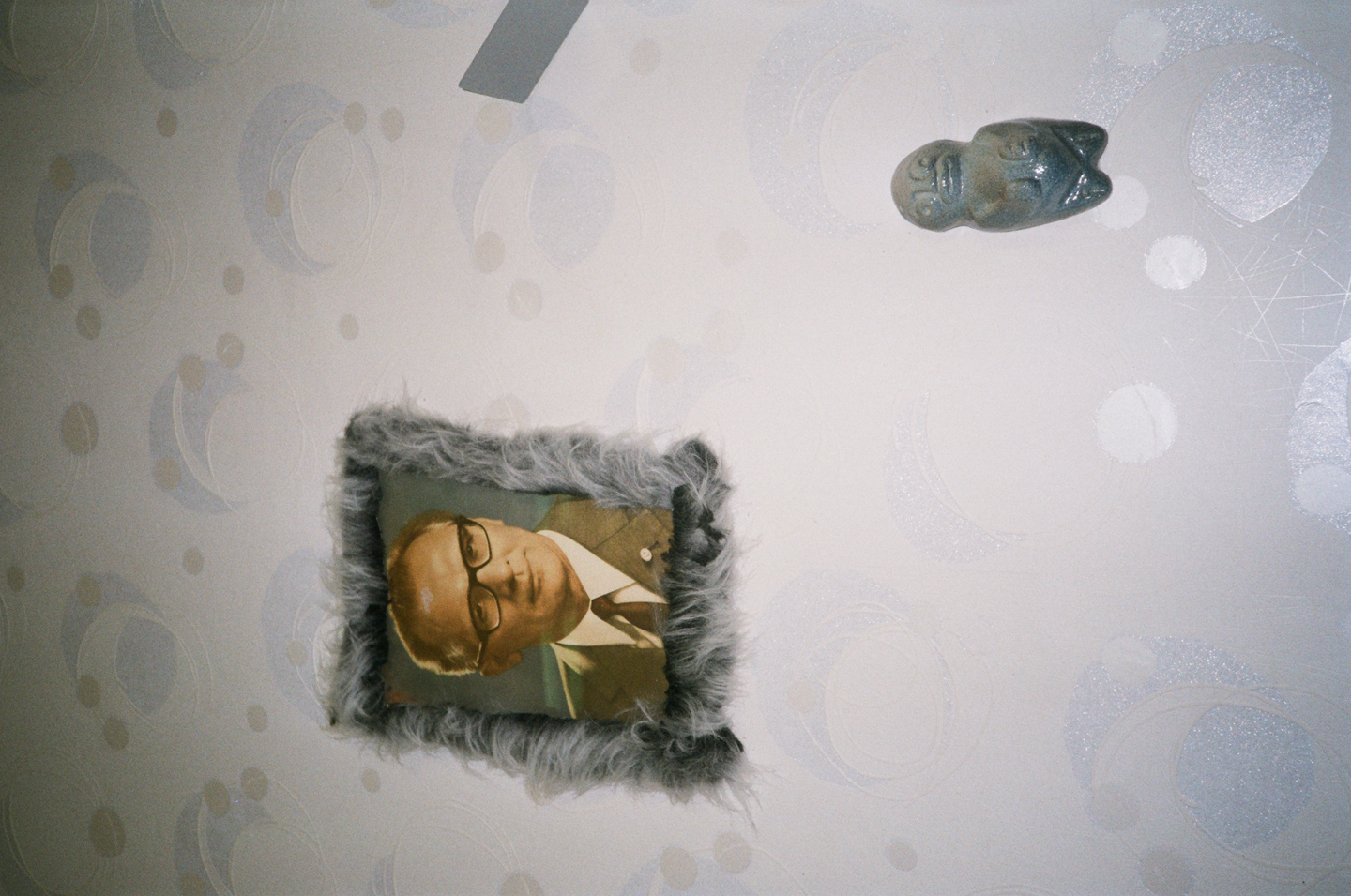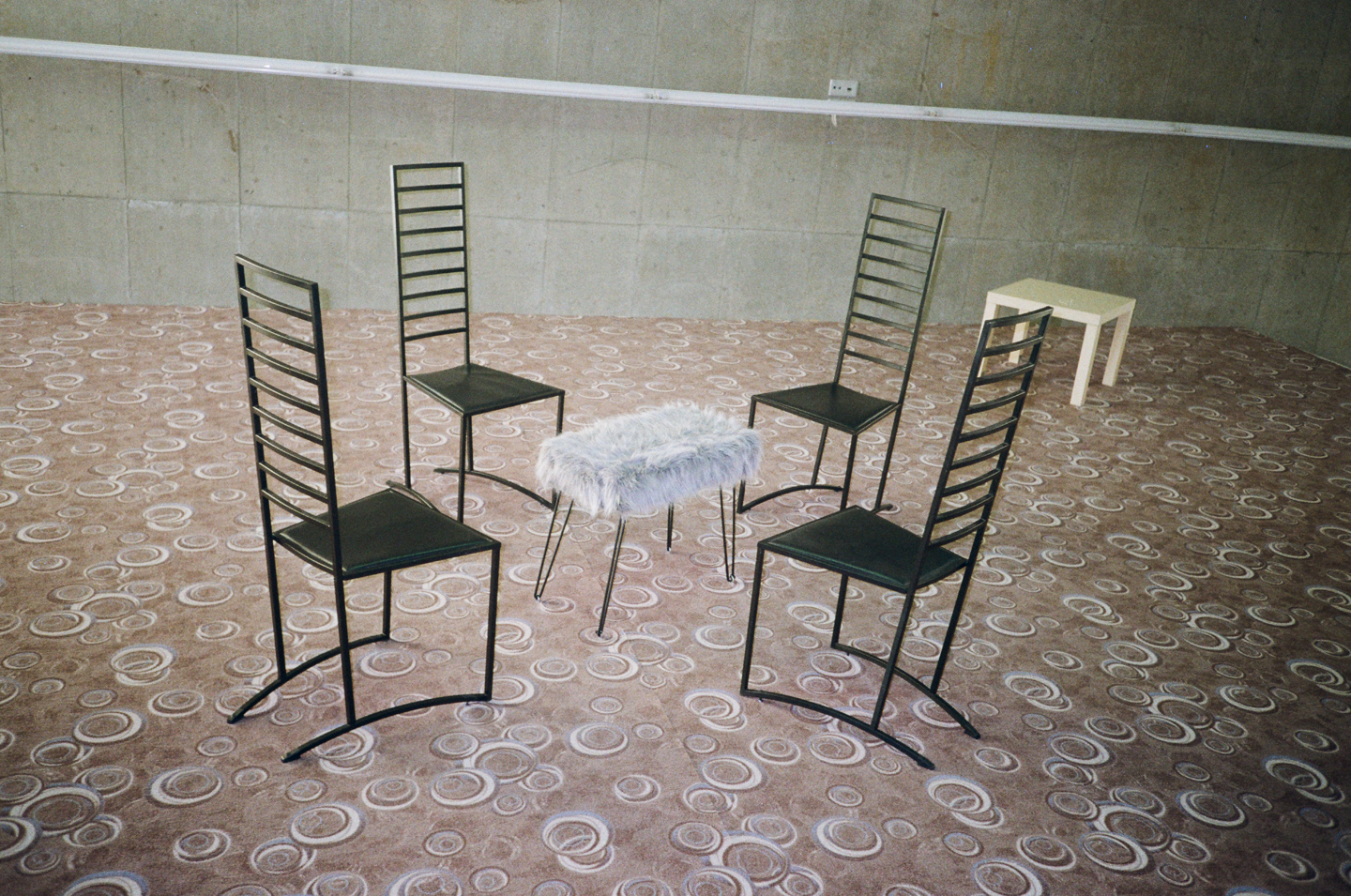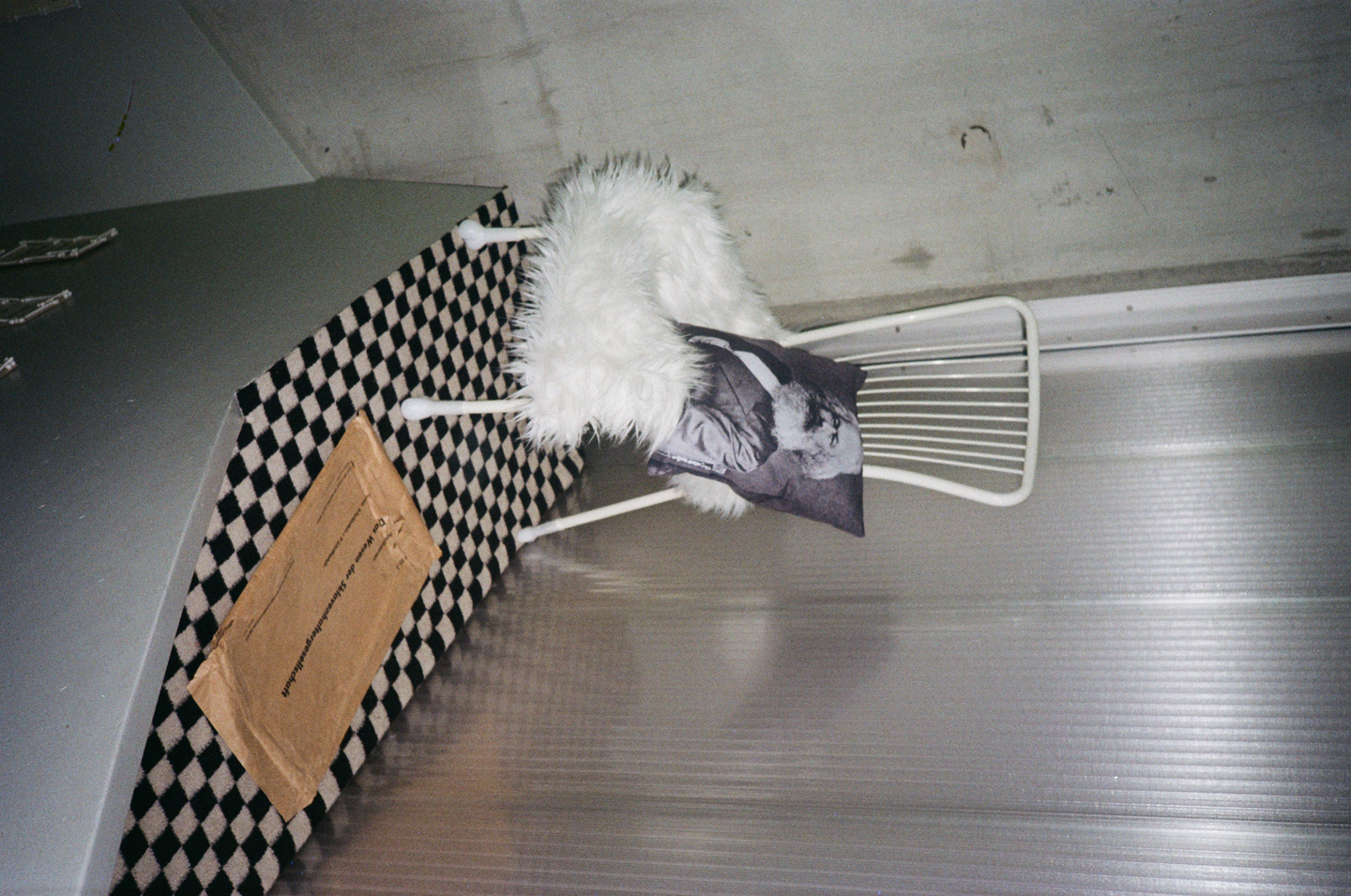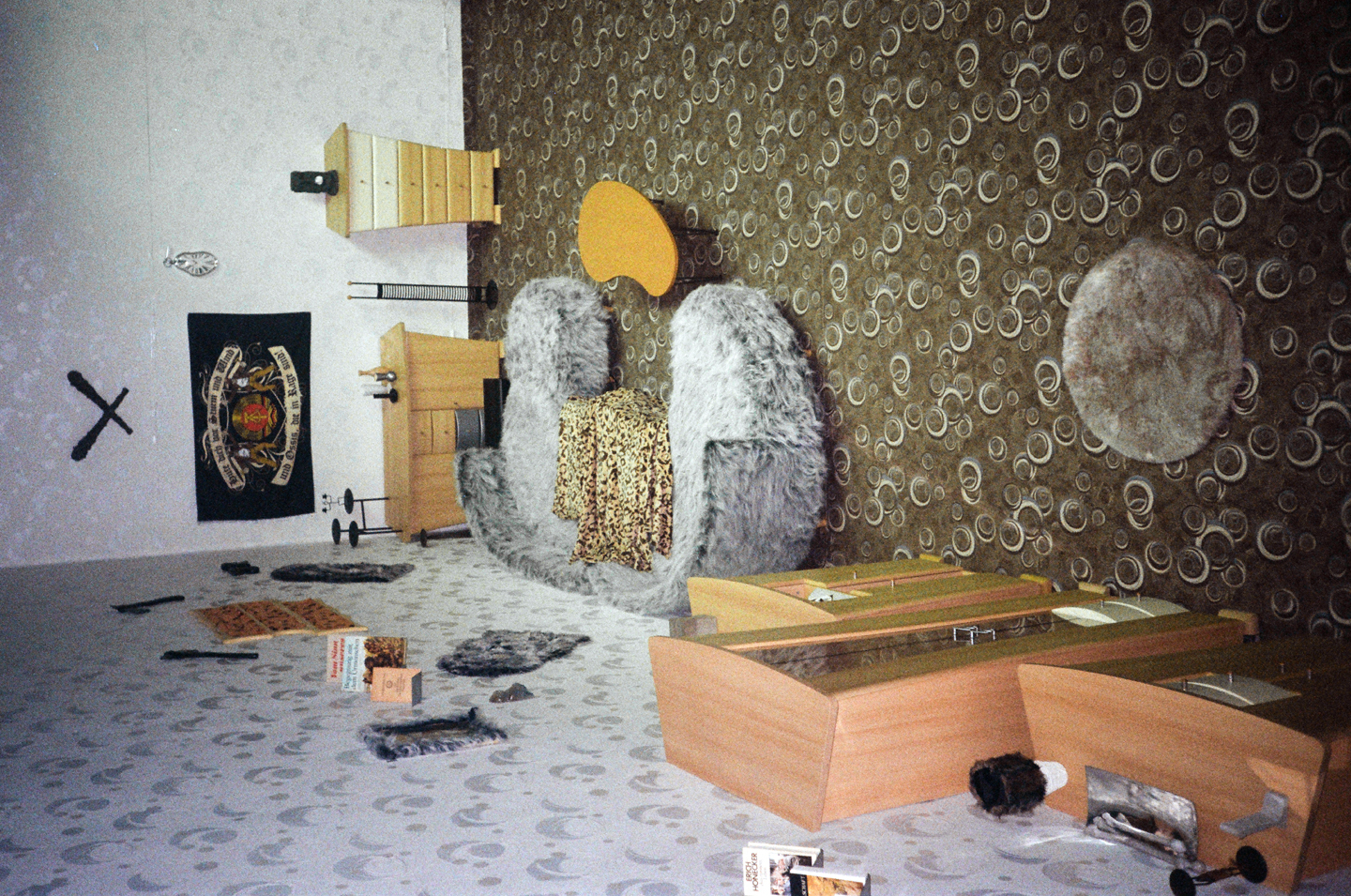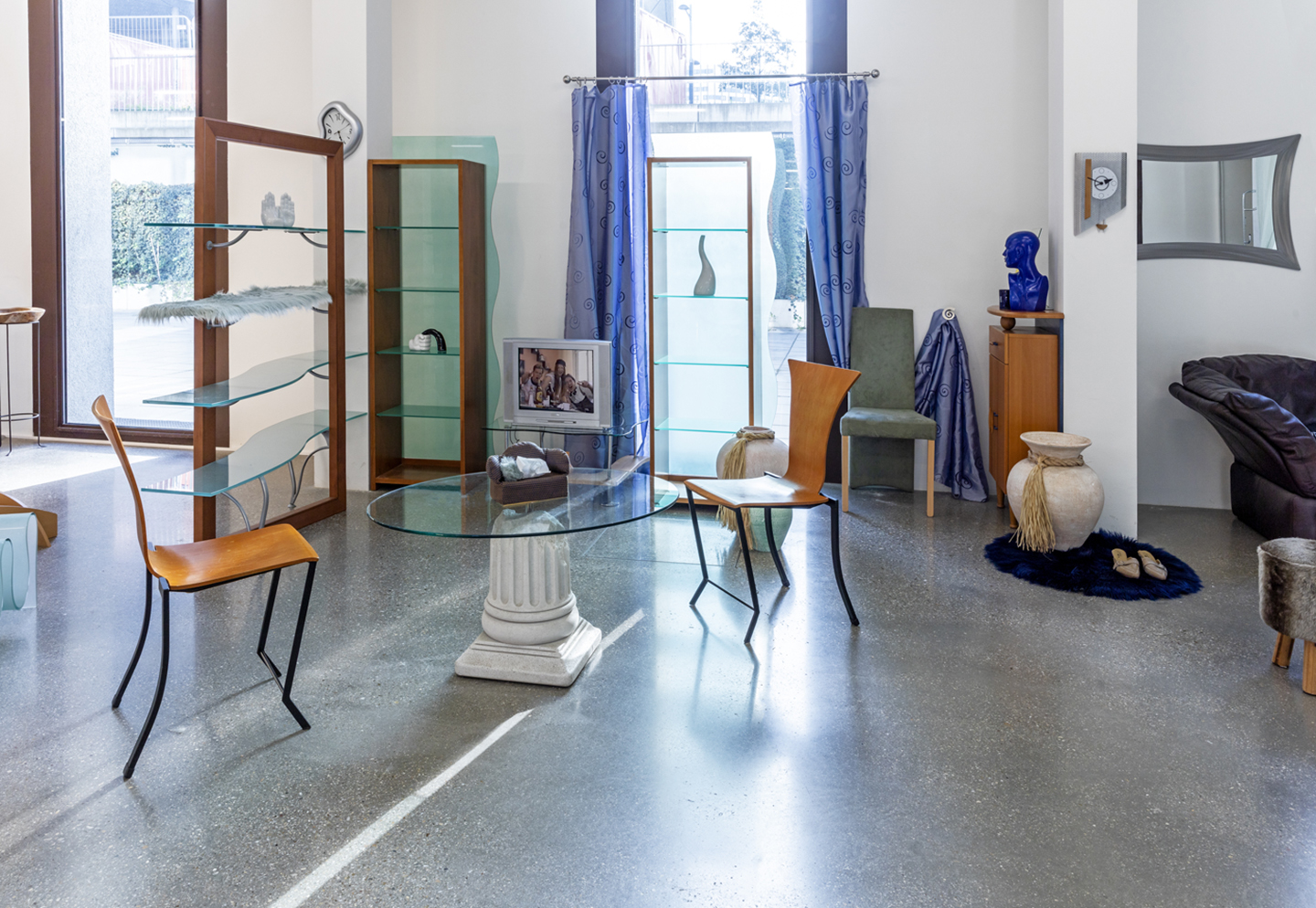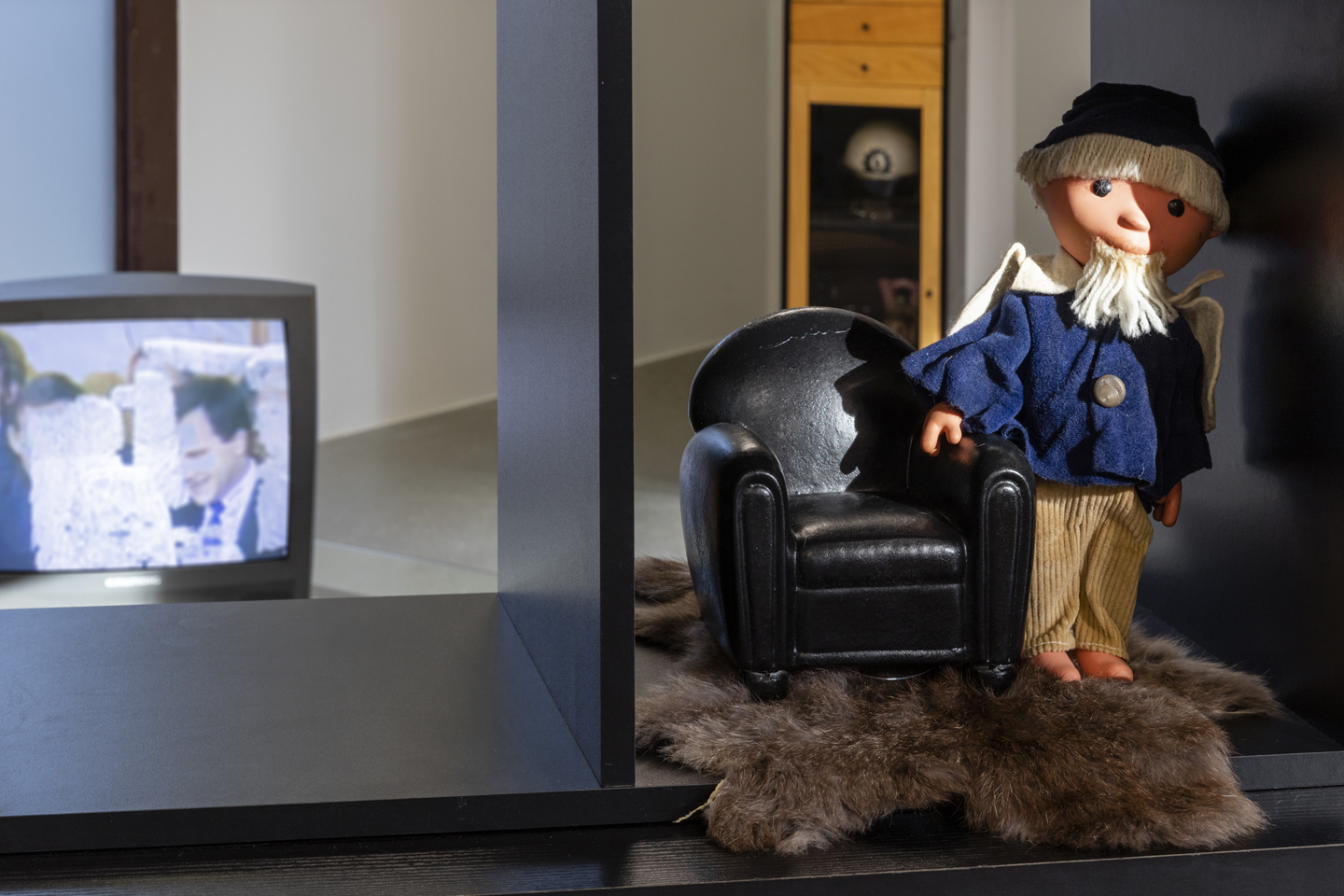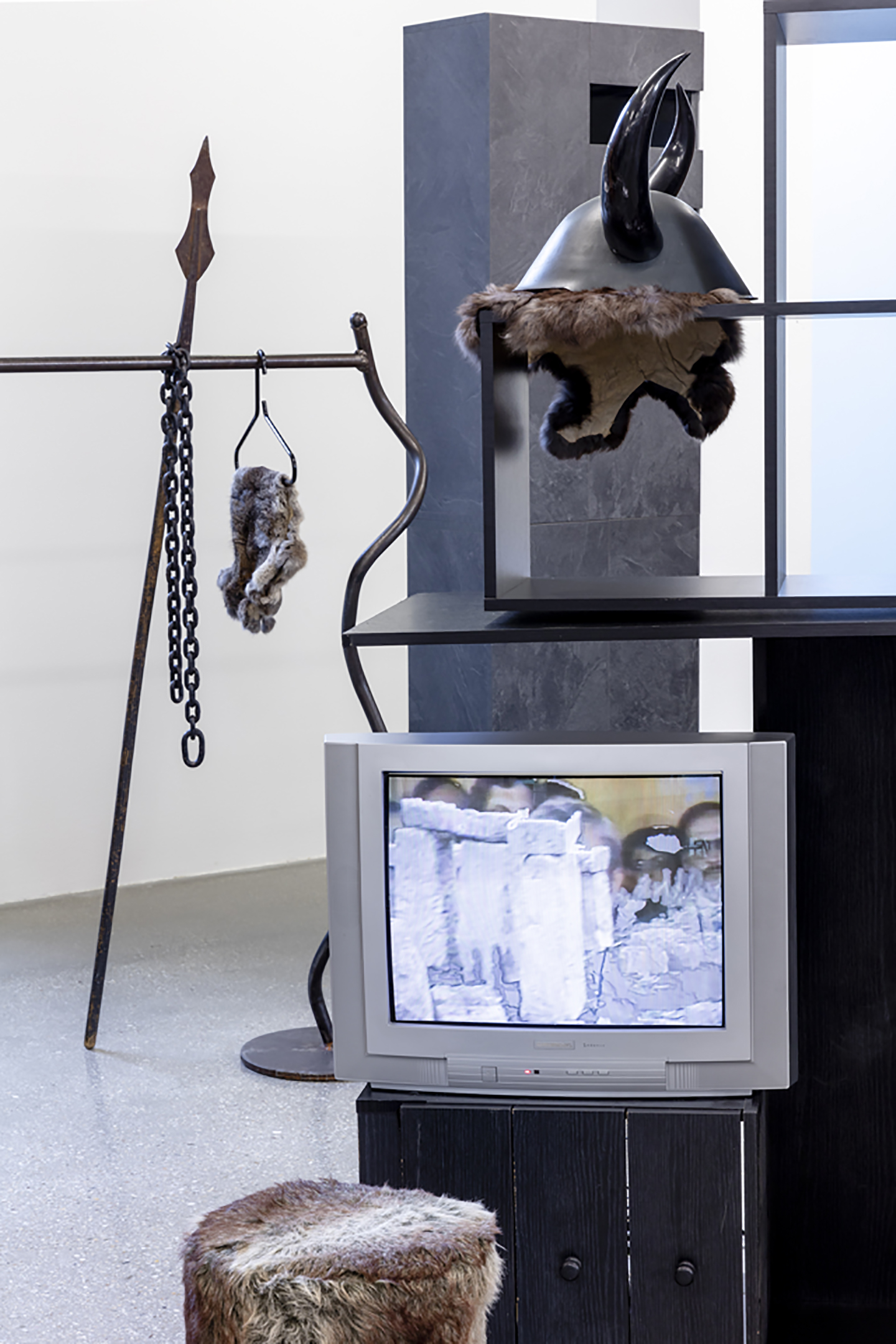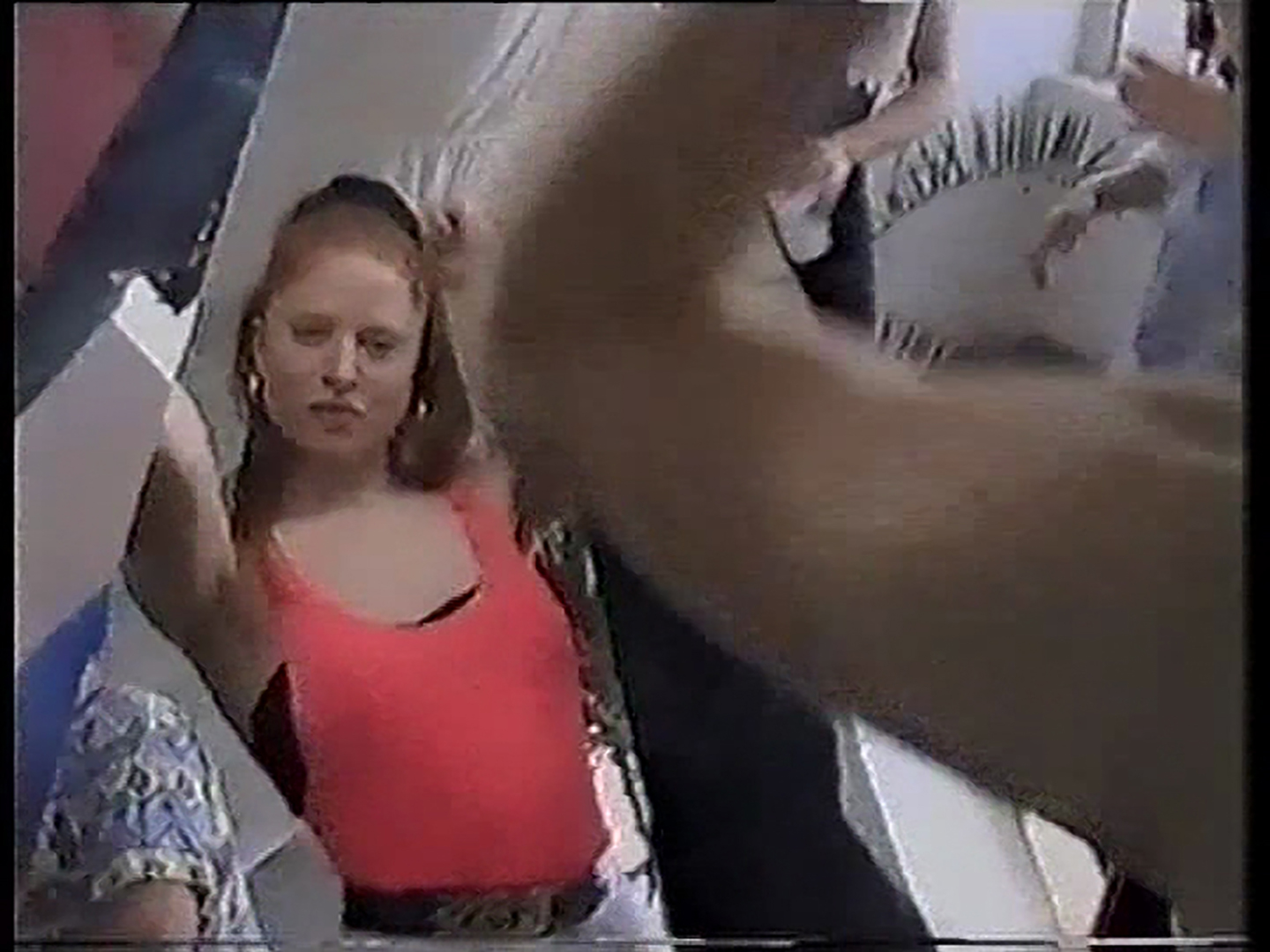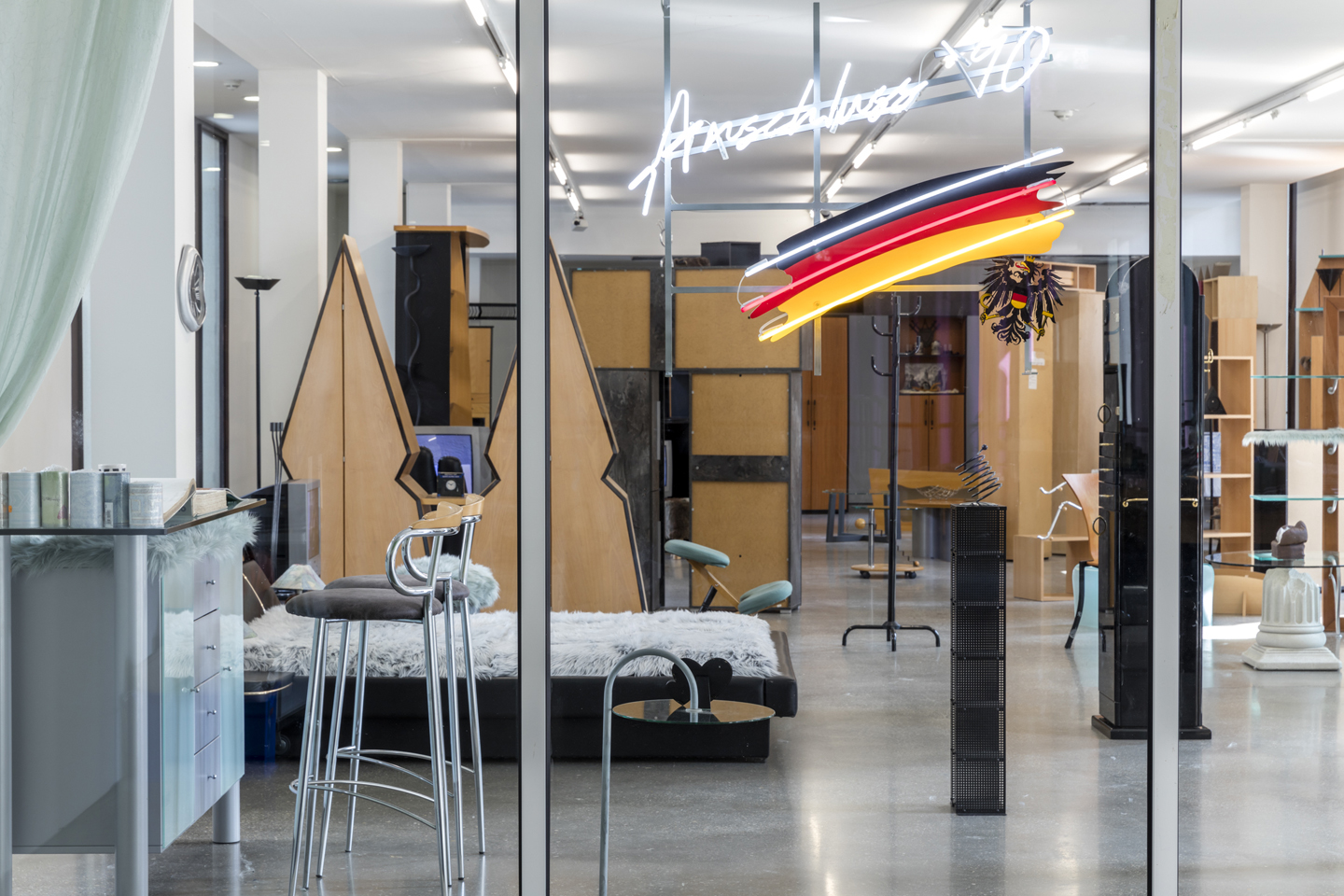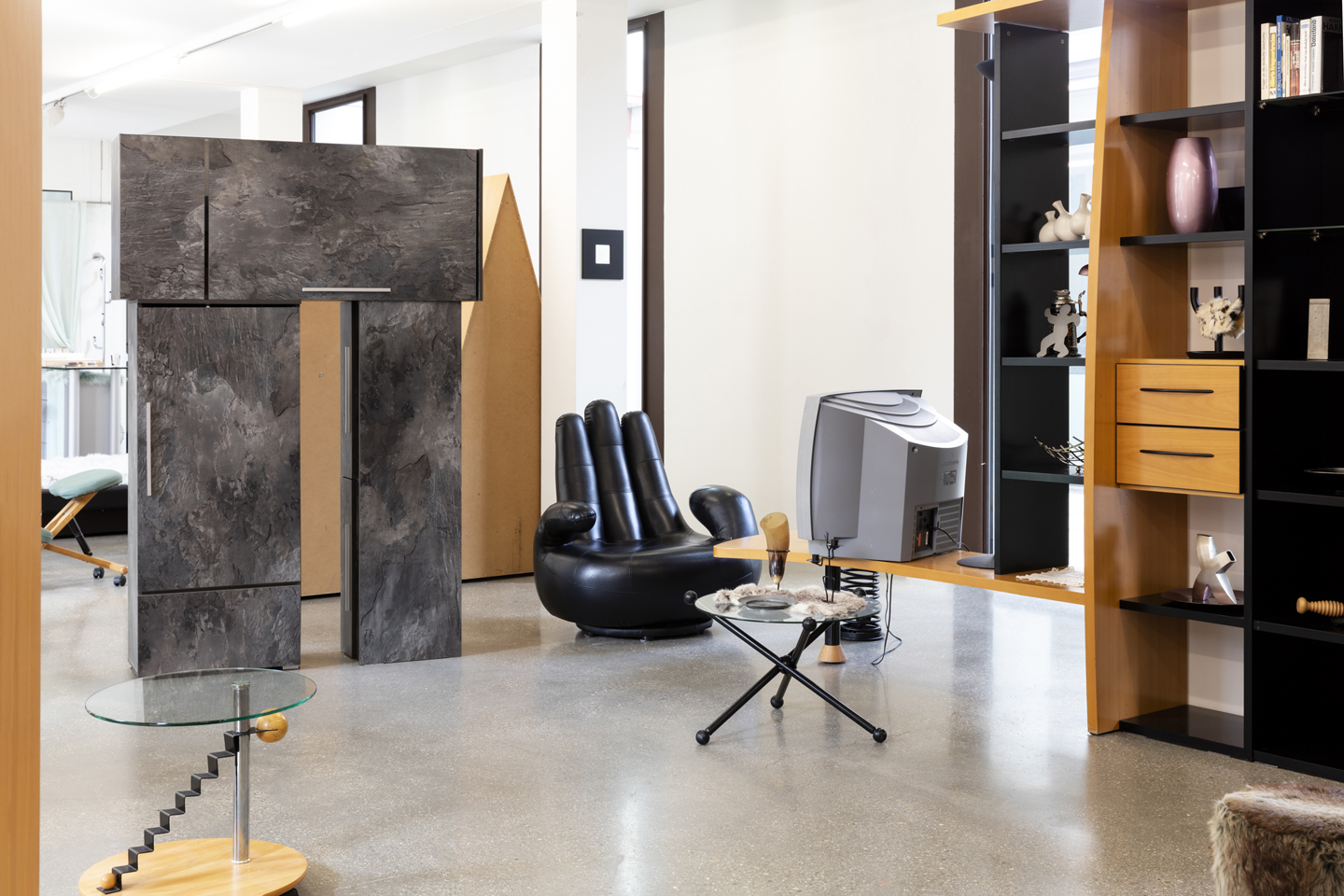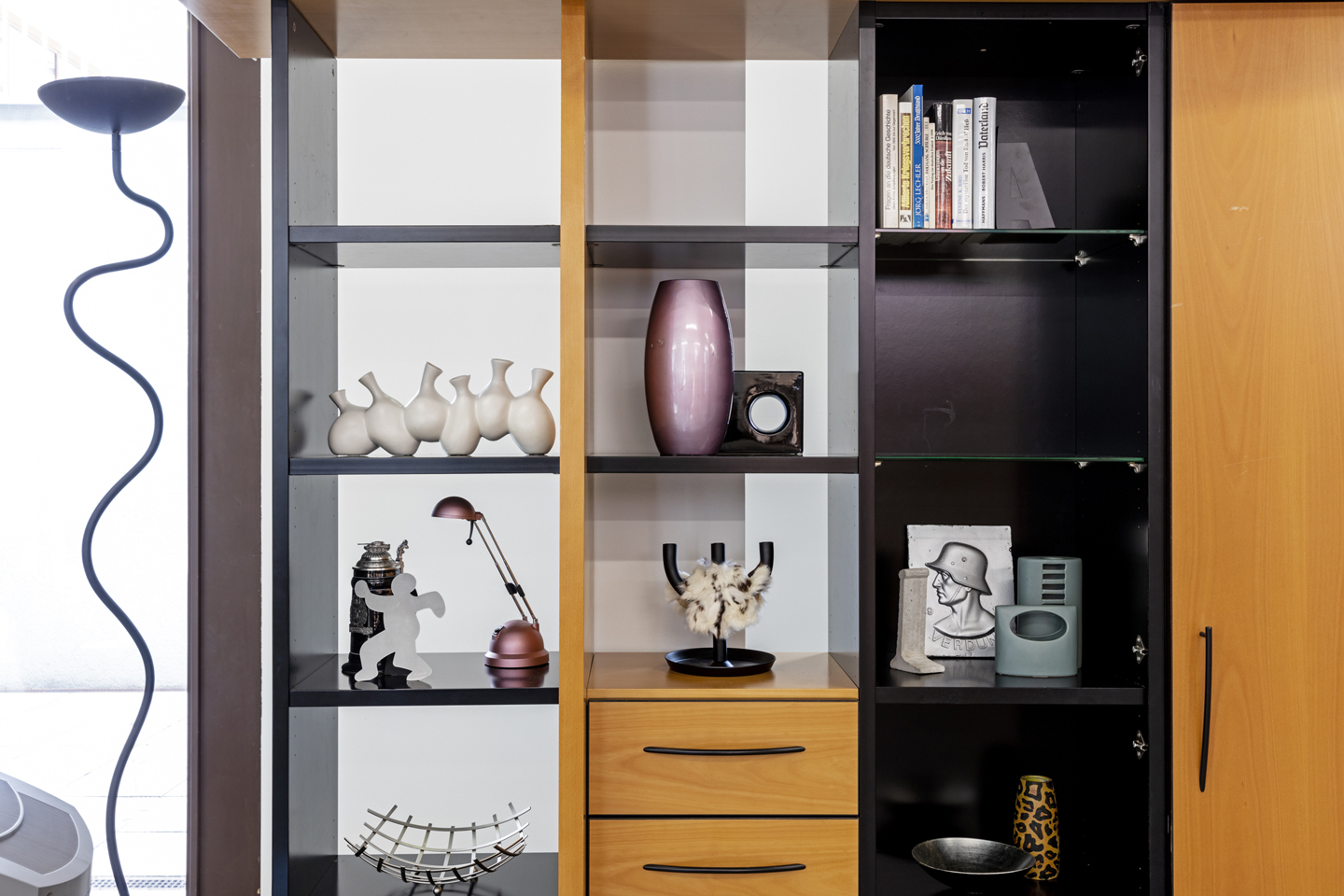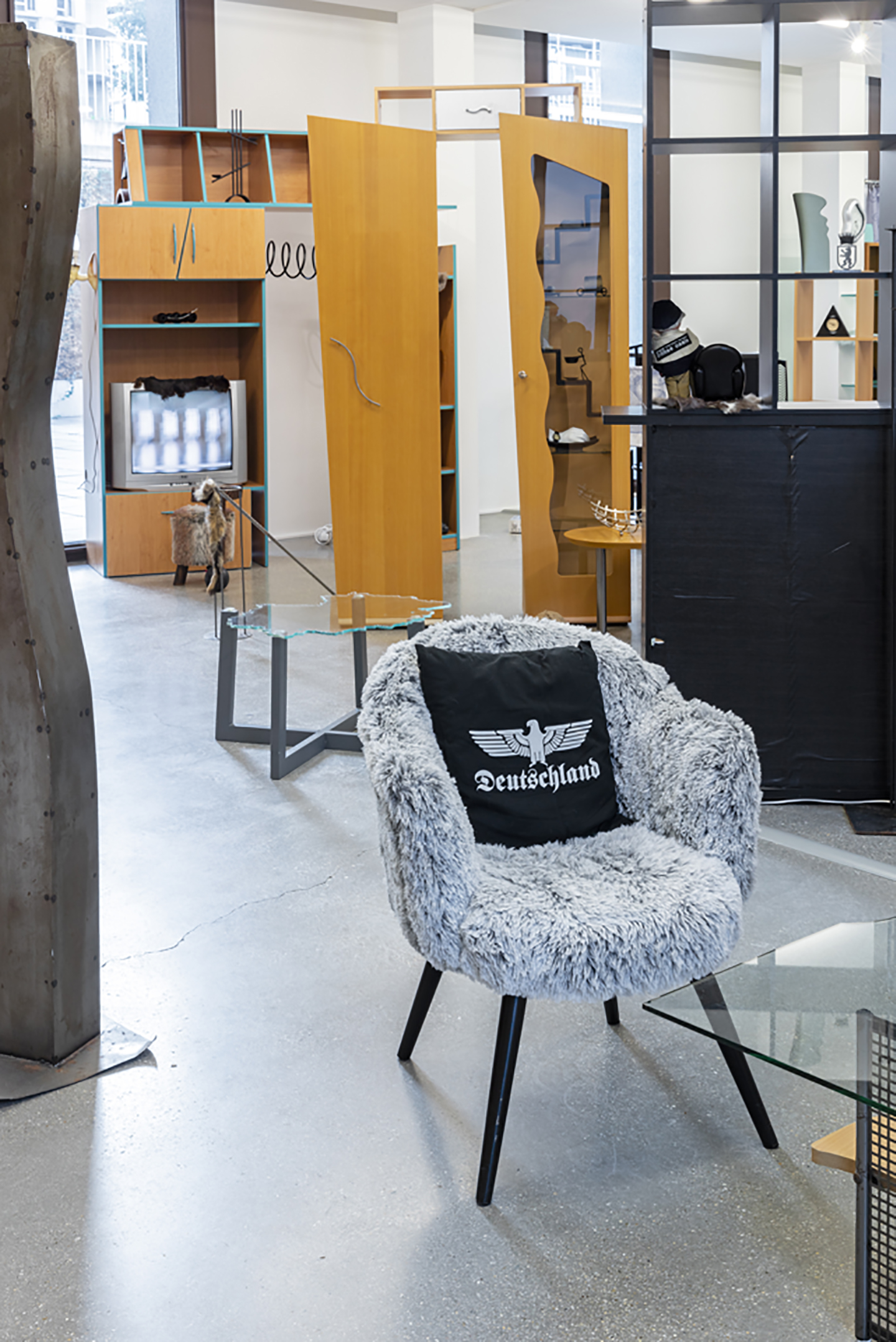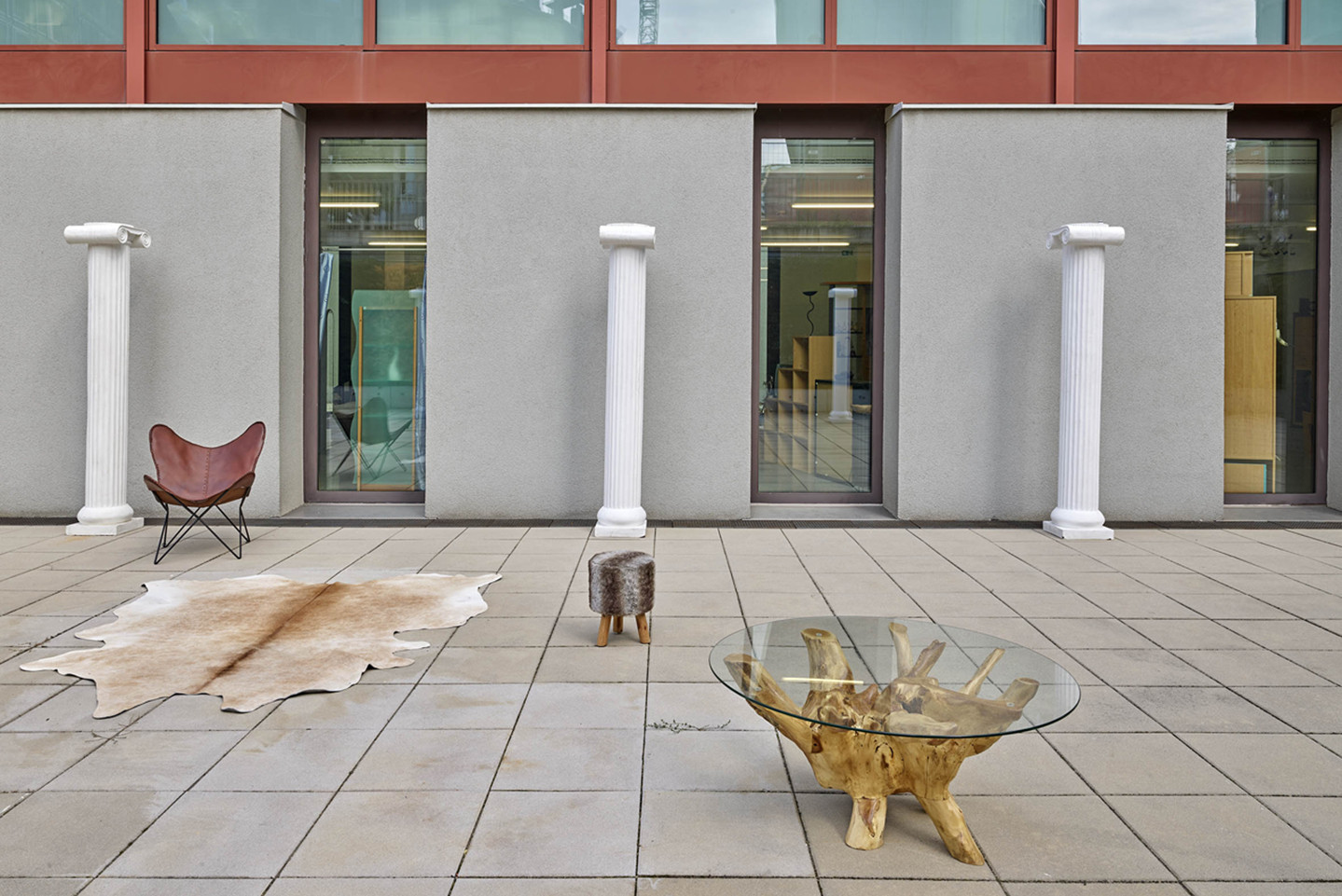 When the German Democratic Republic ended in 1990, it seemed like something new could come into being. Instead, past and future overlapped and created an uncanny asynchronicity for three decades. German artist Henrike Naumann explores this twilight: her installations use a particular, dated version of postmodernity, furniture cheaply derived from the design of the Memphis group.
Made from plywood and inexpensive metals, these pieces were available in West Germany; after the Berlin Wall fell in 1989, they flooded the East German market, introducing the post-communist country to mass consumption. Easterners were keen on owning a part of what the pieces stood for. Their shapes are suggestive. Triangles point upward: dynamism and social mobility. Wavy mirrors wobble like the fluid social boundaries between East and West or between former worker and future entrepreneur. Cartoonish figures made out of aluminum hint at a sense of humor. Pale fake fur, which looks industrially bleached, figures as a remainder of archaic wildness—perhaps—or maybe as an excluded other. Anything goes in this world of hysterical optimism, and Henrike Naumann turns these phenomena of bad taste into complicated and symbolic systems that tell a story of disappointed hope.
Her installations and videos are populated with so-called Reichsbürger, right-wing radicals who negate the existence of the Federal Republic of Germany and instead fantasize a scenario of alternative facts where the Second World War was never lost. And while the Berlin rapper Deso Dogg, who joined the Islamic State, is a character in the video Amnesia (2012), the NSU—National Socialist Underground, a neo-Nazi terror cell that murdered migrants—is depicted as a group of fictionalized youngsters in another work titled Terror (2012), both part of the mixed-media installation Triangular Stories (2012). And yet this world looks uninhabited; because the surfaces of the individual pieces are meticulously restored, as if crafted by an unseen hand.
German critic Tobias Timm claimed in the weekly Die Zeit that Naumann's work offers a glimpse into the darkness of the German soul; his reading of her work is that she makes manifest what has been festering somewhere between Martin Heidegger and neo-Nazis. The past haunts the present. "Art manages to express political conundrums that are difficult to put into words," writes Timm on the occasion of Ostalgie, Naumann's retrospective at KOW in Berlin in 2019. His romantic speechlessness is symptomatic, but come to think of it, the rise of the far right in East (and West) Germany, from racist riots in the early 1990s through terror groups around 2000 until the arrival of populists in the parliament, is not hard to verbalize if politicians and the press find the courage to call a Nazi a Nazi. Something else is at play in Naumann's installations.1
Her art seems both anachronistic and timely. Her pieces began to appear in exhibition spaces at a peculiar moment, and her rise coincided with a certain style of fashion. The runways were crowded with European archetypes: skinheads, businesspeople in ill-fitting suits, tourists clad in ostensibly cheap materials. Naumann's work recalls the way fashion has appropriated the fashion of post- Soviet disenfranchised youngsters who donned the insignia of Western consumer culture. The style became ready for consumption once again—and Naumann is as interested in consumer goods as she is in political extremism. Outside the Bundesrepublican context, the installations are met with another set of codes. Their meaning changes like that of memes, those volatile signifiers from the online world.
Very much like the hard-edged fashion of post-normcore, the artist's style of hard materials, of designs that are familiar and out of fashion, is fueled by nostalgia. The materials and designs become carriers of a past that has slumbered in the latency of collective memory. It is the look of a time when utopian energies were exhausted, as German philosopher Jürgen Habermas wrote. The future —he claims—has contracted in a moment that carried the burden of reconciling history and utopia. Although it seemed like the fall of the Soviet empire and the reunification of Germany bore some of that potential, the hopes were ultimately disappointed.2
No matter how uncannily pristine Naumann keeps her environments, they can seem like ruinous stage sets. The ruins are not only those of derelict furniture; there are also rifts between increasingly isolated social milieus. The 1990s saw a renewed belief in free-market capitalism and the beginning of digitization—as well as a staggering devaluation of the former GDR. The promise of social mobility has not been kept. Instead, the discontinued system resulted in discontinued lives, which have been relegated to the private sphere.3
The autonomy of the art world is a privilege, the isolation of left-behind communities is not. Perhaps viewing the radical nationalist groups in the former GDR from that vantage point causes an uncanny sensation, not unlike that of looking at ruins in the woods of German Romanticism. But there is more to Naumann's work—it is concerned with consumer goods. First they were sites of economic and social tragedy; now they are available for aesthetic consumption as ruins.
1. Tobias Timm, "Die Ostalgie der Schrankwand," Die Zeit, March 13, 2019, https://www.zeit.de/2019/12/kunstausstellung-ostalgie-henrike- naumann-wohnmoebel.
2. Jürgen Habermas, "Die neue Unübersichtlichkeit: Die Krise des Wohlfahrtsstaates und die Erschöpfung utopischer Energien," Die Neue Unübersichtlichkeit: Kleine Politische Schriften V (Frankfurt am Main: Suhrkamp), 143.
3. Kerstin Stakemeier, "Ausschusskriterien," Texte zur Kunst no. 111 (September 2018): 214.
Henrike Naumann (b. 1984, Zwickau) lives and works in Berlin. Growing up in East Germany, Naumann experienced extreme-right ideology as a predominant youth culture in the 1990s. Her work reflects on the history of right-wing terrorism in Germany as well as on today's broad acceptance of racist ideas. Recent solo exhibitions include 2000, MdBK Leipzig (2019-2020); Das Reich, Belvedere 21, Vienna (2019); 2000, Kunstverein Hannover (2019); Ostalgie, KOW, Berlin (2019); Intercouture, Musée d'Art Contemporain et Multimédias de l'Echangeur, Kinshasa (2016); Aufbau Ost, Galerie Wedding, Berlin (2016). 
Philipp Hindahl is a writer. He is fascinated by nostalgia for lost futures, art, literature, pop culture, the Internet, and the people in it. After attending a Catholic school in the woods of rural Germany, he studied literature and art history in Frankfurt and Paris. He then moved to Berlin, where he writes for magazines and exhibition catalogues.