ESSAYS Mousse 72
A Rose Is a Rose Is a Rose: Ian Wilson
Close
1
2
3
4
5
6
7
8
9
10
11
12
13
14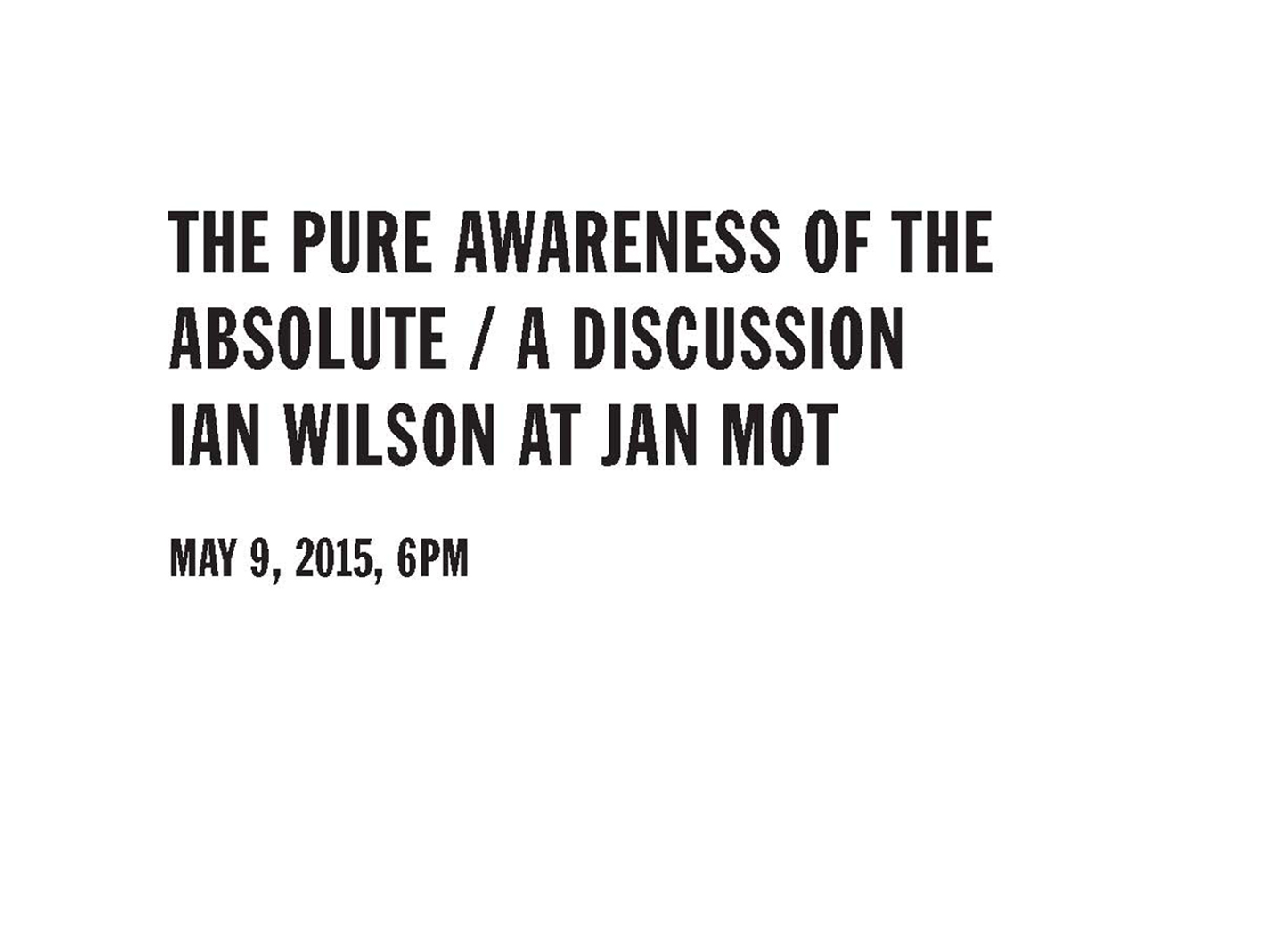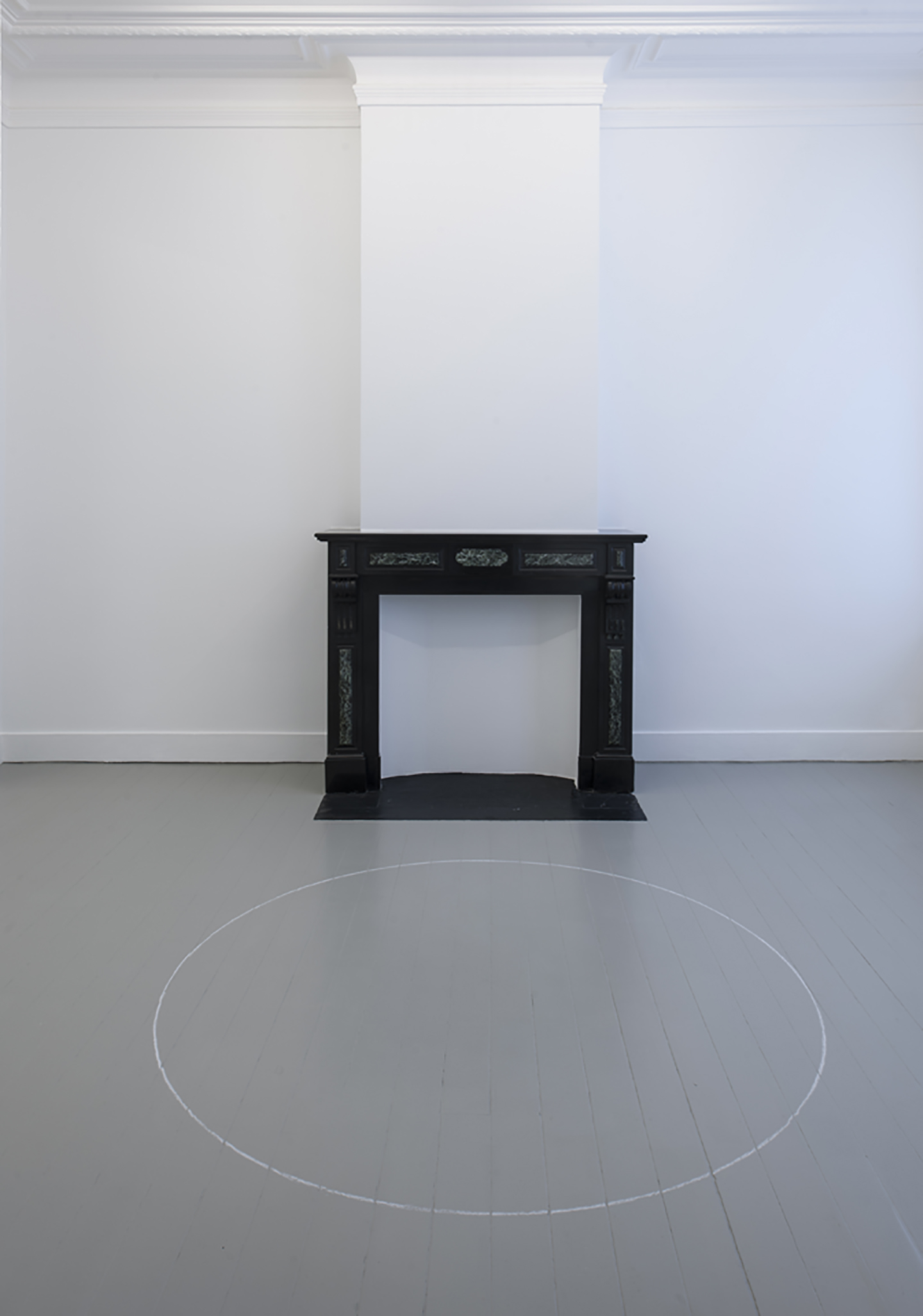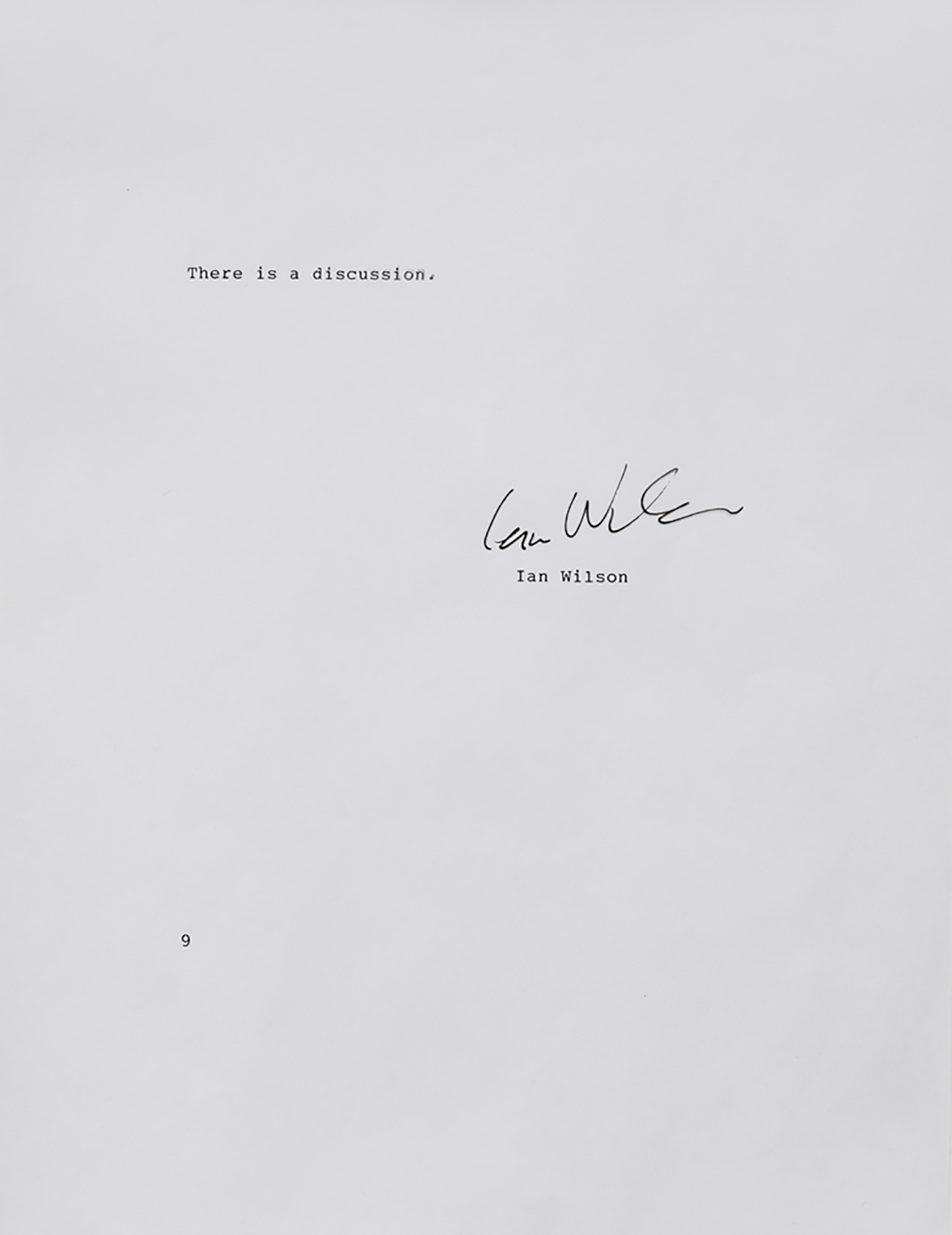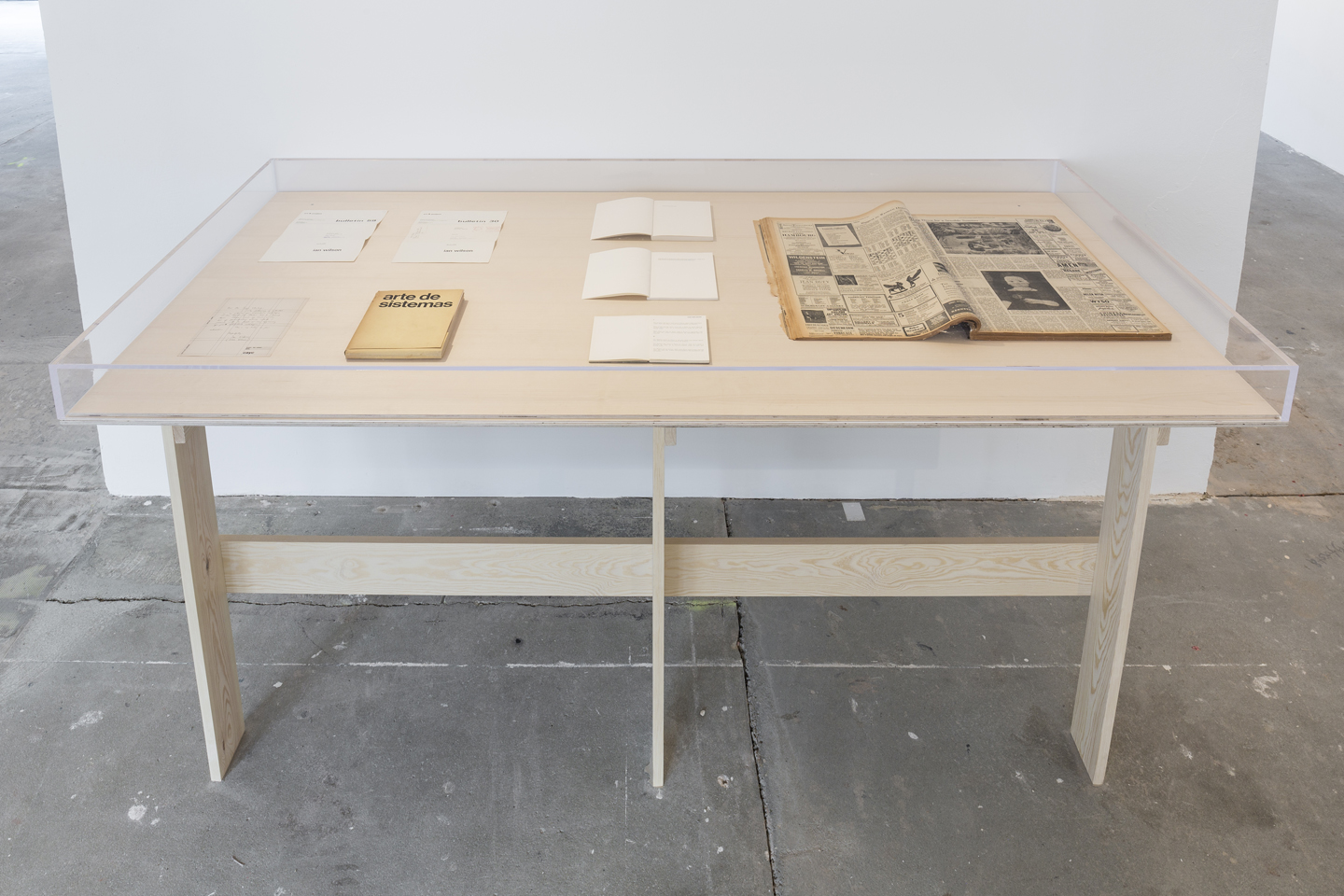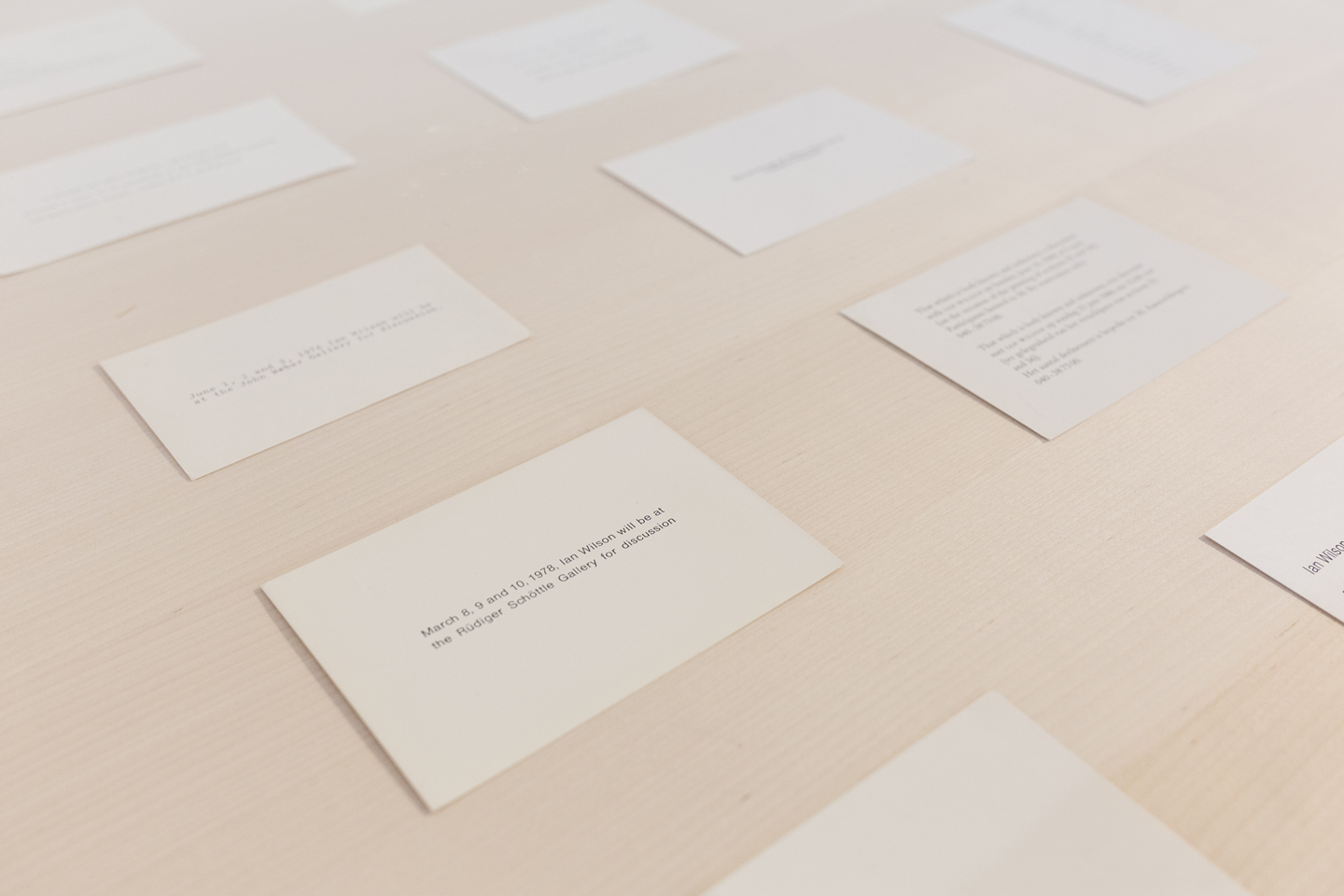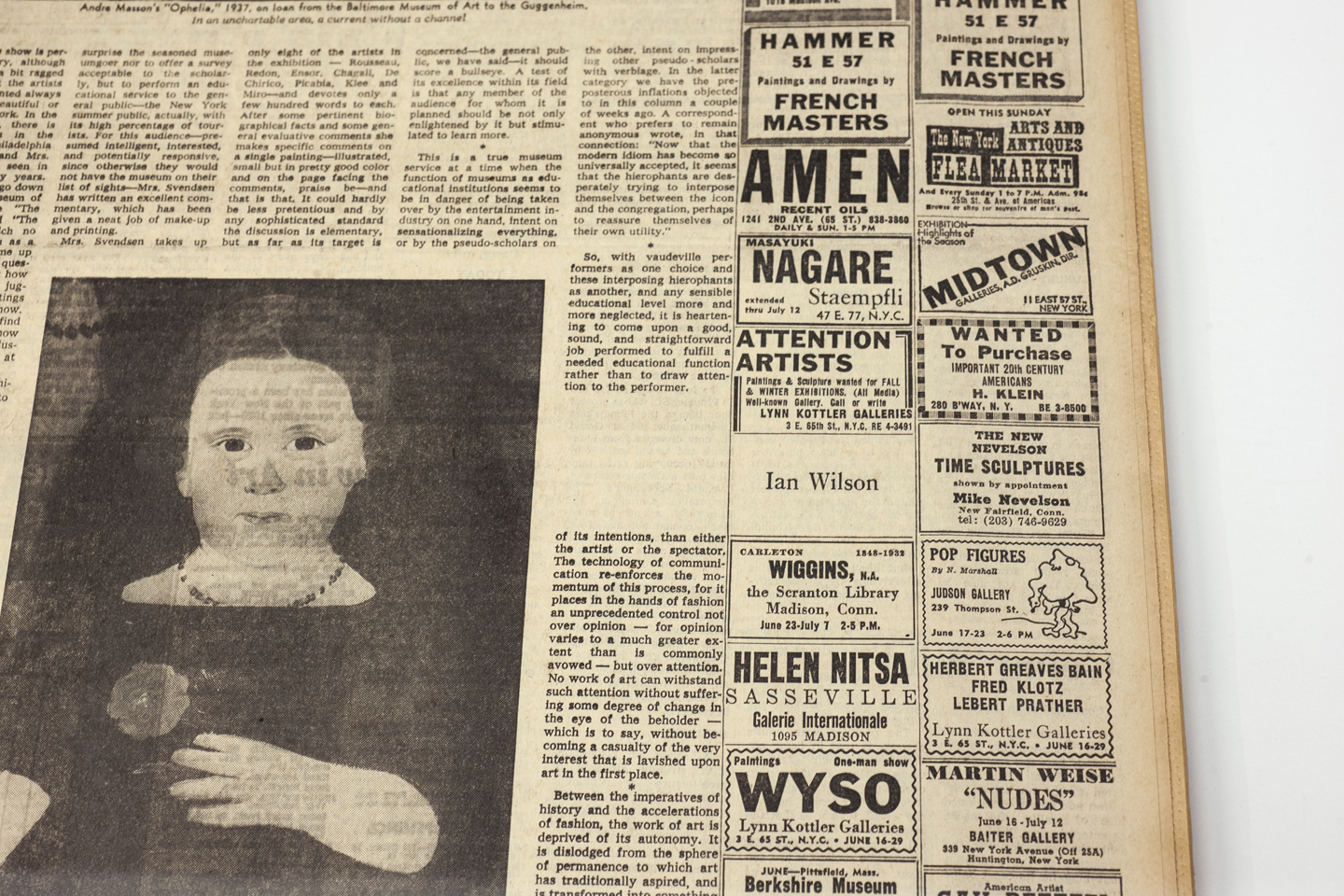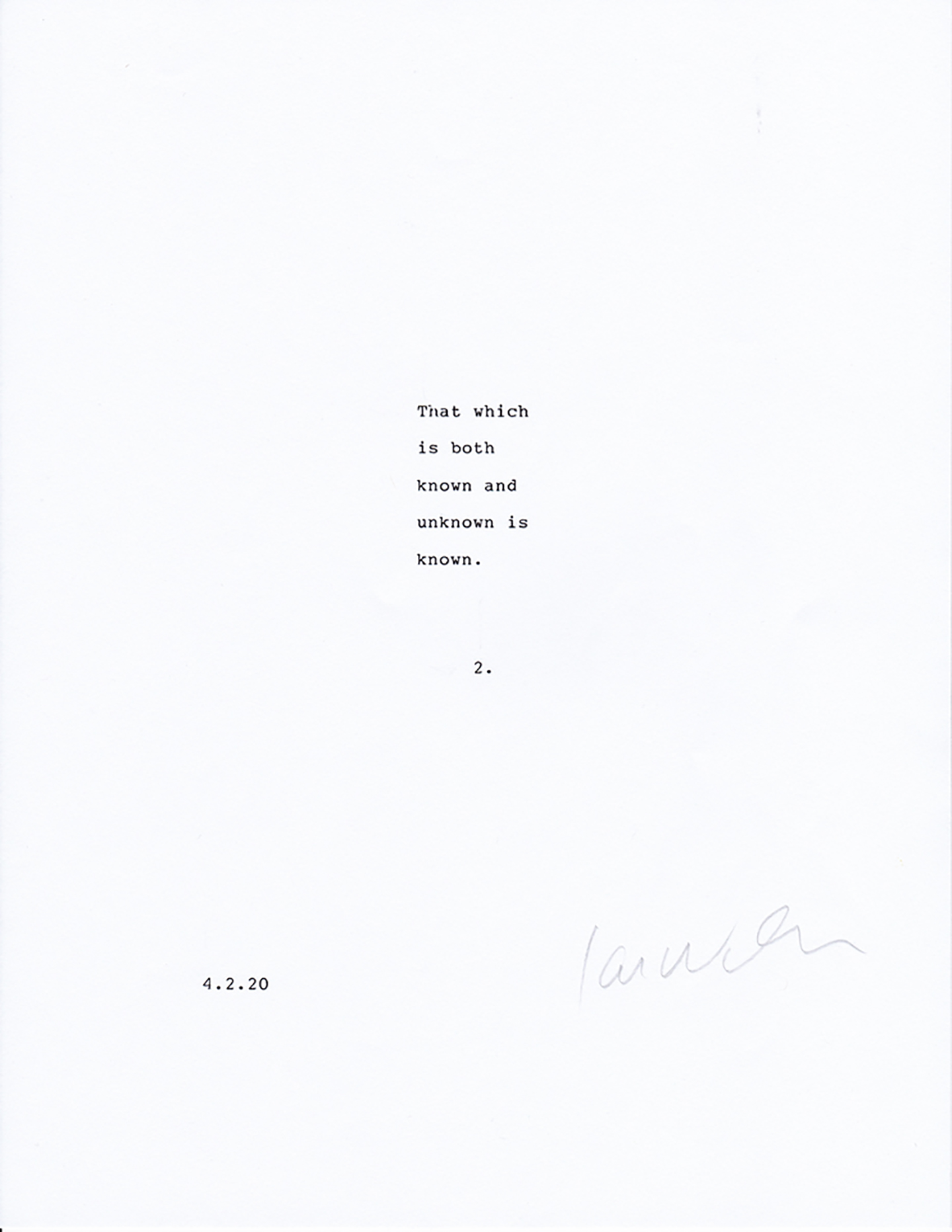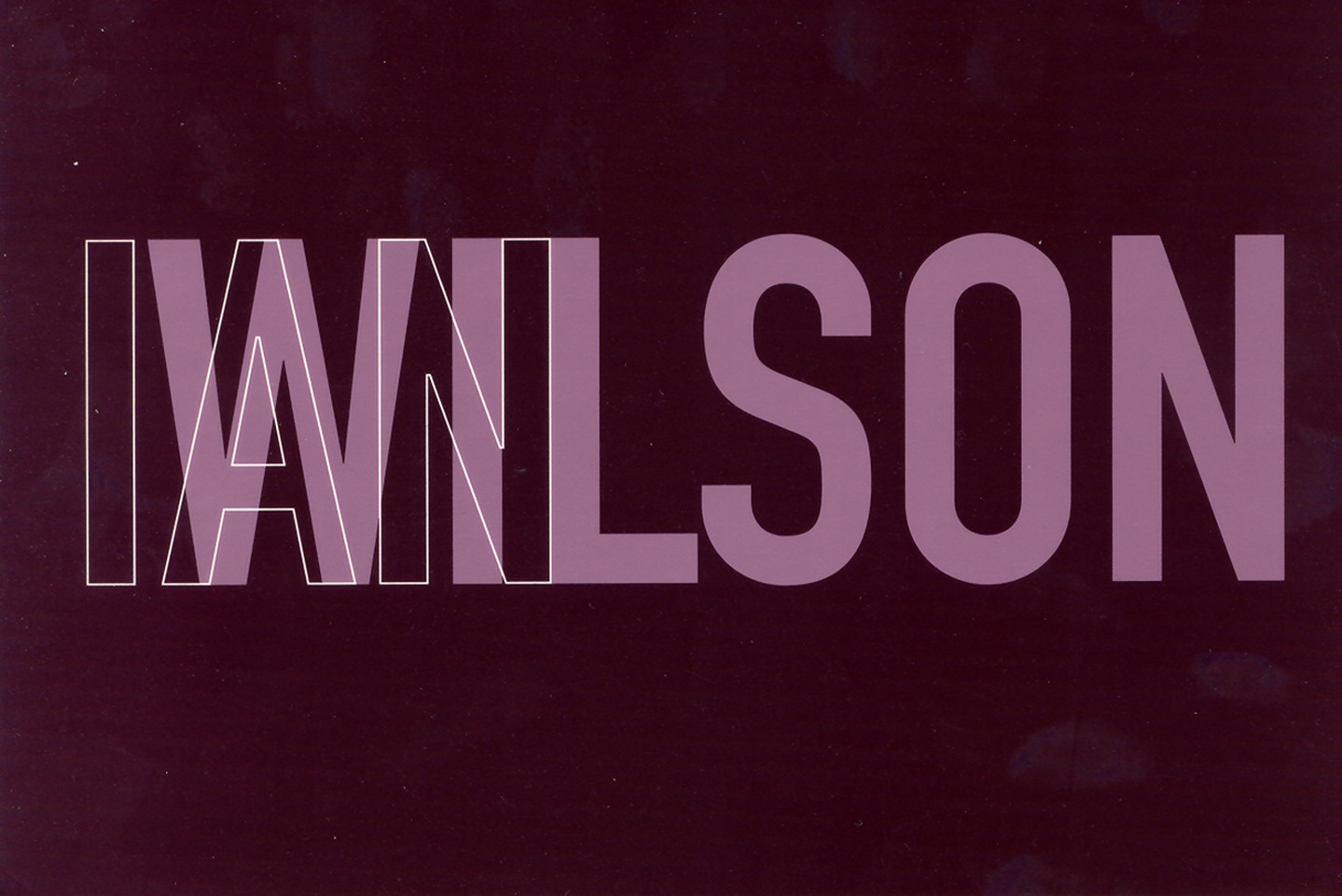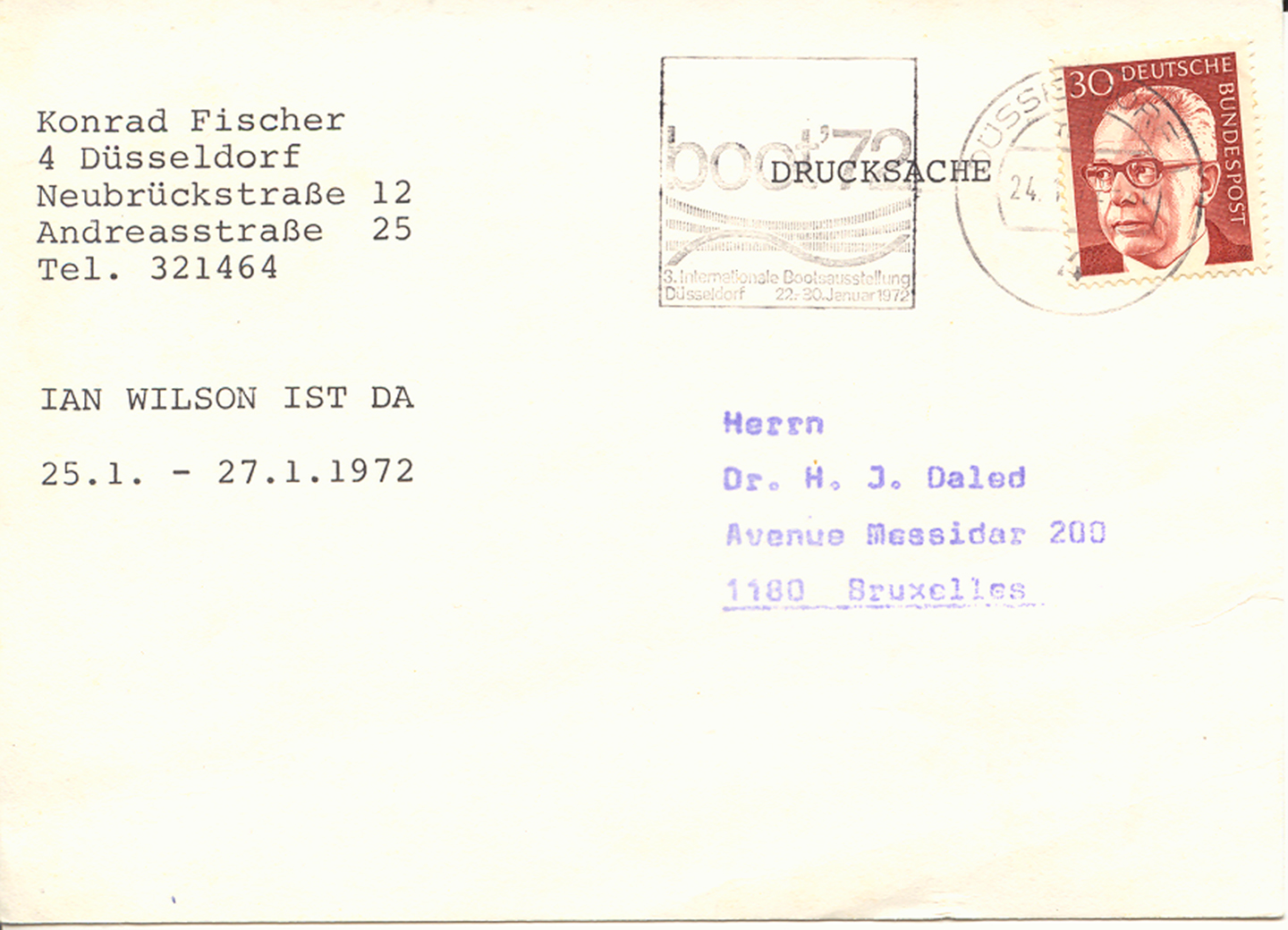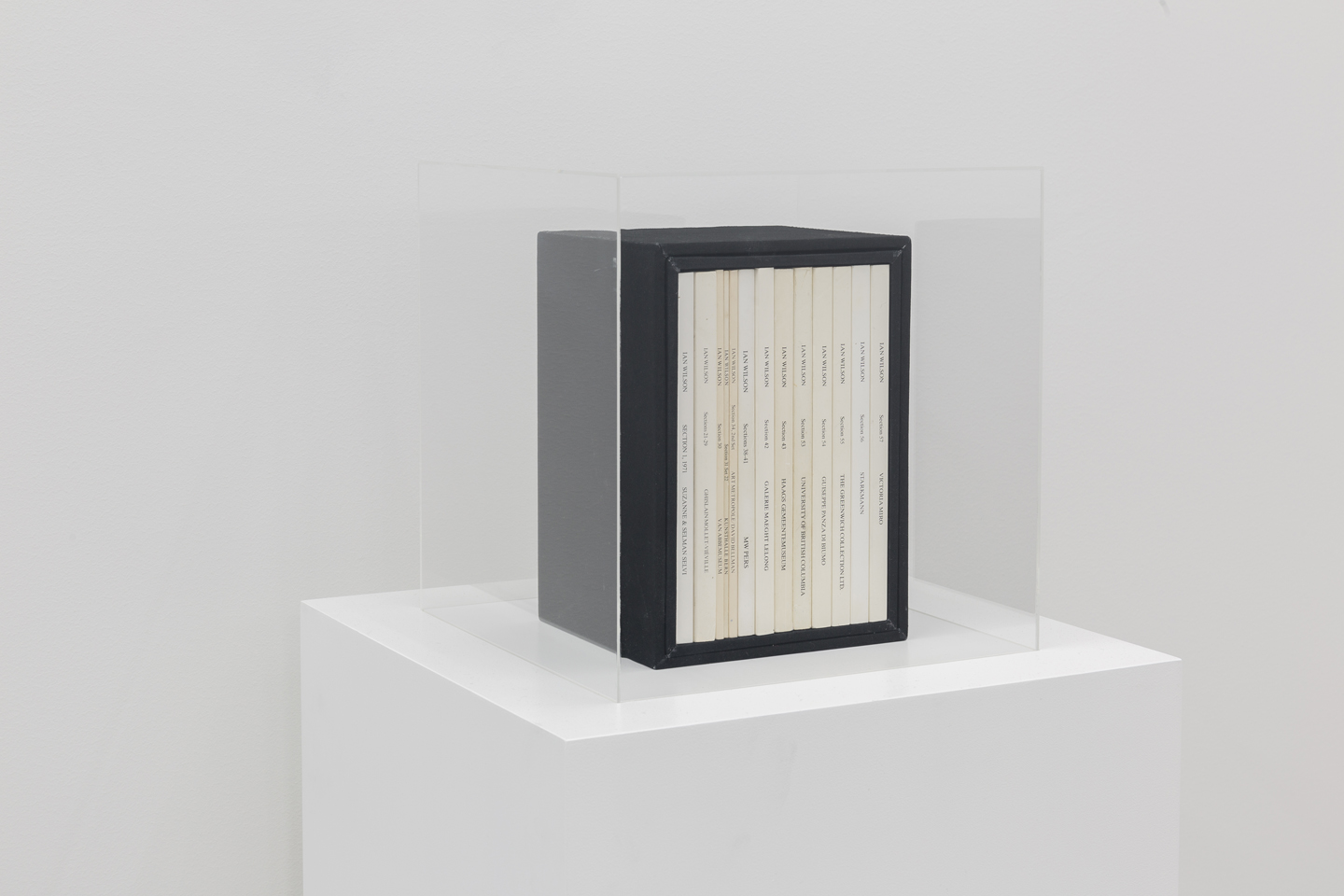 by Catherine Wood
"The culture that's going to survive in the future is the culture that you carry around in your head."
—Nam June Paik1
When Ian Wilson died, I planted a rose for him in my garden. He loved David Austin roses, and, from their website, I had ordered a pale pink variety, named Boscobel. On the day after he passed away—in a nursing home in Queens, New York, in April—it arrived as a root. Over the following weeks, nurtured by sun, rain, and compost, I marveled at its infinitesimal growth as it slowly began to sprout green stubs, which unfurled into leaves, and then the tentative buds of flowers.
Over the years we knew each other, between talking about art, ephemerality, his scarring witness of apartheid in South Africa as a child, and the daily practice of meditation, Wilson had told me about his love of English roses. He was a conceptual artist whose influential work took shape after he stopped making monochrome painting and sculpture in favor of uttering single words—first "time," but also "circle"—to initiate conceptual conversations. Like Gertrude Stein's relationship to the word "rose," after the twelfth-century philosophy of Peter Abelard, Wilson was fascinated by the extent to which the name of a thing or concept might already perfectly evoke it. "I found that I could think or say the circle just as well, that I didn't need to draw it in order to convey the idea I was exploring," he wrote.2
In early 1968 Wilson made his last object-works—two significant minimal drawings, Circle on the Floor and Circle on the Wall—and began to develop his Oral Communication series (1969-1972). These somewhat improvised early exchanges, taking place in the street or at art openings, formed the basis of his later and more formally organized Discussions, in which invited participants would sit and talk together in the round. I attended several of these on the theme of "The Pure Awareness of the Absolute." I had felt a bit intimidated, assuming one needed to bring expert knowledge to the discussion. But I can still recall the exquisitely gentle sensation of ideas opening up, the way that Wilson managed to raise complex philosophical questions, and keep ideas aloft and growing. He coaxed those taking part, deftly training the flow of exchange, drawn from our personal perspectives, yet hardly seem- ing to be doing so. As I tended the rose shrub, I thought about how the practice of gardening, as mere encouragement of the plant's own drive toward organic growth, felt close to his approach.
Aside from the life-changing experiences of participating in his work, with its radical proposition of imagining shared thinking as artistic form (or formlessness, as he might have preferred to term it), Wilson left me with the indelible impression of shared time between the two of us. I can't write about his work without admitting that encounters with him made me cry. I could not explain this effect, except that the involuntary release of emotion made me aware how much his presence, and his work, exceeded its assumed parameters. The only way to describe the experience is that it was mystical. It was as though we had known each other in a past life—a wild idea (for me) that Wilson accepted matter-of-factly. "I am on a journey back through countless lifetimes," he wrote.3 In his 1984 article on Conceptual art in Artforum, he had observed the necessarily fractured nature of manifest individuality: "Consciousness of a person or an inanimate object is not the heart of consciousness. The heart of consciousness is a state of being which is formless."4
Indeed, the mystic dimension and power of his practice has been obscured by an insistent art historical logic contextualizing his extraordinary work among a tight school of male peers involved with that US brand of "dematerialization" identified by Lucy Lippard. Anne Rorimer, who (albeit correctly) also places him within the familiar framework of 1960s New York and Los Angeles minimal Conceptualists—Robert Barry, Lawrence Weiner, Joseph Kosuth—nevertheless observes his alternative influences in a footnote to her statement that his concept of the absolute was conceived "with reference to the germane words of mystics and poet-saints" in the oral tradition. These included "Hōnen (Japanese, thirteenth century), Kabir (Indian, fifteenth century), and Vasistha (Indian, sixth century)."5 Wilson's brand of conceptualism had significant roots in ancientness.
I cried, one time, when we met after his 2013 Discussion at Jan Mot in Brussels. We talked, drank some tea, and he said, "Let's walk a little, shall we?" As we walked, we passed a florist. "Let's go in to see the roses," he proposed. They were amassed together, bunched and voluptuous. We stood for a moment and breathed them in, their pastel freshness and sweet perfumes. For someone whose work was known for its radically minimal means—a circle inscribed with white chalk on the gallery floor, the utterance of a single word—this moment encapsulated Wilson's paradoxical capacity for the initiation of passing experience with absolute perceptual fullness. It was about paying acute attention, and becoming conscious about what you could see or feel in a way that could fill you, and change you. "I like to live in a space that's empty," he said, as reported by artist Ken Lum, in his beautiful 2013 talk on the work at Dia:Chelsea, New York, as part of the series of Discussions staged there between 2011 and 2015. But the empty space he made is a kind of readiness, not an absence. An empty space primed for growth. "Good conceptual art leaves nothing. The reader is suspended, and it is from this vacuum that true consciousness emerges," he wrote.6 Alongside a transformation of my understanding both of what art could be and of the absolute, he left me with a new capacity to appreciate the miraculous beauty of nature, manifest in roses.
Toward the end of Wilson's life, I thought about his legacy. His surviving documents included signed pieces of paper stating where and when and with whom a Discussion had taken place, for example "On the 29th April 1977 there was a discussion between Massimo Minini and Ian Wilson," as well as the announcement cards created in advance of these events. These, and the artist's books he published between 1986 and 2014, such as The Set of 25 Sections: 90–114, with Absolute Knowledge (1993), remain as important traces, certifying rumors and concepts. The planting of such documents, modest as they are, among museum collections and archives has value in attesting to the having-taken-place-ness of his work. And such evidence helps to seed new foundations, the possibility of cultivating this direction, a provisional kind of art that works on the imagination. Wilson never permitted photography of the Discussions, nor the publication of transcripts, which strongly influenced the game-changing practice of Tino Sehgal, whose similar faithfulness to non- Western oral tradition is clear in his insistence on the primacy of the live enunciation of his own work.
Unlike a number of artists of the 1960s generation who in the past decade (and in light of the attitude of younger artists) have begun to reconsider the scoring or scripting of their live and performance works toward reenactment and thus preservation, Wilson's work is not repeatable, per se, without him. Yet I began to wish that he could have taken a pupil, somehow, like a Buddhist master, so as to pass on his method to someone who could actively continue his work. I even tried, too late, to write to him about this issue. But I realized afterward that this would simplify the notion of persistence within his attitude, reduce it to an idea of filial inheritance, of reproduction derived from a narrow family- or institution-oriented order of the universe. There is a linearity to that conception of heritage that is incompatible with Wilson's insistence upon the circle and its particular never-ending-ness, which was not about that kind of reproduction or permanence.
Wilson lived until the age of twenty in segregated South Africa and witnessed the brutality of the white supremacist regime, the inhumane manner in which those in power did not afford basic rights or common dignity to individuals across racial lines. He never wanted to go back. This, and the stupidity of the regime's superficial classifications made through the rudimentary terms of the Afrikaans language, underwrote his lifelong concern with democracy, nonhierarchical communication, complexity, nuance, language, human consciousness, care, and transcendence. The circle is emblematic of many of these things, and yet while it has a symbolic place in multiple world cultures, in Wilson's approach it was particularly inflected by concepts with roots, related to his early life experience in proximity to the deeper cultures of the African subcontinent. As Okwui Enwezor comments, "while in Western art, the cycle of art is completed in the aesthetic realm of display, in African traditions this finale is achieved through a desublimination strategy that perpetually displaces the object and places greater significance on non visual codes and performative actions." 7 The circle is an ongoing preoccupation, too, for the Democratic Republic of the Congo-born artist Faustin Linyekula in ways that resonate. His work, born of his experiences in the shifting political context of the former Zaire—via poetry, theater, dance, and music—is about building what he terms a "circle of connection" between himself, his collaborators, and his audience.8 It's a circle that is emblematic, he observes, of the foundation of relations that humanity must acknowledge, one that speaks to the necessity of balancing our human presence with our ecosystem, our sense of past with our possible futures. Crucially—like Wilson's Circle—it is a circle that needs to be continually redrawn, replenished, he says. Linyekula's thinking contrasts the ancient and ancestral knowledge stored in the body with the relatively short, written, colonial history of Africa found in archives and books.9 It's about buried, corporeal knowledge that we might try to surface.
The democratic choice of arranging participants in the round, the nonhierarchical manner in which he hosted his work, the gentleness of its reach, its connection to philosophical ancestry, and the deliberate fragility of its form, delivered with an attitude of nurture: these were things that Wilson was also concerned with. It seems clear that the flourishing of his work, its persistence, is and will be manifest in ways that are less linear than would be afford- ed by strict replication. In 2017, Krist Gruijthuijsen organized an important show of Wilson's work at KW Berlin. The multi-format curatorial approach included early circle drawings as well as certificates of Discussions, books, announcements, and advertisements. It was staged in parallel with three corresponding solo presentations by artists of the next generation whose work resonated with Wilson's in ways that felt authentic but not obvious: Hanne Lippard, Adam Pendleton, and Paul Elliman. Wilson's work offers a model that doesn't lend itself to duplication, but both enriches and unsettles the ground in ways that—like digging the earth, turning it over—allow new things to grow.
As a museum curator, the idea of permanence weighs heavy: a perceived obligation around the Enlightenment model of collecting and preserving things. The permanent collection is a foundation of the museum, Tate Modern, London, in which I work. Over the past twenty years, we have been working on acquiring scores, scripts, instructions, and contracts—verbal or written—for performance artworks. These nonmaterial "objects" represent a different order of perpetuation than the fact of a painting that can be stored and then uncrated and hung up on the wall: out of market circulation, acquiring inalienable status, but definitively owned.
In the process, including an unforgettable series of Walking Discussions led by Wilson when we staged our first "live exhibition" in the Tanks spaces in 2017 10, artists' approaches—or insistences—about ways of configuring bodies, appearances, and relationships have begun to effect changes in the institution's DNA at the molecular level. The museum's rhythms and protocols have begun to shift, through these insistences from the care implicit in the gloved handling of precious, material objects that are possessed toward accommodating and valuing live interactions and patterns, passing human positions and gestures, touch, reciprocity, rituals, conversations, and activist interventions. The chronological spine of a particular story of art was dismantled in Tate's collection displays two decades ago. But it hasn't become clear yet, at Tate or at peer institutions, which new structure replaces it, or how to reflect the fractured space-time of globalism, except that that change should treat new foundations for decolonizing as an urgency. Ian Wilson was a white, male artist, but his work didn't fit easily into the given museum structure. His particular embrace of precarity had something powerful to do with the cyclical alternative to the line.
Museum culture is in a period of transition, against a backdrop of overdue social revolution. Those of us involved in museum work are still close to the beginning of making change happen, but through having grappled with trying to accommodate and share the kind of artwork that Wilson made, and the work he inspired in the next generation, the museum has already begun to be productively unsettled. Instead of permanence, it's a different idea of perpetuity that begins to surface. Instead of inheritance, instead of the infinite accumulation of objects associated with high-value capital or the familial heritage model, it's a kind of growth, a cycle. Familiar from the ecosphere, with which we need to live in better balance, the cycle permits things to grow, bloom, fade, die, and grow again. Works that are made of actions necessarily appear and disappear with a different kind of presence than an object that is there to be conserved—objects with which such actions are necessarily and often also productively entangled. It is the impression of experience, and social relationships, that remain.
Part of the way in which we reshape our institutions so that the non-Western forms of art that Tate and other institutions are collecting might genuinely flourish and be experienced is through an acknowledgment of the circular. A focus on practices built upon reiteration, repetition, and variation, that might require a commitment to regular, perhaps annually or seasonally repeated live showings is a strong alternative to the perma-presence of conventional exhibiting. These are the habits and patterns that shape social interaction, and have been shaped by artists in ways that imagine and also institute new ways of doing things, taking to heart Simon Njami's notion that the institution must remember its own foundation in a verb: "to institute." 11 Rituals of gathering and composing forms of contact— crossing over into spoken-word poetry or dance—are becoming recognized as being as important for, and reciprocally bound to, art as marks cast in more solid materials.
In the West, we are in an age that does not, generally speaking, foreground belief in immortality or the afterlife. To deal with the prospect of death, there has been an adherence to an idea of permanence through the preservation of material things. A kind of visibility and possession,  also the foundation of the market economy, is entrenched in the financial insurance at stake in the accumulation of capital. We keep things—the British Museum curators who look after its spoils are literally known as "keepers"—to guard against forgetting, against perishing. We have hoarded things in case our abundant but plundered ecosystem fails us, too.
The question of inheritance as a form of capital accumulation is one that economist Thomas Piketty explores in his book Capital in the Twenty-First Century (2013). In this study of contemporary social inequality, exacerbated by the increasing capital-to-income ratio of the current economic model, Piketty raises the alternative model of hunter-gatherer societies. Equality in those cultures, he observes, is maintained because one can only accumulate what one can carry.12 What if we took the notion of what one could carry as a principle for an alternative museum? The museum of art one could carry could include the memory of Ian Wilson alongside the temporary sculptures of Senga Nengudi, the 8 smoke rings of Sadamasa Motonaga, the street actions of Jiri Kovanda, or the viral principles of teachable dance initiated by Yvonne Rainer. It might value the dialogical situations of Tino Sehgal, the Occasions of Isabel Lewis, on-site drawings and performances by Nikhil Chopra, Boris Charmatz's musee de la danse, the collaborative actions initiated in installations by Okwui Okpokwasili, or indeed the ongoing journey described by Linyekula. Wilson carried his beautiful, affecting, consciousness-changing work with him. Now that he is gone, little that is tangible—in material terms—remains. His work exists as rumor, memory, transformation of consciousness among those who experienced it. It takes up very little physical space. But in this disappearance, it is, in fact, making space via the enlargement of consciousness, the possibilities that persist in what he opened.
When I planted the rose, I had the flicker of a doubt: What about when I move house? The idea was to root a memory. Would I leave it behind? Who would look after it? Shortly after, I read a proverb cited by the South African artist Kemang Wa Lehulere on social media: "A society grows great when old men plant trees in whose shade they know they shall never sit." Ian Wilson planted the seeds of work that will outgrow him, that he won't see. But the cultivation and care to encourage that kind of growth is what is needed in the present. Dia:Chelsea's online announcement text for Wilson's series stated: "Neither recorded nor transcribed, Wilson's work exists only for the duration of the conversation." 13 But this wording confuses existence with iteration. Wilson's work continues to exist. It persists in the minds of those who participated in it, what they do with it, where they—or we—take it. Just before Tate Modern, London, closed down due to the COVID-19 pandemic in March 2020, I was working with Okwui Okpokwasili on a new project in which she had asked all participants the same, ever more pertinent question: "What do you carry, that also carries you?"
1. Nam June Paik quoted in Arthur Jafa and Tina M. Campt, "Love Is the Message, the Plan Is Death," e-flux journal, no. 81 (April 2017): https://www.e-flux. com/journal/81/126451/love-is-the- message-the-plan-is-death/.
2. Ian Wilson quoted in the press release for Plug In #47, Van Abbemuseum, Eindhoven, 2008, https://vanabbemuseum.nl/en/programme/programme/ ian-wilson-1/.
3. Author email correspondence with the artist, February 5, 2013.
4. Ian Wilson, "Conceptual Art," Artforum, February 1984.
5. Anne Rorimer, "Ian Wilson: The Object of Thought," in Ian Wilson: The Discussions (Eindhoven / Barcelona / Geneva: Van Abbemuseum / MACBA / MAMCO Geneve, 2008), 15.
6. Wilson, "Conceptual Art".
7. Okwui Enwezor, "Where, What, Who, When: A Few Notes on 'African' Conceptualism," in Global Conceptualism: Points of Origin, 1950s – 1980s, ed. by Luis Camnitzer, Jane Faver and Rachel Weiss (New York: Queens Museum of Art, 1999), 110.
8. From an interview conducted with the author in February 2020, to be published as part of BMW Tate Live, Our Bodies, Our Archives, in 2021.
9. "I once heard a wise man say, 'If Europe wanted to see its future, it should look to Africa because everyone's future is that of fragility and Africans have been dealing with that since forever.'" Faustin Linyekula, introduction to BMW Tate Live performance recorded on site at the Tanks, Tate Modern, March 2020: https://www.tate.org.uk/whats-on/tate-modern/exhibition/ bmw-tate-live-exhibition-2020.
10. The 2017 Tanks program BMW Tate Live: Ten Days Six Nights featured Ian Wilson alongside Isabel Lewis, Fujiko Nakaya, Camp, and others. It was co-curated with my colleagues Isabella Maidment, then assistant curator, performance; Andrea Lissoni, then senior curator, film; and Carly Whitfield, assistant curator, film.
11. Simon Njami talked about this in a presentation on Issa Samb at Tate Modern, BMW Tate Live: Experience
as Institution, curated by Elvira Djangani-Ose and Catherine Wood, November 29, 2013.
12. This might include a few engraved knives or jeweled necklaces, but never excessive difference between leaders and ordinary people, he notes. Thomas Piketty, Capital in the Twenty-First Century (Cambridge, MA: Harvard University Press, 2013).
13. https://www.diaart.org/exhibition/exhibitions-projects/ian-wilson- the-pure-awareness-of-the-absolute- discussions-project.
Ian Wilson (b. 1940; d. 2020) was born in South Africa and moved to New York in the mid-1960s to enroll at the Art Students League. He began as a figurative painter but quickly moved toward abstraction and soon settled on language and oral communication as his medium. Wilson pursued his radical and original practice for five decades, developing his Discussions around notions of time, possibility of knowledge, and awareness of the absolute. His work has been presented worldwide, including at seminal exhibitions of conceptual art such as 557,087, Seattle Art Museum Pavilion (1969); Information, the Museum of Modern Art, New York (1970); Arte de Sistemas, Centro de Arte y Comunicación, Buenos Aires (1971); L'art conceptuel, une perspective, Musée d'Art Moderne de la Ville de Paris (1989); 1965-1975: Reconsidering the Object of Art, Museum of Contemporary Art, Los Angeles (1995); and documenta 7, Kassel, (1982). A major solo exhibition accompanied by a catalogue raisonné was organized in 2008 by the Van Abbemuseum, Eindhoven; MACBA, Barcelona; and MAMCO, Geneva. The Dia Art Foundation organized a number of Discussions in Chelsea and Beacon, New York, between 2011 and 2015. In 2017 Wilson had a solo presentation at the KW Institute for Contemporary Art in Berlin. Tate Modern, London hosted the last public Discussion with the artist in May 2017.
Catherine Wood is senior curator of international art (performance) at Tate Modern, London. She recently co-curated (with Isabella Maidment) a major project with Anne Imhof, titled Sex, for the Tanks at Tate Modern, and the 2018-2019 Hyundai commission for the Turbine Hall with the Cuban artist Tania Bruguera. Wood co-curated the Robert Rauschenberg retrospective at Tate Modern in 2017 and initiated Tate Modern's annual BMW Tate Live Exhibition in the Tanks, which has featured Fujiko Nakaya and Isabel Lewis (in 2017) and Joan Jonas and Jumana Emil Abboud (in 2018). Previous exhibitions include A Bigger Splash: Painting after Performance (2012) and The World as a Stage (2007). Since 2003 she has commissioned artists including Mark Leckey, Joan Jonas, Otobong Nkanga, Sturtevant, and Boris Charmatz, and initiated the online broadcast project BMW Tate Live: Performance Room in 2011. Outside of Tate, Wood curated Yvonne Rainer Dance Works, Raven Row, London (2013), and authored Yvonne Rainer: The Mind Is a Muscle (Afterall/MIT Press, 2007), and Performance in Contemporary Art (Tate Publishing, 2018).
Originally published in Mousse 72