CONVERSATIONS Mousse 22
Pure Energy, Deep Poetry: Ida Ekblad
Close
1
2
3
4
5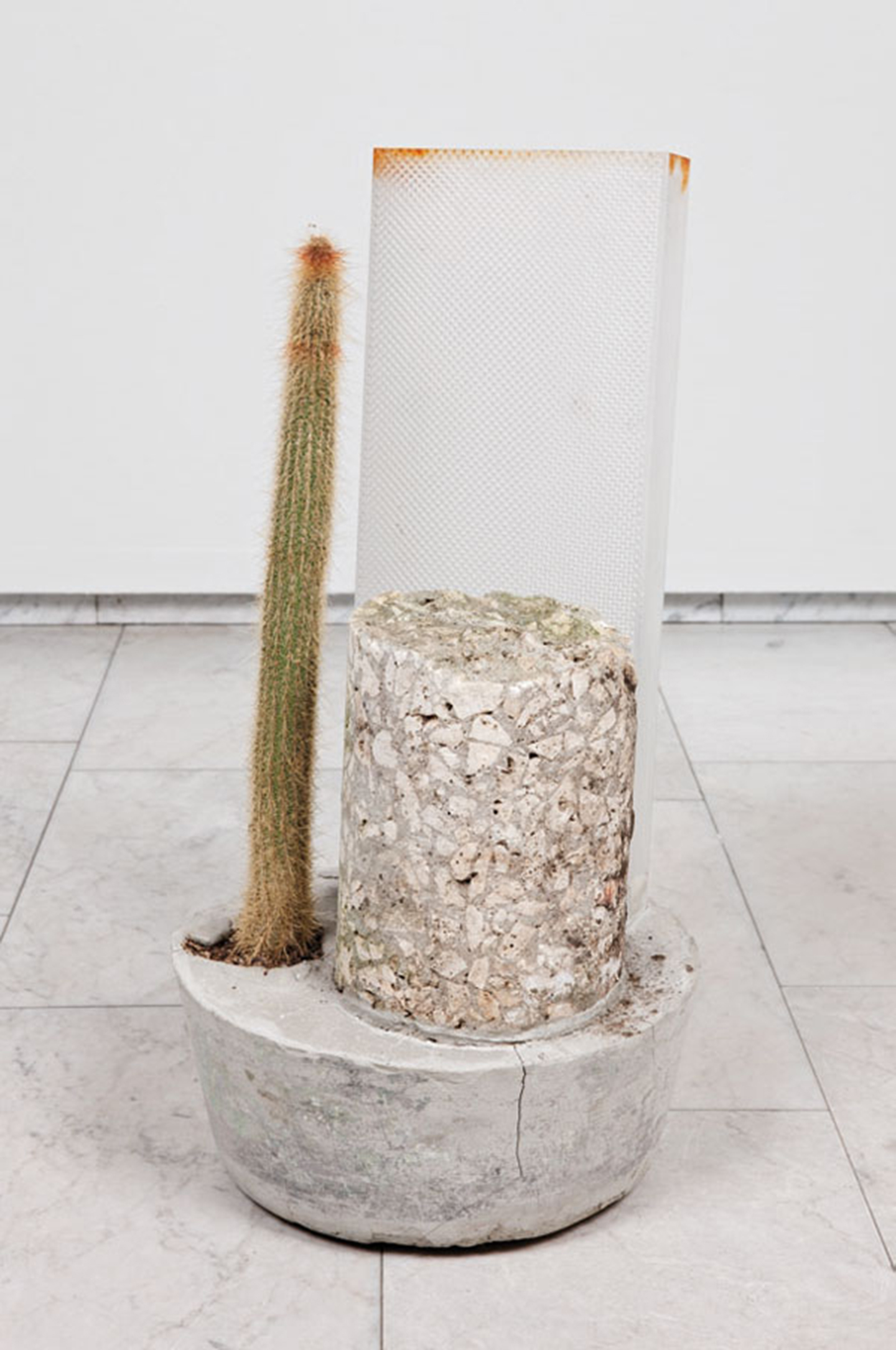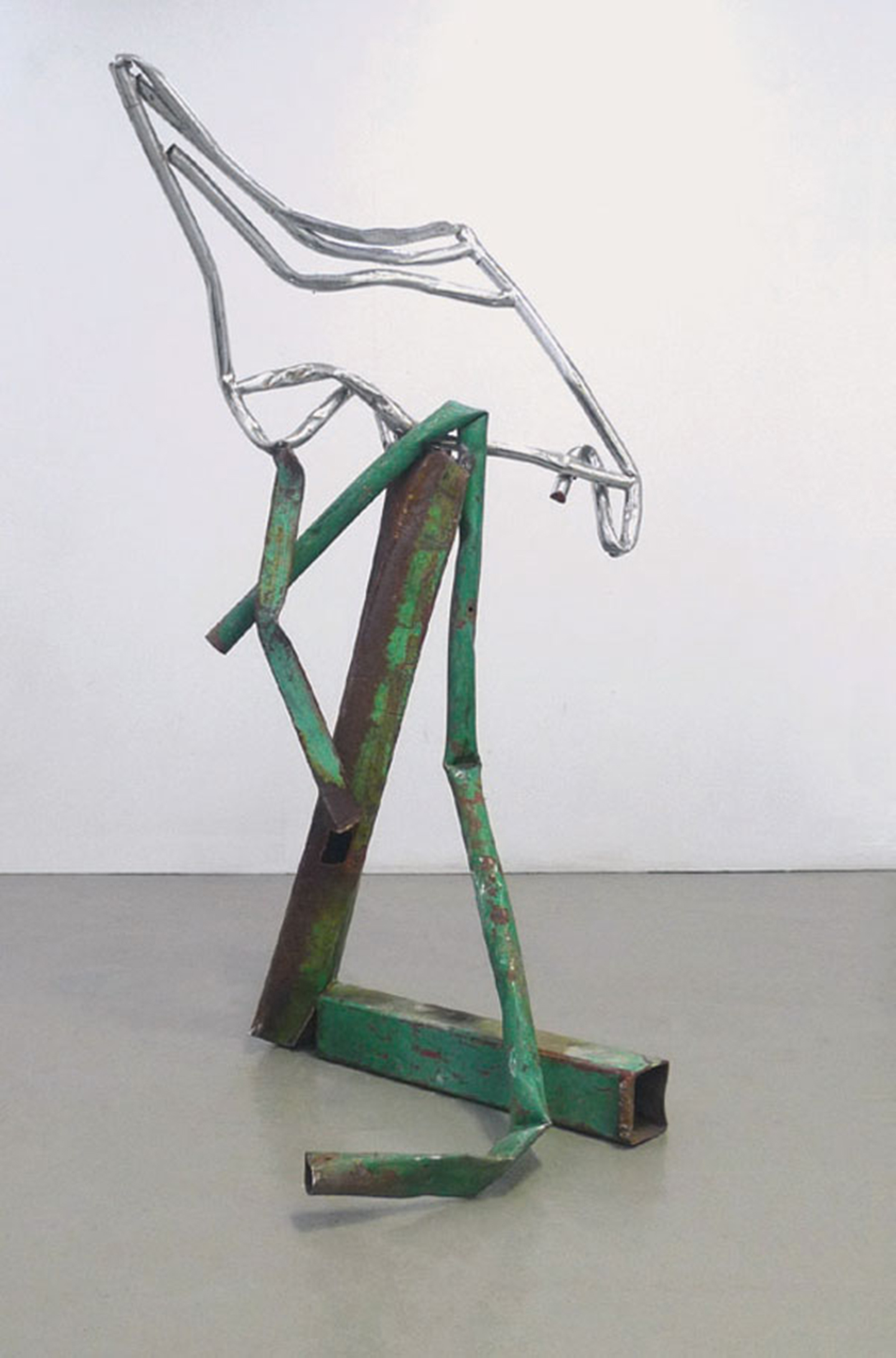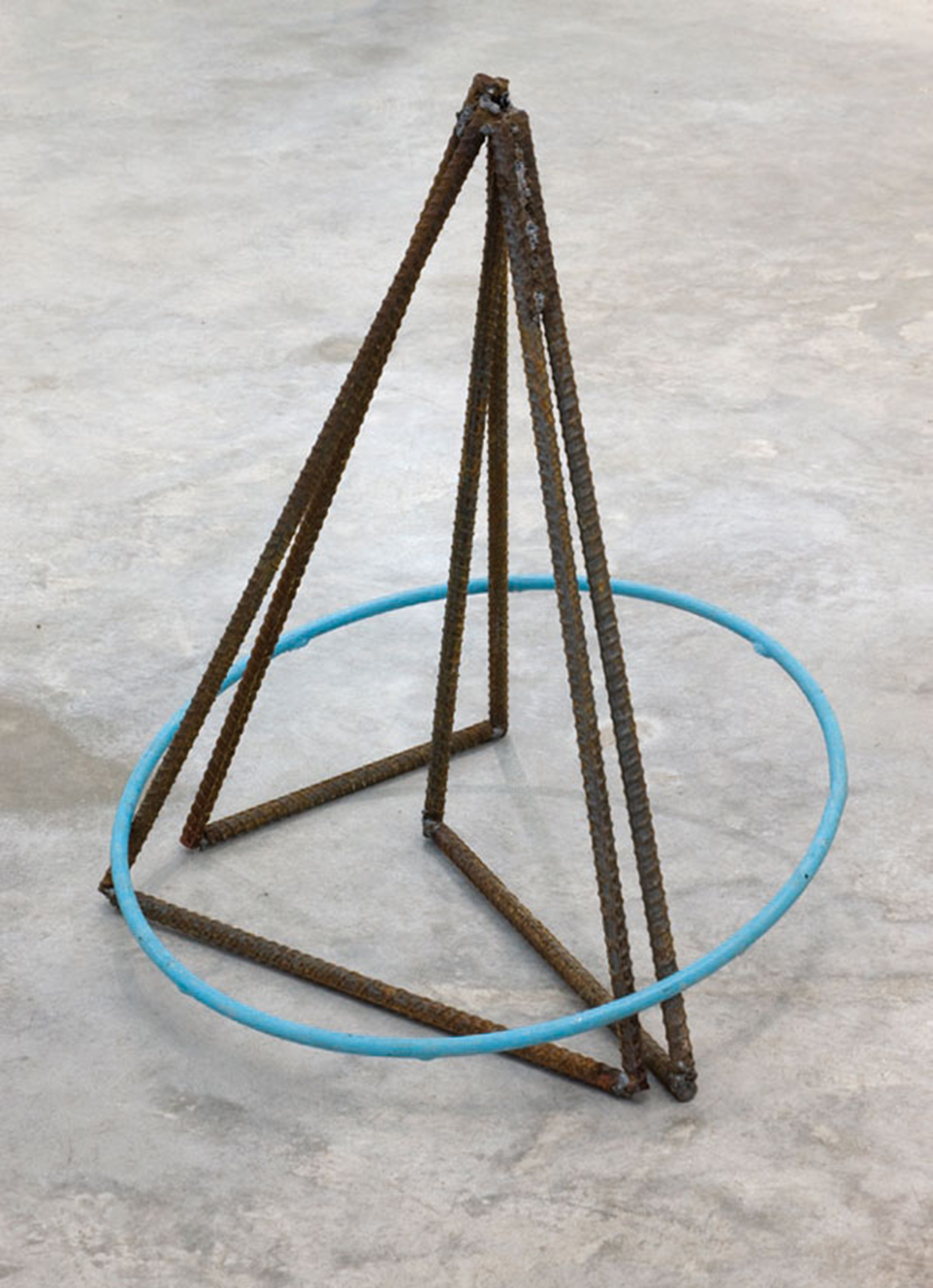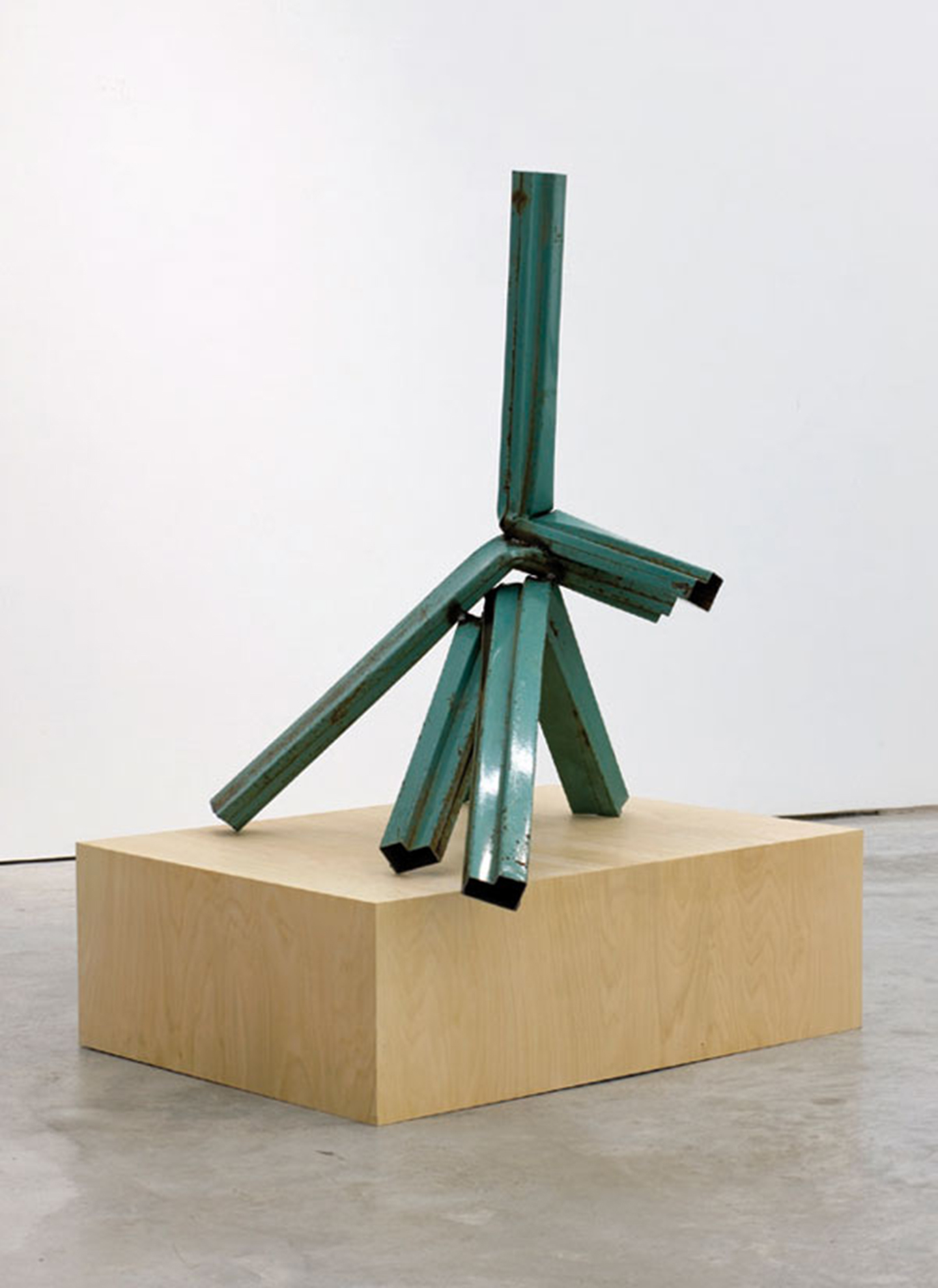 by Gigiotto Del Vecchio
Ida Ekblad clambers up the piles of rubble left by recent political circumstances—cars, bikes, train tracks and beams—heaps of iron "in exile from the mineral kingdom", industrial scraps whose forms echo the era of their production, frozen in the artist's assemblages. In the conversation that follows, Gigiotto Del Vecchio explores the unusual blend of "classical" precision and chaotic energy in the work of this Norwegian artist.


GIGIOTTO DEL VECCHIO: One of your latest projects is called In Exile From the Mineral Kingdom. I've always liked the evocative nature of this title, all the political implications that could be read into it. Could you tell me a bit more about the project and its title?
IDA EKBLAD: In Exile From the Mineral Kingdom is the title of a video I shot at a government-run metal scrapyard in Oslo where I sometimes climb the fences to collect iron for sculptures. The yard also happens to be located right next to the Oslofjord, so I go for a swim and then glean the colossal mountains of shiny, scrappy, rusty, multicolored pieces of metal. Industrial products that once fulfilled various purposes for society, now defunct: crusty, twisted skeletons of cars, bikes, train tracks, beams, ironing boards… A marvelous, gargantuan pile that reveals our forlorn condition and the absurdity of our world. Iron exiled from the mineral kingdom, in a state of intermediary purgatory before incarnation into new industrial products, or in my case, sculptures. I get a kick out of ascending this inverted netherworld. The sound of metal crushing under my feet, combined with the fear of drowning or being slit open by all the knifehard edges it offers. The curiosity in discovering unusual pieces, and the investigation of them in various combinations later on. Then finally welding the pieces together, much in the same manner as connecting words and sentences in a poem, each piece embodying its own associations, from prior use, colour, shape and patina. Some shapes rhyme, some reject each other, etc.
GDV: Your work moves through a double dimension: on the one hand, it has a strong bond with aspects that belong to your time and culture, and on the other, an explicit potential for dialogue and reclamation of elements drawn from art history. In some of your recent work one can clearly see an aesthetic mood that could be traced to movements like CoBrA and Abstract Expressionism and some of their major figures. Could you tell me more about that?
IE: I frequently work with found material. These materials appear in current settings, now, today, and so to me they are contemporary, although their patina, shape and construction might reveal that they were constructed in the 1970s, or in the 18th century, for that matter. In general we get rid of the old and acquire the new, so more often than not, I find "old" artifacts. I am curious about these materials being suggestive of something in the past, and yet gleaned from the remnants of recent political situations. Like the works from the series "The Gold Bug Drift (Christiania)", made in the Freetown Christiania in Copenhagen. This unique place was once a military area, before being occupied by hippies and their families in the late 1960s. They tore down the fences and built an independent society with its own laws and even its own currency. Now this place is threatened by the governing politicians, who want to evict the inhabitants and demolish what is known as Christiana to make room for modern buildings, etc. In the Christiania pieces, I buried walls from one of its houses, as well as bits and things I found along its streets and around its lake, into cast concrete vessels, where I planted cactuses. A cactus is both a fence and a resisting force. It is powerful and hostile, and also very beautiful. Painting to me combines expressions of rhythm, poetry, scent, emotion… It offers ways to articulate the spaces between words, and I cannot be concerned with its death, when working at it makes me feel so alive. Canvas can be attacked, copulated with and played like an instrument. I believe in painting like I believe in music. Gore grind music has been invented and can be reinvented forever, and no two raindrops are alike… no two gobs of paint, etc. etc. It is true, I appreciate the Cobra artists, especially Asger Jorn and Karel Appel, but also so many other painters, like Carol Rama, Kippenberger and James Ensor.
GDV: What does the word "energy" mean to you?
IE: Oh, ay, oh… energy negates sleep, smells like burnt rubber, and looks like a tornado.
GDV: Do you think your work could be considered political?
IE: To me, it is a naturally political act to be thinking about and working with art, but I attribute a varying degree of importance to the political aspects of any kind of artwork. A lot of work that aims to be perceived first and foremost as political becomes didactic and obvious, in my opinion, like kicking an open door.
GDV: How important to you is poetry? You often connect your poems to your artwork.
IE: There is a strange consolation in poetry when you yourself feel like an exile of modern life. Writing poetry becomes part of the struggle to stay sane, or the struggle to stay insane, I forget! Often my poems are born out of experiences from sculpture-missions; like thoughts and scents spinning in my head after drifting on New York City's Rockaway Beach, or rainy nocturnal drifts in London's Clapham Common. Drifting without a mission is also nice, and much like free-association poetry. Sometimes works are born out of writing: titles for artworks come from poems, and poems sometimes mould themselves into songs and hide inside of paintings.
GDV: Do you think your way of working could be linked to a classical dimension, considering the different formal results of traditional art history that your work could fit in with, specifically in reference to your exhibition at the most recent Frieze Art Fair? Personally, I've always liked citations, references, and visible connections with the important things present in the background and formation of the artist's personality. What do you think?
IE: The exhibition at Frame (Frieze Art Fair) was titled "A Woman Under the Influence" after the film by Cassavetes. I am interested in the character of Mabel, played by one of my favorite actors, the incredible Gena Rowlands. Mabel`s cuckoo, frisky jargon, her power, curiosity and repressed demons connect to a melodic line I was working from. The works thus inhabit references to a sort of domesticity gone bananas (a pun on Mabel's way of constantly addressing her kids as "banana"): as in the ripped-open vacuum-cleaner bags, the cast of a vacuum-cleaner placed in the cast of an English dumpster, the garlic braids etc. Other works imitate decorative plant displays; the sort neglected for decades – all dried earth, and weird objects accumulated in them. Every work except the bags is made from drifts in Clapham Common, basically because I was working out of a studio at London's Studio Voltaire. Inserted in them are sometimes polaroids of home-appliance displays in the DIY stores where I collected the cement for the drifts. Another reference in that body of work is Pippi Longstocking, who I perceive as a somewhat younger Mabel "character" (prior to the household and the housewife role.) Each work has a title from a Pippi monologue and together they can be collected into a statement by Pippi that I find sharply poetic despite its childishness: "I am used to things appearing and disappearing changing and rearranging – fill ev'ry minute 'cause you never know where you might be tomorrow or who you'll meet or what you'll see or where you'll go". Considering that I'm frequently reliant on chance, it is hard to control the visual outcome of works. I'm curious and sometimes amused by their appearance, even when they could be perceived as resembling "classical artwork". Often there were merely unforeseeable incidents that made them come out that way; the limited time I had on drifts when collecting and placing materials within concrete before it dried, for example. These drifts can bring distress and desperation at times, when I can't seem to find any objects of interest, but I also appreciate that kind of forced engagement with unappealing materials. It makes me ramble forward into unfamiliar areas and lines of thought. If one is referring to a classical placement of objects within an exhibition room – that is because it interests me to work with the combination of chaotic works and stringent lines. I also appreciate classical typography in a book-piece of chaotic poetry.
GDV: At the moment you're rapidly growing in terms of visibility and the art market. Is there something you want to keep under control within this major, positive escalation? Are you worried, considering that you're such a young artist, that you may find yourself having to grapple with your position on the art scene and the art market?
IE: The thoughts that come to mind, about being a part of the art market and experiencing the alienation of life within a capitalist society, are worked out through my practice as an artist and expressed through my works and pieces of writing.
Originally published on Mousse 22 (February-March 2010)