EXHIBITIONS
Ida Ekblad and Oliver Payne at Herald St, London
Close
1
2
3
4
5
6
7
8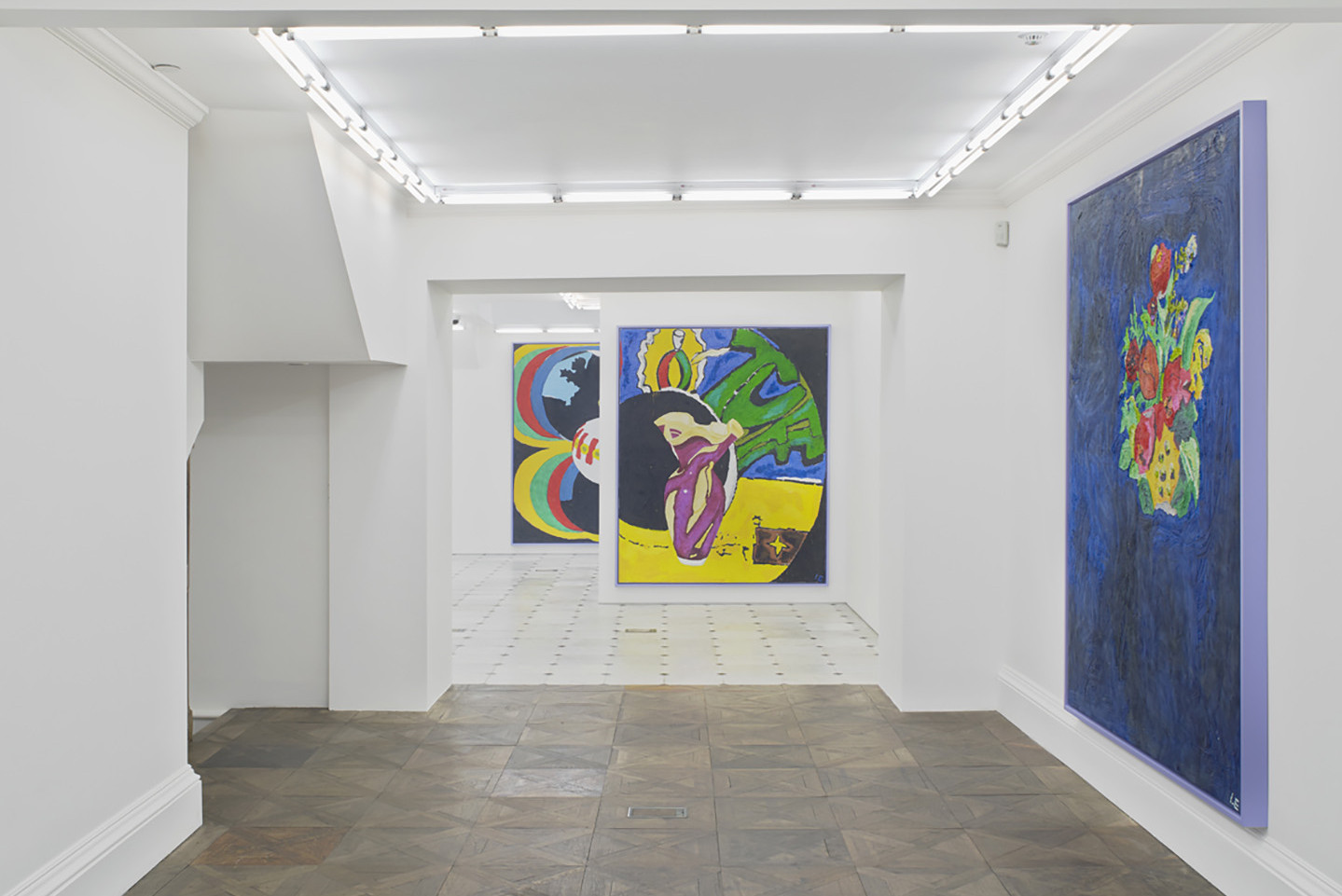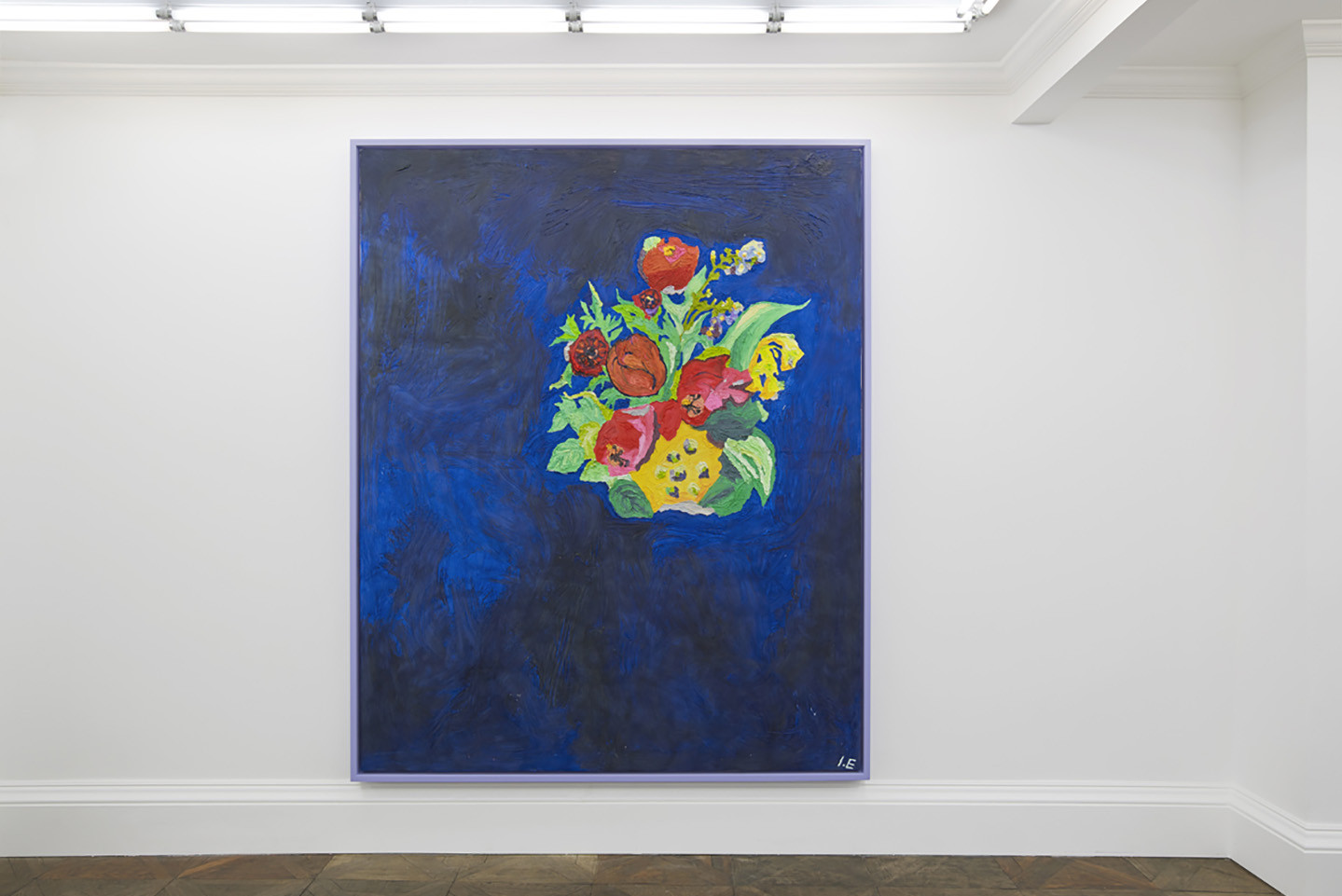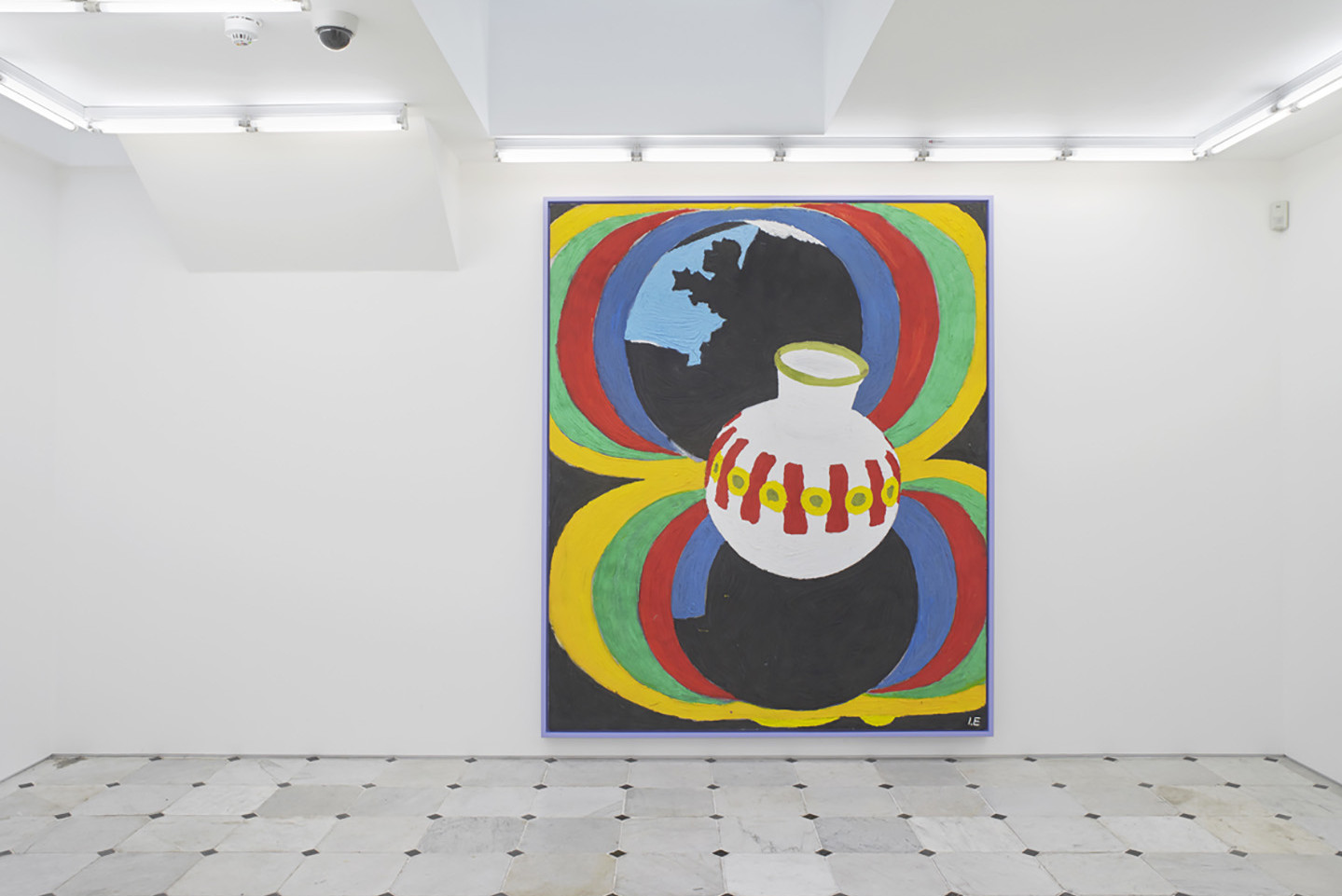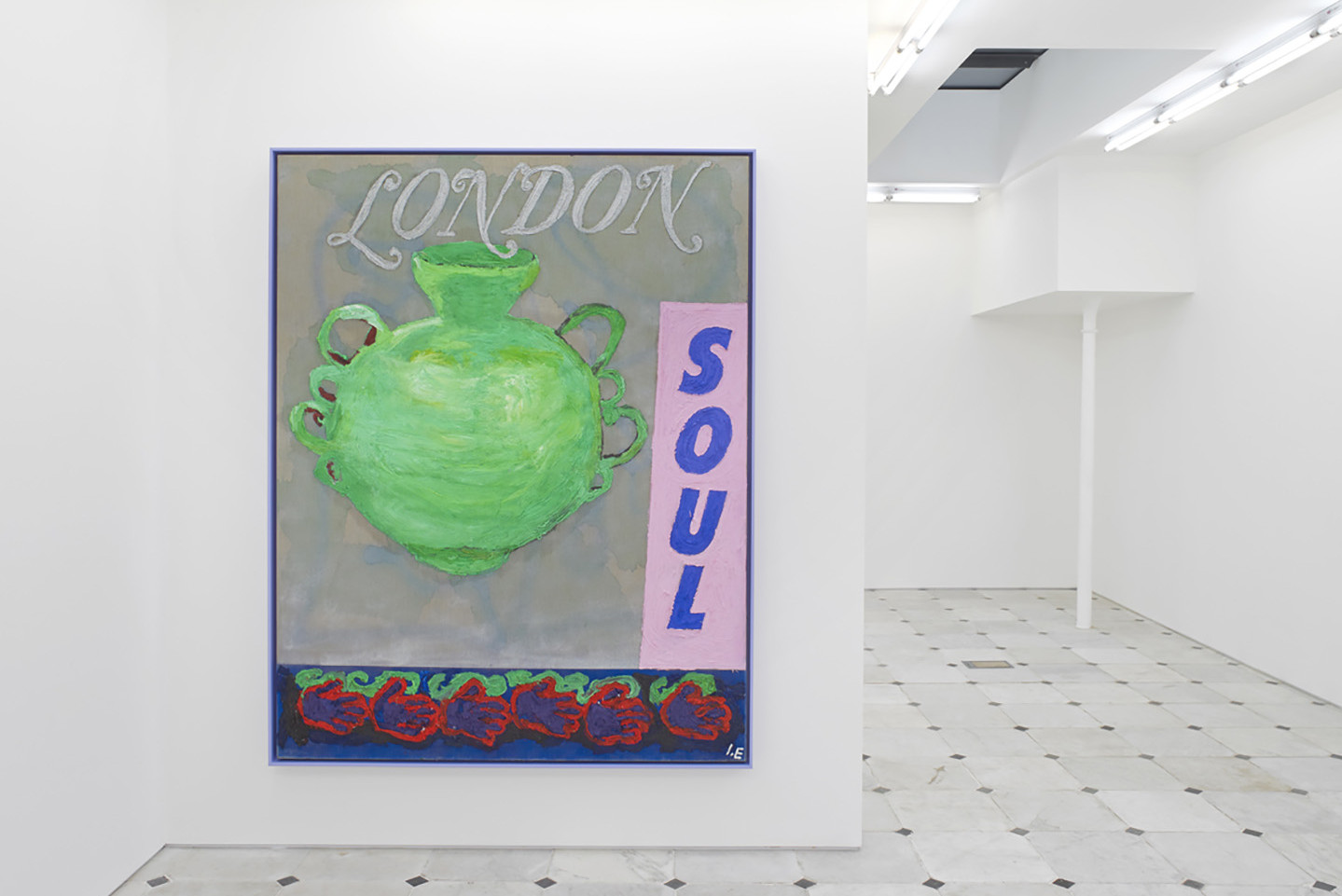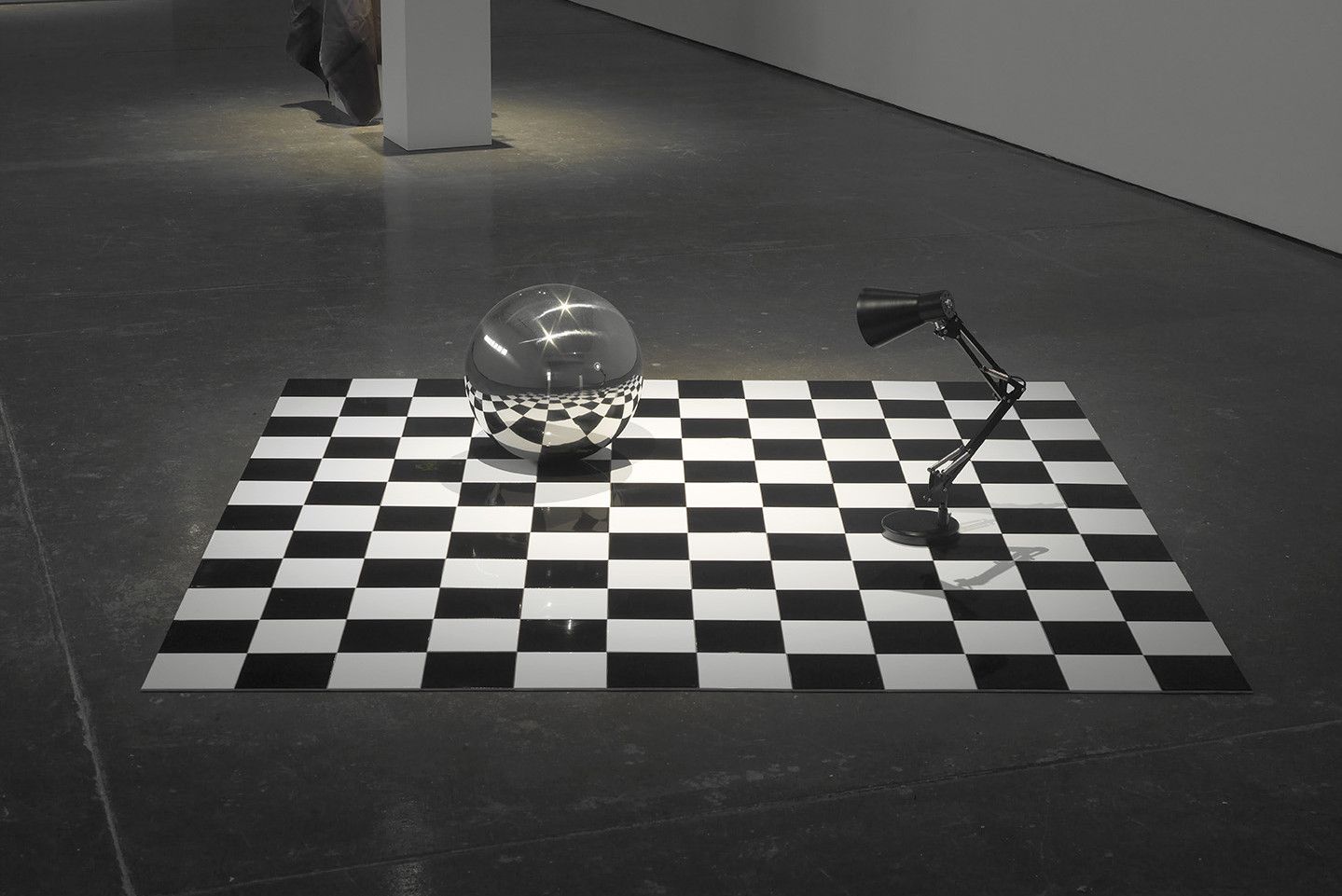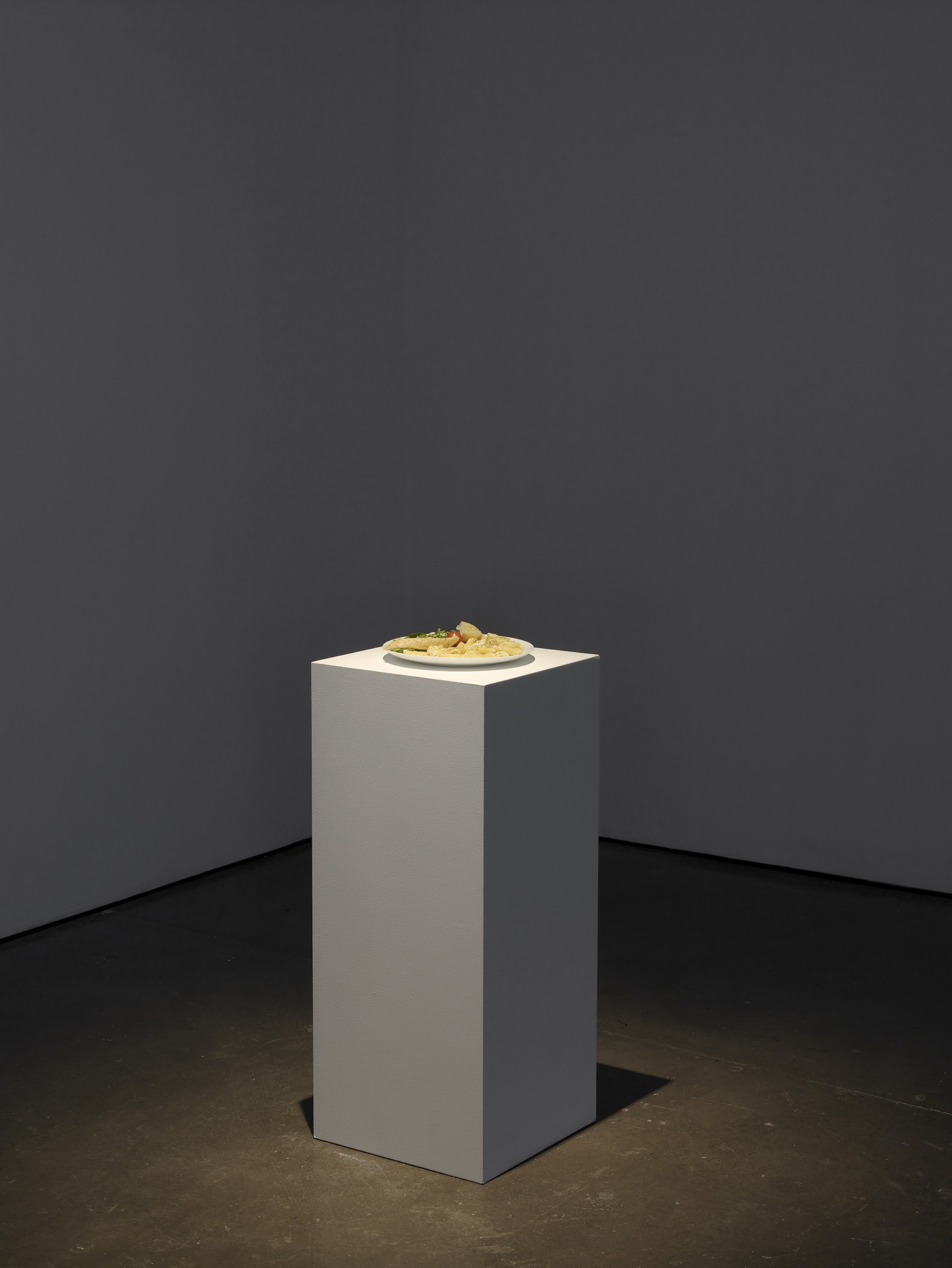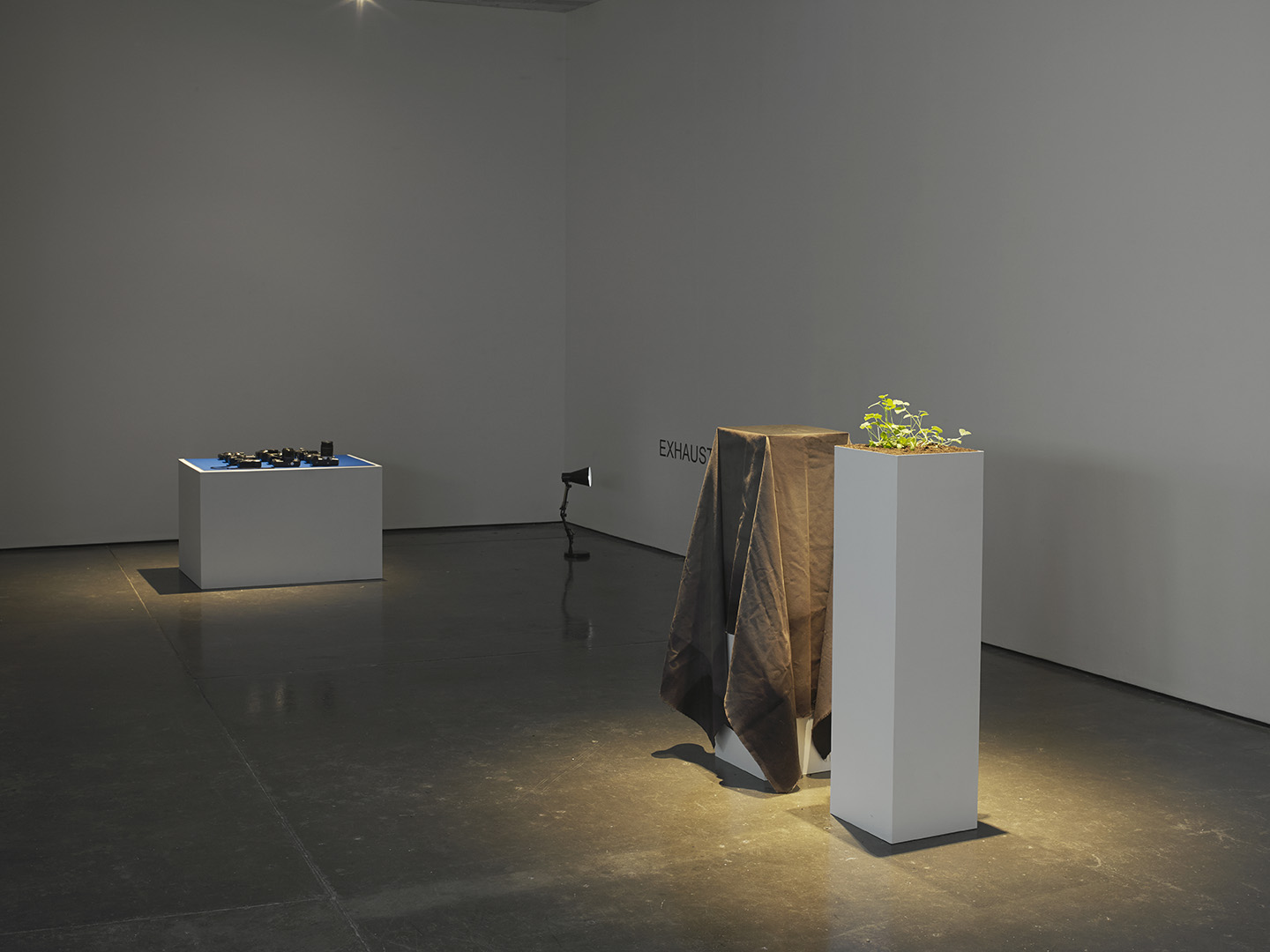 Ida Ekblad "Proper Stuff"
These four works sum up the mood I've been in for the past few months. I've been reminiscing about my family when I was growing up, the trips we made cross-country skiing on glowing slopes in the Norwegian pitch-black winter, I remember we were thirsty with no water in the mountains and being told: 'if you are thirsty, drink your spit' but in a loving way. Then camping in moist green plastic tents in the forest in summer and trips abroad – five kids melted onto brown vinyl seats in a mustard yellow Volkswagen mini bus on the motorways from Oslo town to Venice, Italy and discovering on arrival this small shop filled with Murano glass objects, its trippy vases burning themselves into my child-brain, now literally burned by my heaters onto my canvas or linen, making surely sure I won't forget. My sister and I bought a small glass object each; colourful glass candy and a fish, proper tourists.
'Never let you see me down'. I've been thinking about what our various flats looked like growing up, the pine furniture, the record players, black vinyl 45's with dust dancing on them in the sun and the sound they made when the record was over. I've been looking at my drawings my Dad kept for me and at slides of us, my sister, him, me, which he handed over to me recently. I guess these works are rich with references which mostly only make sense to me. There's the 'TUFF' part of a CRY TUFF record in a painting which doesn't actually reveal the name of the song I've been listening to, 'Gimmie' by Errol Holt. Another painting sort of holds parts of the graphics from a Sussex Records by The Decisions just because I like those shapes and colours and nonetheless their song 'You look like an angel' is real beautiful too.

These new works sure are richer than rich with material, yes so heavy with industrial bucket loads of Plastisol and expanding medium weighing them down so I cannot carry them much longer. This final mixture of my so-called chunky 'Puffy-paint', is applied with any kind of abused brushes or moulded, squeezed, smudged, clubbed and harassed onto the canvas with my hands. 'Poesy snuffed by decor?' Decor snuffed by Poesy!' The battle is on, and at the slightest resistance, the first «word» of complaint, they are squelched, fined, vilified, muffled, harassed, hunted down, disarmed, bound, choked, imprisoned, judged, condemned, blown, deported, sacrificed, betrayed, sold. Finally these works have been through some decent heating and baking in my studio by means of industrial heaters as the plastic won't harden otherwise. I like watching the plastic grow like mushrooms when it's heated, baking and boiling like heroin in a spoon.
I.E 2017
Space is not neutral. As Georges Perec wrote in Species of Space (1974), 'space is a doubt: I have constantly to mark it, to designate it. It is never mine, never given to me, I have to conquer it'. Ida Ekblad's deliberately macho series of new paintings are a transgressive gesture towards such ownership, a bold reclaiming of the male-dominated realm of large-format expressive paintings.
Vibrant colours of plastisol and puff paint are densely applied with a rough impasto, forming sculptural surfaces, incised with brushstrokes and moulded by Ekblad's fingers. Now transformed into a painterly medium, the mixture of plastisol and puff paste was originally used by Ekblad as a teenager to make 3D screen prints for t-shirts. In a similar way to her Situationist-inspired 'drifts' (where the artist would walk through cities scavenging discarded materials from scrapyards to form composite sculptures), here she continues to salvage old objects and media now deemed obsolete or tasteless and injects them with fresh meaning.
Responding freely to established genres, Ekblad's work merges high and low culture. Samples from the miscellanies of popular culture, including designs of her old childhood vinyls, feature in her paintings. An abstracted fragment of a 'Cry Tuff' record appears in one painting while another bears the logo of London Records and the recognisable typeface of Northern Soul. Inspired by a trip that Ekblad made to Venice at an early age, voluptuous Murano vases and urns are painted into various foregrounds, referencing the traditional art historical vocabulary of still life. Elsewhere Ekblad playfully displaces the flowers from the empty Murano vase in The sound of a record when it's over, freeing them to float, detached, in a sea of blue. While the urns Ekblad paints may be associated with storing the remains of the dead, any allusions to mortality are eclipsed by the visceral energy of these intuitive paintings, rooted as they are in the artist's immediate experience of the world around her. As she explains in a previous interview (Mousse, 2010), 'Painting to me combines expressions of rhythm, poetry, scent, emotion… It offers ways to articulate the spaces between words, and I cannot be concerned with its death, when working at it makes me feel so alive.'
Jessica Freeman-Attwood 
at Herald St, London
until 28 January 2018
Oliver Payne "EXHAUST: BLACK NOISE / TOXIC WAST"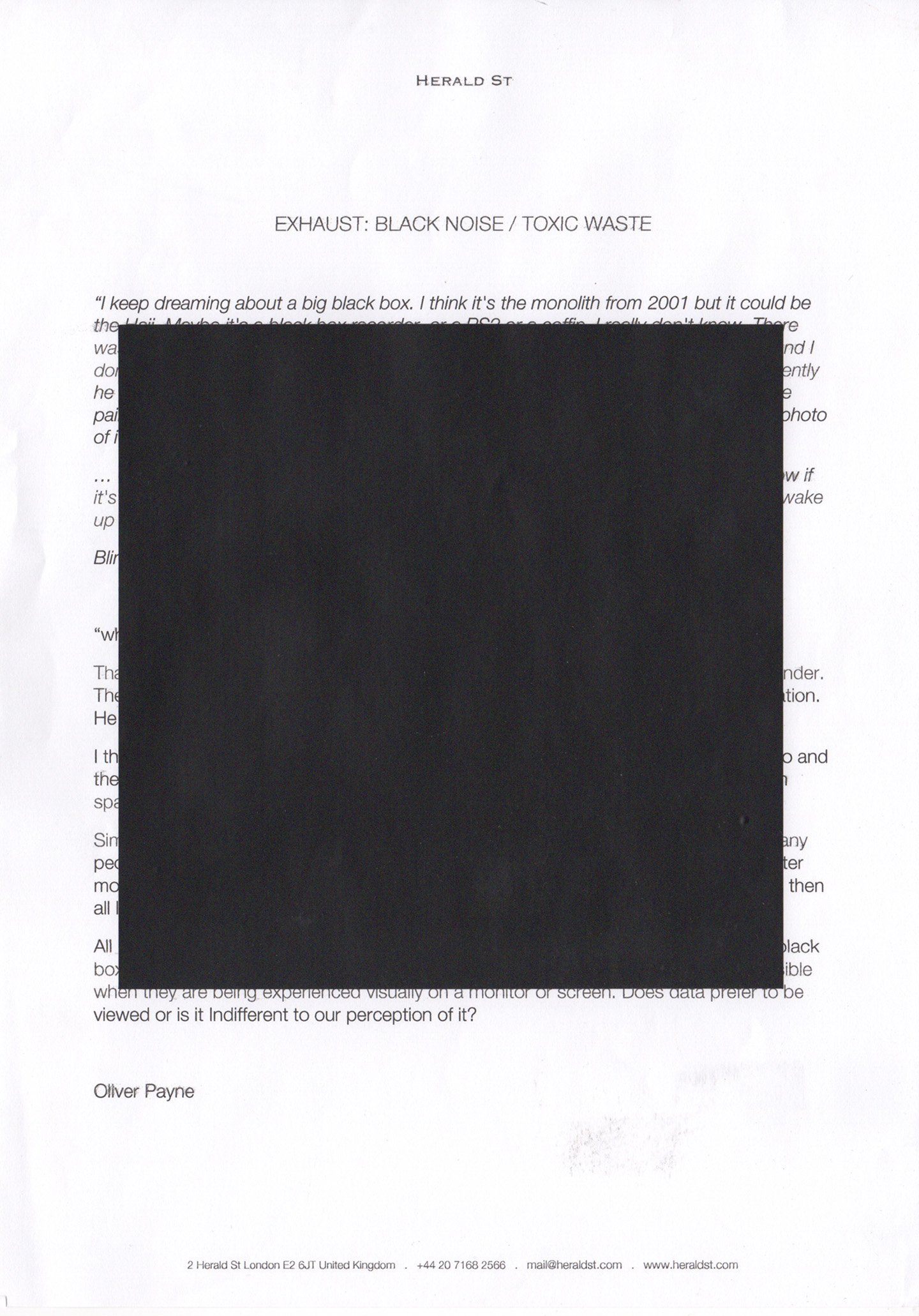 The simulacrum is never that which conceals the truth – it is the truth which conceals that there is none. The simulacrum is true.
– Jean Baudrillard, Simulacra and Simulation (1981)
In simulation theory, hierarchy between objects and humans is eroded. If nothing is real, then everything is equally real. Art – and specifically, the exhibition – can often start to feel like a simulation, where everything is turned into an image, a conduit for new meaning. In Oliver Payne's work, readymade objects have been removed from their functional use and turned into replicas, imitations, symbols – performing as stand-ins for something else.
Our perception of light becomes integral to this imaging, simulating process. As humans, our primary sense is sight: what we see we recognise to be true. Treating objects as conscious entities, Payne questions how, for instance, the camera might perceive the world through capturing a singular moment of light. Restaging a photo of the graffiti writer Teach's camera collection, Payne treats the cameras as more than just idle machines, imbuing them instead with subjecthood and agency. He is drawn to the romantic notion of these cameras coming along for the ride in Teach's backpack, documenting this illicit writing, wondering what memories might lie beyond the shutters. Similarly, a once-black piece of fabric exposed to the harsh light of the California desert displays its own faded history, with just a square of the original black visible that Payne covered with steel. Having planted the fabric on the same day as asking the gallery to plant a seed, these two elements – birthed on opposite sides of the world, completely indifferent to each other – have grown upwards and faded downwards at the same rate, a physical manifestation of what Payne calls the 'discharge' or 'exhaust' of light. Through their susceptibility to the sun, these two seemingly separate objects exist now in synergy, irrevocably bound together.
When mainstream computer graphics were rolled out during the 1990s, software engineers used chiaroscuro and curved lighting effects to illustrate the new technological capacities for 3D rendering. The image of a mirrored ball infinitely reflecting black and white tiles became an instantly recognisable representation of simulated reality. The image – physically recreated here as sculpture – calls to mind the sleek vision of futurity imagined in science fiction films such as Rainer Werner Fassbinder's World on a Wire (1973), an important touching stone for Payne in exploring the world as simulation. Like the central character, Fred Stiller, how might we recognise the unreality of our reality? In 360-degree panoramic landscapes, the spatial illusion is often interrupted by a missing piece of data, a black square glitch. This black box – with all that shape's connotations of memory and conspiracy – recalls the Yiddish origin glitsh of the word 'glitch', meaning a 'slippery place', somewhere between here and there. A series of lightboxes hung as canvases on the gallery wall display symbolically charged objects that Payne imagines might populate this glitch – from the American quarter that activates a whole set of worldly functions beyond currency, to the synthetically altered weed plant that opens up new chemical realms. The lightboxes themselves, evoking X-rays (another form of sensory imagery), create an unnerving depth perception where the object almost stands away from its hosting form.
Payne has disrupted the exhibition form by displaying the title on the wall towards the back of the gallery. Appearing as a concept object, illuminated from below, we are unsure how to experience it: is it a work? Is it looking at us looking at it? Instead, a simple bowl of pasta greets us, elevated to sculptural status upon a plinth. The Japanese Gundam robot franchise, a recurring emblem in Payne's work, has spurned a successful series of merchandise including a themed café in Tokyo which became something of a pilgrimage for the artist. Every dish on the menu is an effigy to a different robot, itself a simulation of the human form. Here, Payne has replicated this crude imitation, which conjures images of space age congealed food – a pasta meal from the future. If anything, it appears so real that it becomes absurd, performing itself each day in the cooking and subsequent renewal; the perfect illusion of perfection.
Phoebe Cripps
at Herald St, London
until 28 January 2018