EXHIBITIONS
"The Illusion of Light" at Palazzo Grassi, Venice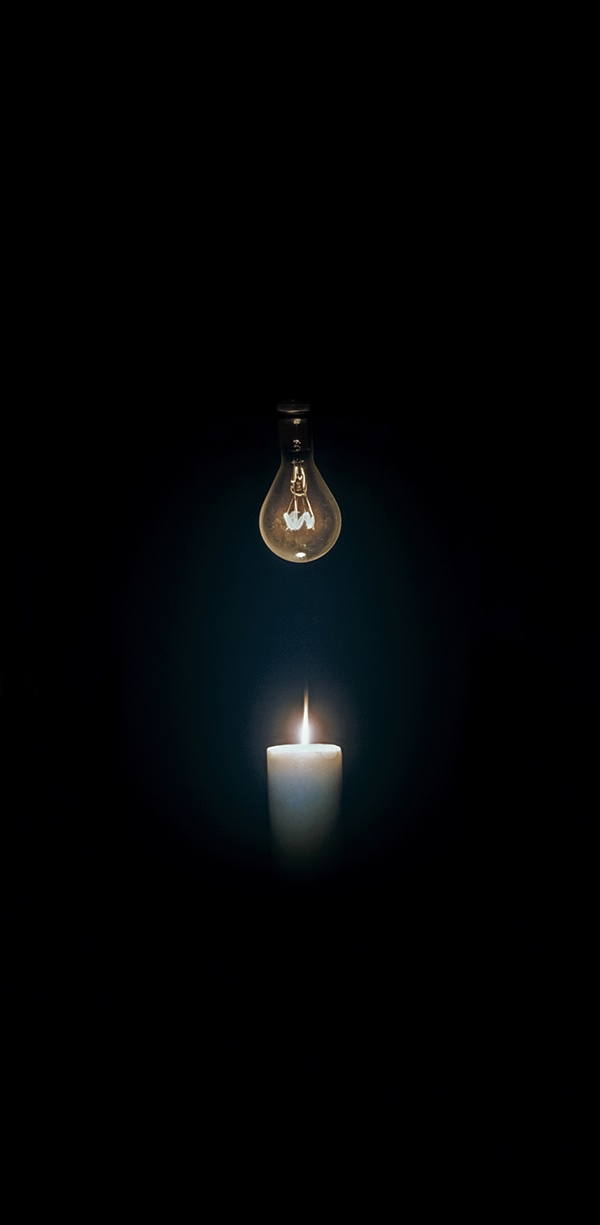 The exhibition "The Illusion of Light" explores the physical, aesthetic, symbolic, philosophical and political stakes of an essential dimension of human experience that has also been, since (at least) the renaissance, a fundamental element of art: light. It is the light that makes the invisible dimension become visible. the blazing light that, at its maximum intensity, nullifies the ability to actually see. The light of revelation, of illumination, which brings us beyond the visible… The exhibition is built on these extremes and, through the works of twenty artists from the 1960s to today, evokes the profound ambivalence of light, its numerous meanings and values. Thus, the visitor could discover it as if going through all the synonyms of the verbs "to light up", "bring to light", "come to light", "shed light on" provided by languages: appear, bring to notice, clarify, comment on, detect, dig up, disclose, elucidate, emerge, enlighten, explain, expose, identify, lay bare, manifest, materialize, reveal, set alight, set on fire, shine, show up, transpire, turn up, uncover, unearth, unveil…

Conceived by Californian artist Doug Wheeler, the first work of "The Illusion of Light" occupies the entire atrium of Palazzo Grassi. Light becomes matter and redefines space and time by eliminating the perceptual markers of the visitor, who is left between a mirage and reality, nature and artifice, fullness and emptiness, moment and duration. In his use of neon lights, Robert Irwin resorts to a more minimal and distanced artistic language to transform space, the setting, through light: the neon tube, a raw industrial material, is left visible. in Dan Flavin's work, this connection with architecture is consistent with a close relationship with the history of avant-garde art movements, in this case Tatlin, the main representative of russian Constructivism. With its modest and fragile materials, Vidya Gastaldon's installation offers a delicate and joyous counterpoint to these approaches to the transformation of space.
As for him, Julio Le Parc, one of the main protagonists of optical art since the 1960s, plays with the hypnotic and kinetic potentialities of light. The light effects of Philippe Parreno's Marquee refer to a mise en abyme of the system of signs on which the world of entertainment relies. it evokes its transience, its vacuity as well as its power of fascination. Antoni Muntadas and Robert Whitman get onto this notion of fascination of light but focus on its simplest and most modest tool: the light bulb; this ordinary object is transfigured and gives a material shape to the dreamlike dimension of light. Finally, Bruce Conner's film exerts a fascination tainted by horror: to reveal a vision of the world that is both gloomy and politically committed, the artist used images made by the American government during the atomic bomb tests in 1946 at the Bikini Atoll.
The works by Sturtevant and Bertrand Lavier stem from radically different approaches, mediums and artistic languages but are here engaged in a dialogue. Both works refer to the history of art (in particular to the American artist Frank Stella), with a dialectic based on black versus colors, darkness versus light. As for her, Claire Tabouret, the youngest artist of the exhibition, refers to the great renaissance painter Paolo Uccello and attempts to bring to mind all the nuances of lights, from day to night, in a single painting.
Troy Brauntuch's black paintings go straight to the heart of darkness, to the limits of the visible, to conjure up the desire to see everything, the visual obsession that permeates our society. General Idea, on the contrary, uses the blinding quality of white to make apparent the threat of Aids that weighs on us. The works by Marcel Broodthaers and Gilbert & George also deal with our basic fears – in first position death, obviously – but also our strategies to fight these fears. Finally, Eija-Liisa Ahtila's work invites us to an introspective approach. Set between dreams and reality, reason and madness, she evokes the need to conduct an inner search, to change point of view (to shed light) on our own history.
Shadows and light in relation to collective history are also evoked: contemporary Africa in David Claerbout's video, the Arab spring in Latifa Echakhch's work, and colonialism in Danh Vo's great installation that unfolds over, and transforms, the central room on the piano nobile.
Clearly, the exhibition does not exhaust the vast field of questions posed by contemporary artists on these concepts. However, it encourages the visitors to invent, in absolute freedom and in light of their own intelligence and sensibility, their path between the opposite polarities of black and white, day and night, reality and illusion.
.
until 31 December 2014
.
Above – Antoni Muntadas, Diálogo, 1980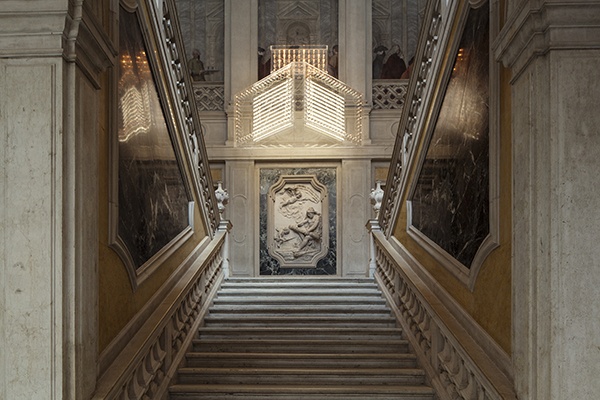 Philippe Parreno, Marquee, 2013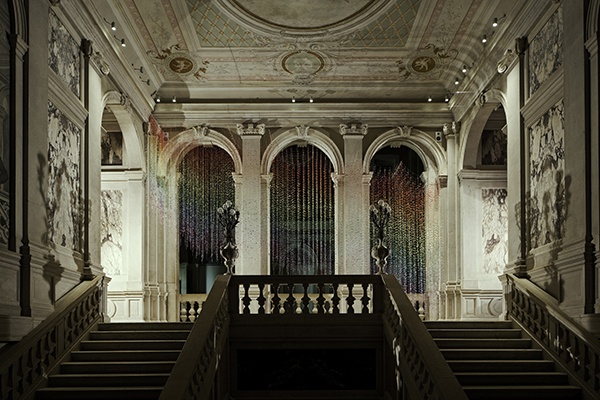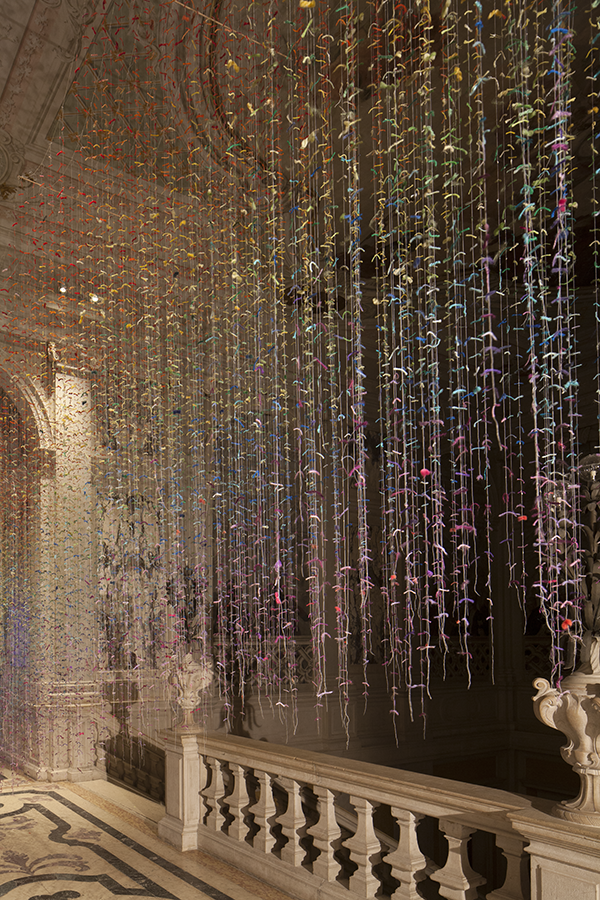 Vidya Gastaldon, Escalator  (Rainbow Rain), 2007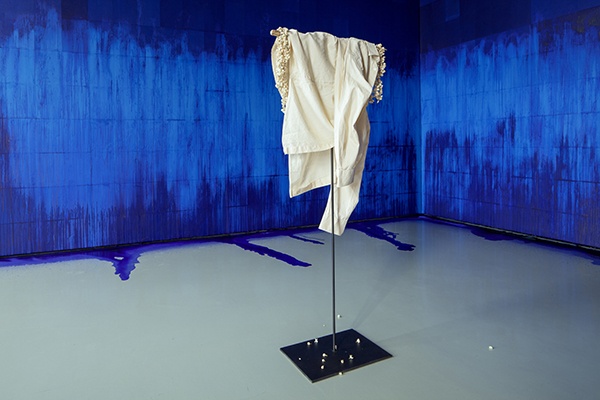 Latifa Echakhch, Fantôme (Jasmin), 2012 /A chaque stencil une  révolution, 2007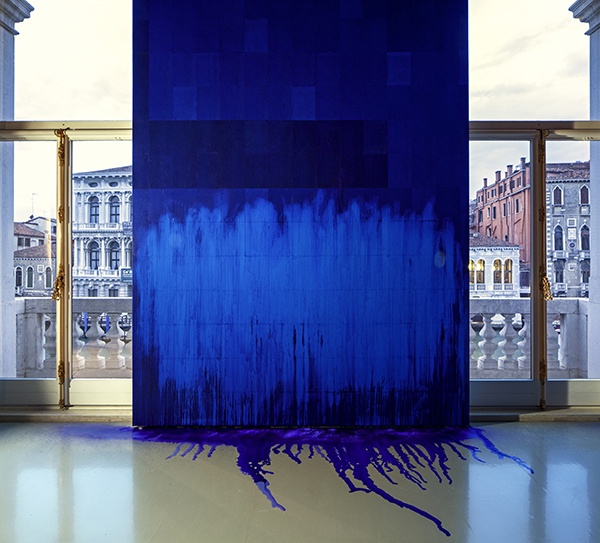 Latifa Echakhch, A chaque stencil une  révolution, 2007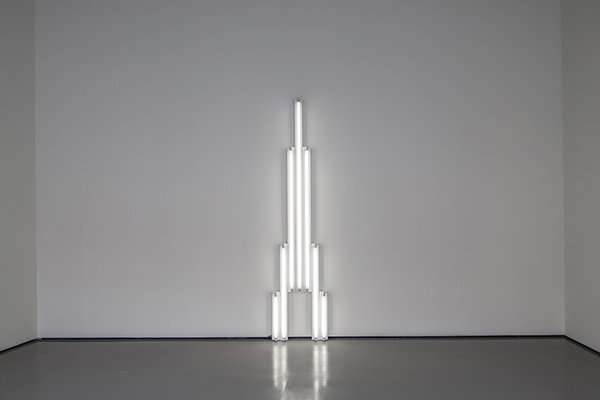 Dan Flavin, Monument for V. Tatlin, 1964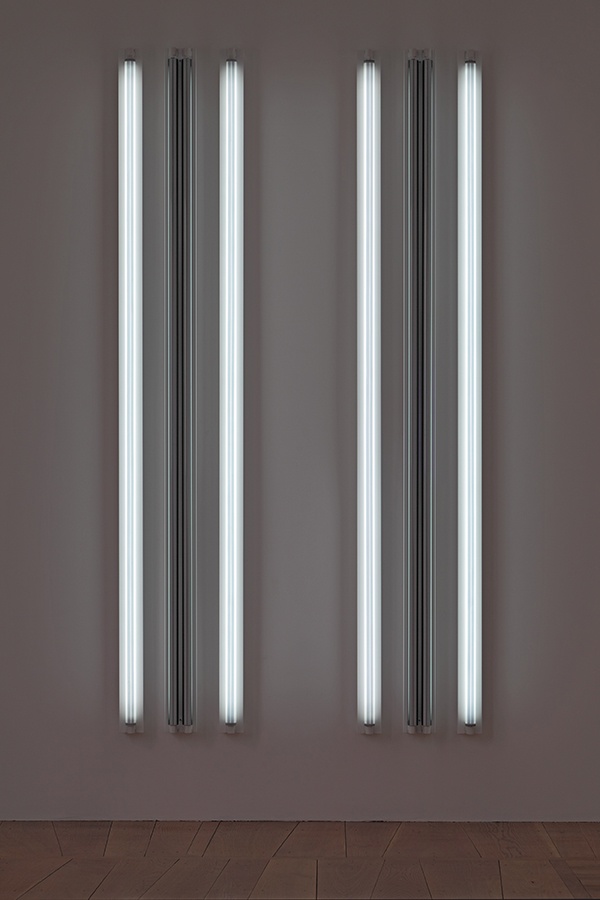 Robert Irwin, #8 x 8' Fourfold, 2010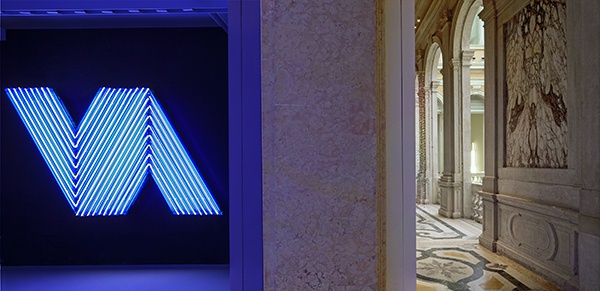 Bertrand Lavier, Ifafa III, 2003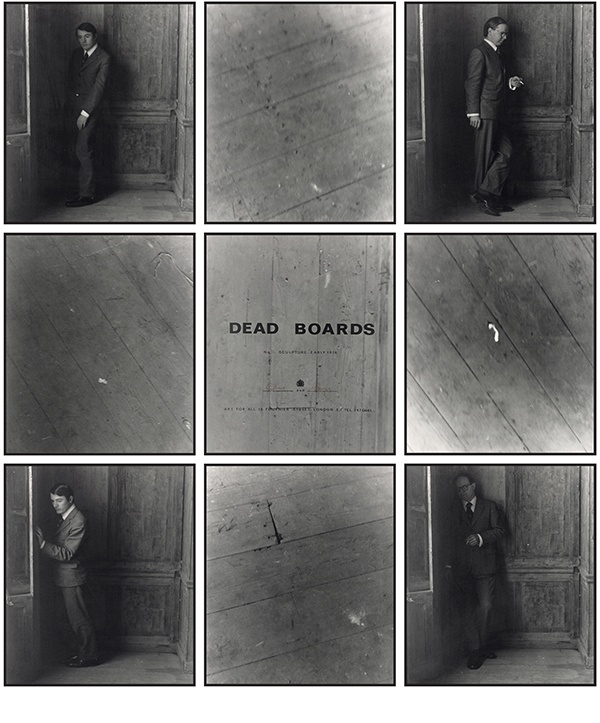 Gilbert & George, Dead Boards No. 11, 1976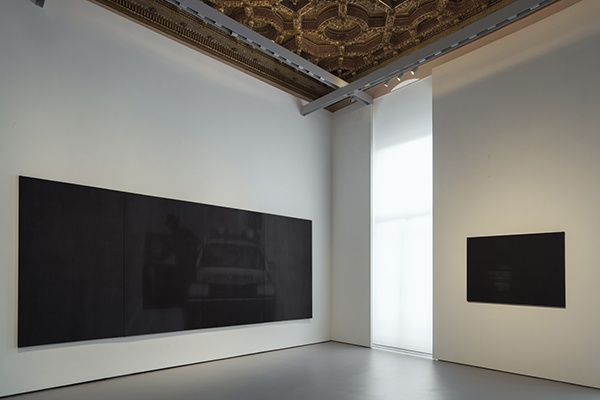 Troy Brauntuch, State Trooper, 2013 / Criminal, 2013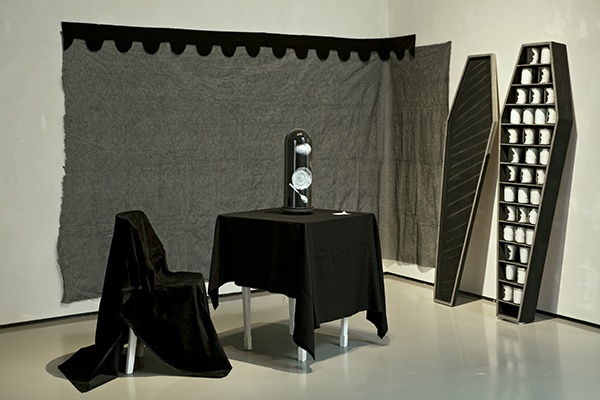 Marcel Broodthaers, Le Salon Noir, 1966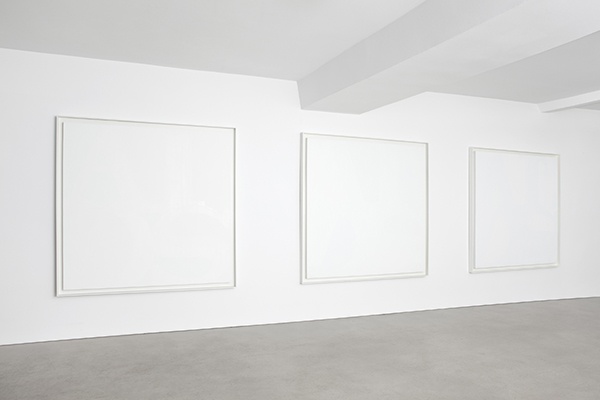 General Idea, White AIDS  #1 (red), White AIDS #2 (green), White AIDS #3 (blue), 1993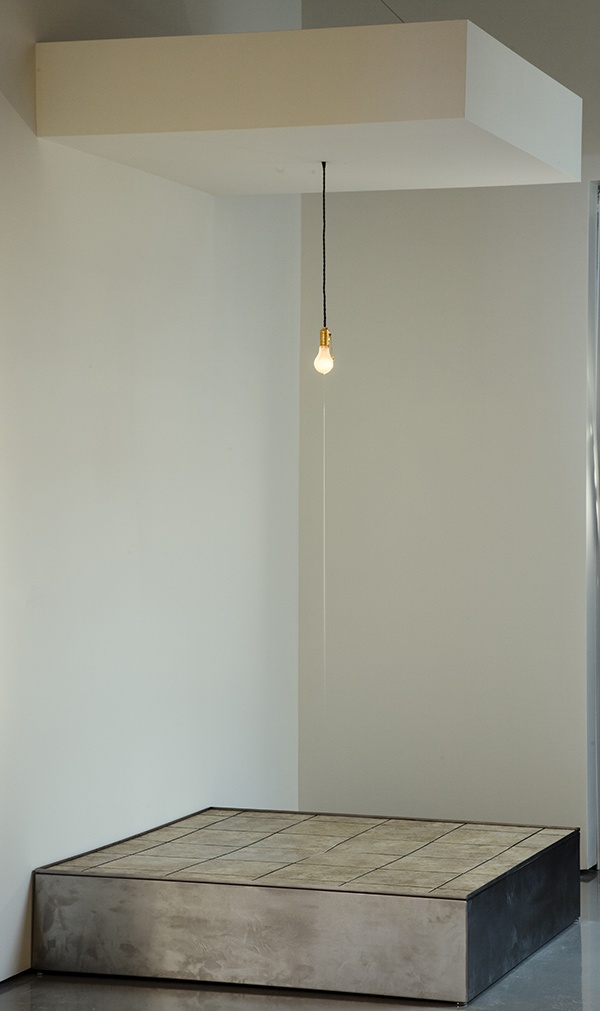 Robert Whitman, Untitled (Light Bulb), 1994-­1995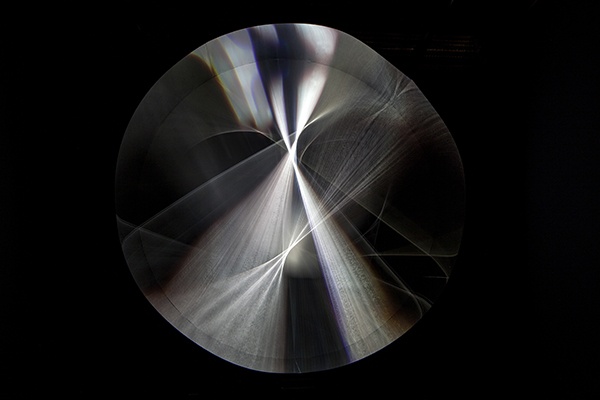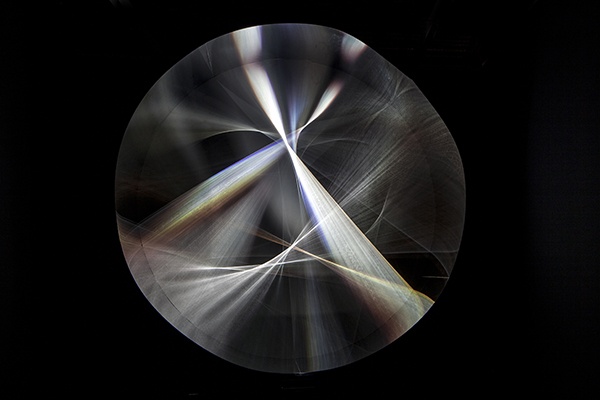 Julio Le Parc, Continuel Lumière Cylindre, 1962-­2012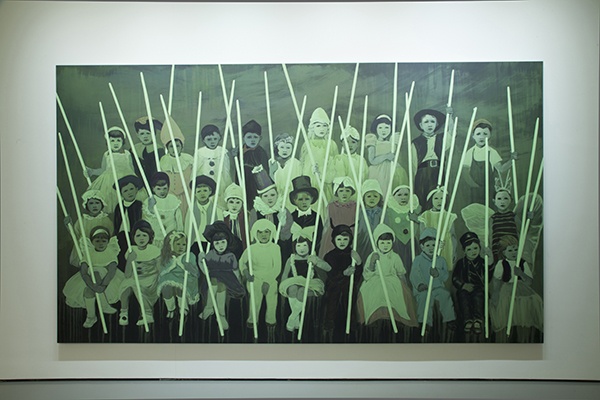 Claire Tabouret, Les Veilleurs, 2014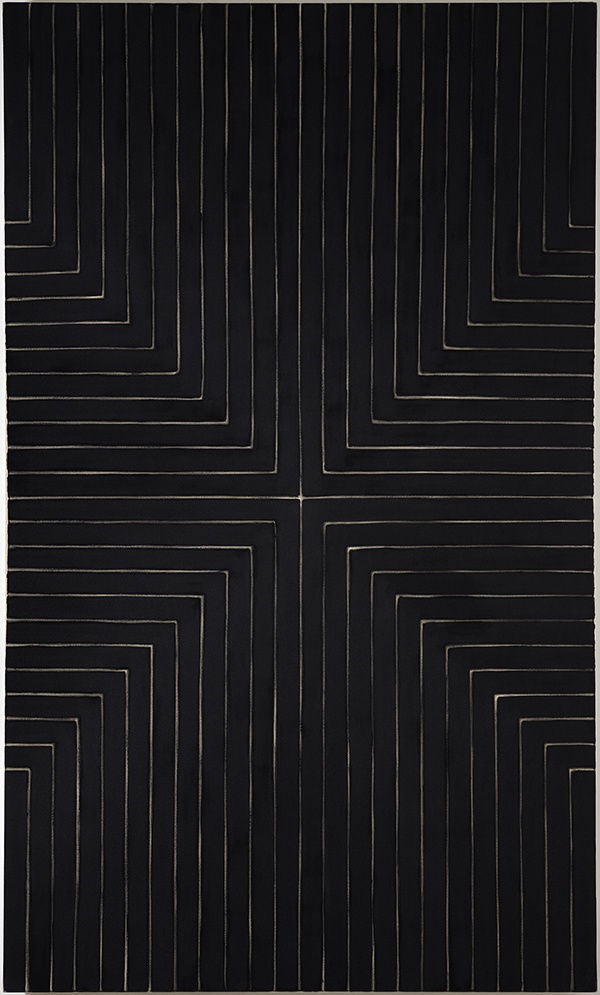 Sturtevant, Stella Die Fahne hoch!, 1990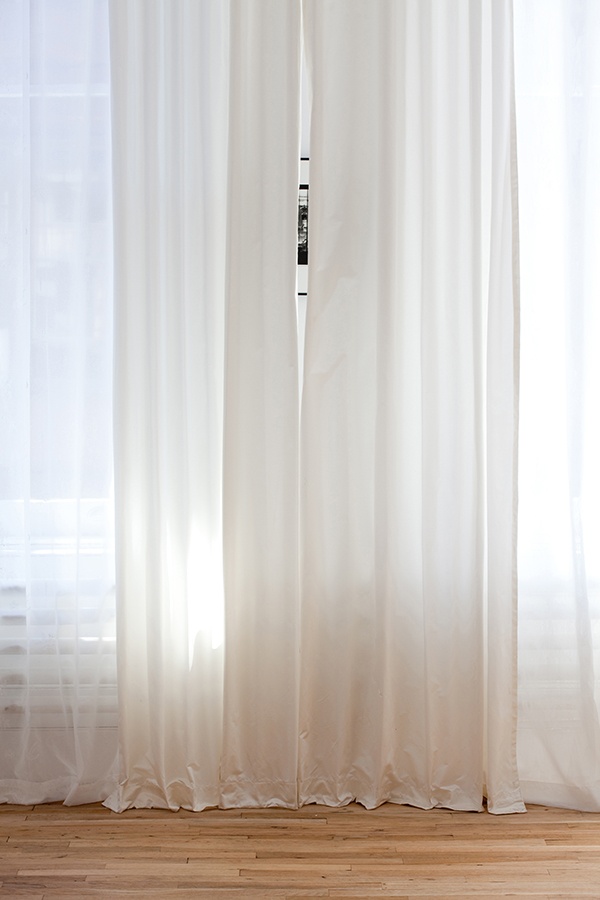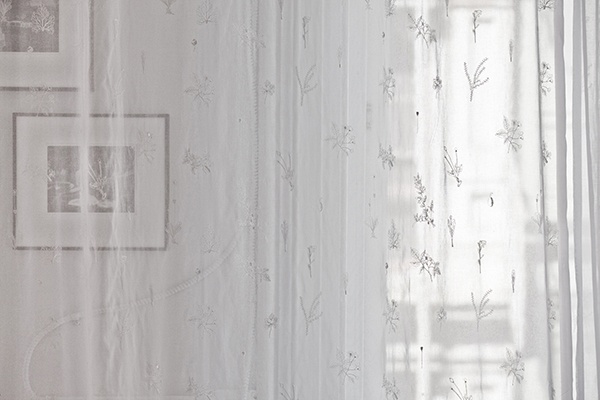 Danh Vo, Autoerotic Asphyxiation, 2010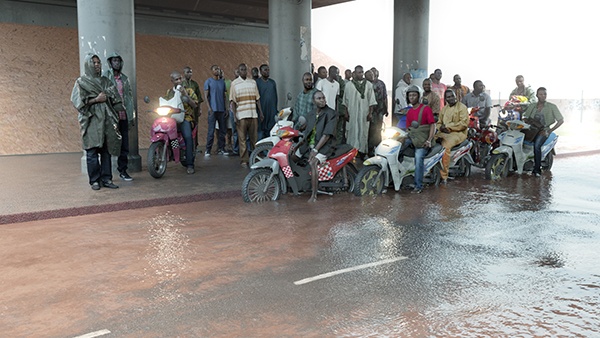 David Claerbout, Oil workers (from the Shell company of Nigeria) returning home from work, caught in torrential rain, 2013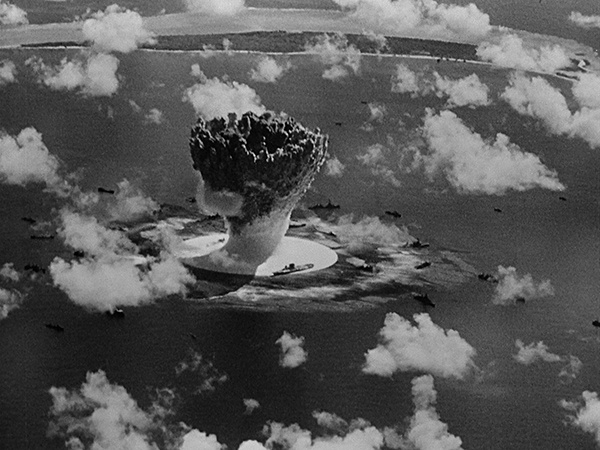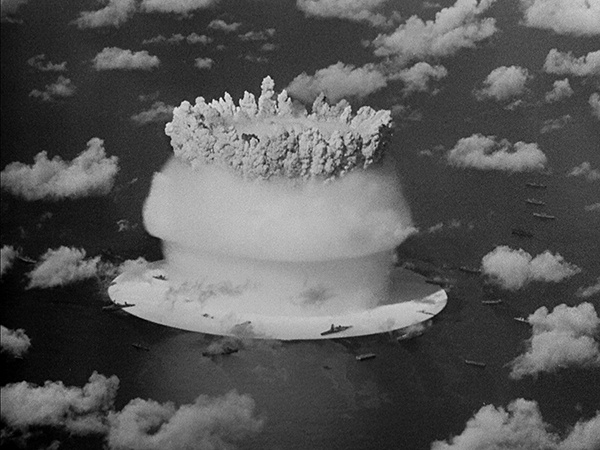 Bruce Conner, CROSSROADS, 1976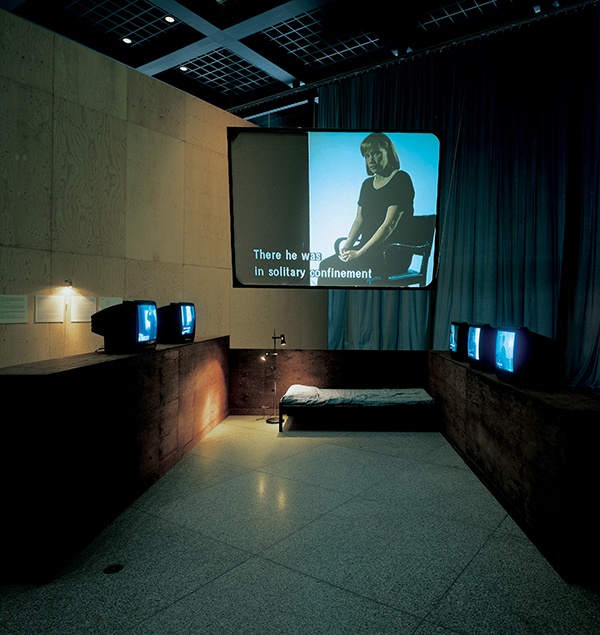 Eija-Liisa Ahtila, Anne, Aki and God, 1998
.
© Palazzo Grassi, ORCH orsenigo_chemollo by SIAE 2014; © David Claerbout by SIAE 2014; © Bruce Conner by SIAE 2014; © 2014 Conner Family Trust, San Francisco; © Dan Flavin by SIAE 2014; © 2014 Stephen Flavin/Artists Rights Society (ARS), New York;  © Robert Irwin by SIAE 2014; © Frédéric Lanternier; © Bertrand Lavier;  © Julio Le Parc by SIAE 2014; © Antoni Muntadas by SIAE 2014. Courtesy: the artists; Art: Concept, Paris; Galerie Isabella Bortolozzi, Berlin; Broadway 1602, New York; Bugada & Cargnel, Paris; Paula Cooper Gallery, New York ; Galerie Isabelle Gounod, Paris; Kent Fine Art, New York; Yvon Lambert, Paris; Pinault Collection, Venice; Galerie Thaddaeus Ropac, Paris/Salzburg; Galerie Esther Schipper, Berlin; Galerie Xippas, Paris . Photos: © Palazzo Grassi, ORCH orsenigo_chemollo by SIAE 2014; Andrea Rossetti; © Crystal Eye Ltd, Helsinki; Artists Space NY.