CONVERSATIONS
On Reframing the Frame: Imran Perretta
Close
1
2
3
4
5
6
7
8
9
10
11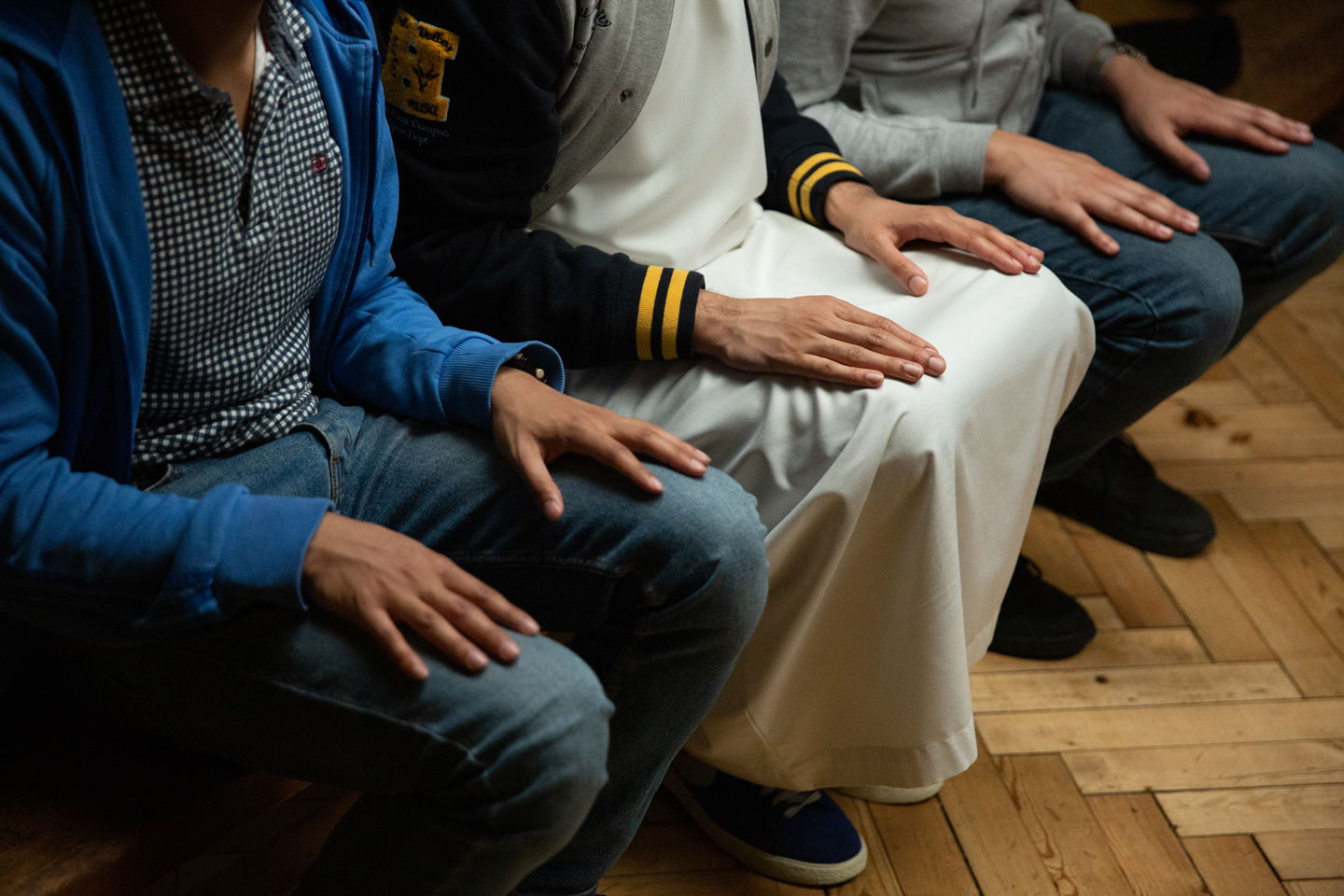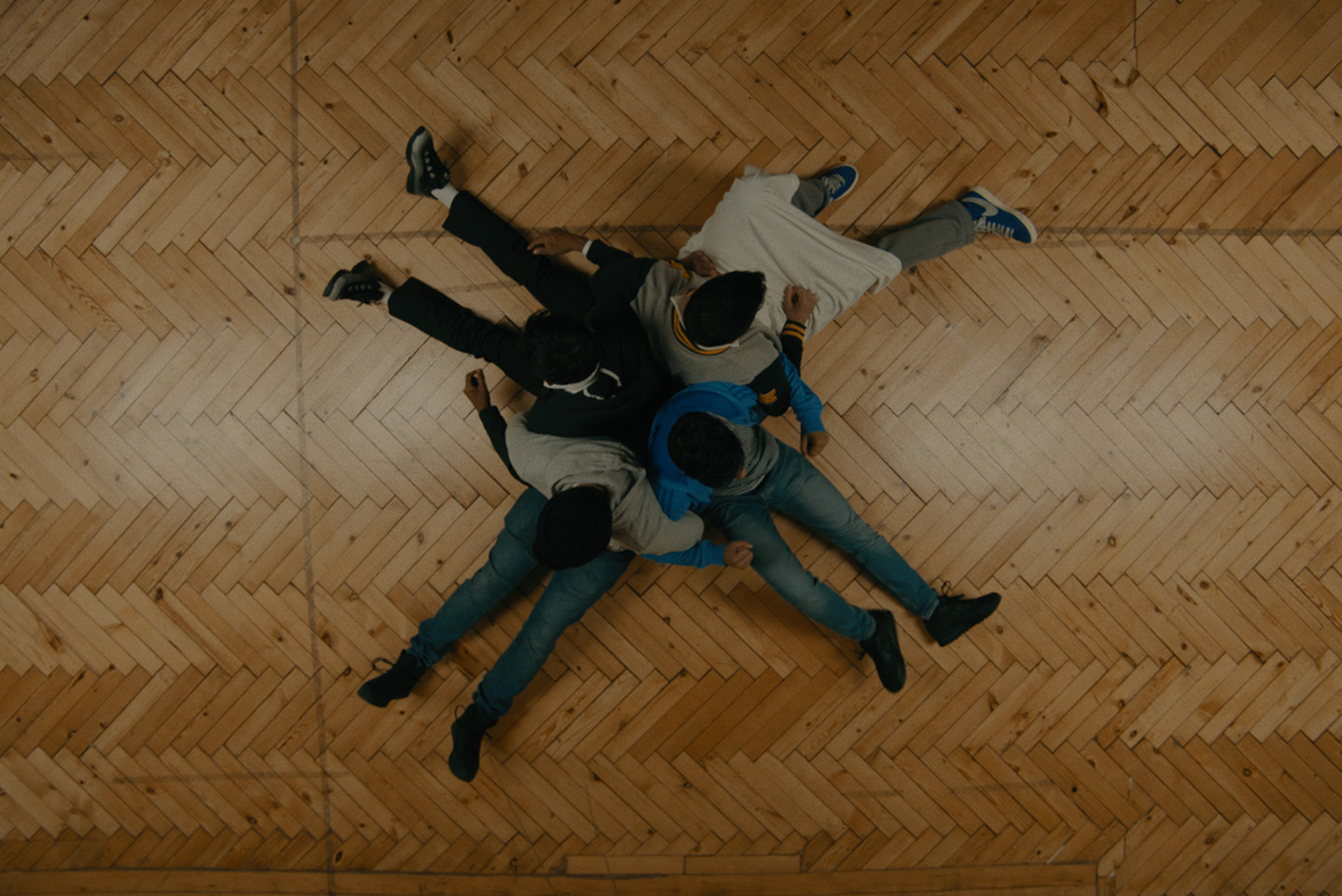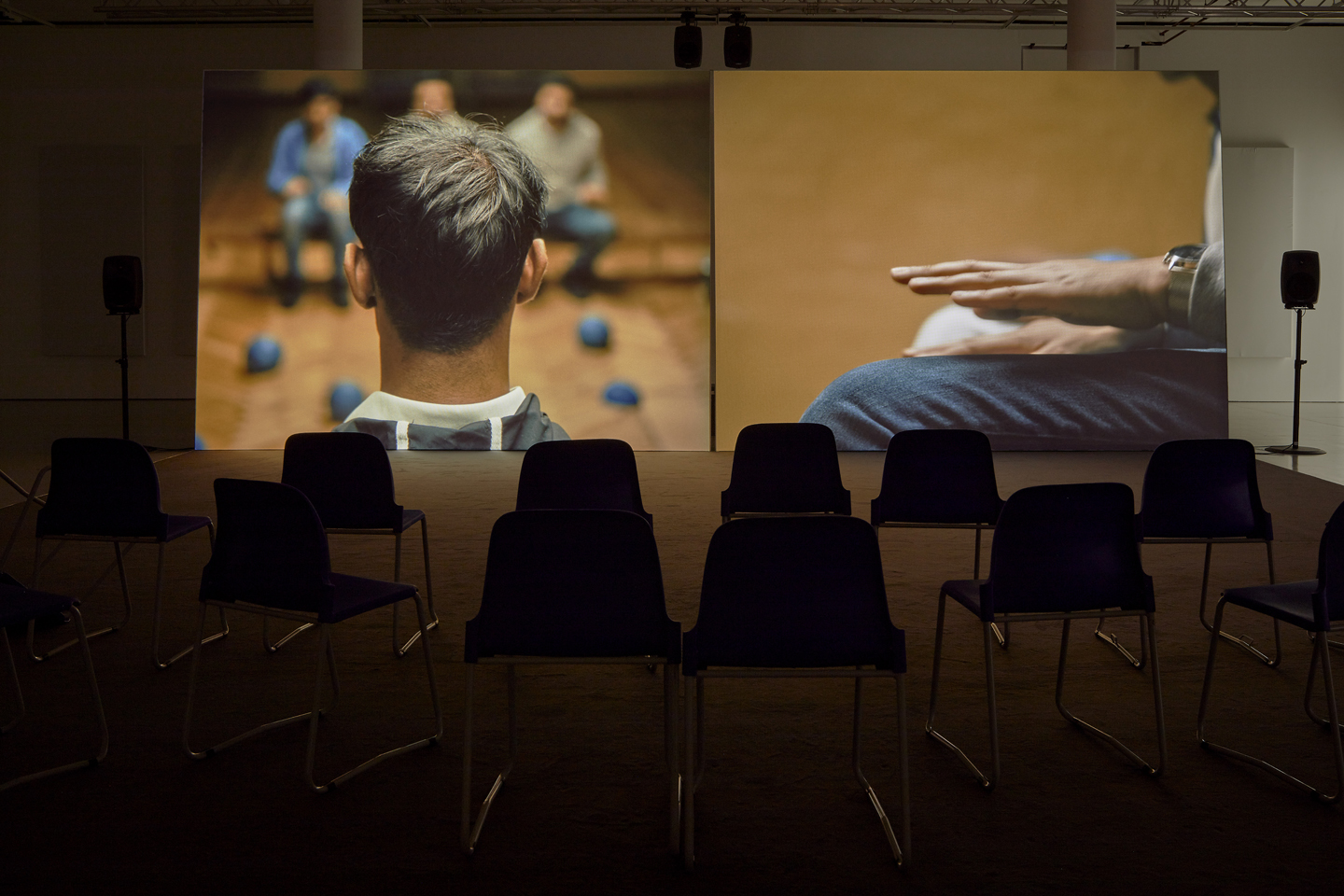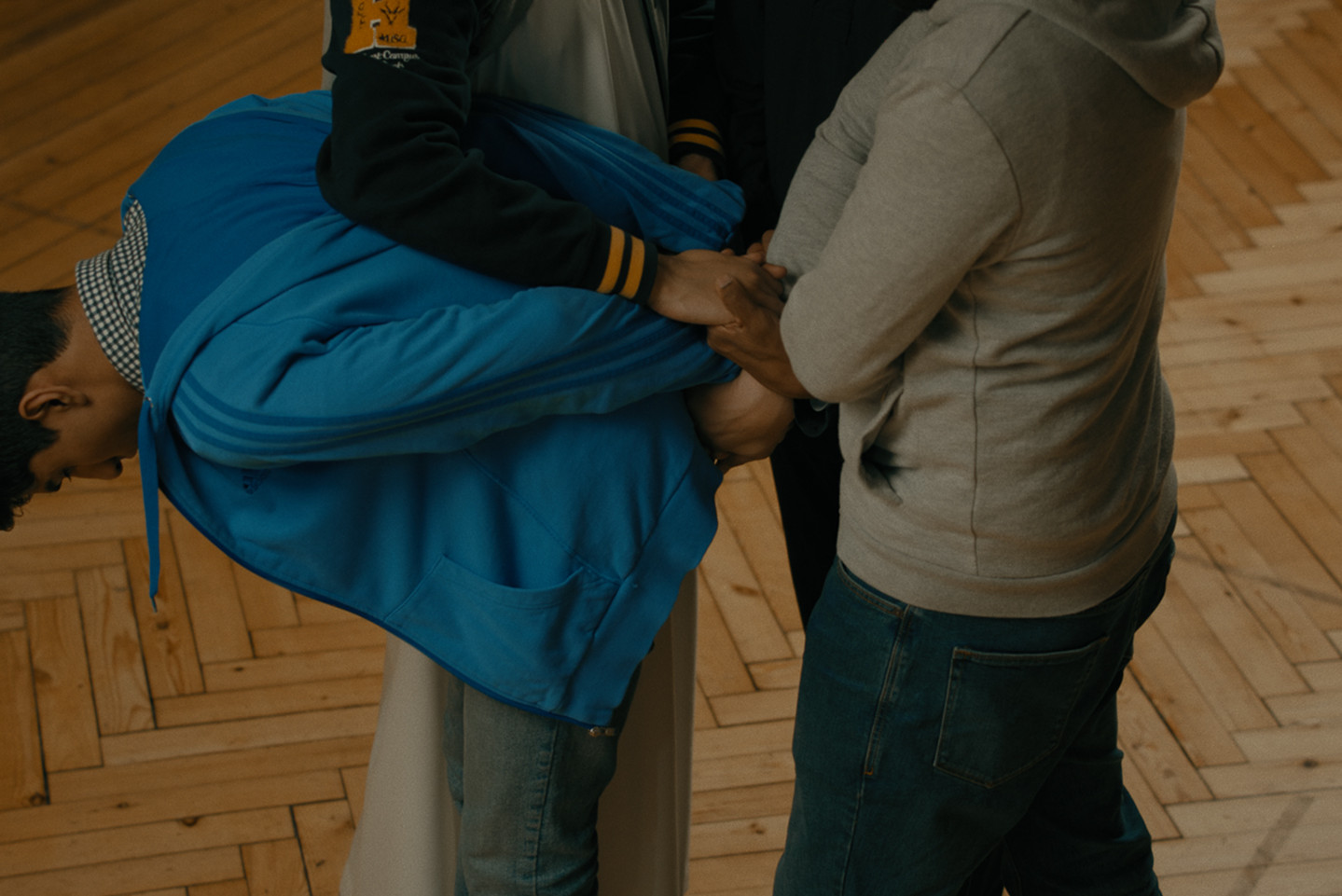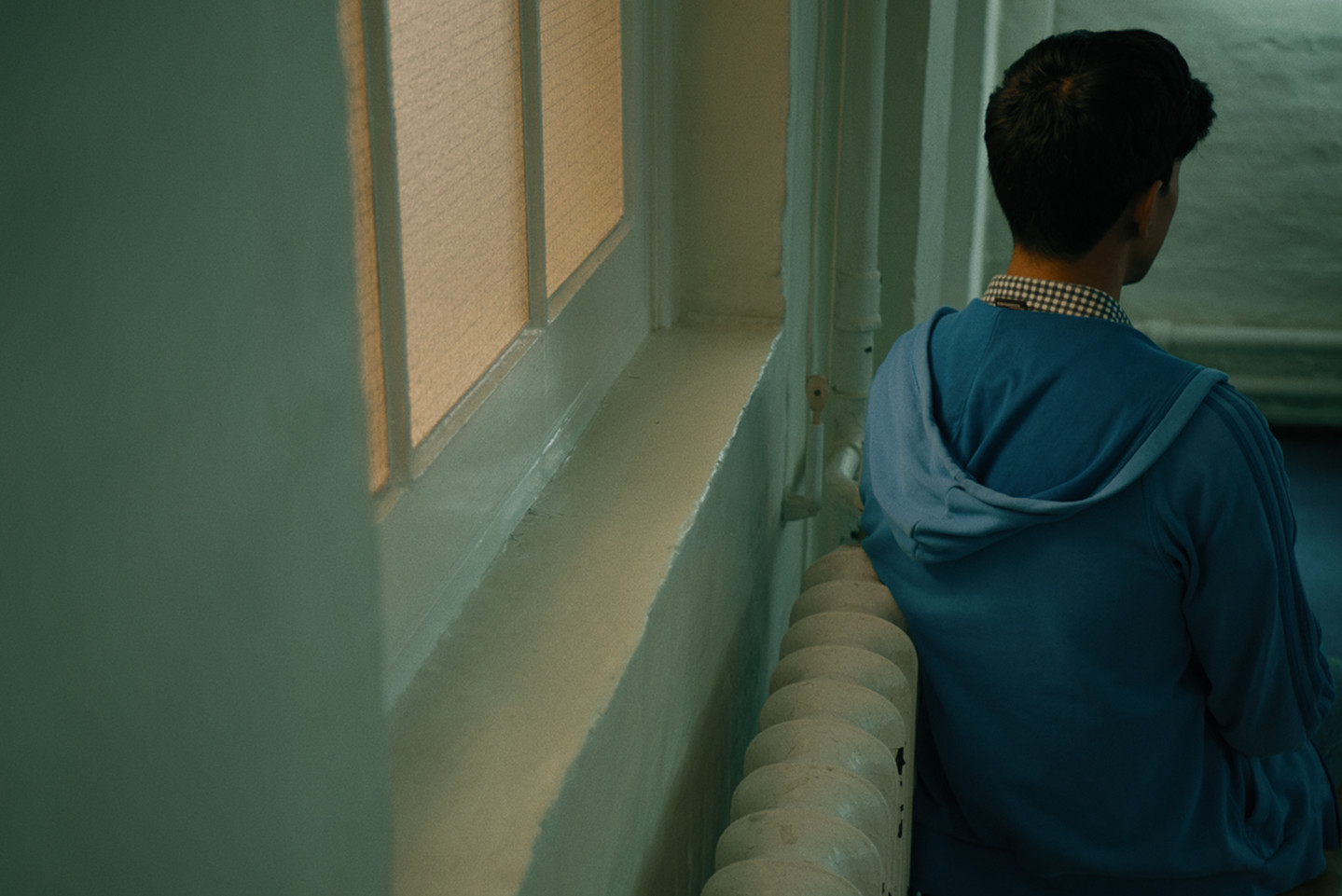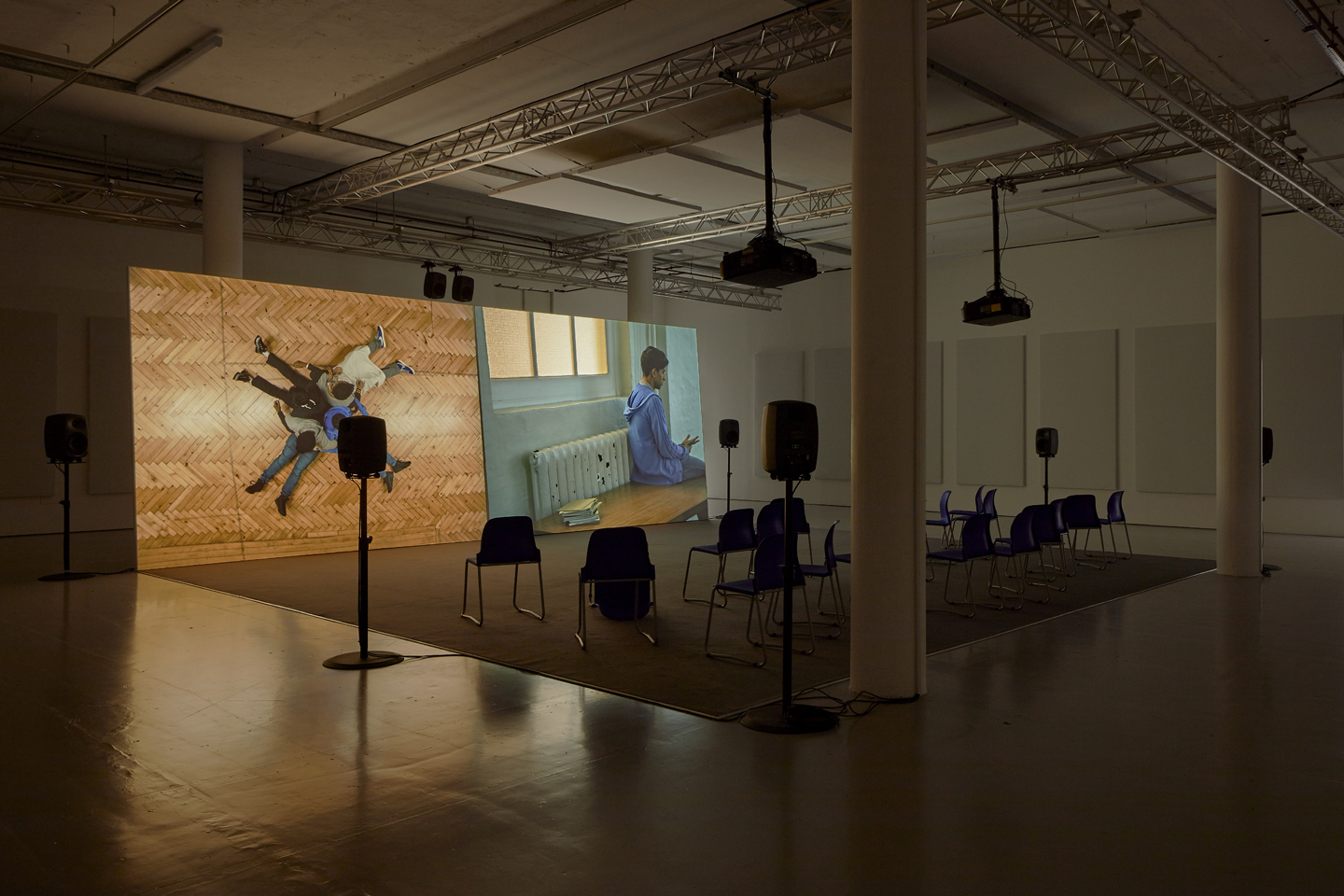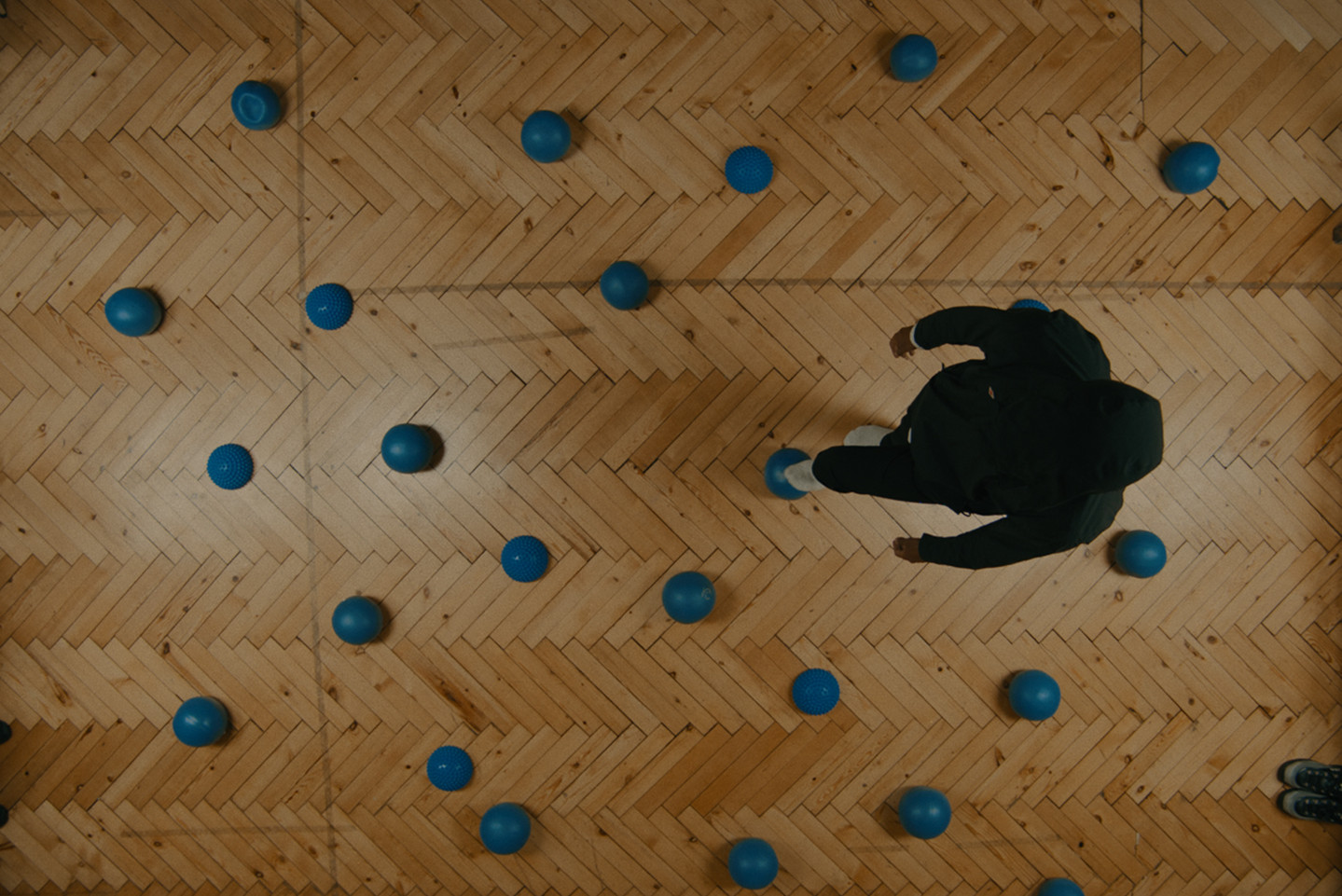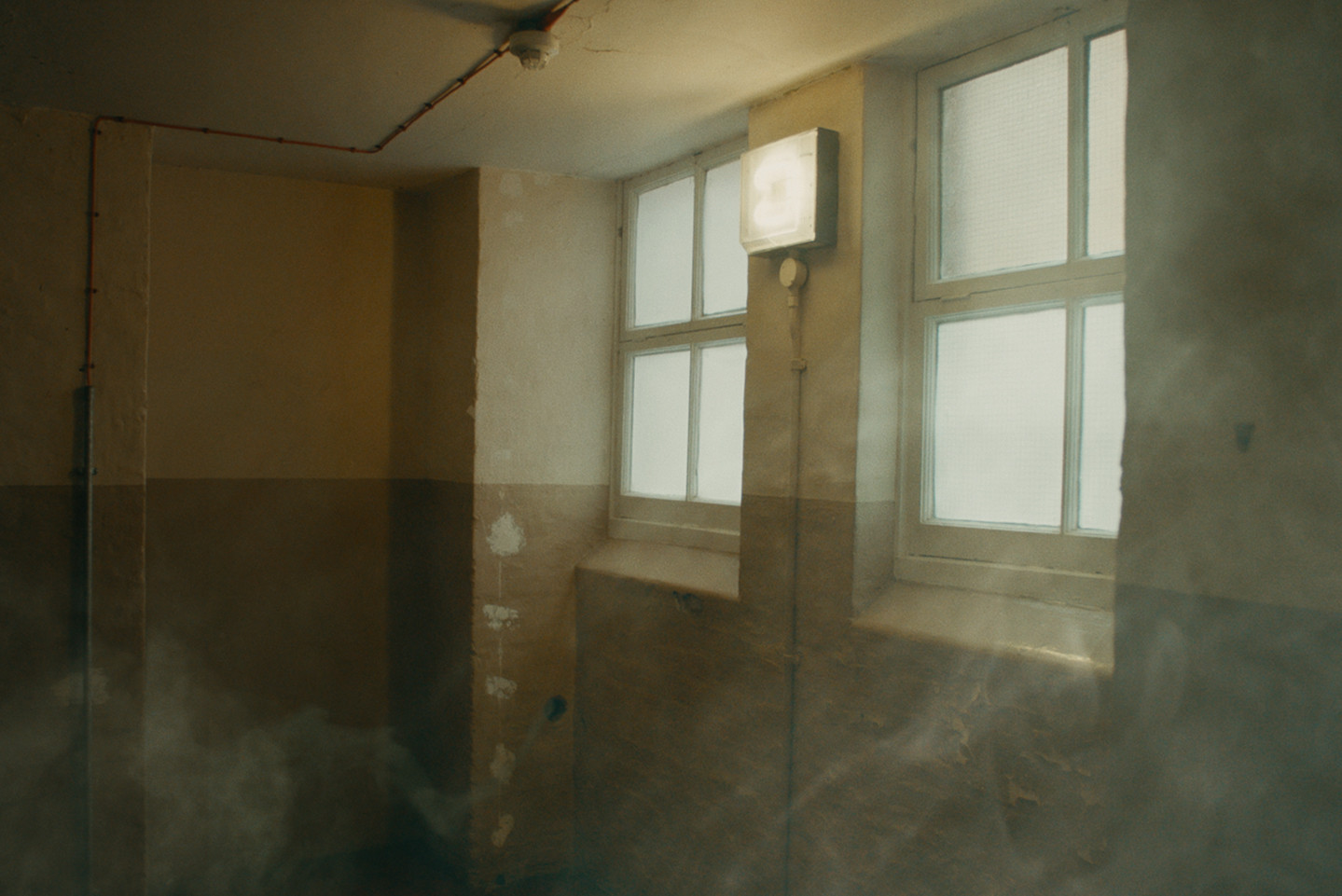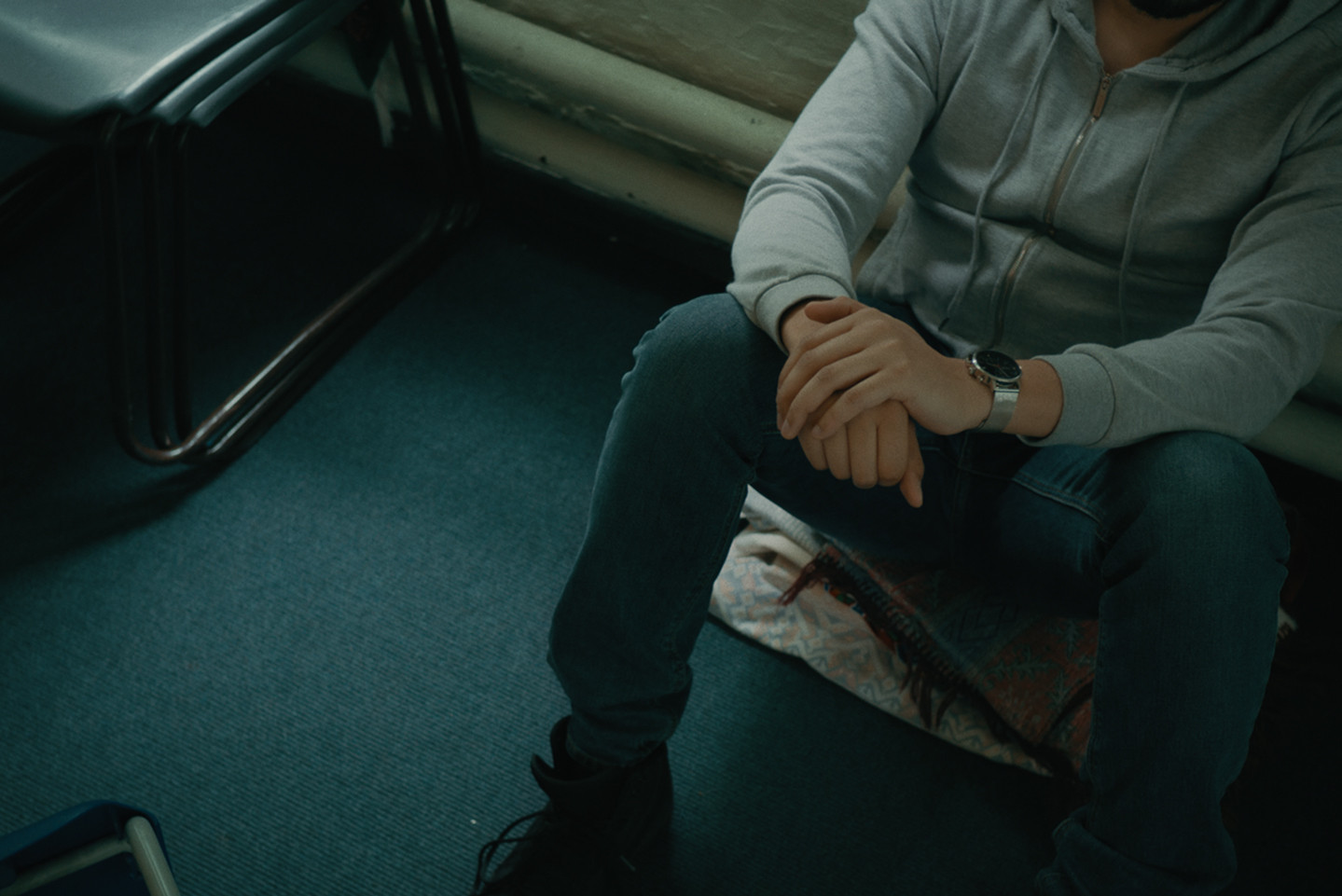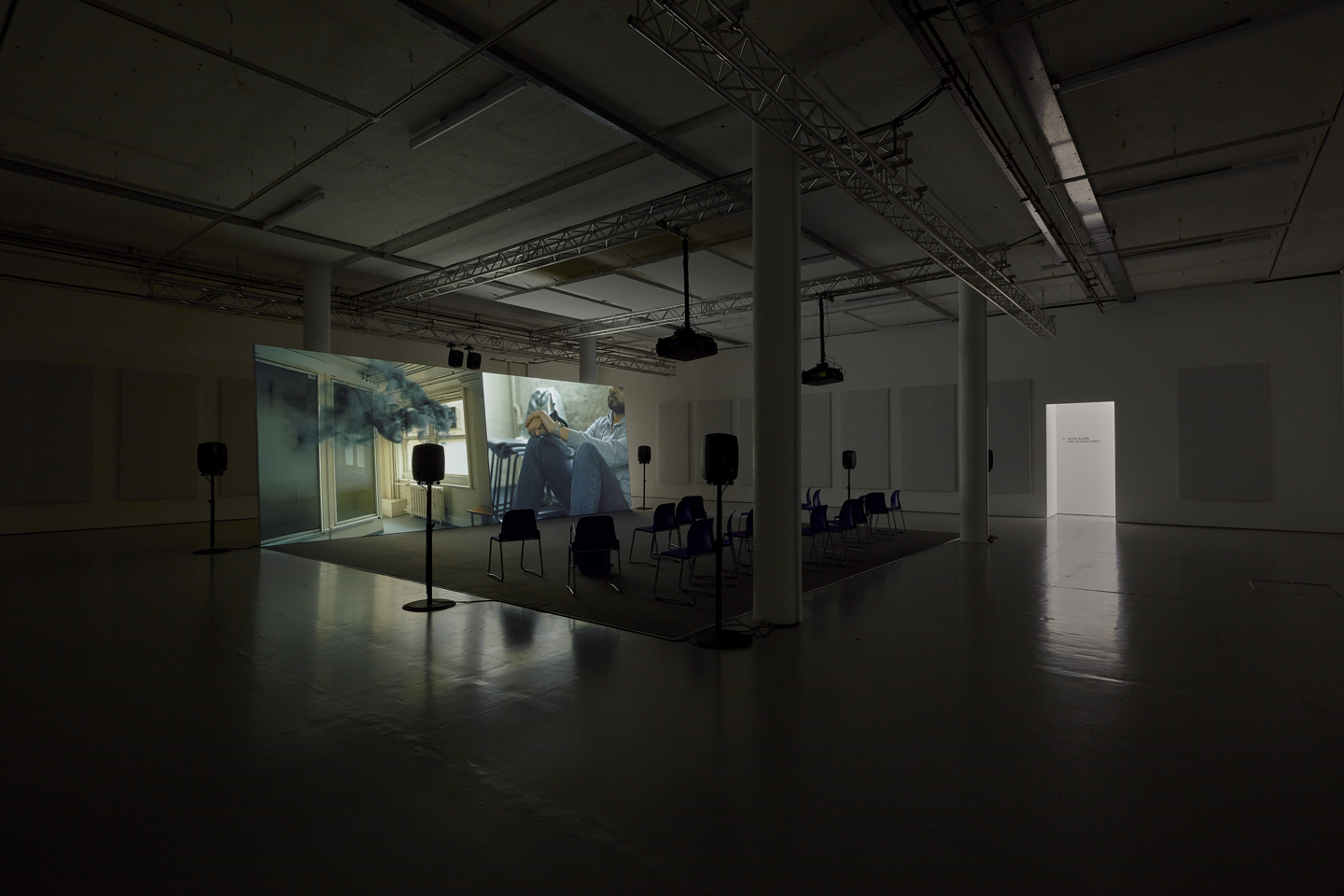 Imran Perretta and Bianca Stoppani in conversation
I meet Imran Perretta in his studio at Somerset House, in London. He places a chair for me near a desk with an indistinguishable amount of cables and stacks of vinyl, some speakers, decks, an electric guitar, and a pile of books, topped by a collection of poetry by Nayyirah Waheed. The reason for our conversation is Perretta's film the destructors (2019), a piercing account of brown life as testified by three traumatic experiences the artist has survived inasmuch a British citizen of Bangladeshi heritage. Perretta translated them in a three-parts monologue, which is articulated over two channels by a group of boys hanging out and doing trust exercises at the Shadwell community center in East London while the building is gradually flooded and infiltrated by poisonous gases. Perretta focuses on the psychological and urban desolation that these boys have grown up with, creating a parallel with the constant assaults through surveillance and social services divestment that the British Muslim community undergoes in the names of austerity and the 'War on Terror'.

BIANCA STOPPANI: Your film the destructors is named after Graham Greene's short story of the same title about a group of youths who surgically rip apart an old man's house. Set in a post–World War II England, Greene's story unfolds over a bank holiday weekend, with destruction placidly piling up over the horrors and rubble of the Blitz. Who are your destructors?
IMRAN PERRETTA: My destructors are a group of young men who are perpetually accused of deviance, though they never know what it is that they have done, as though they are haunted by the potential to destroy themselves and everything around them.
BS: Speaking of haunting presences, there are ominous outside forces making their way through the walls of the community center.
IP: There's definitely that sense of the outside getting in, of insidious forces breaching the building's walls, drawing attention to its slow decay. The community center is like a protagonist in the work.
I often use computer-generated imagery to visualize conflict or violence without having to show it, to simulate its materiality without showing its human cost. In my mind, it relates to magic realism and the idea of uncanny or supernatural phenomena happening firmly in the real world. Salman Rushdie's Midnight's Children [1975] is an important reference to me. It is a way of talking about the trauma of history, so often unspeakable in scale, through myth making and magic. I find it totally compelling.
BS: How do you engage with optical technologies and the powers they are inscribed with?
IP: I am very interested in tracking technologies, for example, and this is something I have referenced in previous works such as DESH [2016] and brother to brother [2017]. One big reference for me is Paul Virilio's War and Cinema: The Logistics of Perception (1989), where he writes about the nexus between optical machinery made for both cinema and death. In short, he posits that the camera should be considered a weapon, and this is my assertion too. I am trying to make visible the technologies that gaze upon people invisibly, especially when their point of view is supposedly "objective." Inevitably, these technologies are human prostheses, there to be wielded and abused, subject to the whim of the operator or the bias of the algorithm. The only way I can see to engage with these technologies with any meaningful criticality is to use them as the very same tools of my trade: to render them visible in the way that they have forcibly rendered me visible, all without my consent.
BS: And, in fact, I think that there is an insinuating ambiguity in your films. It seems that you reframe the in/visibility of the subjects by hiding their flesh, in plain sight, from full disclosure and perhaps the truth they are required to evidence inasmuch as marginalized subjects once they are being framed by the camera.
 IP: If you come from a subject position that has been historically dehumanized by the camera, then it is near impossible to aim one at someone in good faith. It will always be an asymmetric exchange between the subject and the capture device. So I use visual strategies like cropping subjects out of the frame in the hope that it allows them to retain some measure of agency in front of the camera, as though they are escaping the containment of [the] focal plane. To me, it's a way of destabilizing the embodied gaze of the audience by controlling the cold gaze of the lens, but doing so in a way that maintains the dignity of the subjects in, or indeed out, of frame.
BS: You use sound with a similar aim, as if to lag the visible level.
IP: I try to use it to build a psychological space where I can make uncanny things happen. If you use diegetic sounds, it's harder to create this feeling of paranoia, or…
BS: Vulnerability?
IP: Yes, also that. Often you think you can identify on-screen where the sound is coming from, but I'll use the surround speakers to make you hear it from elsewhere. So there's this feeling of a presence in the room that you cannot see, and to me there's no better way to convey the surveillance state. I also pitched the voices in the monologues lower, trying to make the spoken word feel guttural and bodily because part of the sound comes through the subwoofer. the destructors is about embodied trauma, so I wanted the audience to feel something visceral through the sound, and bass frequencies have this unique capacity to rattle your rib cage, as though the vibrations are emerging from within.
BS: You speak about embodiment. Where do the destructors come from?
IP: The actors come from a similar context to me. I wanted whoever performed the piece to have as close a relationship as possible to the written testimony in the work. In the end, the actors that I worked with all recognized the experiences in their own autobiographies. We had all felt, seen, and heard these traumas in some way, and sometimes in eerily similar circumstances. Hence there was a spirit of solidarity amongst us, which was very important to our relationship to each other and to the film. It is the counternarrative to the accounts of suffering and trauma in the work, and you can see this in the trust exercise scenes.
BS: The montage suggests a circuitry connecting those exercises and the painful contents of the poem, between the collective affect that these boys cling to and the community center falling apart. The first exercise is a minefield to navigate blindfolded, but following the other boys' instructions; the second one sees them entangled in—and trying to disentangle themselves from—this singular, dangerous body that they are accused of being; and the third one could be a fall into an embrace.
IP: The specter of conflict haunts many of the images in the film relating to care, and all of the trust exercises have some reference to power or authoritarianism. There is a moment in the second exercise, for example, where one of the entangled characters looks as though he is being restrained by the police. However, there is also a genuine tenderness between the boys as they hold each other, bear each other's weight. But this is also a physical burden, so the ways in which they relate to each other are always fraught in some way, even if they are underpinned by a mutual kindness and warmth. It's about trying to show the fluidity of these relationships whilst complicating prevailing narratives in an attempt to undo them.
BS: The figure of the mother recurs in your works. Why?
IP: On one hand, it is an acknowledgment of the role of patriarchy in imperial narratives, which touches migration, surveillance, racial bigotry, environmental racism, and so on. On the other, my Mum died when I was quite young, and that's the real reason why I became an artist. I want to acknowledge the many forms of violence that she survived in her life before she eventually died of cancer. I maintain that the Conservative government had a major hand in the trajectory of my Mum's illness, because so much of her care was cut and this took her autonomy away from her. In one way or another, my Mum is in everything I make, and the third part of the destructors relates to the experience of me being her carer.
BS: So it's again a question of reframing, this time personal and collective traumatic narratives. What's the role of writing poetry in this process? I see Nayyirah Waheed's salt. [2013] on your desk.
IP: Yes, that collection is totally devastating; it was gifted by a friend. I don't read that much poetry, and I think I struggled for years to find a verbal language for the things that I wanted to say because I didn't read enough, whereas a visual and sonic language seemed to come to me more easily. At the beginning, the writing existed in parallel with the rest of my work because I was scared, but slowly it became the foundation of everything I do, and the most intoxicating part of the process.
Experimental making allows you to speak to power in an authentic way, I think, because you can make weird films about all of these swirling political forces that affect all of us, using layers of text, sound, and images that can collapse the scale between the personal and the global so effortlessly. That's why I will always believe in it, even if I step away from it one day because of my disaffection with the art world.
BS: Well, someone said that individual struggle is collective struggle.
IP: That's right.
Imran Perretta's the destructors is produced by Chisenhale Gallery, London, and Spike Island, Bristol, and commissioned by Chisenhale Gallery; Spike Island; the Whitworth, University of Manchester; and BALTIC Centre for Contemporary Art, Gateshead, and supported by Outset Contemporary Art Fund. It is currently on view at Spike Island, and it will open at Chisenhale on January 16, 2020. It tours to the other partner venues throughout 2020.