CONVERSATIONS
A Romantic and Sublime Threshold State: Jacqueline Humphries
Close
1
2
3
4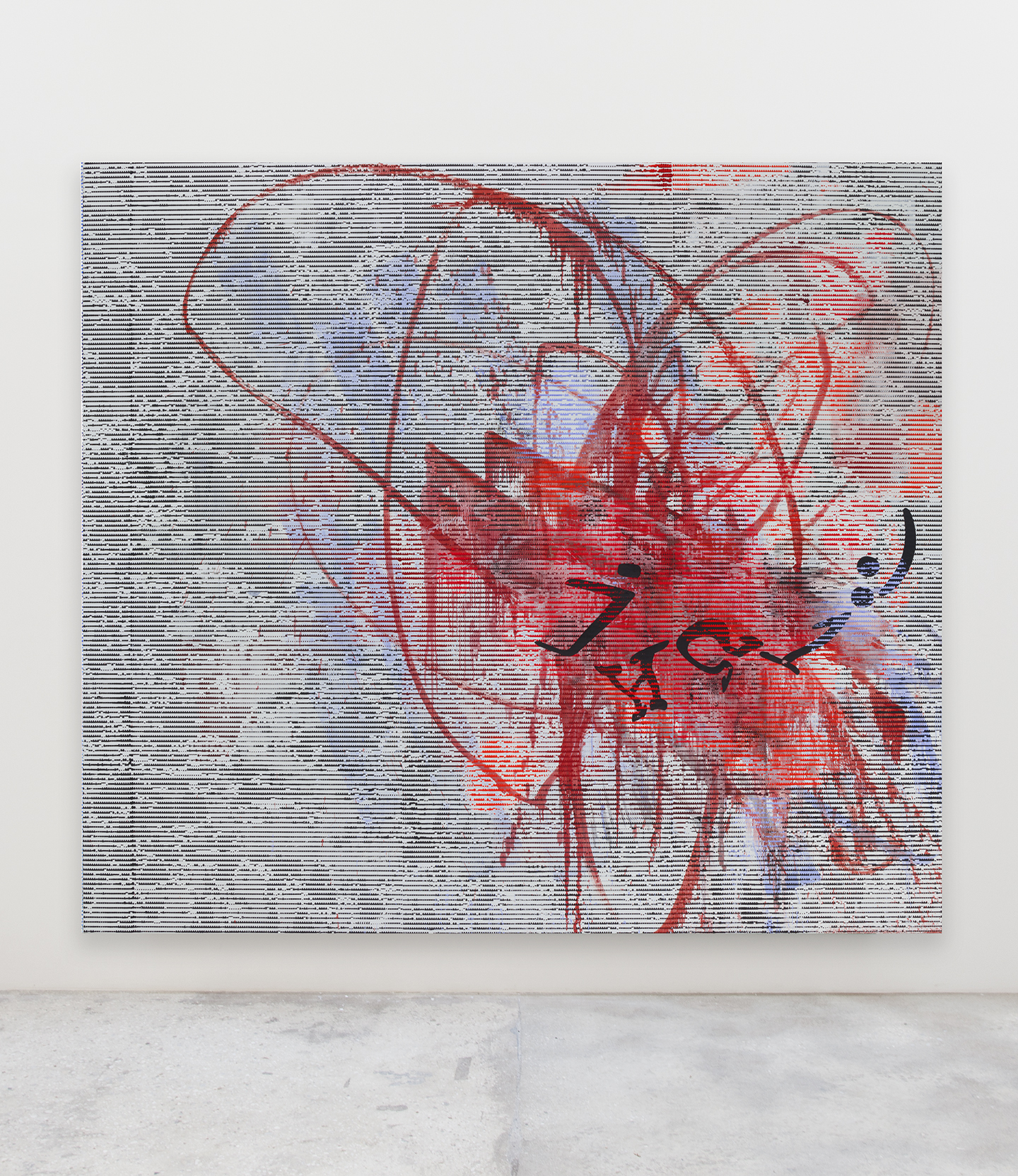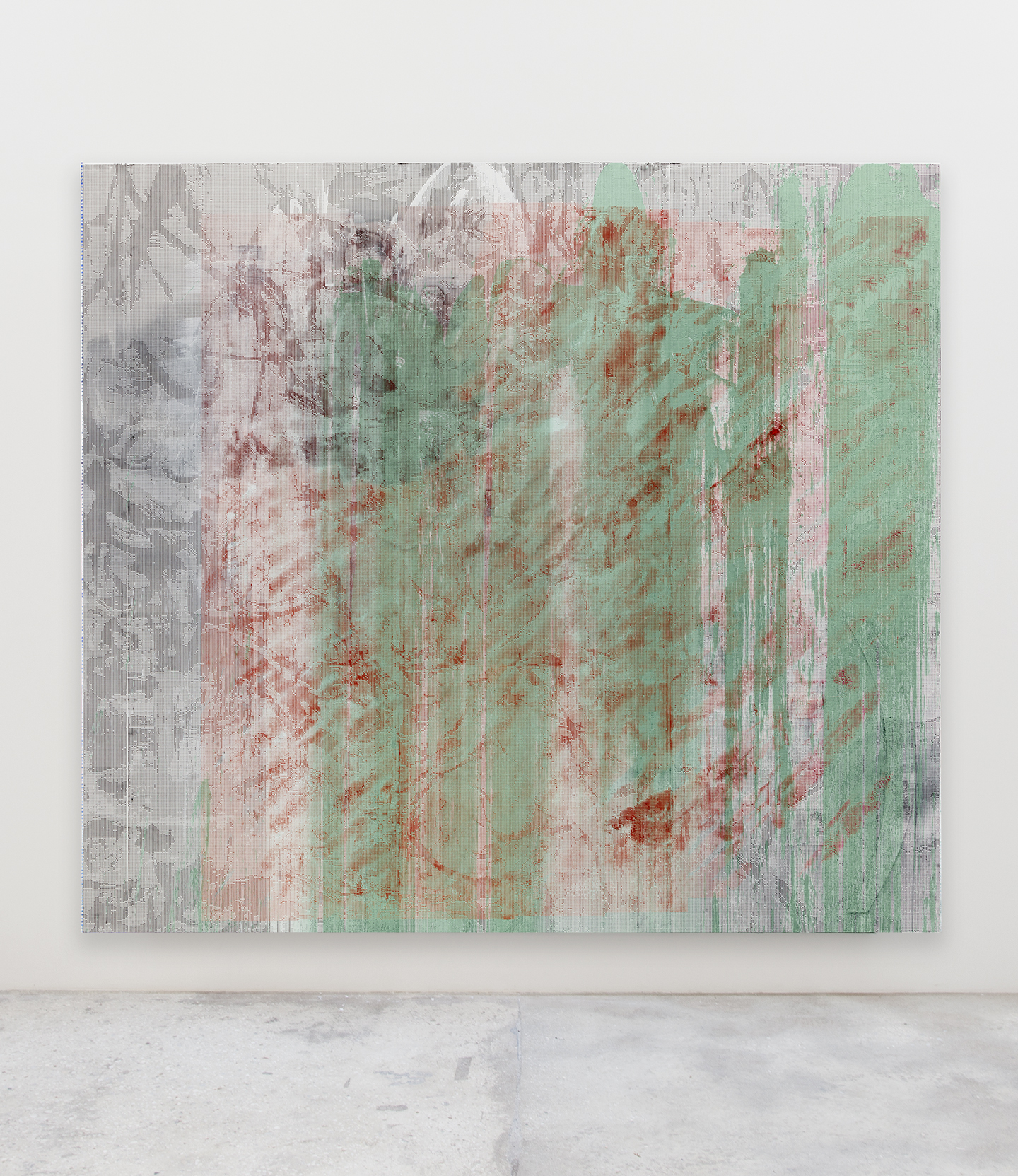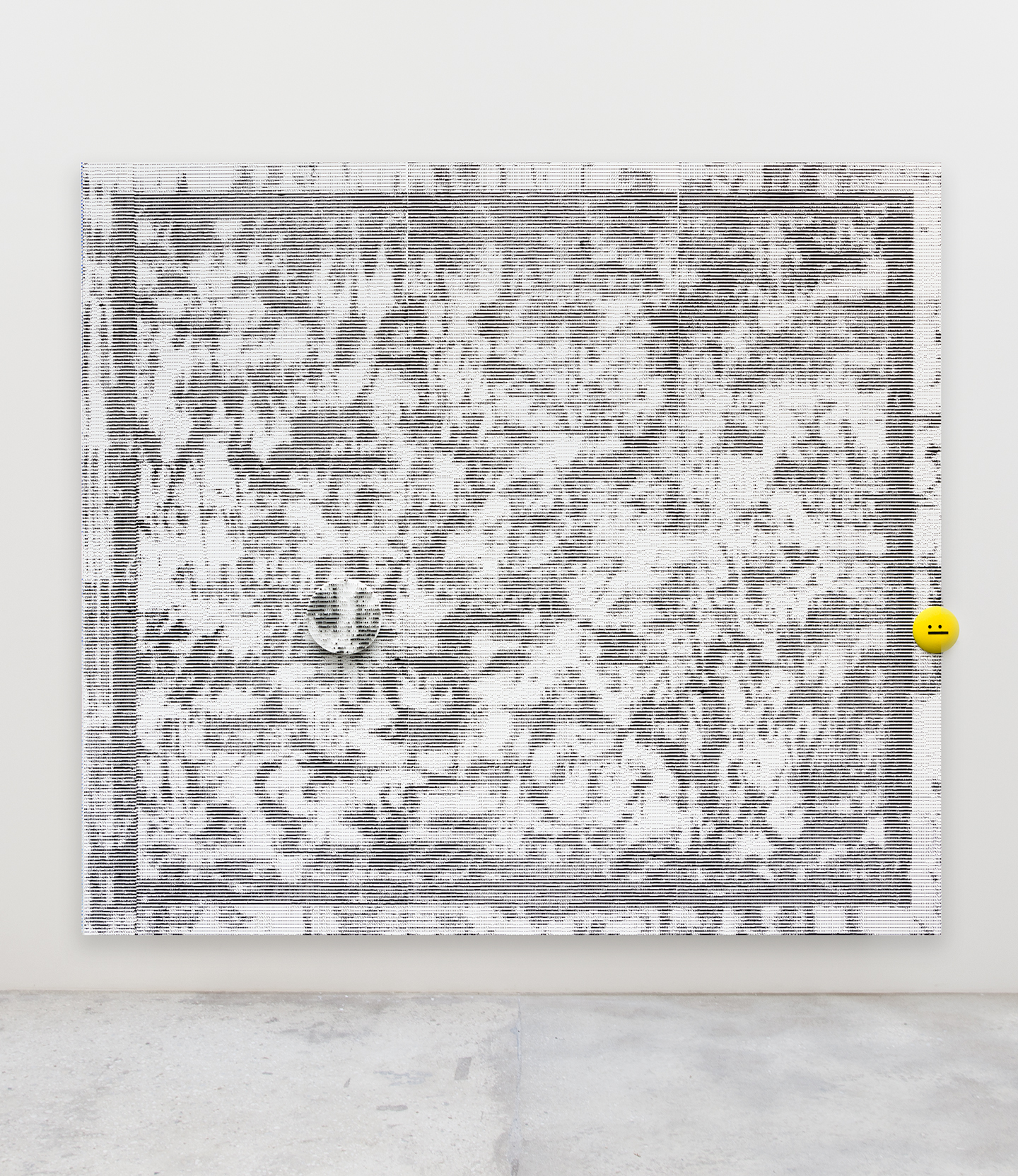 Jacqueline Humphries interviewed by Felix Bernstein
Jacqueline Humphries's show at Modern Art in London (October 2–November 10, 2018) showcased a new body of work that transforms her past pieces into sublimely post-digital moving presences, testaments to the sheer potential of painting. To make them, Humphries first scanned and translated her earlier paintings into ASCII, a character-based image encoding system invented in the 1960s, then stenciled the data onto newly painted canvases. Thick underpainting and elaborate overpainting create a multilayered experience that obscures the uniformity and legibility of the ASCII. Humphries also integrates newer technological languages such as CAPTCHA, emoticons, kaomojis, and emojis, deconstructing not only the visual binaries of figure-ground and relief-intaglio, but also the conceptual binaries of base-superstructure and source-clone. These new paintings prompt a reflexive inquiry into the way subjectivity is increasingly shaped by codes we believe we control. They also make visible the tension between archaic forms and hidden structures, and the conspicuously visible codes that animate contemporary digital media. This June, Humphries will present new iterations of her black-light paintings, a series initiated in 2005, at The Dan Flavin Art Institute in Bridgehampton. Collapsing the concept of luminosity as it exists in psychedelia, contemporary screen culture, and conventions of painting, these works integrate high art and popular culture with deadpan delivery.
FELIX BERNSTEIN: Your new paintings feature the ghostly presence of your own earlier works. For instance, ~?j.h% (2018) and 3@JQ.~ (2018) show two divergent ASCII remakes of the same source painting, Untitled (2012). The earlier painting undergoes a coherent deformation that haunts the newer paintings, as if it were undead. This thematizes the way painting as a singular medium haunts the claims of its alleged obsolescence on social media. Is the proclaimed death of painting something you've always responded to? 
JACQUELINE HUMPHRIES: When I came to New York in the early 1980s, everyone was obsessed with the "end of painting." But by the time I arrived at the Whitney ISP program, it was already too late. I was enlightened to the corruption of painting and the idea that real artists don't paint anymore, but I was already in my mind a painter and I wasn't going to violently banish that from my world. So I made little monochromes and narrativized my own experience of being under duress as a painter. I was making disappearing and dying paintings, literally illustrating that with arrangements of paintings which would get progressively smaller. But one can make endless last paintings, right? I'm still facing that.
FB: So, already, you were working on paintings in conceptual series.
JH: I think of my work in sequence more than in series, because as I work on many canvases at once, the ideas are flowing through all of them, until eventually, like in musical chairs, the ideas find their place in certain objects. The model I adhere to is generative more than serial, so it can be endless: there's no beginning and no end, and things can loop back. I diminished my involvement to very high degree, but that involvement is still there, in a different, maybe even more significant way. It's become more purely intentional. I feel like these paintings are the most personal I've ever made, which is paradoxical given their mediated and mechanical processes.
FB: You remake and magnify earlier drips, which is interesting because drips are thought to be the most spontaneous and immediate marks on a painting, unbound rather than structural, whereas in your work, what seems most structural is actually most lyrical. 
JH: I selected marks or drips from earlier paintings and turned them into stencils. But even paintings I made many years ago took the drip as a signal of too-busy-to-be-neat artistic abandon and turned it into a very deliberate structuring element. I'm working now from a very arid place. I'm not struggling with the juicy paintbrush. I'm very detached, but I've made a decision to work this way, and it creates a different kind of intimacy.
FB: You use a lot of literal question marks, as well as a lot of J's, which resemble upside-down question marks. There is no "decoding," or answering the antinomies your paintings propose: robot or human, original or remake, information or art. You're thrown back onto the structure itself, and the constituent units of the structure—the all-too-familiar keyboard characters.
JH: Right, keyboard characters are both familiar and unfamiliar. They leave you suspended on the razor edge between the pure abstraction of language and the possibility of communication. The promise of keyboard characters is to universally communicate, but it comes with all this disappointment and miscommunication. So I have brought that promise and disappointment into the painting alongside this array of visuals that is also reliant upon the very same components—letters smashed together with color and gesture. But I hope it produces a sense of longing for real communication and content. Is that hopelessly romantic?
FB: Yes, it's a romantic and sublime threshold state. You see and feel these antinomies, and they stay with you, but instead of getting a new artificial synthesis, you're left suspended.
JH: That's what I call a limited case of transcendence, which is more about causing desire than resolving it. So the painting frame remains to keep things bounded, just as dance has a beginning and end, or sculpture has a back and a front.
FB: In one painting, you quite strikingly have a flat smiley-face sculpture tacked on outside the frame. It's a 3D-printed yellow disk of a new emoji, but with the neutral face of a classic emoticon, so it's an emoji-emoticon hybrid.
JH: I needed to put something outside the frame, hanging off the painting. And when that happened, it energized and made the inside active. It is clearly outside; it's been pushed out. That can be narrativized. I did it for formal reasons, but I can't account for my unconscious reasons for insisting on that emoji-emoticon face. I would call it a joke, but we all know what jokes are. 😐
FB: It's interesting that you were going to originally use a cat-face emoji, since cats are said to have the adaptability to survive any coming apocalypse. We're digitally fascinated by cats because they've been able to survive every new technological change in ways humans can't. Rainer Maria Rilke wrote that the cat isn't ever really looking at you, but rather erasing your existence, waiting for your death.
JH: Painting is like the cat. The cat is still a cat; it still has its autonomy, and we can never trap it fully. There's the cat-ness before the word "cat" and after. Painting will still have a life after the last painting is made.
FB: Did reusing operations and tropes from your earlier work make you more self-aware of a certain signature style, or has your sense of authorial style become even more incoherent?
JH: Things became more incoherent. Whatever mesh was originally holding the paintings together as an image has disappeared, and the interstitial links are gone. I feel I've finished a painting when it opens up and banishes me, puts me outside the process. But there are many winks of self-reference in the work. I use the characters "J. H. $" as a playful gesture that self-mocks the idea of painting as authorial expression. Similarly, with the emoticon outside the frame, the joke is that now there's figurative expression or "stamp of authenticity." And I also paint on CAPTCHA tests. The funny thing about those is I always fail at the CAPTCHA test. So maybe I'm a robot. Certainly, based on the test, I'm not human.
FB: A lot of conceptual work generates an interesting and terrifying mathematical sublime from the too-much-information technological overload, but without any beauty. Your work, though, lays bare the interesting alphanumeric code behind experience, which can be alienating but also beautiful.
JH: When we scrape everything away, it's a very scary place to be. I'll literally have panic from the work and this sense of detachment, but also deep implication that puts me in a strange place—arid instead of flowing. Suddenly, so much has changed, and I can't just keep making paintings like I did before. That's why I'm against style. I think the medium should be totally adaptable to the possibility that suddenly nothing is as it was, without having to give up the integrity of medium itself. Painting can adapt to anything—it's all about compression. Why should we abandon something so mutable and protean?
at The Dan Flavin Art Institute, Bridgehampton
opens June 22, 2019