CONVERSATIONS
Jan De Cock "Everything For You, Torino" at Galleria Francesca Minini, Milan
Close
1
2
3
4
5
6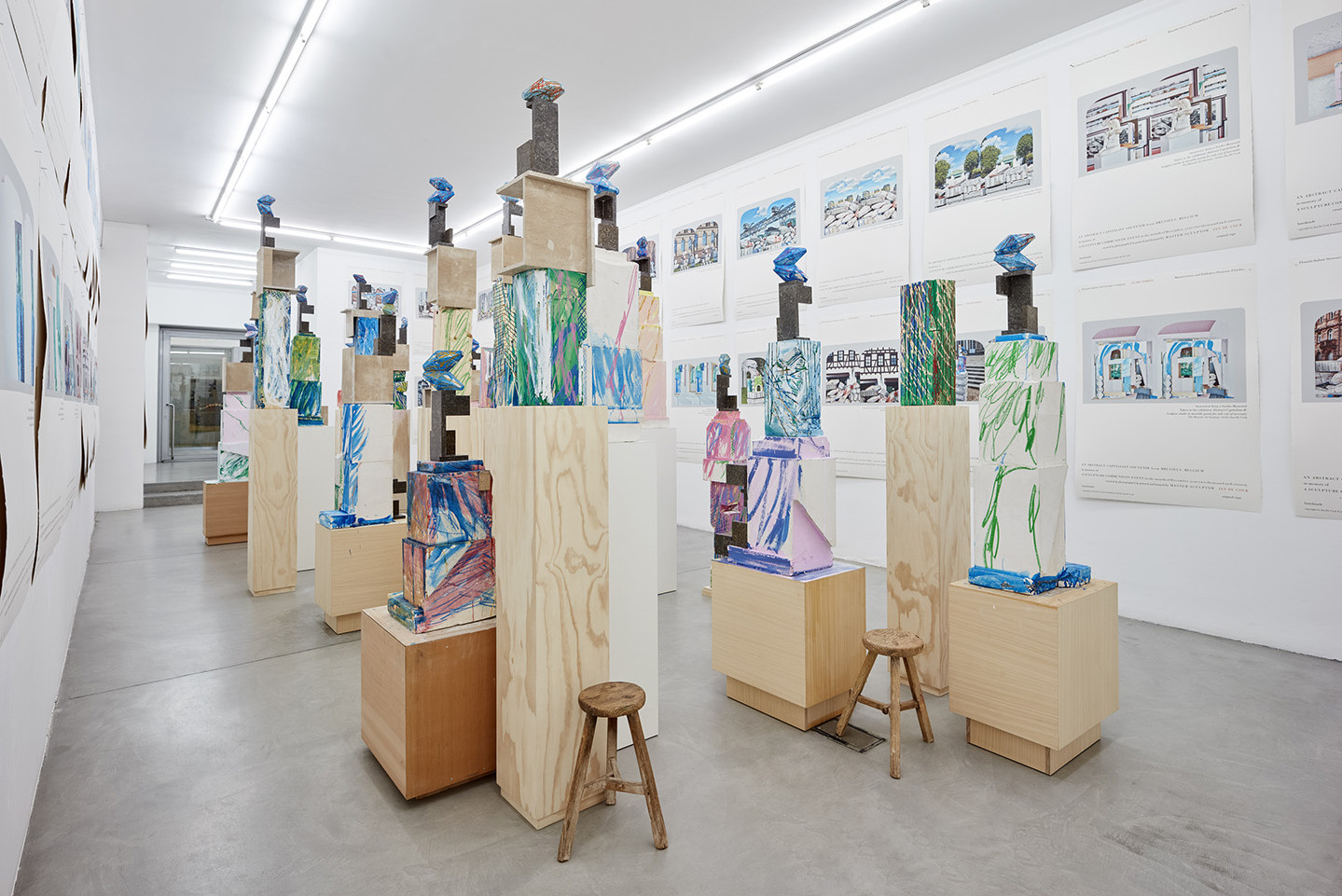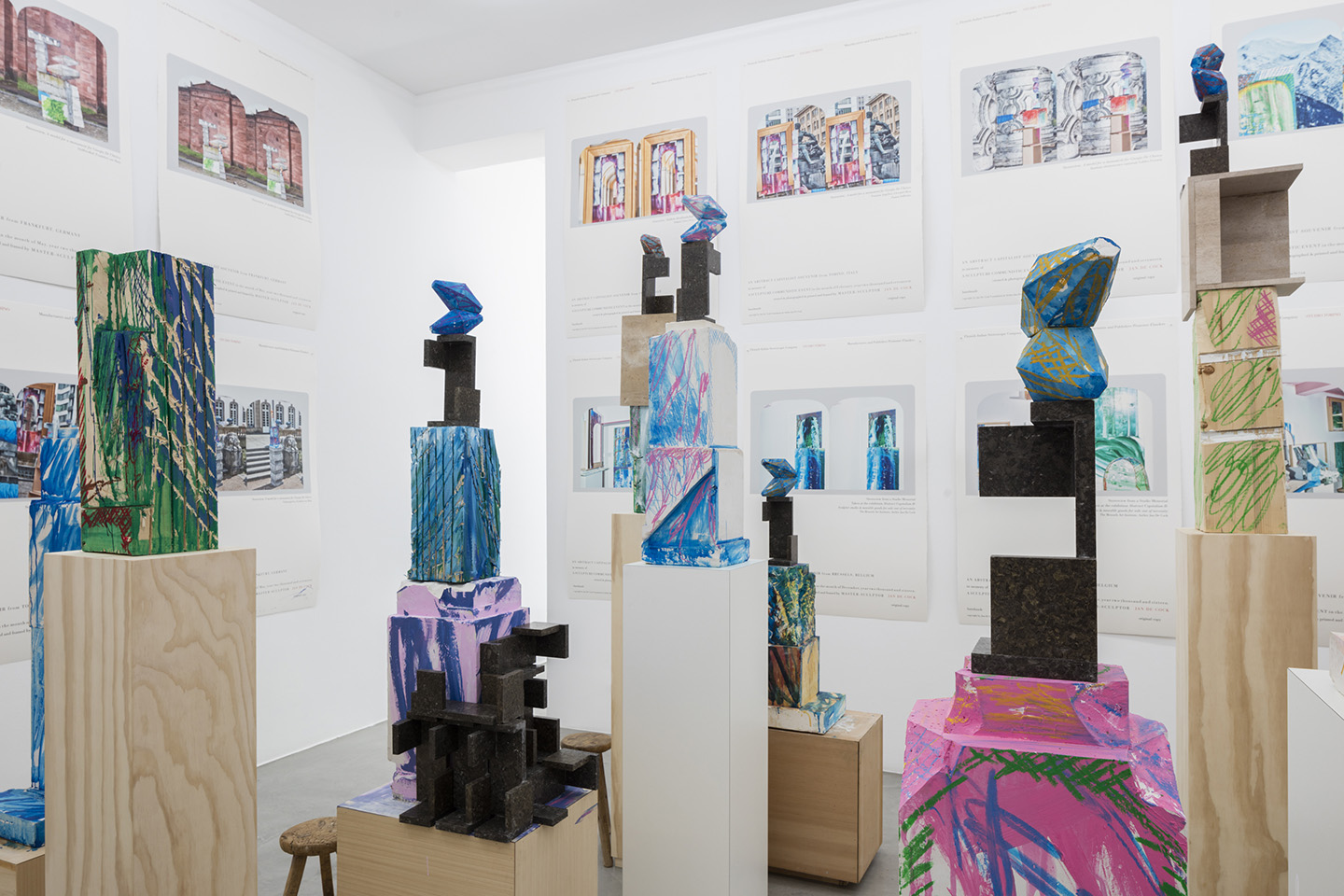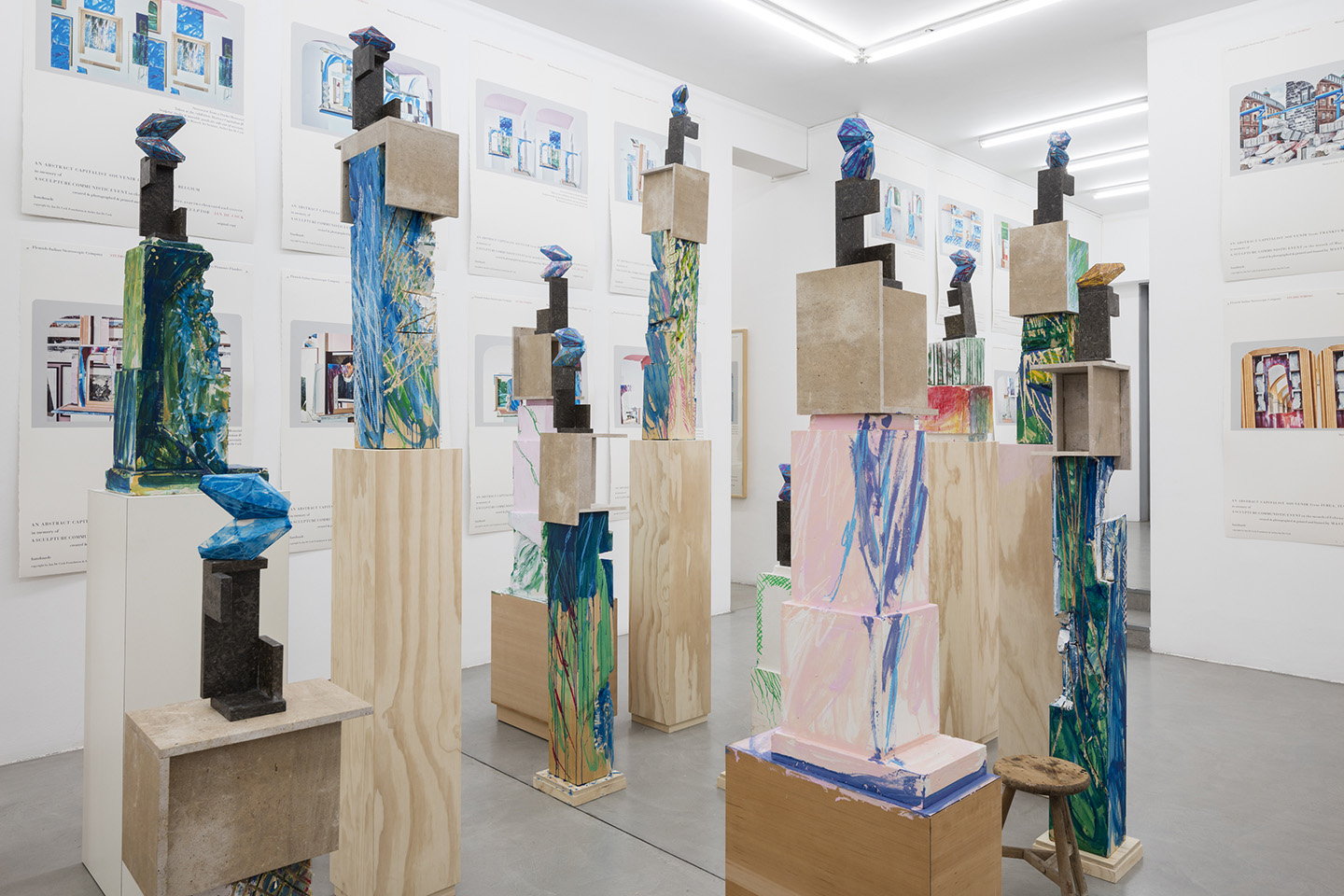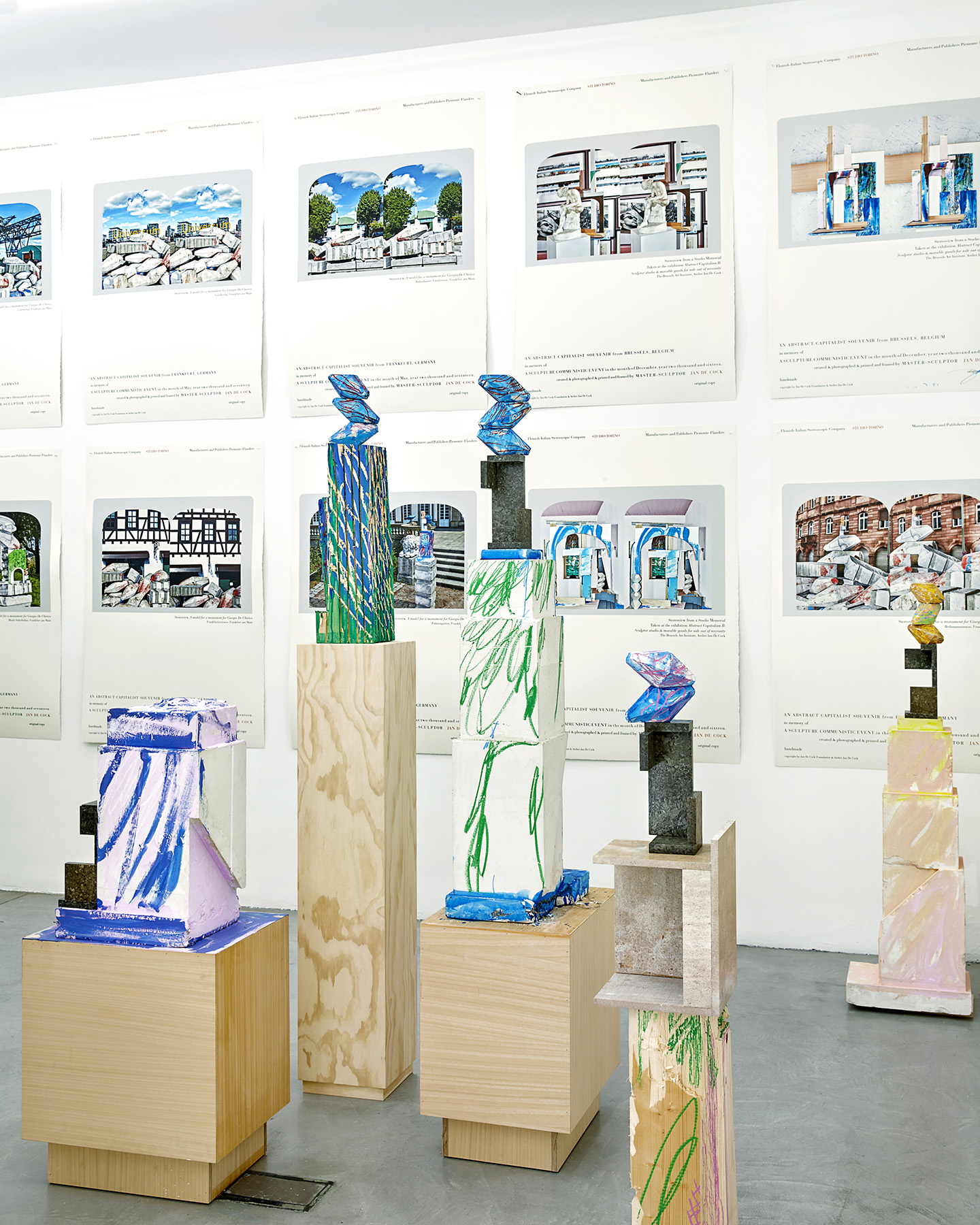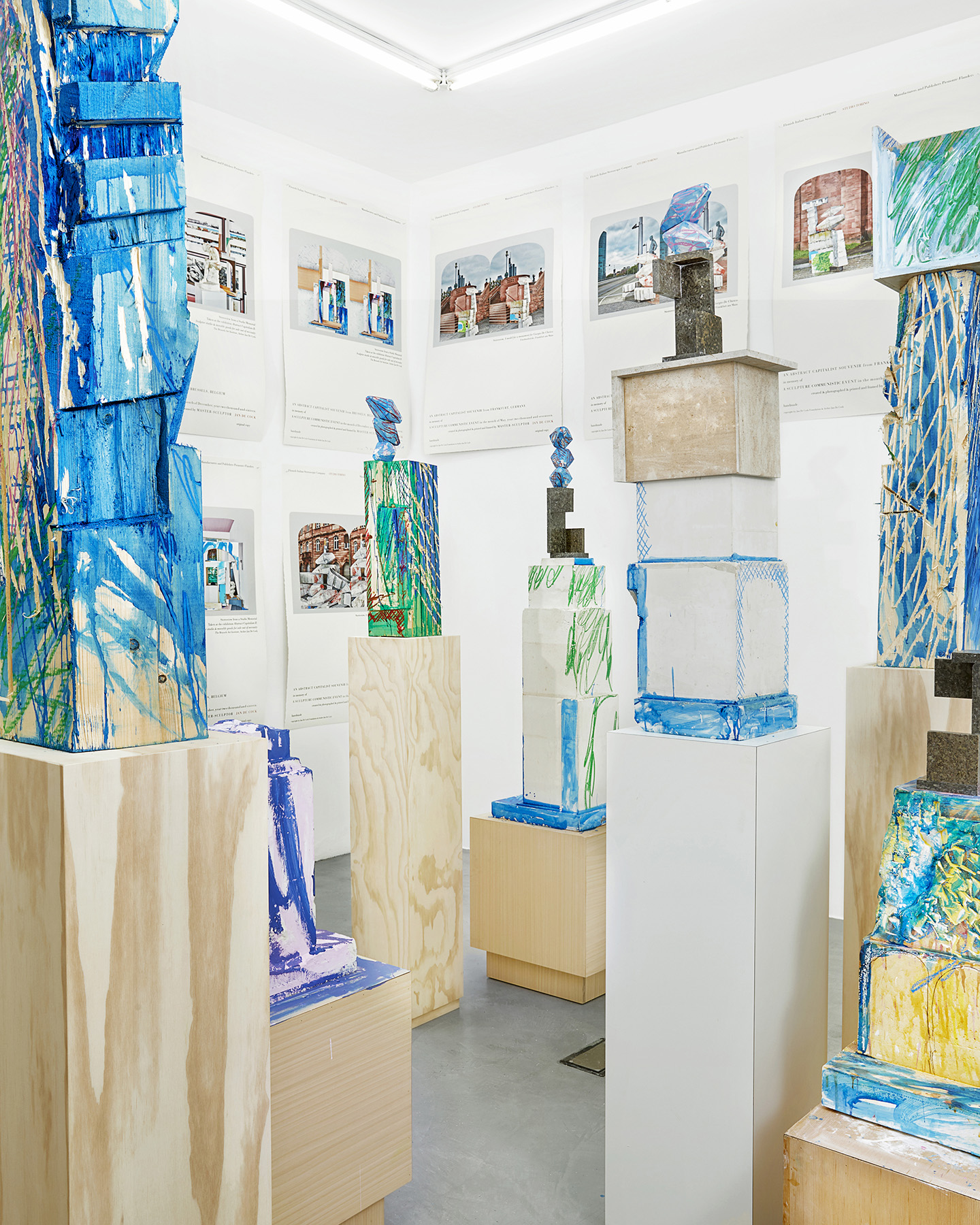 Jan de Cock in conversation with Simone Menegoi
Simone Menegoi: Let's begin with the end: Your project, Everything for you, Torino, is the latest and final step of an ambitious cycle of interventions in public space (and exhibitions in private spaces) that you started six years ago.
Jan de Cock: On October 26th, Atelier Jan De Cock will have been in existence for 25 years (and I hope I will survive that!) To celebrate these 25 years in Brussels, I'm going to tell everybody that I am moving to Turin. Everything for you, Torino is the conclusion of the series. This show in Milan is about showing my oeuvre today under construction; this is my way of working. The metaphor in this show is very clear: The central element is the arcade, and the arcade is the passage from northern Europe to southern Europe. In the north, we all have this ideal landscape in our heads of the southern Europe. Now I will make it concrete. I will stop drawing from my mind; now I will come here. And maybe I will start thinking about the north.
SM: The arcade is an architectural element that features prominently in the Piazze d'Italia of Giorgio de Chirico; and in fact, you named your works A model for a monument for Giorgio De Chirico. I wonder: Has De Chirico brought you to Turin, or has Turin brought you to De Chirico?
JD: The choice of Turin has to do with the basic assumption of the whole project—the fact that there are no more monuments. I'm the same kind of sculptor that has been raised for centuries, but I'm the first generation that cannot build any more monuments for public figures or historical figures or political dramas or wars. I'm the first generation that isn't being commissioned to make monuments, so out of an idea of nostalgia, I am in a city where I can imagine monuments. Turin is the old capital of Italy, a kind of Paris of southern Europe. Living in Turin helps me put into question everything we put on a pedestal, everything we venerate and build monuments to.
SM: How does Everything for You respond to the lack of contemporary monuments?
JD: Like artists in the past, we have to start a revolution. But just shouting about it, occupying the art industry, and so on isn't enough. We've had revolutions: the constructivists, Nouvelle vague in the cinema, avant-garde architects like Rossi, Scarpa, revolution in design. Now it's time to change the capitalist system, which means we have to create an alternative and provide some sort of new common ground where everything that has to do with the economy—and here I am talking about museums, galleries, private collectors, everyone who has to do with money—can no longer be included anymore. Why? Because the first thing we need to do now is to abstract beauty from money. I use the words "common ground" in the pre-capitalist sense: a ground where you could grow vegetables to feed yourself and your family. If we could do the same in art—I know it might sound a little too simple now—we would create a sort of exchange economy that is only about quality and beauty. The common ground would be a romantic place, the beginning of a new way of seeing. It would allow our children to understand that there is an alternative to the world that is manipulated by marketing industries and by big money companies—because if they can't see, they can't understand. That's more or less what I believe will be the model of the future.
SM: In spite of the utopian scope of your vision, you are not an idealist disconnected from reality; your approach is pragmatic. You conceive of the exhibitions in private galleries—like this one—as a way to support what you care about the most: your interventions in the public space. Is that correct?
JD: Yes, that's correct. But my fascination with public space also means fascination with how the art space and the public space are shaped by economists, politicians, or banks. For instance, think about the idea of Milano Due; it's a good example of a totally post-utopian city. In principle, the public space should be free like jazz, a few musicians improvising in a cafe. But sculptures cannot walk, so in principle if you want to do something in public space, you are thinking about a lot of layers of administration. By the time you get permission, the pure improvisation is gone. And then there is the issue of getting money from the government to make a public monument. We know that governments don't use public money for the most interesting or worthwhile works, or for the most interesting causes, or for the working class groups that should benefit the most from art. To use the private spaces to raise money gives me the possibility to earn my own freedom so I don't have to ask for permission.
SM: So you don't ask for permission?!
JD: I've never asked for permission.
SM: And what happens to the sculptures after you place them in public space?
JD: It depends. I leave them for the people or give them away. In Kyiv, we threw some in the river. Or we donate them.
SM: And how long did the sculptures in Turin last?
JD: Well, the problem with Turin is that it's a city with a tradition of art, of Arte Povera, and so a lot of people quickly recognized something special about the sculptures—different from say, graffiti and street art—and stole them. Most of the works were gone after just a couple of weeks. But I think they'll turn up again on the art market sooner or later.
SM: I have one more question about the idea of improvisation in the public space, because I thought that you planned everything carefully in advance, but I'm learning that there really is an improvisational element. How does it work?
JD: I try to combine my two extremes: being very traditional and being extremely free, without limits or commitments. I've known for a long time that to create pure improvisation, first you need to create a solid structure, you can't just say "Let's do something crazy." It doesn't work. And I'm not interested in doing something crazy; I'm interested in doing something original. I believe in originality, in an aesthetic that nobody out there shares with you and that only you can create. And to be original is not a trick or a secret; it is a matter of practice and takes massive amounts of perseverance.
SM: I am curious to know if there are any other artists working in public space that interest you. You did a collaborative exhibition with Daniel Buren in this very gallery.
JD: There are many people who work in public spaces. I think that there are more people working in public spaces than working in museums or institutions. I have always worked in institutions, and I am not saying I don't want to go back. What I would like to see more often is people treating public spaces the way they treat museums. This is what I miss a little bit. It's not because you are working in the streets that you have to make street art. Not at all. On the other hand, you make a museum exhibition; why would you make another white cube? This has been done already; we're over it. The most important thing to do today is to create our own museum—our own collection of thoughts and ideas—everywhere we can imagine it.
SM: I'm surprised at how brightly colored your new sculptures are. What happened over the years to your signature colorless/monochrome style?
JD: You know, I'm not a negative person, maybe just a strict one. Color dominates my life. I have always studied color a lot in order to understand what it does to people. So I started to combine it with my very abstract and formal way of sculpting, which people used to compare to Donald Judd or—following its more conceptual aspect—to a later installation by Kabakov. I have a very strict way of making form, which is not a minimalist way. I am a person who likes straight lines, something well made, how a form relates to another form. And color is the father or the mother of the same family. Because if one side of the artist is the straight line, the other one is the color. Plenty of artists have dealt with that. Take Twombly, Brancusi, Fontana, Boetti, and Fabro: They all have looked for a solution. They say it's minimal, but it has a baroque feeling, which is impossible because it can't be baroque and minimal, you know what I mean? They are two extremes. So maybe call me a minimal-baroque sculptor!
.
at Galleria Francesca Minini, Milan
until 4 November 2017