Mousse 72 TIDBITS
Stairs and Subjecthood: Jasmin Werner
Close
1
2
3
4
5
6
7
8
9
10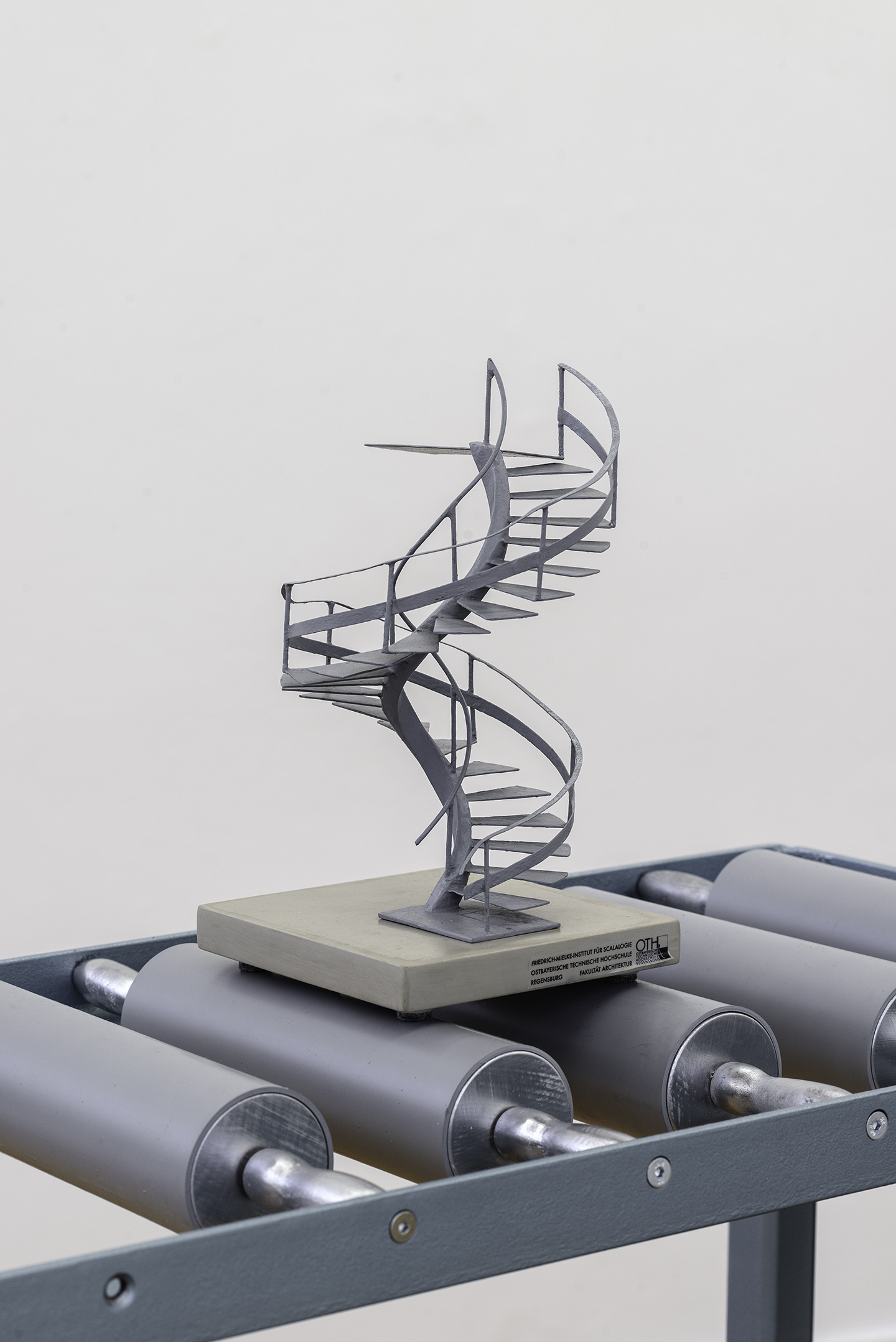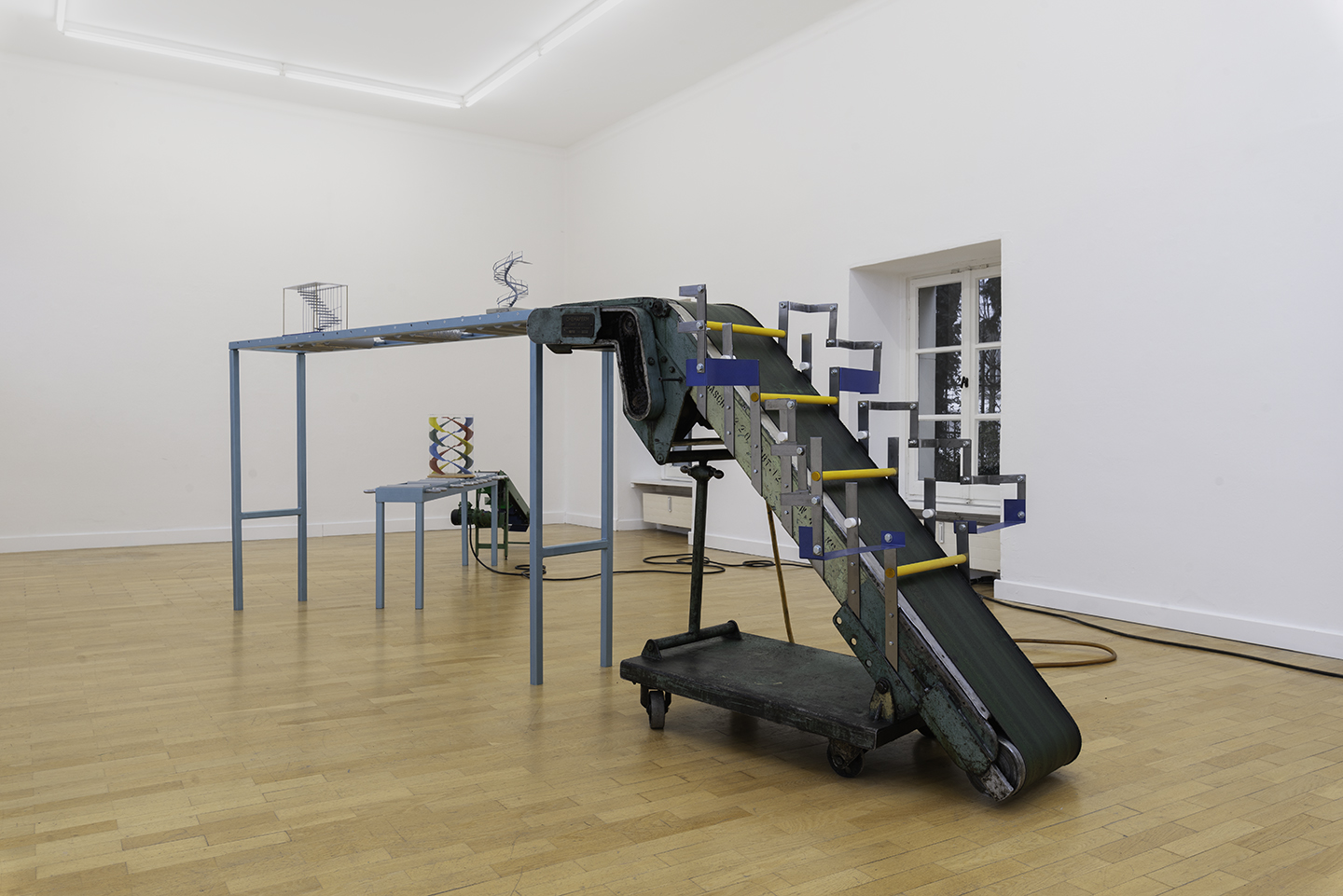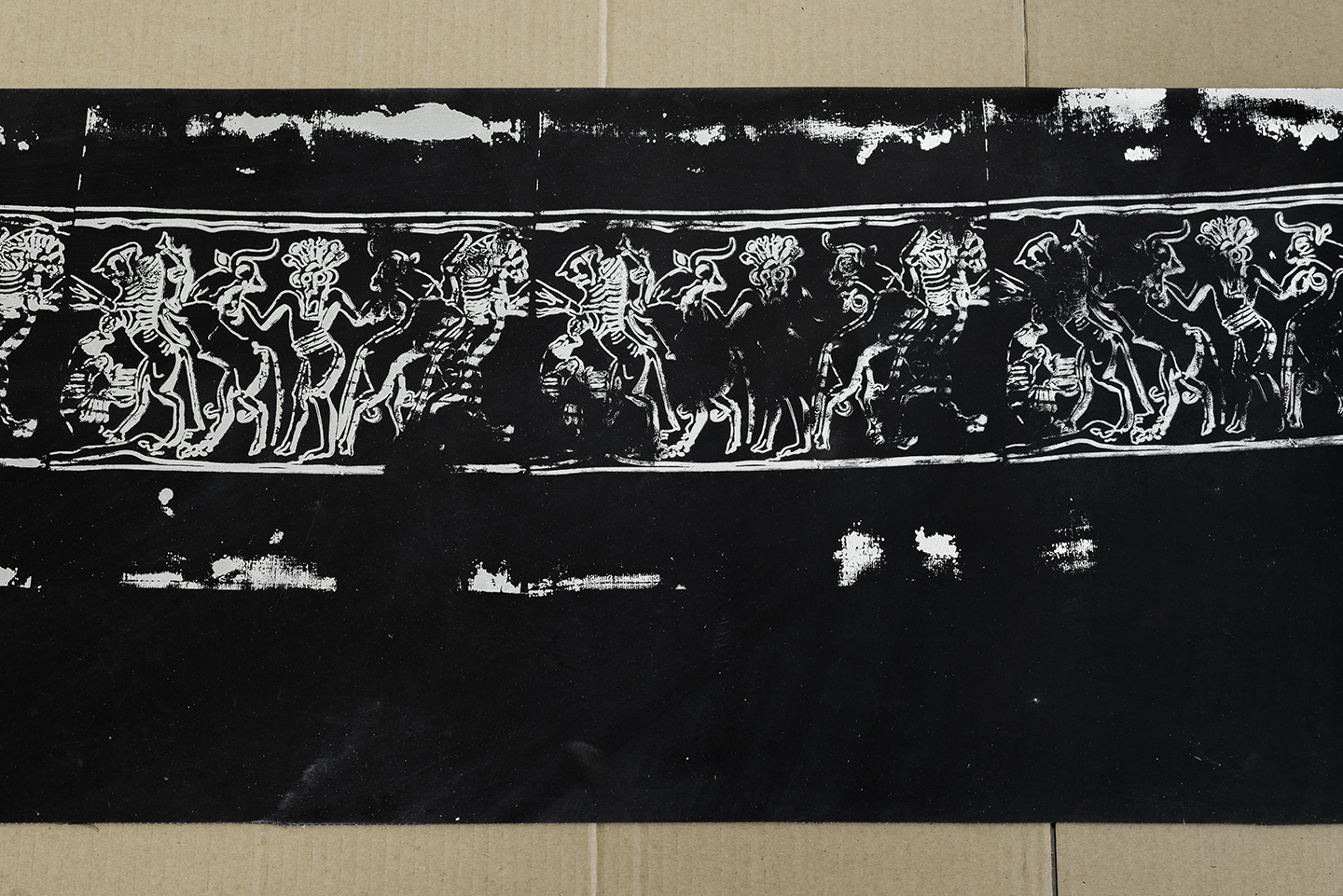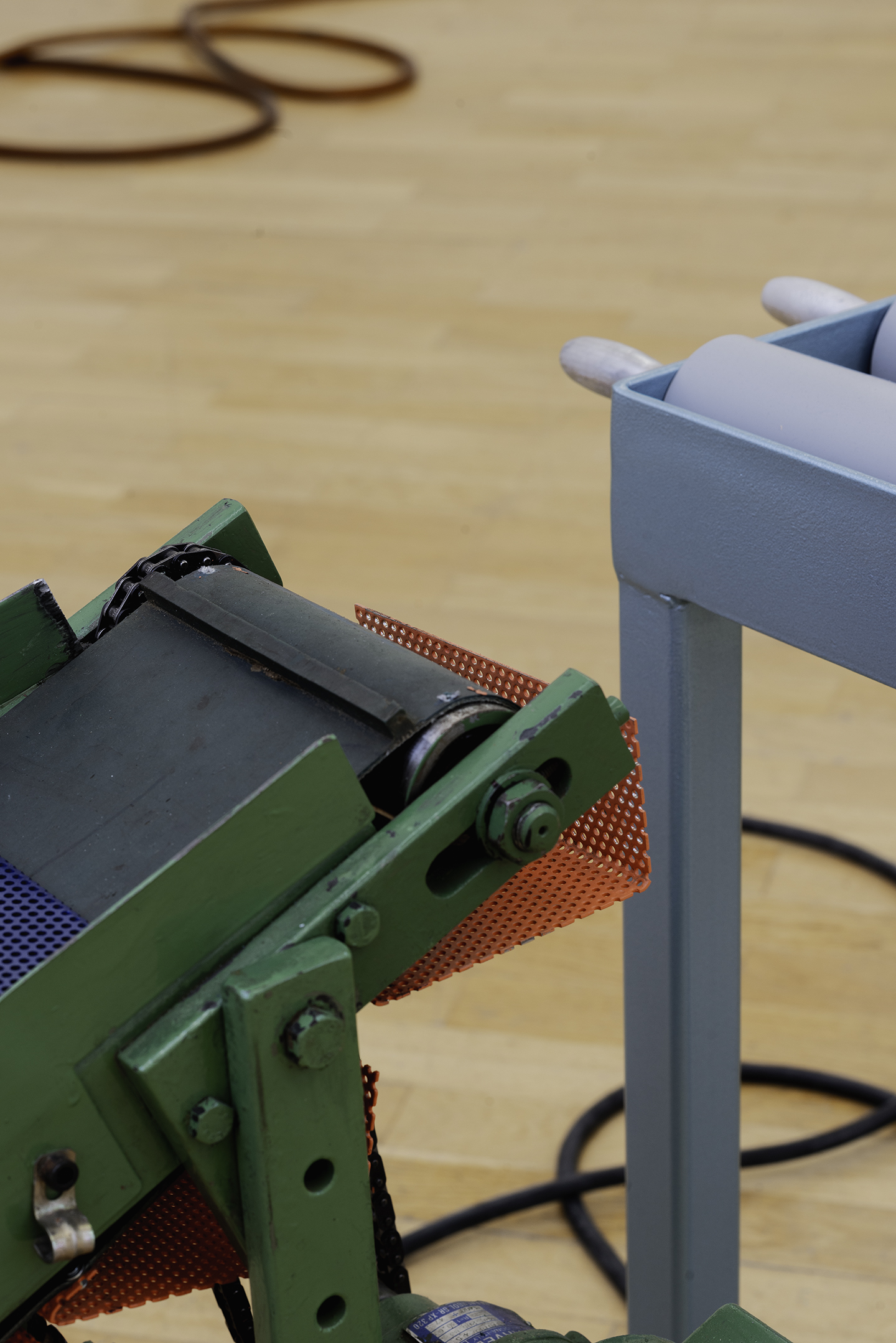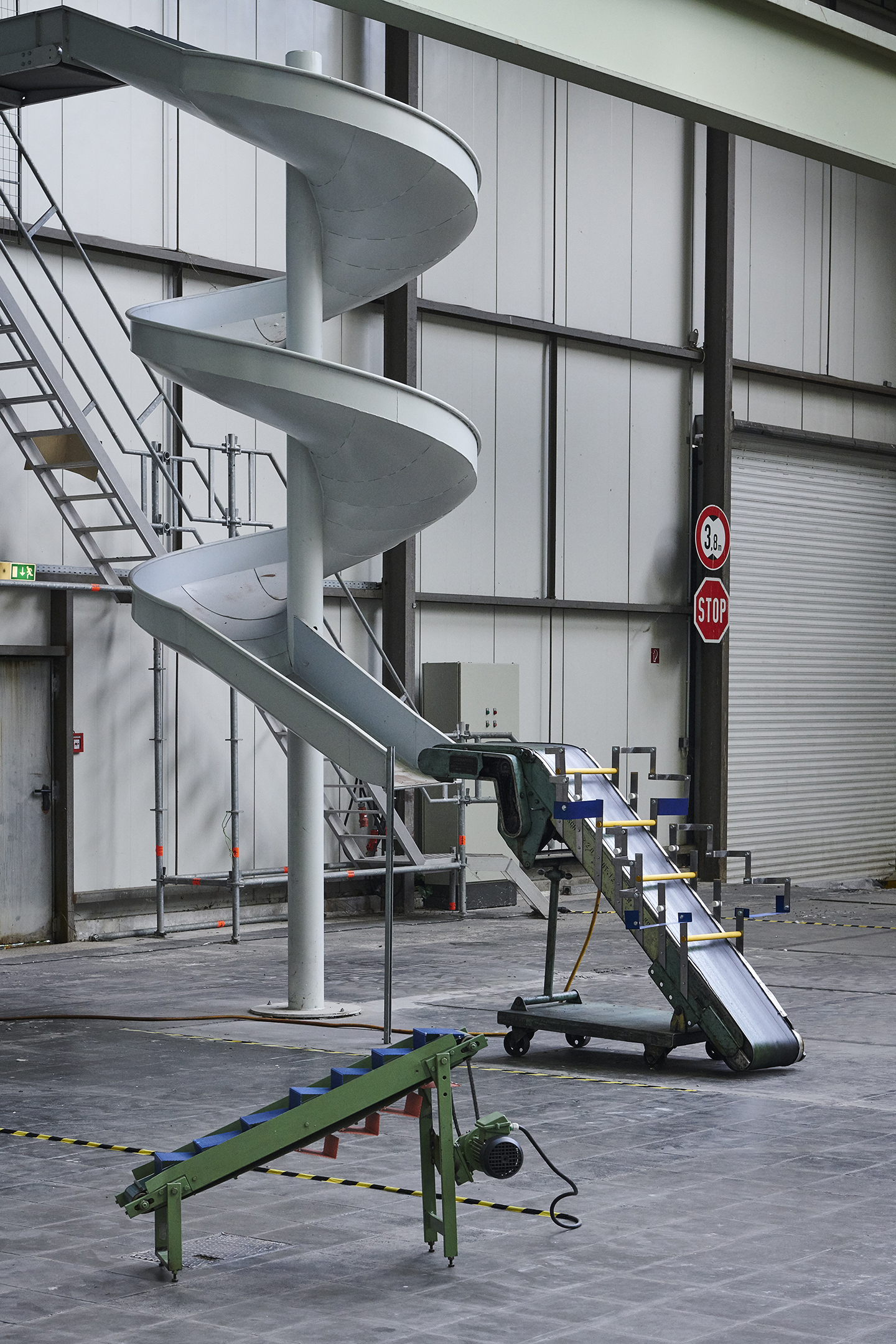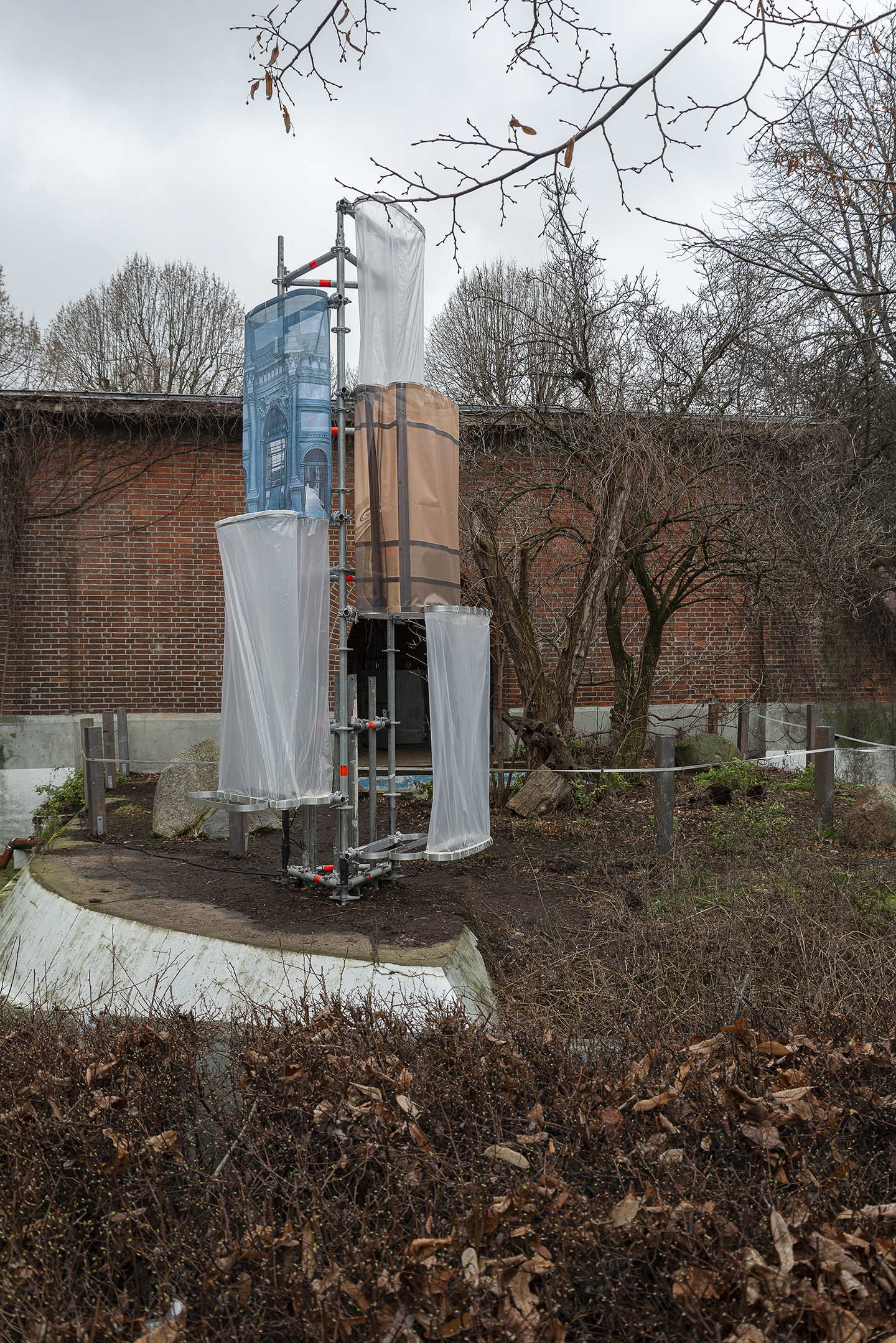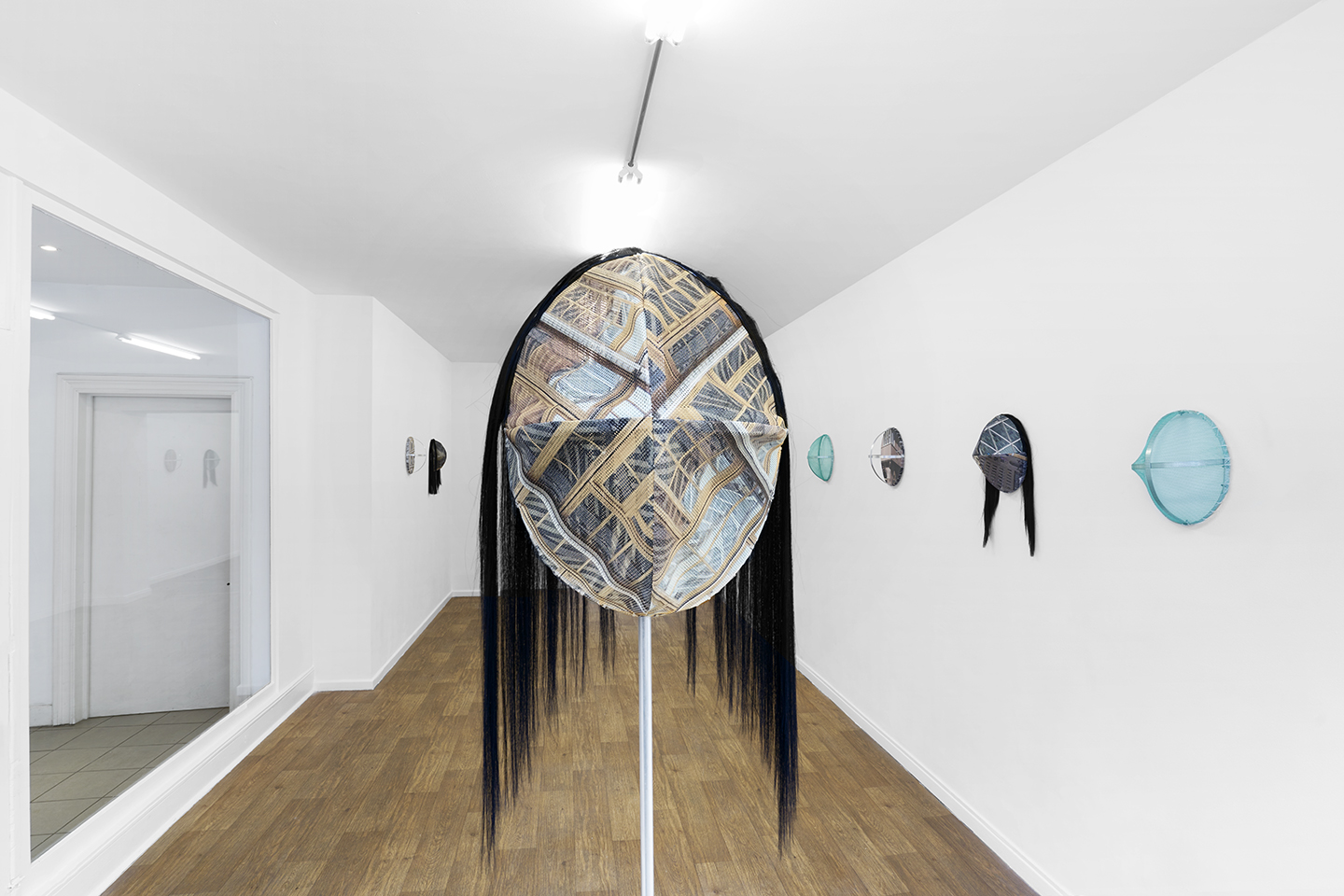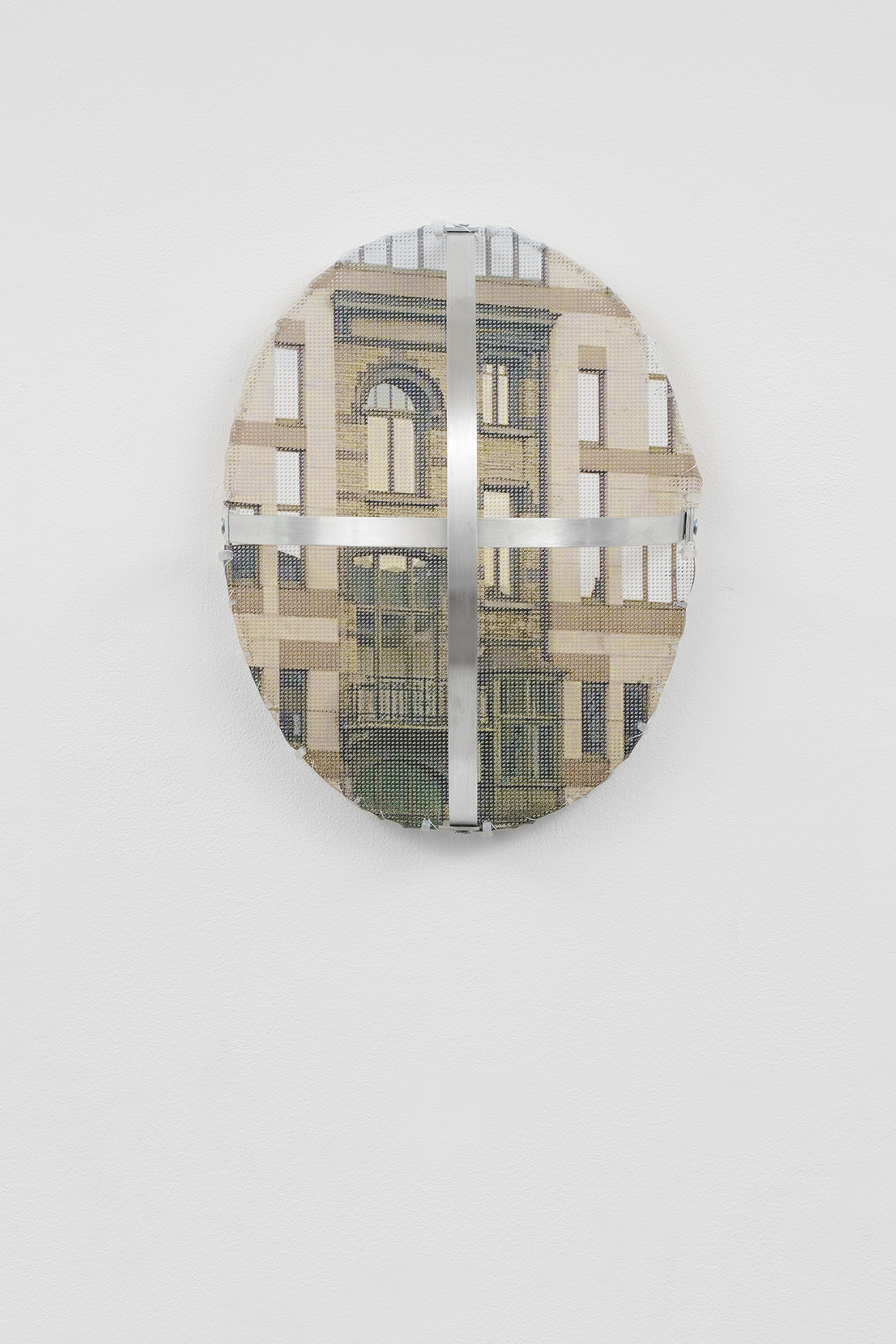 by Philipp Hindahl
Ideology lingers in the margins: Jasmin Werner interweaves craft and nostalgia, the local and the global, to reflect how the unintentional sculptural aesthetics of the everyday shape history and identity.
The artist recently erected a scaffold on a quiet patch of greenery in the middle of Berlin: the Bärenzwinger, a compound that once housed bears (the city's mascot). The sculpture is titled Schloss der Republik Burj Khalifa (Segment 1/4) (2020), and it points to the sky like a finger, its materials emanating a striking coolness. The shape is derived from the Burj Khalifa, which, like an impossibly stretched pyramid made of steel and glass, cuts through the desert sky over Dubai. Werner has rendered her simulation of the building out of scaffolding beams covered in a veil-like mesh printed with photos of windows from Berlin's Stadtschloss and Palast der Republik. The former was a royal palace built in the fifteenth century and demolished by the East German government in the 1950s, now being partially reconstructed; it is expected to reopen in late 2020 and will house the ethnographic collections of Berlin's museums. The latter was a representative modernist GDR building constructed on the same site, which was torn down a little over a decade ago. Some of its steel beams were taken to Dubai and reused in the construction of the Burj Khalifa.
 The aesthetic appeal of all this is evident: the makeshift aspect of scaffolding, the mesh, which is opaque yet transparent, printed with a representation of the facade behind it. Werner recently explored a similar configuration in her show Façadomy at Damien & the Love Guru in Brussels (2020), where she rendered mesh, printed with images of facades of the EU headquarters and other buildings from all over the world, as masks. In her hands, the metaphorical veil behind which a building is hidden became a literal one.
Werner's graduation show at Frankfurt's Städelschule (2016) already featured similar structures—ephemeral sculptures mimicking architecture. Made from threaded aluminum poles, the artist exhibited "foldable ladders that want to be stately stairs," as she told me over Skype. One imitated the stairs leading to the palace of Sanssouci in Potsdam; another a monumental stair in Yerevan.
The ladder is a metaphor for career-hungry art school graduates, but there is more to Werner's pieces. They are distant relatives of Le Corbusier's Modulor, the architect's ideal modern human and an exercise in architectural scale. Yet her objects, made from light metal and synthetic fibers, are anthropomorphic in a more contradictory and ironic way, especially when Werner describes the stairs as flamboyant and ambitious: "They have a connection to us, they have human size and character," she explains. Perhaps stairs also dictate certain modes of behavior—does the climber feel elevated or humbled? Staged as a sovereign or hidden on the service stairs in the back of a building? Architectural elements create subjects. 
When the artist came across the publications of the Friedrich-Mielke-Institut für Scalalogie in Regensburg, Germany, a unique research facility dedicated to stair research (and broader questions related to gradations), she pursued that topic by constructing conveyor-belt-like machines—colorful escalators that resemble elaborate Rube Goldberg contraptions. The first ones were derived from industrial conveyor belts; subsequent efforts evolved from producing goods to producing subjects. Werner's 2018 exhibition at Kunstverein Braunschweig was aptly titled The Wheel of Life, and tapped into the iconography of ascending and descending that structures human society.
Everyday environments, the spaces where we don't linger, and ephemeral structures can hardly be considered architecture. They may be what the architect Rem Koolhaas calls "junkspace,"1 but their designs rely on anthropomorphism and a subjective experience of architecture, and they convey history and identity. They are improbable lieus of aesthetic experience. All of this would be an exercise in artistic appropriation, but Werner is able to imbue her work with social and political implications. In her show unkrautfrei (literally "free of weeds") at Salon Stuttgart, Berlin, in 2019, she juxtaposed obsolete farming tools, reproductions of paintings by the Flemish mannerist Adriaen Brouwer, cupcake ornaments, and descriptive texts from the catalog of Manufactum, a store in Germany that sells goods that evoke an idealized "lost" era when everyday objects were made with great care and designed to last a lifetime. But marketing nostalgia and craft encourages a glorified view of the past and thus caters to reactionary politics. Such a sensibility encourages the wealthy to circle their wagons in fear of an apocalyptic future, and speaks about the fear of everything new.
This brings us back to Werner's work at the Bärenzwinger. The reconstruction of Berlin's city castle as a Potemkin village raises a series of questions: Why do people seek consensus regarding a time when they weren't yet alive? And, further, to idealize that past? "It's too easy to subscribe to a romanticized idea," Werner asserts. The city of Berlin chose Prussia and the eighteenth-century to create a sense of identity in the twenty-first. The architecture of the Enlightenment era feels more comfortable than the monumental modernism of the GDR, although both are problematic in their respective ways. In a twist, the very local effort to build an identity cannot escape the global, as exemplified by the shiny tower in Dubai. The deep ambivalence of those constellations crystallizes in Werner's objects. Wheel of life, indeed. 
[1] Rem Koolhaas, "Junkspace," in The People, Place, and Space Reader (New York: Routledge, 2014), 22–26.
Jasmin Werner (b. 1987, Troisdorf) lives and works in Cologne. In 2016 she completed her studies at the Städelschule in Frankfurt am Main. She has presented solo exhibitions at Damien & the Love Guru, Brussels (2020); Salon Stuttgart, Berlin (2019); Kunstverein Braunschweig (2018); Gillmeier Rech, Berlin (2017). Her work has appeared in group exhibitions at Bärenzwinger, Berlin (2020); Kunstverein Ingolstadt (2019); Saloon, Brussels (2018); and the Museum Folkwang, Essen (2017). In 2017 Werner completed a residency at the National Museum of Modern and Contemporary Art, Seoul, and she is currently a participant in the Studio program at Kölnischer Kunstverein, Cologne.
Philipp Hindahl is a writer and editor. He is fascinated by nostalgia for lost futures, art, literature, pop culture, the internet, and the people in it. After attending a Catholic school in the woods of rural Germany, he studied literature and art history in Frankfurt and Paris. He then moved to Berlin, where he writes for magazines and exhibition catalogues.