REVIEWS
"Jason Rhoades. Installations, 1994 – 2006" at Hauser Wirth & Schimmel, Los Angeles
Close
1
2
3
4
5
6
7
8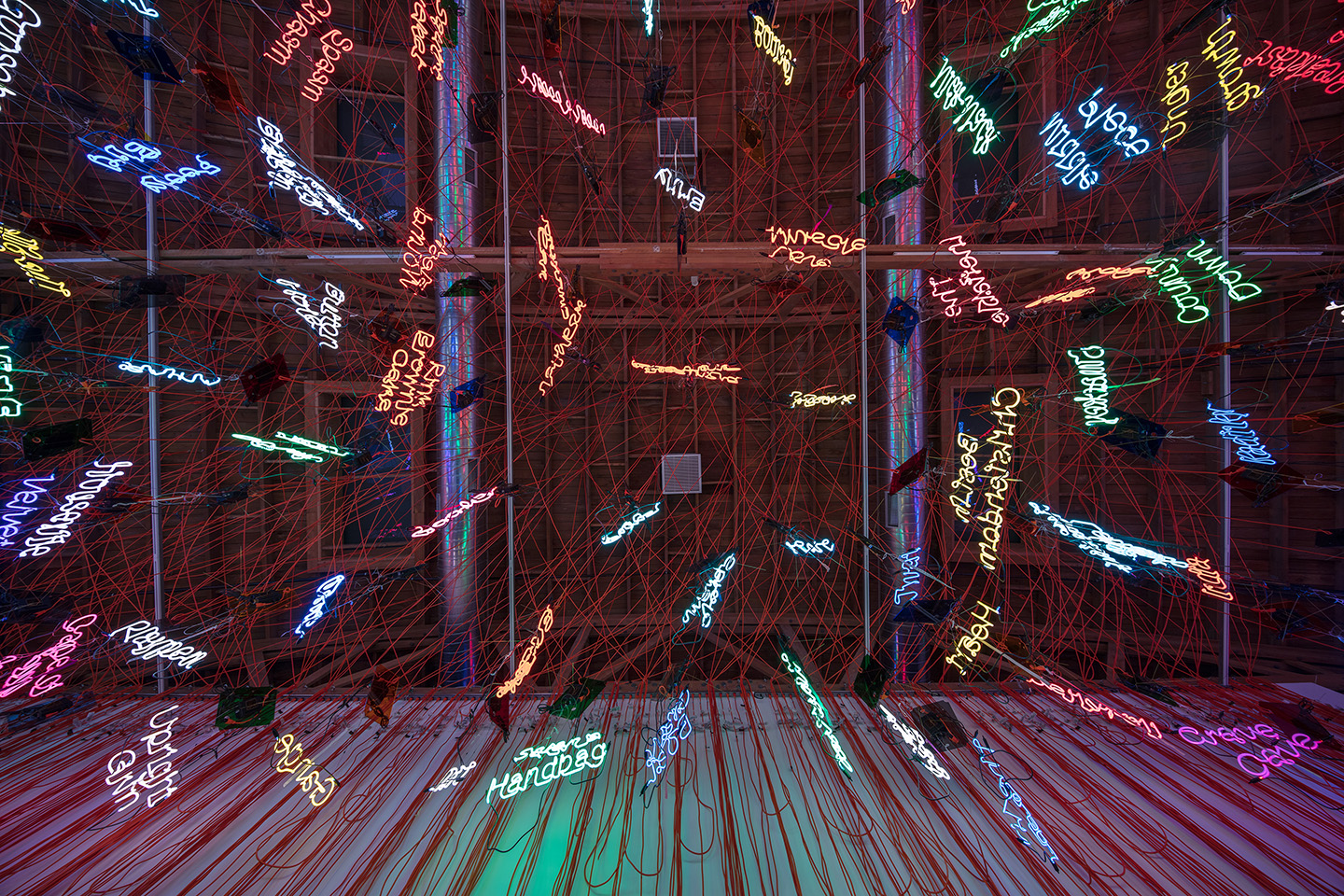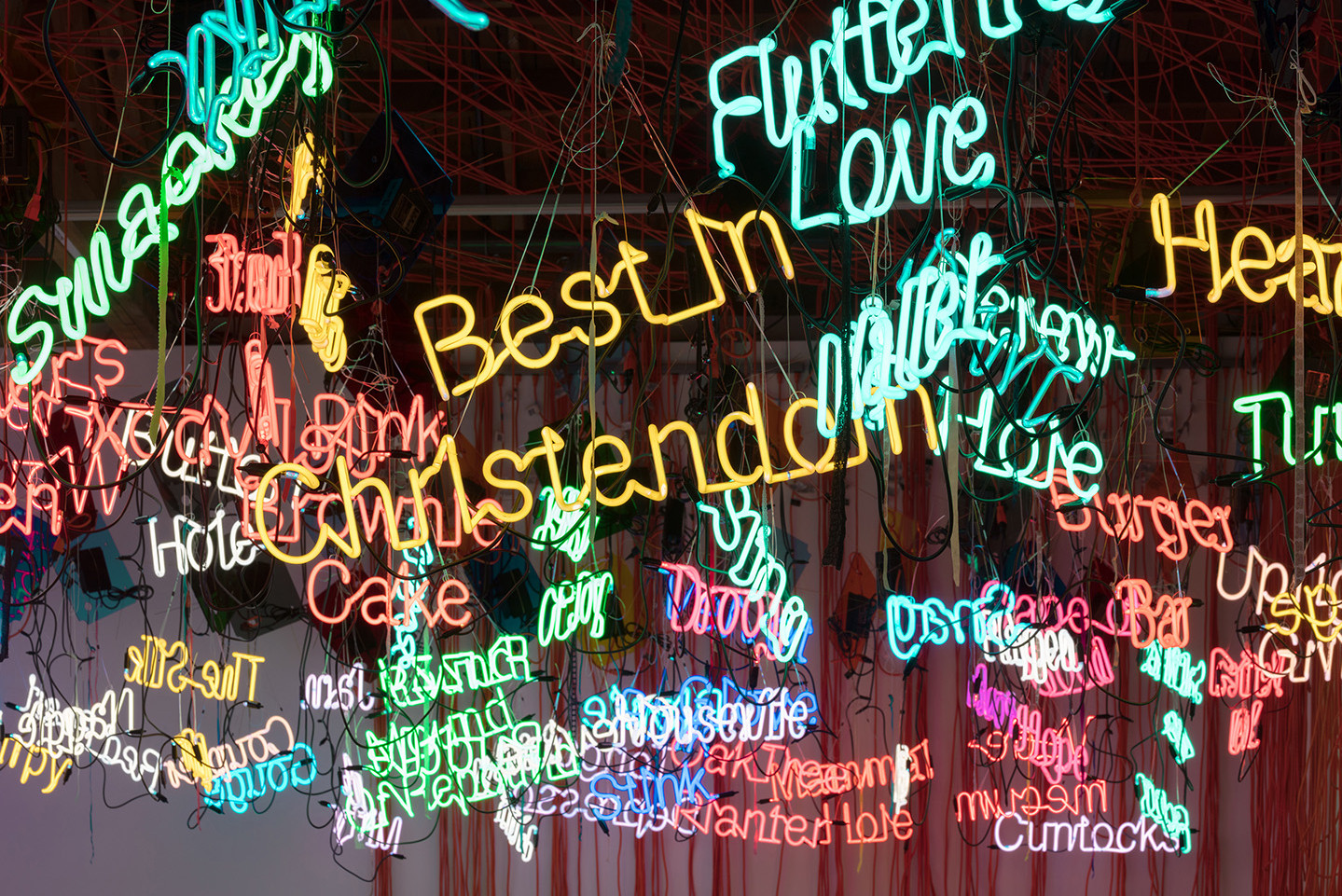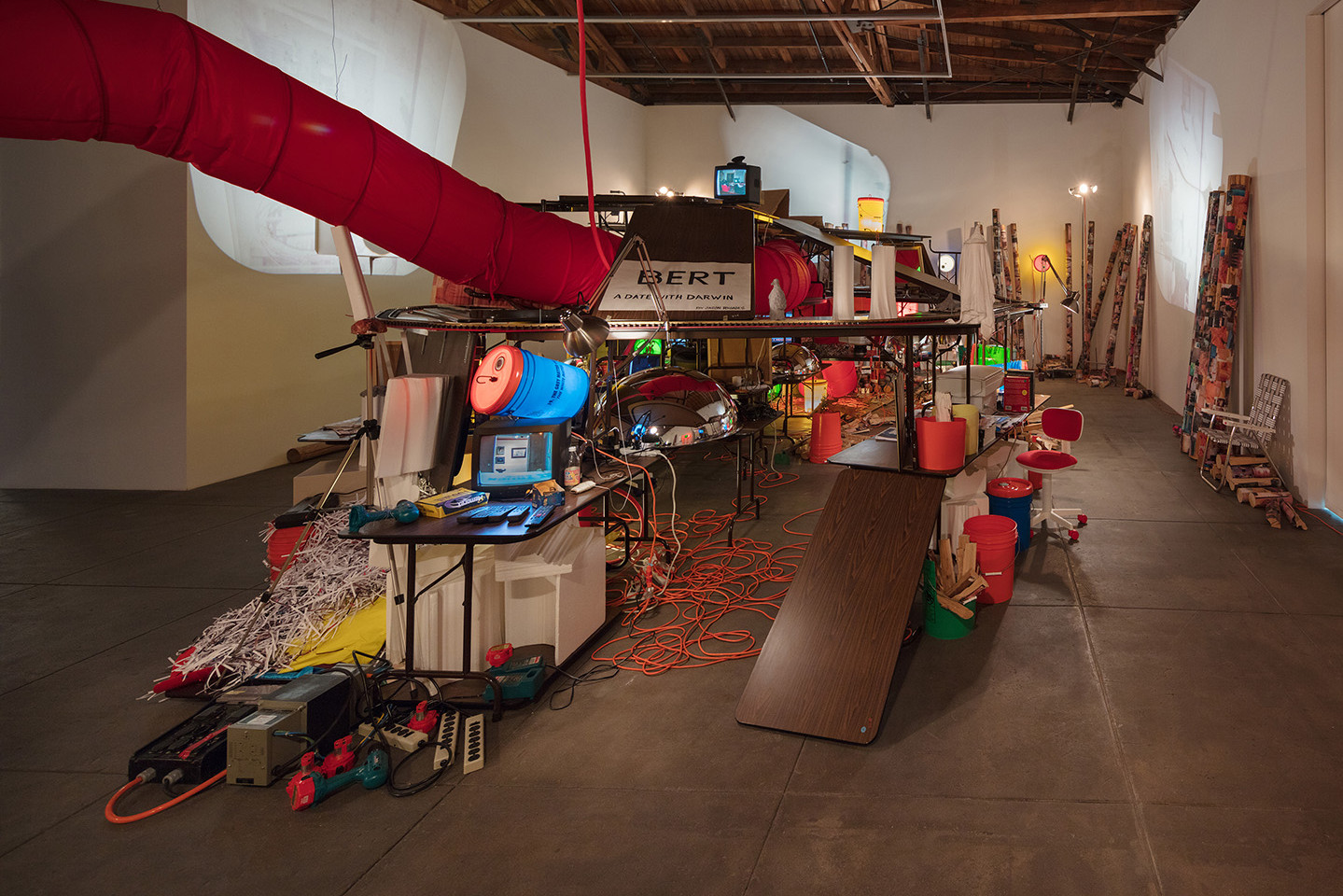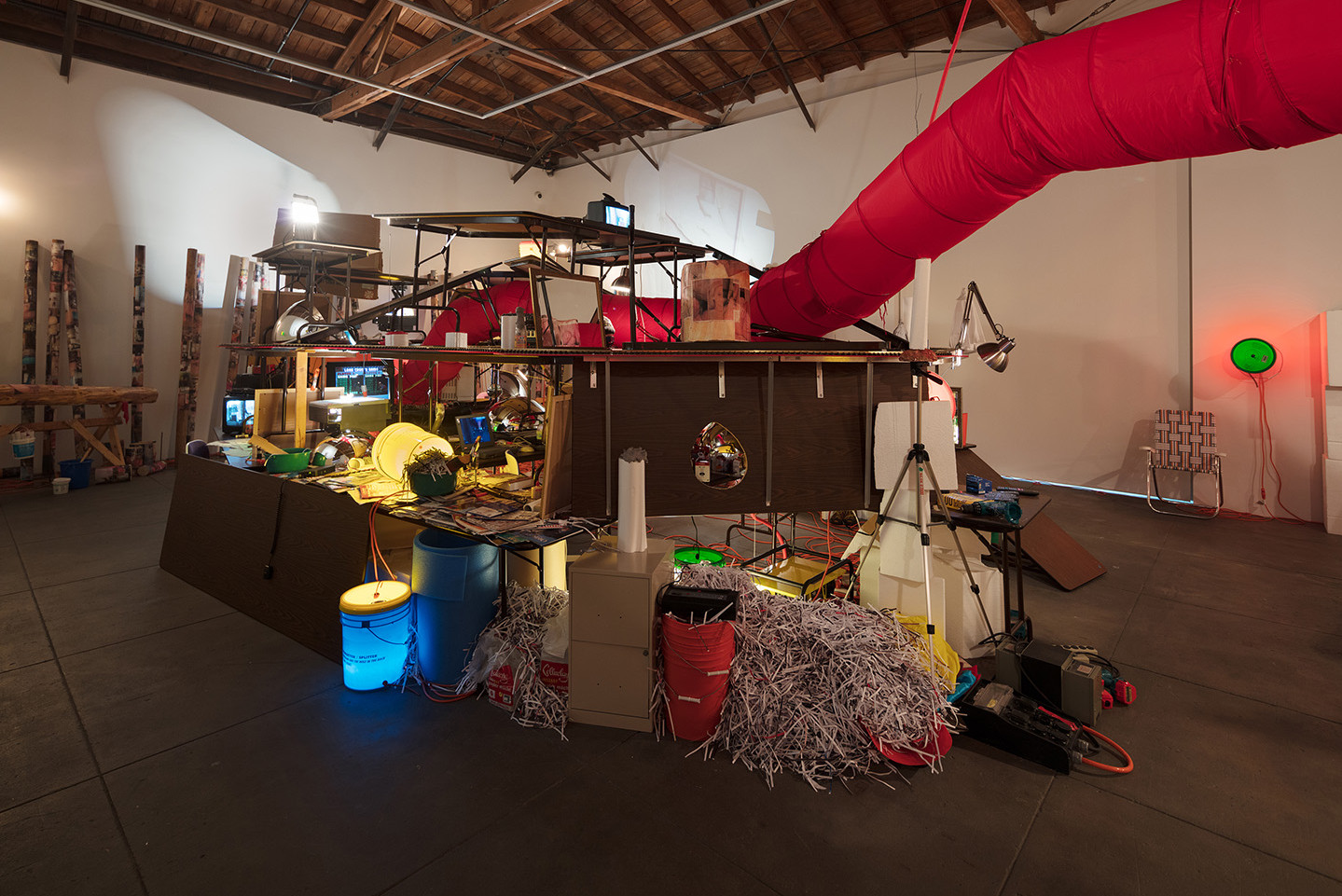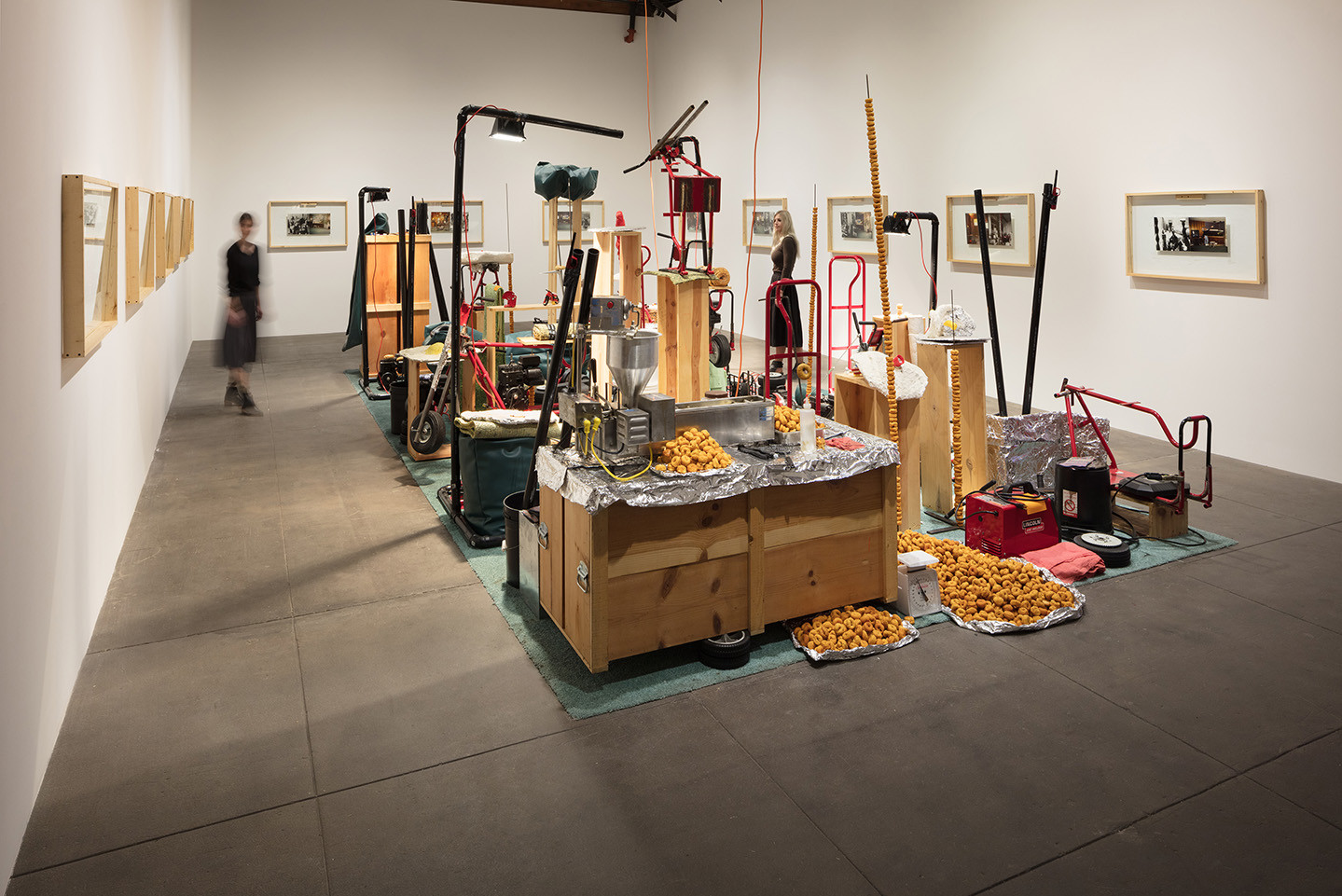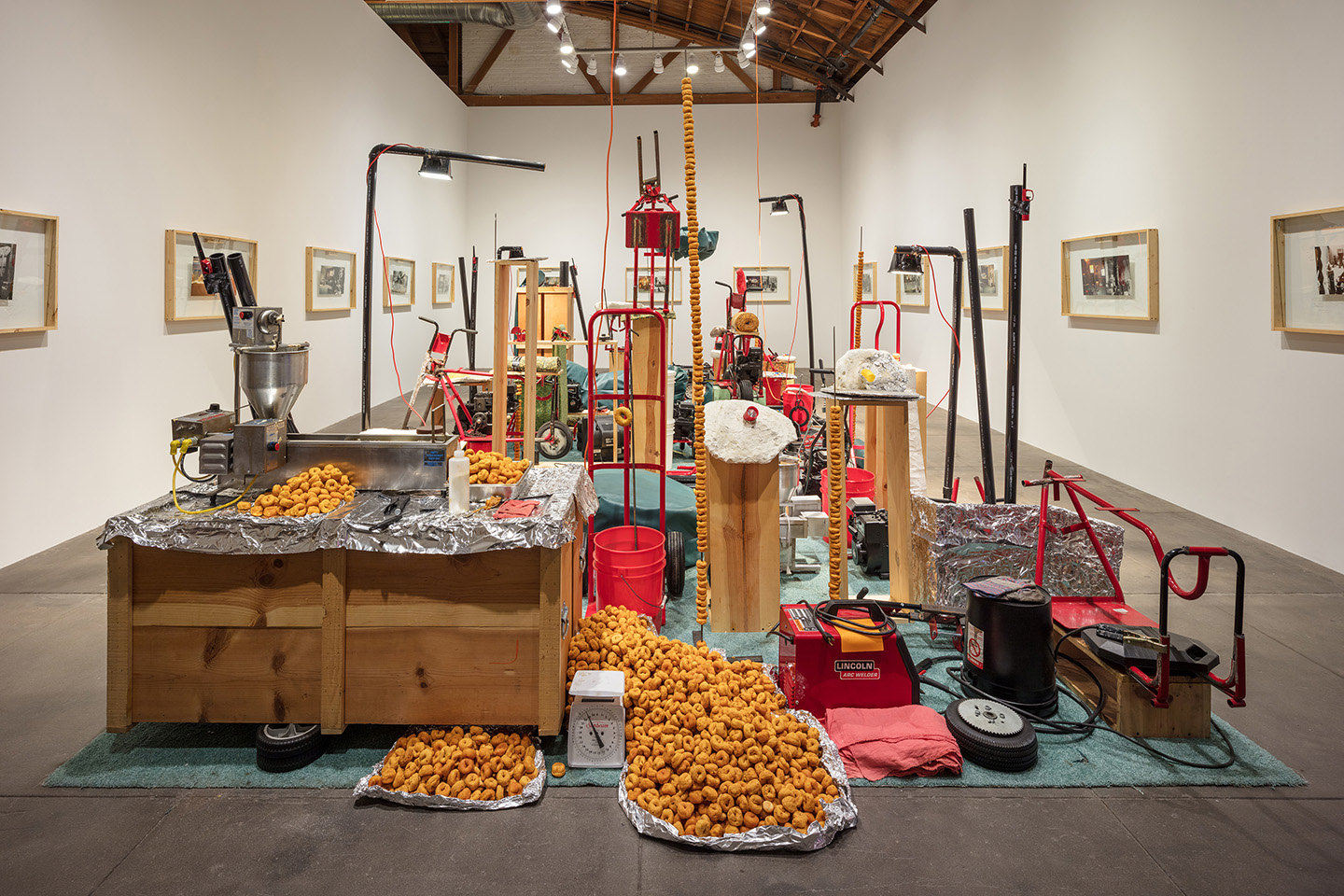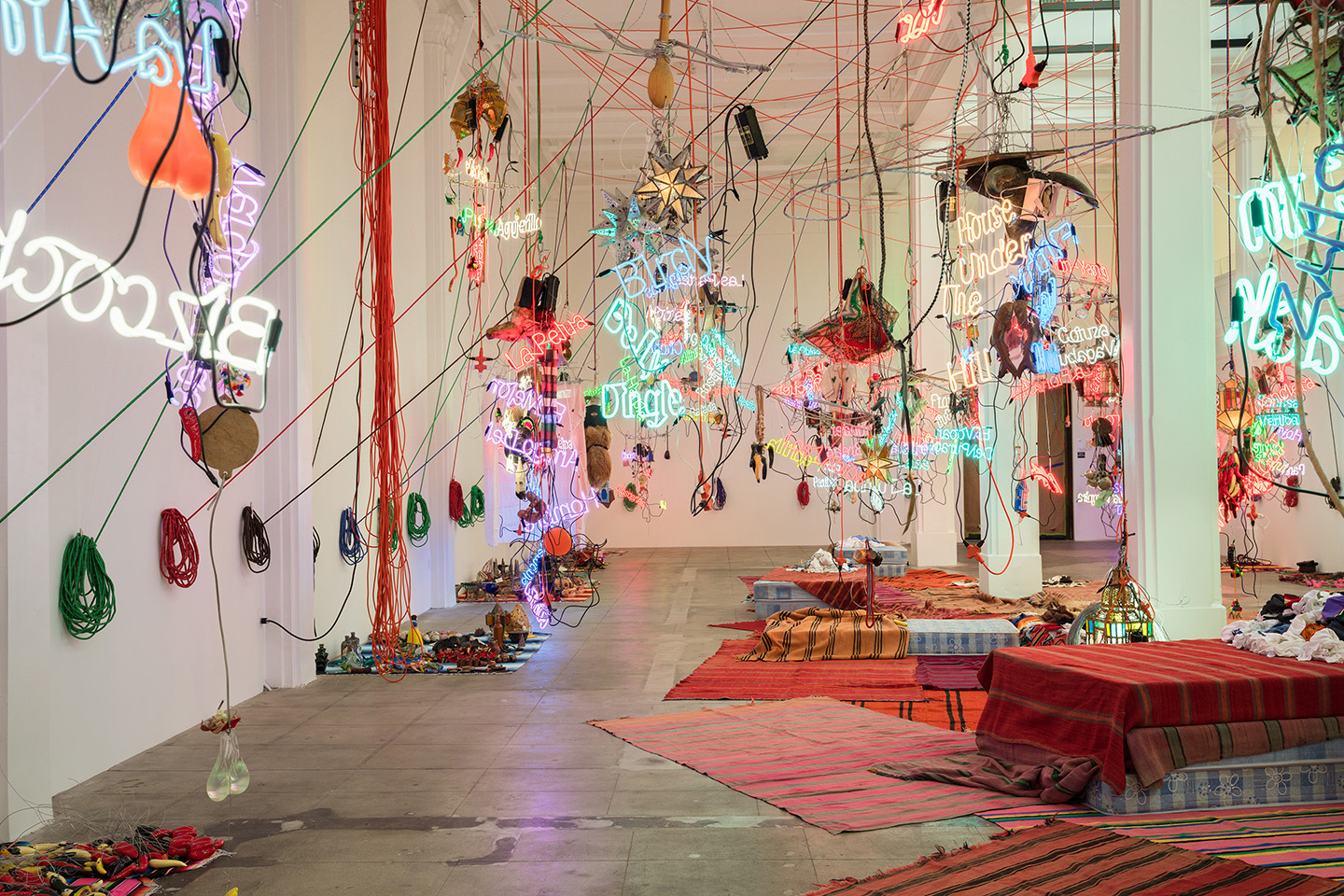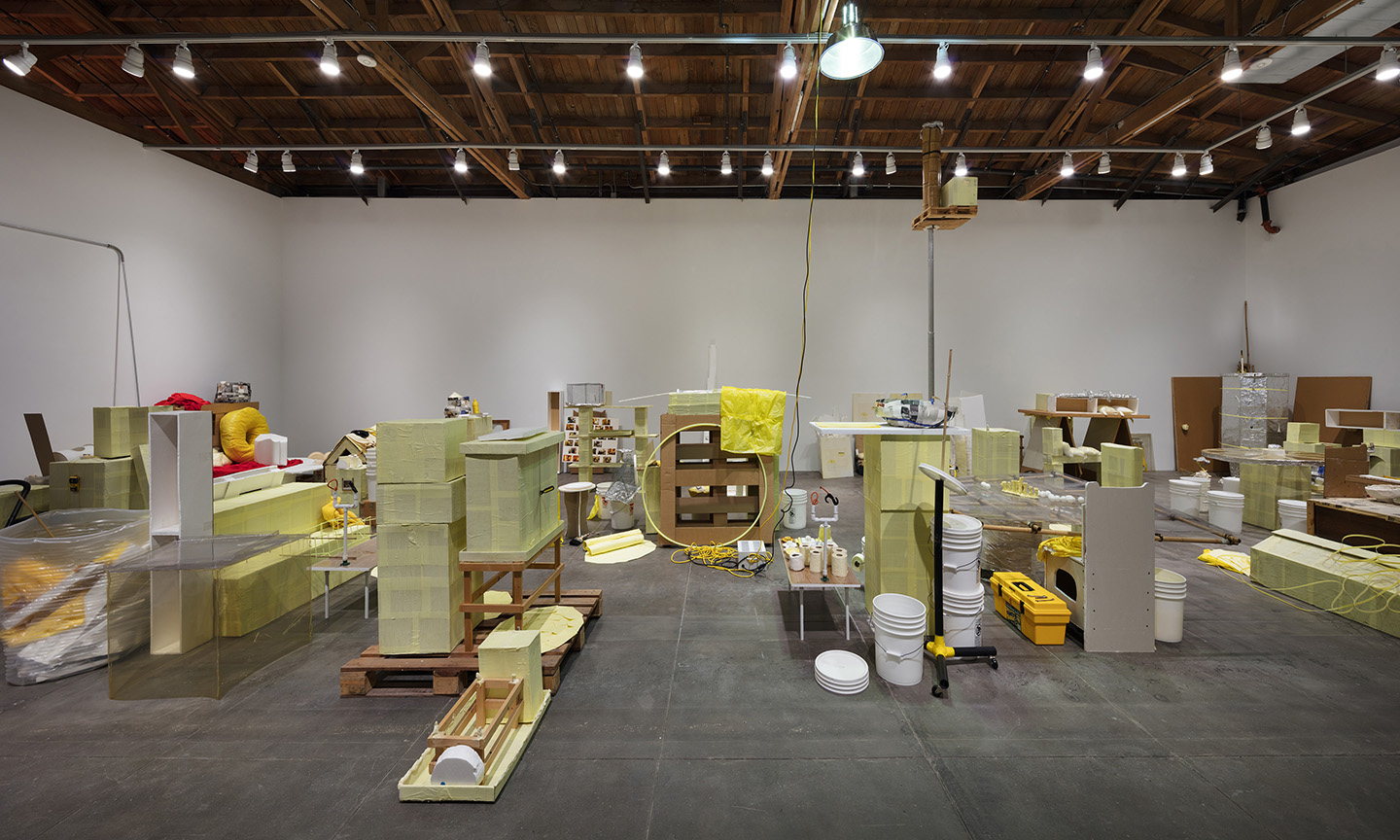 by Sabrina Tarasoff
On the overwhelming feel of his installations, Jason Rhoades remarked to an interviewer: "I think people should be overwhelmed. I think it should shut you down; it should make you give up something. I think you should come to a work of art and be able to offer it something and be able to stand here with it and just say, 'yeah, I'm prostrating myself, I'm giving in to you.'"1 Basically, the point of art—or Jason Rhoades' art—is to be thrown into a situation and yield to it; what the sculptures solicit is participation, even if that mostly implies staring in from the outside and feeling other to the party. It is an experience akin to watching porn, being slapped (the adage being that you can't think and be hit at the same time,) or feeling vertiginous in the centre of a soirée. Debauched, dissociative, virile, seductive, vain: Rhoades pushes the viewer into a Brahms and Liszt (read: pissed) blur between thought and action, wherein being slapped can stand surrogate for an idea and the instinctual is shot up with new use value. There, Rhoades finds his working space: a k-hole-esque state of dissociation where subjectivity runs off only to consecrate in assemblage, sculpture-as-situation.
In Hauser & Wirth's current exhibition, Jason Rhoades Installations 1994-2006, you move from the leisure economy of the blue-chip courtyard into a maze of six of the artist's major works placed back to back such dizzying brio. Rhoades's appeal for his public to be thrown is particularly true upon first entry, at least mine, where hay-blond clusters of modular furniture could be on loan from zero-degree porn sets, set in the idyll of Ingvar Kamprad's Sweden. The nubile bathroom cabinets, shelving systems, and makeshift appliances of Rhoades's Swedish Erotica and Fiero Parts (1994) are stacked and wrapped in legal paper the customary color of buttery Swedes, straight-out braid-bearing Joe Sarno films. Which, by the way, in researching Scandis, whose libido might match the Fiero's verve, led me (and apparently Chris Kraus2) to Vilgot Sjöman's pre-Seduction of Inga movie I Am Curious (Yellow) (1967). The cultish feature is described by one online commentator as "extremely boring: 2 hours of discussions on Swedish Socialism and 2 minutes of sex on a balcony," (consensus politics arguably the reason why Scandinavia lost its mojo after the '70s,) yet finishes in a still of a legal-pad-haired Lena Nyman sitting cross-legged on the ground, in front of a flashy yellow sports car. It's not a Fiero, but the visual pun hits home.
This image shatters into hundreds of metonymous objects—pale rays, if you may—all from a smiling, Sylvia Plath-esque photograph of his golden-blonde mother, lemony Christian Dior socks, buckets of pee-colored paint to burnt orange sponges and aluminum foil decor. Each thing doubles like Cockney slang, in the way in which bottle and glass becomes slang for arse; the stuff substitutes for meaning, becoming metonymically associated through Rhoades' cataracting thoughts. What you are giving up, if Rhoades' desires are to be fulfilled, is control. Surely, there is an indulgence to Swedish Erotica, as well as installations like My Brother/Brancuzi (1995), as the eye selects its own routes; the viewer parses through the installations finding their own points of pleasure. Still, the subtractive, cardboard pavé, just as the wooden crates and mini donuts bring you to your knees with force—and designation—implying Rhoades' stronghand in the whole act.
Adjacent, both The Creation Myth (1998) and The Black Pussy . . . and the Pagan Idol Workshop (2005), home in on sculpture's tight spots, easily taken at face value considering the sheer volume and density of both pieces, but more abstractly deal with the predicament of wanting to have, see, and feel everything at once—that modern phenomena of instant gratification and an endless intake of stuff. In the The Creation Myth, what Rhoades heralds is a manic, sprawling clusterfuck of great ideas with legs as long (and as pleasurable) as those on bronzed Swedes in boozy 1970s softcore flicks. The long rods lining the walls around the installation act analogous to this, which is to say, here too, porn and IKEA go hand in hand. Plastered in explicit material, hardcore in comparison to braid-bearing blondes, what 'pillars' a studio practice is inevitably fornication—or couplings. The libidinal impulse behind the creative act—porn suddenly a Duchampian feat—is offered up as the stuff of origins, readymade images that masturbate idea into being. (One apparently can think and masturbate at the same time.) Think the porn star as a modular unit, a self-assembled site for fantasy. The viewer is drawn to Rhoades' lewdness, despite all the moral predicaments—which Russell Brand put better than I ever could: "Porn is a bit of a dark place, isn't it? People are exploited. But try not to think that while you're masturbating. It will ruin it."3
The Creation Myth is not about pornography per se, or at least exclusively, but rather visualises the chaos of making as a series of neural pathways, firing away orgasmically much like the Internet's irreducible desire lines. Sometimes you don't know where you end up, nor how an orgiastic search (for something exciting, unexpected) spills into form. Black Pussy . . . and the Pagan Idol Workshop allows the viewer to partake in that slew of libertine connections and assenting objects. (This, literally in the infamous Alex Israel MC'd Black Pussy soirées and by proxy in the installation.) In the center lies a pristine white bed, a nascent pearl "thrusting through history, scraping and bumping."4 Amid chandeliers, chrome shelves, neons of synonyms for the word "vagina," hookah pipes, Stetsons, and rocks described as integers of a Chinese creation myth, the bed invites a near-spiritual repose. The same goes for My Madinah. In pursuit of my ermitage . . . (2004). No longer under the gaze of theory (although evoking Deleuze, Bataille, or other psychosocial propositions is certainly tempting), the viewer is recumbent in Rhoades's dissociative transports, which like magic carpet desiring-machines, produce and modulate belief like a social commerce you can think into being.
To experience Rhoades's work is to be struck on an experiential level, yet also in relation to the pulsions of a culture compulsively dragged by images, celeb gossip, Turner paintings, porn, exoticism, modular furniture, Alibaba, Amazon, sick sports cars. (And TV, infomercials, stuff, flea markets, parties, pussies.) The installations feed on energy, the crowd gone wild, stupefied, curiously glaring into the act of making, copulating, splooging out potential social models. The draw of his work is arguably in its unadulterated refusal to partake in a puritanical society, which seems too fastened into political correctness. Not that this need be drawn into a political context—the work, microcosmic, stands on its own—but the removal of trigger warnings and safe spaces has a timely appeal. Rhoades asks to act on impulse, edging on art-for-arts-sake, but seems to also lead the viewer into a place where they can question their own limits.
1. Rhoades, Jason. "Interview: Michele Robecchi and Jason Rhoades." Interview by Michele Robecchi. Contemporary Art Magazines. N.p., n.d. Web. 29 Mar. 2017.
2. Kraus, Chris. "Jason Rhoades, American Artist." Jason Rhoades: Four Roads. Ed. Ingrid Schaffner. Philadelphia: Institute of Contemporary Art, U of Pennsylvania, 2014. N. pag. Print.
3. Almendrala, Anna. "Russell Brand On Condoms In Porn Mandate: 'That's Going To Take The Fun Out Of It' (VIDEO)." The Huffington Post. TheHuffingtonPost.com, 08 Nov. 2012. Web. 29 Mar. 2017.
4. Hauser & Wirth. Jason Rhoades The Black Pussy… and the Pagan Idol Workshop. Hauser & Wirth. N.p., n.d. Web.
.
at Hauser Wirth & Schimmel, Los Angeles
until 21 May 2017