Mousse 71 TIDBITS
Mother Is a Woman: Jes Fan
Close
1
2
3
4
5
6
7
8
9
10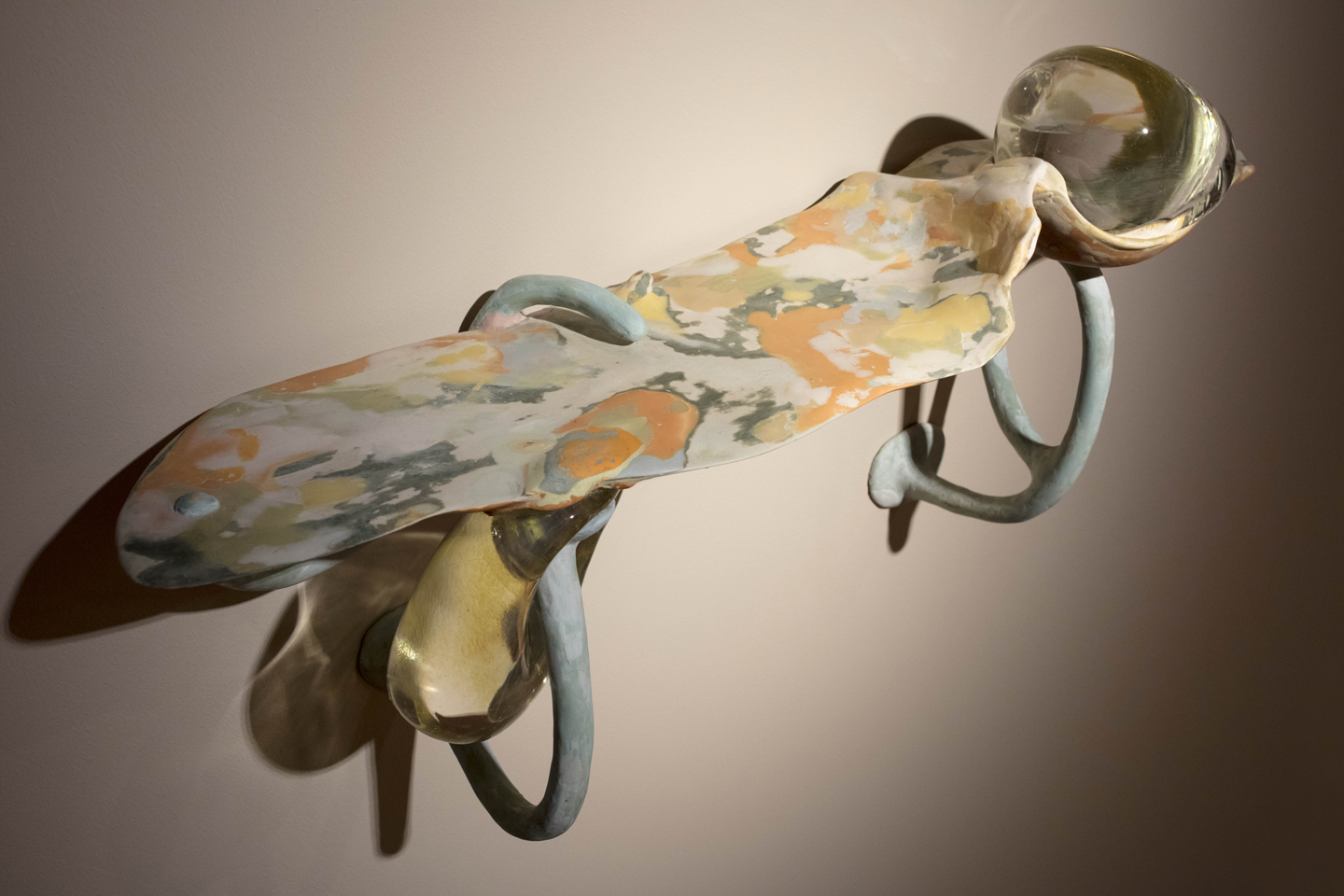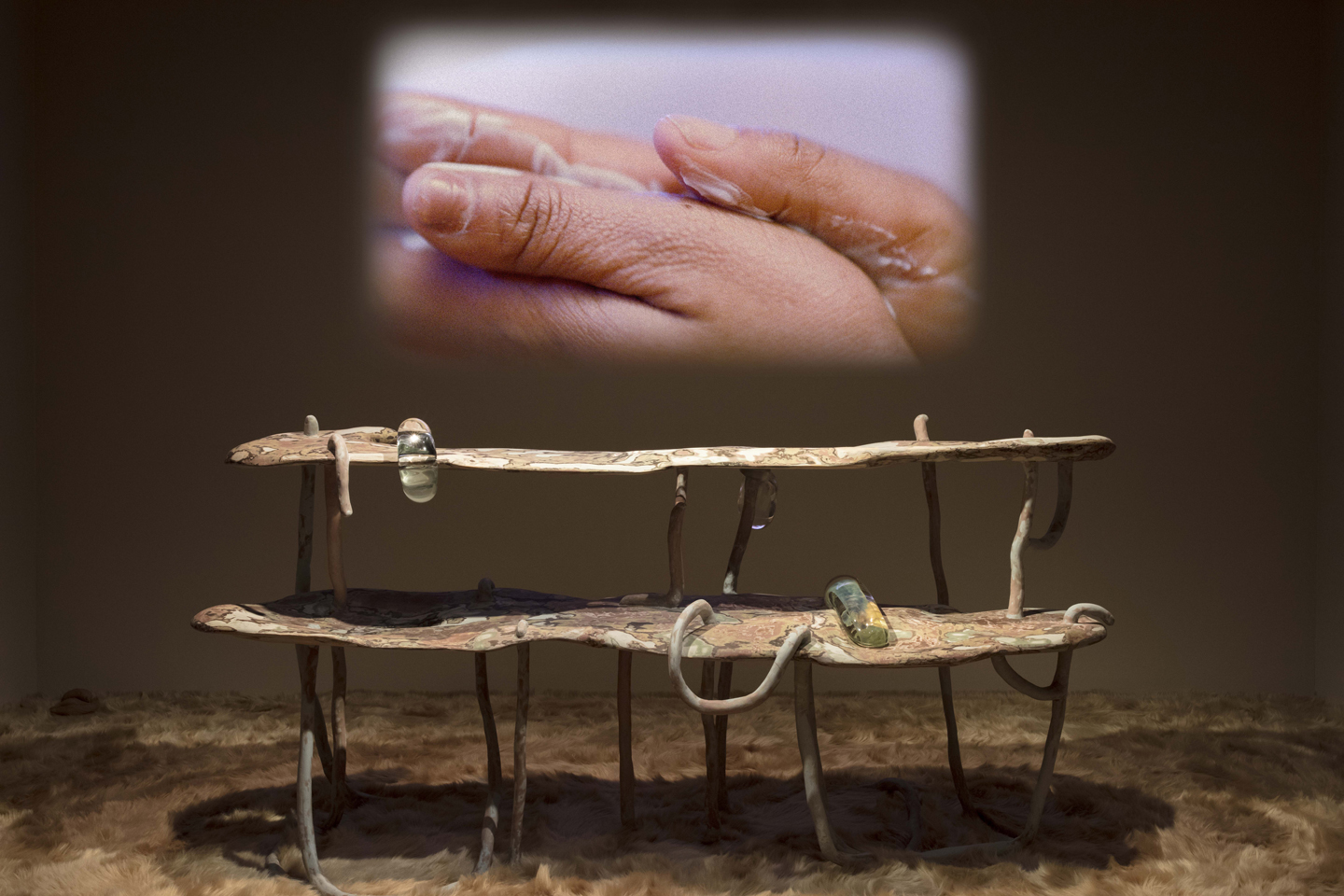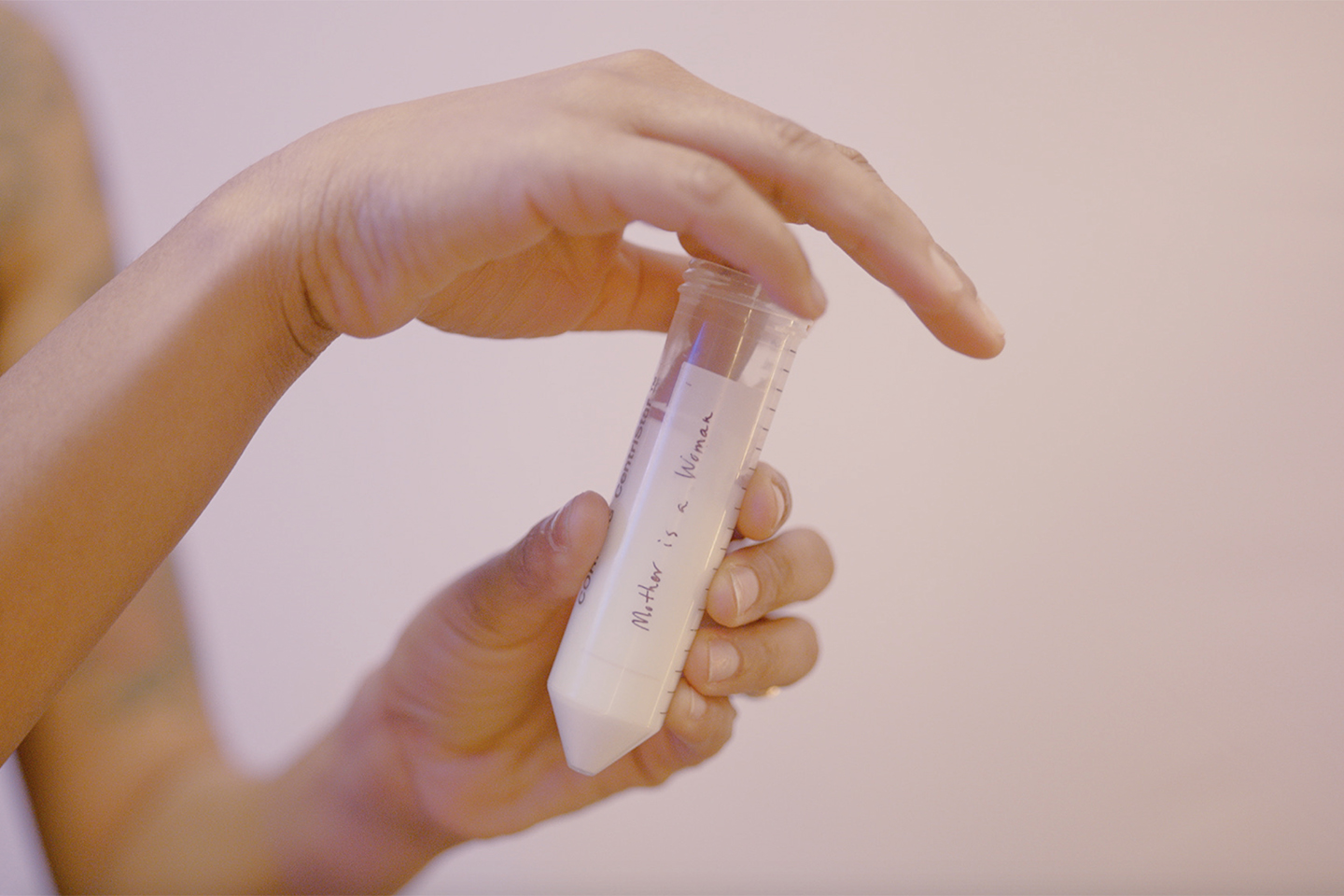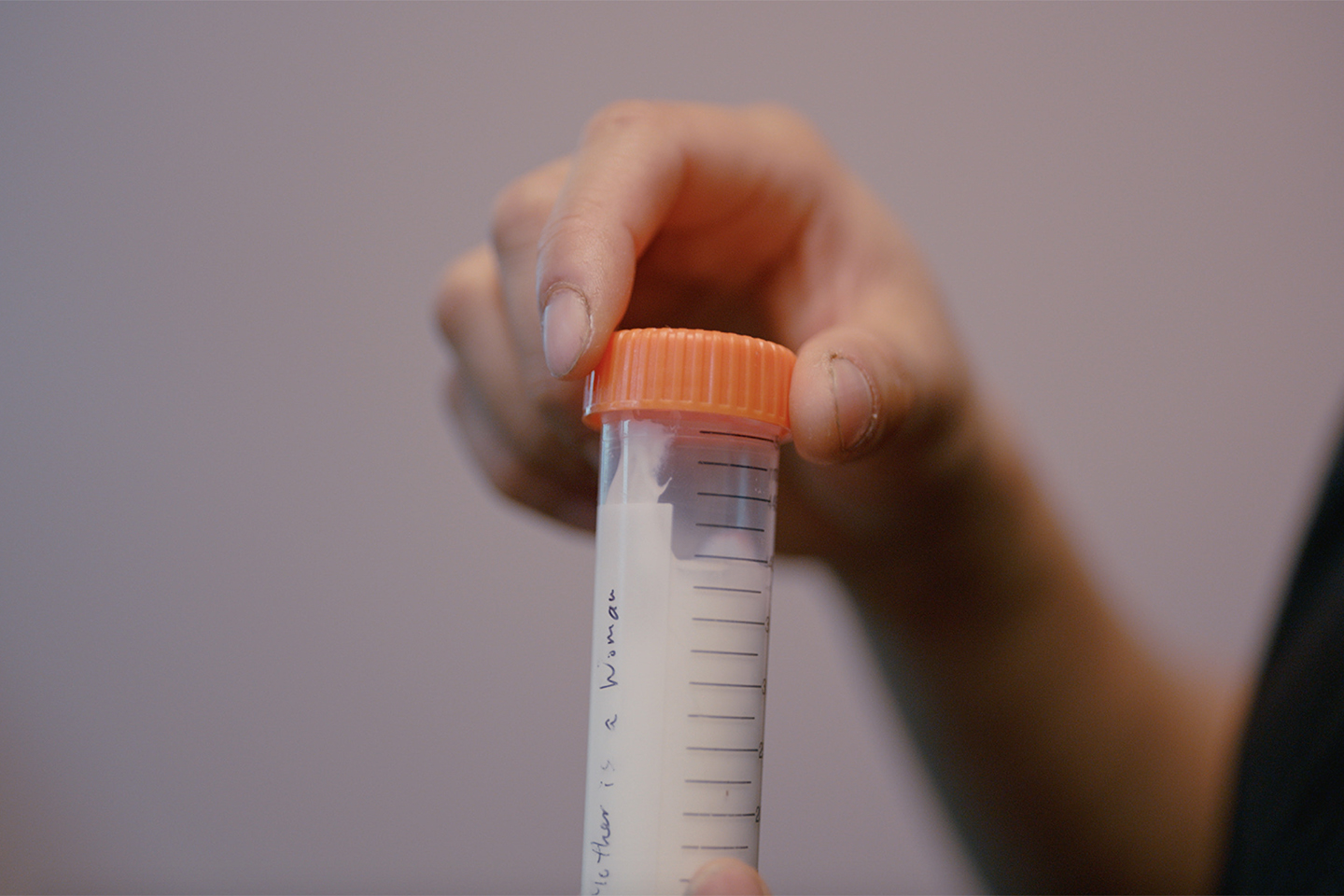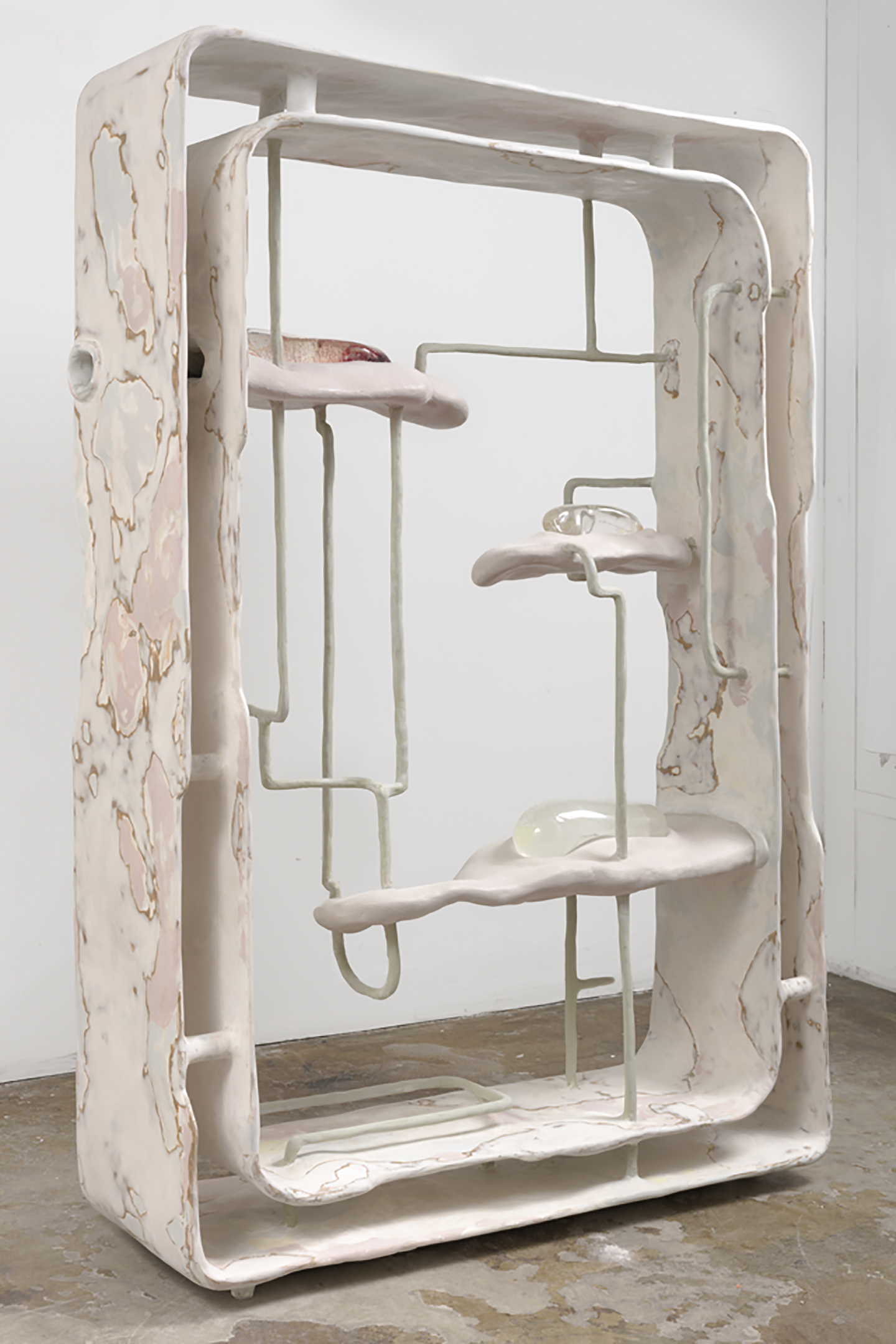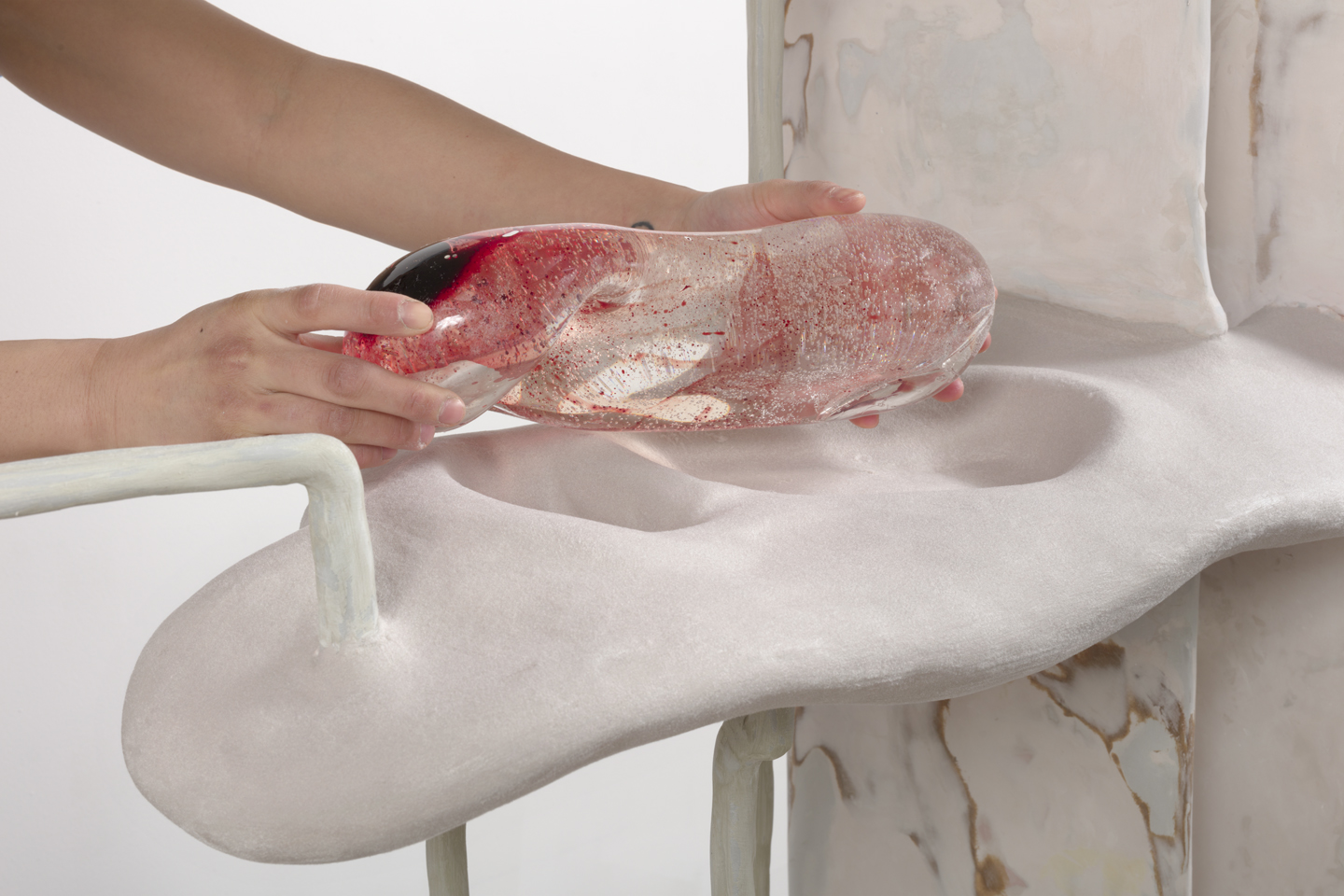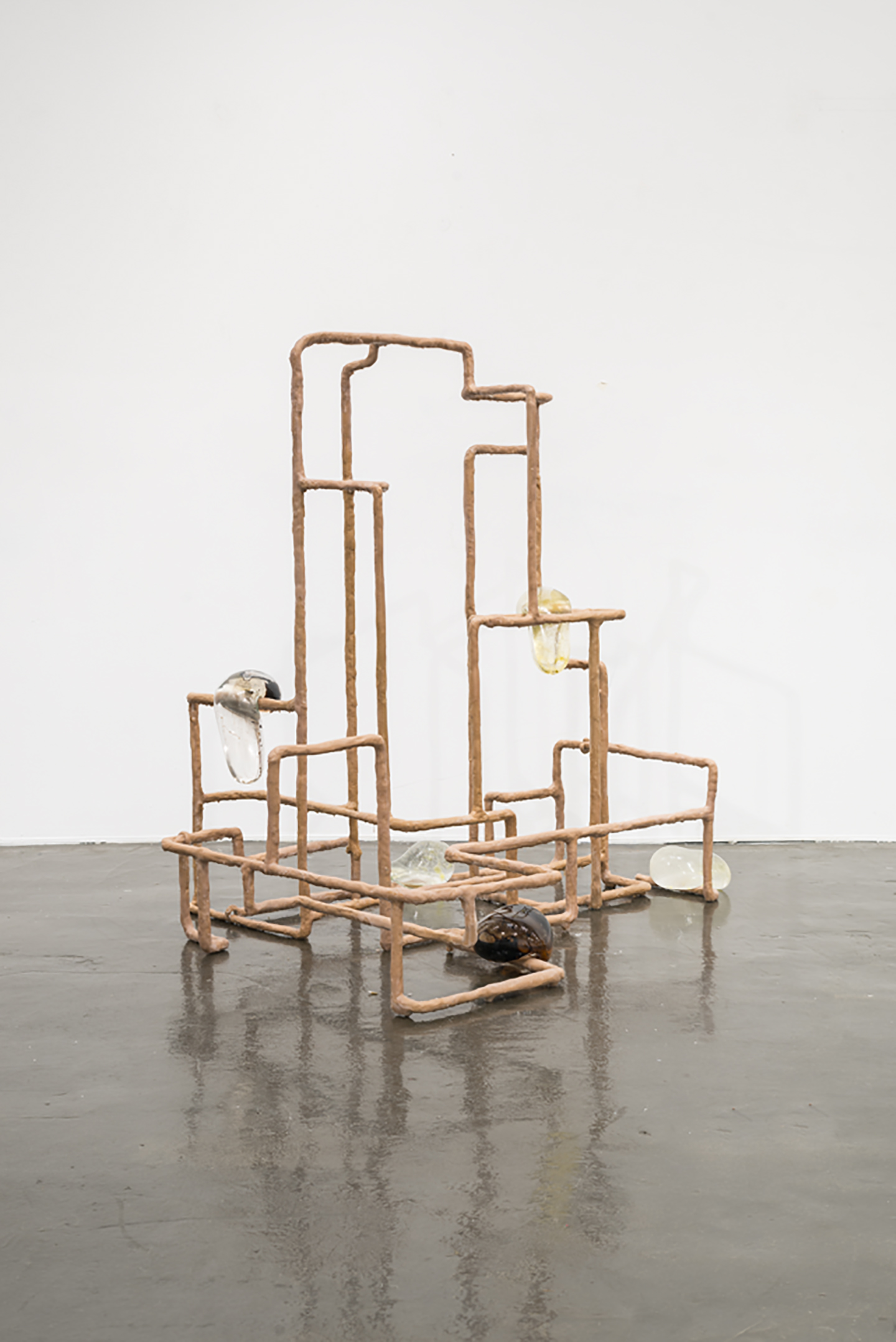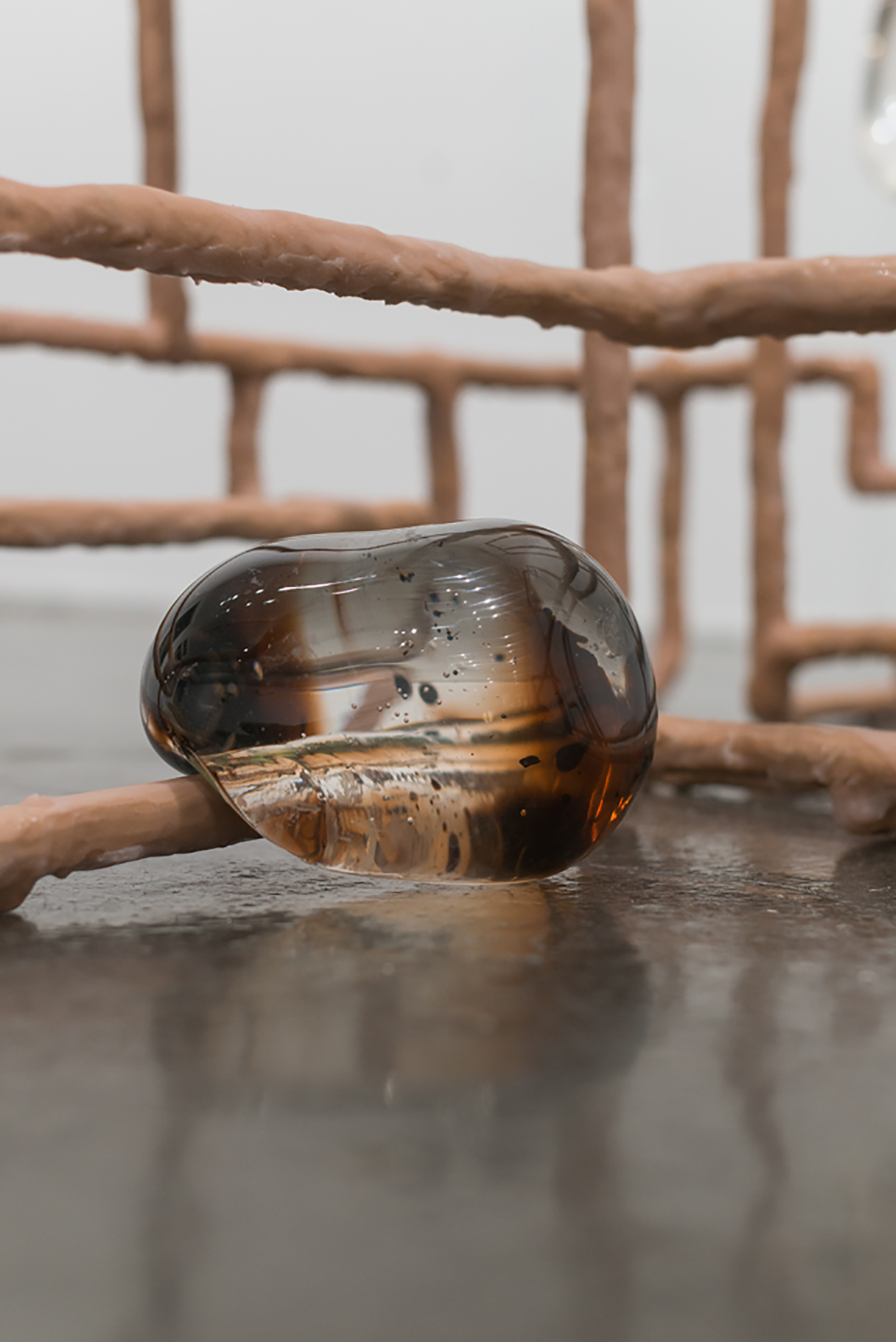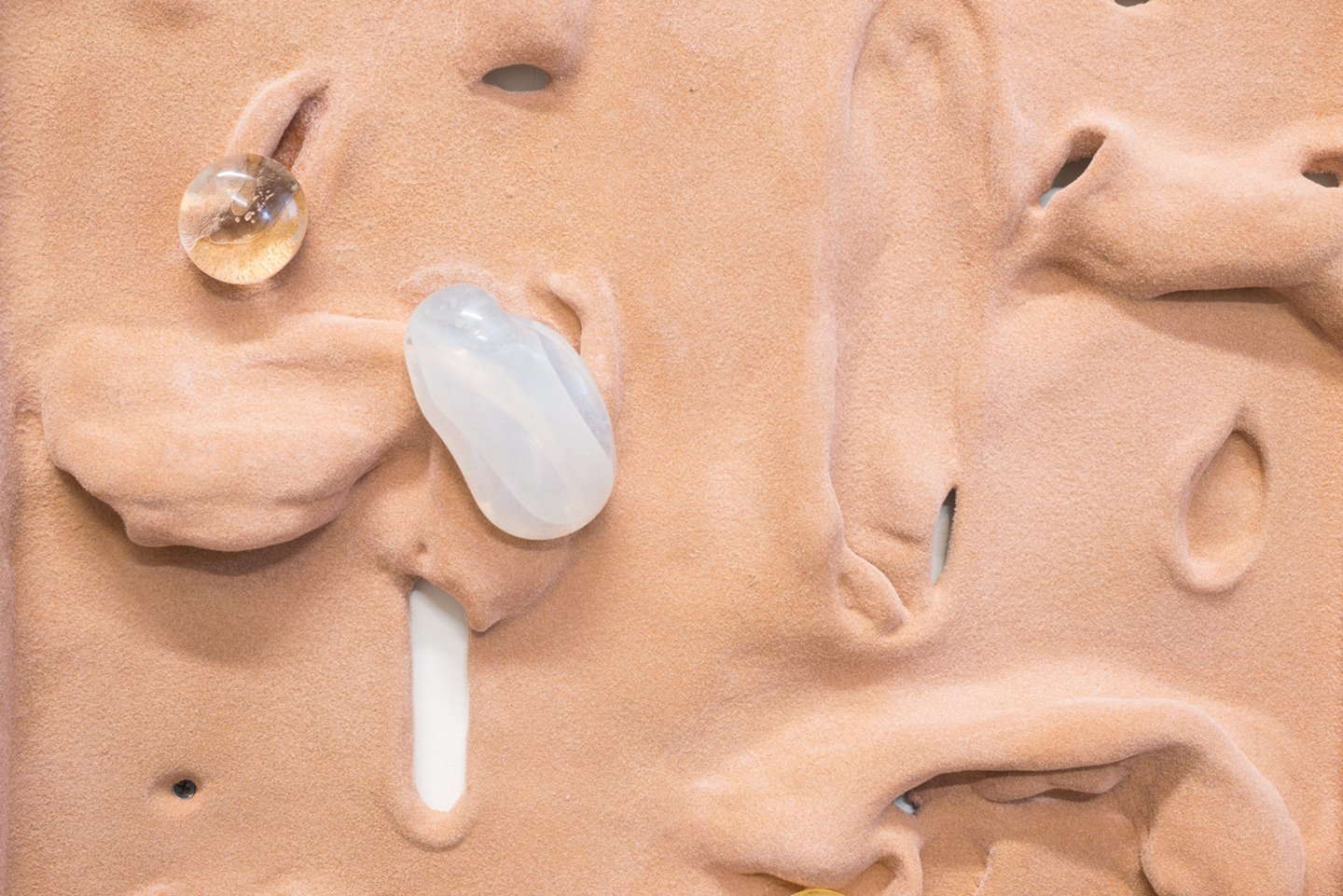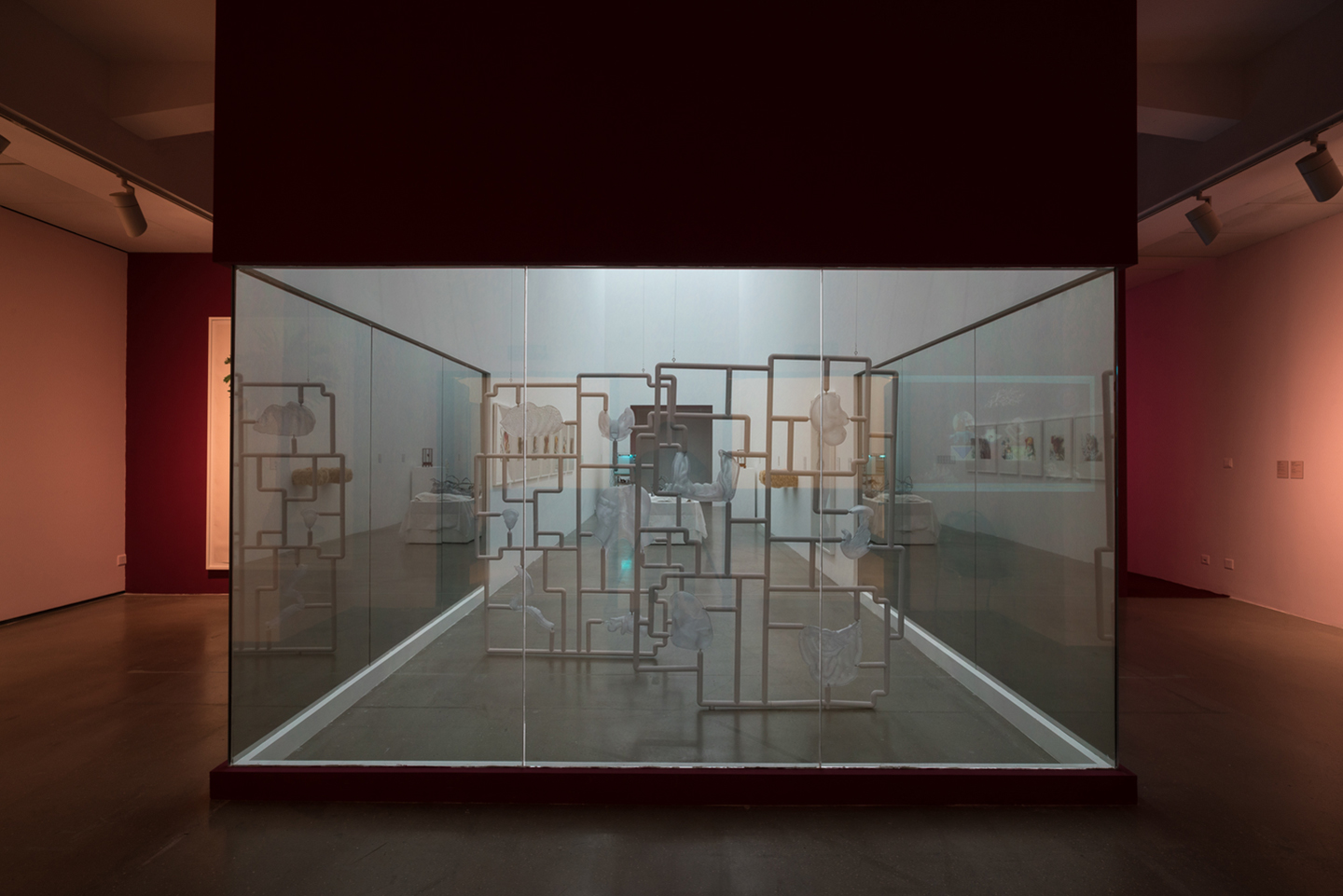 by Billy Tang
Hormones, silicone, and soap find themselves working in coexistence with glassblowing and laboratory methods of extraction and synthesis in Jes Fan's androgynous array of assemblages, which bring together biology and craft. Some appear furniture-like, thanks to armatures and extensions; others act as chemical-based interventions that permeate the bodies of participants. The works are unmistakably sculptural in terms of how the capacities of materials and concepts, natural and artificial, are harnessed together, modified, and/or lathered into one another. There is also a subtle biographical undercurrent through compositions constructed with a medical-like level of precision, and where intersections frequently occur with concepts of otherness, identity formation, and the biopolitics of a gendered body.
A key dimension of Fan's practice is its focus on structural questions that underpin moments of racial or gendered "othering," resonating with what Mel Y. Chen articulates as "animacy." Originally a term in linguistics, Chen uses it in an expanded sense to encompass our generative relationships with the natural world, inorganic matter, and other trans-natural structures. Chen cites a scare related to lead contamination in children's toys that in the U.S. came to trigger latent fears of an exogenous contagion—where toxic levels of lead were suddenly animated through an associative jump into shorthand for something irrevocably "Chinese" endangering the homes of white suburbia.1 Fan responds not only to the visceral aspects of this animacy, but also to the precarious moments where they latch onto traits associated with the physiology of the human body, which are rendered either abhorrent or emancipatory, depending on their inflection within the dominant culture.
In the Diagram series (2018–ongoing), Fan reflects on the epidermis as a site where racial differentiation emerges out of and becomes reassembled into a modular assembly of biomorphic armatures using handcrafted elements combined with science. Approximations of the skin's outer layer are scaled to the proportion of tables and shelves, acquiring architectural functionality as support structures for an arrangement of hand-blown glass orbs coaxed into shapes that recall the buildup of fluids, tumors, or other organic extensions of the body. This subtle dissonance between familiarity and abjectness hovers across the many fragmented bodies of Fan's work, where resistance takes the form of deconstructing formations of identity and social organization.
In Fan's treatment of melanin, the biological pigment responsible for color in human hair and skin is artificially grown in a laboratory. The organic pigment, once separated from the human body, appears tepid and unassuming as a solitary substance. Its social capacity as the cellular makeup of race relations is temporarily voided out, allowing its material properties to be mined further and stretched toward other applications, such as coatings for the frames and furniture tops of the sculptures. Melanin is known to absorb light, but also for its ability to dissipate and thrive on radiation, and Fan has developed a technique of synthesizing these properties into a new membrane that features in a large body of their work. Together using a mixture of resin, layers of colors coagulate onto one another before sanding down to a camouflage of gradient skin tones. In the diptych Forniphilia I and II (2018), the desire and gratification for the body to be coaxed beyond different physical thresholds becomes an homage to Law Siufung, a gender-fluid body builder whose pierced nipple, chest, and shoulders are tenderly cast as a portrait using the same resin and displayed on a shelf covered in artificial fur.
The experience of diaspora is to be perpetually displaced by the pull between languages, but it is also the accrual of loss and a dispersal of potentialities that shape who we are.2 In Cantonese culture, kinship is a concept deeply ingrained with problems of inclusion and feelings of inferiority. It functions as a relational system that differentiates people according to generation, lineage, age, and gender, which in turn influences how behaviors and desires circulate in the public sphere. The video Mother Is a Woman (2018) is accompanied by an intervention into this order of relations in the form of a skin lotion—one intended for people visiting the enclosed setting of an exhibition, and made using estrogen extracted from Fan's mother's urine. This gesture evokes, in a perverse way, intrusions similar to how we inadvertently inhale artificial aromas diffused into the airways of commercial "deodorized" spaces. In this chemically induced matrix of associative meanings, cosmetic products too are frequently commercial surrogates to convey familial devotion or hospitality, particularly in the ritual gift economy specific to Hong Kong.
This dissolution between bodies, ecosystems, and institutions highlights how entanglements such as social attachments can be bioengineered or manipulated. In the video element of Mother Is a Woman, which serves as a promotional ad for the lotion, the artist uses the transference of sex hormones as a conduit to ask the audience open-ended questions: If your body absorbs a woman's estrogen, are you feminized by her? Does it change who are you to her, and who are you to Fan? Can the epidermis be a first contact of kinship?3
[1]  Mel Y. Chen, Animacies: Biopolitics, Racial Mattering, and Queer Affect (Durham, NC, and London: Duke University Press, 2012). Chen is an associate professor of gender and women's studies and director of the Center for the Study of Sexual Culture at the University of California, Berkeley.
[2]  Jo-ey Tang, "How does one process and understand change at a distance," an unrealized text in response to a conversation with the writer related to issues of diaspora and the practice of Félix González-Torres.
[3] From the artist's statement.
Jes Fan (b. 1990) is a Brooklyn–based artist born in Canada and raised in Hong Kong. Fan has been the recipient of various fellowships, such as the Joan Mitchell Painters and Sculptors Grant; the Jerome Hill Artist Fellowship; the Van Lier Fellowship at the Museum of Arts and Design, New York; and the John A. Chironna Memorial Award at RISD. They have exhibited internationally; selected solo and group exhibitions include the Biennale of Sydney (2020); Kiss My Genders, Hayward Gallery, London (2019); Mother Is a Woman, Empty Gallery, Hong Kong (2018); An Opera for Animals, Rockbund Museum, Shanghai (2019); In Search of Miss Ruthless, Para Site, Hong Kong (2017); Paradox: Haptic Body in the Age of AI, Carnegie Mellon University, Pittsburgh (2018); and Disposed to Add, Vox Populi, Philadelphia (2017). Fan has also participated in numerous artist residencies, including Bemis Center for Contemporary Arts, Omaha; Recess Art, New York; Smack Mellon, New York; and Pioneer Works, New York. In 2020 Fan will participate in the Liverpool Biennial.
Billy Tang is senior curator of the Rockbund Art Museum in Shanghai.