CONVERSATIONS
The Social Lives of Everyday Objects: Jessica Vaughn
Close
1
2
3
4
5
6
7
8
9
10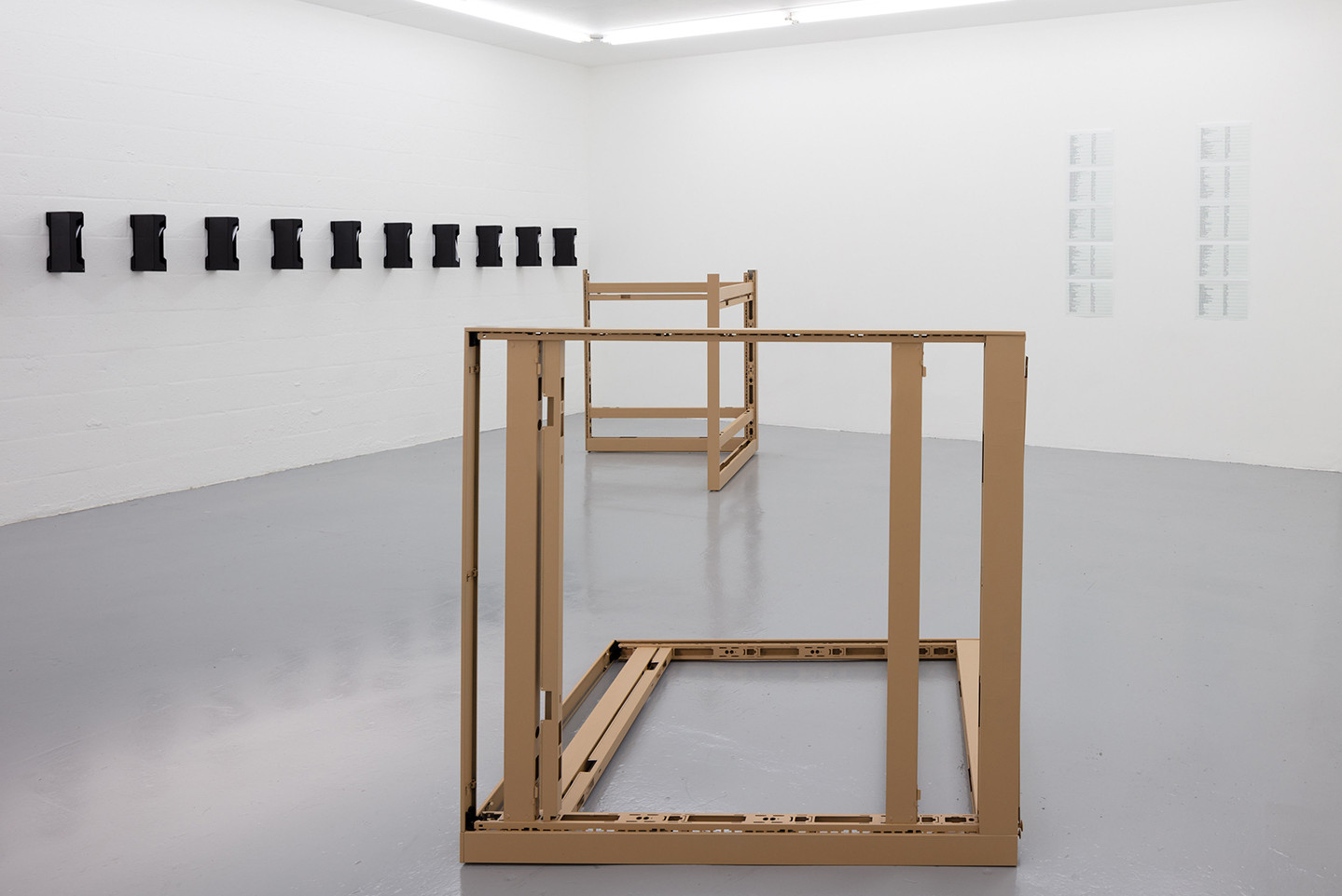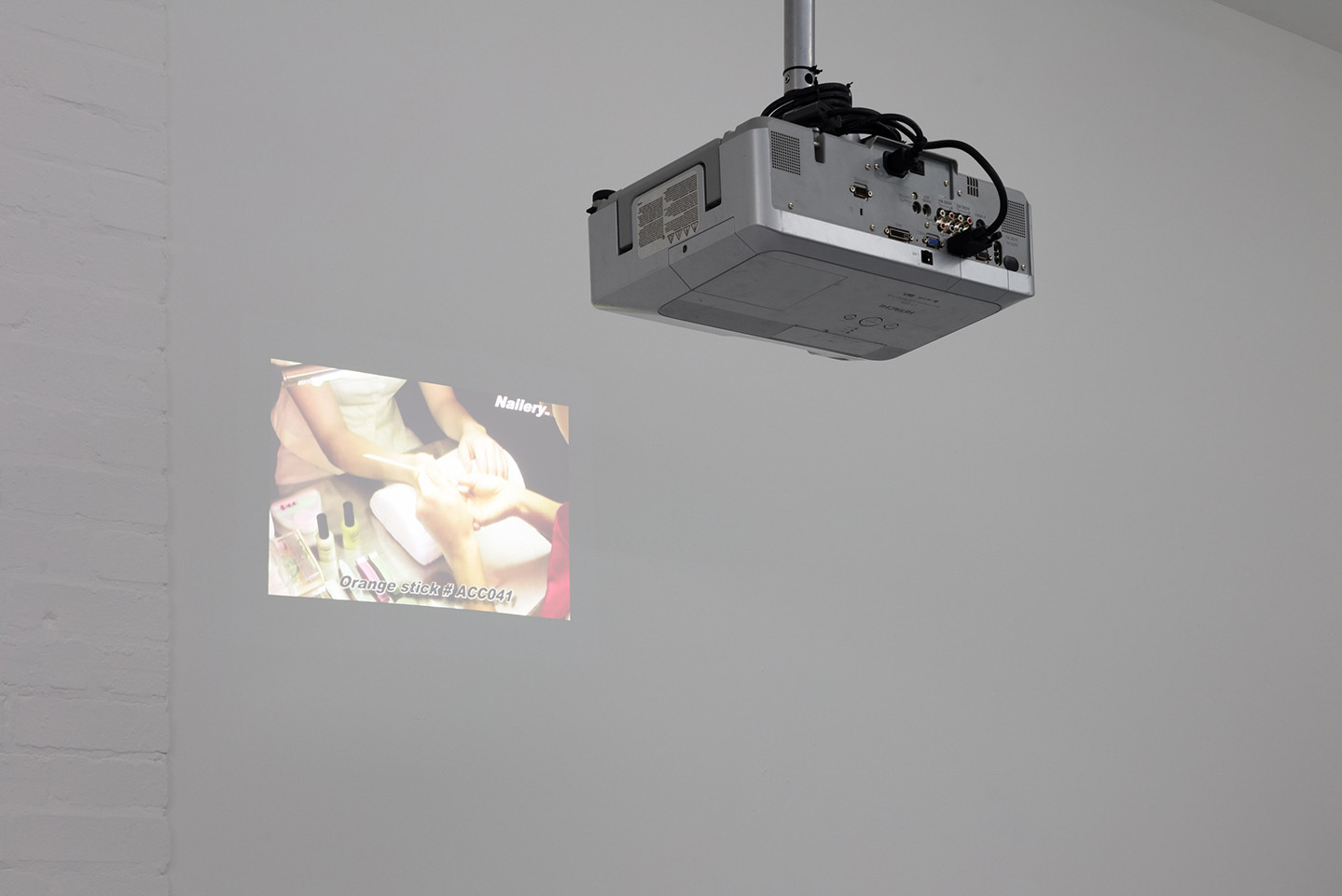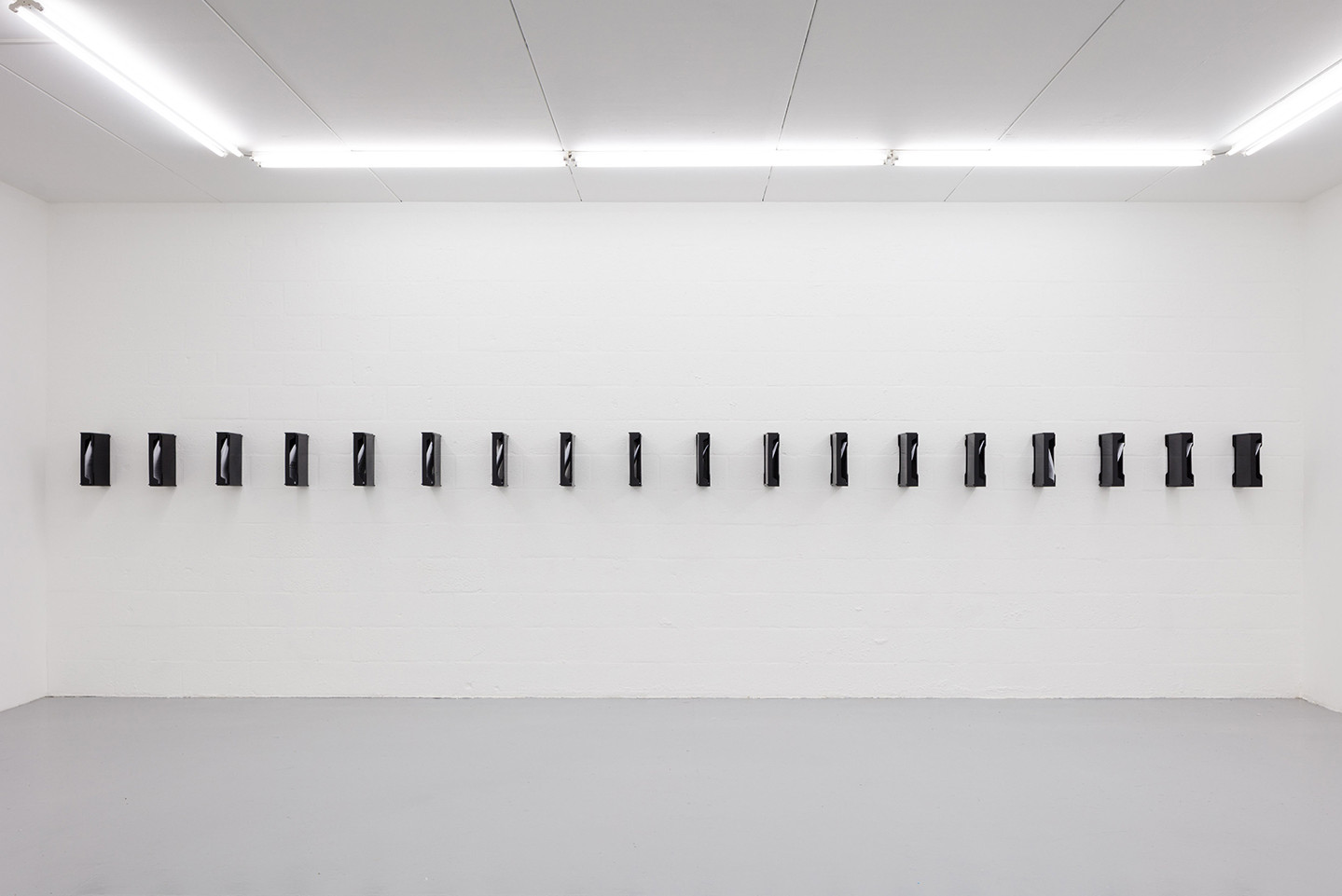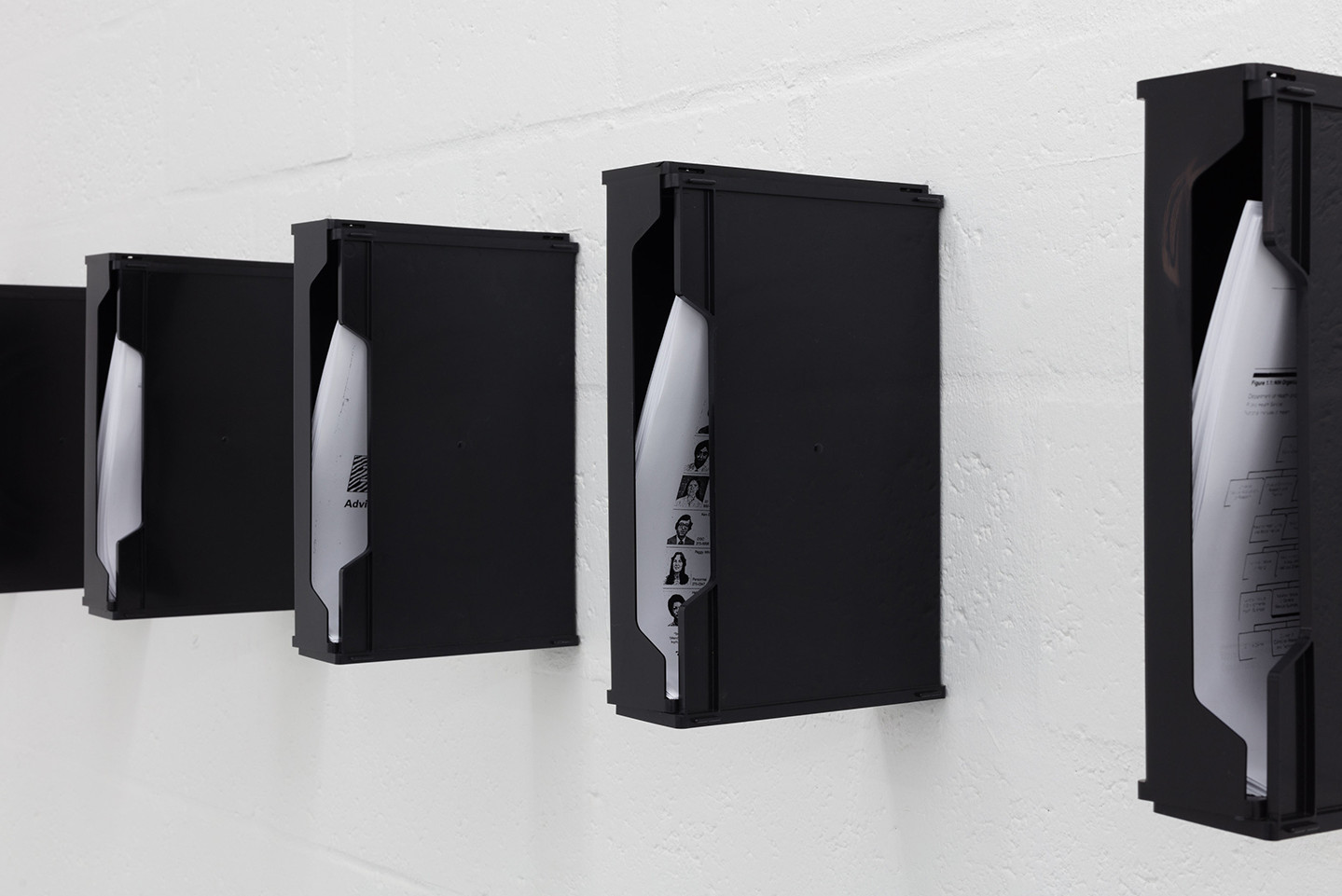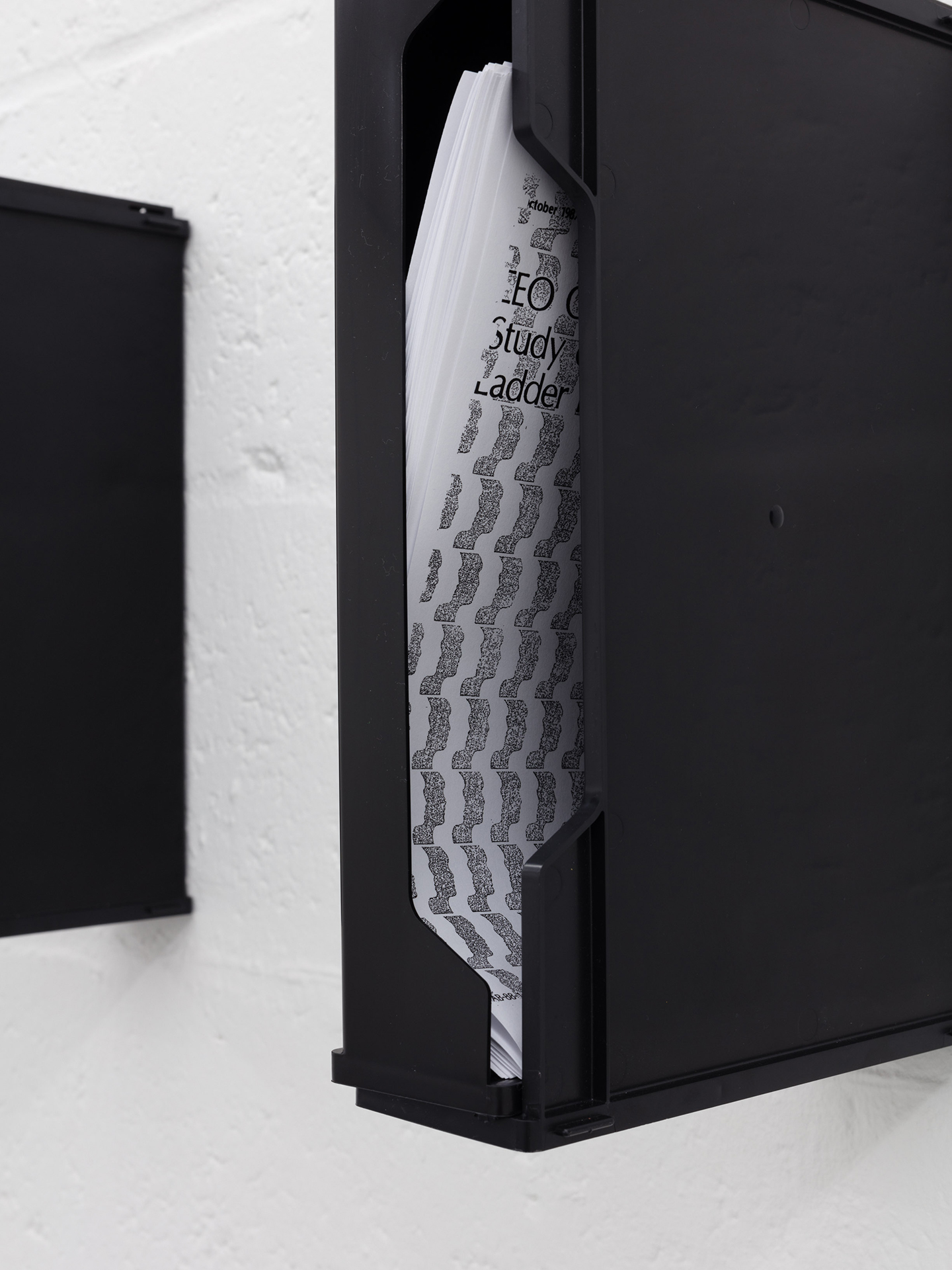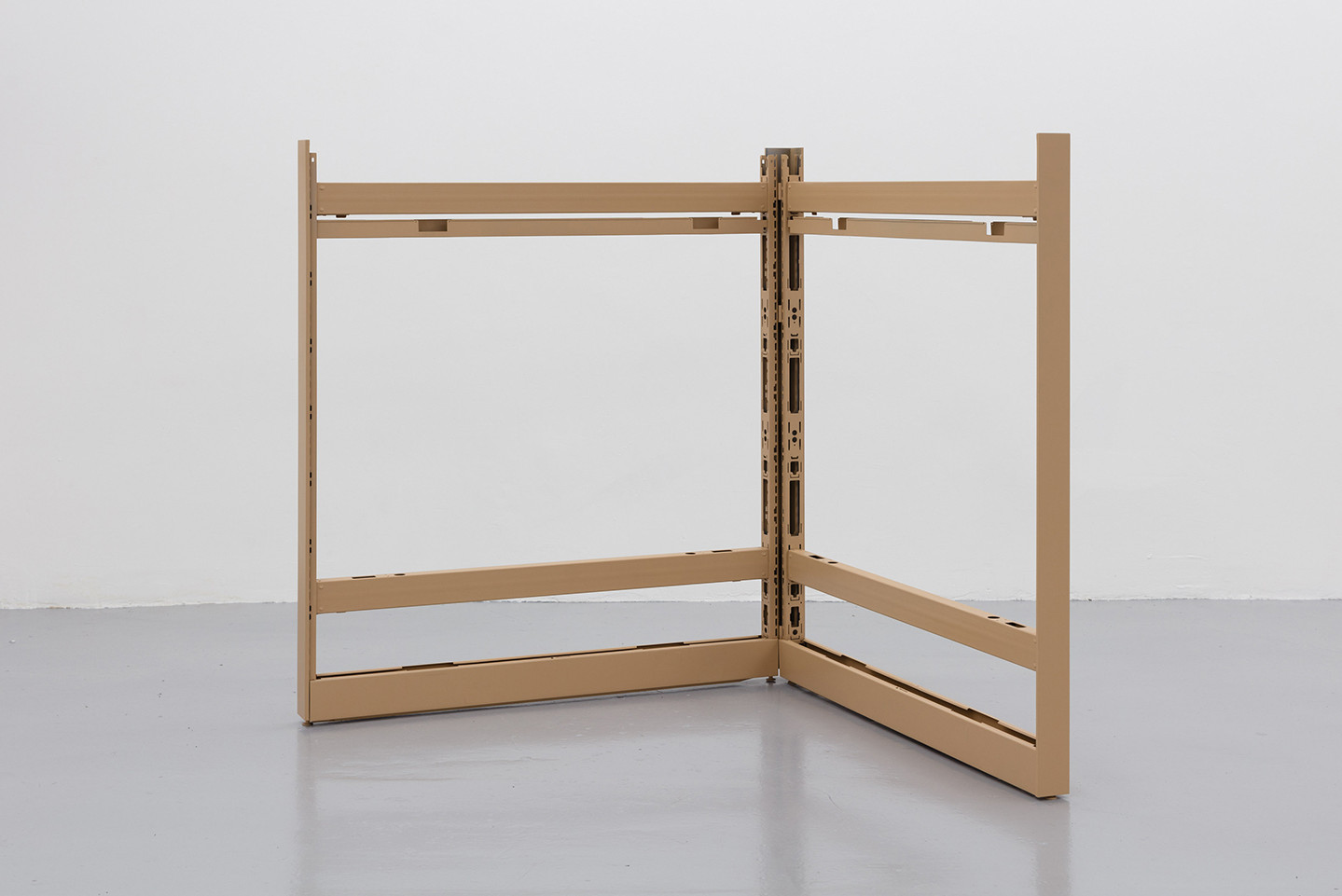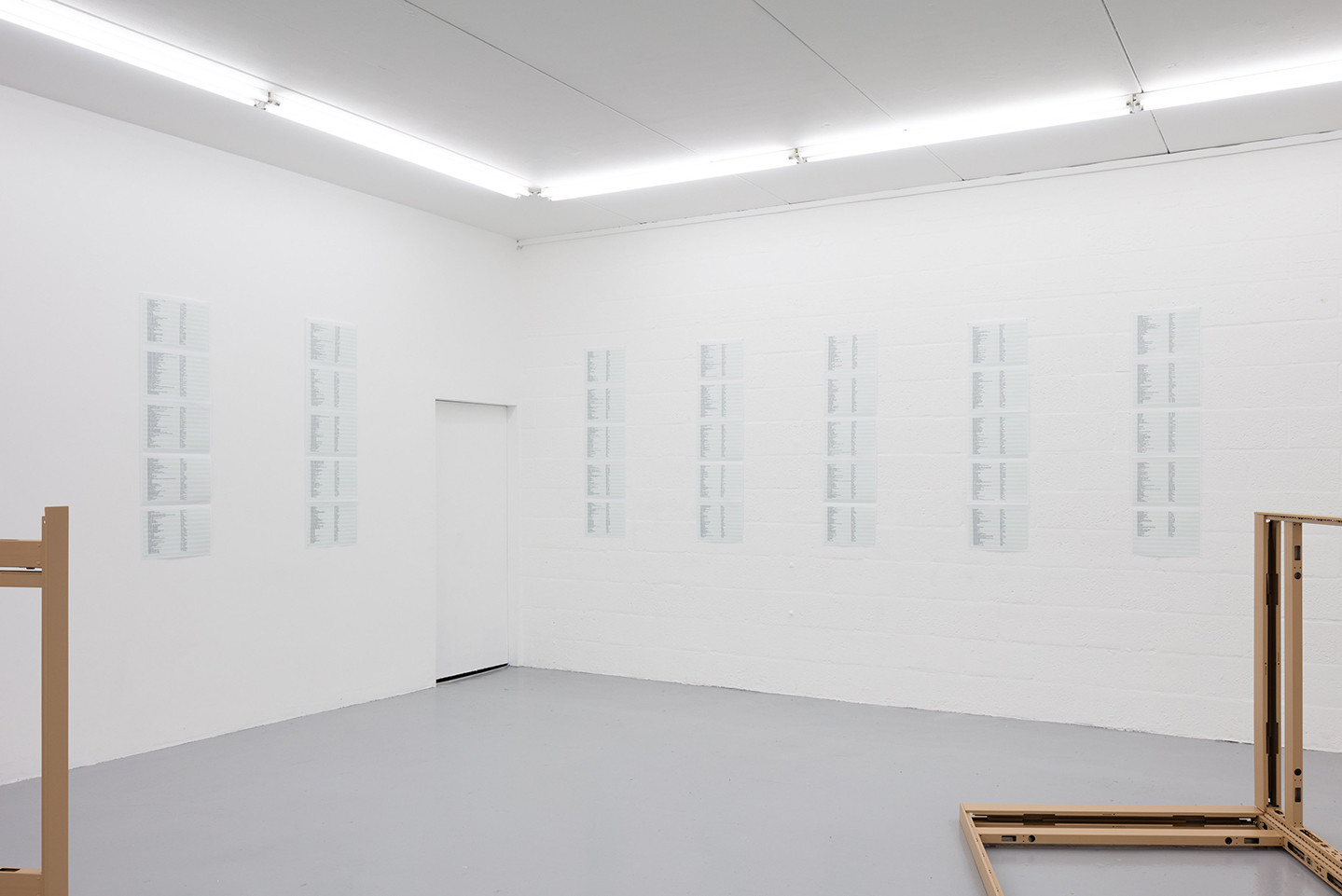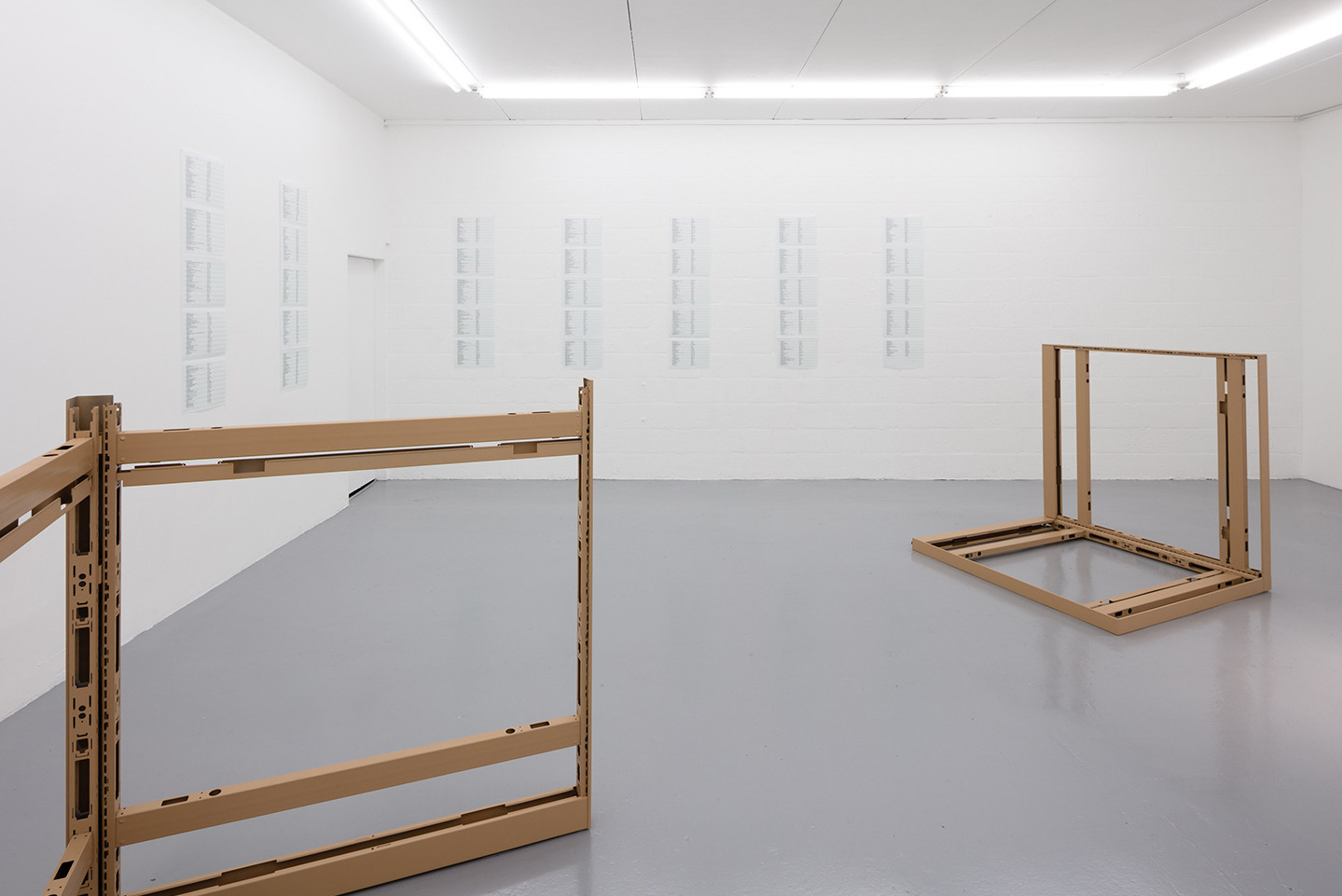 Jessica Vaughn and Eliel Jones in Conversation
Jessica Vaughn investigates the social lives of everyday objects and materials: how they speak beside and beyond themselves; the ease with which they are overlooked because of their concrete functions; their value systems; their interactions. In conversation with Eliel Jones, the artist discusses processes of representation, reproduction as fabrication, the materiality of labor, and how all these inform her latest show, Exit Strategy at Emalin, London.
ELIEL JONES: It seems to me that your practice is primarily, perhaps I should say formally, preoccupied with objects and materials, and with the ability of these objects and materials to speak beside and beyond themselves. By processes of sourcing, producing, and displaying, you invite an engagement—through the means of minimalism and postminimalist sculpture—with the social life of these objects, to borrow from Arjun Appadurai. Along the way you prove what these lives (from their production, to circulation, to subsequent use and misuse, to eventual disqualification as a thing of purpose) can reveal as well as conceal.
 JESSICA VAUGHN: For me, materials contain an inherent value system, and occupy space in very particular ways that are guided by how they are made, how they are used, and who gets to interact with and inhabit space with them. I am drawn to materials and objects that are part of the everyday, and that are generally overlooked but have a concrete function or way of operating in contexts of labor and public infrastructure. I am drawn to the particulars of how things are made—what constitutes the entirety of a material and how this is directly or indirectly related to the final outcome of how we all live with this material.
 EJ: For your solo exhibition Receipt of a Form (2017) at Martos Gallery in New York, you brought together a series of objects that you procured from different manufacturing companies that provide train and bus parts for Chicago's Transit Authority. They were presented in the gallery unaltered, except for your chosen arrangement and display mechanisms. In this way, we could associate them with the tradition of readymade sculpture. From their conception, the process of their sourcing becomes to a great extent the process of their production; forms of relational labor (networking, communicating, requesting, negotiating) are therefore intrinsic to the making of the work, but these are somewhat invisible in the exhibition.
 JV: Yes, I am invested in thinking through how I locate material. There tends to be several economies within an industry that I am focused on that direct how and where I can locate material to use in my work. The work of identifying the history of an industry and how workers are positioned within it (and ultimately their labor, which is extracted for commerce) is how I identify material(s) that I use for a particular project. Spaces that I am familiar with—public transit, office spaces, and art institutions, to name a few—that are directly impacted by not only informal social engagement and personal histories, but also bureaucratic compliance, policy, and standards outside of the familiar, are my focus. I think these factors converge and meet through material, specifically in materials and objects that situate the body in public spaces and spaces of work/labor. Before I started the body of work for Receipt of a Form, I was obsessively taking digital and large-format photographs of city streets in places like Philadelphia, Chicago, and New York. I was creating an image from two different locations, one source material being the site of the photo shoot, and the other a large ten-by-twelve-foot paper backdrop of an entirely different city landscape. On-site the collage was positioned and photographed within the frame of the existing site. This instinct to photograph these varying geographical landscapes certainly brought together the economics, politics, and lived experiences of these city spaces. This series of photographs directed my attention to the type of city infrastructure that through practice and design does this—public transit. I mention the use of photography in my work not to suggest that there is a clear lineage from photography to the works that I am engaged in making now. Instead I want to suggest that the documenting or staging of a site or political grievance does not account for the troubling imperfections, errors, and systems that aim to obscure in the interest of maintaining financial profits through compliance and unfair and unequal treatment. Austerity is not something new or particular to US city centers; it is part of the global crisis we find ourselves in today. I want to move through representation in a way that acknowledges this process and that calls out the varied ways that representation is far too often considered exclusively through images and documentation of the figure. We see this especially when addressing our attention to the historical and contemporary exploitation of people of color and marginalized groups as a whole. When in fact the inequalities are felt, lived, and experienced through gutted infrastructure—the dismantling of social services, public institutions, and policy meant to serve the public. Mass-produced items and materials underscore these realities, I believe, in a unique way. They have literally passed through the hands of: an international governing and bureaucratic body that has certified the material components as fit for global manufacturing, compliance, and use; corporate executives and marketing and design teams who have certified the salability of the material; the worker(s) and machines that made the material; and finally the consumers who consume the material on a daily basis. In this case, transportation upholstery. The sculptures in Receipt of a Form were discarded leftover upholstery scraps from the manufacturer's assembly line. Uneven and frayed edges, and missing die-cut pieces, made their shapes and forms. These gutted floor works remind me of Rachel Whiteread's casts of negative architectural spaces, or Bruce Nauman's cast of the negative space under his chair.
EJ: It's interesting that both Whiteread and Nauman rely on language as some sort of proof of the object's ontology. I think this is equally present in your work. Your assigned titles often retain the object's material purpose or history. Your most recent body of work, Exit Strategy at Emalin in London (all works 2018), perhaps is also tied to the process of casting, but here as reproduction. Unlike Receipt of a Form, these objects appear to have been not only found but also fabricated, produced, to create a very specific aesthetic environment. The sheets of paper in 55' x 15' are printed with the machinery and stock utilized for the effective presentation of data; skeletal metal structures make Depreciating Assets resemble office dividers rendered in a flesh-like color; the series of black-box files installed on a concurrent line, titled A4, are filled with documents; and your moving-image work Visible Hands literally shows close-ups of people's hands at work. The found element extends beyond the objects' materiality to their given content: job titles and salaries are sourced and listed on the sheets of paper from various public and private employment websites; footage is taken from tutorial-like videos that exemplify and perform the labor required for some of the advertised jobs; and the box files contain documents related to affirmative action policy reports pulled from the US government's online records.
JV: With Exit Strategy I wanted to think about the materiality of labor in a more expansive framework, and start from actual written and numerical information and knowledge about workers of color in the US economy. How are numbers and policy information seen and presented as a sort of engagement with everyday materials that exist in work settings? What potentials would exist if institutions believed that process is important? And not process for the sake of organization, but process as a means of figuring out new ways to tackle labyrinthine questions about representation and inclusion? I am interested in the necessary surplus that exists to create the spaces with which we all engage—surplus existing in multiple forms, discarded and remaindered materials, structural architecture supports, the actions of bureaucratic paper pushing, arithmetic, counting, the excessive requirement for transparency. These are the conditions creating office work that translates into commerce, subordinate work typically asked of people of color and women. While making the works for Exit Strategy, I was reading quite a bit of social history and US labor history from the 1970s through the 2000s pertaining to unions. The intersections between how these unions formed as they pushed up and against civil rights histories was most interesting to me, especially when coupled with the aggressive and racist fixation by the current US Administration who use Department of Labor monthly job reports to prove their legibility and "favorable economic policies." Specifically their highlighting of the declining unemployment of African Americans alongside narratives of a shrinking working class, that is viewed only deserving when the workers are white. Around the same time, I remember seeing Adrian Piper's My Calling Card (1986–1990) alongside a series of printed photos and text works that asked questions of the viewer: how many black people you may or may not come into contact with at your job, in intimate settings, in your home, et cetera. The direct address found in Piper's works through language and subtle material concerns is really striking to me, and also carries the weight of what institutions, bureaucracies, and workplaces fail to explicitly address or do through passive forms of language and communication.
EJ: I was also particularly struck upon reengaging with Piper's My Calling Card. I didn't know that she gave them out for others to use until I recently visited her retrospective at the Hammer Museum in Los Angeles, and was invited to take some with me. Her body is so present throughout the exhibition, and here it seems to appear as a placeholder for experience, both as a coping strategy but also as a gesture of solidarity. In Exit Strategy there is equally a sense of bodies simultaneously present and absent. The works are nonrepresentational, in that the alluded-to bodies only manifest as the potential workforce for the listed jobs, or as the affected subjects of policy by the US government, while still remaining somewhat anonymous. In a similar way to Piper, the information speaks of a whole while still evoking the singular. Visible Hands is the only work where we do see human interaction, though you have zoomed into the footage to conceal faces and other parts of the body, to just focus on the hands. You can still see what they're doing, mostly partaking in automated processes (filling, folding, packing, feeding machines) and performing acts of care (painting nails, doing someone's hair). Also, even if they are partly concealed, we notice the people laboring are mostly female, and many are also visibly black.
 JV: Visible Hands has a direct relationship to 55' x 15'. Visible Hands is a series of found video clips taken from workplace tutorials and "how to" tutorials to perform specific skill sets of the jobs listed in 55' x 15'. Everyone in some capacity benefits from this labor performed within an automated chain and also the acts of maintenance that are rendered invisible. Given that many of the video clips are taken from job training websites, making Visible Hands into a video felt like it tied the works in the show together. A4 works against this idea of legibility in both form and content. The paper trays mounted on the wall house content printed on A4-size paper taken from reports related to affirmative action collated and written by US government agencies. In this work I wanted to obfuscate the language contained in these reports, as many of them acknowledge the inclusion of people of color in the labor market, through their output or through their labor, as in Visible Hands. The contents of the trays are made known through the full title of the work, which lists the thirteen reports that span the trays. It is important to me that in some capacity I focus on the inclusion of affirmative action as policy and its relationship to compliance and standards as they relate to working conditions in the United States. I don't think it's possible to talk about contemporary US labor dynamics without addressing how this form of compliance shifted political representation of people of color in the workforce and dramatically changed the landscape of civil rights.
EJ: In regard to compliance in working conditions, it is interesting to me that, unlike the usual associations to practices of care, the relational demands of the kinds of work depicted in Visible Hands are most of the time not long term, or bound to the idea of the couple, a friendship, or the family; they still, however, deal with intimacy in that they demand a level of temporary performed closeness, sometimes emotionally but also by way of physical proximity. This is perhaps also why a lot of this labor ends up in the hands of women, because women have been, and to a big extent still are, assigned the task—socially, biologically—of primary caregivers. It is gendered labor. Looking at the list of jobs in 55' x 15' one gets a sense that this gendered labor also extends beyond jobs that may be operated by women (though a lot of them might be, particularly in health, education, beautification, home support, et cetera) to include ones traditionally understood as enacted by men (there are a lot of security and janitorial jobs, for example). These are also about taking care, or looking out for someone else's well-being, their safety.
JV: The jobs listed in 55' x 15' are taken from government city, state, and federal job postings and commercial job posting websites. The list is comprised of paraprofessional occupations, professions performed to take care of others, professions that keep both private and state institutions running, clean, and in compliance. Many of these jobs are considered subordinate positions, and fit into sectors from monthly updated Department of Labor website tabulations that are used to look for historical patterns and trajectories of US workers. As you mentioned, 55' x 15' places these job titles alongside their pay rates, which from appearance crosses "traditional" notions of gendered workplace roles. I would like to think that 55' x 15' epitomizes the class structures that are inherent in the type of labor performed, and questions for whom and for what type of institution this work is performed for. The indexical listing was a way to somehow offer a material representation of the intersection of private enterprise, bureaucratic institutions, and the labor of taking care of spaces and infrastructure that goes unseen, unnoticed. It also considers different ways of picturing the body and the effects of a fractured, segregated "free market" labor economy on people of color. Regarding your question of intimacy, the intimacy in many of the jobs listed is performed in public spaces. These jobs are client facing, and provide some sort of customer service to the public and infrastructure. In a way, my piece gives transparency to the types of workers that job sectors see fit to hold particular types of jobs.