INTERVIEWS
Jim Shaw at Massimo De Carlo, Milan
Close
1
2
3
4
5
6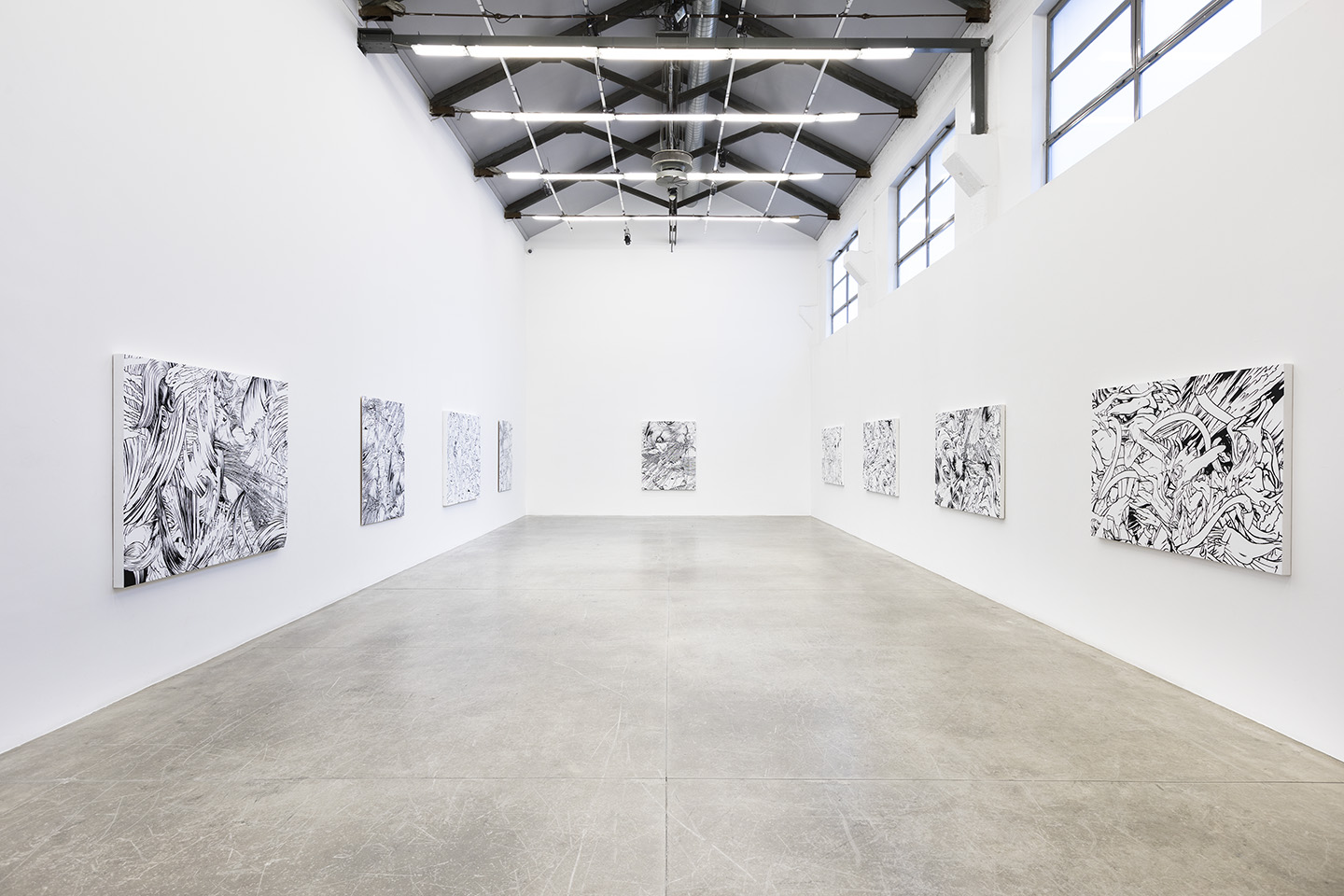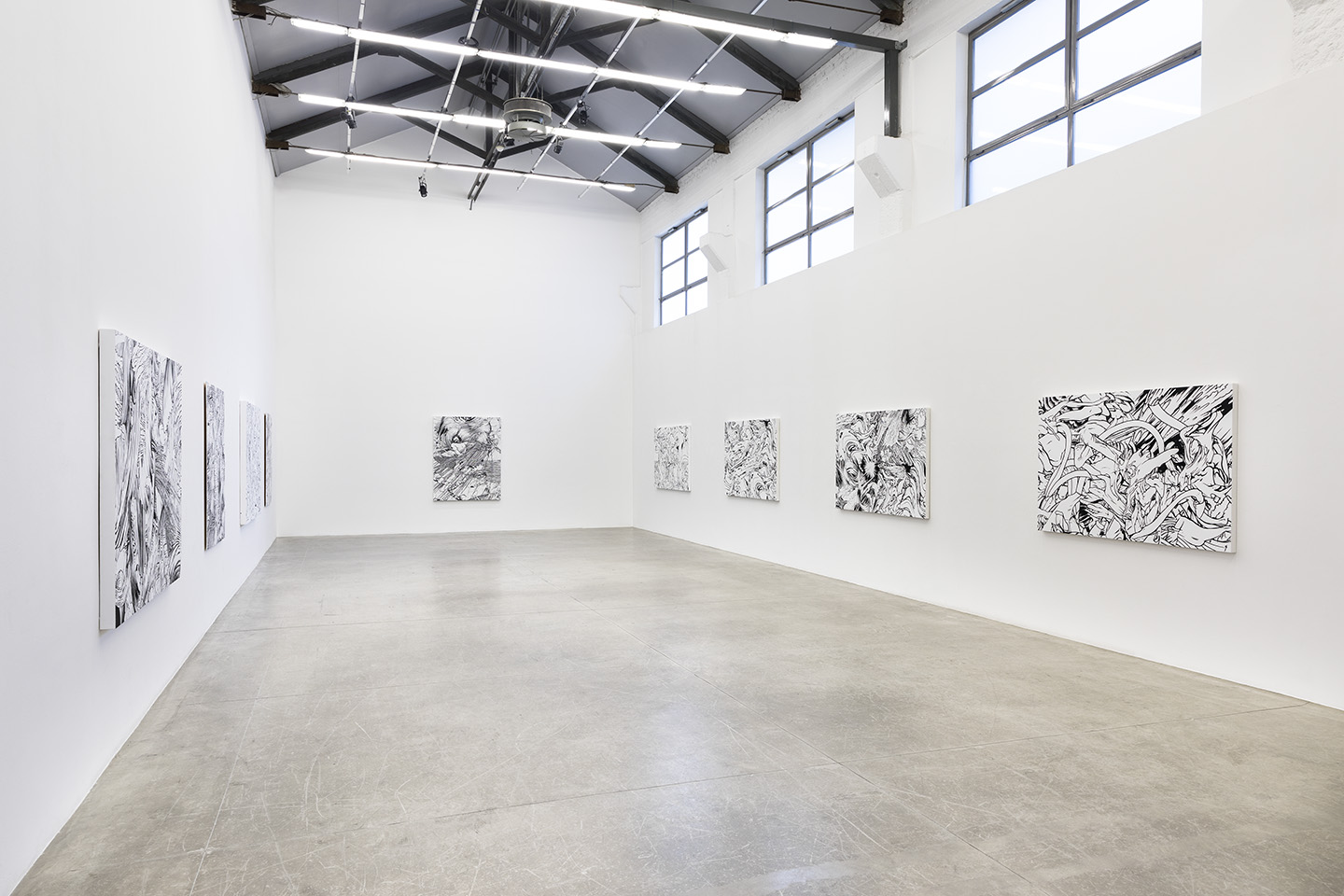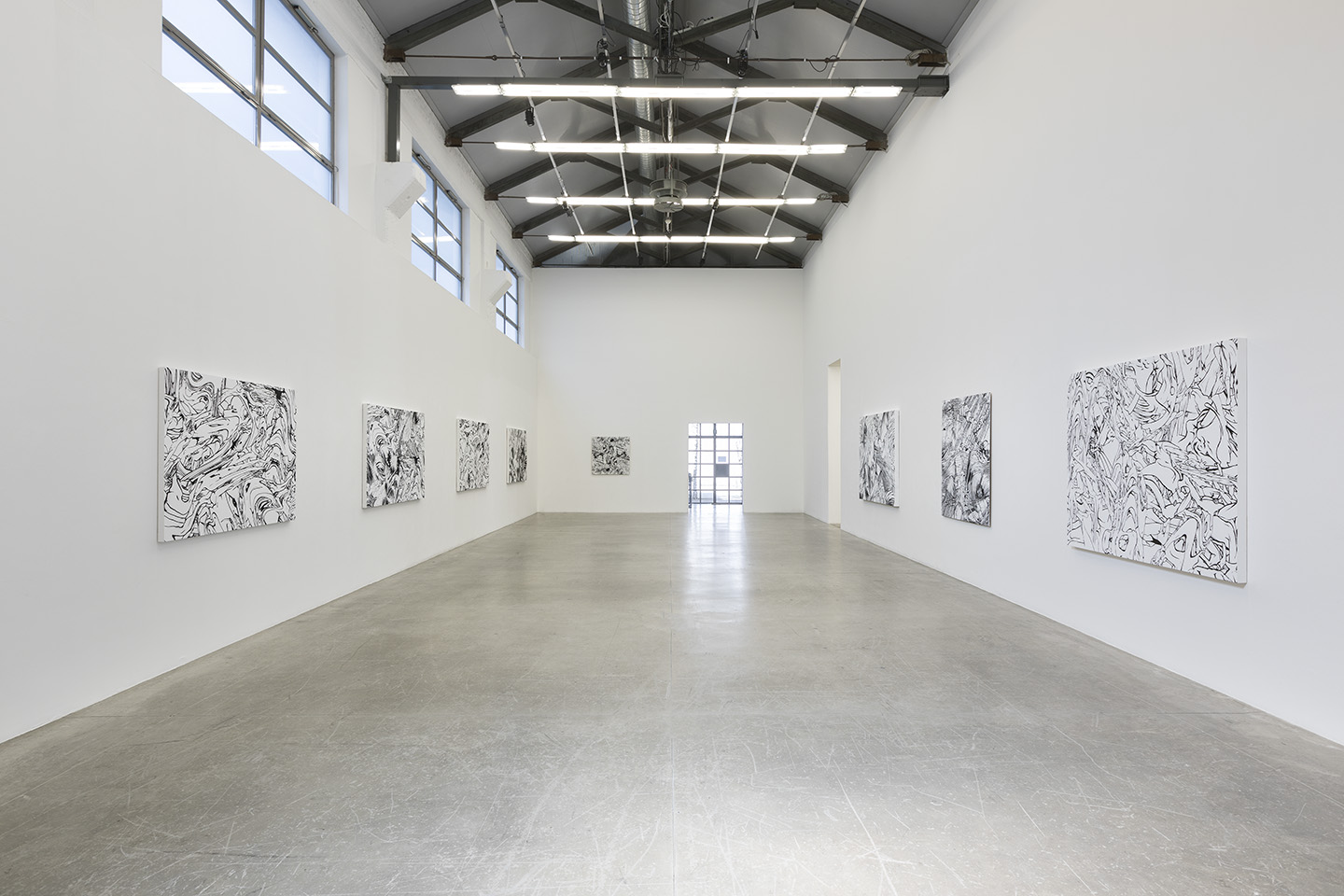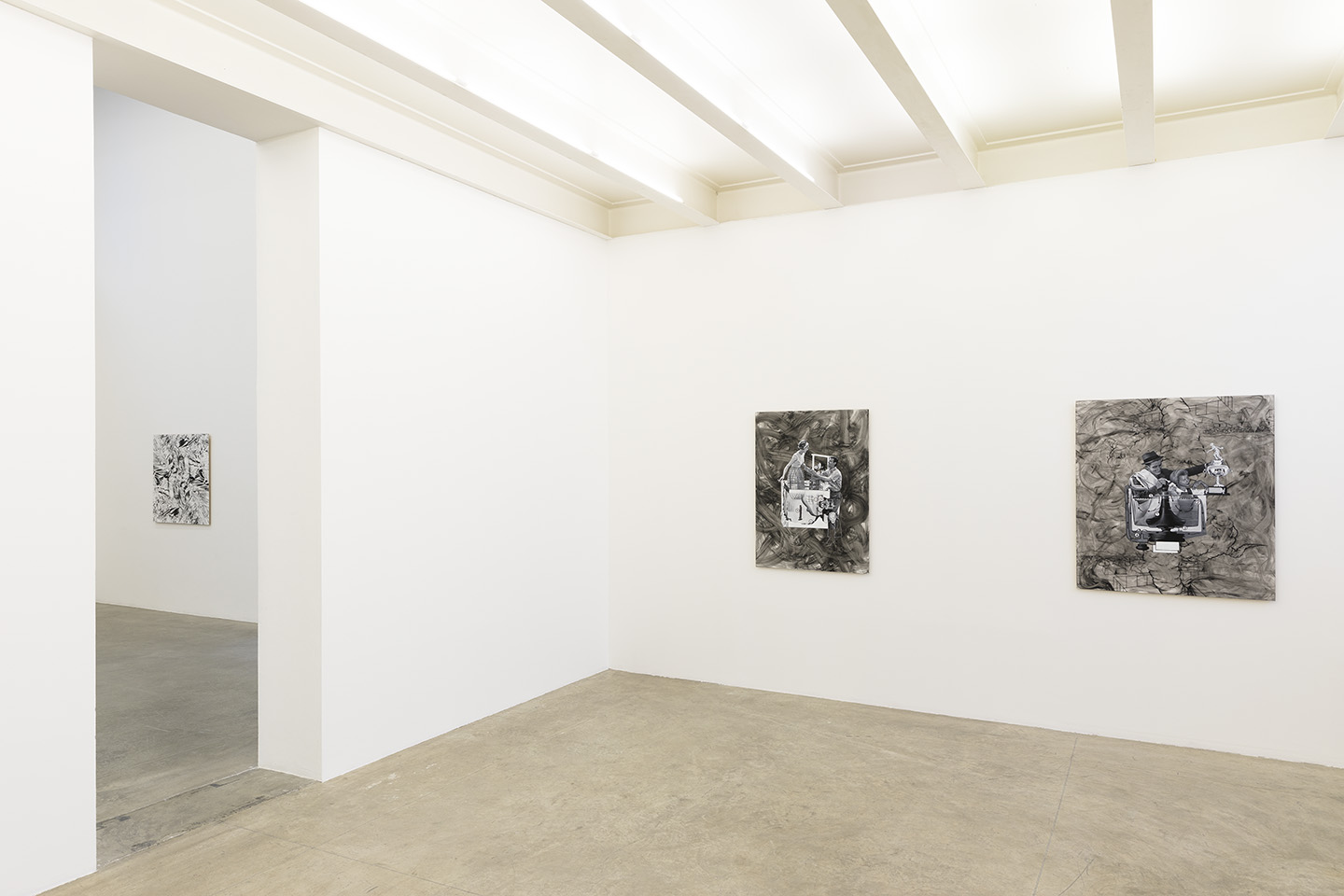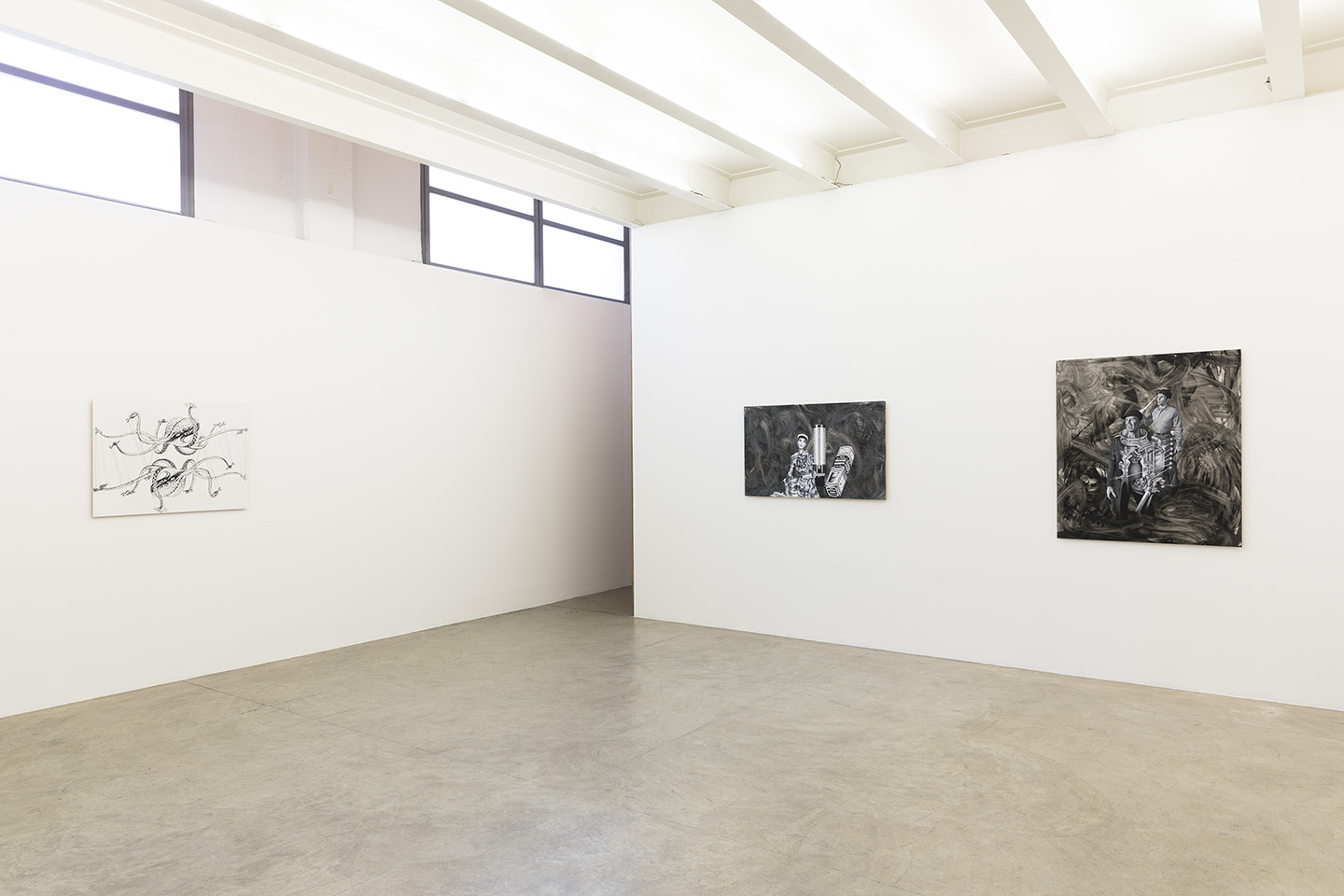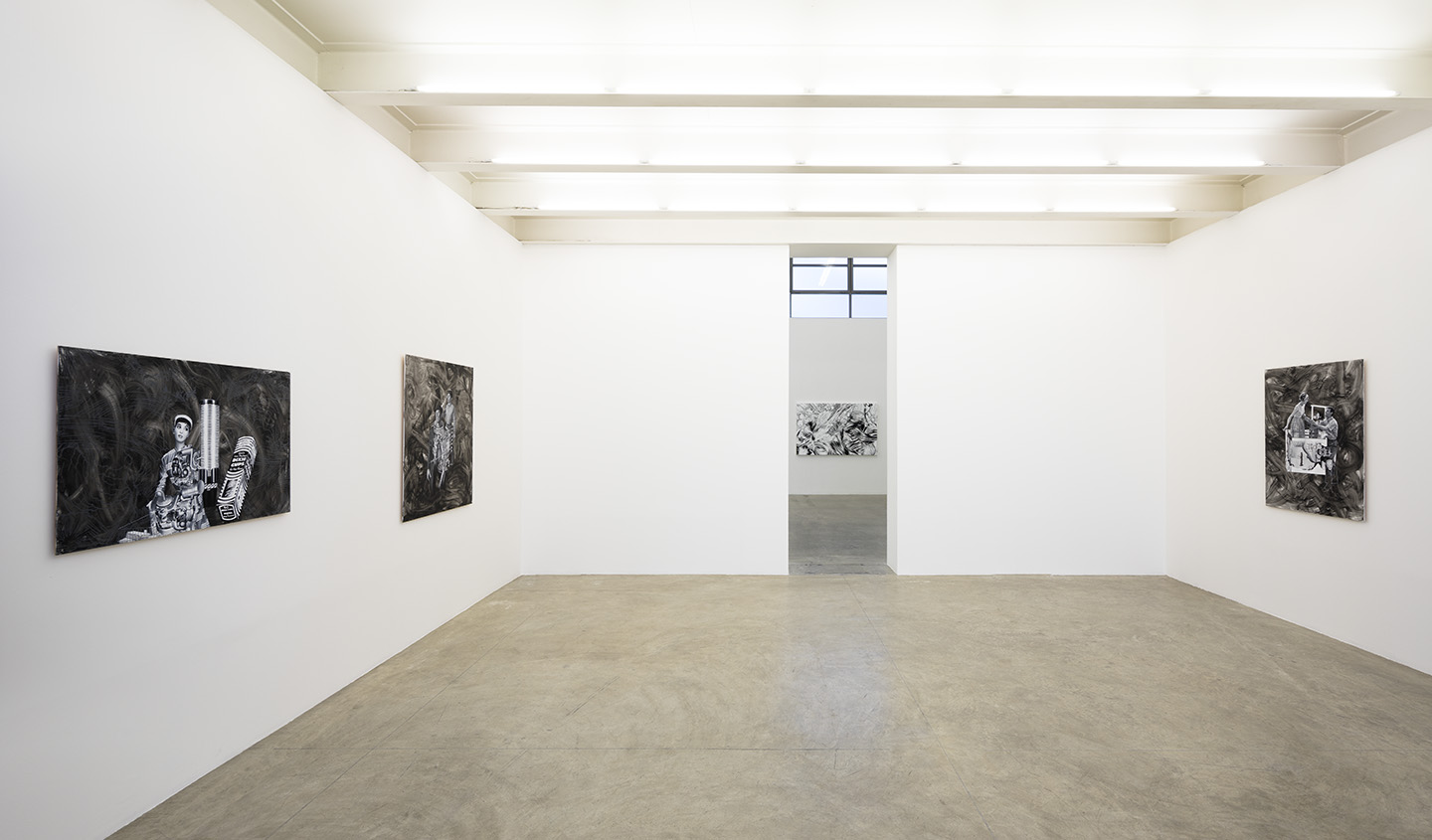 Jim Shaw interviewed by Tenzing Barshee
Tenzing Barshee: When I visited you in summer 2014, I was watching you paint the hand of God. In your upcoming exhibition at Massimo de Carlo, you are showing work from a series titled Wrestling with God. Can you summarize your own "wrestling with God" over the years?
Jim Shaw: For decades I'd been convinced that the future would be increasingly fragmented, like James Joyce's Here Comes Everybody crossed with King Crimson's Twenty First Century Schizoid Man. In my youth, I produced multilayered images in which a high-contrast photo would act as a filter between two other images, so one was looking at three images simultaneously, symbolizing for me the schizophrenic nature of that future, but now I understand that "schizoid" is a more correct self-diagnosis, a state of separation that could evolve into either manic depression or schizophrenia.

TB: Have you diagnosed yourself with either one?
JS: I consider myself a mild manic depressive with some Asperger's traits, without any credentials to back up that assertion.
TB: How does the future unfold in front your eyes?
JS: There is a demand for more Asperger-spectrum people in the inexorable march toward a STEM (science technology electronics math) future. I recently read an article about a Texan from a WASP US military family who had become a leading ISIS religious theoretician, and the writer said, noticing his skill at coding, that it fit with all the jihadists he'd studied, who were all engineers (think of the 9/11 hijackers). In the Trump administration, a lot of the brains behind the deal (Peter Thiele, Rebekah Mercer, possibly Steve Bannon) seem clearly to fall within the spectrum. As an artist who occasionally sees the world going to hell in a handbasket (of deplorables?) I can sort of see a perverse reflection of myself in those extremists, yet I channel my disgust into the charming and antique modes of the picture generation, rather than fomenting deliberately destructive wars. If only Hitler had been a successful artist.
TB: Let's go back to the God motif. In your work, you use a multitude of signs and symbols from a myriad of sources. This mashup of references rattles many cages, both dismantling and reinforcing the power of the image. How do you reconcile your own position of authority, which seems tied to the freedom of your authorial voice?
JS: I don't feel like I'm an authority on anything but a few weird topics that I've become obsessed with over the years, but I tend toward "perfecting" the images in my paintings due to insecurity. I'm hoping to make an end run around that perfectionism in future artworks, and the smaller overprint pieces revel in the chance interactions that the elements of the larger chaos paintings afford. I spend a lot of my time poring over news reports and researching historically relevant elements (the Bible, slavery, capitalism, sex, colonialism, class, et cetera) and much of this gets forgotten, but much percolates into the work I produce. Due to the importance of the last election and its aftermath, current politics can't be separated from my subconscious.
TB: Where do the different research interests meet in your current works?
JS: In this exhibition there are large paintings that are an evolution of the earlier penchant for multi-image images that play a certain level of visual games, combined with the realization of chaos as an aesthetic that developed over the last decade. I embarked on a series of drawings based on William Blake images, but done in the style of Wayne Boring, the main Superman artist of my youth (late 1950s to the mid-1960s), partly because they both had very stylized approaches to the figure, but also because their approaches were so opposed: one was illustrating a fantasy world he lived in, the other was merely getting a paycheck illustrating sci-fi fantasies designed to sell comics to ten-year-old boys.
TB: And later, DC comics were swallowed by Warner Brothers, another entity with the initials "WB."
JS: I also realized that Blake's stylized figures owed much to his idol, Michelangelo, and I began doing cartoon drawings based on 1960s beehive hairdos that were apocalyptic landscapes, which then led me to da Vinci's writings on rendering deluges, as well as a study of the comic-book stylizing of forces of nature, specifically Boring's and Dick Sprang's. I began to collage them into chaotic Ab-Ex compositions, which I'd been keen to turn into paintings. This show was a perfect vehicle for such an experiment.
TB: Can you say more about Michelangelo's impact on Blake?
JS: Several years ago, we took a nighttime tour of the Vatican, where I realized, while looking at Michelangelo's Last Judgment, what a different artist he was, showing a cavalier attitude toward "reality" that appealed to Blake. I also was shocked to see many topless nymphs and pubic-hair-bearing satyrs decorating the hallways of the Vatican. I hope in the near future to integrate the grotesques into my work, as I'm fascinated by the influence of the pagan past on the Renaissance and the Vatican, and the fact that these decorations were named after their inspiration, the "Grotto" of Nero, a very prolific killer of Christians, as well as the luxury of the Vatican leading in many ways to its nemesis, the Protestant movement.
TB: And what about the man-machine figures painted over chaotic smears?
JS: For a while, I've been working on an installation in a former Masonic temple that's being turned into a museum for the Marciano Collection. One aspect of it is a reflection of the secret-society notion of the Antichrist as a being, alive today, who has as much impact over the Aquarian Age (starting in 2012) as Christ had over the Piscean Age (1 to 2011), combined with an Islamic idea of an Antichrist figure born between Syria and Iraq with one eye, which I decided must be the offspring of half Syrian Steve Jobs, the iPhone, a one-eyed human appendage that has brought us closest to the creation of the man-machine. The paintings of figures over chaotic smears are quaint versions of this concept, using early-1960s models and machines for a sentimental update of those Russian Constructivist propaganda hybrids from the 1920s. This all plays out in a sort of Hieronymus Bosch landscape of black-and-white cutouts splayed among Masonic backdrops of heaven and hell, which plays with ideas of our living in a consumerist hell on earth, and the gap that is opened up between cyber-pseudo-anarchy (the Randian individual autonomous unit) that plays out in Western consumer culture versus the totalitarian governments and actual anarchies that exist elsewhere. I see the end of Anglo-American authority based on the rule of law, since we have broken so many of those laws ourselves, as the start of that rough beast, slouching toward Bethlehem, a hard-to-foresee future in which the collision of man and machine will be sorted out, but at what level of bloodshed?
TB: You seem to have a gloomy vision of our techno-society.
JS: I'm so old that I could never figure out who would want to use Twitter besides Ashton Kutcher, yet some seventy-year-old geezer figured out a way to use it to win the most powerful position in the world. We have definitely passed through the looking glass.
TB: With many of these figures you've painted, you're picking up a conversation around the depiction of the male body. Where does this trace back to?
JS: It is an aspect of heroic art that references both Michelangelo and comics, the "innocent" homoeroticism that seems so integral in the comics that those ten-year-old-boy consumers of comics demanded (also present in TV wrestling, popular with young boys), which now is magnified as the drawn superheroes are played by steroidal hunks in tent-pole movies with $200 million budgets, and bellicose politicians whose whole appeal comes from "fuck you—no fuck you" alpha-male interactions. I have tied this into the short series of Wrestling with God pieces, the final one being in this show, earlier elements popping up in the collaged chaos paintings. The first was a composition based on The Liver Is the Cock's Comb but an image of Prometheus having his liver torn out by an eagle, with Edward Snowden in the Prometheus role. The next was an odd story from Exodus, in which Moses is called back from his exile in Midian by the burning bush, but as he sleeps with his family on the border with Egypt, the Lord, or his angel, swoops down and strangles him until Zipporah, his Midianite wife, cuts off their son's foreskin and places it on Moses's penis, saying, "Surely you are a bridegroom in blood to me," whereupon the attempt on Moses's life ends. The final story is from Jacob's journey, where he spends all night wrestling with the angel of god, who damages his hip and renames him Israel, meaning "wrestles with God."
.
at Massimo De Carlo, Milan
until 29 April 2017