EXHIBITIONS
Jodie Carey and Nyah Isabel Cornish at Galerie Rolando Anselmi, Berlin
Jodie Carey "Early Old"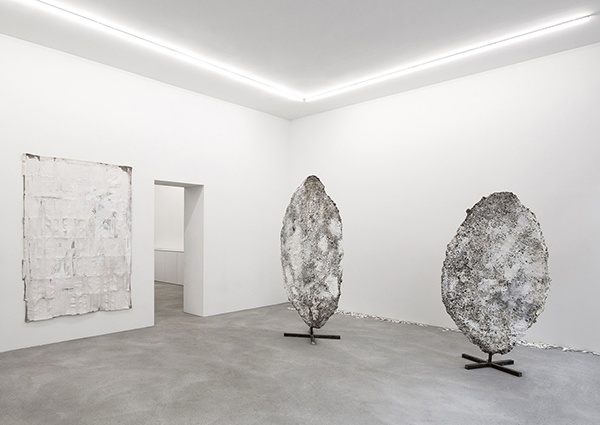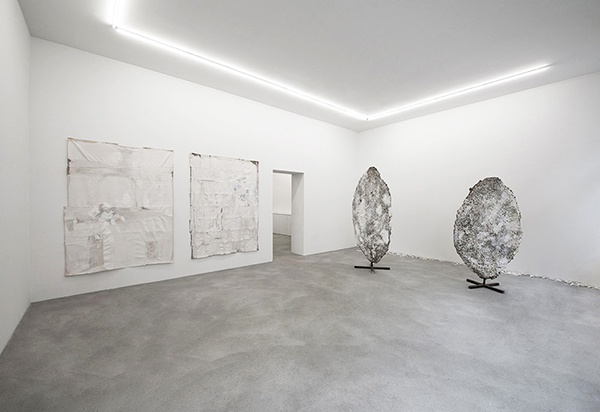 Galerie Rolando Anselmi is pleased to present an exhibition of a new body works by Jodie Carey.
The exhibition weaves together ideas surrounding time and timelessness, to explore traditions of commemoration and remembrance. Drawing influence from the land and ancient images of stone circles, Carey assimilates the geometric simplicity and large-scale directness to create works that seek a material response to the idea of sculpture, as a carrier for collective memory.
"Early Old" comprises of two plaster sculptures cast directly in the ground. The plaster surface bears all the traces of the land in which they were made, engaging with the earth itself – centuries of soil, the skin of the earth, without which there would be no life. As with previous series, the handmade materiality and material roughness of the works is contrasted by the vulnerability of the ephemeral materials Carey employs in their making. Primarily physical works, the bold simplified forms convey a sense of monumentally, their vertical stance akin to prehistoric ancient monuments. They echo the immortality of standing stones and suggest a primitive connection with the substance of life. Final marks made by the artist, using paint and colour pencil, emphasis the roughly hewn forms.
In sharp contrast to the large simplified forms of Early Old is Fallen, porcelain leaves which litter the gallery floor. This juxtaposition of size, scale and material between the two sculptural works emphasis further the fragility and delicacy of the ceramic leaves. Each leaf is unique, created by dipping its skeleton directly in slip. After firing, the ashes remain immortalised within the porcelain body – the elegiac, transient nature of falling leaves captured forever in ceramic.
Canvas I and Canvas II are created from linen and canvas dipped in plaster and worked on using paint and colour pencil. Despite bearing no discernible narrative, in medium and appearance, they recall folk-traditions of recording and recounting collective memory through tapestries and quilt making. The simple mark-making evocates wall or cave drawing, the most ancient practice of recording human history and memory.
The contemplation of mortality, of memorials and of the passing of time, is frequently addressed throughout the history of art. Jodie Carey eloquently continues this tradition, utilising ideas, materials, processes and techniques which weave together elements of the contemporary and the traditional, to create compelling and poignant works, full of elegance, gravity, commitment and poetry.
.
at Galerie Rolando Anselmi, Berlin
until 24 April 2016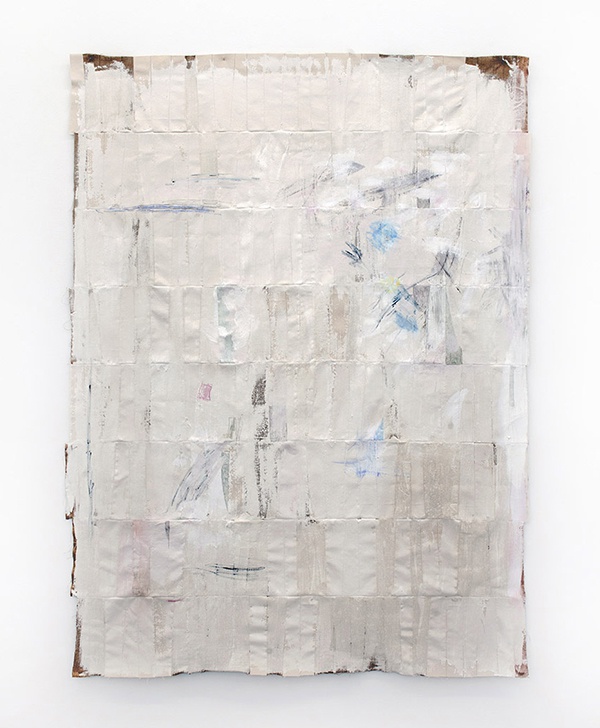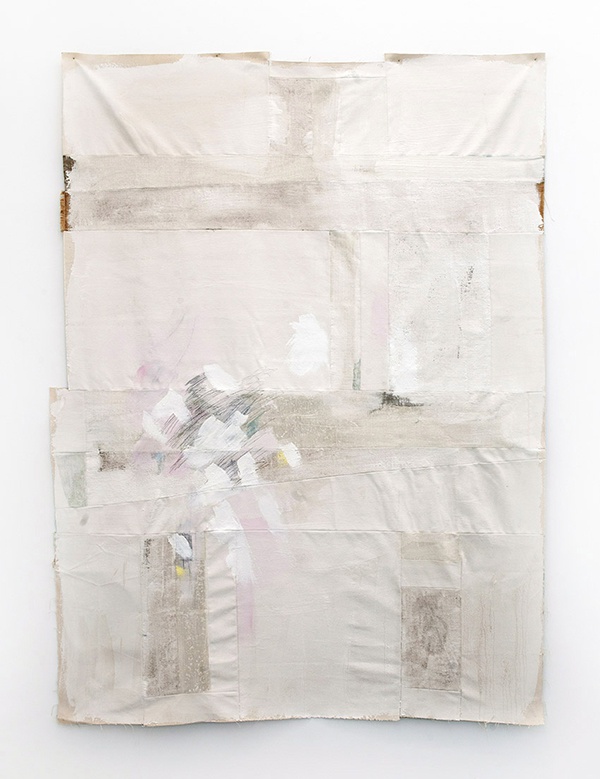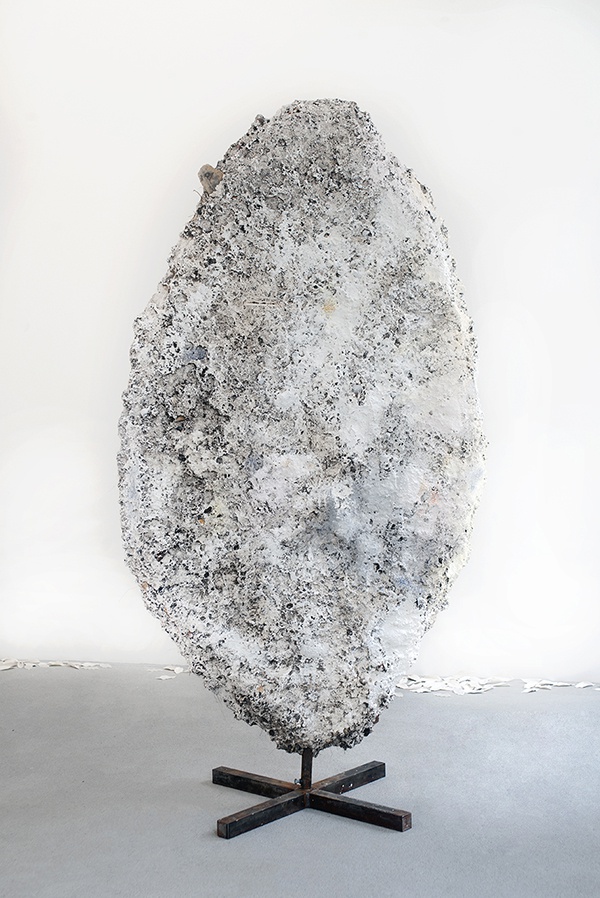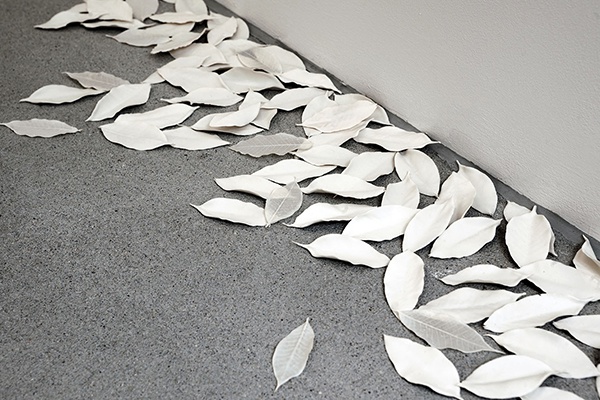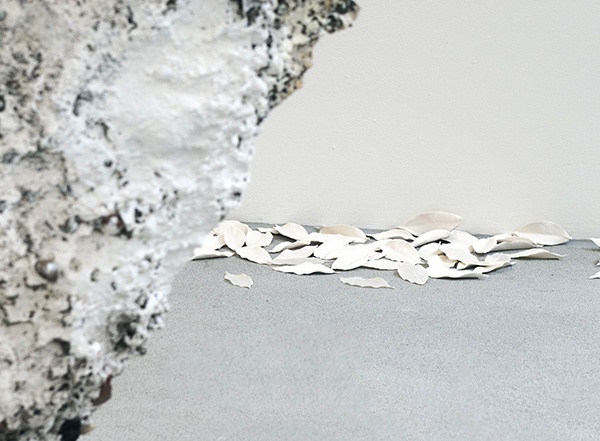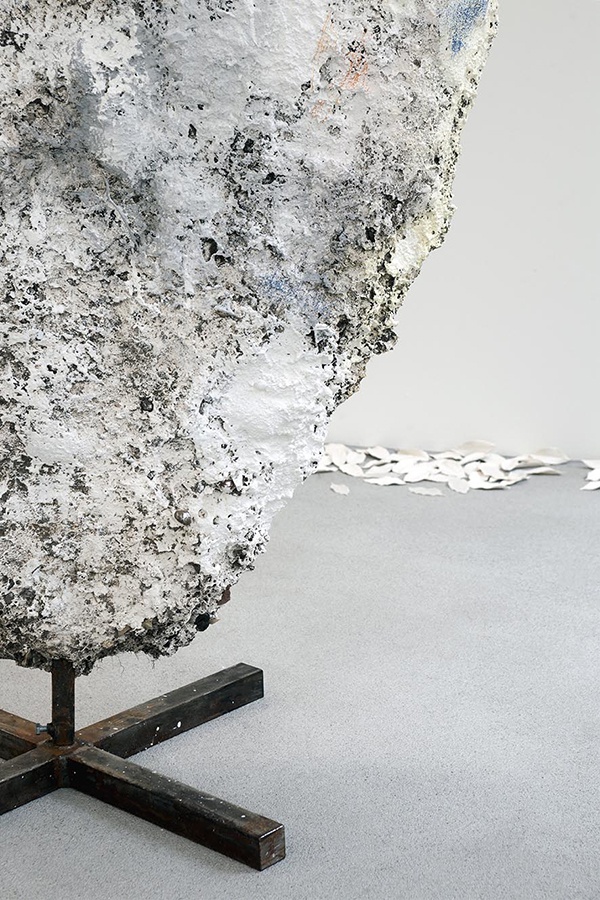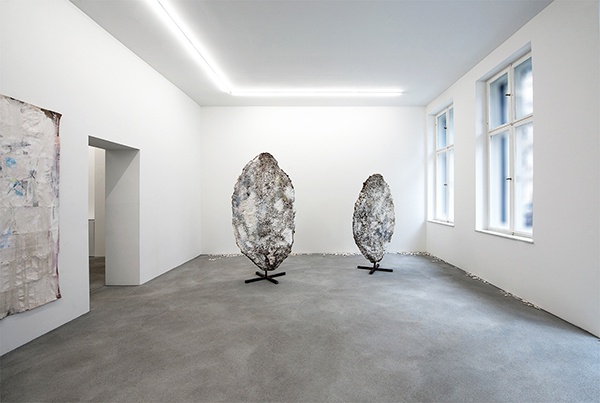 Jodie Carey "Early Old" installation views at Galerie Rolando Anselmi, Berlin, 2016
Courtesy: the artist and Galerie Rolando Anselmi, Berlin. Photo: Riccardo Malberti
.
Nyah Isabel Cornish "Complete Indecisions"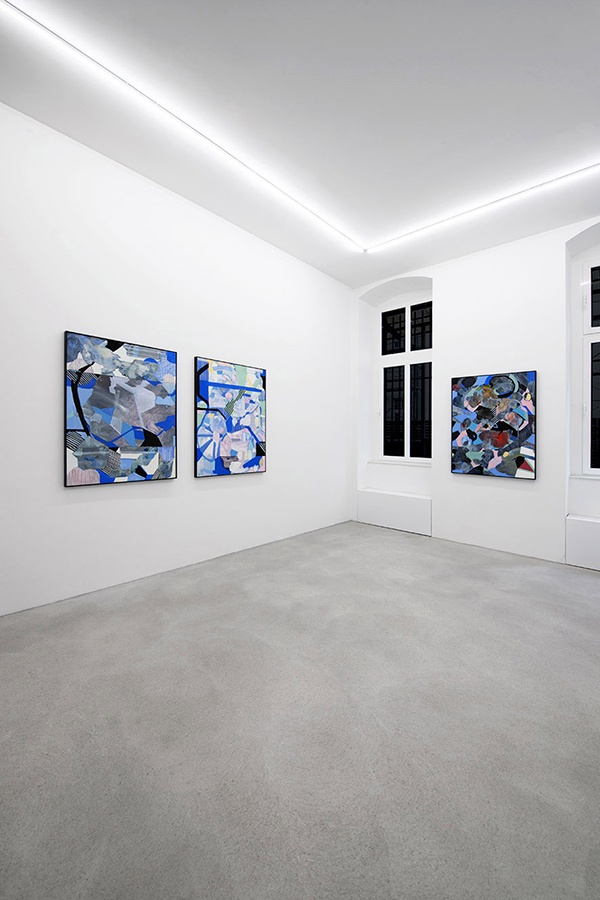 Galerie Rolando Anselmi is delighted to announce the first exhibition of Nyah Isabel Cornish in its gallery space. Cornish is a pure painter, therefore she uses the classical terms which belongs to the traditional vocabulary of painting: saturation and desaturation of the matter, concentration or rarefaction of the signs, chromatic paths, design phase and improvisation. In her paintings, a series of pictorial happenings and possible variables result in what seems to be the chosen snapshots in an infinite composition trail.
At a time where attention for image is at its minimum, Cornish slows down her way of looking and scrutinizes every inch of her painted space. This allows her paintings to evolve at a pace uncommon to most of the image production. In this way, her work examines how abstract painting has evolved alongside digital and screen-based life; battling with constant visual stimuli, ready-made images and the expectation of instant access and immediate gratification.
Cornish's works begin with no preconceived idea of the finished image. Some paintings find their initial influence in the forms and compositions found in 17th Century Dutch floral still lives, but other paintings are the direct consequence of an analysis of her painting itself. Taking her cues from paintings rather than photographs or digital images, allows her to explore the decisions of painters before her, to see things with a reduced speed. The act of making slow decisions as the paintings unfold is critical to the way Cornish constructs her images. There are elements of chance at play followed by careful consideration and subsequent vital additions, with focus on the interplay of form, color, line and depth. However, the painting never really ends and is open to edits, as Cornish's process uncovers new compositional pathways.
"I begin a painting with a series of mistakes. The painting comes out of the correction of mistakes by feeling. I begin with shapes and colours which are not related internally, nor to the outside world… The final picture is the process arrested at the moment when what I was looking for flashes into view. My pictures have layers of mistakes buried in them – an X-ray would disclose crimes – layers of consciousness, of willing."—Robert Motherwell.
.
at Galerie Rolando Anselmi, Berlin
until 24 April 2016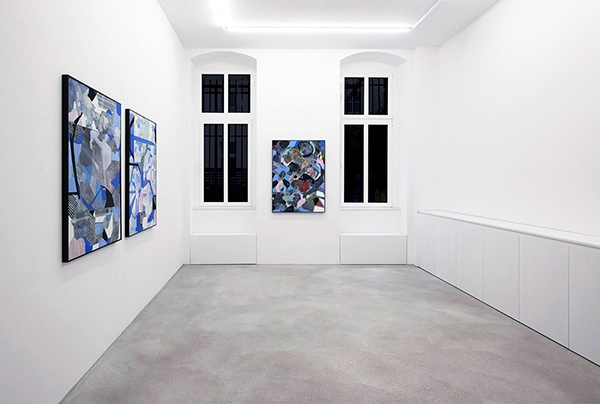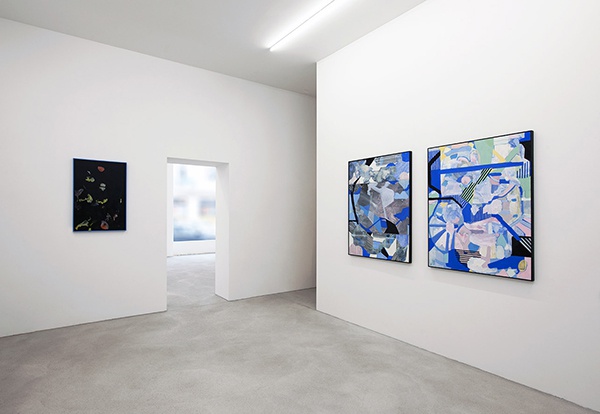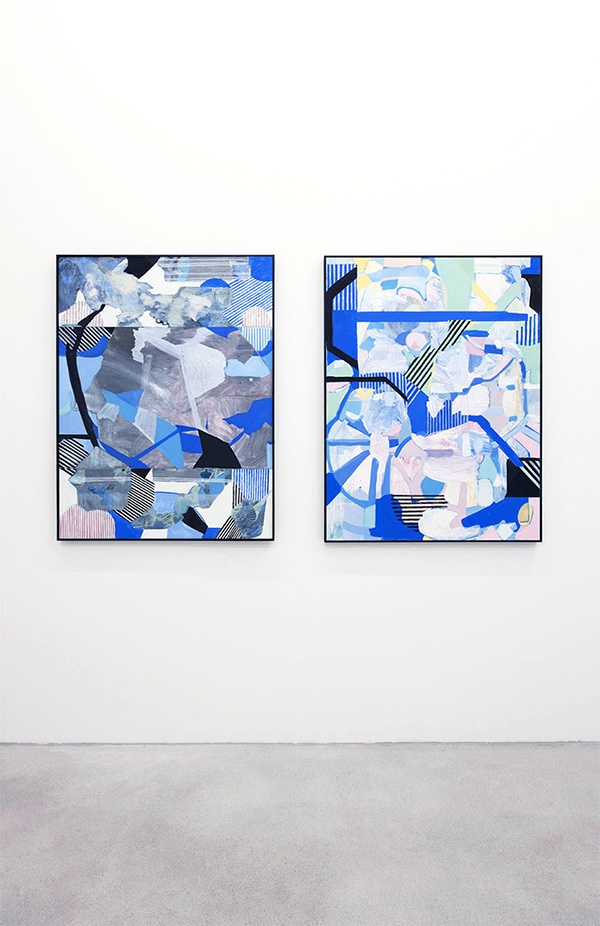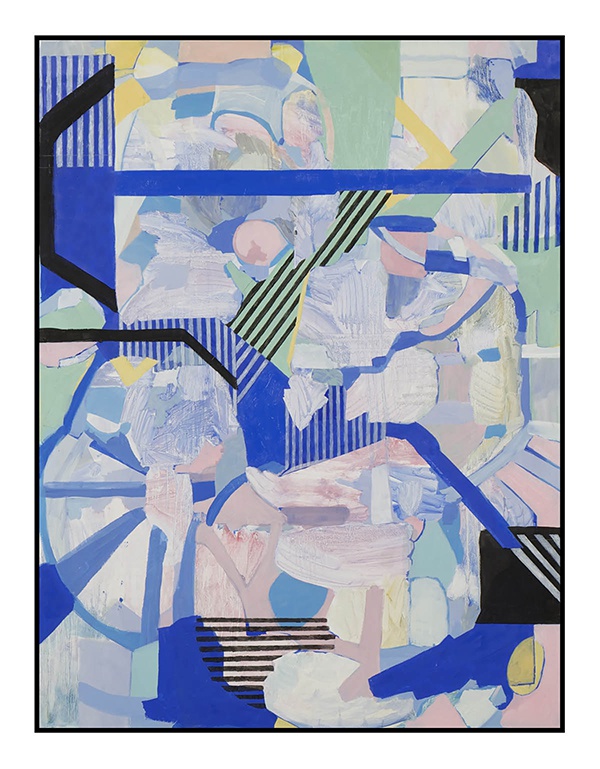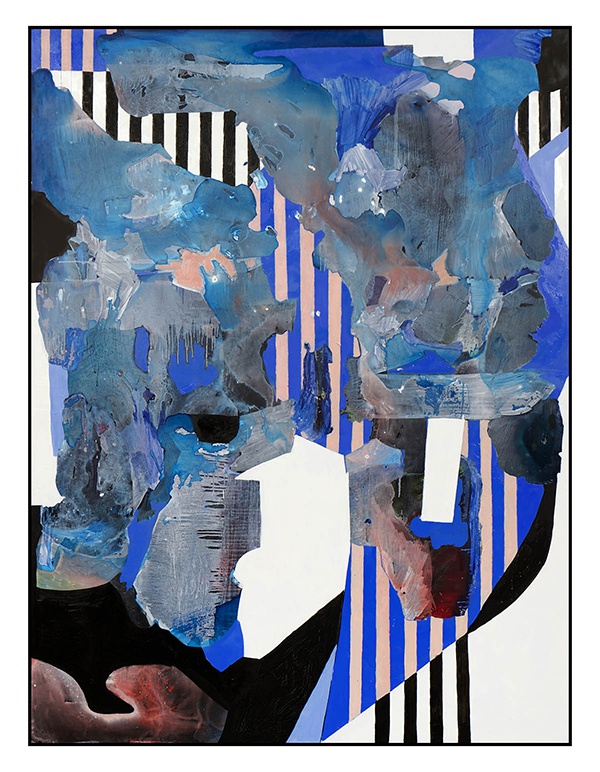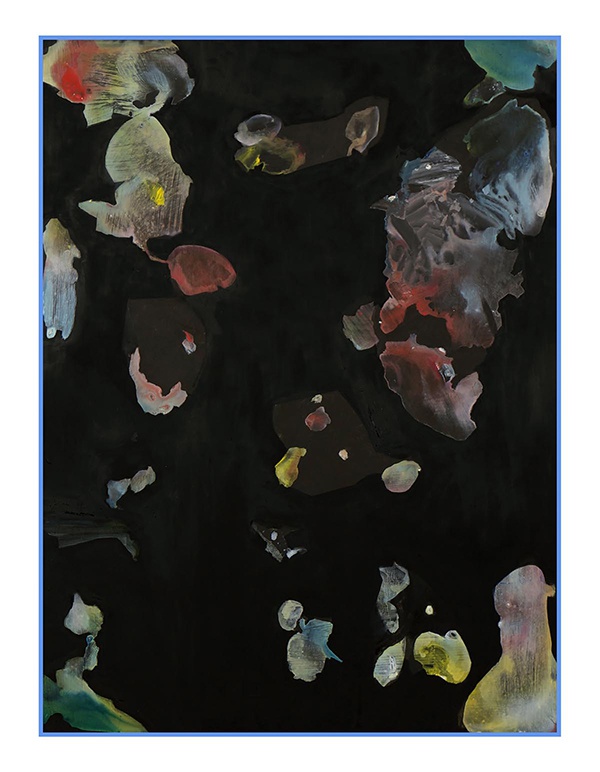 Nyah Isabel Cornish "Complete Indecisions" installation views at Galerie Rolando Anselmi, Berlin, 2016
Courtesy: the artist and Galerie Rolando Anselmi, Berlin. Photo: Riccardo Malberti