REVIEWS
John Armleder "Better, Quasi" at Massimo De Carlo, Milan
Close
1
2
3
4
5
6
7
8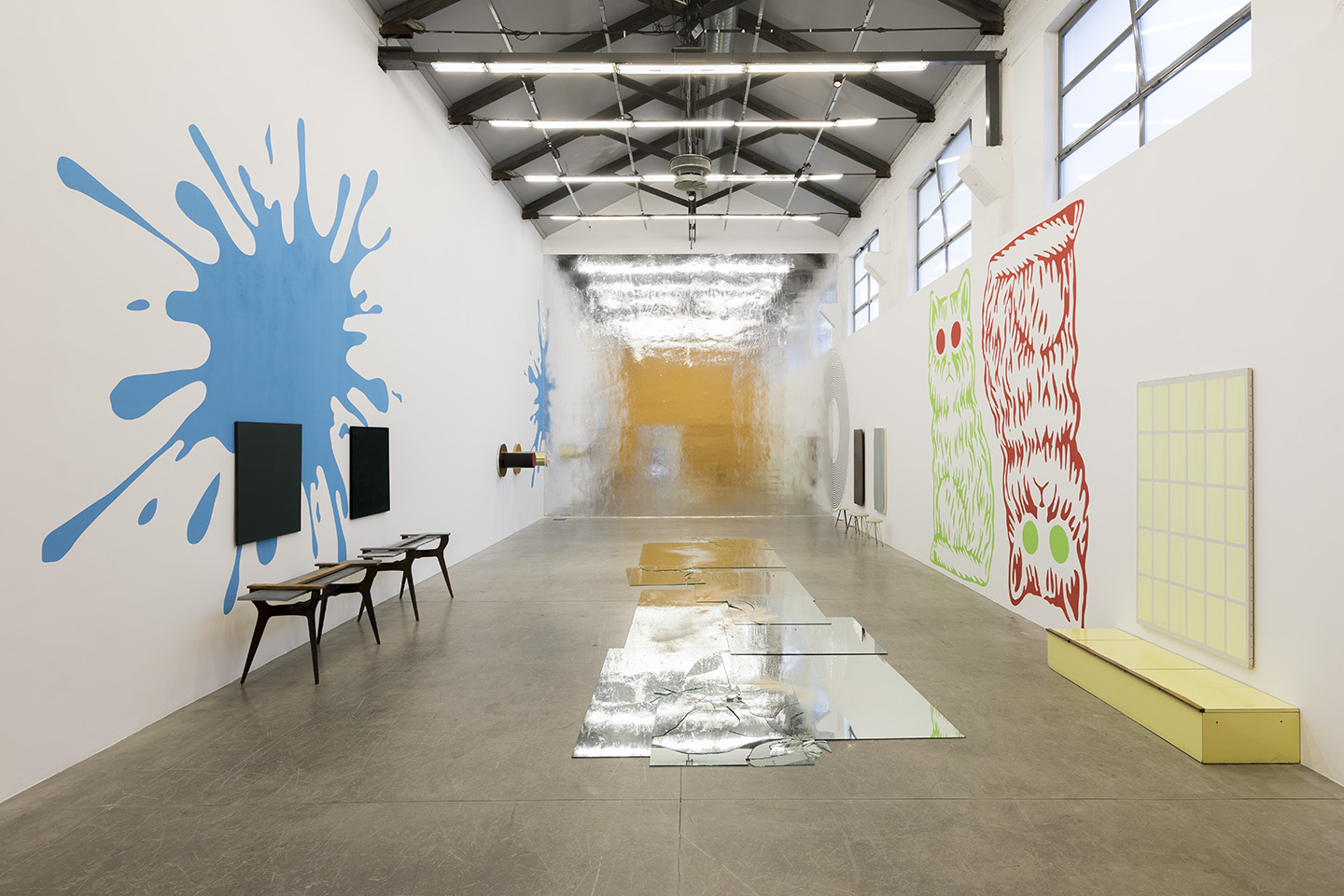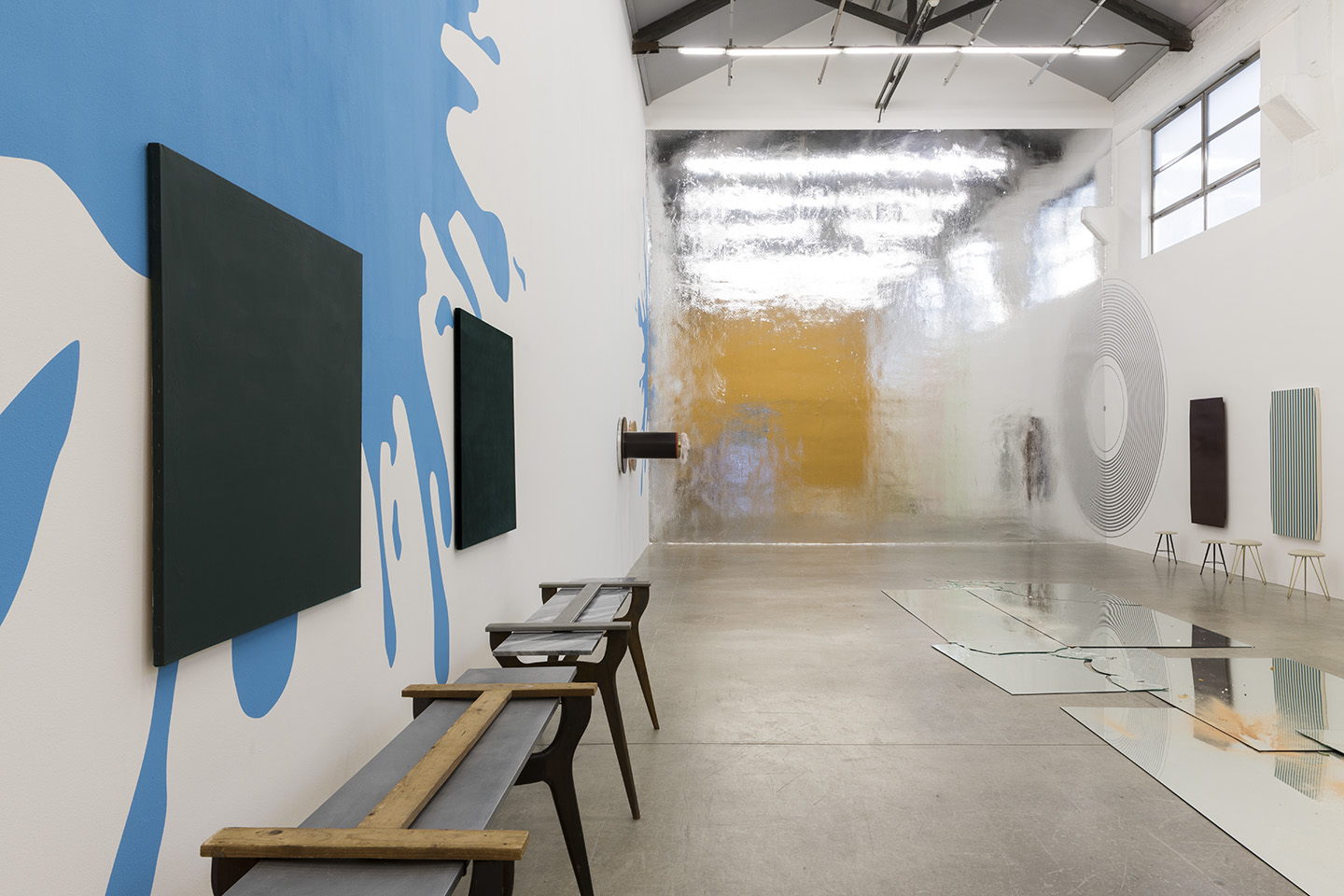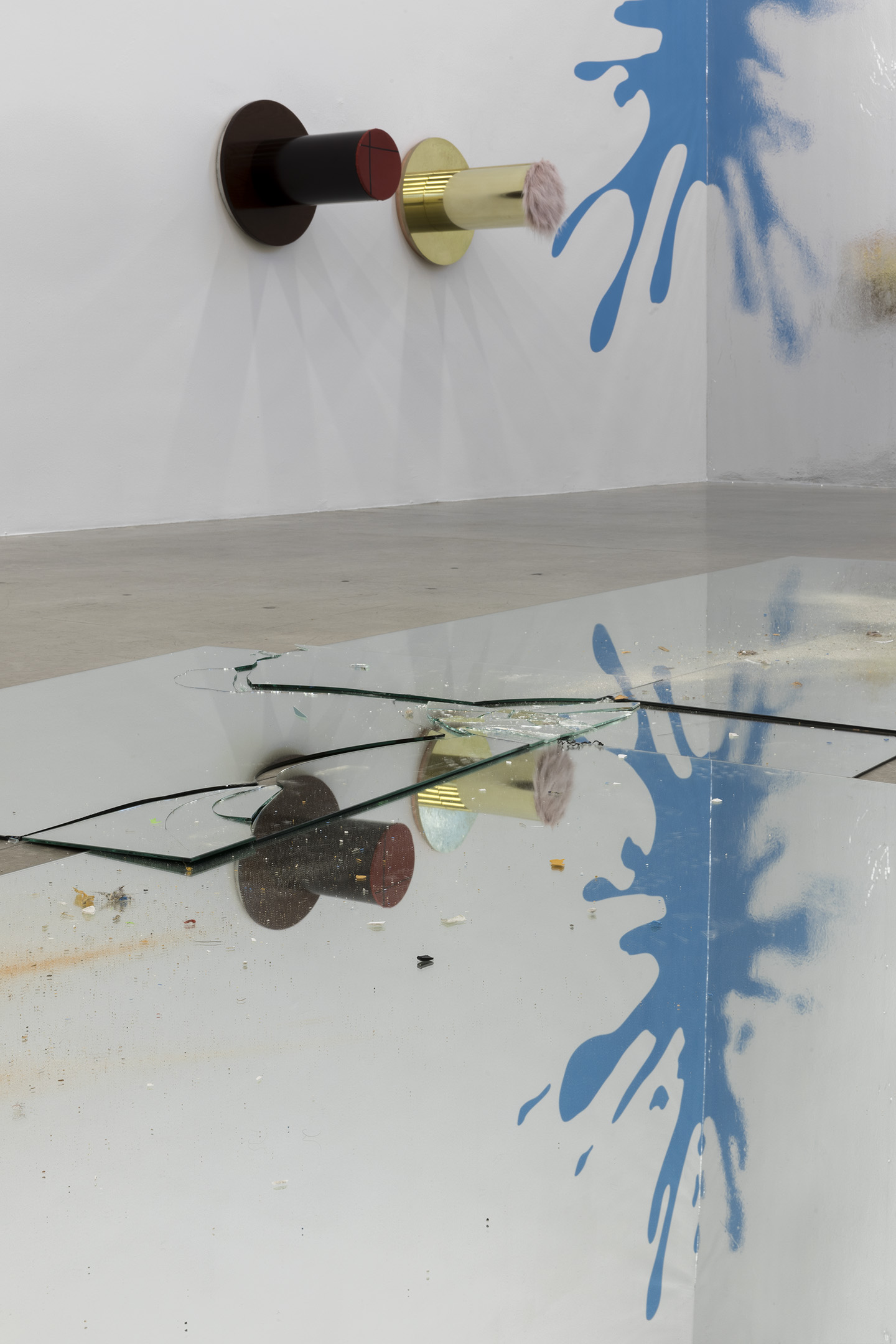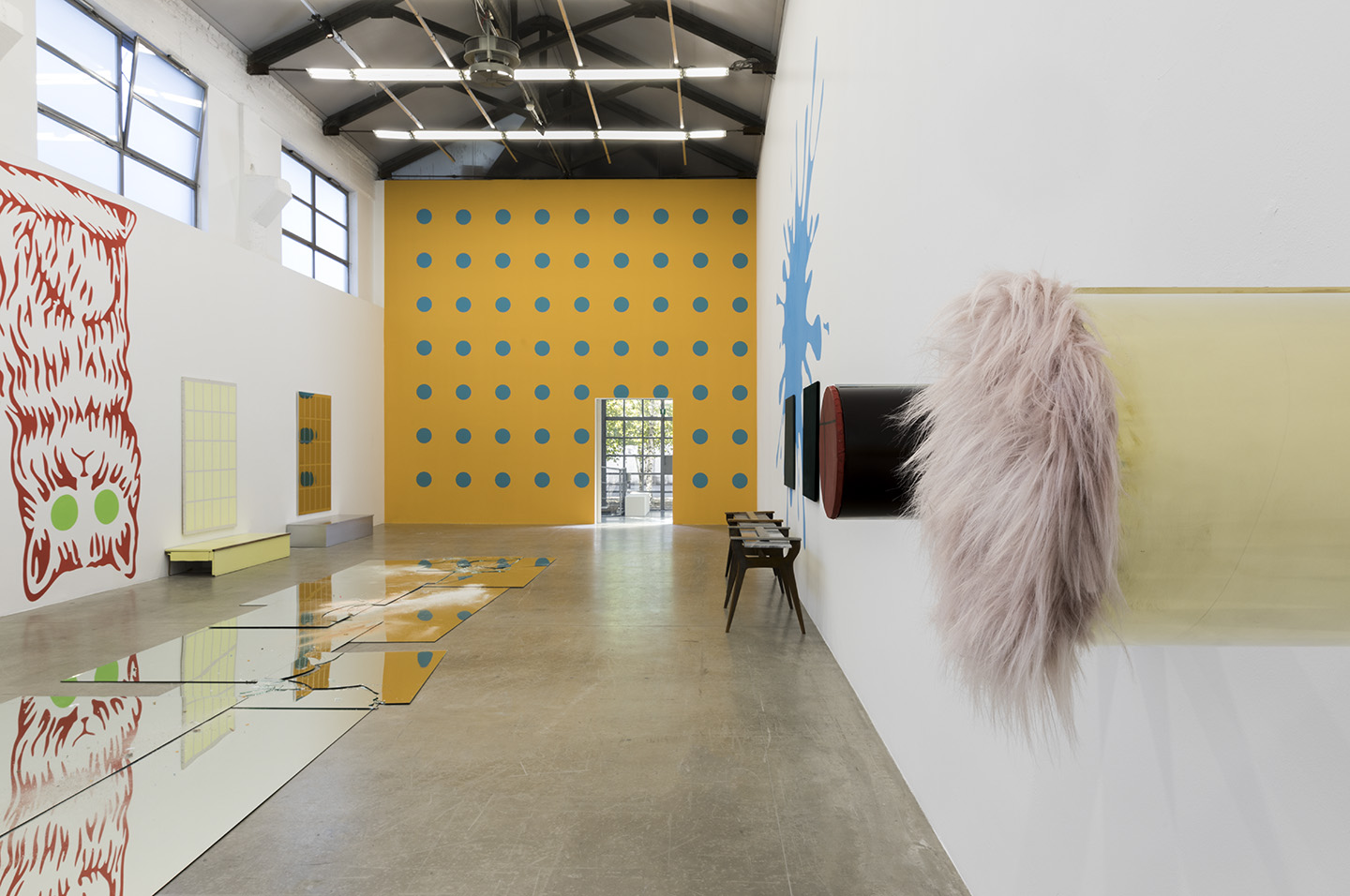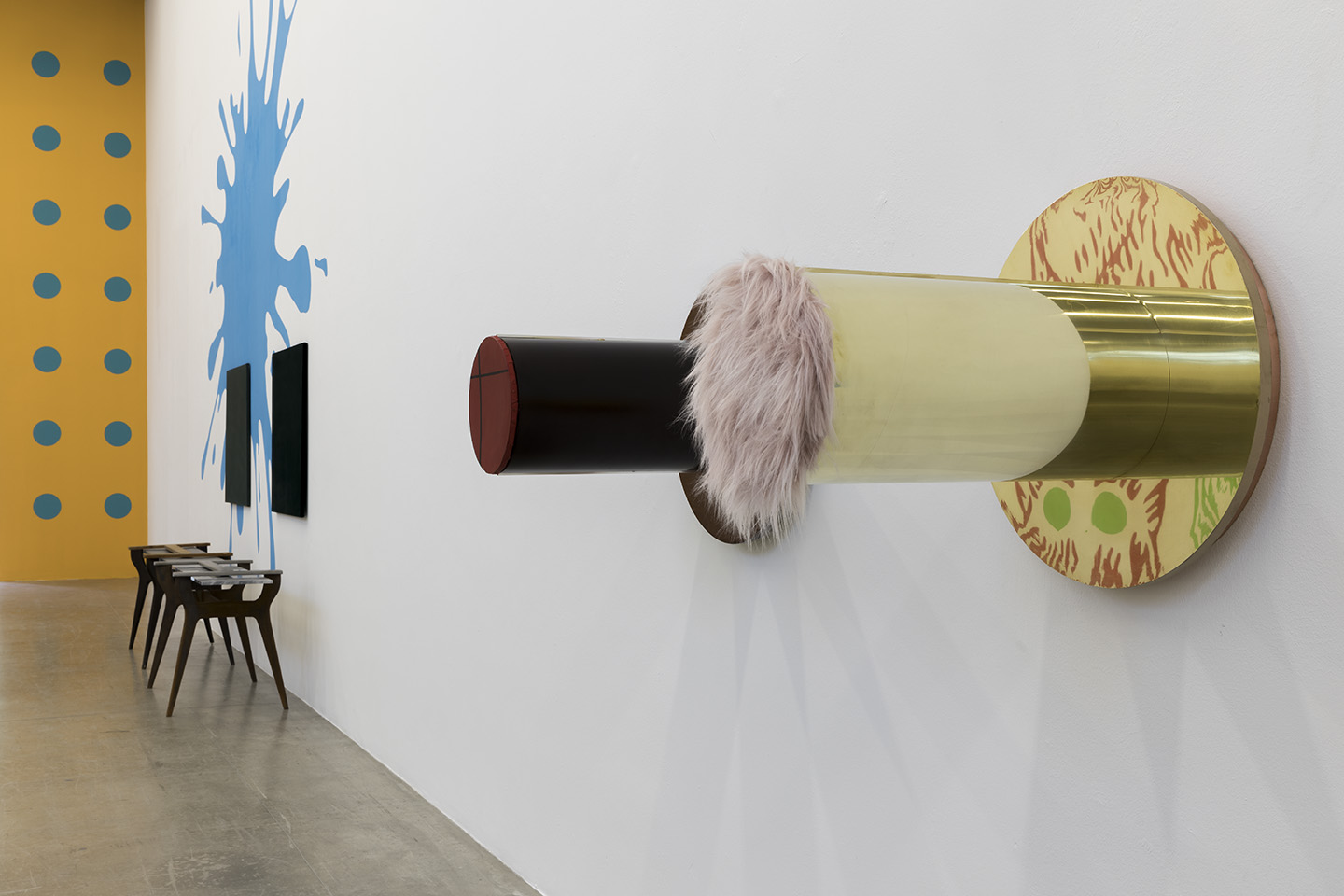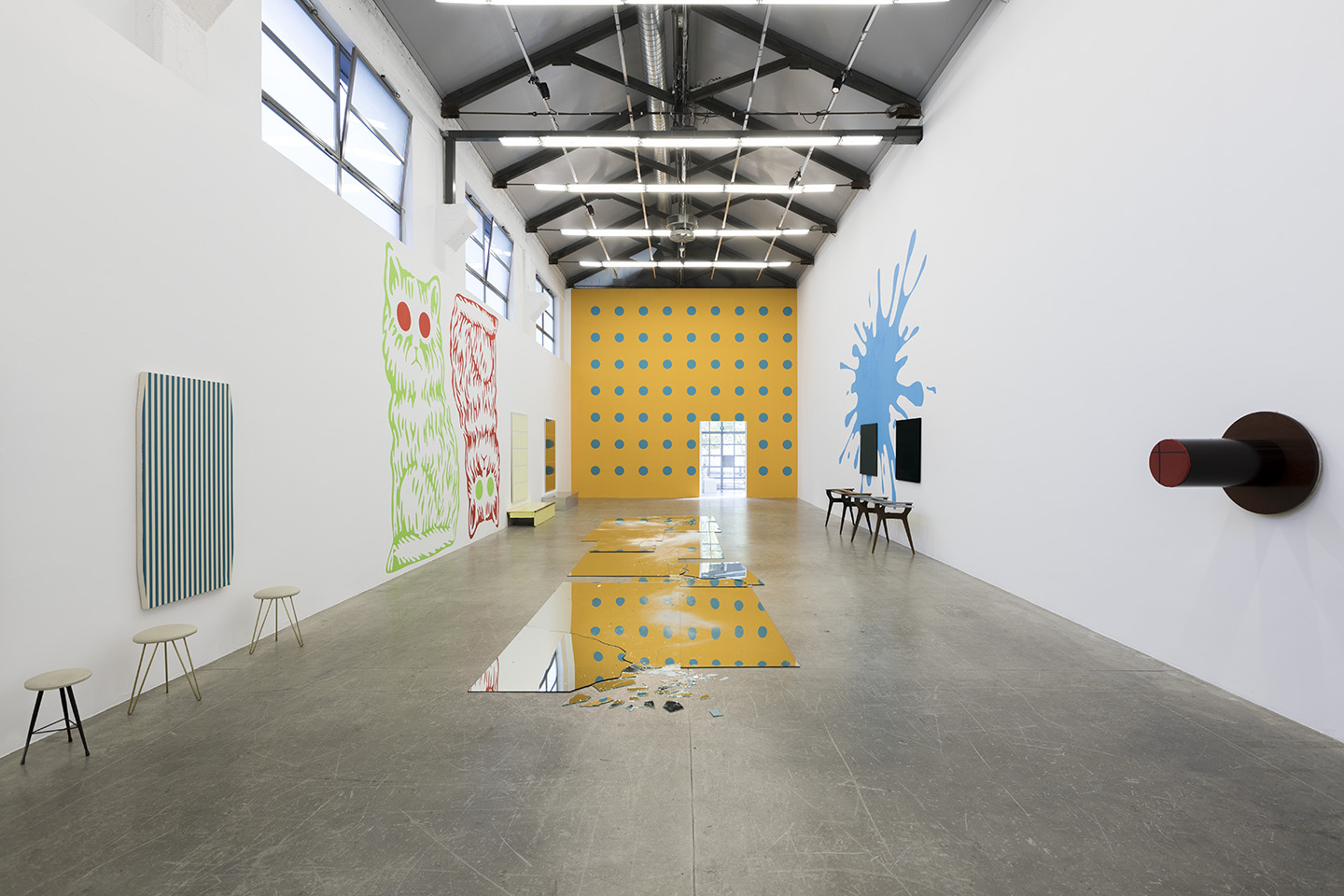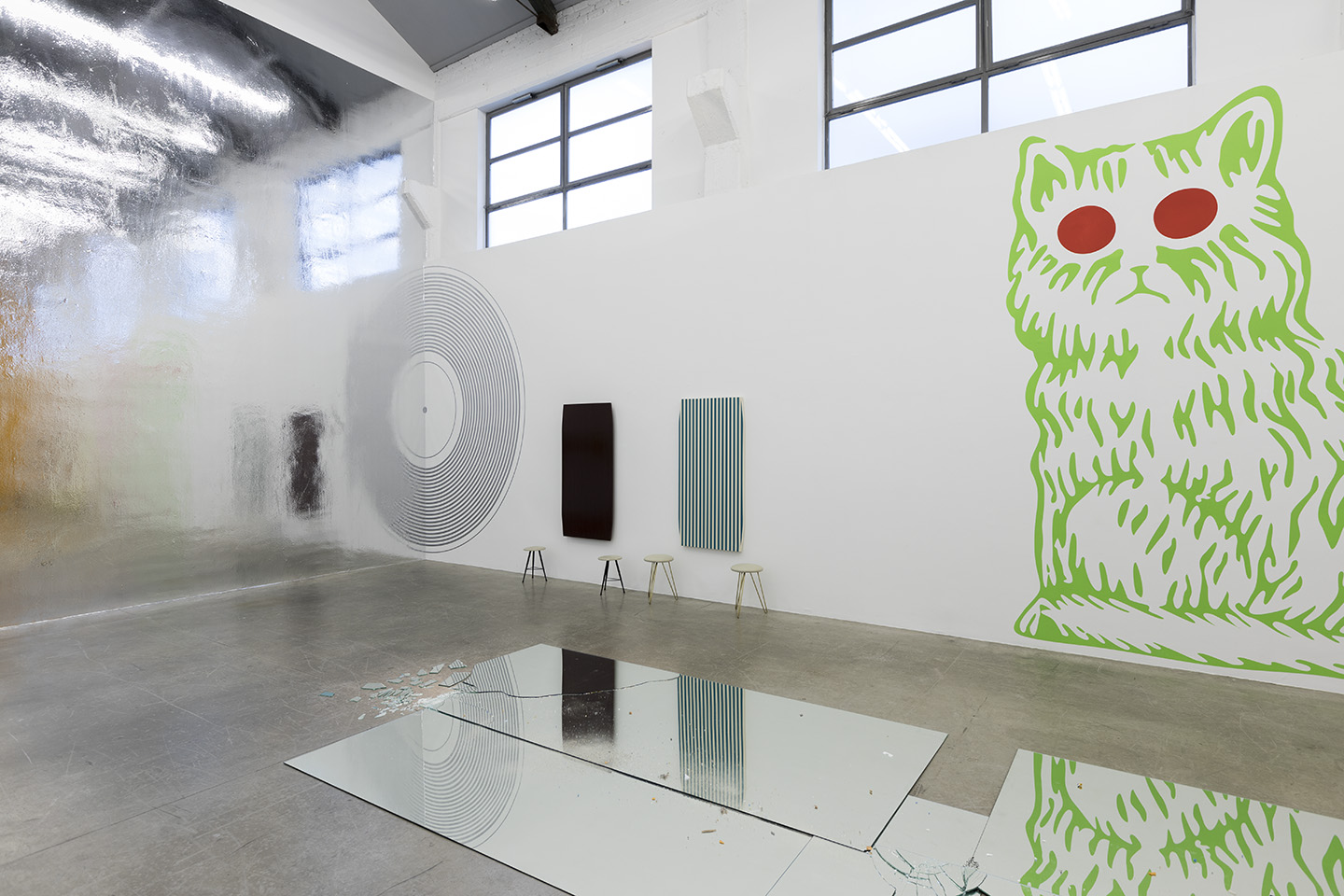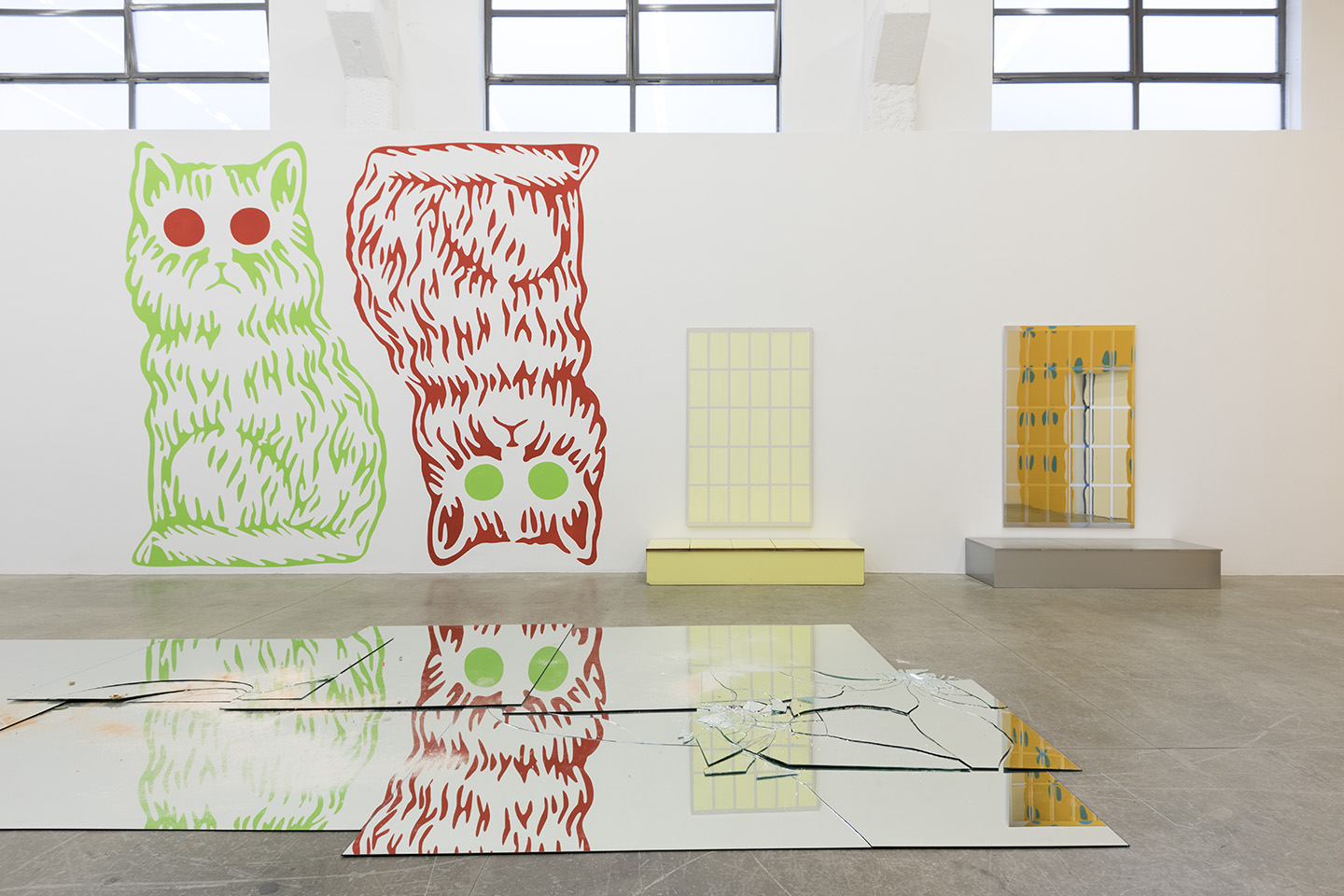 by Barbara Casavecchia
"The artist is art's collateral damage."
Pause, smile, toast-eating.
"The artist is art's collateral damage."
Large smile, silence, tea-sipping.
My conversation with John Armleder took place in between these two Zen-like aphorisms, repeated like inverted commas at the beginning and end of our chat. Quite apropos, in fact, for the ever self-replicating ritual of the interview (possibly same questions, possibly same answers), as well as for the subject we were discussing: his solo show, Better, Quasi ("quasi" means "almost" in Italian), an exhibition based on repetition, replication, and possibly improvement. Armleder compressed in it three decades of works, as if to embody a timeline whose starting point is January 1987, the date of his first Milanese show curated by Massimo De Carlo, at a time when MDC was still working with the gallerist Piero Cavellini and sharing his space in Via Brera. It is represented by three of the original "furniture sculptures" (one piece of found furniture and one abstract painting made by the artist) assembled by Armleder back then. All three items have been "repeated" in 1:1 scale for the occasion; to say "replicated" would be inaccurate since the new versions are rendered in different materials, whose choice was left to their manufacturers. For instance, a round Constructivist red and black painting inserted in a wooden gueridon (Untitled, 1987) is now a fluff of mauve synthetic fur emerging from a brass and copper cylinder (Avant-tout, 2017). To write "executed" or "interpreted," as if played after a score, could be even better: Armleder is a self-confessed fan of John Cage and Erik Satie, whose musique d'ameublement (1917; composed not to be attentively listened to, but to blend with the background noise, as if it was sonic wallpaper) he often quotes as a source for his own sculpture d'ameublement. It was Cage who first published Satie's piano piece, Vexations, and organized its first public performance in New York in 1963 by following precisely the composer's instructions: Play the score 840 times in a row, for an entire day. And it was Cage who somehow brought Armleder into the art world, way before he got involved with Fluxus and founded the Geneva-based Ecart group. "I met him when I was 12 or 13 years old, in Germany. I never studied music, but once I had to choose whether to go to a Wagner festival, or to a contemporary music one listing Cage and Stockhausen—that was my pick. After his concert, Cage gave a lecture that I found terribly serious, maybe because of the overall German mood. So, when the Q&A time came, I raised my hand and asked why he didn't tell any of those funny Zen stories he was so fond of. So he did, over and over again, and we both started laughing. At the end of the conference, Cage came to over me, and since I was so young, he asked me what I wanted to do later. "I want to be a painter", I said. Years on, in Cologne, when I was 18 or 19 and was walking down a street I heard someone calling me from behind. It was Cage, who asked me, first thing: "So, are you a painter now?"
Boasting about lineage and originality is not in the style of Armleder. "I've never believed in the "original" and always found surprising that so many people invest a lot in the paternity of something, or claim to have invented it before, or totally identify with it. When I started using furniture, I went to second-hand shops, seldom looking for a specific piece. I like the fact that furniture and wallpaper are mostly non-descript and that we associate them with a room rather than a museum or a white cube. Something you can stay at home with and enjoy, like other good things in life: surviving, love stories, food."
Armleder is an exquisite connoisseur of the formal repertoire of modern and contemporary art, design, and visual culture at large, but restrains from framing his works as enquiries around taste and beauty. "Taste is a social agreement, like language, and it changes at the same speed. When I was young, for instance, people detested the idea of decoration, while today it overlaps with art quite easily. When the so-called "change" occurs, things need to be replaced and often brought back. I think it is all rooted in ownership, attribution, and value, like a copy of Raphael being suddenly recognized as a Great Masterpiece by the Master-in-person at an art historical museum. The way we look at it changes instantly. Personally, I've always found fascinating that—when you look at an art piece—someone standing next to you sees something totally different."
Here, this idea is played out in many different ways; as a matter of fact, the same viewer can see the same thing hanging next to its doppelgänger and looking totally, concretely different. Or the same "splash" wall-painting repeating itself on a wall (Untitled, 2017), like a cartoonish pattern, or a half wall-painting in the shape of a record (Untitled, 2017) being completed by its own reflection, so that the eye is tricked into perceiving it as a full circle. Or again, the two monumental wall-paintings of cats (Untitled, 2017; one red, one green, one head up, one upside down) reflecting themselves in the broken mirrors of the central "catwalk"—pun intended, I guess. The wall at the back of the gallery is covered in shiny adhesive silver wallpaper acting like a Warholian mirror, but also, quite literally, as a 'silver lining', which goes hand in hand with the optimistic title of the solo—looking back and looking forward.
Armleder's exercises in levity, humor, and visual pleasure are as elegant and precise as ironic, even more so since he gracefully pretends to have very little to do with it. When he was invited to stage a large exhibition at the Centre Culturel Suisse in Paris in 2008, he handed it over to Jacques Garcia, an interior decorator and master of grand goût, free to create the lavish mansion of an imaginary collector at his own will, filled with George Condos and Helmut Newtons, but also with Armleder's glittery painting placed atop a fake fireplace. "When I first met Garcia, he immediately understood what I had in mind: "Basically, what you want me to do is a show you don't have the money for and where you just come to the opening," which is pretty much the ideal situation, for me."
.
at Massimo De Carlo, Milan
until 16 December 2017