REVIEWS
Jordan Wolfson at Schinkel Pavillon, Berlin
Close
1
2
3
4
5
6
7
8
9
10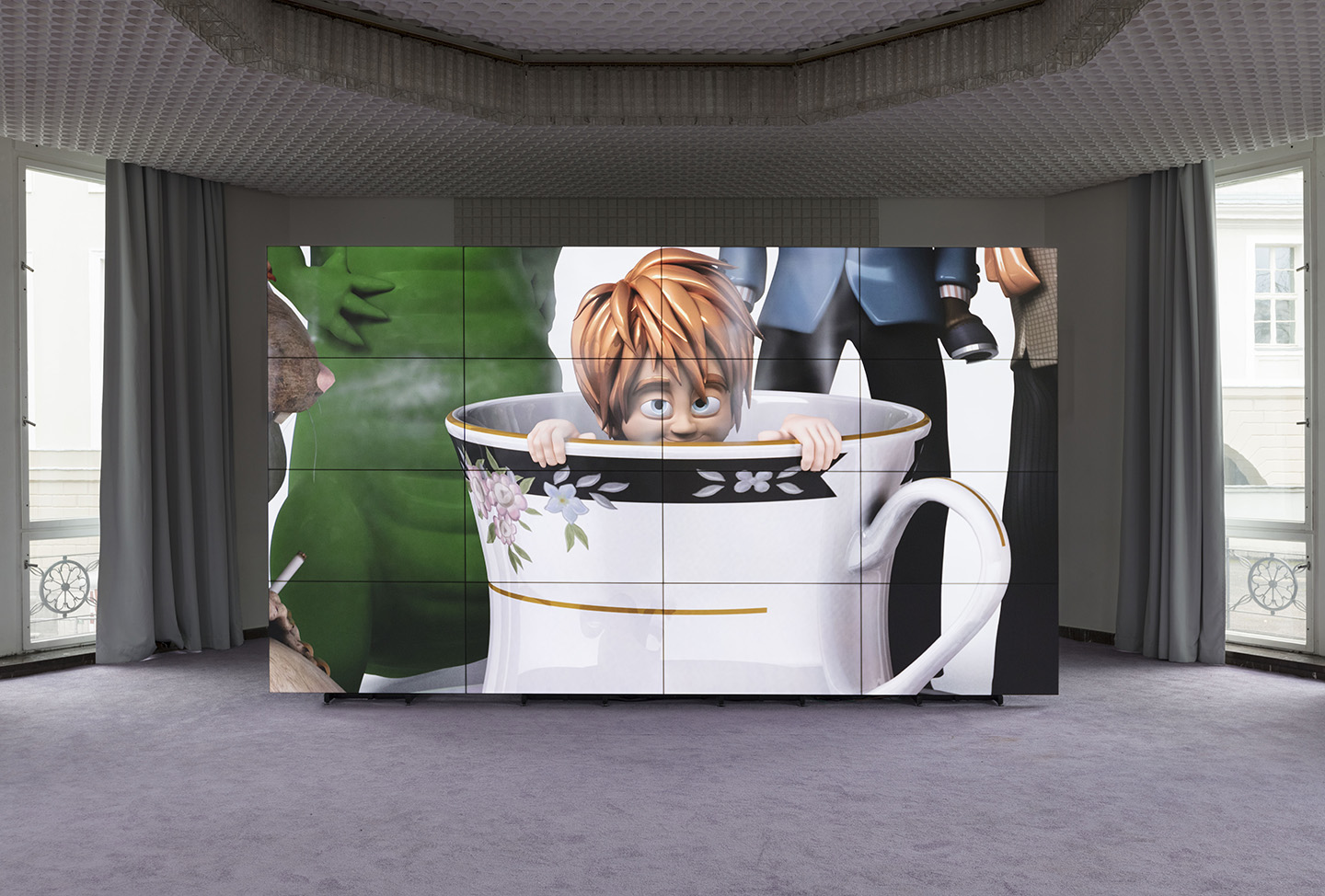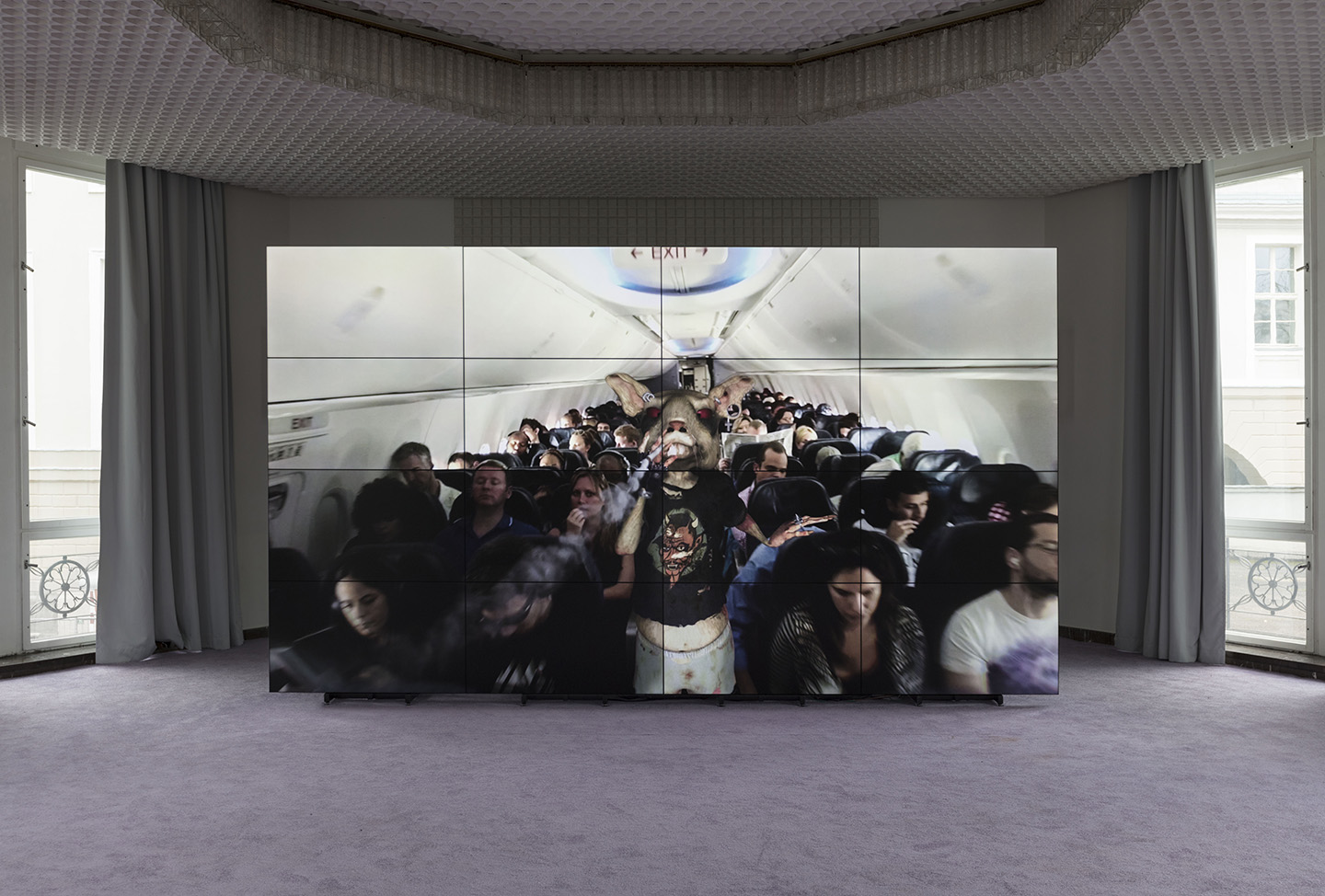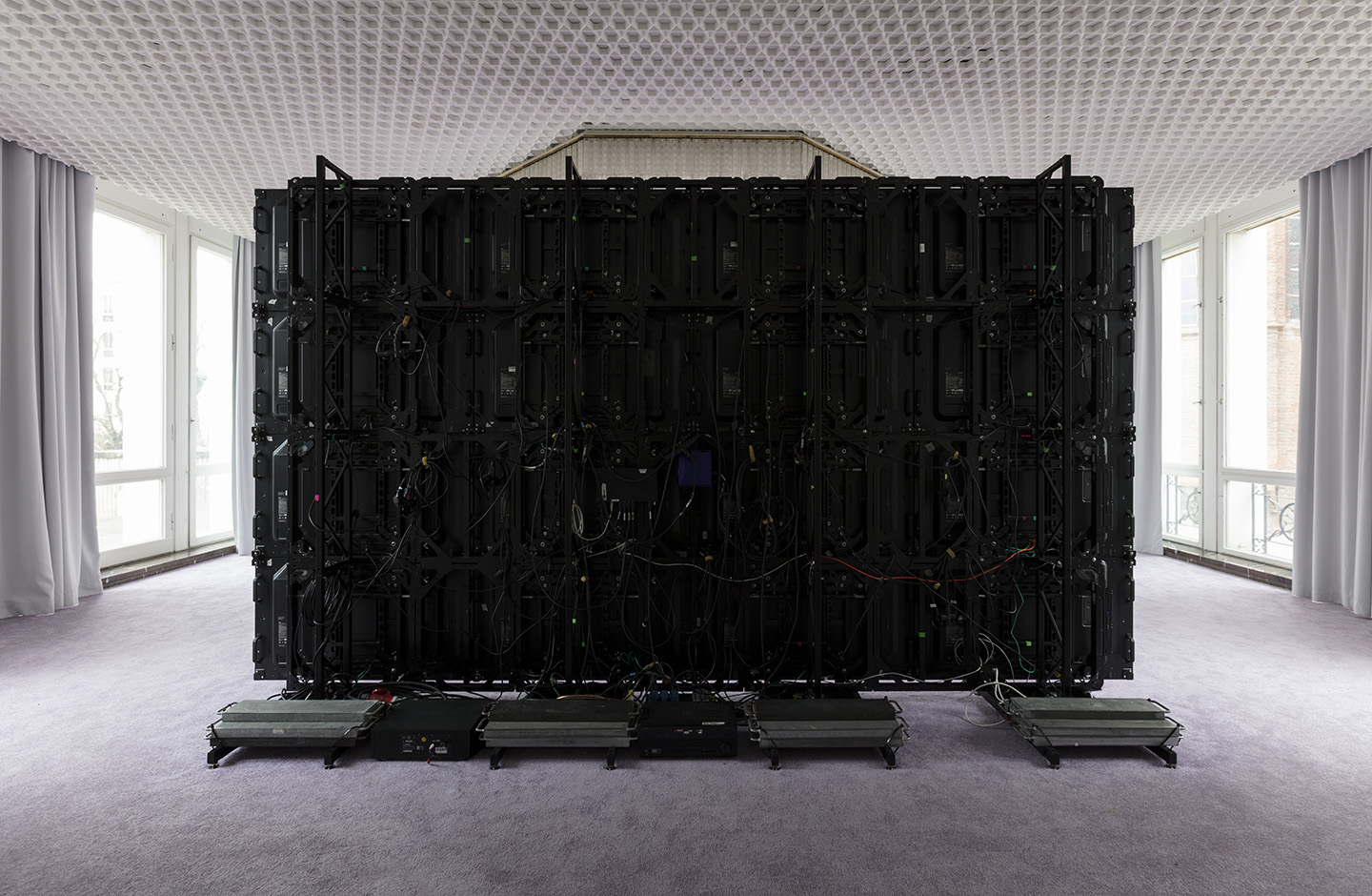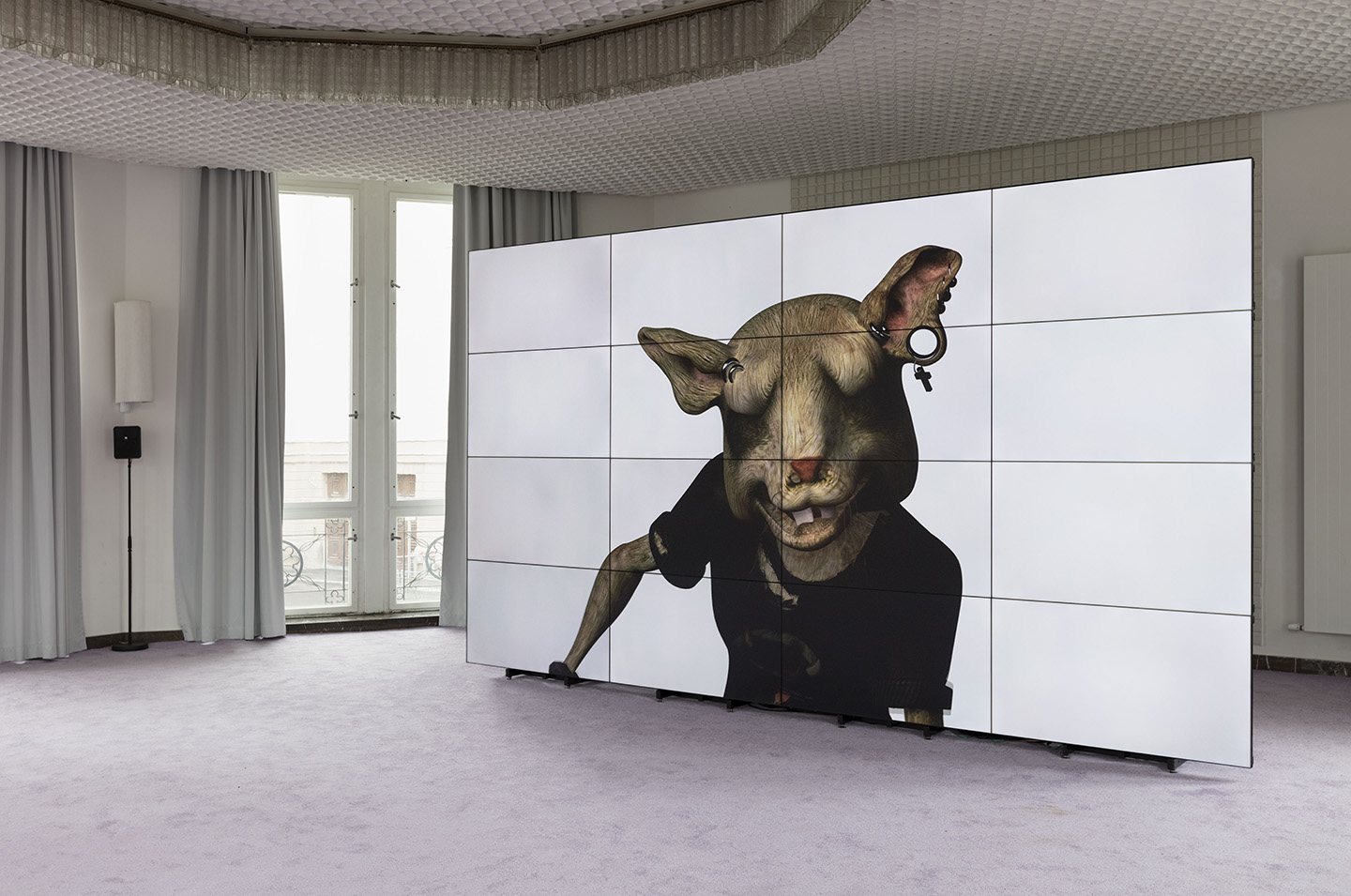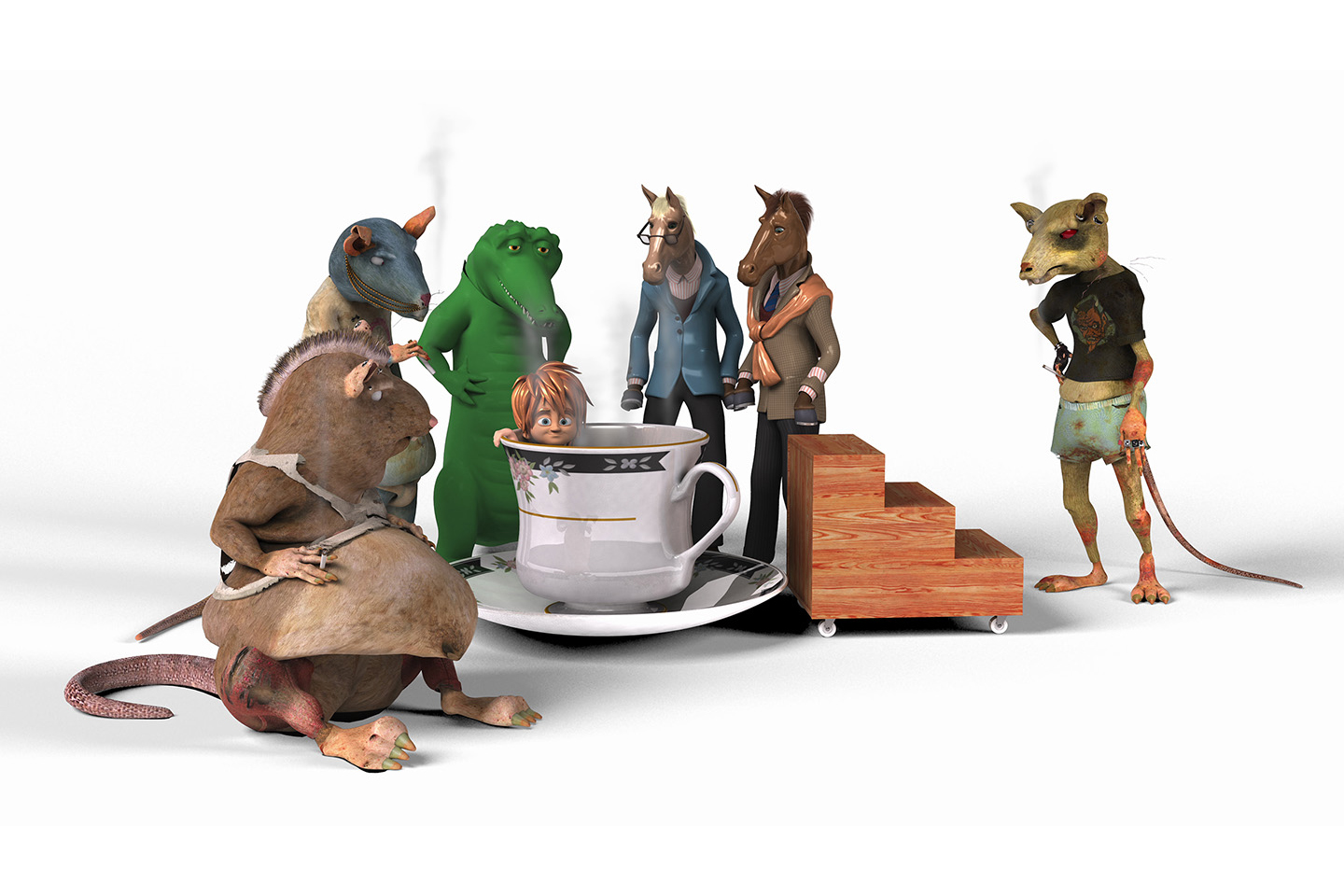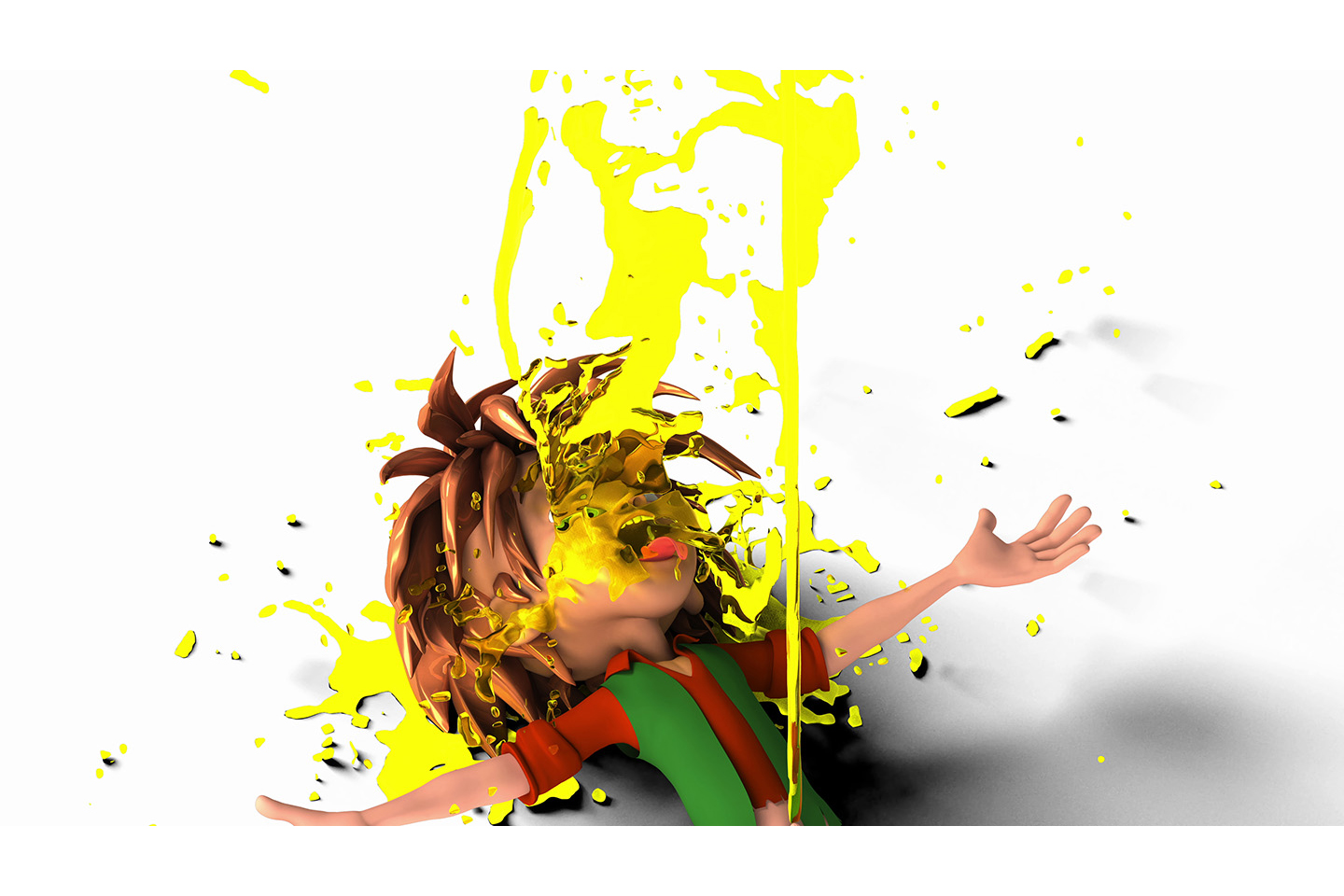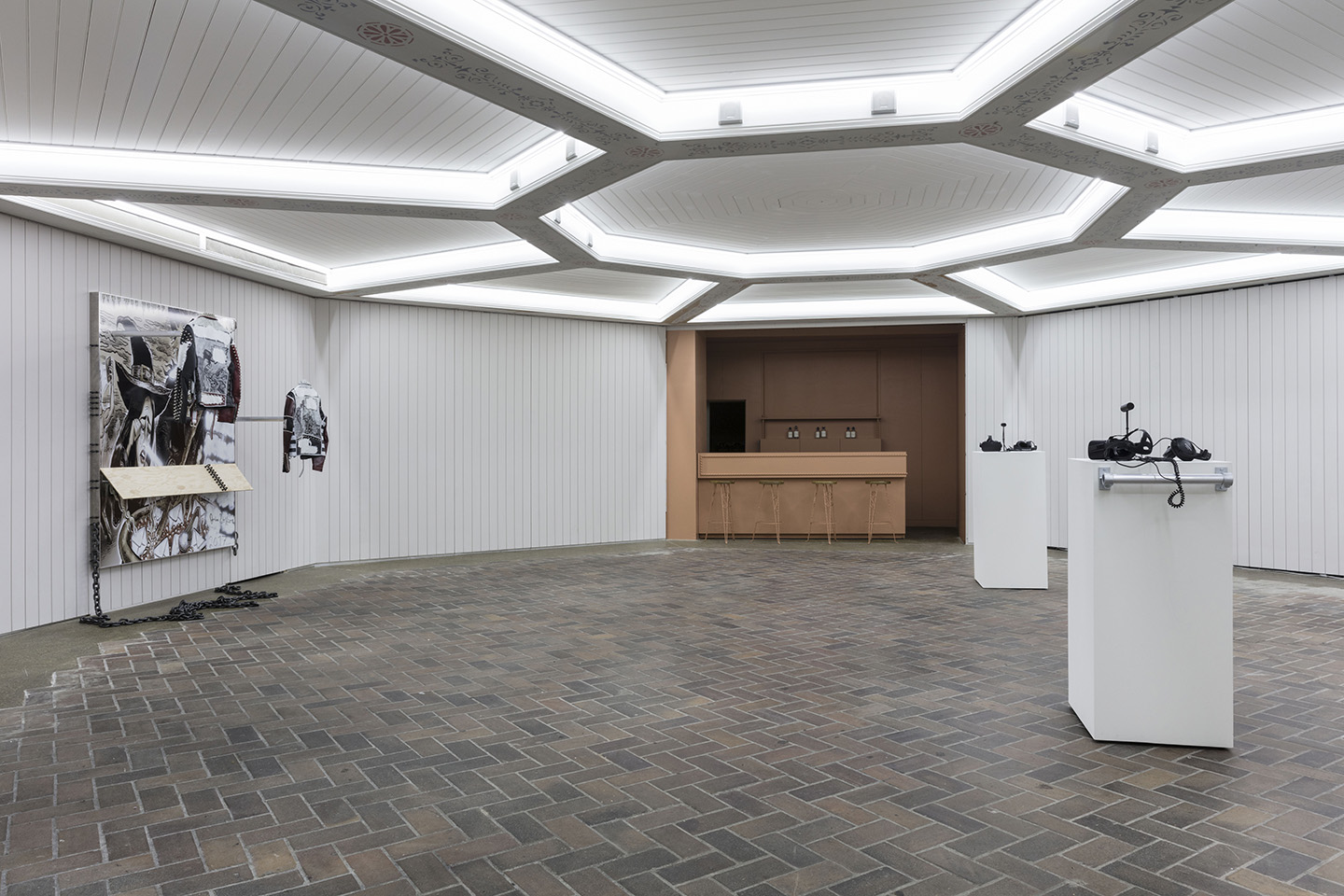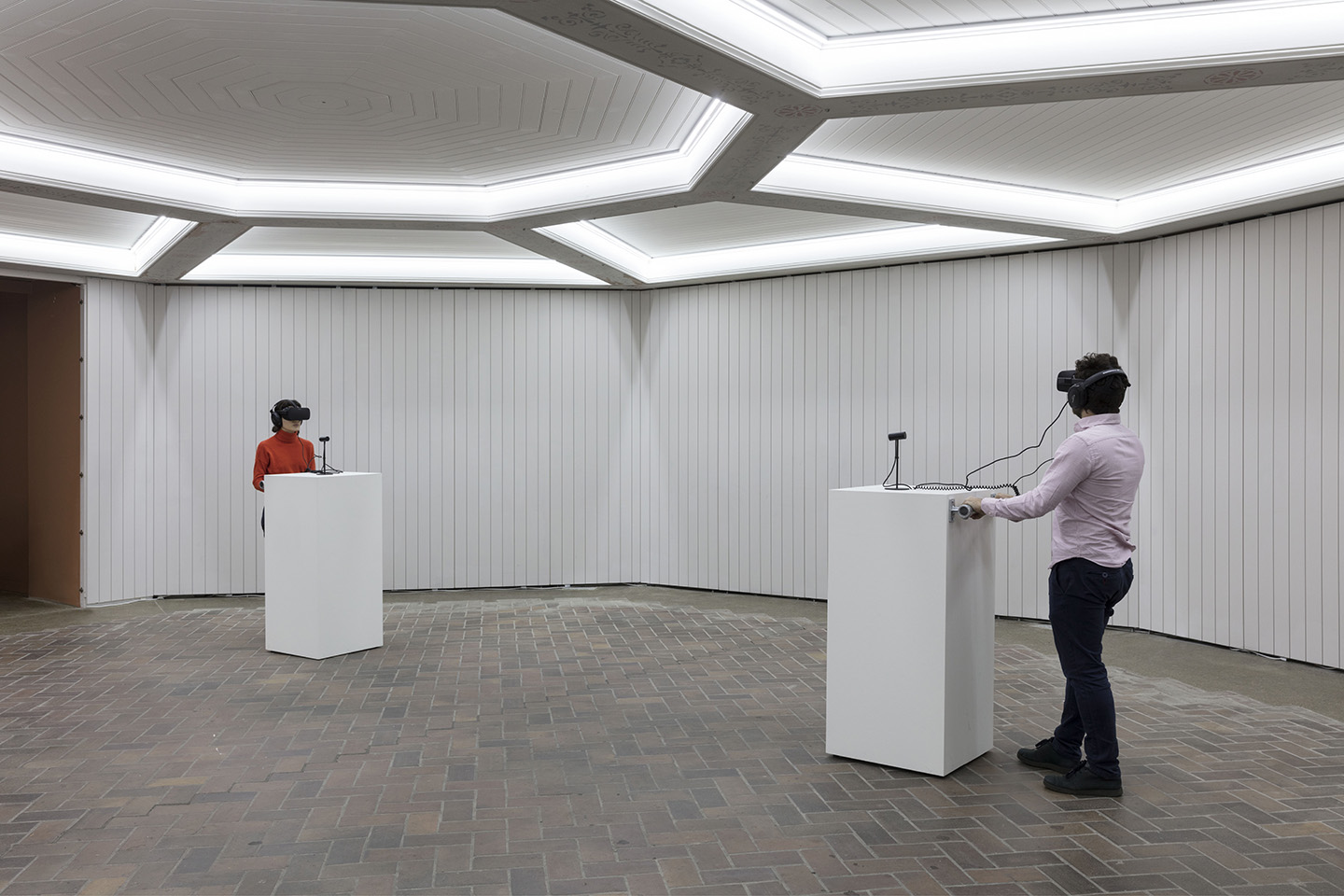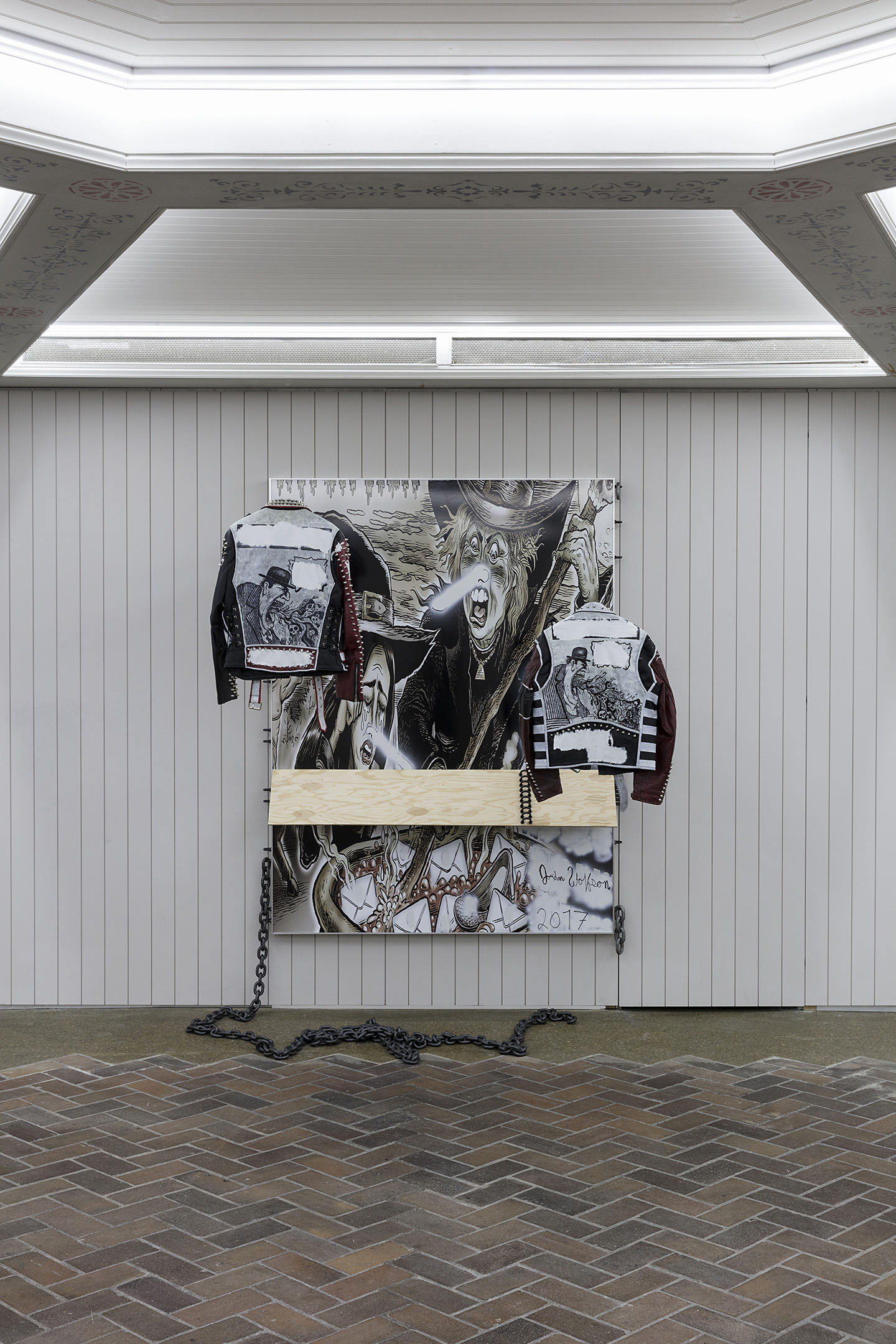 by Isabella Zamboni
The carpeting on the first floor of Schinkel Pavillon is very soft, and very pastel violet. Annoyingly relaxing like the pale-colored wall of the beauty salon you are obliged to look at while suffering supine from depilating wax. Before lying down on the fluffiness to watch Riverboat Song (2017), Jordan Wolfson's latest video, one must circumnavigate the massive black backsides of monitors and cables that compose the screen device, slightly obstruct the entrance, and hinder the spectacular view of the octagonal shape of the pavilion. Straight from the exhibition display, Wolfson makes clear the dynamic between charm and imposition that orchestrates his recent practice.
The seven-minute video revolves around a little redheaded boy in worn-out pants, a Huckleberry Finn character animated with an apt Disney cartoon aesthetic, caught in what the press release properly calls a "narcissistic surreal nightmare." After elastically dancing to Iggy Azelea's "Work"—with stripper heels and moves, as well as oversize breasts and butt appearing for a couple of seconds—Huck Finn boy directs a long, harsh, mortifying monologue at an absent lover, lending at times his voice (Wolfson's real one) to adorable cartoon figures—an elderly, lovey-dovey pair of horses with pullovers over their shoulders making breakfast, and a crocodile funnily sunk into a bathtub. Animated punk rats smoking while lazily wandering around an airplane's center aisle pop up throughout the video, which culminates with fortuitously found clips from YouTube, like "Sexy Hot Woman dance 2016," "Top 10 most violent video games," "The best way to cut an apple."

Employing cuddly animals and a ginger orphan to impersonate a partner's tormenter illustrates, acutely, the nature of this kind of humiliation: feeling loved (merely) as a by-product of another's abusing self-love is a likewise surreal and artificially charming mise en scène. "I'd like you to love me more than anything, and do as I say, and be strong and empowered, strong, sexy, stylish, and sassy, despite all my oppression," says Huck Finn boy, at times with his penis out. "When I leave you, you'll forgive me and blame yourself. You'll feel as you have been fired or reevaluated as a problem," he continues, before euphorically urinating, splashing around and drinking from his own yellow gush. The emotional misery as deceit is enacted, literally, by one of the rats in the airplane as the writing "Careful" appears in a cloud of smoke from its mouth: The kind of psychological blackmail Wolfson is narrating is, in real life, powerful exactly because its manipulation appears imperceptible, like a puff from a smoking cigarette. The violence of the mortification echoes in the random scenes of YouTube brutality and irrelevance that follow the monologue—video game figures decapitated, sleazy soft porn, apple peeling instructions.
If on the one hand, abjection is a feeling that the viewer honestly perceives, it is morbidly balanced with seduction. The video captivates because of its ironic, surreal tones and comic timing, the at times romantic and at times euphoric pop music soundtrack, as well as the perfect technical quality of the "adorable" animations. Attraction and repulsion are intertwined. And apart from the romance or the euphoria, Wolfson's choice of music may seem a comment in this sense: Bob Dylan's "Just Like a Woman," starting exactly after the monologue's end, is ranked by Rolling Stone as number 232 on the list of the 500 Greatest Songs of All Time,[1] and at the same time a track widely accused of misogyny, "a devastating character assassination… the most sardonic, nastiest of all Dylan's putdowns of former lovers."[2]
Leaving the first floor and descending the stairs at the Berlin Schinkel Pavillon, sadism through high technology persists. Employing virtual reality headsets, Real Violence (2017) is a high-definition video lasting no more than two and a half minutes. In a sunny, undefined Western city, we witness an act of unexplained violence: a young man in jeans and a red hoodie kneels on a sidewalk and looks straight into our eyes until another young man, standing over him in gray T-shirt, takes a baseball bat and starts vigorously beating in his skull, then drops the bat and advances the slaughter with a series of stumps and kicks. The man in the gray T-shirt is Wolfson himself. Blood streams, and the victim's head appears more and more mangled. In the background, we hear Hebrew blessings sung in a man's voice. Toward the end, the sound stops, shortly after, the imagery. Again, and more radically, the viewer is disgusted by the abjection and attracted by its formal, technically complex artificial quality.
"Today there is a general tendency to redefine experience, individual and historical, in terms of trauma," wrote Hal Foster in 1996.[3] A tendency that nowadays—in times of political extremism and harsh racial, economic, and sexual inequities—art seems to relevantly continue to embrace. As Wolfson's works exemplify, 2017 was described by Barbara Casavecchia as "a year full of shadows" in art.[4] In this cultural perception of the real as trauma, Foster thought necessary to rethink the goal of the avant-garde: "not to break with the symbolic order absolutely," with the conventions of representations, with the codes of visual culture, "but to expose [them] in crisis."[5] Wolfson's strategy seems precisely to appropriate—without breaking them completely—popular, commercial, and conventional visual codes: hypersexualized pop music, blockbuster animation aesthetics, amateur internet content, high-tech splendor, ISIS violent HD video production, stereotyped figures like the trickster-kid-punk-white-privileged-artist-as-provocateur.[6]
On one side is exactly the appropriation, in a forced Videodrome-like exposure to the viewer, which reveals the bare nature of those codes as miseries and traumas—uncovering their crisis. On the other it appears not as a bland absorption inasmuch as the codes, in Wolfson's works, are developed to (successfully) seduce and please the viewer. The difference between Wolfson and the second wave of postmodernist artists analyzed by Foster in his essay lies exactly in this strategy of seduction. If the figures Foster describes were dominated in the process of breakdown by a melancholic, depressive despair,[7] the contemporary subject of trauma impersonated by Wolfson seems to survive out of it through a swaggery game plan: sadistic euphoria and abusing self-love.
"I have this idea that the only way to survive the Trump presidency will be to wear all white and listen exclusively to power ballads and maybe fall in love," writes Rahel Aima.[8] Beating a passerby to death, or annihilating the person in love with you while drinking your own piss, adds Wolfson to the list of trauma's exorcisms.
[1] Rolling Stone, December 9, 2004.
[2] Paul Williams, Bob Dylan: Performing Artist, Book One, 1960–1973 (London: Xanadu, 1990), 190–91.
[3] Hal Foster, "Obscene, Abject, Traumatic," October 78 (Fall 1996): 123.
[4] Barbara Casavecchia, "A Year Full of Shadows," Frieze.com, December 23, 2017, https://frieze.com/article/year-full-shadows.
[5] Hal Foster, "Obscene, Abject, Traumatic," 115.
[6] Or the "nonjudgmental" postmodern artist without messages, as he often puts it in interviews.
[7] Hal Foster, "Obscene, Abject, Traumatic," 121.
[8] Rahel Aima, "Body Party: Hannah Black," Mousse 57 (February–March 2017): http://moussemagazine.it/rahel-aima-hannah-black-2017.