EXHIBITIONS
Jos de Gruyter & Harald Thys "Pantelleria" at Galerie Isabella Bortolozzi, Berlin
Close
1
2
3
4
5
6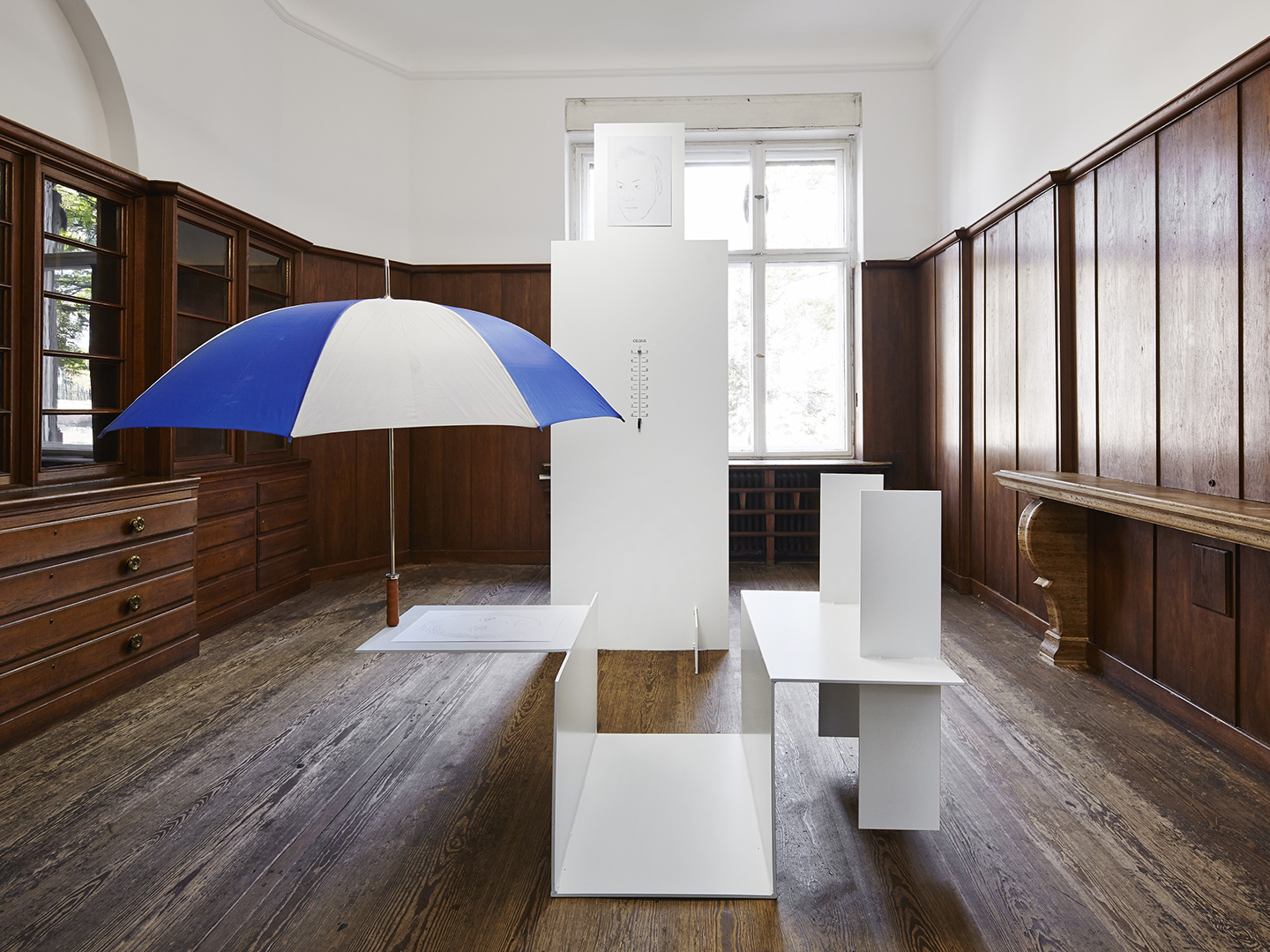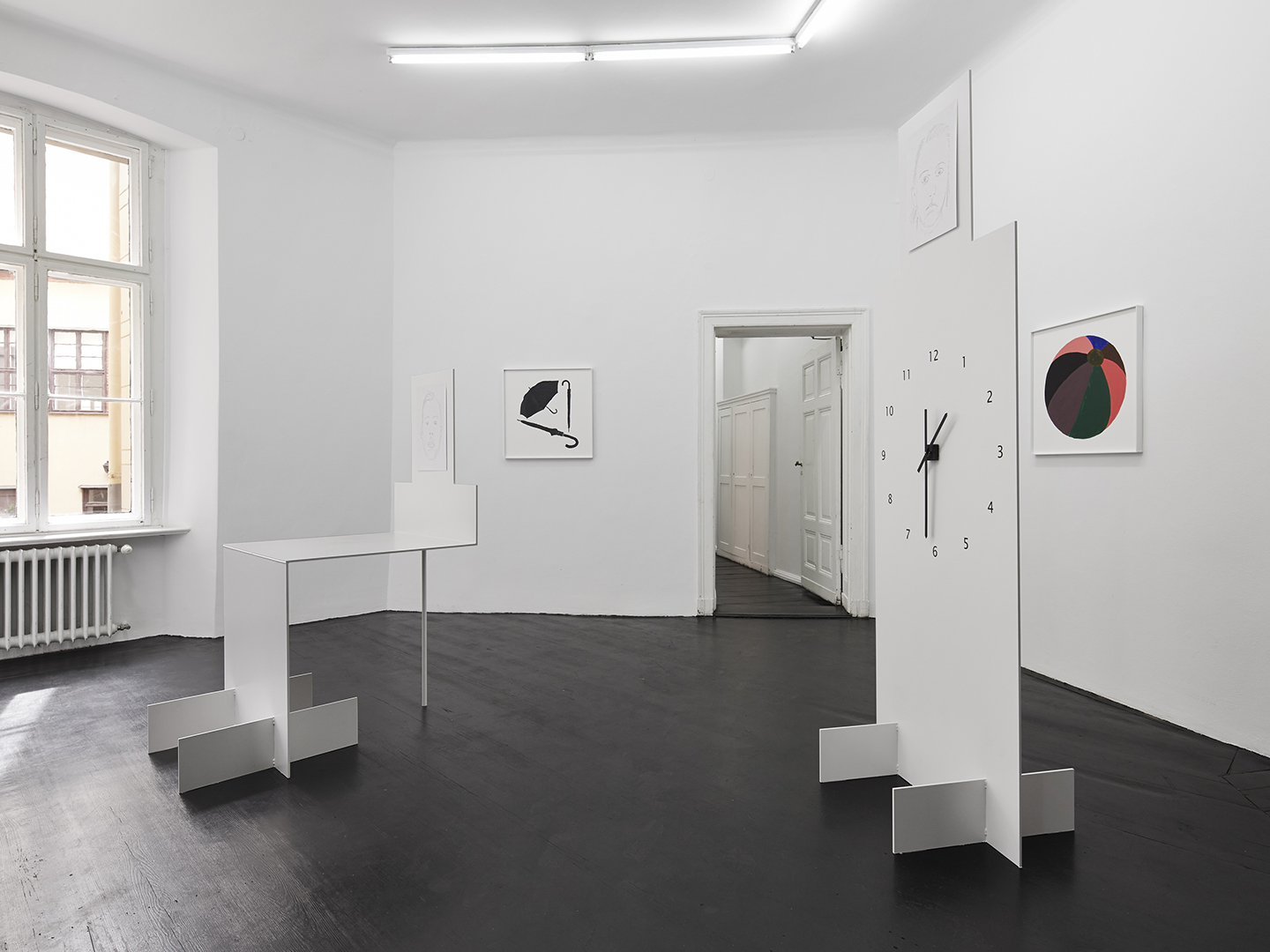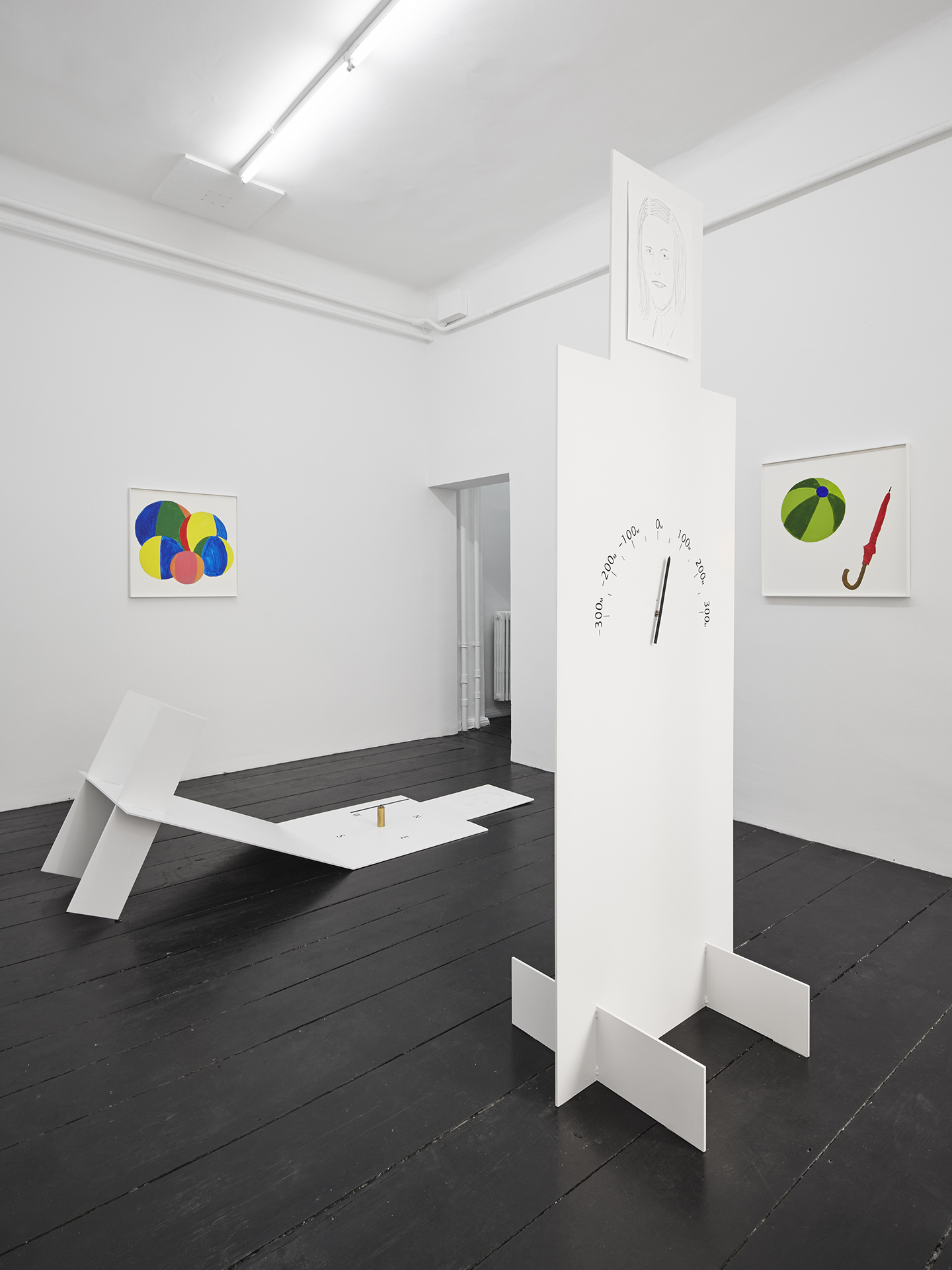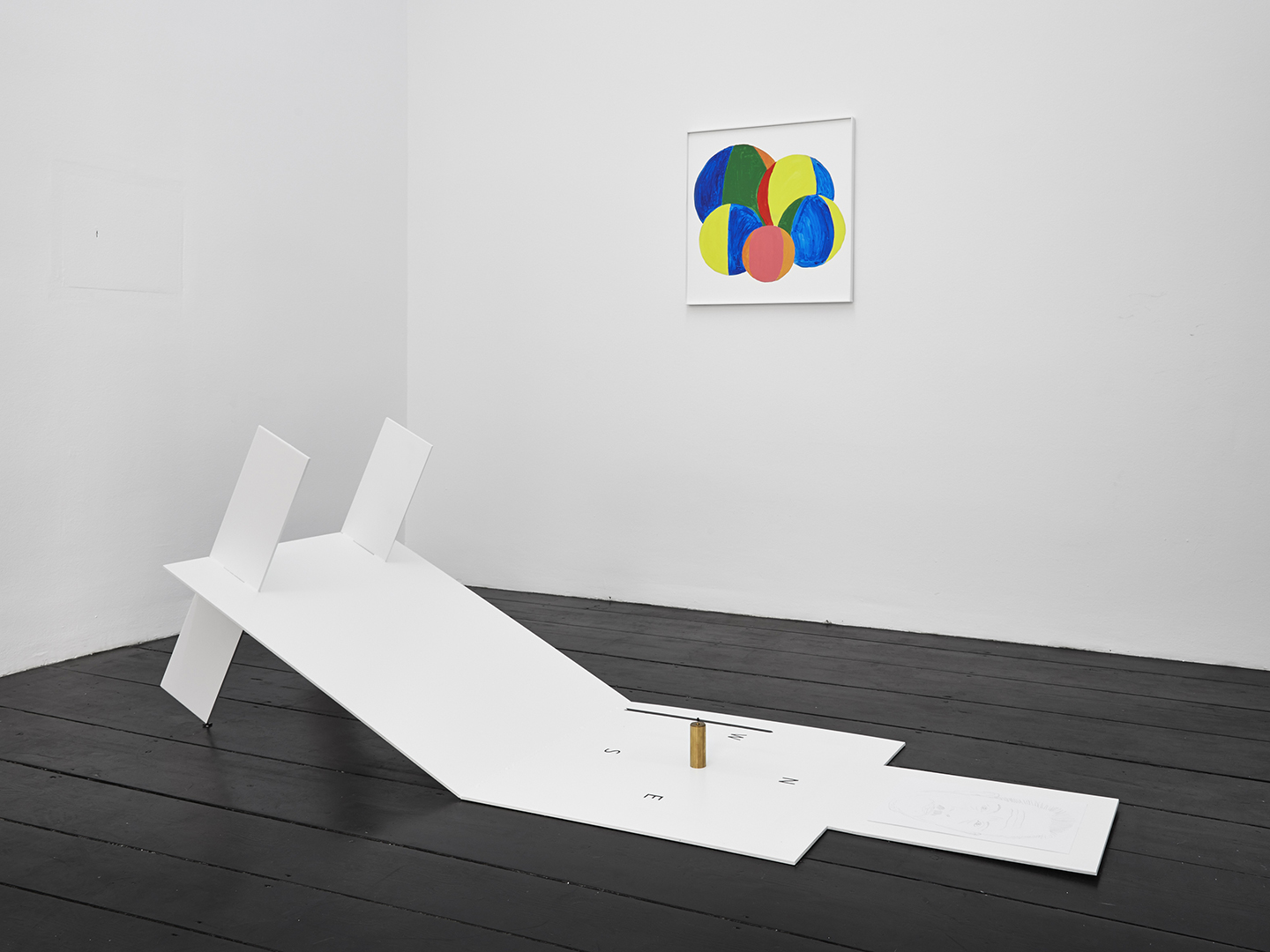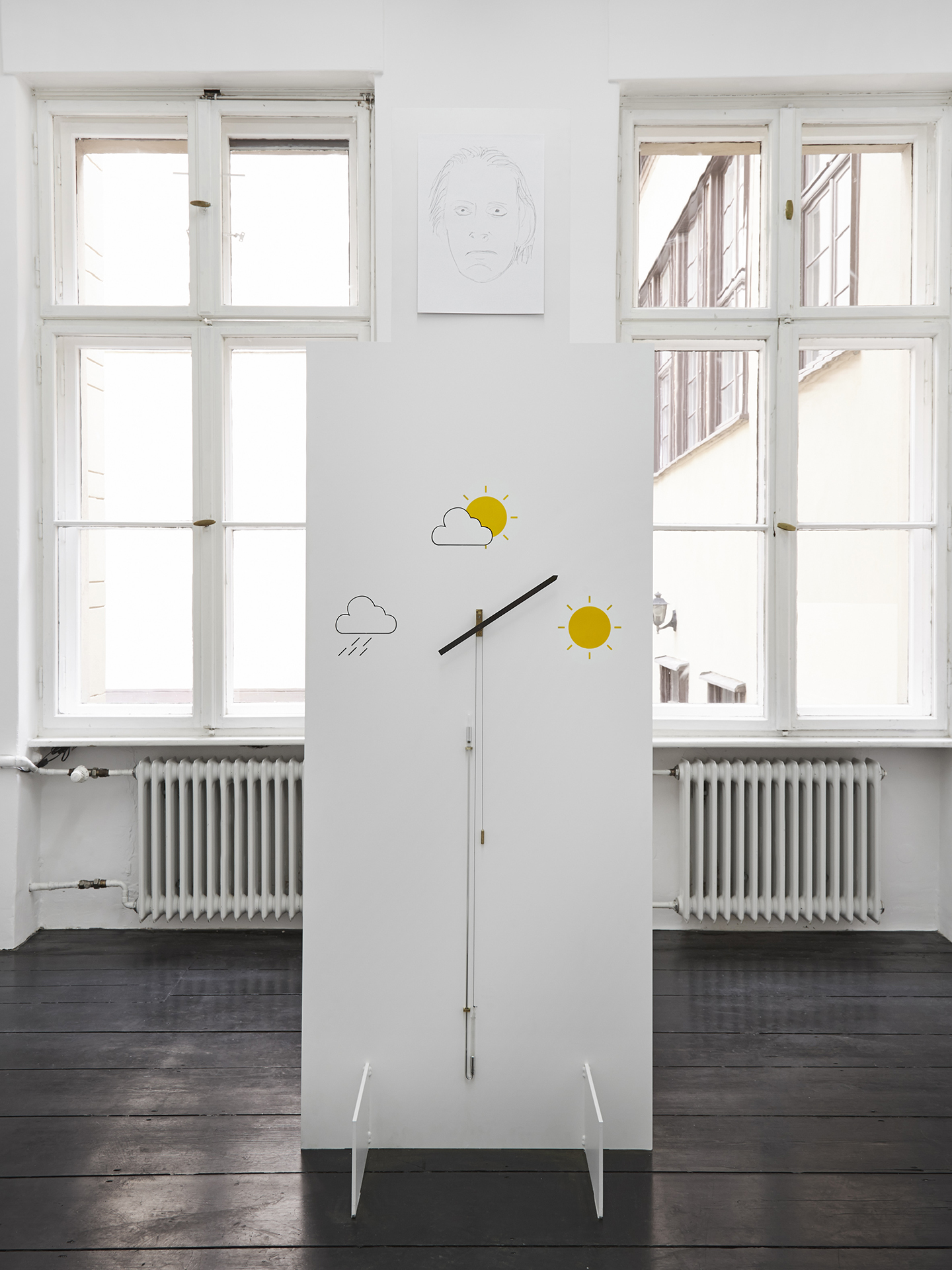 For this exhibition, the artists present a series of their sculptural White Element works recently featured in their shows at MoMA PS1 New York, CCA Wattis San Francisco, Raven Row London and in White Suprematism at the CAC Vilnius, which will be also be the title of their upcoming solo show at Portikus, Frankfurt.
The works, constructed from steel, hot rolled into a flat form and painted white, stand upright in the echo of a figure. The fixed nature of the sculptures are offset by loosely sketched faces, hand drawn by the artists on paper and applied both sides of the forms. These "tragicomic portraits" observe subtle subjects of conformity and standardisation, and an illusion of efficiency concluding in what might be termed a fine line separating stupidity and evil.
For this exhibition, the artists, who have collaborated together for almost 30 years have developed hand crafted measuring instruments in the form of a Barometer, a Thermometer, an Altimeter, a Compass and a Clock system. These devices are incorporated into the White Element figures providing each figure their own basic ability to measure elements around them from their rigidly fixed position.

Surrounding these immobile figures are brightly coloured paintings of beachballs, sunshades, and umbrellas. The apparent lightness of these images are contrasted by the white metal frames that surround them, fabricated from the same steel as the White Element figures are rolled from. The knowledge that these works are of extreme weight is opposed by the subject matter of for example the beachballs – objects given shape only by air. In this wry and playful contradiction one may understand how the artists' logic plays out via form.
The final work in the show is the 2014 video work Die Aap van Bloemfontein (The Ape from Bloemfontein). Here themes of immobility and fixation are re-visited with a cast of untrained actors, who lay apparently paralysed, or motionless as a digitised voice narrates in Afrikaans sentences that run into each other nonsensically. This narration, akin to an unending data-stream, acts as a dumping ground for language, while at the same time stripping meaning from it. This "Master Babbler" appears to reign over a dysfunctional existence, where catatonic states hint at the body's submission to modernity and overdesign.
Against this rigidity, the exhibition as a whole seemingly wants to put these "fixed things" into new relations through a proposal of free-association and for the overall benefit of creating new expressions of discourses, as well as in art.
.
at Galerie Isabella Bortolozzi, Berlin
until 5 November 2016