ESSAYS Mousse 69
The Bad Jokes of Jos de Gruyter and Harald Thys
Close
1
2
3
4
5
6
7
8
9
10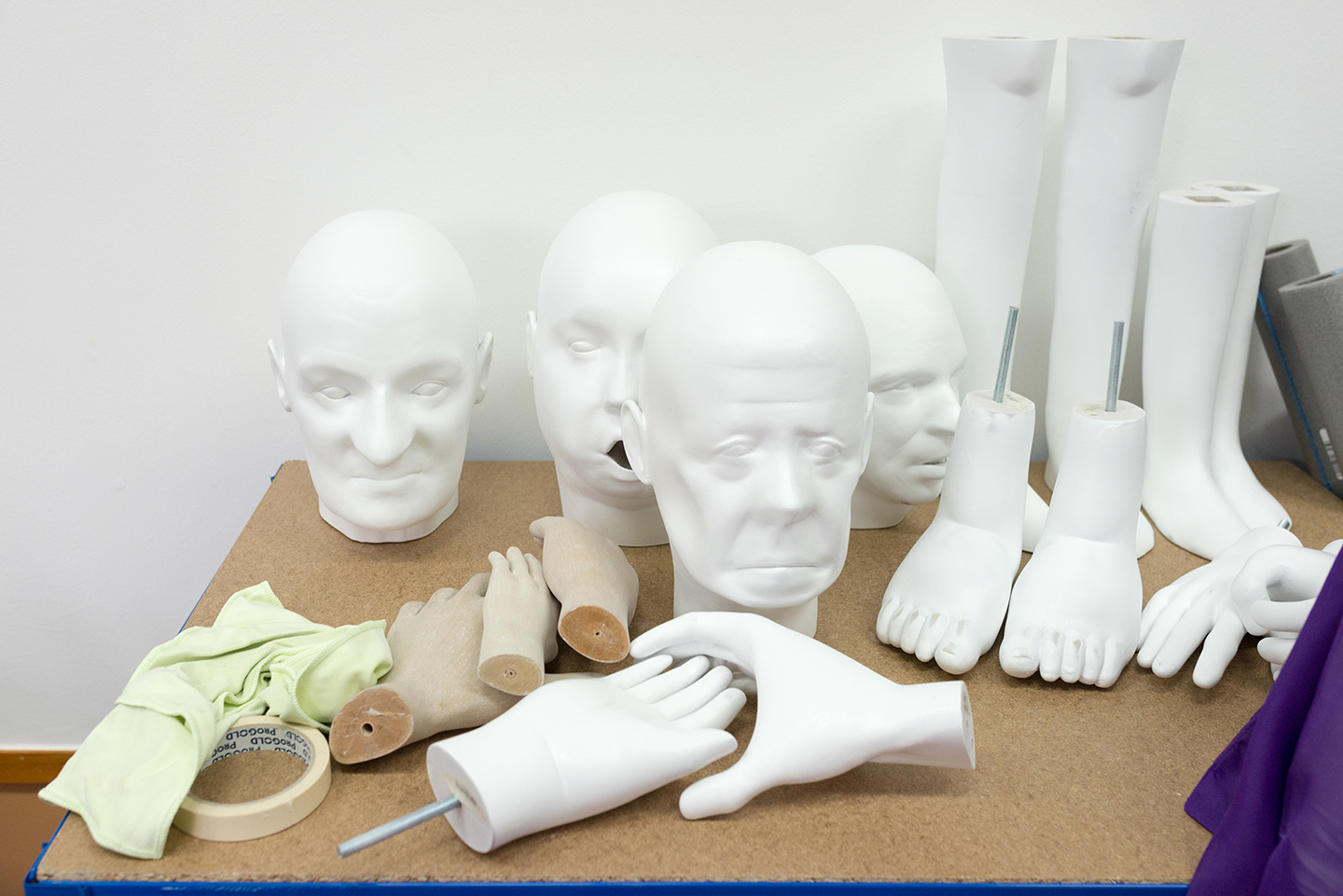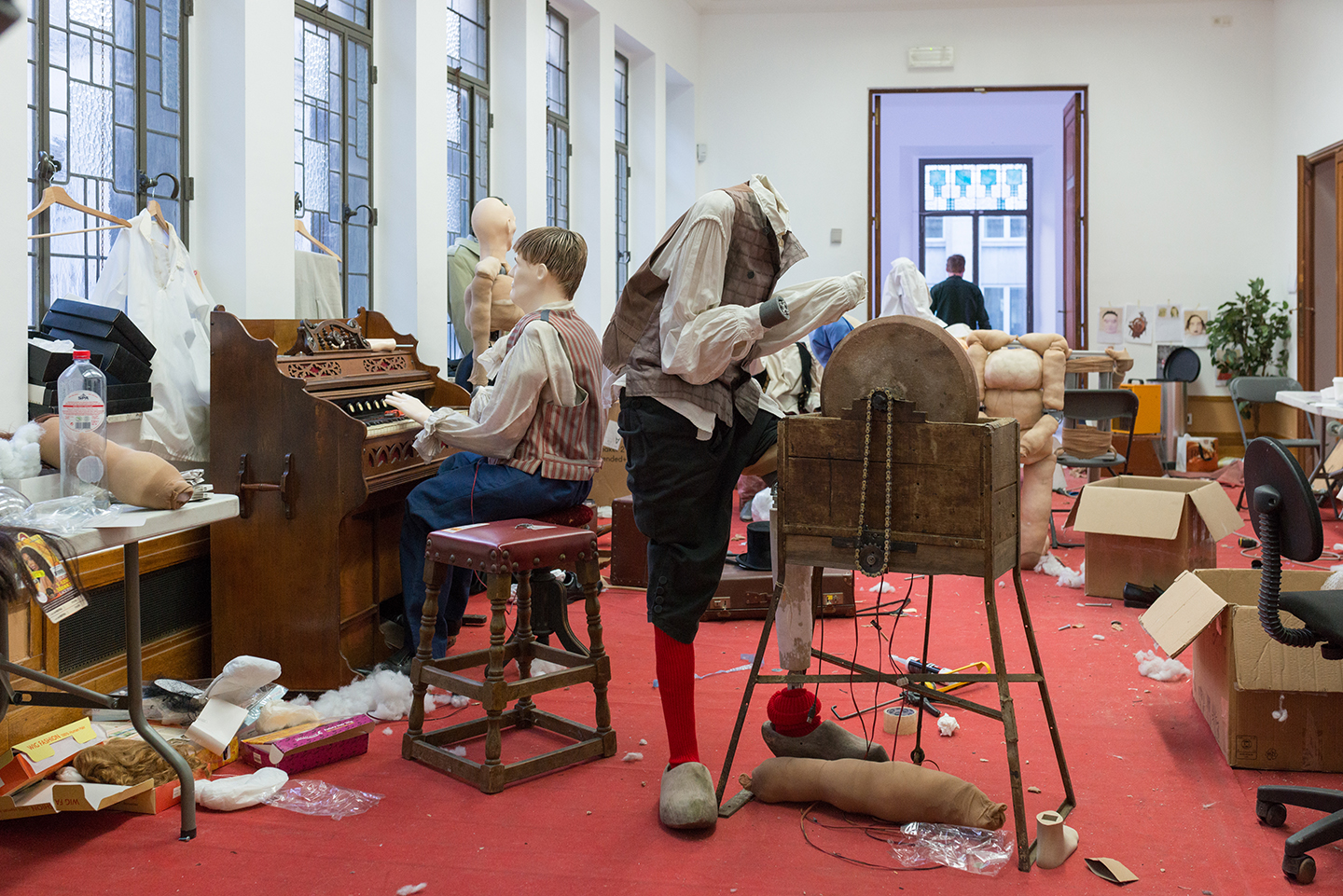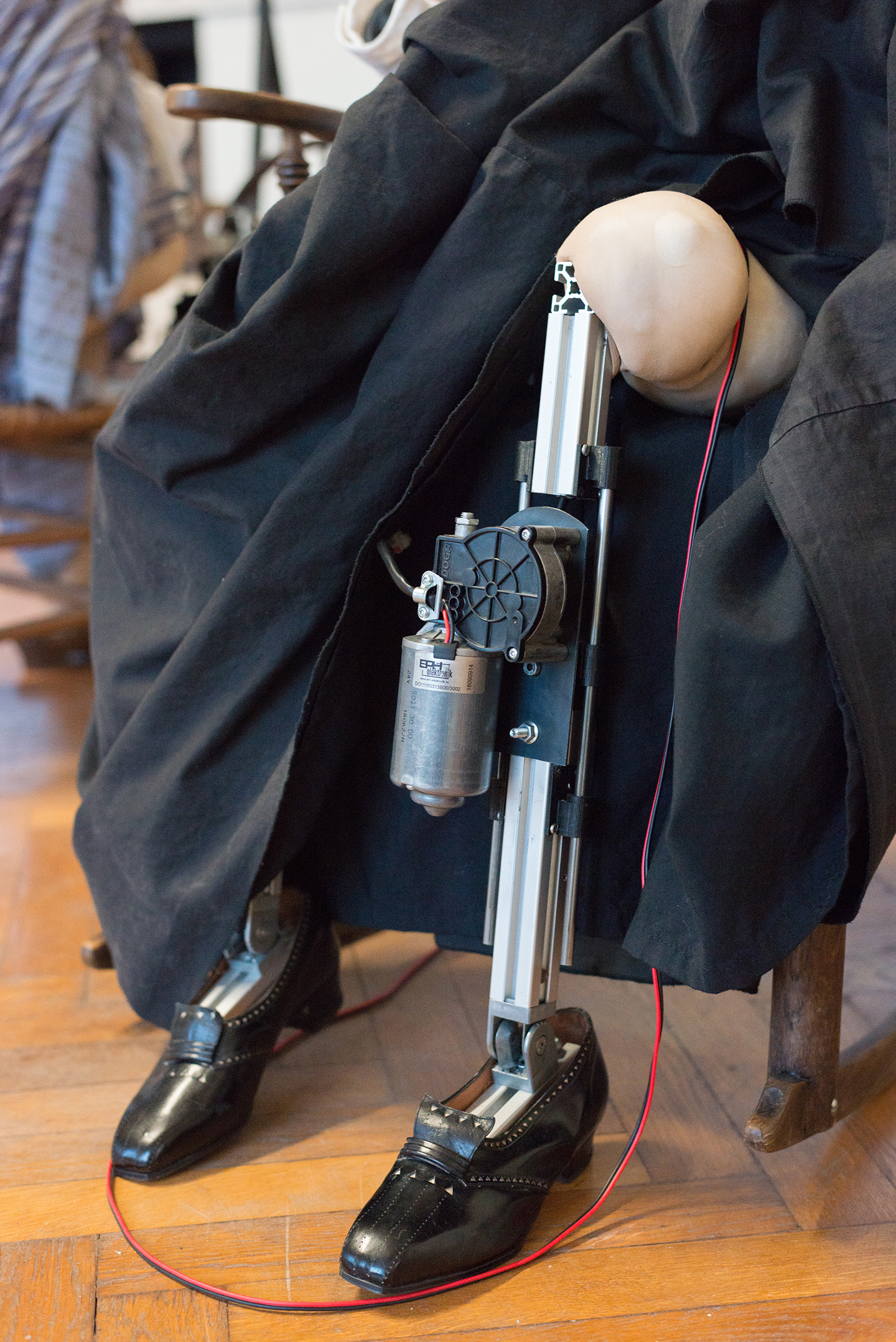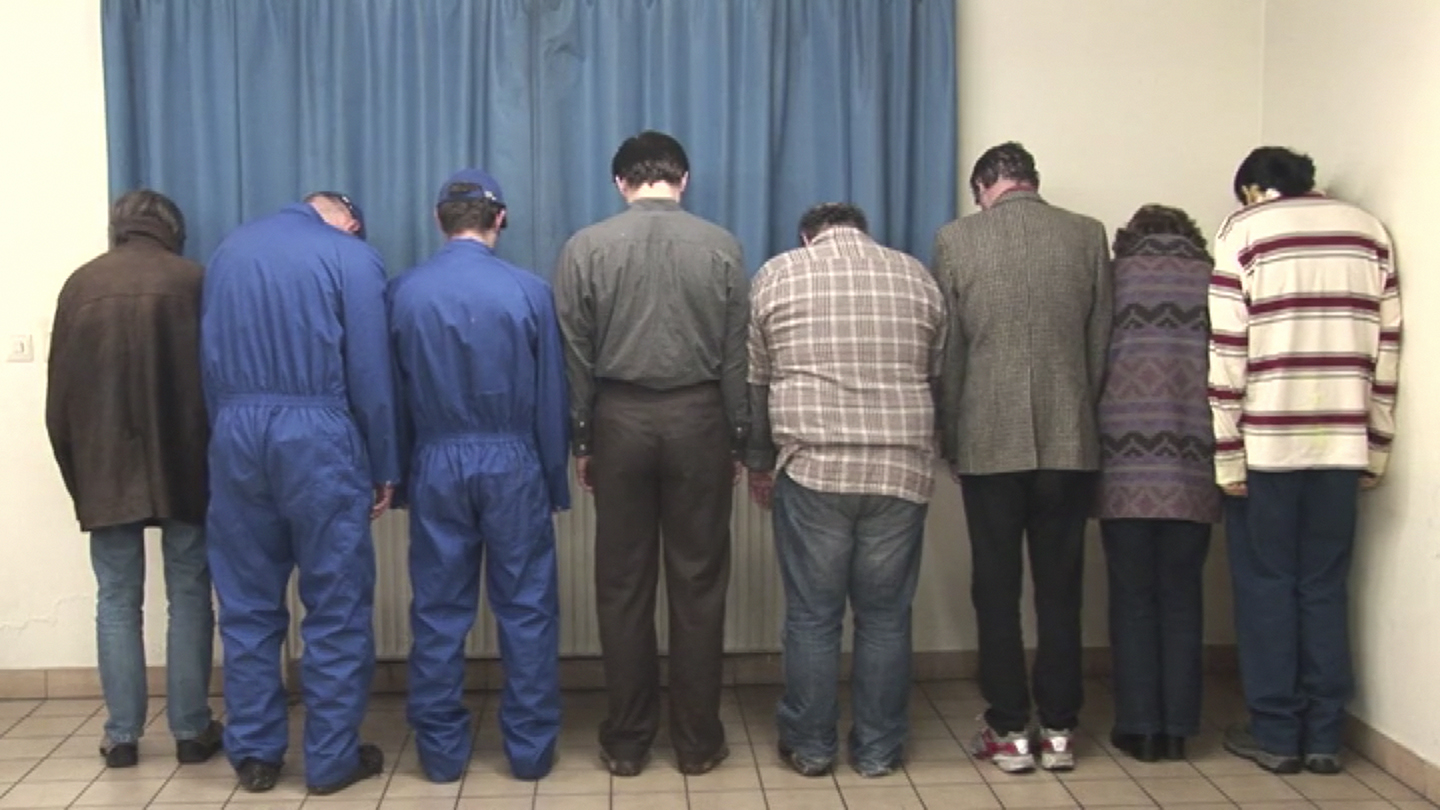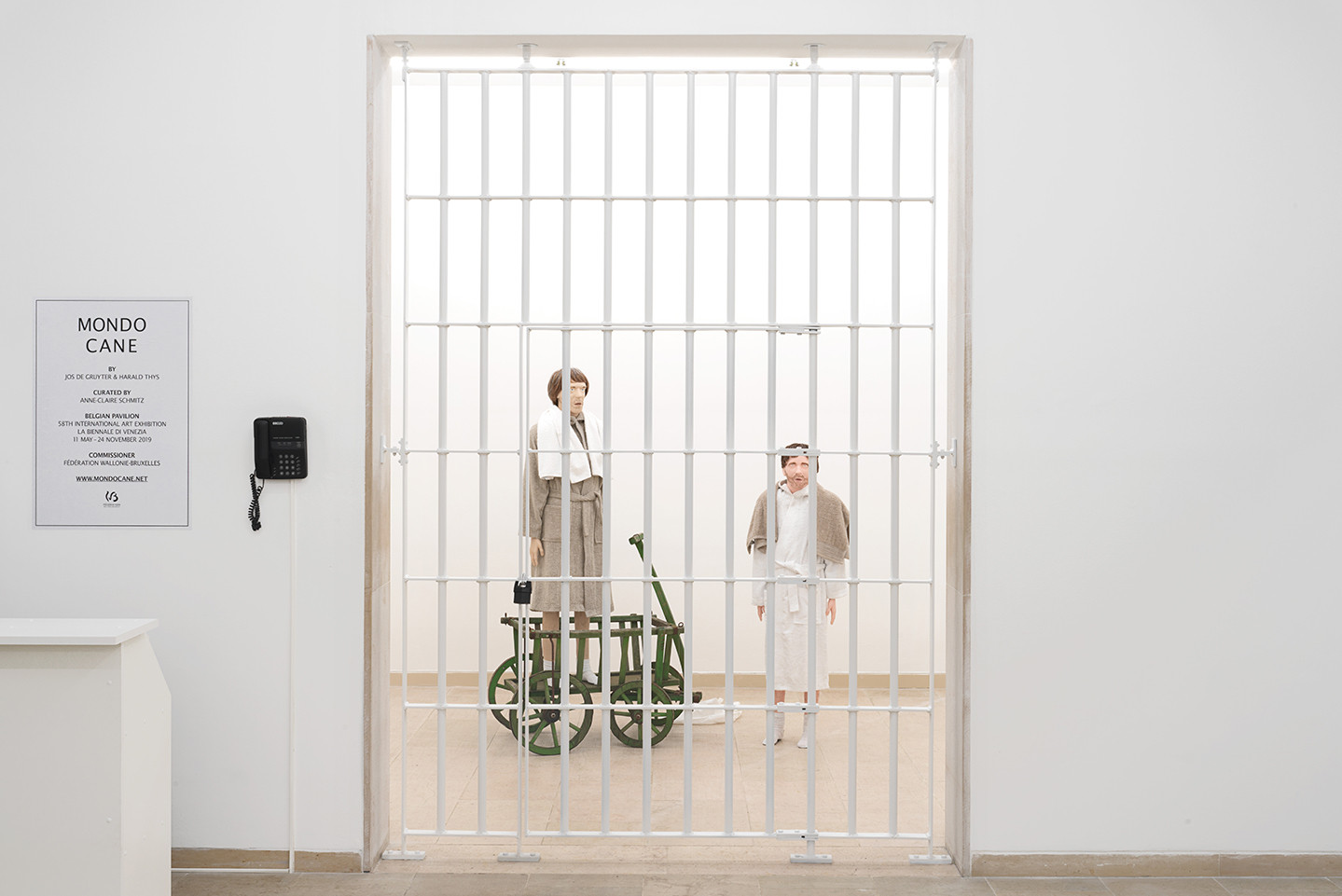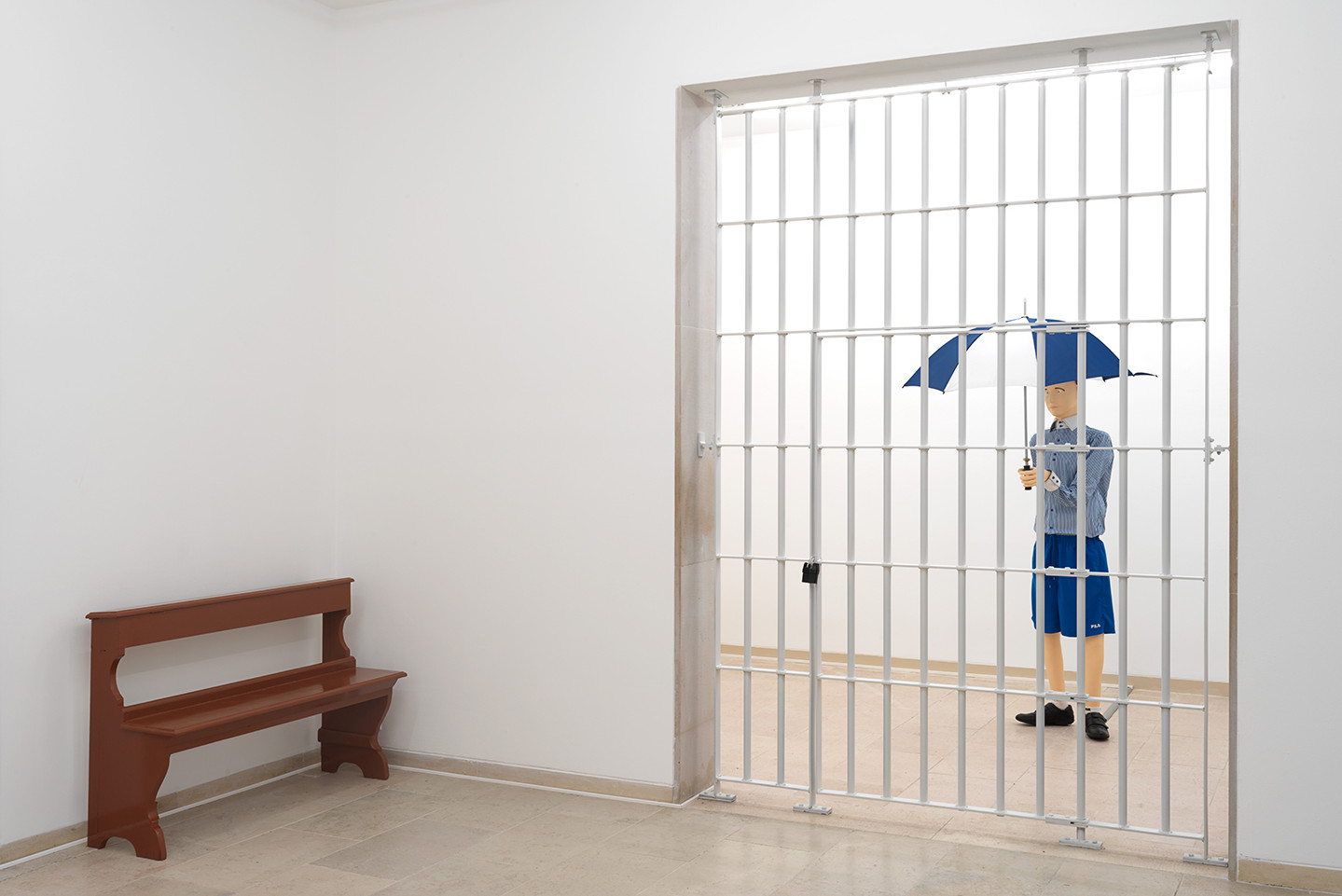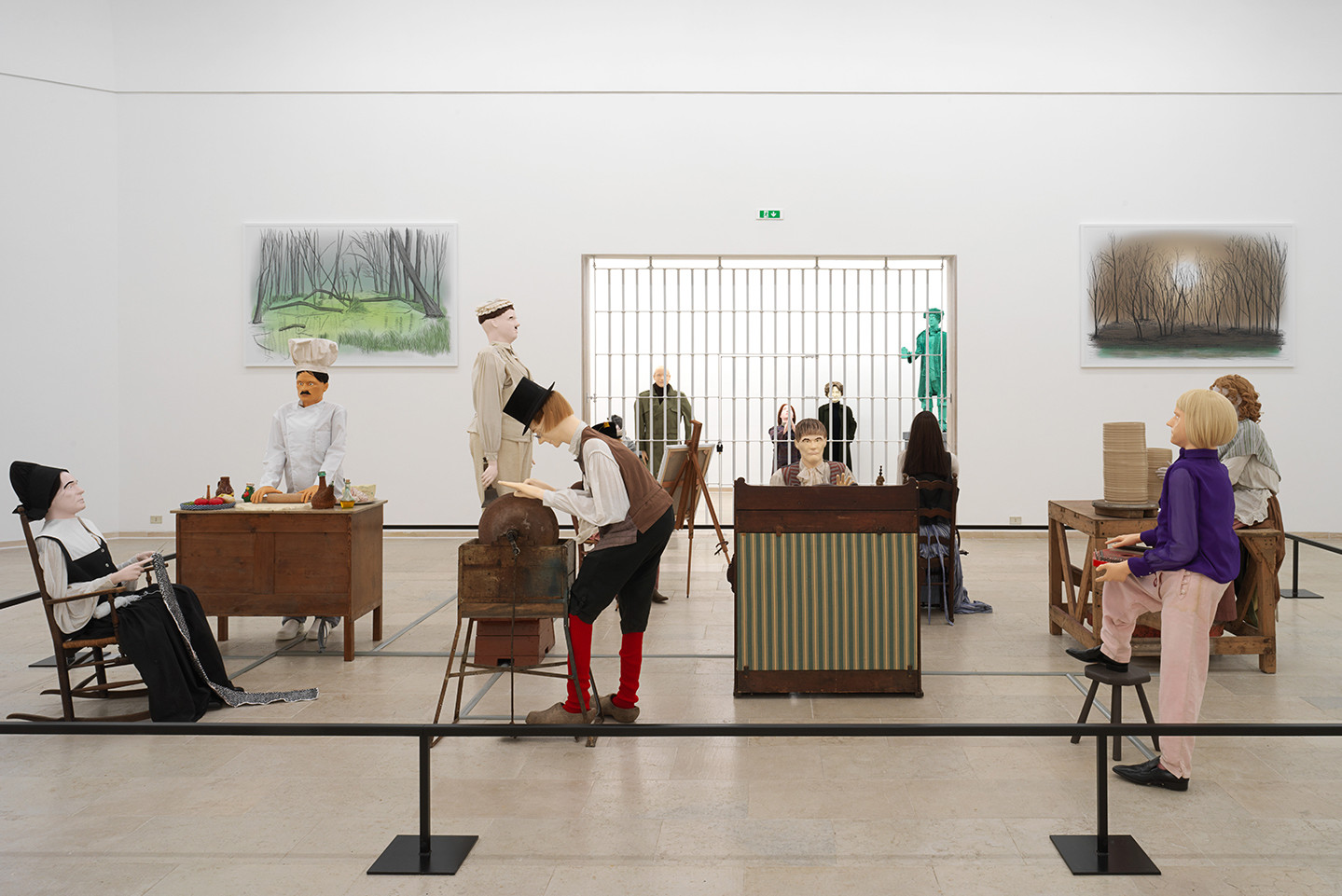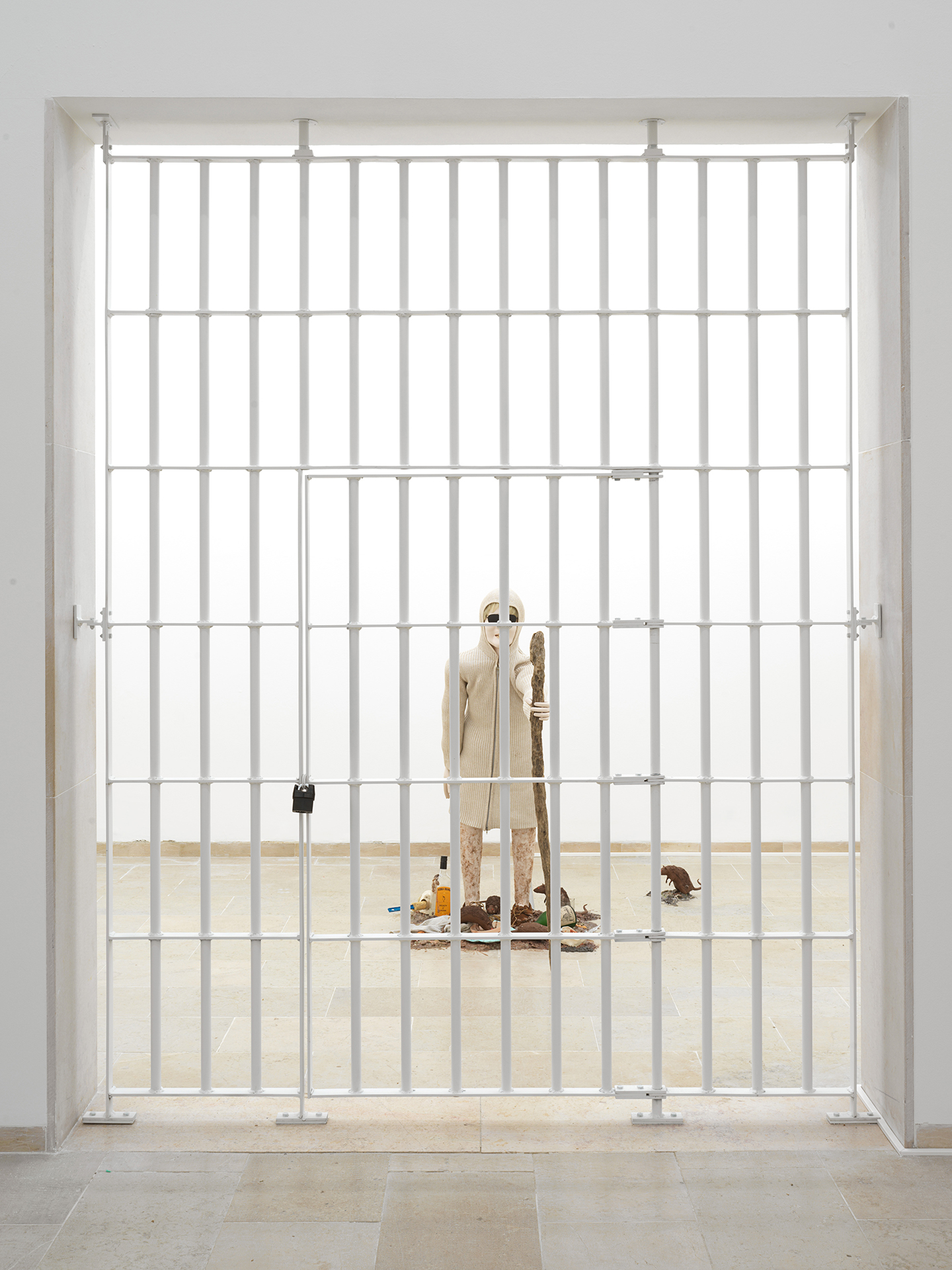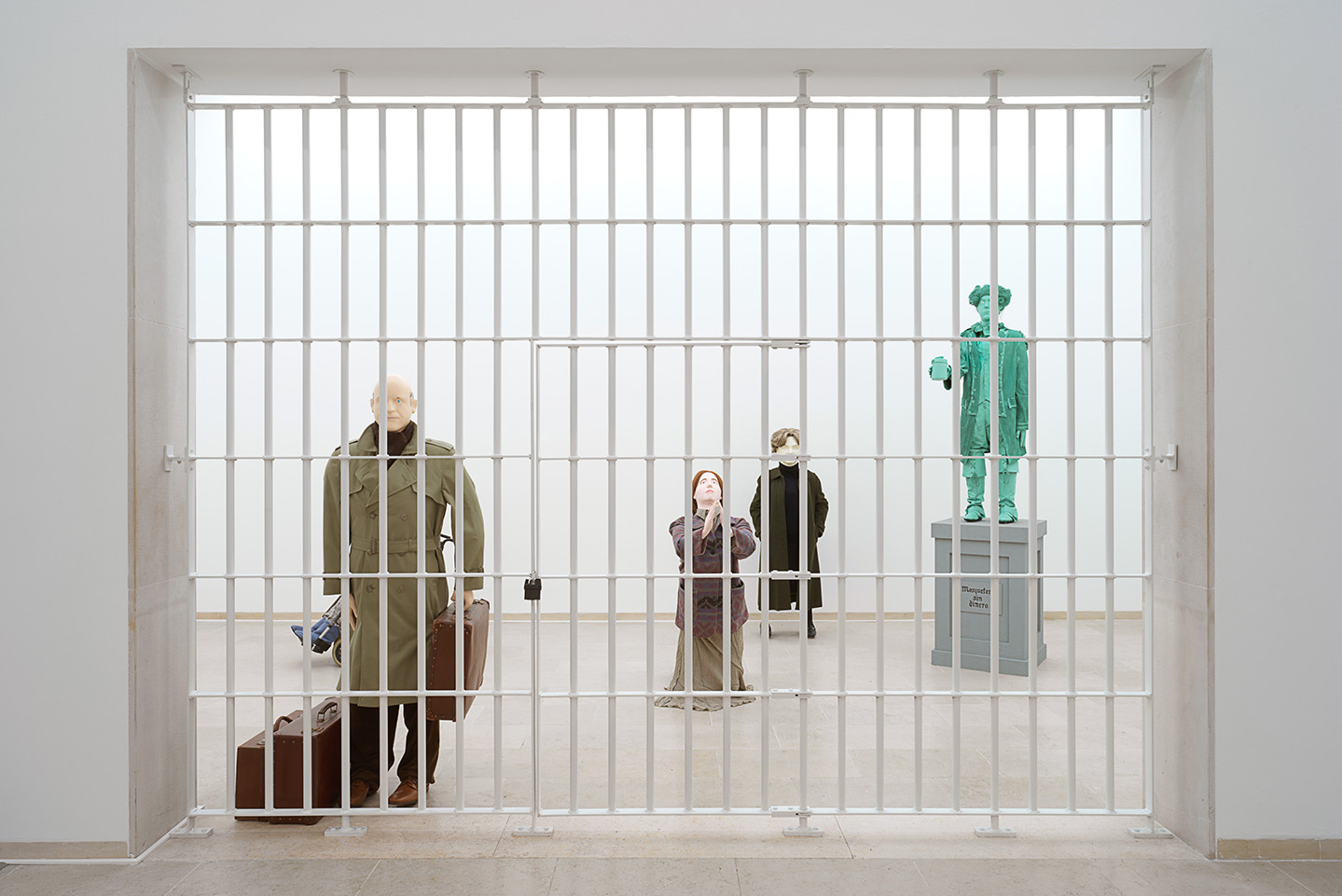 by Philipp Hindahl
The universe of the Belgian artist duo Jos de Gruyter and Harald Thys is one of eerie comedy. In Brussels, where they are preparing an upcoming show, they talk about the feeling of uneasiness in their work.
There is an untranslatable word in Flemish: klucht. Perhaps "farce" approximates it—klucht is similarly a genre of theater that dates back to the Middle Ages. It describes a performance that is folksy and bawdy, "something that's not quite comedy," explains the artist Jos de Gruyter over coffee in the center of Brussels. "There is such a huge amount of inspiration you can get out of things that are so bad they become a joke."
When Jos de Gruyter and Harald Thys made Ten Weyngaert (2008), they seemingly had found their style. The video begins with eight men in a row, backs to the viewer. An overdubbed shot rings out, then another, and each time, a man falls. The title is laid over the image, as well as the words: "A film by Jos de Gruyter & Harald Thys." Cut to a mean-looking man, nibbling peanuts; cut to a bald man, grinning; cut to two others in coveralls, their caps spelling Tim and Tom. The static images show little sympathy. Everything is visible: the closed curtains, the tiles on the floor, the bland wallpaper. The characters wear suit jackets and slacks, check shirts, and chunky sneakers, the costumes of a vernacular and normal world. But something is off. Repeatedly, there is the shot of the grinning man. Tim and Tom push others, asserting their power. The violence is executed slowly, the reaction is delayed. The inmates' movements are mechanical.
Next cut: green light, black background. Two figures perform a ritual; another is transformed into a little rag doll. After the next cut, a voice-over tells the story of a man who was convicted for squashing mice in his pockets. He did it for sexual pleasure and now has to undergo therapy. Then: a shot of the grinning man. Ten Weyngaert is a community center outside Brussels, and the video marks the beginning of a trilogy that takes place in similar institutions. The follow-up, Der Schlamm von Branst (2008), explores the allegedly beneficial effect of pottery and crafts; the next, The Frigate (2008), deals with sexual exploitation. The elements used bear witness to a democratic hope that communities can aid outcasts to enter society as functioning individuals. But these attempts fail. One reviewer called the work by de Gruyter and Thys a glimpse into the black hole of the twenty-first century.
The duo uses a style from a TV age that is nearly forgotten. Their work betrays a mistrust of high-definition images, which they suspect of fetishism, while they confess a love of Flemish TV, of British horror flicks from the 1970s, and of the German crime drama Derrick, in which horror lurks behind the suburban facade.
At first, Ten Weyngaert tests the viewers' tolerance for boredom. Try watching it a second time, and it will likely make you laugh, as if laughter requires an indifferent and pitiless audience: the comic can produce its effect only when it meets a cold soul, wrote the French philosopher Henri Bergson in his essay Le rire.1 Harald Thys says, "It is like when you're supposed to feel something, and there is a small detail which turns it. You are not meant to see it. But it destroys the construction." A burst of laughter is produced when the ideal state of things is confronted with the real.2
Jos de Gruyter and Harald Thys started collaborating in the 1980s while studying in Brussels. They used video, in opposition to wannabe auteur filmmakers, youngsters aspiring to Hollywood fame, and the school of working-class realists. Among their first pieces was Mime in the Video Studio (1987), where a young and cheeky Harald in underwear and mismatched socks dances to pop songs of the time, marches, and mimes swimming. Eventually, human actors in the videos are replaced by puppets. Triumph des Willens (2015) moves slowly. This time, puppets masturbate in stop-motion. A German soldiers' song from the Nazi era ghostly fades in and out. By and by, the videos became installations, such as the one that has been on view at the Belgian Pavilion for the Venice Biennale this year: Mondo Cane, named after the 1962 Italian exploitation movie, which will be adapted for BOZAR, Brussels, in 2020: an array of mannequins is placed around a central room, some in cages, some in the middle. Some of them perform stereotypical motions, like the mannequins in museums meant to show old crafts. A baker rolls pastry, a knife grinder sharpens a blade. Others are still, with lifeless eyes staring into space, and they are reminiscent of the dolls from the duo's video work. "When it is repetitive, when practitioners are absent, it becomes interesting. They are in a trance. They wait for action," says de Gruyter. They recall another central tenet of Bergson's essay on laughter—that comedy is evoked by a mechanical quality in the living, or a living quality in the mechanical.3 Moreover, the work of de Gruyter and Thys demonstrates how the comic and the eerie mirror each other, and how fragile these categories are. 
[1] Henri Bergson, Le rire (Paris: Presses universitaires de France, 1947): 3.
[2] Ibid., 97.
[3] Ibid., 25.
Jos de Gruyter and Harald Thys have worked together since the late 1980s, when they met as students in Brussels. De Gruyter studied at Rijksakademie in Amsterdam as well as at the Institute for Fine Arts, Sint Lukas, in Brussels; Thys graduated from the Institute for Fine Arts in Sint Lukas as well as the Jan van Eyck Akademie in the Netherlands. While the beginning of their practice was marked by video art, they have branched out, and their work now includes large-scale installations, drawing, and sculpture. The duo has had numerous exhibitions, among others at the Kunsthalle Wien, Vienna; the Museum of Modern Art, Antwerp; Frieze London; Isabella Bortolozzi Gallery, Berlin; and MoMA PS1, New York.
Philipp Hindahl is a writer. He is fascinated by nostalgia for lost futures, art, literature, pop culture, the internet and the people in it. After attending a Catholic school in the woods of rural Germany, he studied literature and art history in Frankfurt and Paris. He then moved to Berlin, where he writes for magazines and exhibition catalogues.