CONVERSATIONS
Joy of Missing Out: Petra Cortright
Close
1
2
3
4
5
6
7
8
9
10
11
12
13
14
15
16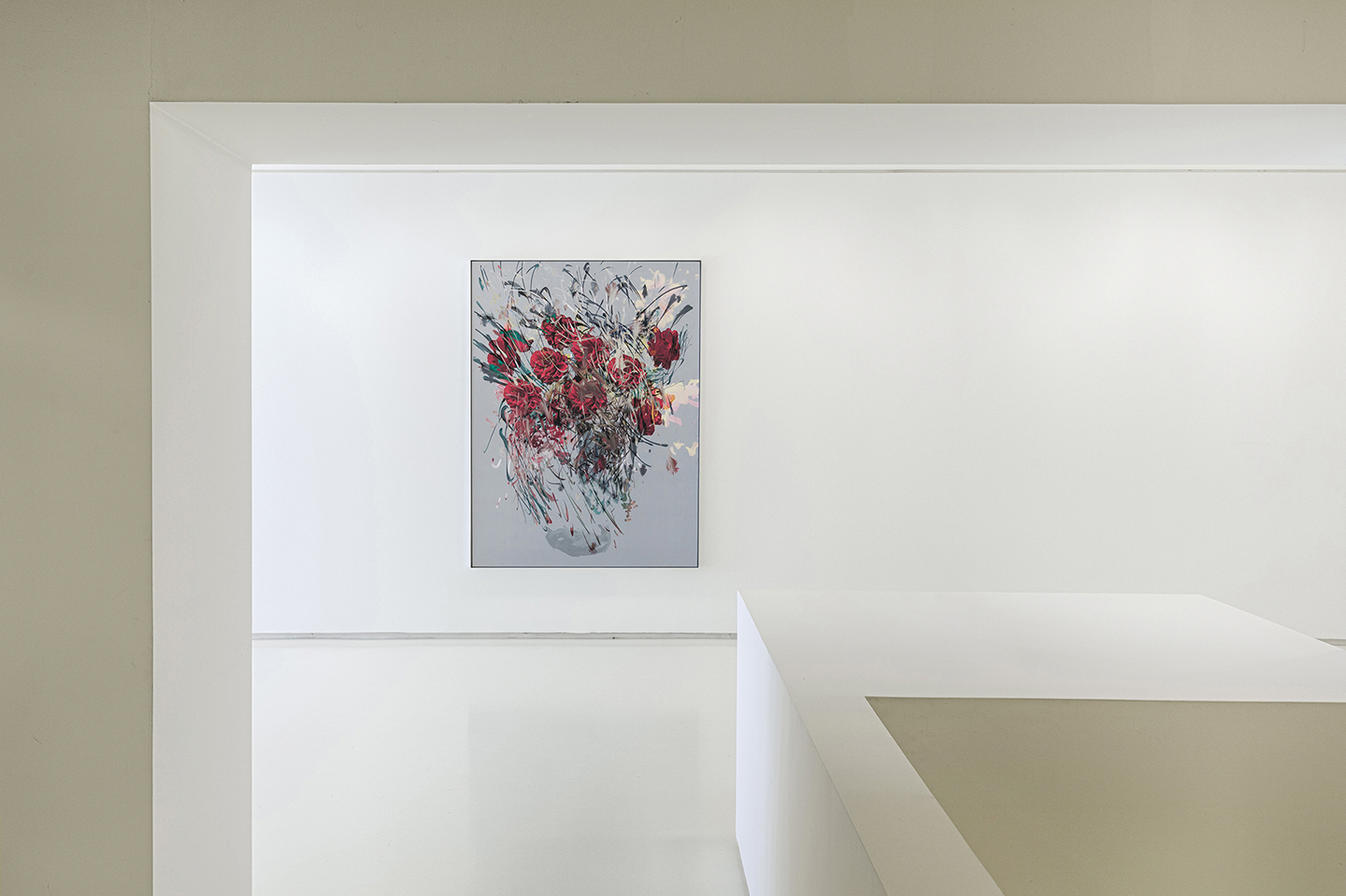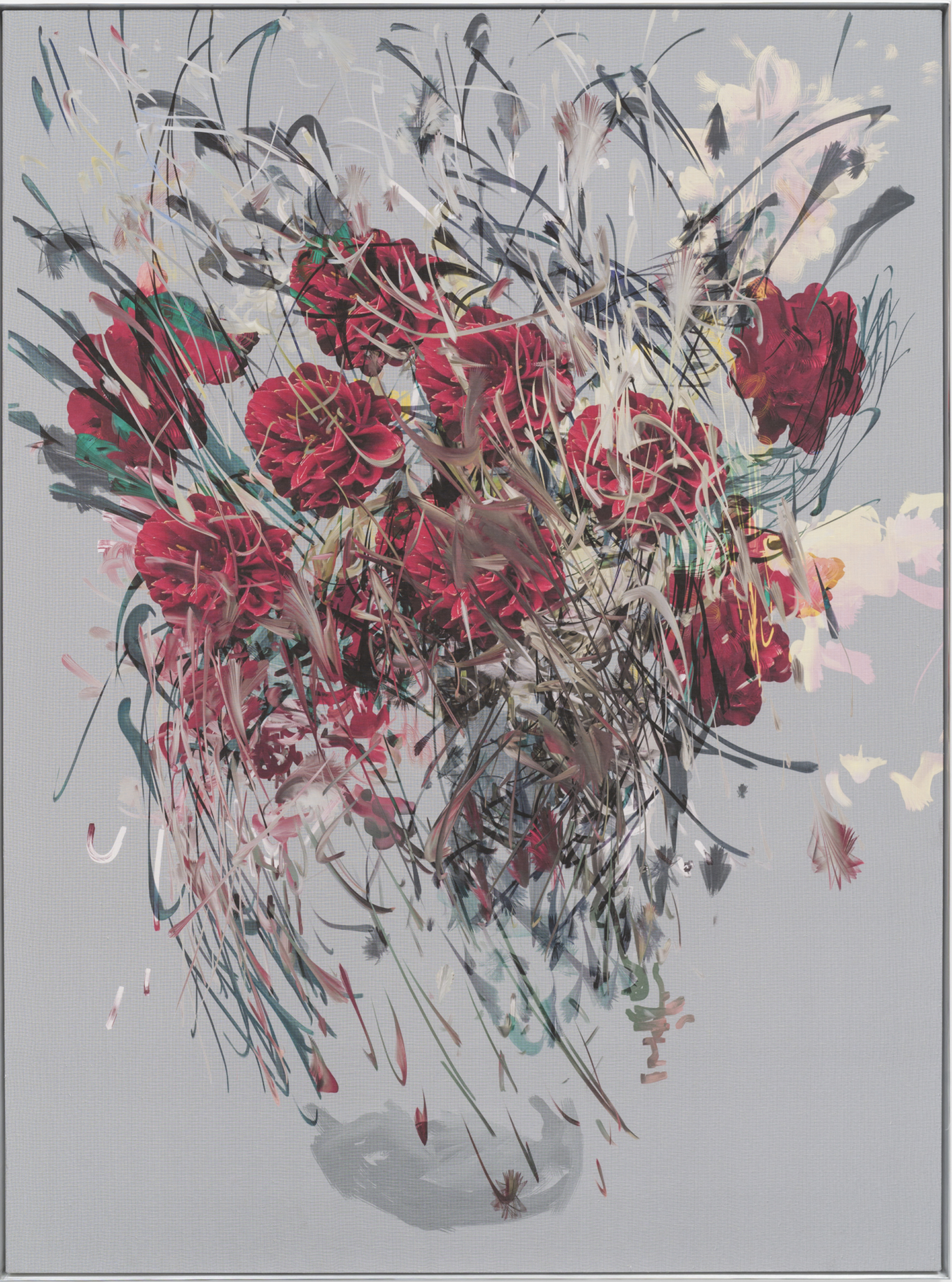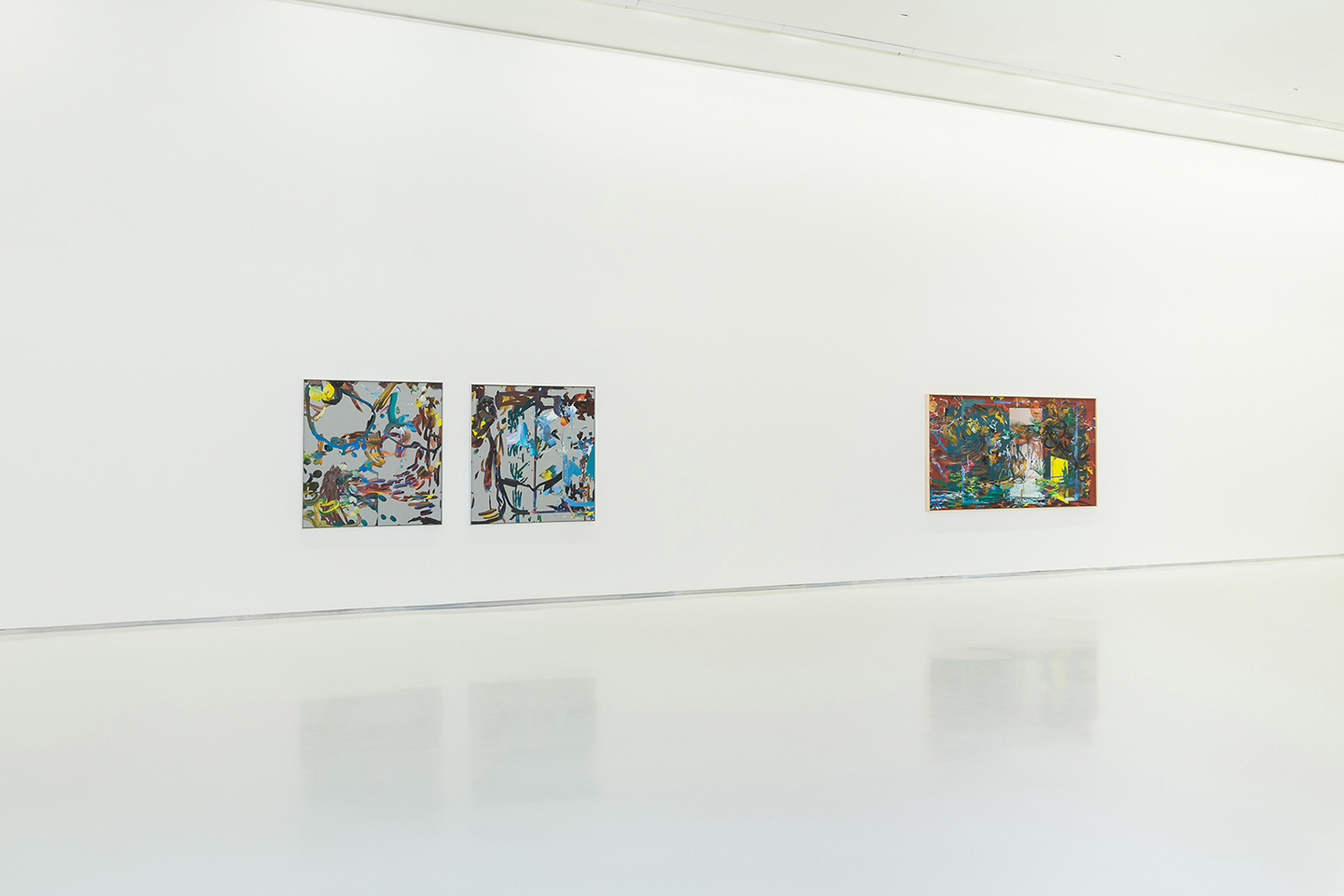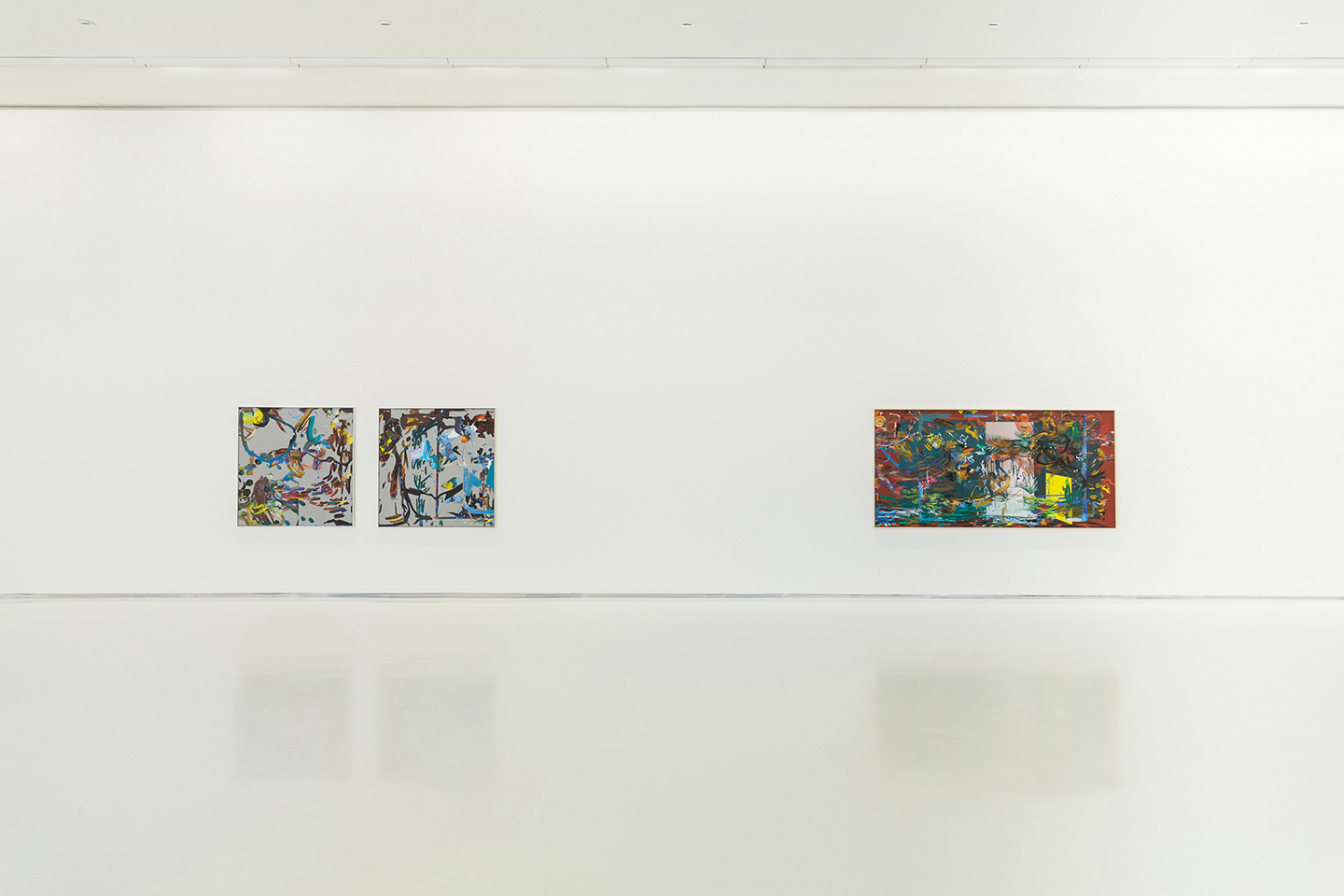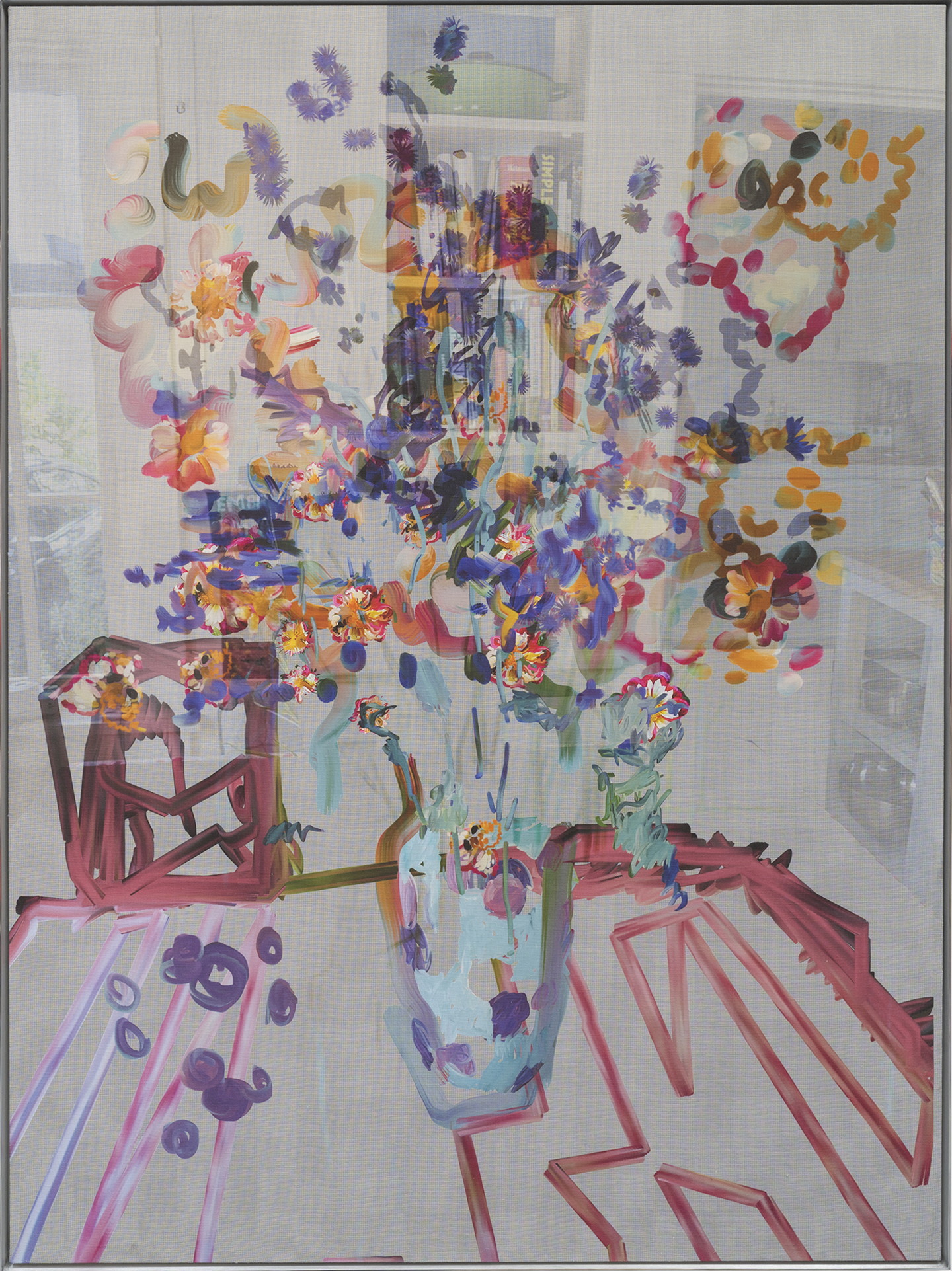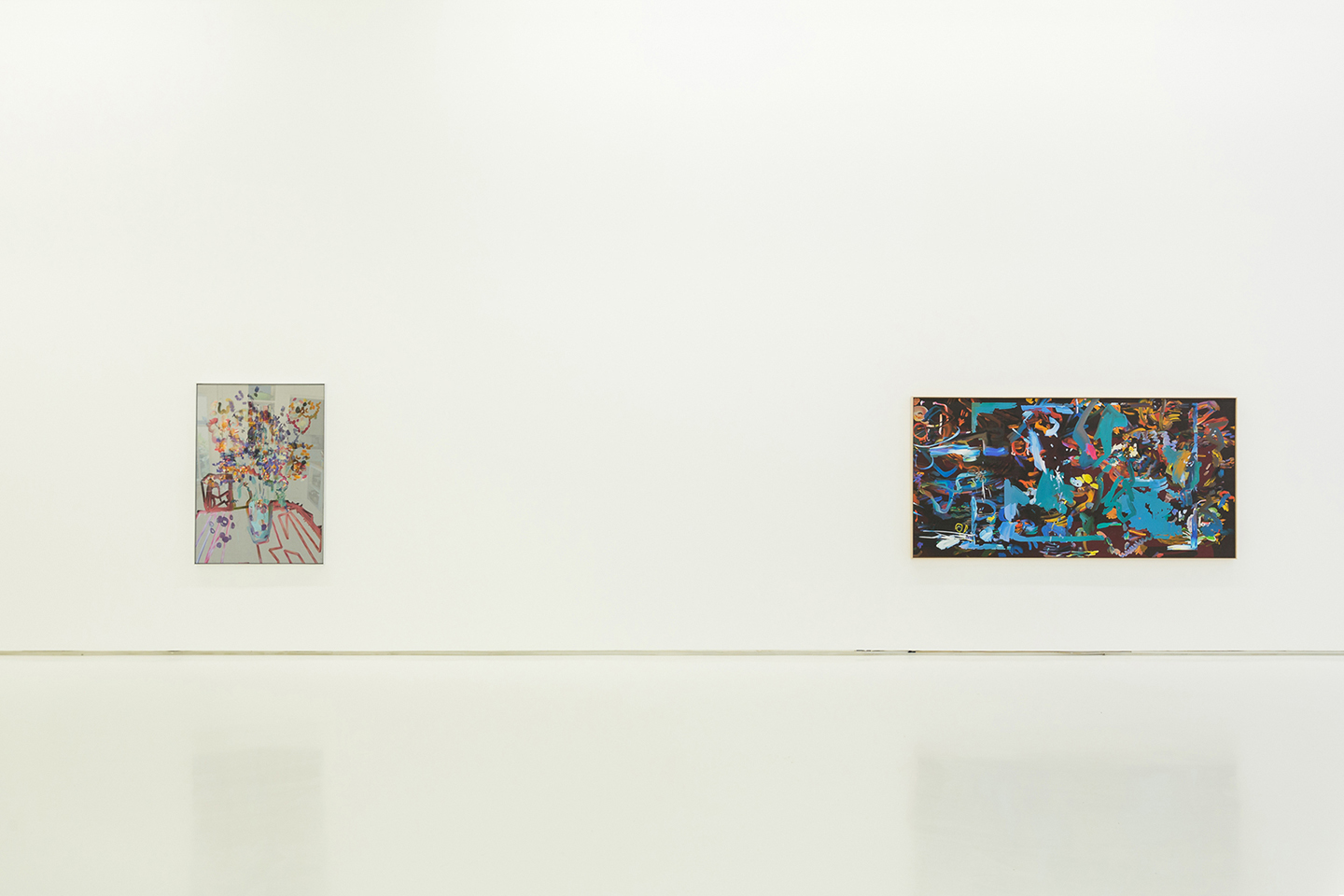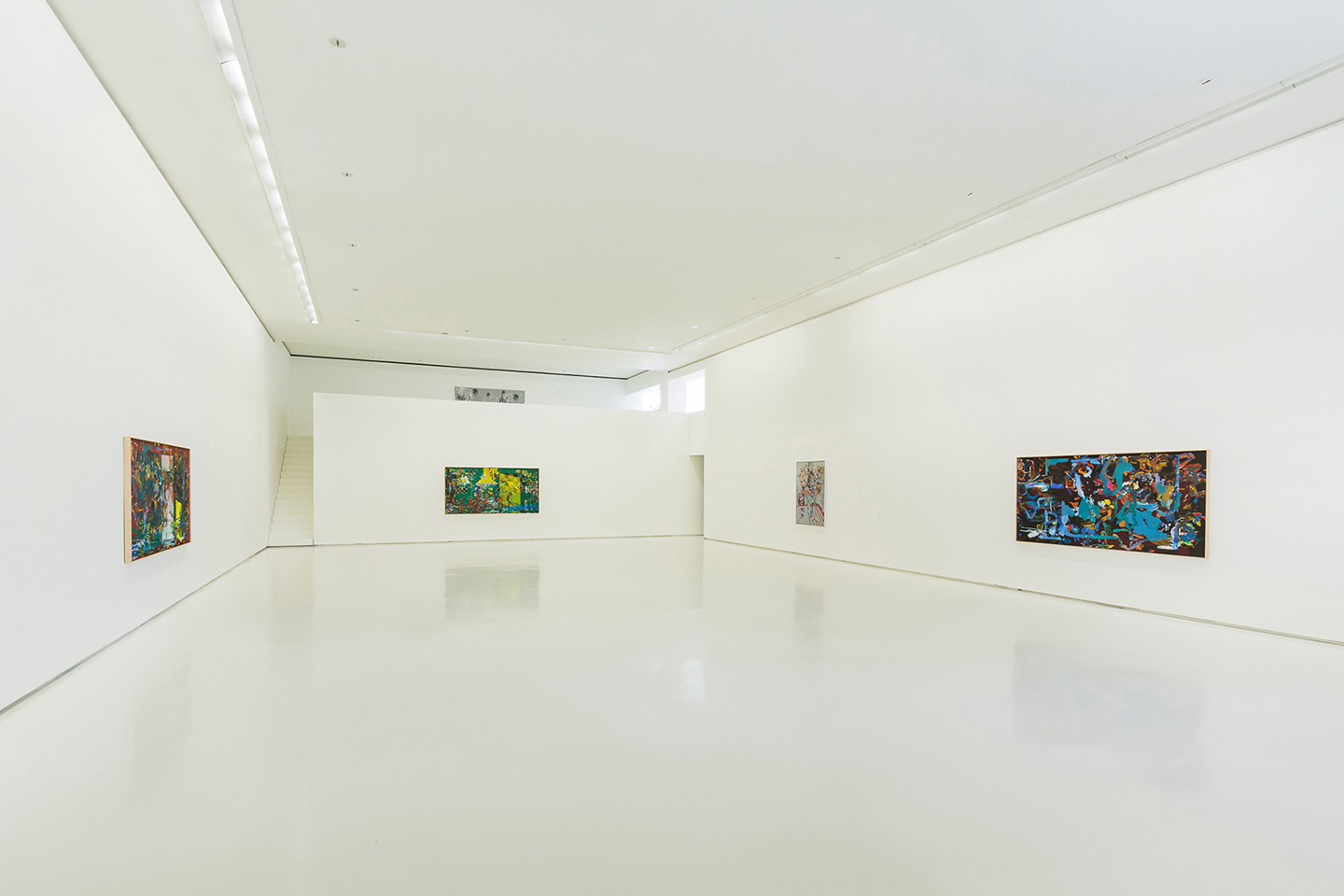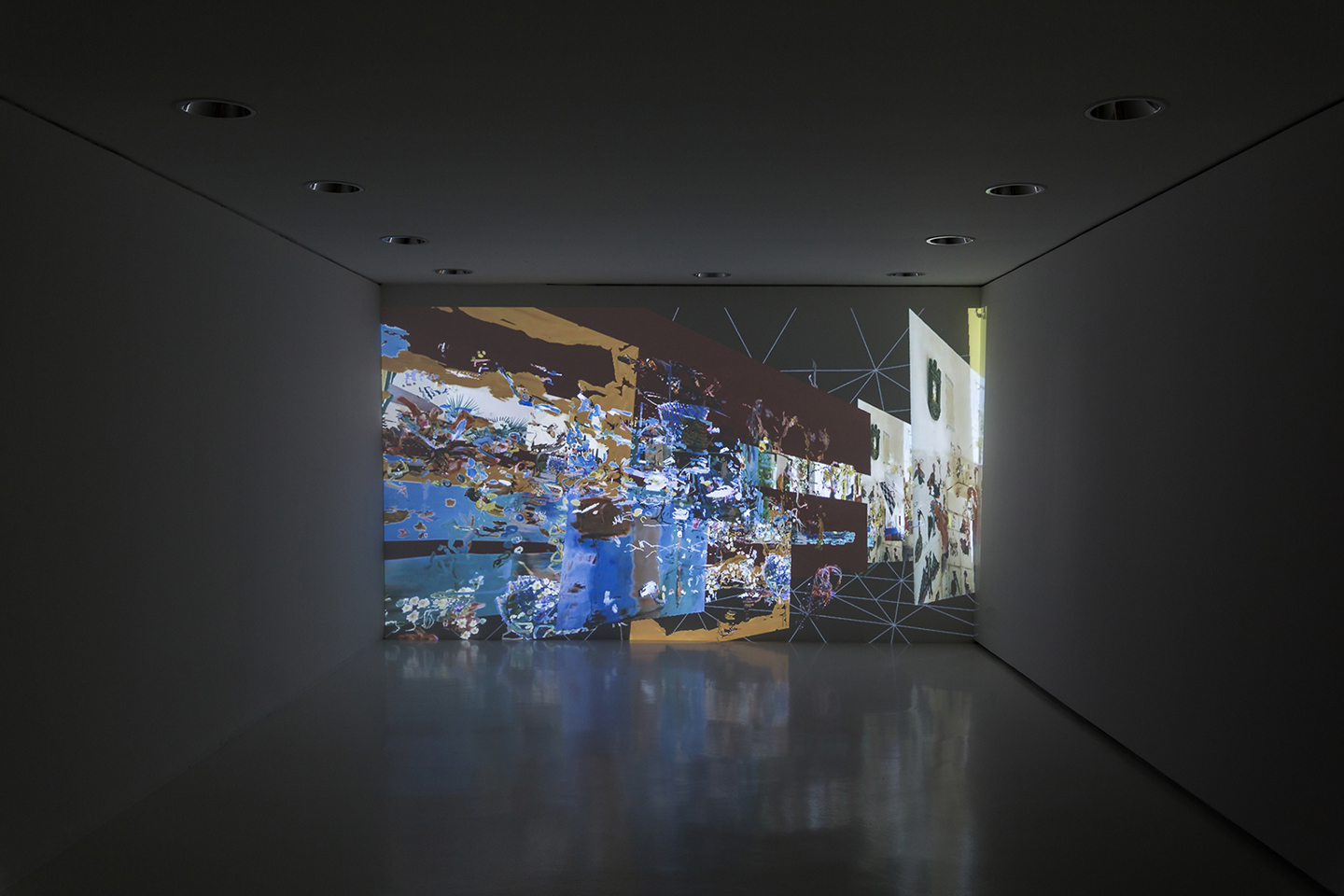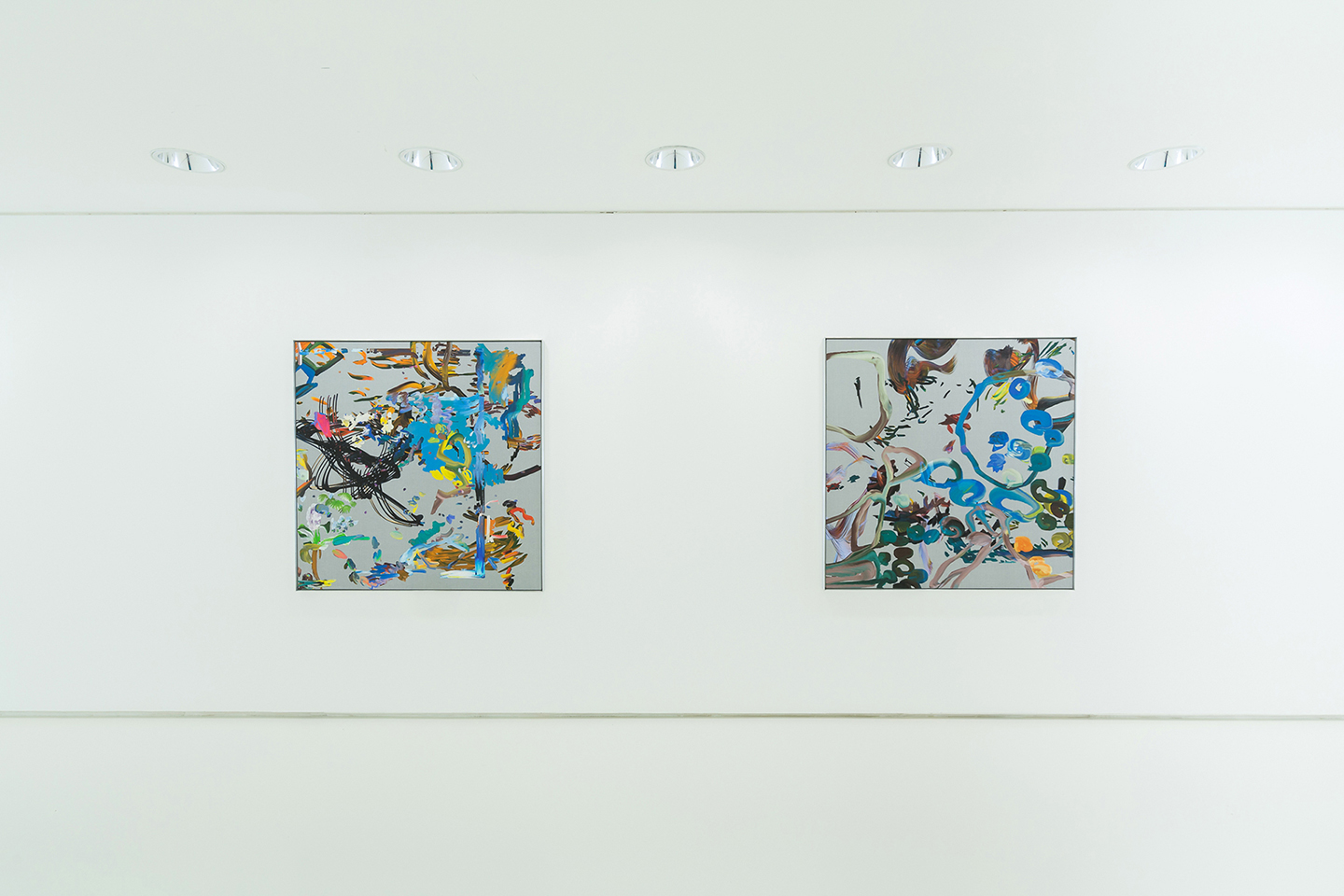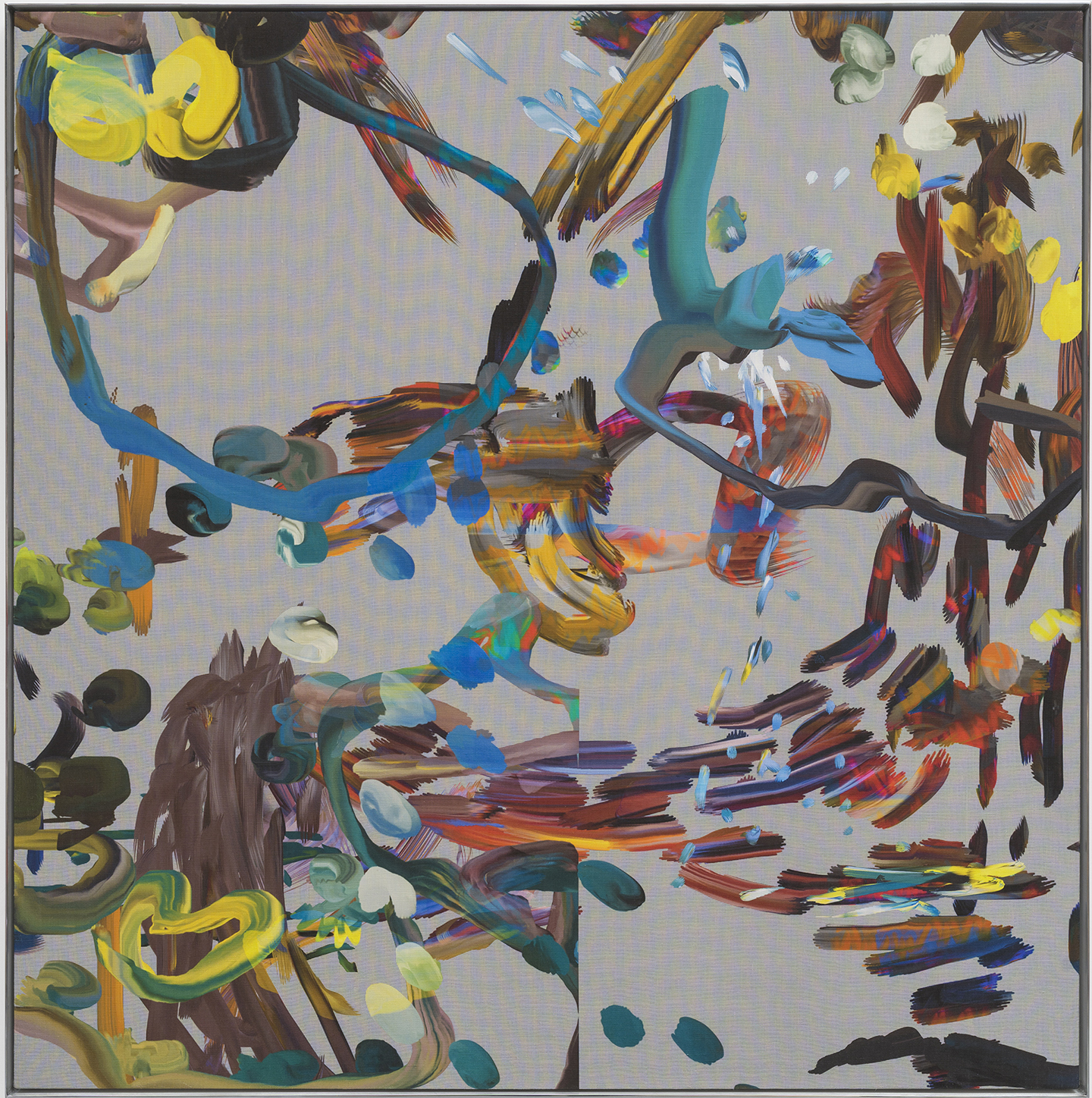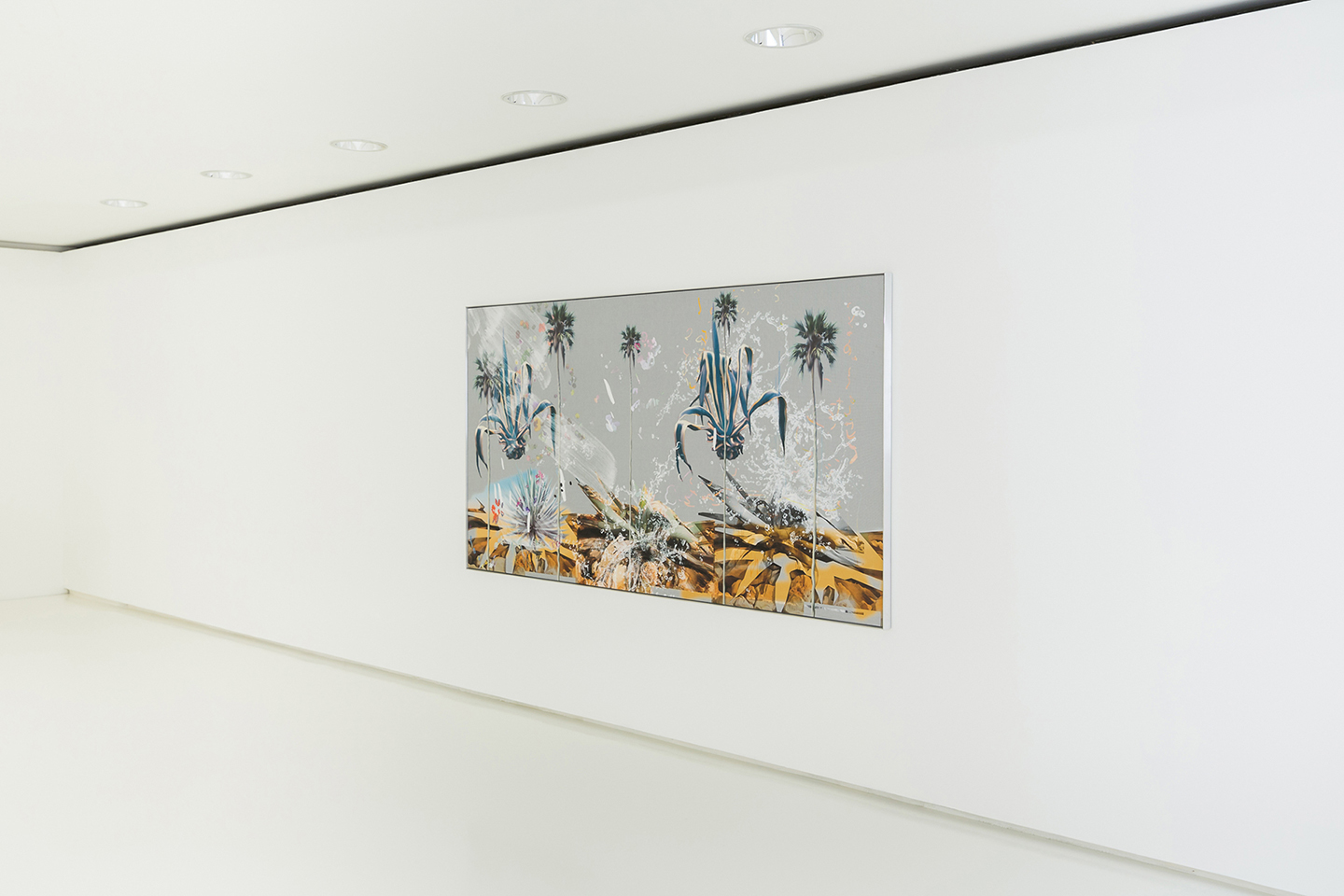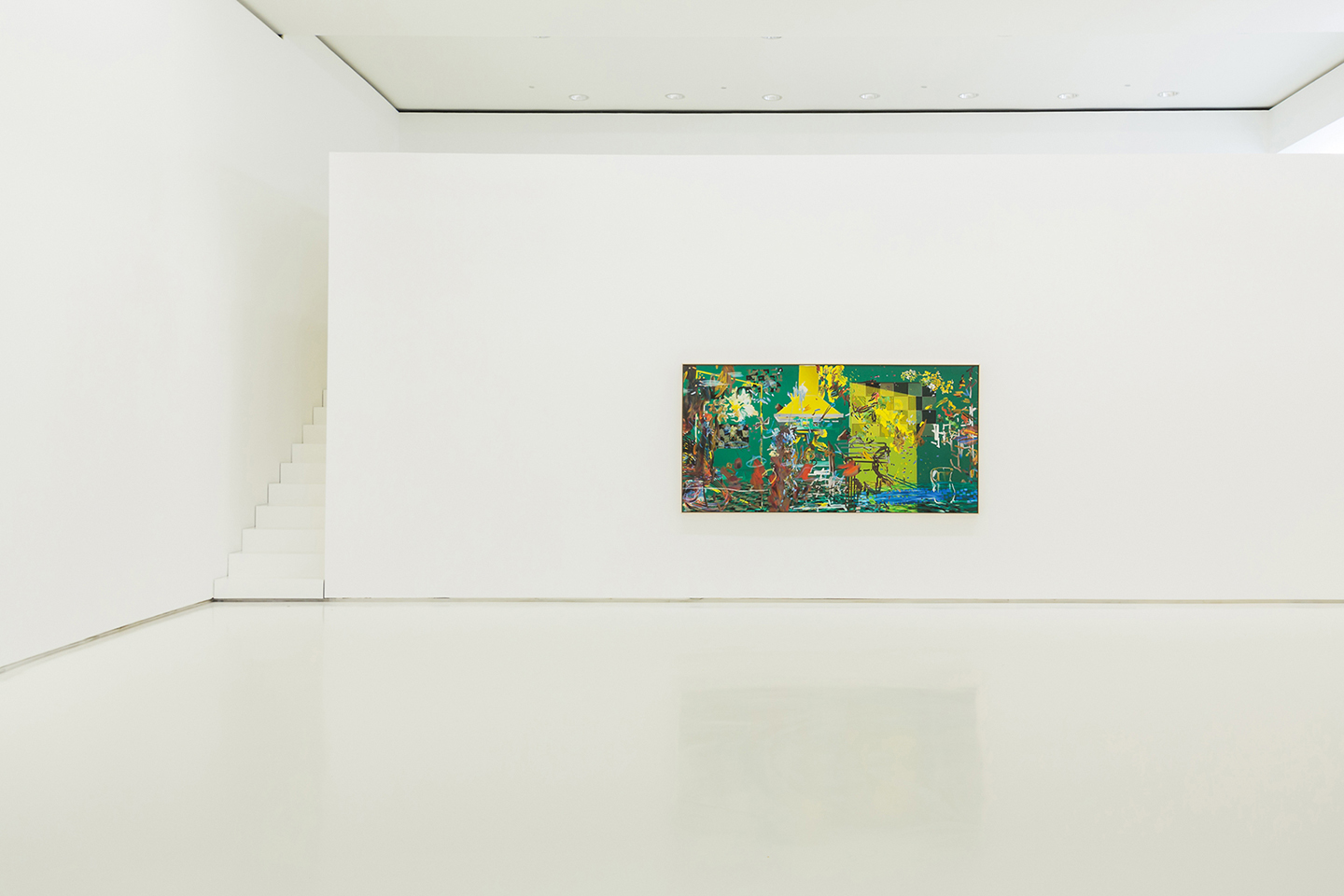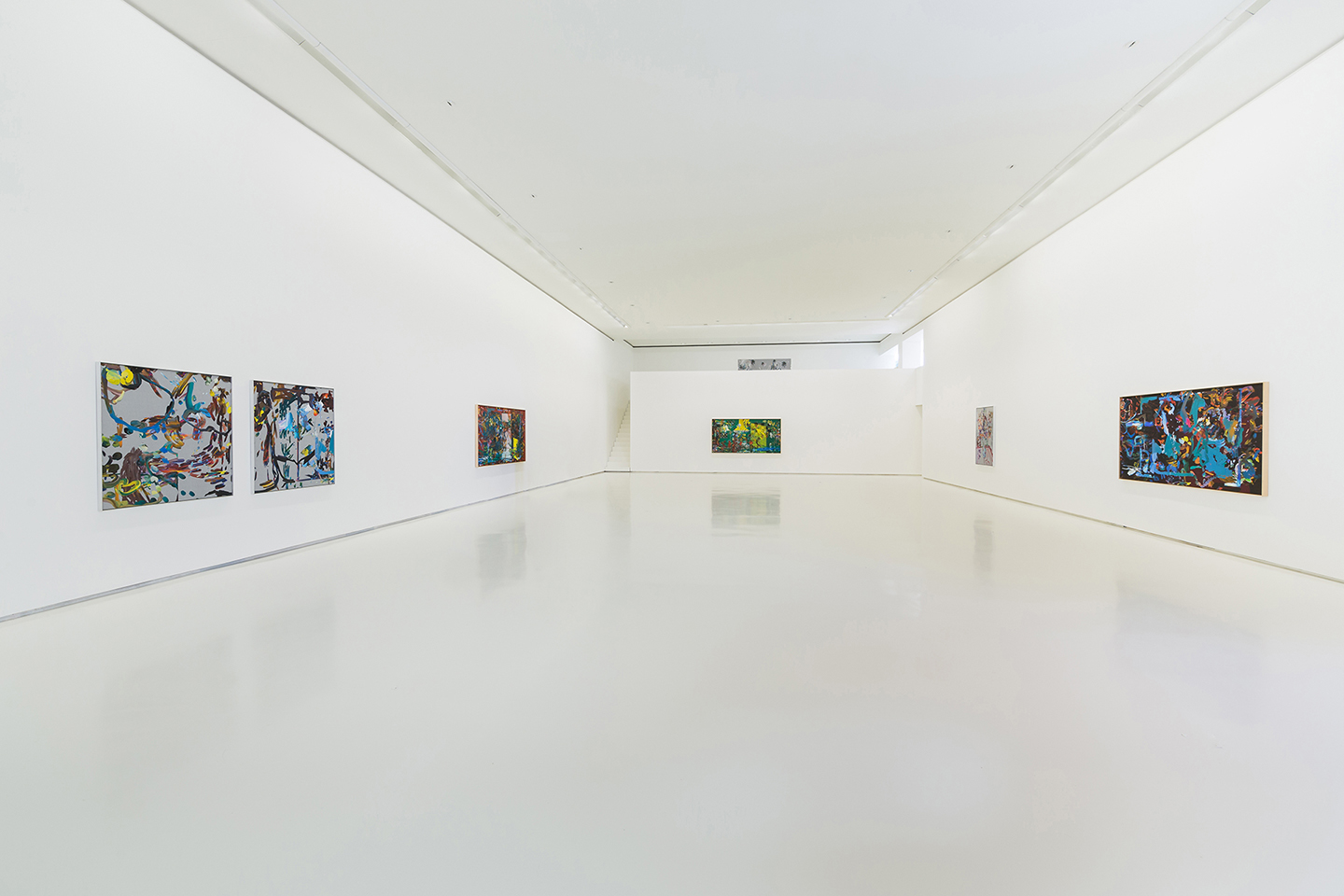 Petra Cortright interviewed by Chiara Moioli
"To see age in a flower"
—Bibio, "Petals," from A Mineral Love (London: Warp Records, 2016)
Petra Cortright is a self-declared "punk at heart." She first gained renown for her intimate self-portrait videos that employed her computer's webcam and default effects tools; today, working at a fast pace to keep up with the ADHD tempo of internet production, she makes digital paintings in Photoshop using appropriated images, icons, and marks scoured from the abysses of the web. Her flowery, colorful, digital palimpsest-compositions, which she prints on aluminum, linen, paper, and acrylic, strongly evidence their own making.
On the occasion of Cortright's first solo show in Portugal, Computer Paintings on Linen, currently on view at Galeria Duarte Sequeira, Braga, the artist chats about her working tools and methodologies: wearing gamer glasses; Pinterest as a source of mouthfuls of domestic images; Martha Stewart Living magazine (she's an affectionate subscriber); the sense of getting older alongside the internet while disseminating ruins all around it; and her newfound JOMO—"joy of missing out." The exchange is topped off with a good dose of emoticons, proving that the ex-"cam girl" who swindled YouTube some ten years ago might have entered a new stage of her life, but her punkish attitude most definitely remains. ;.)
CHIARA MOIOLI: Tell me about your working methods for making your digital paintings, some of which are currently showing in Computer Paintings on Linen at Galeria Duarte Sequeira. I'm so enticed by the image of you wearing your gamer glasses, working at breakneck speed to "keep up with the internet."
PETRA CORTRIGHT: I work in Photoshop and, when I'm being good, I keep everything tightly organized—from the images I pull off the internet onto my desktop, to file naming systems and layer naming. I'm not always good, though.
CM: When making a digital painting, you start with what you call a "mother file," which I assume is a .psd Photoshop file, and then add a colossal number of layers. How do you decide when a painting is "done"?
PC: I save variations as the file is being made. When I like a combination, I save it. I'm done when I'm too tired to work on it anymore.
CM: What about your infatuation with Pinterest as a place to source imagery? Would you say it's related to archetypal gender behaviors? There's a sort of "girly haze" associated with that platform.
PC: I'm definitely interested in domestic images and the domestic space. I am a longtime subscriber to the homemaking magazine Martha Stewart Living, which I always look at to get ideas for paintings. Sometimes I think of those domestic images as modern-day still-lifes. So much work goes into making the images you see there, or on Pinterest, so as to deliberately inspire envy—they're designed to make you wish your home or your life was like that. Nobody's life is ever like that, but I do appreciate striving for the fantasy. It's an interesting topic, and when I get into that mindset, I want to create the worlds seen in my paintings.
CM: Have you ever had legal issues related to your deliberate acts of appropriation?
PC: Not really. I change things quite a bit while I'm working. It's usually pretty clear that something has been altered far from the original—if you even can tell that there was "an original." But even if I didn't alter anything, there are already such huge precedents in art for modes of intentional appropriation.
CM: How did the transition from making almost exclusively videos via webcam to painting come about? I'm interested in the swing that occurred from you being the sole subject of your works, which were very intimate and diaristic, to digital impressionism and expressionism with an accent on gestures.
PC: I was making still images—paintings and drawings—well before the videos started. 2D has always been my strongest medium. The videos just got more attention when I started making them. They have a certain energy that captured very specific times in my life, and I created them entirely for myself while I was going through a lot personally. I'm just not in those fraught headspaces anymore, so making the videos now feels almost inauthentic.
CM: What impact have blogs like Paint Fx and others dealing with had on shaping your painting style and method?
PC: I knew those guys—Jon Rafman and Parker Ito—but I didn't hang out with them as much as this other group called Nasty Nets. They were more my bros :') and I was much more influenced by them. But I wanted to carve out my own aesthetics, and what I was doing felt very separate from all those guys. There were a lot of guys.
CM: You witnessed the metamorphic shift from the "dusk" of early net art (aka when digital art was "best pursued when cooped up in a state-sponsored computer lab in newly liberated Estonia," as Bruce Sterling put it),1 to steadily participating in the shaping of the Surfing Club scene, to finally landing under the umbrella of "post-internet art." What was it like to experience the whole thing unwrapping in real time? Did you feel an awareness during the process? And did you identify with the "post-internet" label at first?
PC: The label never bothered me because I don't get bothered by words in general. I think people get too hung up on things they cannot control. The internet is very different today than it was back then: I felt a lot more freedom and genuine connections then, but that could also have just been because I was young. A lot of young people right now enjoy what the internet has to offer; I'm just not one of them anymore :.) It's not even that I dislike it—I just don't care as much about certain things. I am trying to disconnect more, whereas before it was almost an obsession with connection and figuring out what I wanted from life. Now I have some of those pressing things more figured out, and have taken on a lot of responsibilities to put them into action. There are stakes, things to lose––I'm no longer playing with "house money," so to speak. It changes you, but that's okay. Life is not supposed to be always the same; there are different phases.
CM: Starting right with your landing page—an (almost) infinite scroll of a vertical line made of arrows pointing to a link reading "CLIKC HEER you sick Mugs"—your website seemed to be your pride and glory—a vitrine for your universe made of crumbs scoured from the abysses of the internet. When clicking on the most recent link in your homepage—"2012 – 2019_*_____ IT'S ALL RIGHT HEER"—we are redirected to an animated GIF showing how to Google your name. How has your relationship with your website, and with the internet at large, changed over the last five or so years?
PC: People used to check personal websites and rely on them to see work, but now with social media nobody does that. I'm just letting the website rot. I don't like to delete online profiles, I just like to leave ruins all around the internet. There are horrors from my twenties sprayed all over the net if you know where to look. One day they will be dust, if they aren't already :.)
CM: The concept of beauty comes up often with reference to your practice. How would you define the term in relation to your universe? What's beauty to you?
PC: Obviously it's subjective, but I find a lot of beauty in the natural world. It's a classic subject that can be revisited endlessly.
CM: Your work possesses a playful halo, distinguished by a specific taste that is a mix of instinctiveness, sincerity, naïveté, and DIY punk attitude. What's left of the "cam girl" who swindled YouTube some ten years ago,2 today?
PC: I think I'll always be a punk at heart. I don't have to worry about losing it; I've just learned to refine it over the years so I can function better and not be at the mercy of circumstance. I simply don't want to be fucked with. There is always a chance for that attitude to come back full throttle >:)
Petra Cortright's core practice is the creation and distribution of digital and physical images using consumer or corporate softwares. She became renowned for making self-portrait videos that use her computer's webcam and default effects tools, which she would then upload to YouTube and caption with spam text. Cortright's paintings on aluminum, linen, paper, or acrylic are created in Photoshop using painting software and appropriated images, icons, and marks. The digital files are endlessly modifiable, but at a "decisive moment" they are translated into two-dimensional objects. They become finite, yet their range of motifs and marks, and their disorienting perspectives and dimensions suggest dynamic change. Cortright lives and works in Los Angeles, CA. She studied Fine Arts at Parsons School of Design, The New School, New York, NY (2008) and the California College of the Arts, San Francisco, CA (2004).
Solo exhibitions include Galeria Duarte Sequiera, Portugal (solo, 2019); Nahmad Projects, London (solo, 2018); 1301PE, Los Angeles (solo, 2017 and 2019); City Gallery, Wellington, New Zealand (solo, 2017); Carl Kostyál, London, UK (solo, 2016); Ever Gold Projects, San Francisco (solo, 2018 and 2016); Depart Foundation, Los Angeles (solo, 2015); Foxy Production, New York, NY (solo, 2017 and 2015); Société, Berlin, Germany (solo, 2014, 2016, and 2018); and Preteen Gallery, Mexico DF (solo, 2011). Public projects have included commissions from Frank Gehry Partners, LLP, Midnight Moment for Times Square Public Arts, and SketchedSpace in Seoul, South Korea.
Selected exhibitions include the Venice Bienniale (2009), Frieze Film, Frieze London, UK; 12thBienniale de Lyon, France (both 2013); Electronic Superhighway, Whitechapel Gallery, London, UK (2016); The Metabolic Age, MALBA, Buenos Aires, Argentina; On YouTube. Kunst und Playlists aus 10 Jahren, Kunsthaus Langenthal, Switzerland; Im Inneren der Stadt, Künstlerhaus Bremen, Germany; Ural Industrial Biennial, Ekaterinberg, Russia; and Art Basel Hong Kong (all 2017); I Was Raised On the Internet, MCA Chicago (2018); The Body Electric, Walker Art Center, Minneapolis; Dirty Protest: Selections from the Hammer, Hammer Museum, Los Angeles; Now Playing: Video 1999-2019, Scottsdale Museum of Contemporary Art; Hate Speech: Aggression and Imitation, Künstlerhaus, Halle für Kunst & Medien, Austria; Plugged-In Paintings, SITE131, Dallas, TX; Midnight Moment, Times Square Arts, NY, Primary Directives, Marlborough Contemporary, London (all 2019).
Her works are in the permanent collections of The Péréz Museum (Miami), Los Angeles County Museum of Art, the Hammer Museum (Los Angeles), Moderna Museet (Stockholm), MOTI (Breda) in collaboration with Stedelijk Museum (Amsterdam), MCA Chicago, Kadist Foundation (San Francisco), BAMPFA (Berkeley, CA), the San Jose Museum of Art (San Jose, CA), Rhizome's Net Art Anthology, and MOCA Los Angeles.
[1] Bruce Sterling, "Close-Up: Data Mine," Artforum 51 (September 2012): https://www.artforum.com/print/201207/bruce-sterling-on-petra-cortright-s-hell-tree-31957.
[2] Cortright posted the video VVEBCAM (2007) (see https://www.petracortright.com/vvebcam.html) on her YouTube channel in 2007. To attract views, she copied and pasted a string of terms often used by spam accounts into the keyword field for her own video. This SEO hijack led YouTube to take down the video in 2010.
at Galeria Duarte Sequeira, Braga
until 27 July 2019