EXHIBITIONS
Julia Wachtel and Genoveva Filipovic at Vilma Gold, London
Julia Wachtel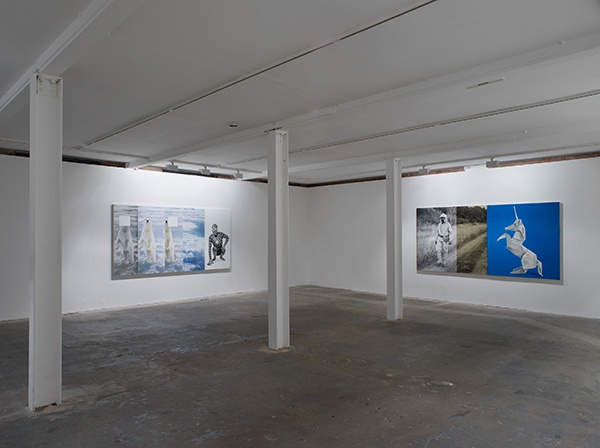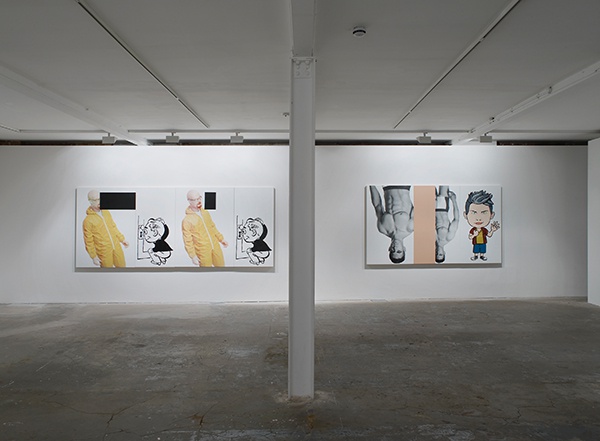 For her second solo exhibition with the gallery, Julia Wachtel presents a new body of work that continues her ongoing landscape format paintings, a series she began in 1989.

Contrasting oil paintings of cartoon characters with screenprints of found imagery, the cartoon figures become symbolic commentators on the cultural, ideological, and political issues inscribed on the adjoining silk-screened canvases. It is a new irrational universe.
Wachtel says, "Painting has the unique ability to make an image permanent and to suspend it in time. In a sense, these paintings are not simply landscapes of the exterior world but emotional x-rays into our unconscious processing of images. They are paintings of the complexity and grammar of pictures in which the embedded meanings are pulled apart and stripped of their intended utility; language itself is the subject of the paintings."
In Sm, Med, Lg, 2015, Wachtel plays with dimension, unusually repeating the same image at different scales. The sleek, repeated advertisement is turned on its head and separated by a strip of what can be seen as skin or makeup foundation, alluding to the surface of representation. Both cartoon and advert are somewhat nondescript, and in their quotidian neutrality strike a nerve as something maybe not quite innocent.
Wachtel's intent is not to directly comment on politics, entertainment, or consumer culture, but rather to calibrate a nervous response to the daily onslaught of pictures. Given the increasing dominance of pictures as the global language of literacy, and given the unquantifiable and throwaway nature of images that we consume on a daily basis, her interest is to extract, abstract, and reconstruct a picture in an altered logic where one's footing has to be actively found. That is not to say Wachtel does not find political imagery useful in her practice. In Hero, 2015, also included in this exhibition, Wachtel imagines a defenseless polar bear on floating ice. The animal, partly cropped out of the image and thus partly eliminated, stands staring at the viewer. On the right hand panel, Spiderman crouches ready for action. The composition reminds us of Spiderman's fictitiousness, and the reality that even he cannot fix real world problems. This is highlighted by the fact that Wachtel has culled the image from a costume website. There is something both poignant and comical in this juxtaposition, creating an uncertain feeling of hope.
.
at Vilma Gold, London
until 13 February 2016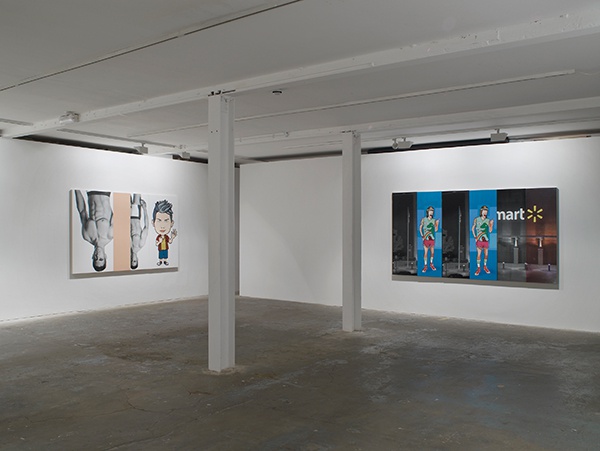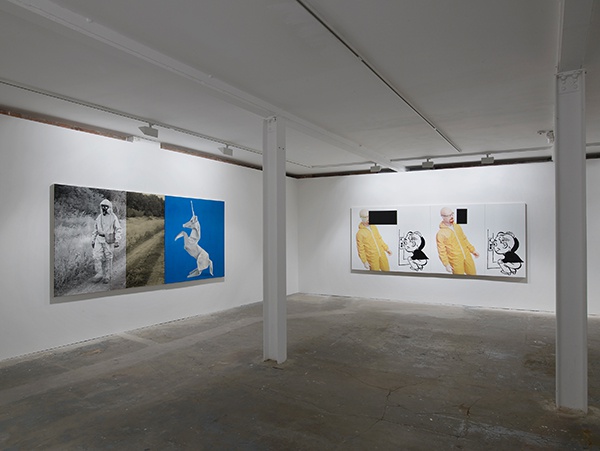 Julia Wachtel installation views at Vilma Gold, London, 2016
.
Genoveva Filipovic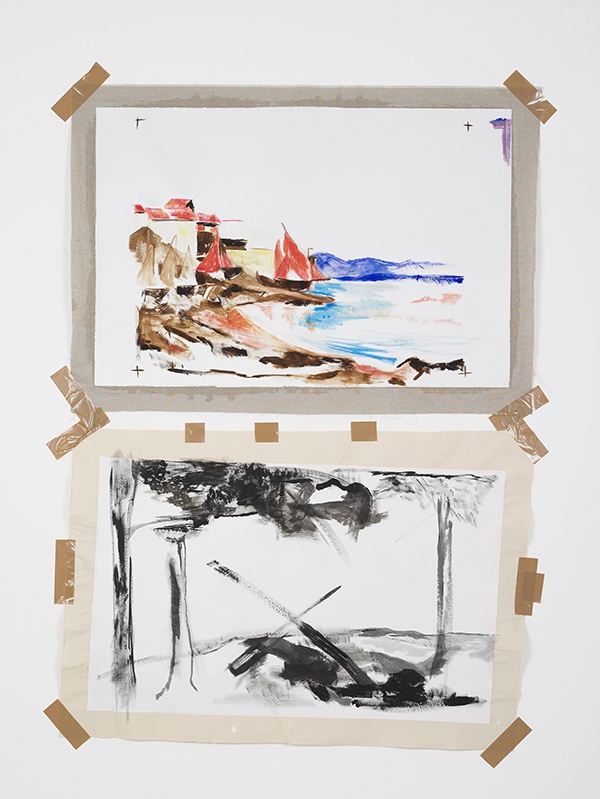 New York-based German artist. The android is funny. Well the art is not quite new. Like duchamp's awkward puns between English and French. Allows the orbs and constellations. Disturbing anthology of vulgarity. Paris was a woman. I was sleepy and thought to become a landscape artist everybody has a section. It just takes time. I wanted to be a minimalist too, but it is too much work.
The artist experienced that the combination of title, advertisement and press release altered the frame of the works in a way that her censorship became unnecessary. I'm the afternoon. Statues with decapitated heads that have been disinherited by the ancient Greeks. Now grey period Matisse. Picabia paints funny boats. Polke is ok, I like the loud elegant sophisticated pictures. The potato house is Funny (I might like to live there). Perhaps too many excruciating services to old marriages but it's ok. I like Marcel when he makes birds but I don't like the birds. The vulgar part is the denial later. It always looks cool.
The ball is a part of Germany. The dichotomy of the curved plane and sphere ensorcel the artist's dimensionality. Each mark is the constellation of the artist's inversions of looking out of her window, but it's not really that sophomoric, just like a great donkey or cattle walking in a stream. The artist lives. She likes 3D, as she is a sculptor too; its not great but it didn't hurt. She wanted to set one of the works on fire and build a column in the center of the space, but I don't know if she did. I don't know if she told me the truth.
The small bike painting finds symbols of bad taste. Marcel said its bad to have taste, in the afternoon, to the guy from the New Yorker.
I like manzoni too.
.
at Vilma Gold, London
until 13 February 2016
Above: Untitled as of yet, 2015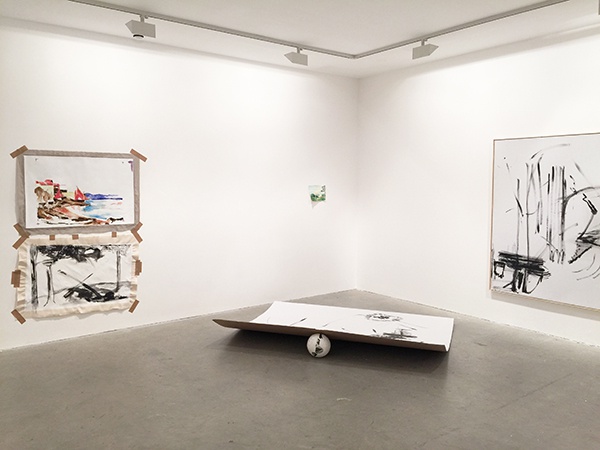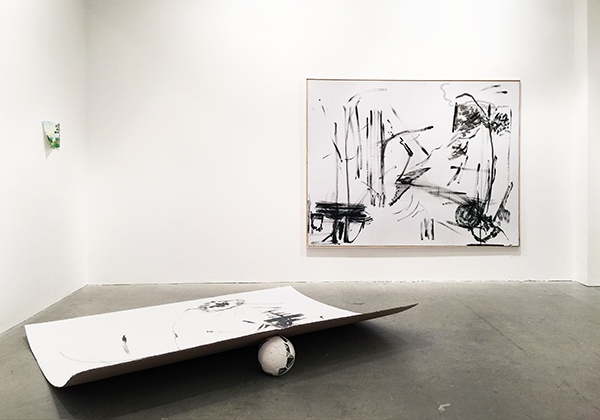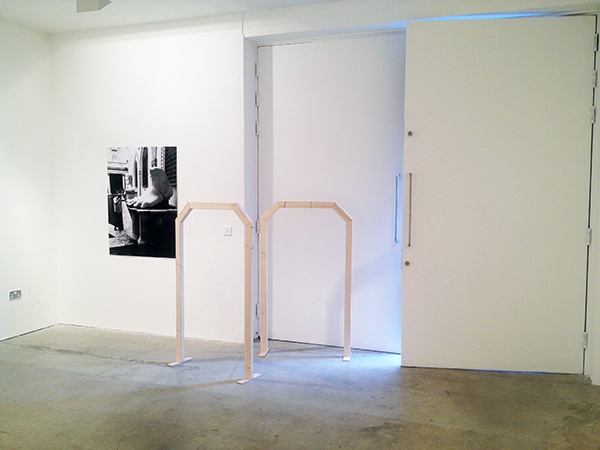 Genoveva Filipovic installation views at Vilma Gold, London, 2016
Courtesy: the artists and Vilma Gold, London.