EXHIBITIONS
Justin Morin "Petrolina Part II" at Last Resort, Copenhagen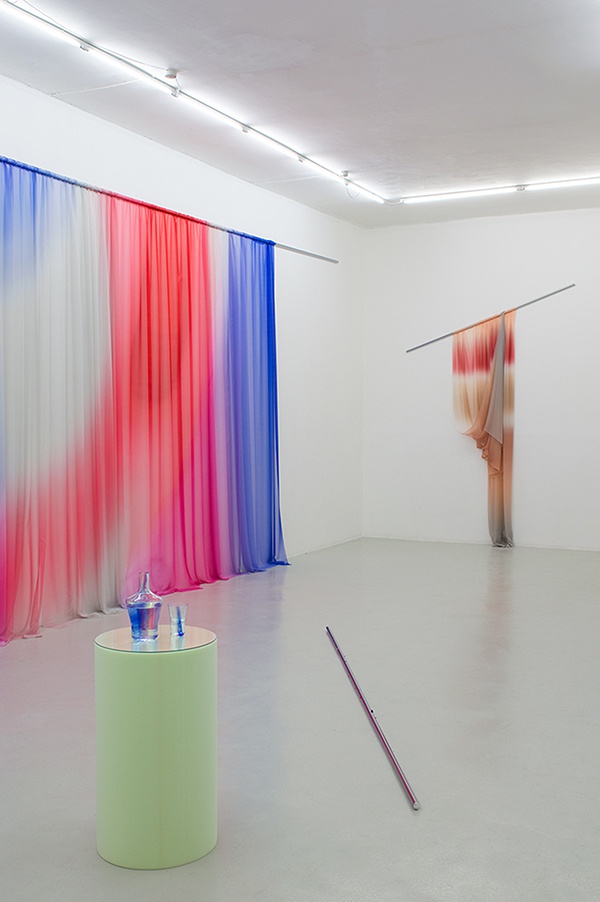 Petrolina highlights the life of Piotr Tchaikovsky and encourages in-depth thinking around the concepts of writing, incarnation and staging. After having drunken a glass of non sterilized water from the Neva, a gesture then considered as reckless due to the related risks of disease, the composer became sick and died from cholera, just like his mother a few years prior to that. The blurry circumstances surrounding his death gave rise to many rumors: mere accident, suicide or murder ordered by a court of honor. The latter would have taken place following Tchaikovsky's relationship with Victor Stenbock-Fermor, a young 17-year old officer, close to Tsar Alexander III. Unwilling to tolerate this type of relation, this "made up" declaration of death would have allowed to maintain the composer's reputation, musical heritage as well as the virtuous image claimed by Russia.
Petrolina is the nickname that Piotr Tchaikovsky used to sign his correspondence with his brother Modest. In the latter, he expressed his affection for his sister Aleksandra, his frustrations with his marriage with Antonina Miliukova, the ambiguity of his patron, Nadejda von Meck, but also the torments of creation, his doubts and upset relationships. In spite of these many documents, the Russian authorities continued to deny the composer's homosexuality and to re-write his life, more than a century after his death.

Beyond the political questions thus raised, Justin Morin focuses on the mechanisms behind this re-writing. By entrusting the roles of key characters surrounding Tchaikovsky to actors, he highlights the work of actors itself, whose function is to play the role ascribed to them. Therefore, the gallery of photographic portraits presents them without make up or costume, in classic poses, in a neutrality allowing each actor to project his own vision of the characters played by him. They are a paradox, a contradiction between affirmation of the roles entrusted and dispossession of their own identity. Justin Morin's sculptural work on the drapes explores this dialectic and should be seen like a stage set up. His large veils of fabric are akin to decors. The carafe and the glass of water act as a narrative trigger, able to set the stage in motion.
Just like Brian de Palma—an important reference for Morin—refers to Alfred Hitchcock's work to better appropriate it, the French artist refers to major movements of art history. From the "light and space" movement to minimal art, via optical art, his work unfolds in a game of references, feeding his work with a multitude of ramifications, playing with perspectives and winks. His approach to sculpture insists on the expressive qualities of the materials he uses (quasi-transparent silks, chrome and shimmering metals) to bring a sensual dimension, almost erotic, to a vocabulary originally disembodied.
.
until 15 August 2015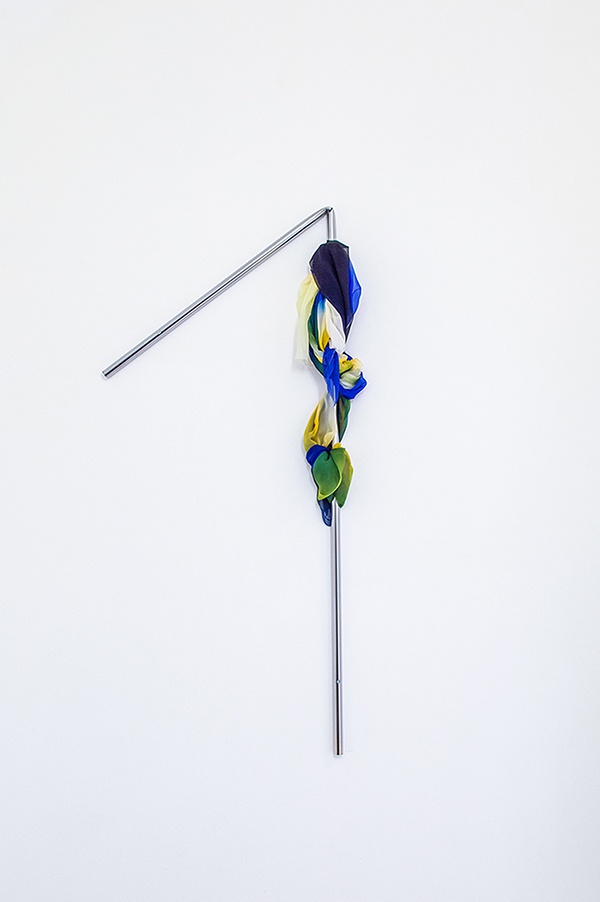 How to drape the sparkling of a Fabergé egg, 2015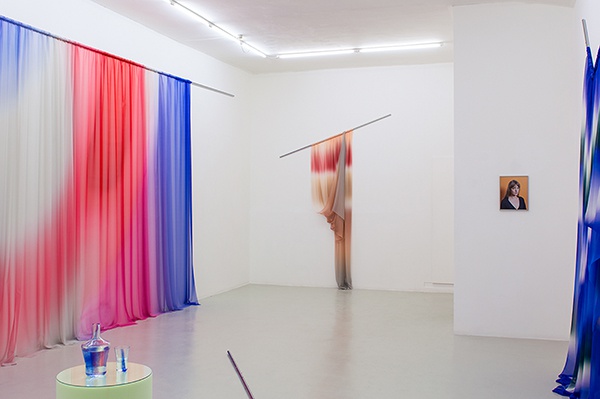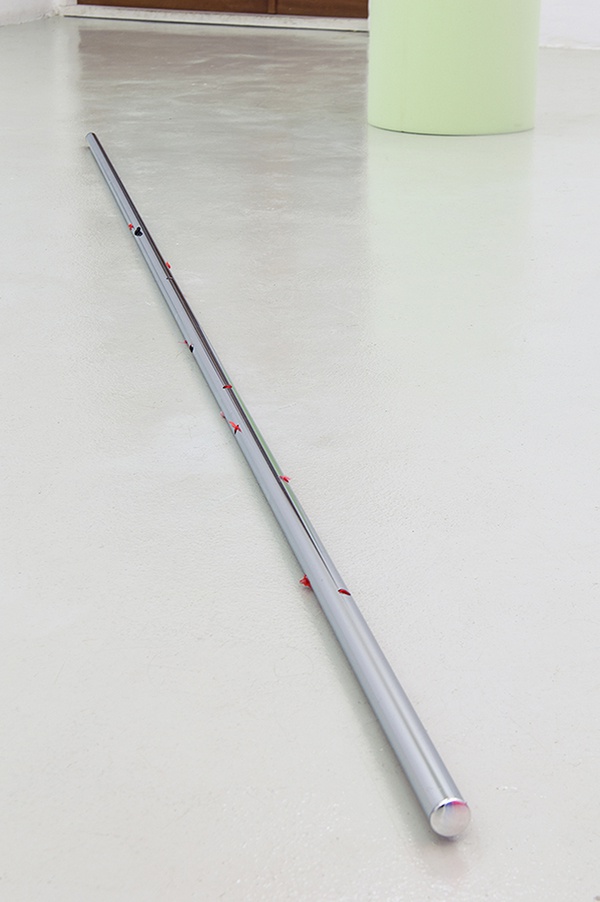 How to drape a consuming frustration, 2015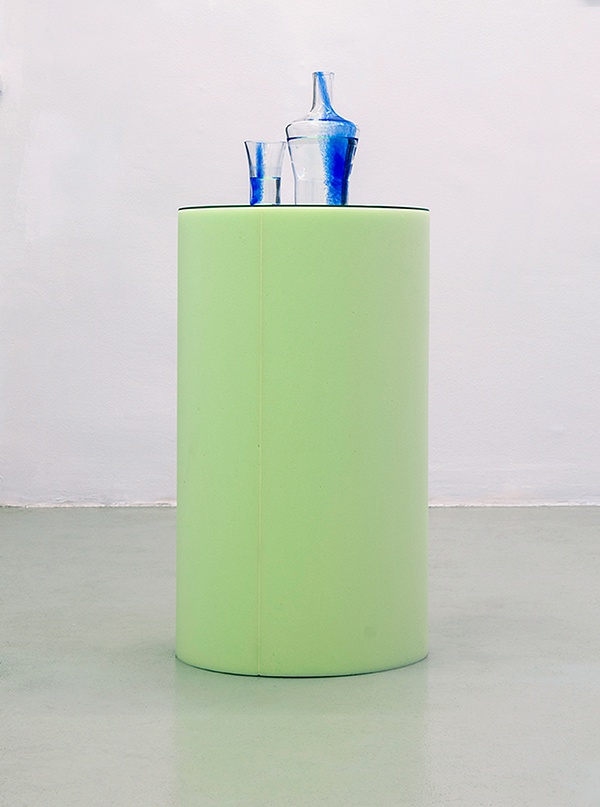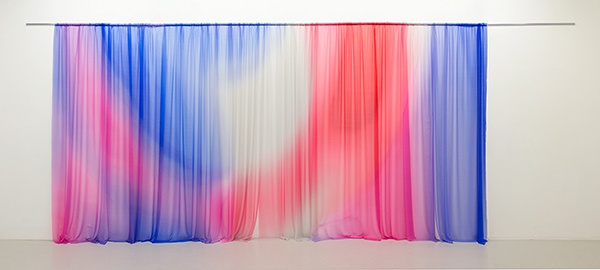 How to drape Petrolina's stage, 2015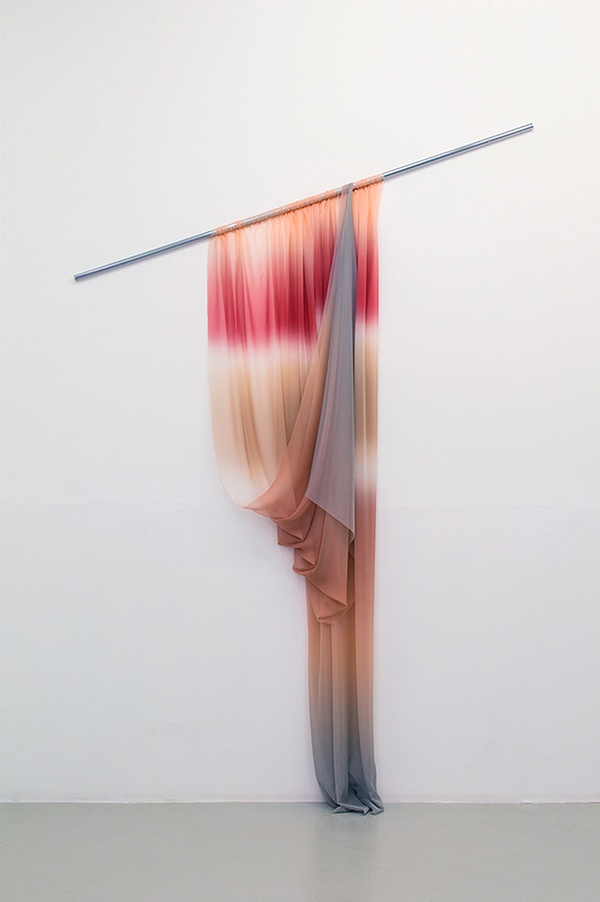 How to drape the grace of a young body, 2015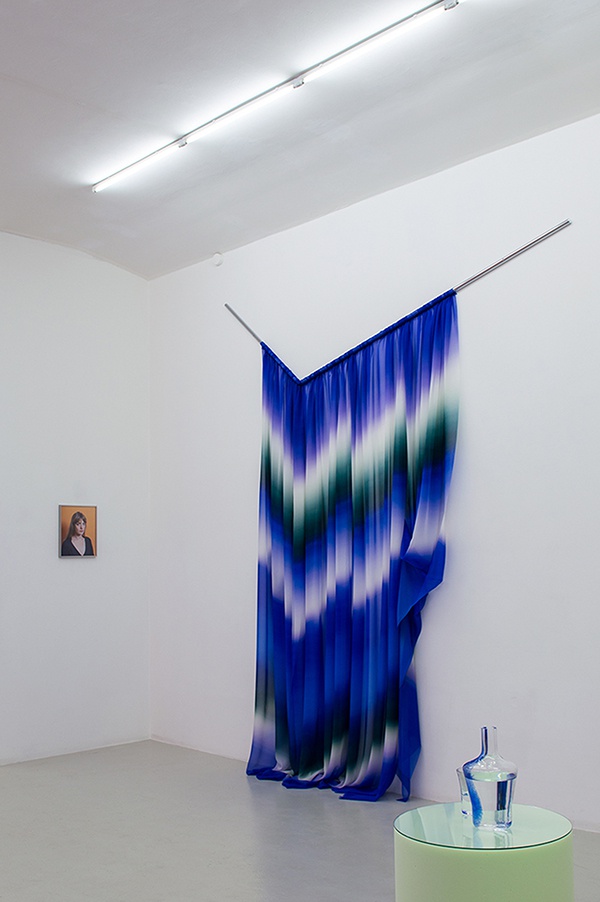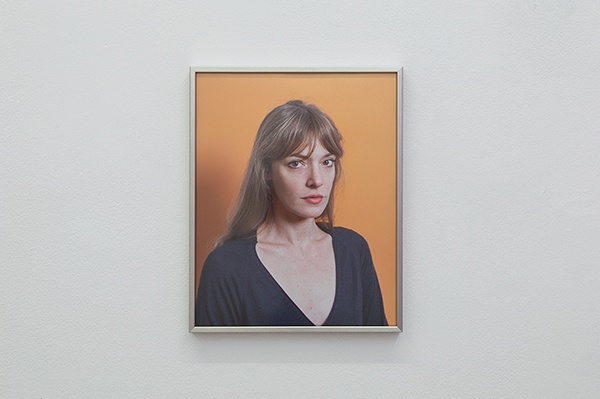 The Wife. Kate Moran is Antonina Miliukova, 2015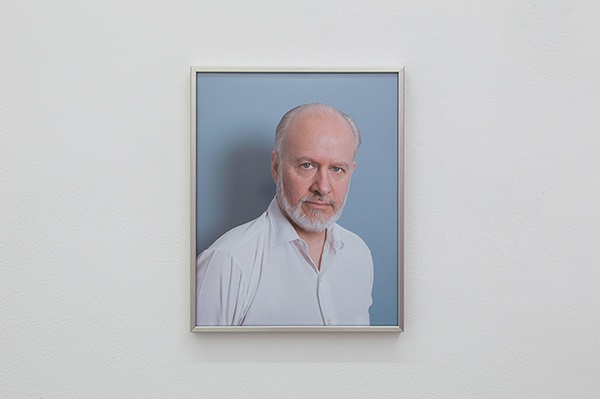 The Composer. Christian Dumais-Lvowski is Piotr Tchaikovsky, 2015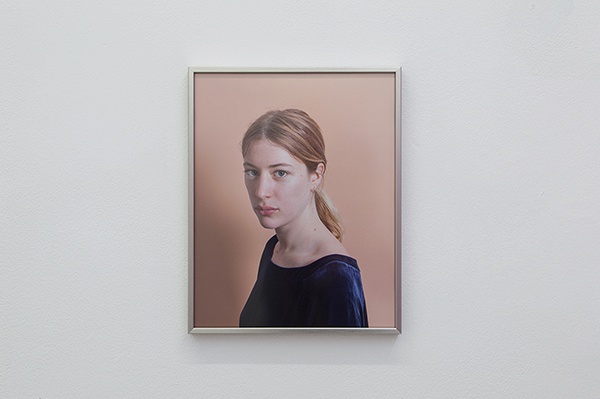 The Mother. Sigrid Bouaziz is Alexandra Assier, 2015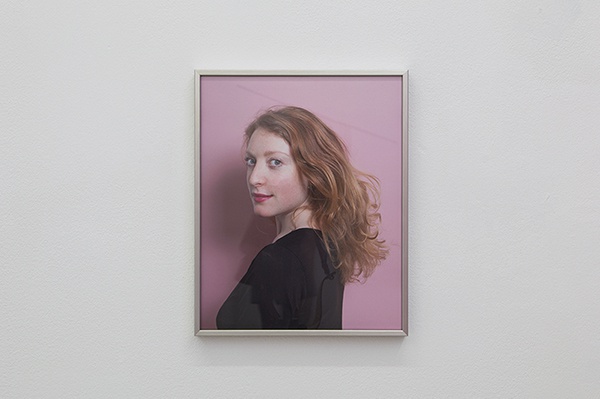 The Patroness. Sarah Stern is Nadejda von Meck, 2015
.
Justin Morin "Petrolina Part II" installation views  at Last Resort, Copenhagen, 2015
Courtesy: Last Resort, Copenhagen