CONVERSATIONS Mousse 20
What's My Name Again?: Karl Holmqvist
Close
1
2
3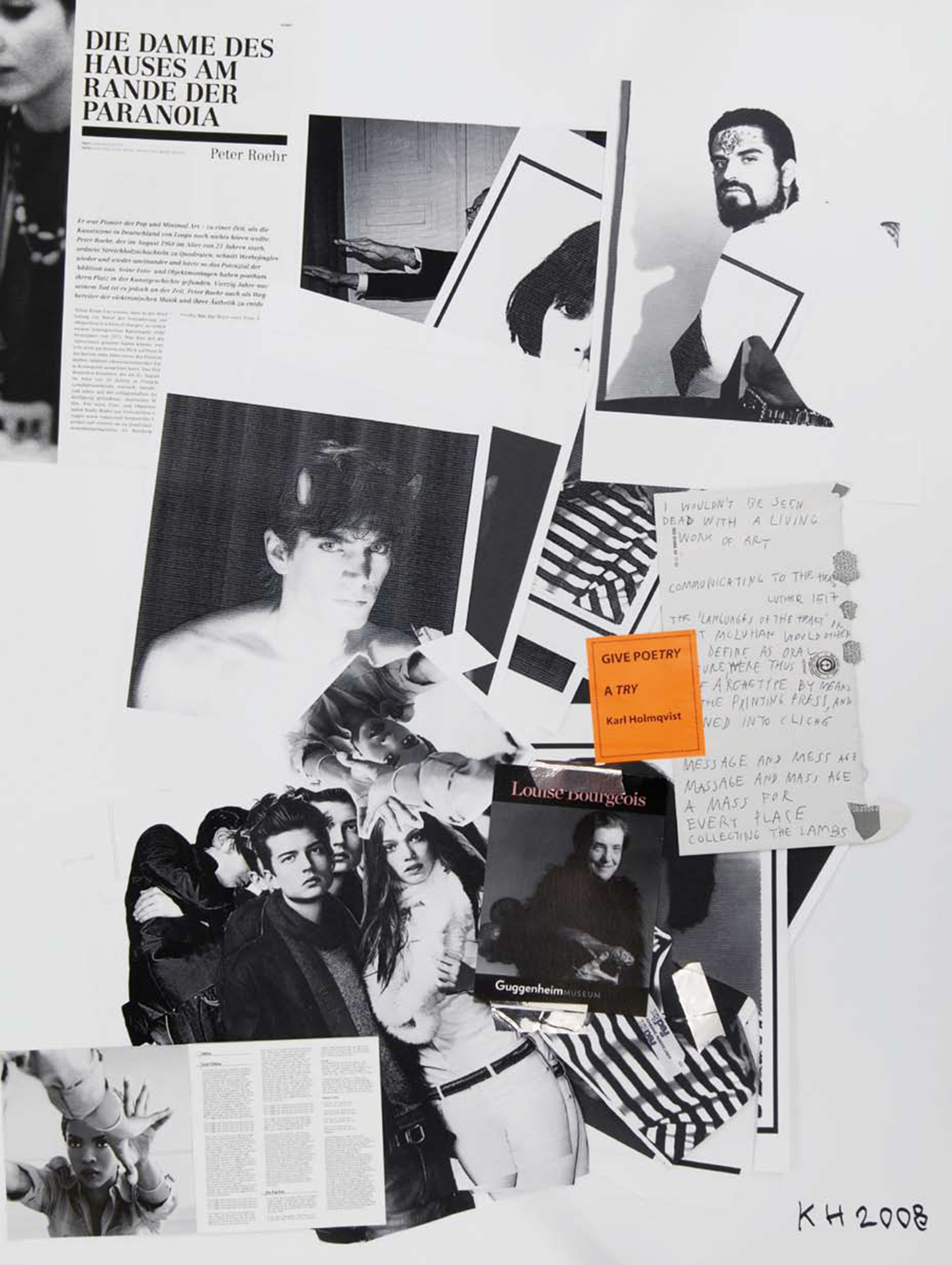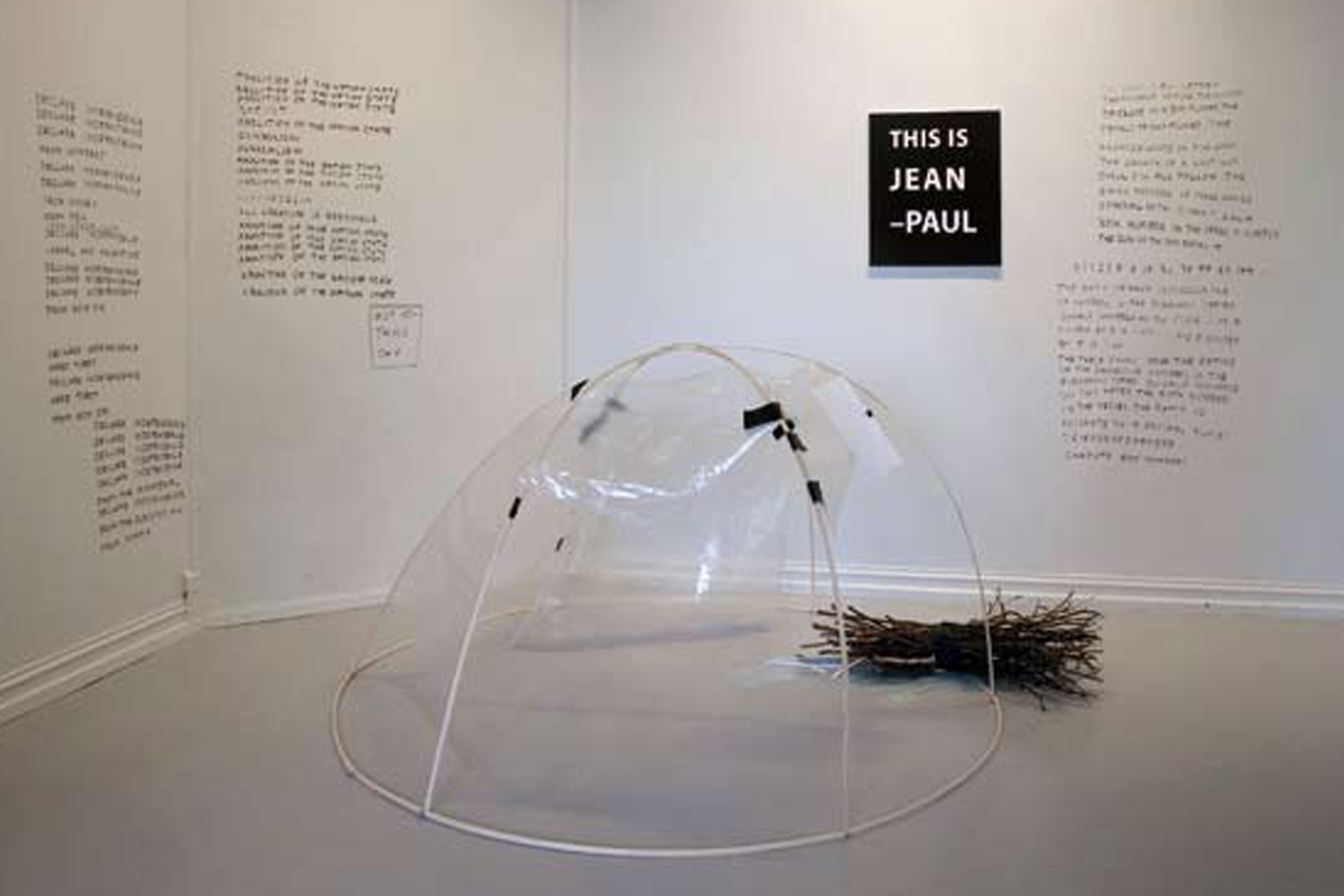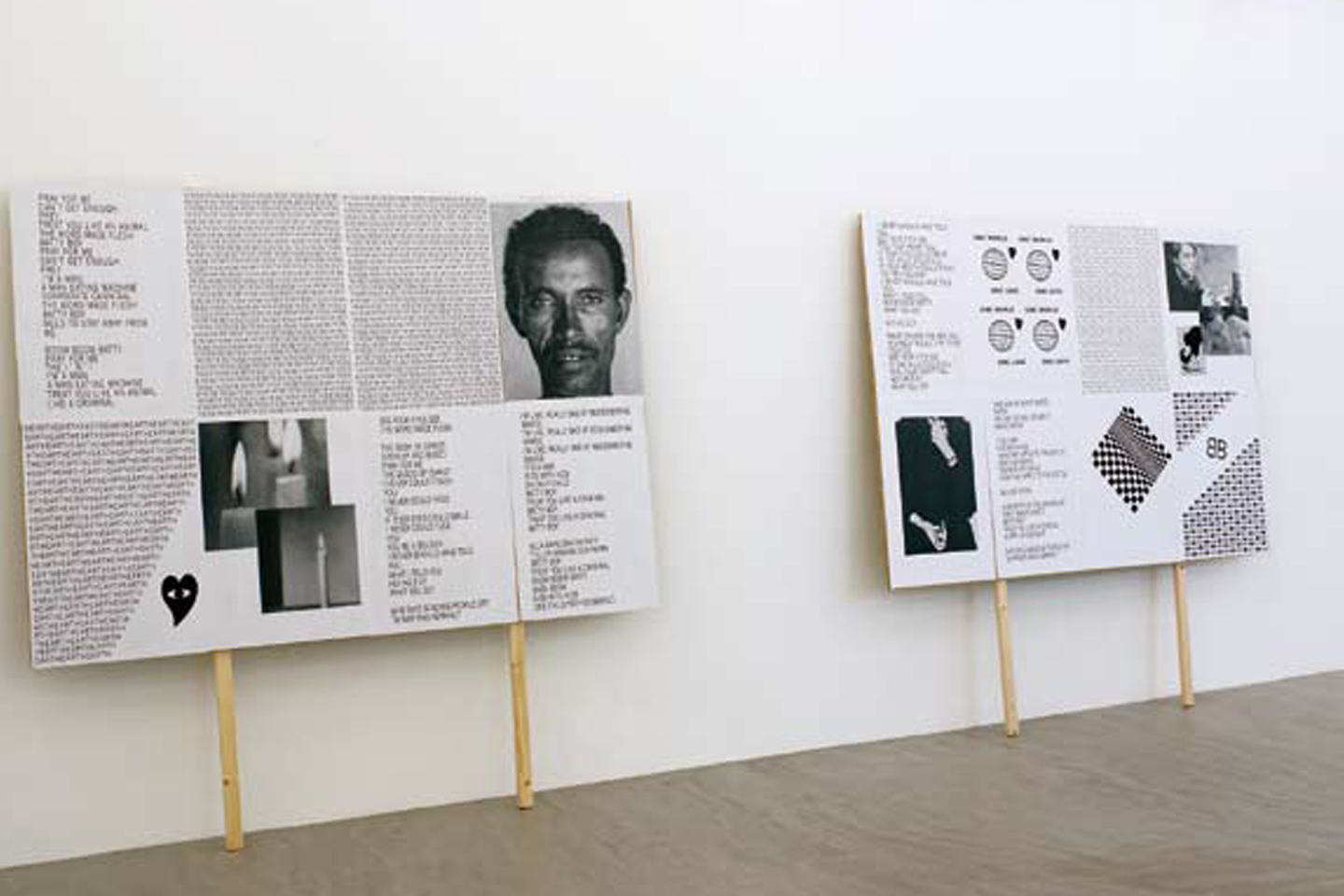 by Stefania Palumbo
Swedish artist Karl Holmqvist blends poetry and pop music through cut-ups based on the similar structuring of both forms of composition. His texts, composed of anecdotes as famous as they are diverse, seem to be streams of consciousness in which one can trace Gertrude Stein and Chicks on Speed, William Blake and the Rolling Stones. Stefania Palumbo and the artist explore the theme of communication and language, the linchpin of his work.

STEFANIA PALUMBO: I thought your most recent exhibition in Berlin, at Galerie Giti Nourbakhsch was—as a friend of mine said—"generous, altruistic, very personal". The beautiful video that lends the show its title, I'LL MAKE THE WORLD EXPLODE, perfectly sums up your work and your poetic approach. Indeed, many people call you a poet, and your poetry seems to search for connections, contradictions, rhymes and alliterations in contemporary culture and politics, inspired, at times, by "pop" sources. At the Berlin exhibition, everything takes its cue from the lyrics of a recent song by Grace Jones, Corporate Cannibal. How would you describe the inspiration behind your work?
KARL HOLMQVIST: The recording industry has allowed repetition to the extreme in contemporary music, and in any case it's traditionally part of music and rhythm. These things stay in one's memory and when I write, I try quite simply to render what's on my mind, phrases that "pop" up, mixed with more intentional messages, word games and the like. A kind of mental mapping of this man's mind, if you like. The exhibition also includes collages and sculpture and even a couple of paintings, embracing all possible available media and the tradition of Gesamtkunstwerk for the expression of self.
SP: The exhibition contains many elements that refer to you directly, such as the two display cases, one of which contains a special autographed edition of a CD by Patti Smith, and the other, a series of your personal possessions—books, notes, receipts. There is also a self-portrait made of dry branches. Do you think you could help me get a picture of you through these pieces?
KH: Well, if we start with the Big Bundle, the branches tied together, I have been looking at Arte Povera and wanted to do something referencing Mario Merz and eco-consciousness, etc. One afternoon when we were having tea outside of Giti's [Nourbakhsch, n.d.r.] gallery, there was a storm and these branches literally came blowing, crashing down on the lawn in front of us. So I cut them up and bundled them together with some gaffa tape, and it kind of looked like a small fellow when standing up. After adding the two invitation cards, reading "I'LL MAKE THE WORLD EXPLODE" and "MARRIAGE EQUALITY NOW", we said it looked like me handing out invitations… Horses/Horses is a CD with the cover signed by Patti Smith and her band, and the Radio Ethiopia research material sitting in the vitrine is all the books and related materials and my notes etc. that I worked with in preparation for an earlier work. Patti Smith has always been interesting to me, as a crossdresser and also due to the contradictory position of her being a punk superstar, elite and revolutionary, a kind of VIP-area rebel.
SP: As is usually the case with poetry, your compositions may not have a fully defined meaning, but rather an emotional character that is expressed through a direct correspondence between sounds, words, feelings and connotations. The performances in which you read your poetry feel almost like listening to a German lieder, a trance-like experience for you and the audience. Repetition plays a fundamental role in your performance pieces and throughout your work, and repetition is obviously a key structural element of poetry and music. It seems you have found the perfect combination in which these two cardinal forms of expression can find a voice in contemporary art. What are you really looking for in this combination?
KH: Performance art has a strange reputation, since it's somehow assumed to come from a type of narcissistic drive, a way of seeking attention. But this would be true of any exhibition or type of presentation. You seek attention for yourself and the message you're trying to get across, which for an artist quite simply involves being true to oneself. I've also been interested in the relation of audience and performer, of idolatry and star systems as part of the music and film industry for instance. Is art more of an "everyman"'s expression, more intimate and subjective? Or is it the ultimate, most elitist star vehicle? Or maybe both, somehow? The lists of the world's most powerful people rarely include any artists, whereas they may include someone like Nicole Kidman… Is she really powerful? In that case, in what way, exactly?
SP: I have to admit that, personally, I'm not so sure all artists are honest with themselves, but that's a different part of the question. Do the issues you raise try to focus on the artist's role in society, or on the significance and consequences of artistic exploration for the rest of the world?
KH: Well, not being true to oneself in any simple "being honest" way. You can use disguises, or even lie, but in the end, something needs to come out that somehow represents you. Otherwise there's no use doing it, is there? I do think a lot about the artist's role and what it can be used for, how it can be made useful.
SP: Another fundamental aspect of your work is the written word, whether in a book or on a wall, monitor, or poster. I see this as a political element that underlies all your work: the power of the word, which becomes even more powerful when written down, and the way your art tries to analyze the use of words in contemporary culture. Your most recent book, What's My Name? (Book Works, London, 2009) contains beat poems and concrete poems, manifestos and even haikus. And sixty-six poems that are "covers" of songs by various pop artists, ranging from Chicks on Speed and Grace Jones to the Rolling Stones. Your reworking of the originals points to a criticism leveled against the world of pop. What do you really think of pop culture?
KH: For a piece I did a while back, I was using a quote from the Manifesto for Concrete Poetry published in Brazil by the Grupo Noigandres in 1957. They talked about their use of Portuguese as destructive, in relation to an imperialistic language that had been imposed on them, and that they wanted to break apart and rewrite according to a different logic. I feel that English, especially American English, is imposed on us in a similar way through pop culture, and my relationship with it is ambiguous to the extreme. But I also felt that proper English is in the minority at this point, since most of us are using the language with heavy accents and our own more or less fabricated grammars for communicating with each other. It allows for reinvention in a way that you don't really have in other languages, and that goes both for the spoken and the written word. Rulebreaking and reinvention is what we need to do.
SP: Are you a subversive artist? From this standpoint you seem to be trying to deconstruct the rules of a certain kind of culture, stripping them of their hierarchy, reorganizing them according to an order inspired by socialism, and giving us the chance to create a new system of reference.
KH: I certainly hope to be subversive, but it's more of a soft-spoken subversion, and therefore not really one in the end, perhaps. All I can say is that one needs to be a bit careful with what claims there can be for art, one's own or anyone else's, and what it actually does, since it's more part of a symbolic, reflective order that comes together in the minds of the people looking at it and sometimes only after quite a long period of time, at that.
SP: This year you have curated two shows in Berlin: CELEBRATION at the Isabella Bortolozzi gallery in February, and MARRIAGE EQUALITY NOW at the Giti Nourbakhsch gallery, which is running parallel to your solo show. I'd like to know more about your curatorial approach, and whether you think that the concept of curation is seen in a new way these days; not just because you are an artist, but because after the black hole that the economic crisis reached this winter, it seems that many things about art and the art system have been called into question.
KH: MARRIAGE EQUALITY NOW brings together Fia Backström, Paul Chan, Claire Fontaine and Gelitin, all with text-based works that I have selected to accompany or develop on some of the things proposed in my own exhibition. I was interested in reading and writing, and language-based things, as a type of "invisible" art that you can practice basically with nothing. All you need is a pen and paper or a laptop to start writing down your thoughts, hopes and dreams. The artists selected all seem to work from a rather generous position that is more content-driven, with less material fetishism and high production, etc. The exhibition CELEBRATION that I curated with Isabella Bortolozzi for her Berlin gallery took a similar stance, but included fourteen artists, and as a collaborative effort, it was obviously more layered and complex. We noted down ten reasons for celebrating (art or life or both whatever…), and one was that art is never about money, and it just isn't. It changes things obviously, but you should always be able to figure it out no matter what. If you can't, then you're not really an artist in my book.
Originally published on Mousse 20 (September-October 2009)