REVIEWS
Fucking Not Knowing Who I Am: Kathy Acker
Close
1
2
3
4
5
6
7
8
9
10
11
12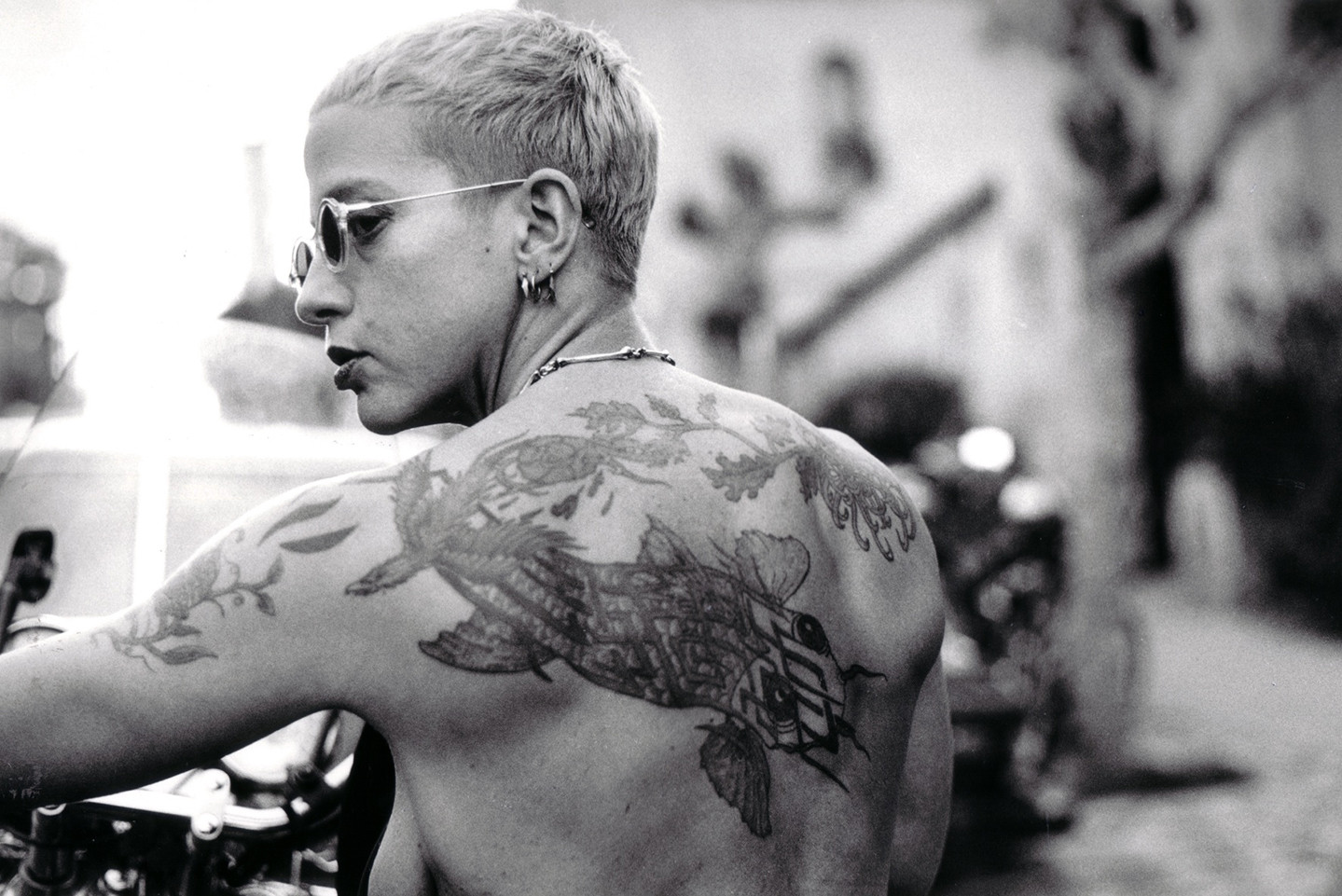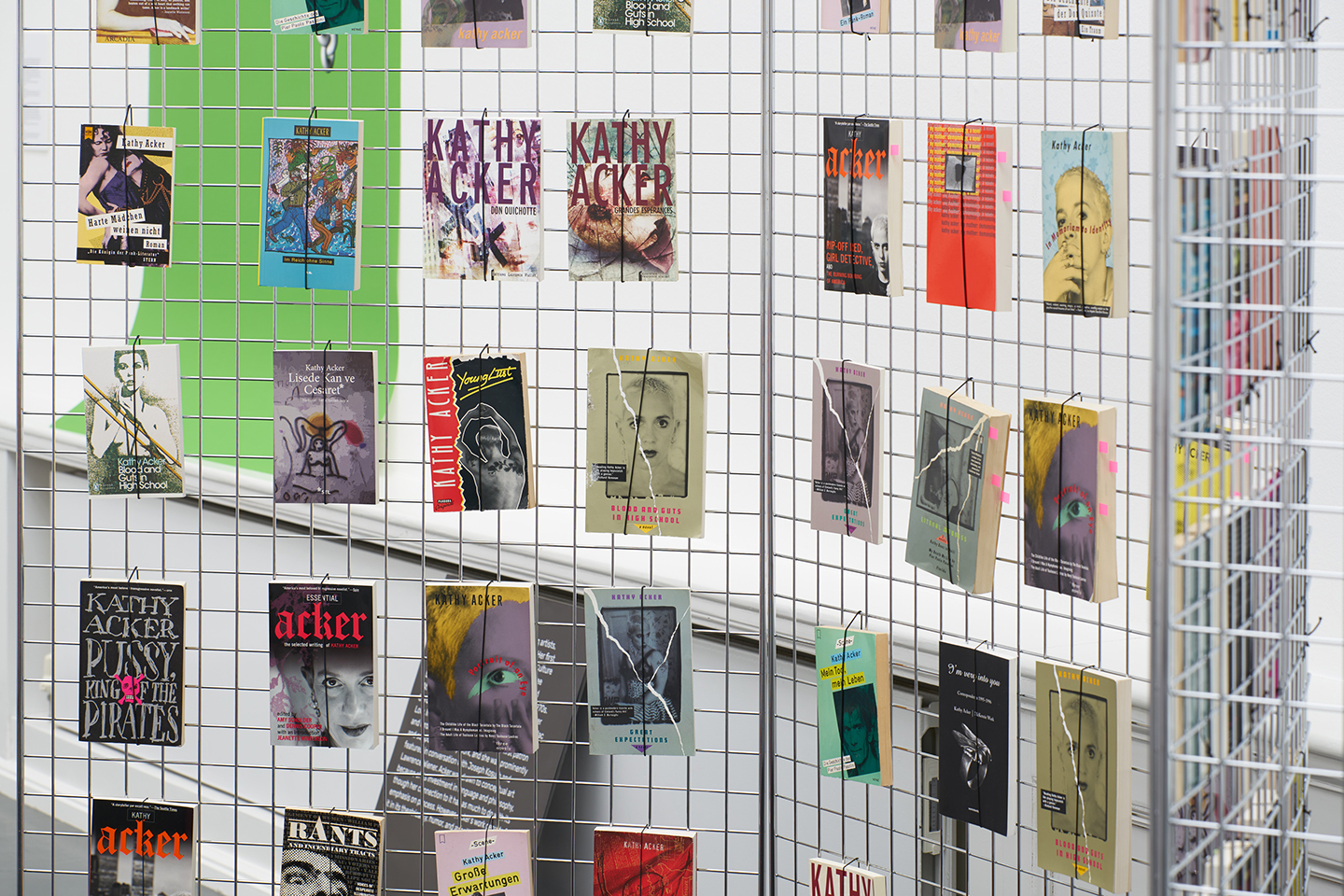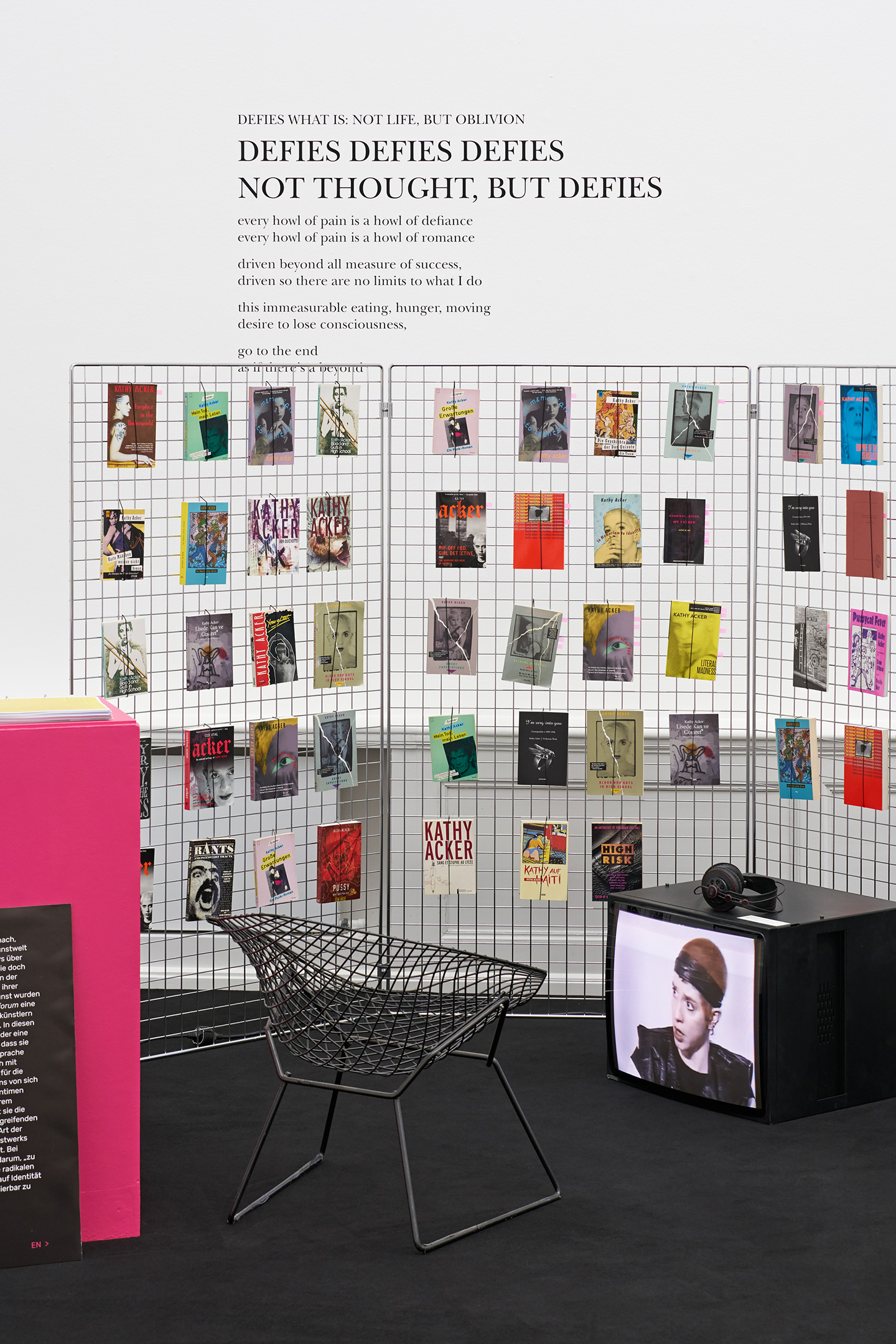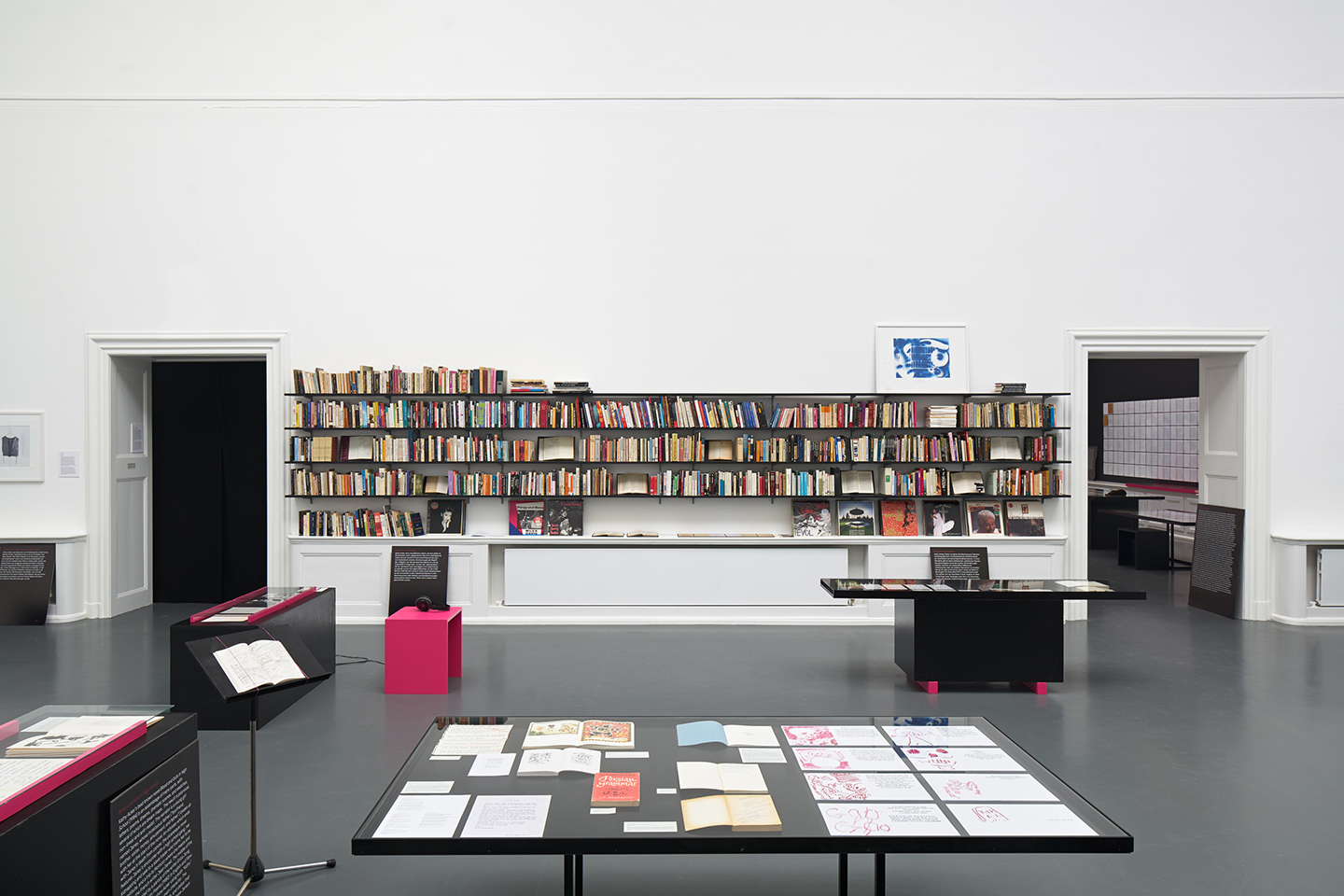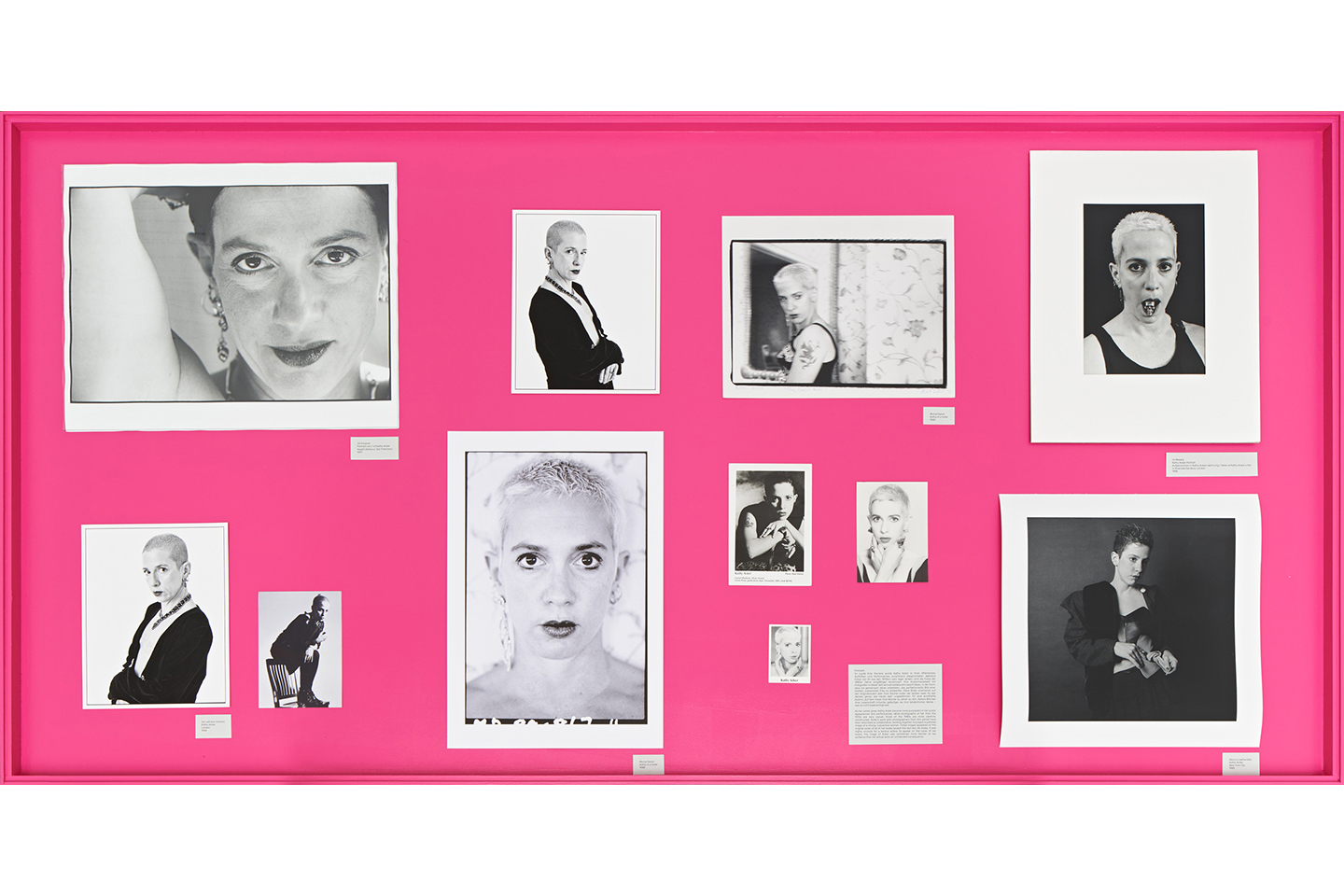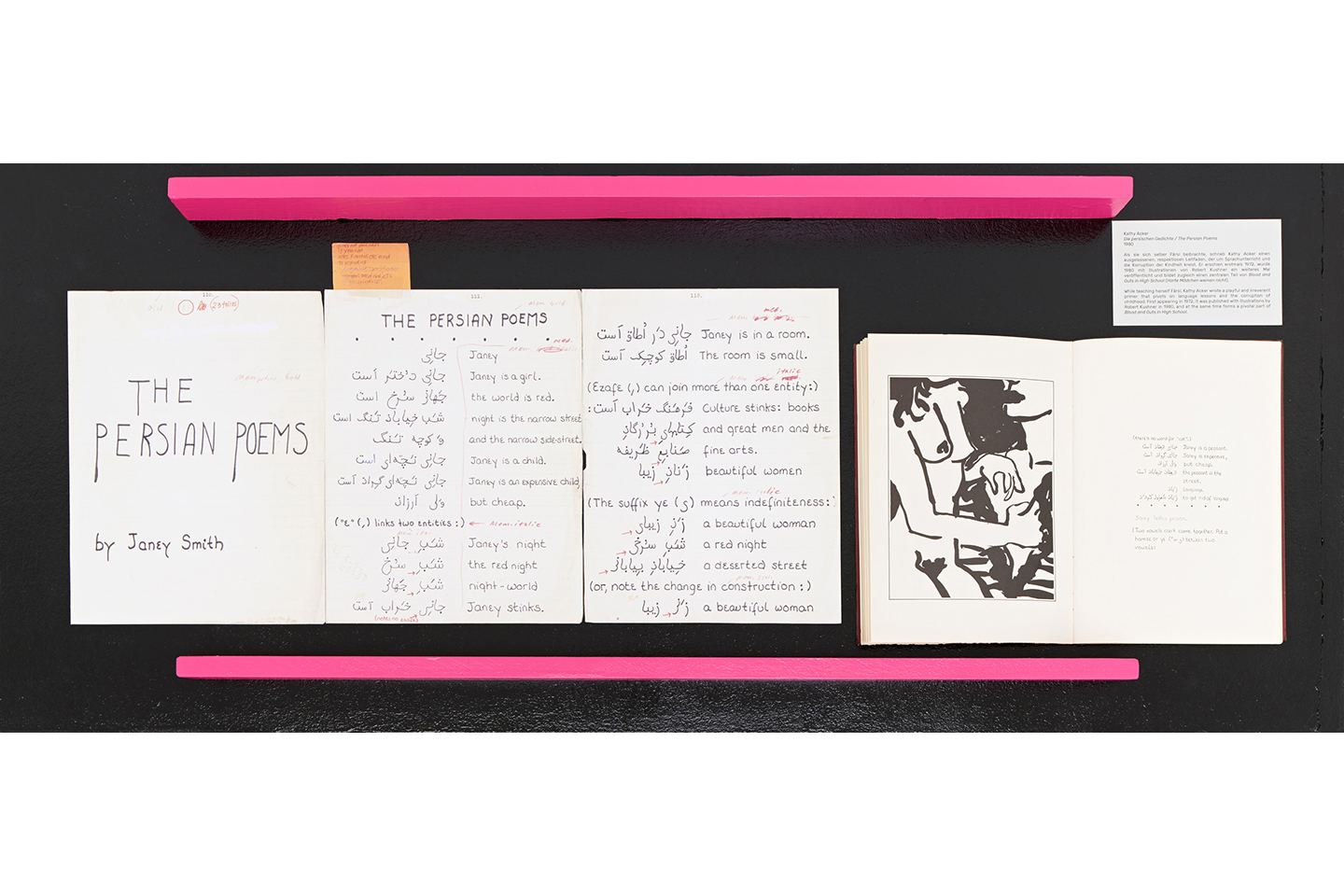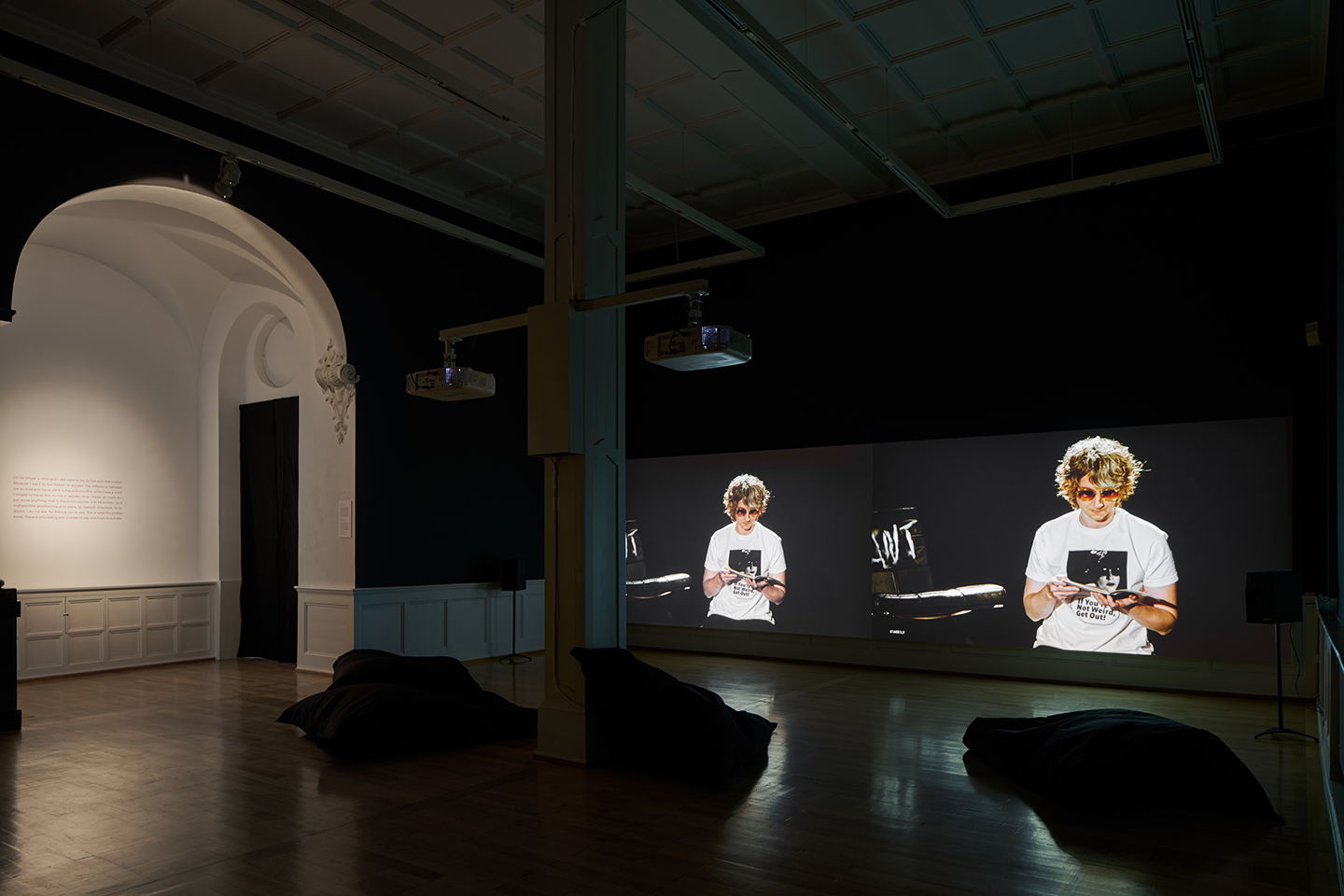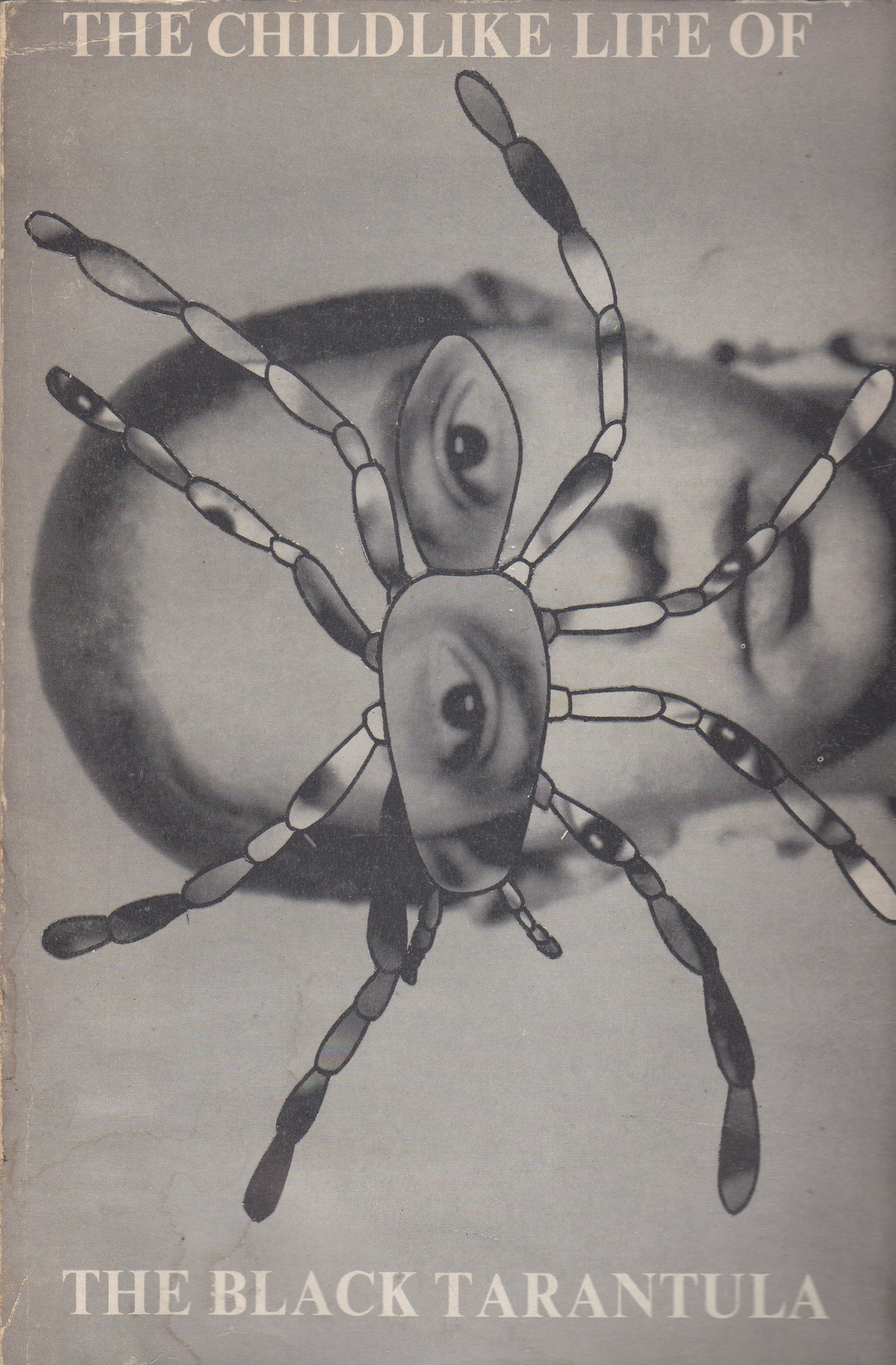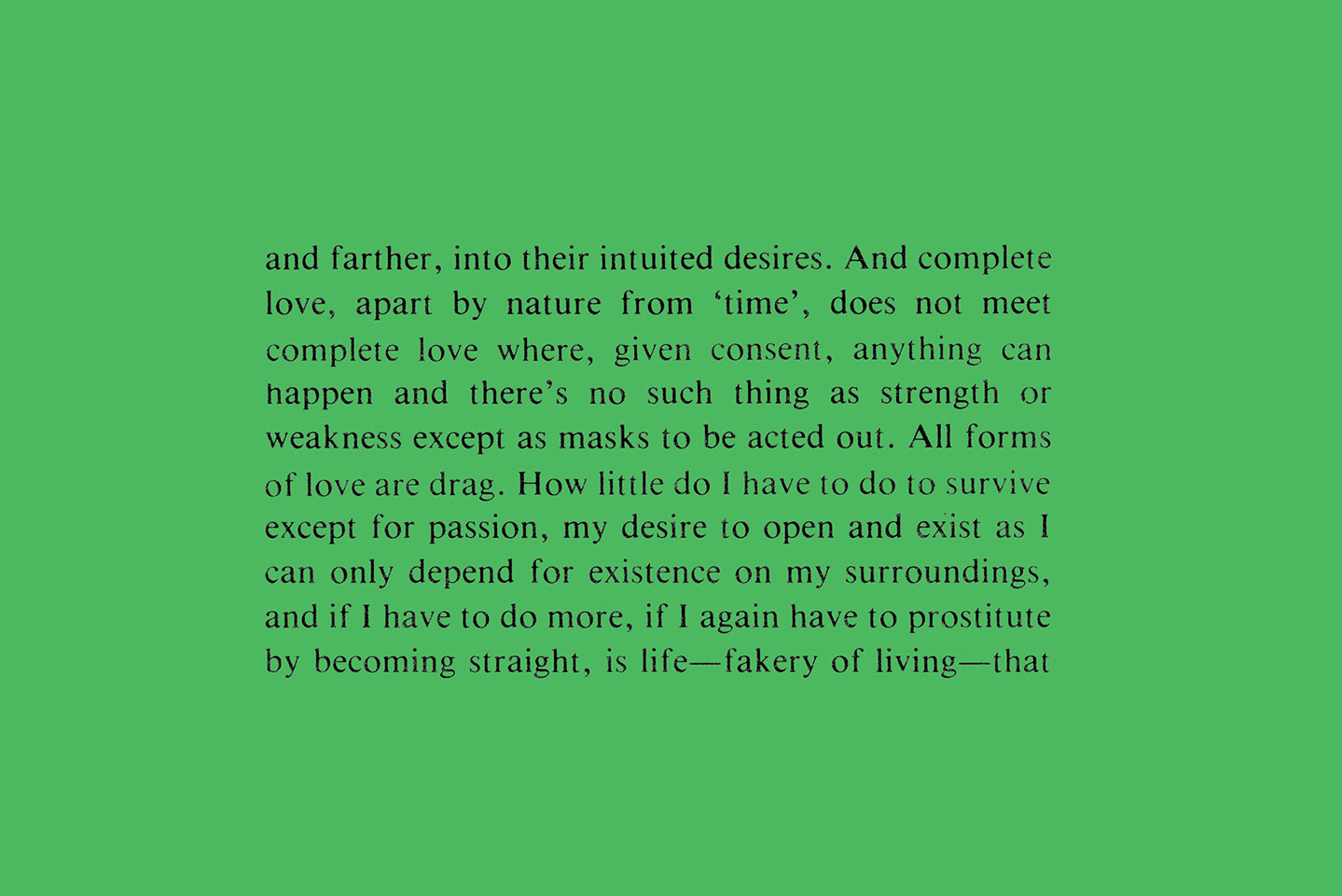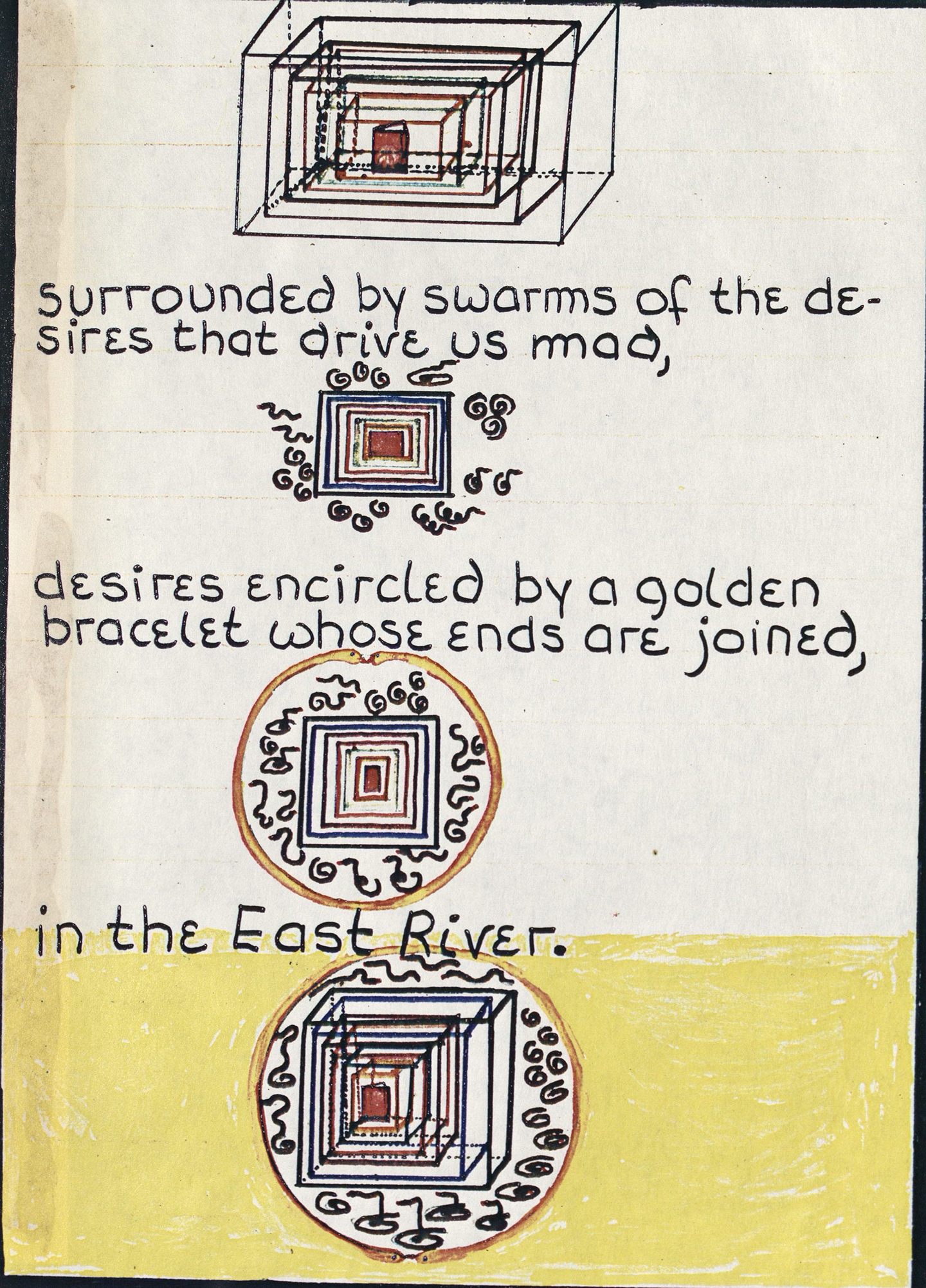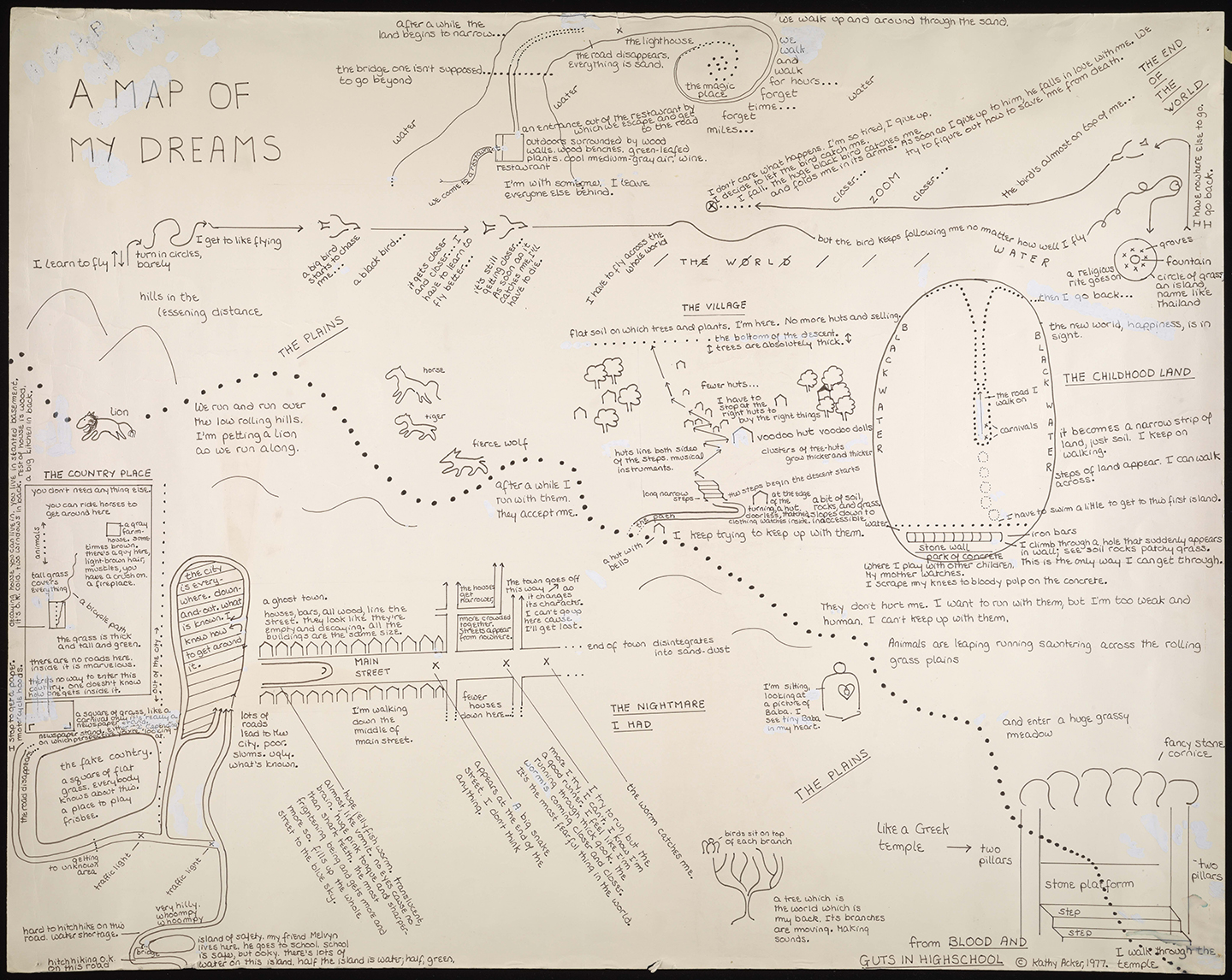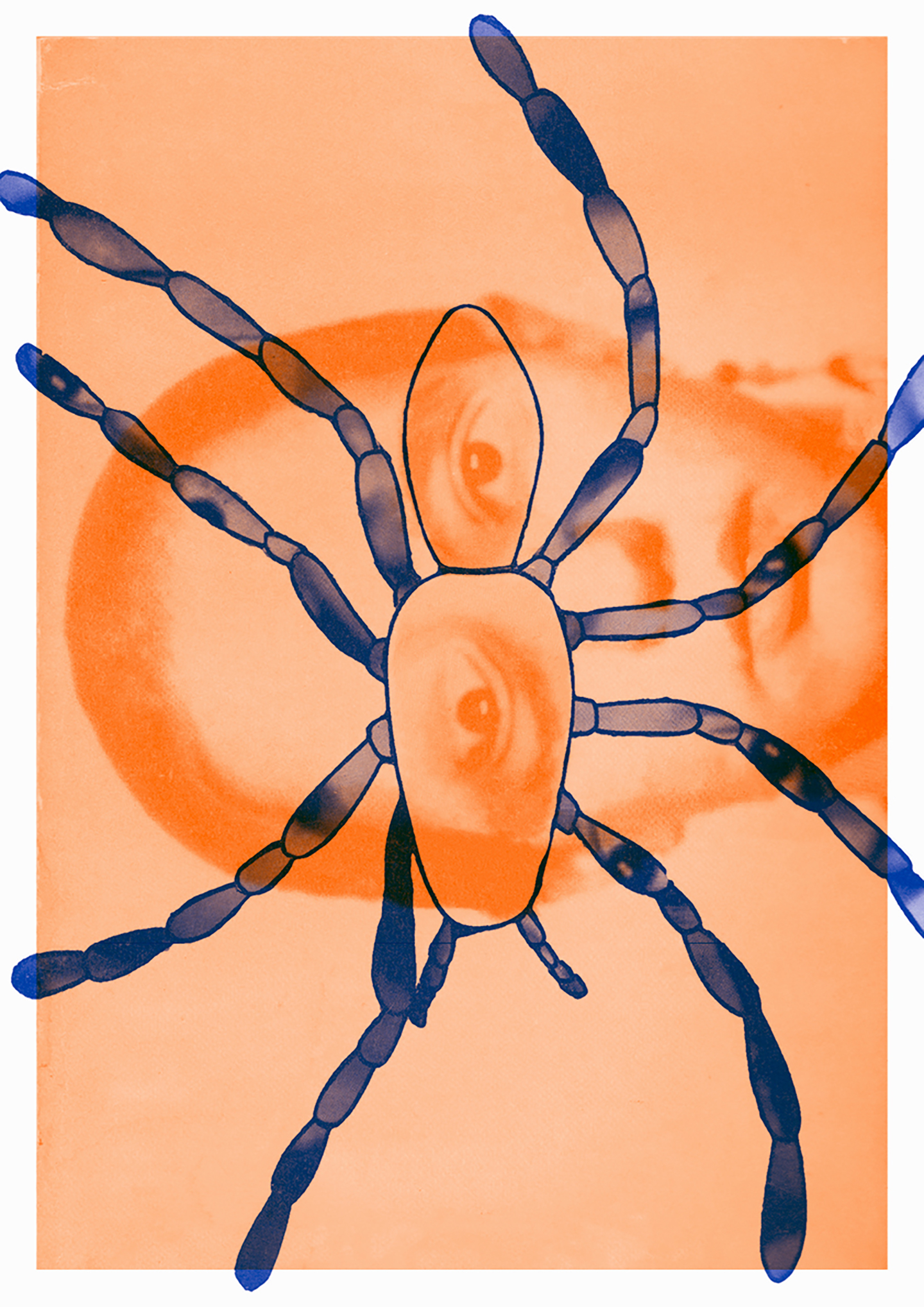 by Isabella Zamboni
Disney's Caribbean teen celebs, or the rapidly collapsed dream of Germany's political revolution 3.0, parodies of the rum, sodomy, and lash1 that they used to be. Pirates are, self-evidently, no transgression anymore. Reading them as antidotes to capitalism, rebels against power in the 1996 novel Pussy, King of the Pirates by Kathy Acker (New York City, 1947–Tijuana, Mexico, 1997), one is tempted to ask, What does the American avant-garde writer and post-punk feminist still have to tell us? "The once daring S&M themes in Acker's work do not have the same charge they once did, finding themselves comparatively gray-scaled down in a Fifty Shades culture. Nor is Acker's once cutting-edge deconstructive critique of image culture as trenchant as it once was. Furthermore, postmodernism has long been out of fashion."2
The exhibition GET RID OF MEANING, at Badischer Kunstverein in Karlsruhe challenges us to find an answer.

The central hall of the Kunstverein is crowded with photographic portraits of Kathy Acker, every shot originating from her methodically precise indications to the photographers. Kathy with a naked torso on a motorbike, staged intentionally to show the tattoos on her back. Kathy with blood-colored lips and a metallic skull in her mouth, her frosty eyes looking directly into the camera. Kathy with something leopard, Kathy with the mastectomy, Kathy on almost every cover of her books. Kathy Acker pitched her "No Future" image as a writer before and throughout her words, twenty years before the rise of the attention economy and self(ies)-entrepreneurship. "Everything is on the surface. That everything is me: I'm just surface: surface is surface."3 Signification functions through materiality in her, "against ordinary language,"4 language embodied, through surface. Words—and books—are also objects. This is the reason behind the sketches, diagrams, dream maps, and handwritten texts within her novels. And this is also a possible reason for an exhibition in an art institution to be devoted to someone who, first of all, wrote.
One portrait shows Kathy grabbing onto a chain hanging from the ceiling—black undershirt, gloves, the biceps slightly contracted, the right eye turned straight into the camera precisely through a link of the chain. Acker did bodybuilding for more than ten years. In writing as in bodybuilding, she had the same purpose: "I want to work past failure, which is negative work."5 In her essay "Bodies of Work," Acker describes how breaking muscles down "shock[s the] body into growth,"6 calling negative reps the lowering of weights against the pull of gravity, which bodybuilders exploit to cause extreme strain on their muscles, otherwise known as eccentric training.7 "Is the equation between destruction and growth also a formula for art?"8 she asks shortly after. Is this a formula for life as well? I am reminded of the "work" of a marriage's failure in the short story "The Lonesome Bodybuilder,"9 by Yukiko Motoya, in which an unsatisfied wife begins training, lifting regularly, consuming protein powder. While others notice her transformation, her husband does not. Even when she poses in front of him in a microbikini, hair short, body swollen, mahogany-colored skin greasy from tanning oil, he asks: "What's that? Lingerie?"
Working failure and breaking the body in order to shock it "into growth" happens for Kathy Acker not only with bodybuilding but also with sex. Sex constantly appears in her writings, a shock often dark and unsatisfying. In her first pamphlet, distributed by post (The Childlike Life of the Black Tarantula by the Black Tarantula, 1973), that occupies by means of various exhibits the introductory room at the Badischer Kunstverein,10 she recounts the sex shows she performed in the 1970s in Midtown Manhattan with her first boyfriend, Len Neufeld. They dressed, undressed, and had sex in front of a paying public. She describes these shows as joy, control, pleasure, abuse, degradation, nausea, disgust. Later, Acker also worked as a stripper in a sailors' club in California. Her novels often recount stories of prostitution, described as both an economic structure in which men profit from women's bodies and a means of liberation for those same bodies. Blue Tape  (1974), projected in a smaller room of the Kunstverein, is a collaborative video made with American poet, critic, musician, artist, and theorist of cyberspace Alan Sondheim: a rough black-and-white video with "no editing beyond starting and stopping the camera,"11 in which Sondheim is asked to impersonate Acker's father (whom she never met), in which Acker is filmed in a brutal close-up of her vagina while complaining about her disappointing masturbation, in which Sondheim engages in a description of a mathematical theory while receiving a blow job from Acker. Blue Tape is a painful document of an encounter between bodies, ofan attempt to get close to someone. "Two happy meat lumps, intoxicated and flushed,"12 reminds Justine Frank in 1931. Painful, yes, but the unrefined aesthetic quality of the video and the straightforwardness with which (before and after sex) Acker and Sondheim discuss power, exploitation, love, and sexual (lack of) pleasure suggest to see the video (the pain) as a sort of acceptance, a sweet embrace, if not sublimation, of a negativity—of a failure.
What, in fact, is sexuality?, asks Slovenian psychoanalytic theorist and philosopher Alenka Zupančič.13 "Far from chaining humanity to its animal or natural heritage, sexuality is the problematic territory of being that seems to throw us out of joint, disorient us,"14 structured around a fundamental negativity,15 a "universe being constantly intruded upon by 'enigmatic signifiers.'"16 In Acker's work, comparably, sex is an "Unnecessarily Brutal Horror,"17 governed by one's own "BORING"18 desires, leading her to cry out how "sick of fucking [I am] not knowing who I am."19 Yet at the same time she constantly shows us how this confrontation is a "journey into strangeness,"20 into vision, ambition, liberation, a shock into growth, like the character Janey fucking her father "cause she wanted to fuck love more than she felt pain."21 What is, in fact, sexuality in Kathy Acker's work, and what kind of growth has to reach its body? Here is one reason, beyond prophetic self-image fabrication and an insistence on a language to be embodied—painful yet empowering as elaborating grief through bodybuilding—that I believe she still speaks to us today, why she still can hold a charge against a gray-scaled Fifty Shades  horizon. There is no realistic explanation of sex,22 and we don't need one, invaded as it is by enigmatic signifiers—"anything can happen and there's no such thing as strength or weakness except as masks to be acted out."23 As grotesque as speaking of math during fellatio, or as painful but glorious as incest or mythology, or as abusive and liberating as prostitution, sexuality in Acker's work—and in real life—appears to be "the paradigm of research and exploration," an instrument of growth. Not because we have to appoint it the ultimate meaning—"on the contrary, […] it brutally introduces us to the lack of a last instance,"24 explains Zupančič. Yet it is precisely this lack that becomes the place of thought, a negativity that generates life, a place endlessly inhabited by an unknown that "make[s] us indulge in things characteristic of human society (politics, art, science, love, religion…)"25—a formula for life, and art, that equates destruction with growth.
[1] See: https://www.contemporaryartdaily.com/2016/01/rum-sodomy-and-the-lash-at-eden-eden/.
[2] Ralph Clare, "Why Kathy Acker Now?," Los Angeles Review of Books, May 2, 2018, https://lareviewofbooks.org/article/why-kathy-acker-now/#!.
[3] Kathy Acker, Blood and Guts in High School (London: Penguin Books, 2017), 97.
[4] Kathy Acker, "Against Ordinary Language. The Language of the Body," in Arthur Kroker, Marilouise Kroker,The Last Sex: Feminism and Outlaw Bodies (Basingstoke : Macmillan, 1993).
[5] "Devoured by Myths," Interview by Sylvère Lotringer, in Kathy Acker, Hannibal Lecter, My Father (New York: Semiotext(e), 1991),23.
[6] Kathy Acker, Bodies of Work: Essays (London: Serpent's Tail, 1997), 145.
[7] Matthew James Vechinski, "Kathy Acker as Conceptual Artist: In Memoriam to Identity and 'Working Past Failure,'" Style47, no. 4 (Winter 2013): 530.
[8] "Devoured," 146.
[9] Yukiko Motoya, The Lonesome Bodybuilder: Stories (New York: Soft Skull, 2018).
[10] Book cover designs, herpersonal stuffed animal in the shape of a black tarantula,sketches, notebooks.
[11] See: http://sondheim.rupamsunyata.org/2002/09/20/the-blue-tape.xhtml.
[12] Justine Frank, Roee Rosen, Sweet Sweat (Berlin; New York: Sternberg Press, 2009), 89.
[13] Alenka Zupančič, What IS Sex (Cambridge, MA : MIT Press, 2017), 35.
[14] Zupančič, What IS Sex, 35.
[15] Zupančič, What IS Sex, 142.
[16] Zupančič, What IS Sex, 10.
[17] Acker, Blood and Guts in High School, 31.
[18] Acker, Blood and Guts in High School, 98.
[19] Kathy Acker, "Politics," in Kathy Acker, Hannibal Lecter, My Father, 35.
[20] Acker, Bodies of Work,viii.
[21] Acker, Blood and Guts in High School, 21.
[22] Zupančič,What IS Sex, 142.
[23] Kathy Acker, "Black Tarantula," in Essential Acker: The Selected Writings of Kathy Acker (New York: Grove Press, 2002), 38.
[24] Zupančič,What IS Sex, 35.
[25] Zupančič,What IS Sex, 35.